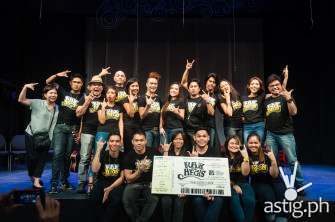 QUEZON CITY, Philippines — After a successful first run with a line-up of 36 shows, Rak of Aegis the comedy musical is breaking long-standing records with over 100 shows in total as The Philippine Educational Theater Association brings Rak back for a rerun from June 20 to August 31 at the PETA PHINMA stage, Thursdays to Saturdays.
READ:  Rak of Aegis: Pinoy musical wows viewers with world-class production
Rak of Aegis is a playlist of the chart-topping songs of the iconic Aegis band such as "Luha," "Halik," and "Basang-basa sa Ulan". The artistic team consisting of playwright Liza Magtoto, PETA artistic director Maribel Legarda, (both were responsible for another PETA hit "Care Divas"), and actor-musician Myke Solomon, brilliantly placed the songs together to tell the story of Barangay Venizia and young promodizer Aileen. Two months after the storm hit, Venizia's residents are miserable in knee-deep flood. Aileen thinks to solve the town's problems by calling attention to the town through a Youtube video of her singing among the flood.
This comedy musical not only entertains, but showcases the Pinoy's resiliency and natural love for music. As PETA artistic director Maribel Legarda puts it, "The larger objective of PETA in doing original work is always really to be able to express what is the Filipino sentiment, whether it's in music or performance, or whatever it is through art. We cannot be a world class force if we do not have our own originality!" This time around, Legarda promises a tighter and cleaner show.
READ: Rak of Aegis returns after breaking box office records
Fans and first-timers are sure to expect stellar performances from theater veterans Robert Seña (Kiel) and Isay Alvarez-Seña (Mary Jane), and breakout star Aicelle Santos (Aileen).
New faces are also to be expected in Barangay Venizia. A brand new Aileen is introduced in Kimverlie Molina, two-time gold medalist in the World Championships of the Performing Arts, and "Senior Grand Championship Vocalist of the World". Also lending their power voices are recording-artists-turned-theater-actors OJ Mariano as Kiel, and Jimmy Marquez as Jewel; both of whom started out in the ABSCBN reality singing competition, Star in a Million.
Comedian and television personality Arnell Ignacio, well known in the theater industry for his roles in Full Monty and the Atlantis-produced play, The Addams Family, stars as Fernan.
Also joining the ensemble are Rak of Aegis choreographer Gio Gahol; and Ateneo Blue Repertory alumni Abi Sulit and Gab Pangilinan, both PETA first-timers.
READ: Missed Rak of Aegis the first time? Here's your second chance!
Rak of Aegis still includes original cast members Kalila Aguilos, Kakai Bautista, Neomi Gonzales, Jerald Napoles, Pepe Herrera, Myke Salomon, Poppert Bernadas, Nor Domingo, Julienne Mendoza, Ron Alfonso, Phillip Palmos, Gold Villar, Gimbey Dela Cruz, Jet Barrun, Paeng Sudayan, Carlon Matobato and John Moran.
[stextbox id="astig"]Catch Rak of Aegis at the PETA Phinma Theater from June 20 to August 30, every Thursday 8:00pm, Friday to Sunday 3:00pm and 8:00pm. For ticket reservations go to www.ticketworld.com.ph, or call TicketWorld at 891-9999.
You may also contact PETA 725-6244, or 0917-5765400 or email petatheater at gmail dot com[/stextbox]