The controversy about a woman who found a dead mouse in the cup of coffee that she bought from Starbucks is not yet over.
Many people were puzzled by how the little mouse made it's way inside the cup of coffee. But ever since the story was shared over the social media sites many people can't help themselves from giving out their opinion.
Now, an update happened to the complainant. The victim named Jessa who had found the mouse is confined in the hospital. She was diagnosed with a full-blown Leptospirosis based on the post of Clarisse Crisologo who was Jessa's organization mate.
Sa mga siraulong nagsasabi na epal, mukhang pera, pabebe, tanga etc. yung nakainom ng kapeng may bubwit, FYI full-blown po ang nakuha nyang leptospirosis from it. Walang nakakaalam kung paano napasok yung sa daga sa kape, pero sige nga, sino na namang baliw ang maglalagay nun sa sarili nya mismong inumin sabay inom para lang sa pera o fame?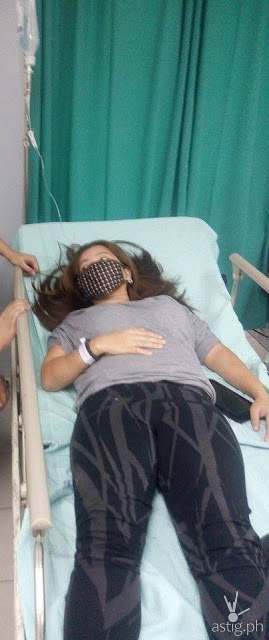 Facts:
1. Bakit walang lumalabas na statement/result from the attending physician? kasi SB yung nagbabayad sa hospitalization nya.
2. Yes, normal case of lesptospirosis takes days, weeks even, to be diagnosed. By normal, I mean nakuha sa ihi ng daga na nahalo sa tubig baha (diluted). In her case, nainom nya mismo yung substances from the rat's body na humalo sa kape. Thus, the rapid effect in her system.
3. Yes, dumadaan sa process ng blending yung frappe, pero yung coffee jelly na add-on nya hindi naman kasama sa pag blend.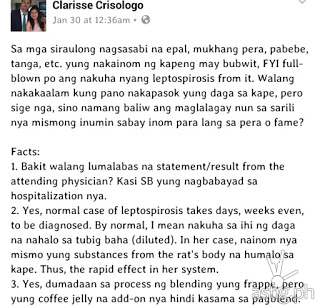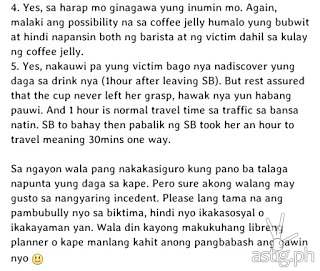 4. Yes, sa harap mo ginawa yung inumin mo. Again, malaki ang possibility na sa coffee jelly, humalo yung bubwit at hindi napansin both ng barista at ng victim dahil sa kulay ng coffee jelly.
5. Yes, nakauwi na po yung victim bago nya nadiscover yung daga sa dink nya (1hour after leaving SB). But rest assured that the cup never left her grasp, hwak nga yun habang pauwi. And 1 hour is normal travel time sa traffic sa bansa nation. SB to bahay then pabalik ng SB took her an hour to travel meaning 30mins one way.
Sa ngayon wala pang nakakasigurado kung pano ba talaga napunta yung daga sa kape. Pero sure akong walang may gusto sa nangyaring incedent. Please lang tama na ang pambubully nyo sa biktima, hindi nyo ikakasosyal o ikayayaman yan. Wala rin kayong makukuha na libreng planner o kape manlang kahit anong pangbabash ang gawin nyo.
Based on the post, the Starbucks staff were even visiting her sending her gifts because of the incident.
However, there are others who were contradicting the statement saying that it takes 7-12 days before the Leptospirosis can be said as full-blown.
Last January 26, a Starbucks coffee costumer went to a police station to blotter a shocking incident. In the police report, a woman named alias Jessa told that she ordered coffee in the store's Addition Hills branch of the famous coffee shop in Mandaluyong City around 9 p.m. According to alias Jessa, who chose to hide her identity, she and her friends went to the coffee shop to chill out. After their meeting, they decided to go out and since she wasn't able to finish drinking her coffee yet, she took it out. On her way home, Jessa noticed a hard object inside the cup. To suffice her curiosity, she opened it and stirred the coffee. She was shocked and almost pass out upon seeing a creepy lifeless mouse floating in her favorite drink.
Employees and former employees of Starbucks, on the other hand, have weighed in on the issue of a'dead mouse' found inside a lady's frapuccino drink, and the reaction is unanimous: there is absolutely no way for a mouse to end up inside the drink.
What do you think? Is the story believable?