ASUS brings dual screen display to the laptop form factor with the ZenBook Duo and ZenBook Pro Duo. It features a secondary screen called the Screen Pad Plus, which improves on the Screen Pad 2.0 featured in last year's ZenBook Pro by taking up the entire top half of the keyboard area. This is accomplished by moving the keyboard to the bottom half with the keypad to its right – a layout which immediately reminded us of the blank space found on the ROG Zephyrus S that we reviewed last year.
READ: ASUS ZenBook Pro review: Outstanding elegance and performance
Click the play button to watch our unboxing video.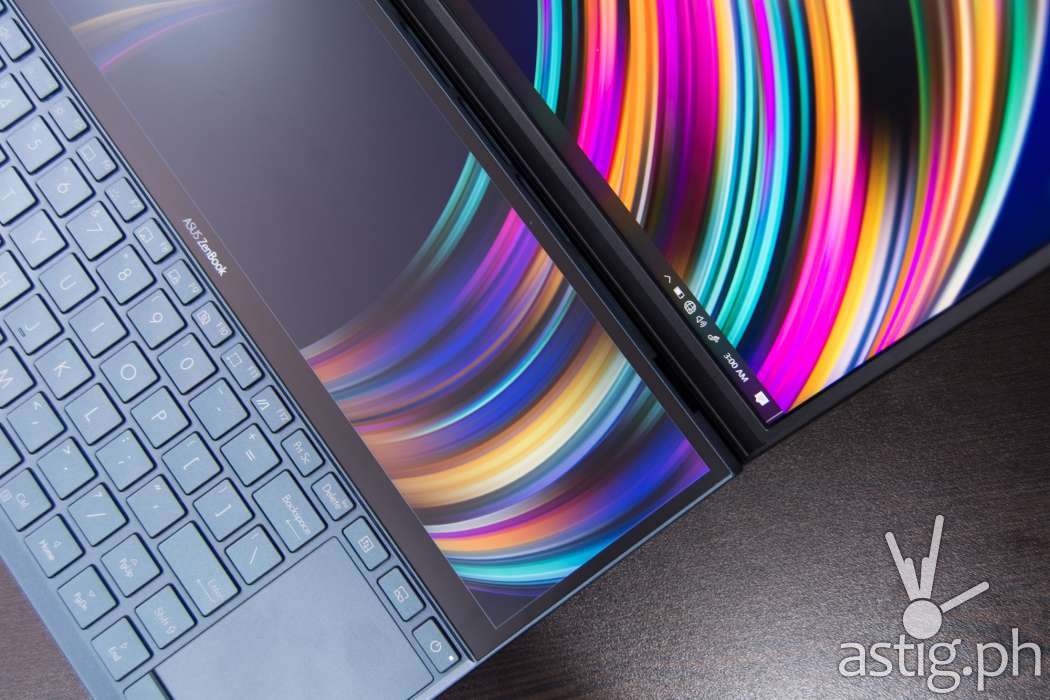 ZenBook Duo What's in the box?
ZenBook Duo unit
User manual
Warranty card
AC power adapter
Note: You can also use a stylus, which is provided separately by ASUS Philippines. You may coordinate with them via their official Facebook page for the special arrangements.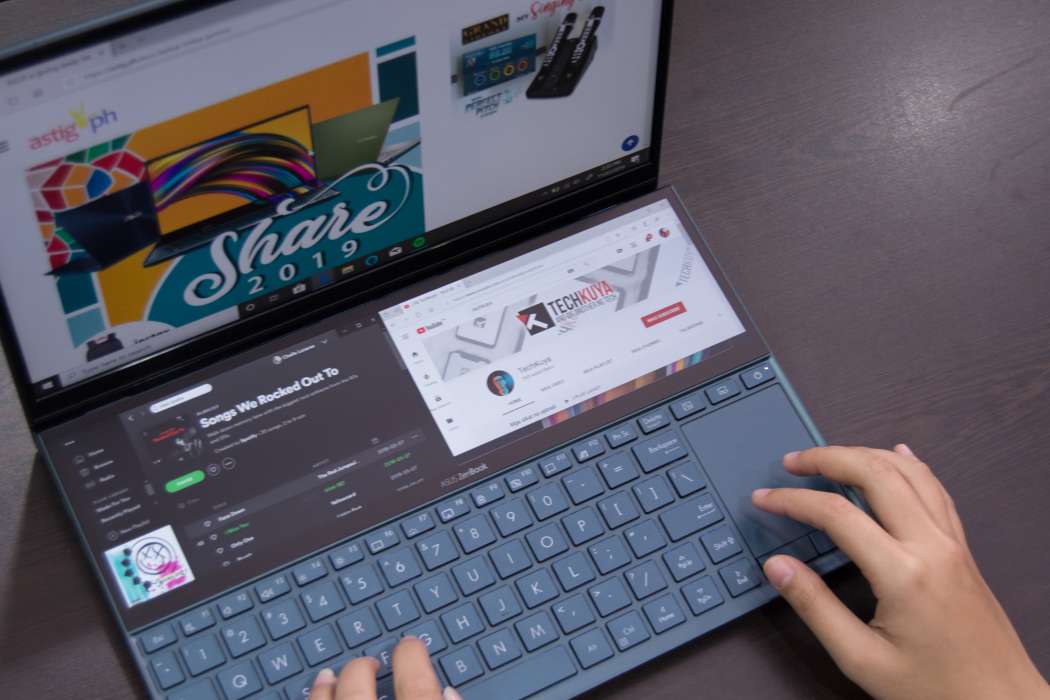 Price and availability (Philippines)
ASUS ZenBook Duo is now available in the Philippines starting from Php 74,995 (Core i5 + 512GB storage) while the ZenBook Pro Duo is priced from Php 159,995 (Core i5 + 16GB memory).
As part of the Share 2019 campaign, Every ZenBook Duo or ZenBook Pro Duo purchase made from November 18 to December 31, 2019 comes with freebies worth Php 18,994. This includes an ASUS NEREUS Bag and an Instax Mini LiPlay which retails for Php 9,999.
ZenBook Duo (UX481FL) specs
Dimensions: 323 x 223 x 19.9mm
Weight: 1.5kg
Display: 14″ IPS LCD 1920 x 1080 + 12.6″ 1920 x 1080 ScreenPad Plus
Operating system: Windows 10 Home / Pro
Processor: Intel Core i5 / i7 (10th Gen)
GPU: NVIDIA MX 250 (2GB DDR5)
Memory: 16GB DDR4 2666 MHz RAM
Storage: 512GB / 1TB PCIe
Camera: IR Webcam
Connectivity: Wi-Fi 6 (802.11 ax), Bluetooth 5.0
I/O ports: USB Type-C 3.1, USB 3.1 Gen 2 Type-A, USB 3.1 Gen 1 Type-A, HDMI, MicroSD
Keyboard: yes (built-in)
Trackpad: yes (built-in)
Audio: bottom-firing dual loudspeakers (Harman Kardon), 3.5mm audio jack
Battery: 70Wh 4-cell Li-Po battery
Price (Philippines): 74,995 (Core i5 + 512GB storage); 84,995 (Core i7 + 1TB storage)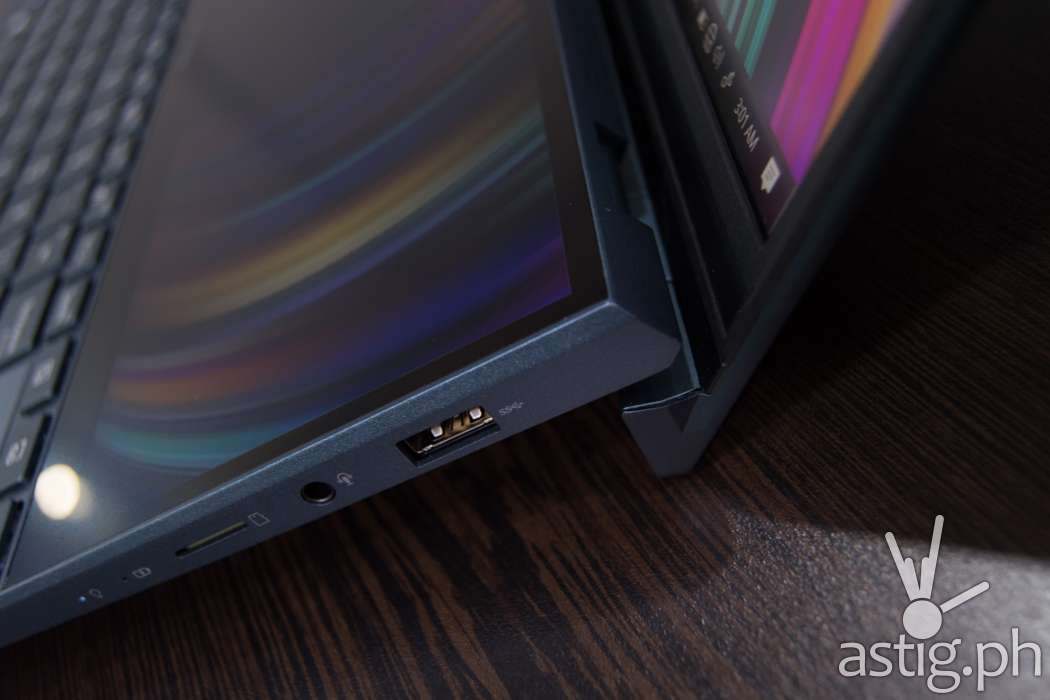 ZenBook Pro Duo (UX581GV) specs
Dimensions: 359 x 246 x 24mm
Weight: 2.5kg
Display: 15.6″ OLED 4K 3840 x 2160 + 14″ 4K 3840 x 2160 ScreenPad Plus
Operating system: Windows 10 Home / Pro
Processor: Intel Core i7 / i9 (9th Gen)
GPU: NVIDIA RTX 2060 (6GB DDR6)
Memory: 16 / 32GB DDR4 2666 MHz RAM
Storage: 1TB PCIe
Camera: IR Webcam
Connectivity: Wi-Fi 6 (802.11 ax), Bluetooth 5.0
I/O ports: USB Type-C, U (Thunderbolt 3), USB 3.1 Gen 2 Type-A (2), HDMI, MicroSD
Keyboard: yes (built-in)
Trackpad: yes (built-in)
Audio: bottom-firing dual loudspeakers (Harman Kardon), 3.5mm audio jack
Battery: 71Wh 4-cell Li-Po battery
Price (Philippines): 159,995 (Core i7 + 16GB RAM); 169,995 (Core i7 + 32GB RAM); 199,995 (Core i9 + 32GB RAM)