ZenFone Max Pro M2 is ASUS' follow up to the highly successful big-battery model bearing a similar name, the ZenFone Max Pro M1.
In just 6 months, ASUS managed to come up with a new ZenFone Max, so this fast-paced product churn seems to suggest an incremental update. However, the Zenfone Max M1 and the ZenFone Max M2 look nothing alike. Is there more to the M2 than minor improvements? Why is ASUS in a hurry to release yet another ZenFone Max?
Let's do a deep dive as we review the ZenFone Max Pro M2.
READ: ASUS Zenfone Max Pro M1 review: Almost perfect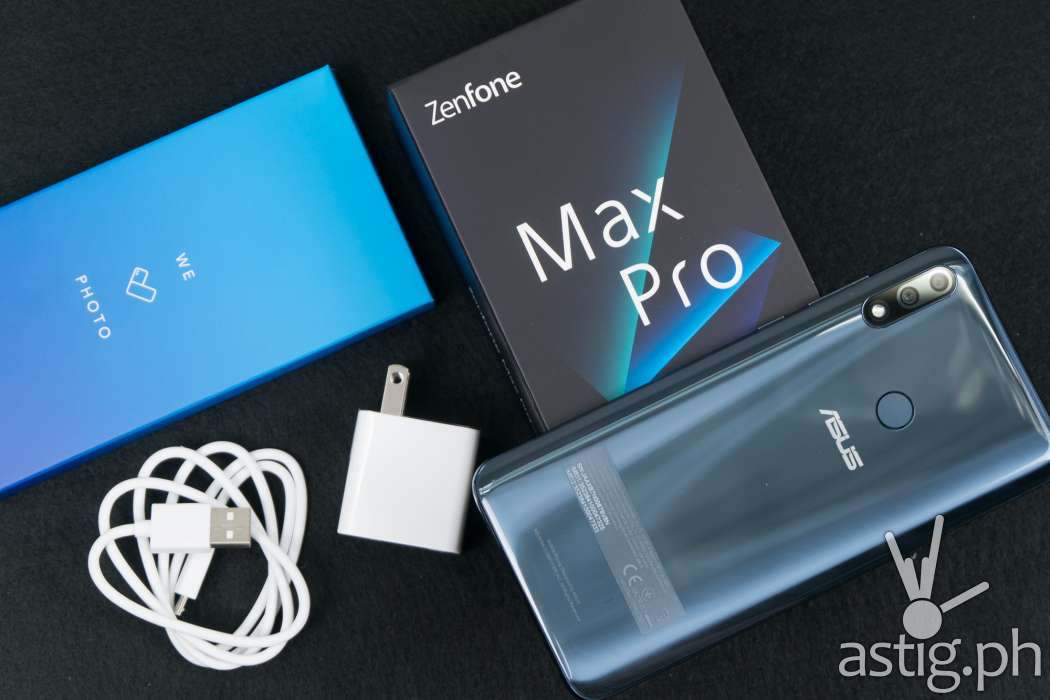 At a glance: Zenfone Max Pro M2
Display: 6.3″ 1080×2280 (Gorilla Glass 6)
OS: Android 8.1 (Oreo)
Processor and GPU: Octa-core 19GHz Qualcomm Snapdragon 660; Adreno 512
Memory and storage: 4/6 GB RAM + 64 GB ROM
Camera: Dual 12 MP f/1.8 + 5 MP (rear); 13 MP (front)
Features dual SIM, microSD (dedicated slot), 3.5mm audio jack, fingerprint sensor
Battery: 5000 mAh Li-Pro
Price: P12995 (4GB + 64GB) / P14995 (6GB + 64GB)
ZenFone Max Pro M2 unboxing video
ZenFone Max Pro M2 screen and build quality
The first thing you'll notice and probably the biggest change over its predecessor is the the notched screen and the glass-coated back, making it almost identical to the ZenFone 5 released earlier this year.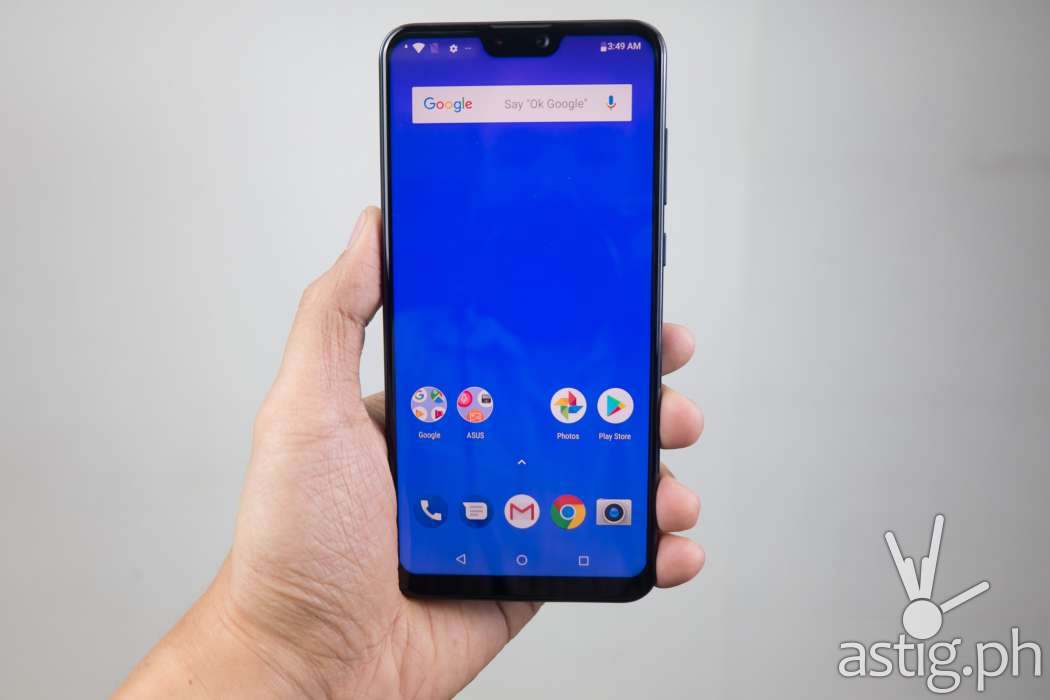 It's been close to 9 months and since then, we've seen smaller versions of the notch from other manufacturers, so this "iPhone X" style notch (if you could call it that) now looks unnecessarily big and dated. That said, it is still a full HD 6-incher, so we're pretty happy with that.
I am also not quite sure about those curved corners. It was one of our nitpicks in the M1 – back then, curved corners didn't make sense because we still had space up top.
This time, it sort of makes sense because the notch allows us to have thinner bezels, but those curves look like they simply covered the corners of the screen with black coating.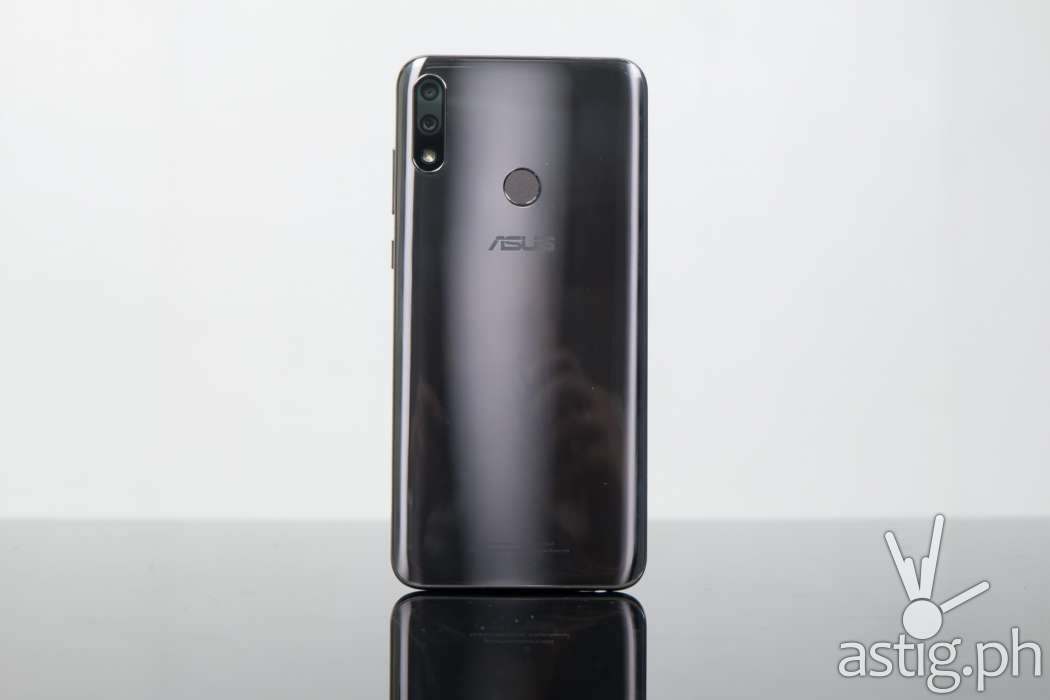 We're normally not a fan of glass backs on phones that do not support wireless charging – they tend to be fragile smudge-magnets that make putting on a case a necessity, but we couldn't help but admire how good the back portion looks, especially on the silver version!
It gives the appearance of brushed aluminum, but it could very well be coated poly carbonate plastic just like the sides. Not that it matters, since everything's covered in glass. It is the second smartphone in the world to be equipped with Gorilla Glass 6, the latest and greatest scratch-resistant glass from Corning.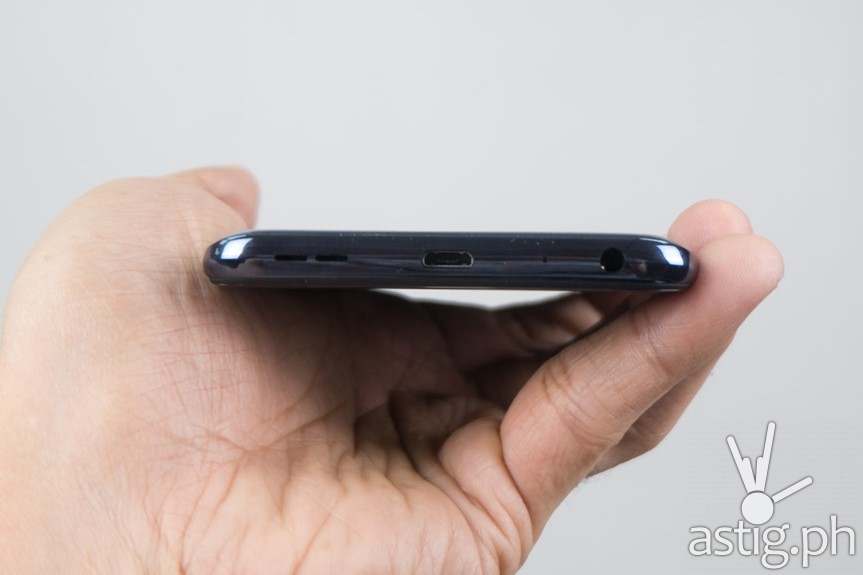 The phone is surprisingly thin and light compared to previous generations of the Max. The first ZenFone Max was noticeably heavy, and the M1 felt a little thick. The ZenFone Max Pro M2 looks is only slightly thicker than the ZenFone 5, and it doesn't even feel that heavy.
We still aren't getting USB Type-C, though. You'll be hard-pressed right now to find a mid-range phone that doesn't come with the ubiquitous but now outdated micro USB port, and we're already near the end of 2018. Hopefully this is the last time we'll be seeing them.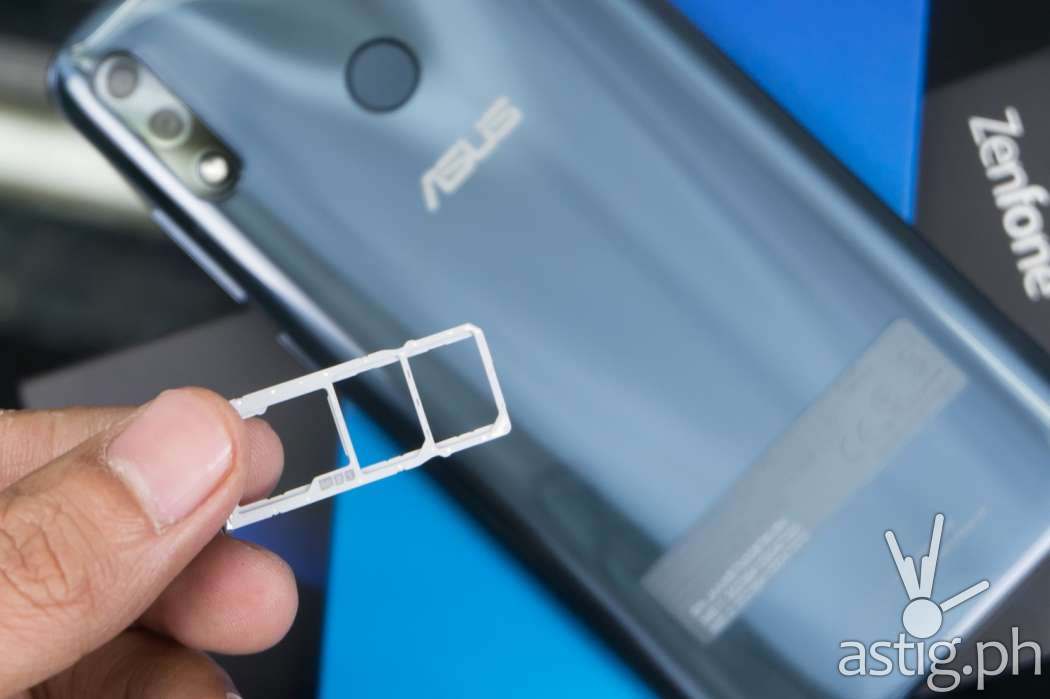 Everything else remains the way it was before: dedicated dual SIM slots and an expansion slot, a 3.5mm audio port, and a fingerprint scanner.
The M2 also gets face unlock, so at this point I'm kind of wondering if we could replace the fingerprint scanner with something more useful, the question is what.
ZenFone Max Pro M2 performance: network, GPS, application
ZenFone Max Pro M2 runs on a Snapdragon 660 SoC – still a 14nm chip like the 636 used in its predecessor, but a welcome upgrade nonetheless.
It runs stock Android 8.1 Oreo out of the box with almost no pre-installed bloat, which is the best thing about the Max M2 so far. Everything is just so fluid and smooth and much faster than the M1 – or any mid-range phone in the Philippines that we've held, for that matter.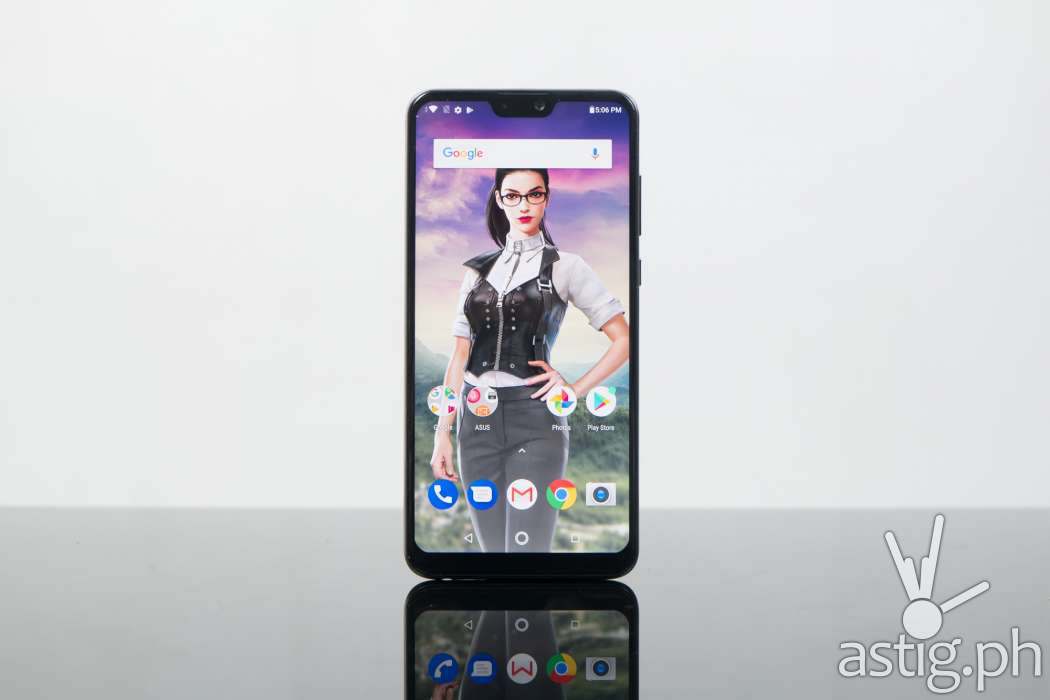 This is the first mid-range phone that I've held that doesn't feel like a mid-range phone. The experience when moving through menus and switching between applications is comparable to that of a flagship device. It's a pleasant surprise – I don't recall getting this kind of buttery smoothness from the M1.
Just to be clear: the performance is still far from today's flagships. This is still a mid-ranger with a mid-range SoC, but rather, the stock Android experience makes it feel like we're running on a much faster processor.
We think 6 GB of RAM may be the sweet spot for mid-range phones right now. Thing is, 4 GB should be enough for most users, so the extra 2 GB gives you wiggle room should the need arise, though we really can't think of a scenario where you'll be consuming all 6 GB.
We tried to "max" out (*ehem*) the entire 6 GB by loading almost every single application we've had and not performing a reboot or a cleanup for several days and the highest we've hit was around 4.3 GB.
Maybe you know something we don't, so feel free to comment and tell us what you think.
Despite its amazing performance, the ZenFone Max Pro M2 cuts corners in communications hardware. So, still no 5GHz Wi-Fi and definitely no NFC.
ZenFone Max Pro M2 gaming performance
When it comes to gaming, the M2 is blessed with an Adreno 512 GPU, which is supposed to be 30% faster than its predecessor, the Adreno 509.
This showed in our synthetic benchmarks, and the actual gaming experience felt a lot better compared to the M1.
The best thing about gaming on the ZenFone Max Pro M2 is that we rarely ran out of battery. Gaming really puts a strain on a phone's resources, causing the it to heat up and drain battery life much faster. The M2 manages to stay cool, and we still had some battery life left over after gaming for an entire day.
Before we move on, we wanted to say something about audio quality – the  the loudness and clarity of the built-in speakers is quite good. We're not sure what ASUS did differently here, but it's something worth mentioning.
ZenFone Max Pro M2 camera: photo and video performance
For photography, both the M1 and M2 uses a customized version of the Snapdragon Camera, which Qualcomm supposedly developed and optimized for devices running the Snapdragon SoC. The features and interface is very basic, so if you're used to PixelMaster or any other manufacturer-developed camera software, it is going to feel underwhelming.
It's interesting to see that ASUS is exploring yet another camera software after spending resources on its in-house PixelMaster since the very first ZenFone came out.
We feel that the only valid reason for this be if the Snapdragon gave better quality photos, but since there's no way to install PixelMaster from Google Play, there's no way for us to compare.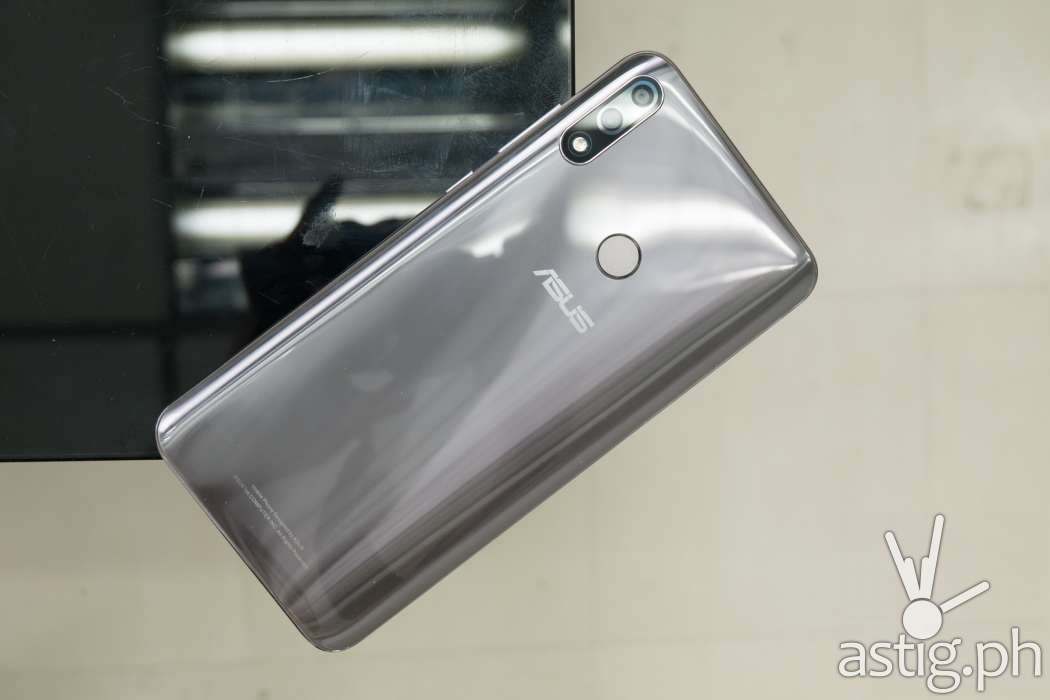 You get essential features like beautification, HDR, depth of field, and portrait mode, and we were told that AI (artificial intelligence) feature will be arriving as an OTA update in December. We were using a pre-release version of the software and experienced experienced some crashes here and there. Hopefully this will also be fixed by then.
The resulting images are quite good, and with a little tinkering we were able to get GCam to run which allowed us to take better low-light photos using "night mode".
Overall, the camera does well in brightly-lit situations, and the short minimum focusing distance allowed us to take macro shots from up close.
The image sensor really struggles in low light conditions, so we ended up having to take more than a few shots to compensate for the blurring. In addition, focusing fails from time to time, so we have quite a few shots that ended up a little soft or out of focus.
Despite having dual AI cameras, the second camera only functions as a depth sensor, so you cannot take photos with the second sensor. The main Sony IMX486 sensor does not have OIS (optical image stabilization). Rather, it relies on EIS (electronic image stabilization) to deliver sharp photos and stable videos, so hopefully these issues can be addressed in a future software update.
Just like the rear camera, the front-facing camera takes average looking selfies. My biggest issue right now is that there doesn't seem to be a way to disable portrait mode (i.e. bokeh or depth effect) on the front-facing camera, so all my selfies ended up having blurry backgrounds, even if I didn't want them to.
Video recording is also fairly average – 1080p at 30fps. It would have been nice to get at least 1080p at 60fps or 4k at 30fps, though.
ZenFone Max Pro M2 battery life
Battery life is where the Max series shines, and on the Zenfone Max Pro M2 we averaged 24 hours with combined use with battery saver turned off, allowing us to use the phone for at least two days on a single charge.
Of course this depends on how you use the phone – our average daily use consisted of about 3 hours of active driving with Waze turned on, about an hour of gaming, 2 hours of Netfilx, and about 4 hours of browsing and social media.
Usually by the time we get home after 12-14 hours of being outdoors, we still have at least 30-40% battery life left in the tank.
So as long as you charge the phone overnight, you can forget about carrying a power bank or an extra phone, and in the event that you do forget to charge it, you can rest easy knowing you still have some battery life left over.
Verdict
The ZenFone Max Pro M2 is one of the leanest mid-range phones that you can buy in the Philippines today. This translates directly to performance gains, which, when combined with the beefy 6 GB RAM, yields a fluid experience that exceeds even that of the ZenFone 5.
To top it all off, it is blessed with a 5000 mAh battery, making it a two-day phone.
Photography was never the strong suit of the Max, so it's nice to see some effort being put into improving this area, however, we may have to wait for future updates to fix some if the issues that we experienced in our pre-production unit.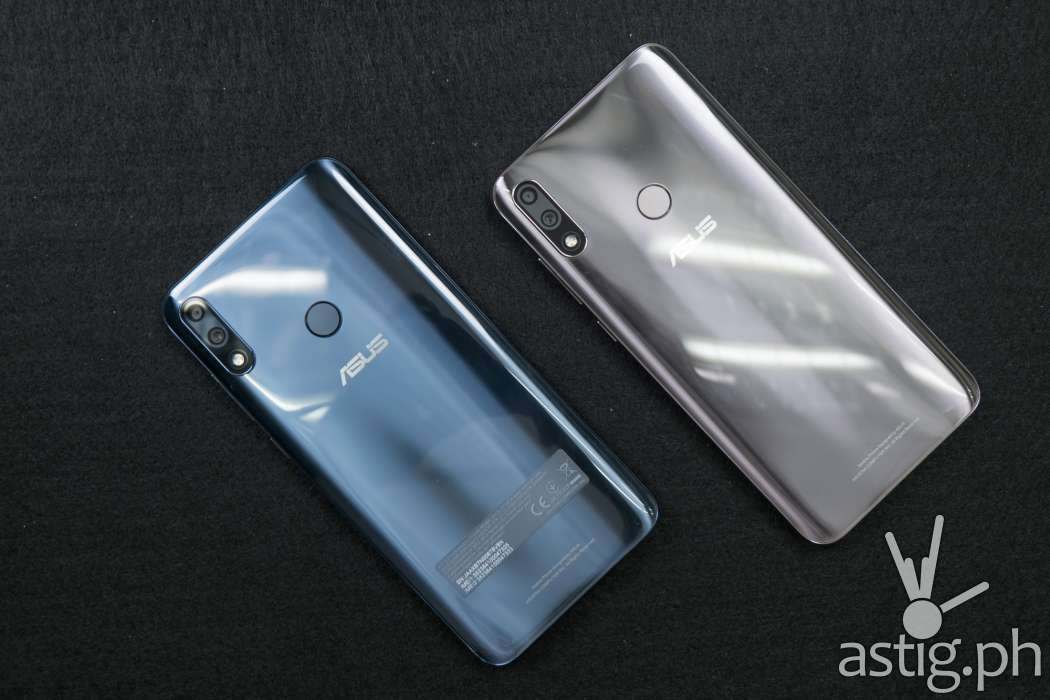 ZenFone Max Pro M2 price and availability (Philippines)
ASUS ZenFone Max Pro M2 with 6GB RAM and 64GB ROM will be available nationwide in the Philippines starting December 15 for P14,995.
An online-only variant with 4GB RAM and 64GB ROM will be available on Shappe and Lazada for only P12,995 starting December 11.
ZenFone Max Pro M2 specs
Screen: 6.3 inches 1080×2280 pixels IPS LCD w/ Gorilla Glass 6
SIM: Dual nano-SIM
OS: Android 8.1 (Oreo)
Chipset: Qualcomm Snapdragon 660
CPU: Octa-core 4×1.8GHz LP + 4×1.9GHz HP Kryo 260
GPU: Adreno 512
Memory (RAM): 4/6 GB
Storage (ROM): 64 GB
Expansion: microSD (dedicated slot)
Camera (rear): Dual 12MP f/1.8 (Sony IMX486) + 5MP f/2.4 (depth sensor)
Camera (front): 13MP
Battery: 5000 mAh
Wi-Fi: 802.11 b/g/n
Colors: Silver, Blue
Price: P12995 (4GB + 64GB) / P14995 (6GB + 64GB)
ZenFone Max Pro M2 sample photos