Ever since the first Zenfone Max came out, it has always been on our radar for one simple reason: that big, fat, juicy … battery. Previous releases felt like watered-down versions of the flagship Zenfones, so we were kind of expecting the Zenfone Max Pro M1 to be somewhat the same. It is not.
Surprisingly, ASUS appears to have gone on a totally different direction with this year's Max, which is unlike what we are used to.
While previous generations of the Max had entry-level specs, the Max Pro M1 sports a mid-range Snapdragon 636 SoC. More importantly, this phone also runs on stock Android 8 – with Treble support. No, you are not dreaming and yes, this is the same ASUS that spent resources creating the Zen UI and putting it in every Zenfone release since 2014 – until today.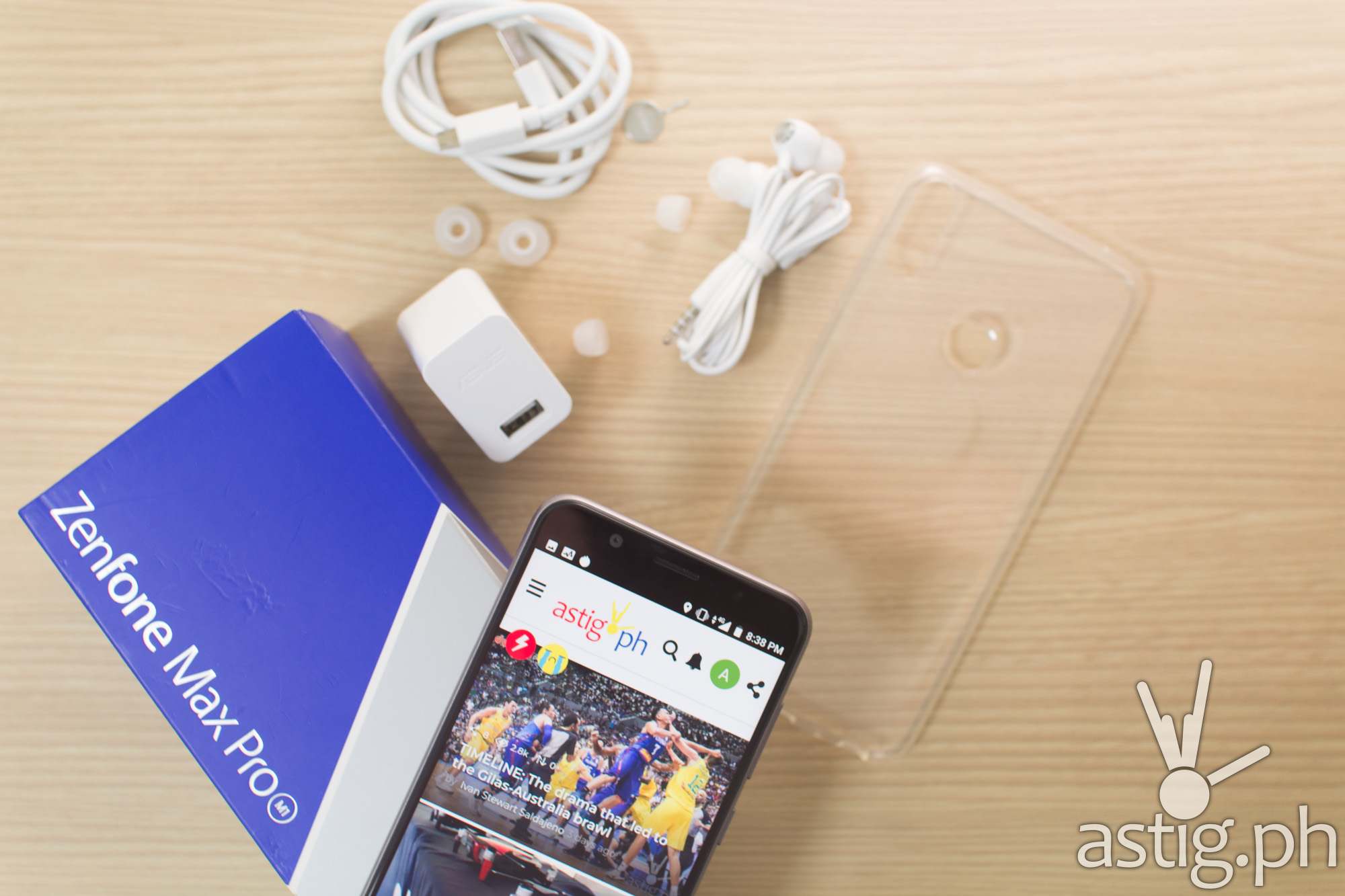 At a glance: Zenfone Max Pro M1
Display: 5.99″ 2160×1080
OS: Android 8.1 (Oreo)
Processor and GPU: Octa-core 1.8GHz Qualcomm Snapdragon 636; Adreno 509 GPU
Memory and storage: 3 GB RAM + 32 GB ROM or 4 GB RAM + 64 GB ROM
Camera: Dual 13 MP + 5 MP (rear); 8 MP (front) or 16 MP + 5 MP (rear); 8 MP (front)
Features dual SIM, microSD (dedicated slot), 3.5mm audio jack, fingerprint sensor
Battery: 5000 mAh Li-Pro
Price: P11,995 > P9,995 get it on Lazada
Screen, body, components
We have said time and again that ASUS is the master of hardware design. It shows in every phone that they make, and the Zenfone Max Pro M1 is no exception. The sand-blasted aluminum chassis never gets old. In a year of unrelenting glass backed phones, we need something familiar to come home to. No smudges! Yay!
Everything feels smooth and solid. The edges of the screen are curved – no accentuated edges here to cut through your palms.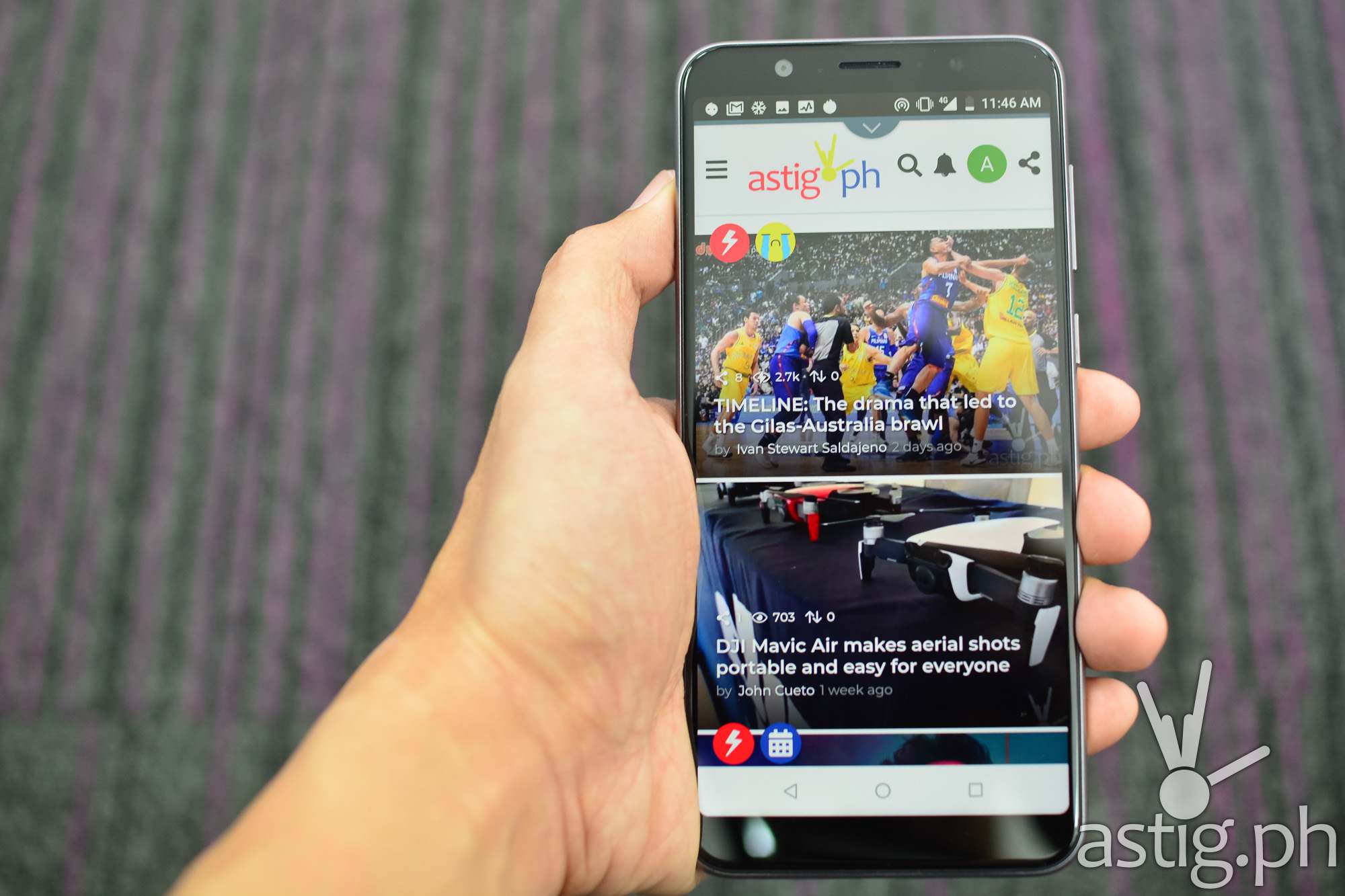 Like the previous Zenfone Maxes, the Pro M1 feels noticeably thicker than most phones, but that's okay – it's just as thick as a Zenfone 5 with a silicone case, and that's okay. One of the benefits of not having a glass back is that you really don't need to use a case, though there's a free one out of the box.
Thankfully, the 5.99-inch IPS LCD screen does not have a notch, but again we still get curved corners, though the curvature is not as wide as the Zenfone 5. The Max Pro M1 has bezels, so we're scratching our heads wondering why go curved at all? Oh we know why – because it's trendy and the trendy peepelz like them, that's why. Damn you trendy peepelz!
We at ASTIG.PH value function over form. Can we take a moment to re-consider this trend of curved corners on phones with bezels?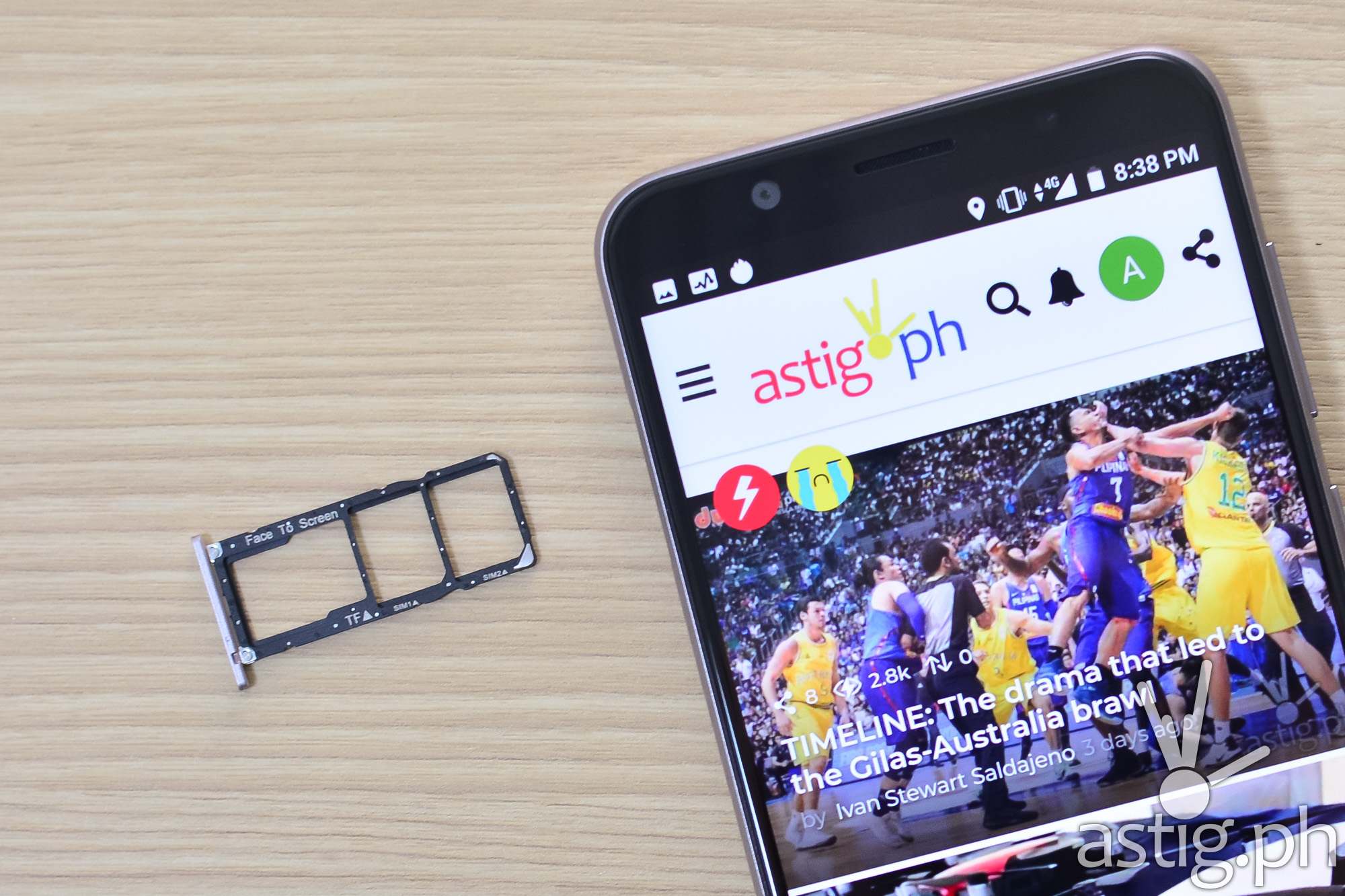 Moving on,
Let's take a minute to appreciate all the additional sensors and connectors that not everyone may use, but there are people who use them, and it's still nice to have if ever you do: dual SIM support, a dedicated micro SD slot, 3.5mm audio jack, and a fingerprint sensor. I personally use all three them all the time.
NFC and dual speakers would have been nice, but we wouldn't miss it. The single loud speaker is loud enough to wake a sleeping baby.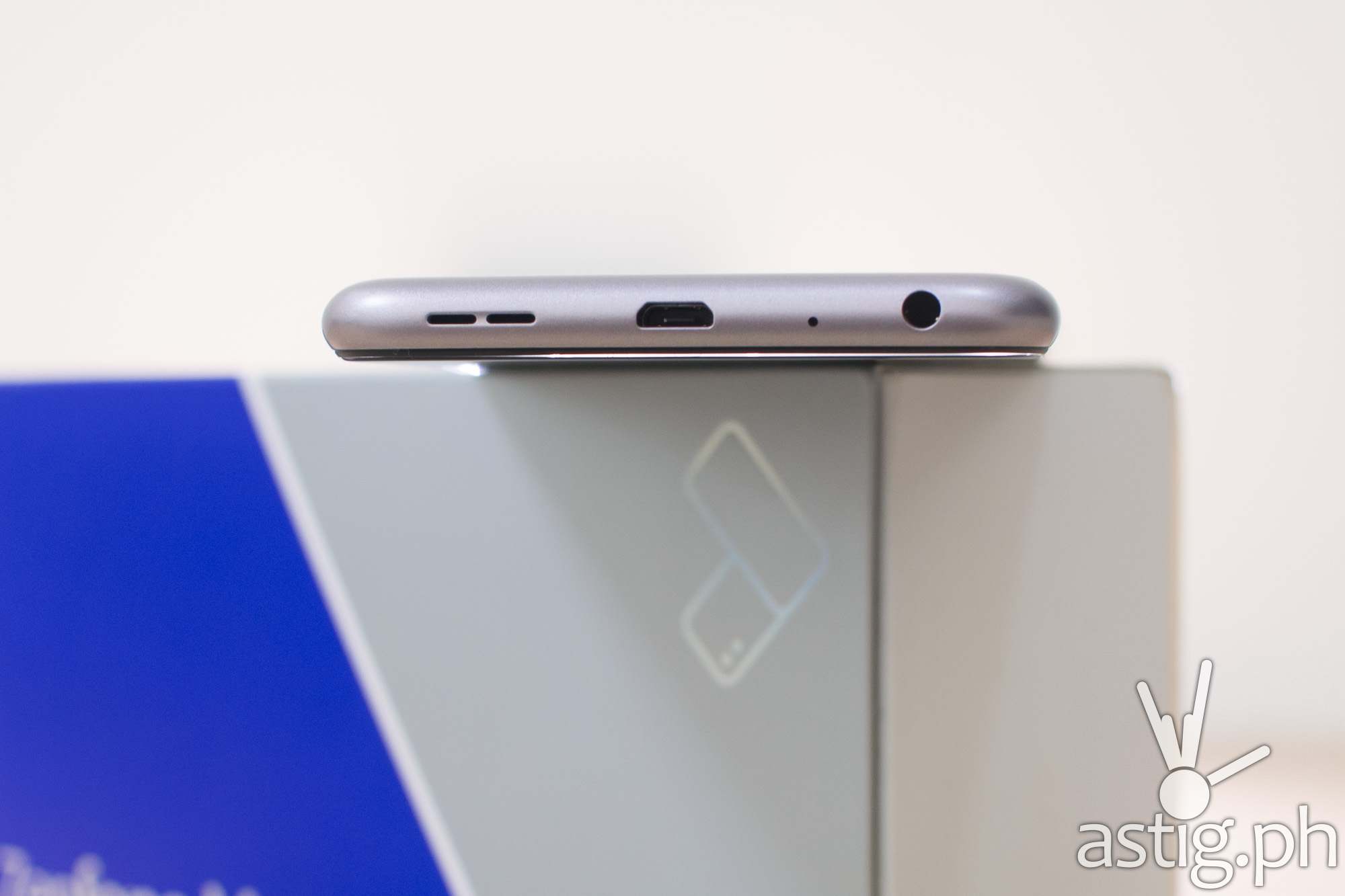 If there was one thing that the Zenfone Max Pro M1 should have, but doesn't, it would support for the Wi-Fi 802.11ac standard. The phone only supports three Wi-Fi 802.11 standards: b, g, and n. This means that it will not be able to see 5GHz access points (AP), limiting your option to the older and much slower 2.4GHz standard.
Why a phone marketed at gamers would not have 5GHz support is anyone's guess. I mean, sure most casuals could live without it, but I certainly would not mind shelling out a little extra for that feature.
Zenfone Max Pro M1 32 GB vs 64 GB?
Before we move further, there are two variants of the Zenfone Max Pro M1. The entry-level one has:
3 GB RAM + 32 GB ROM and a 13 MP f/2.2 + 5 MP f/2.4 dual rear camera for 9,995 Php
While the updated version has:
4 GB RAM + 64 GB ROM and a 16 MP f/2.0 + 5 MP f/2.5 dual rear camera for 13,995 Php
We don't know the exact reason why ASUS is doing this – it feels like an A/B test: are consumers willing to pay 4,000 pesos for additional storage and a better camera?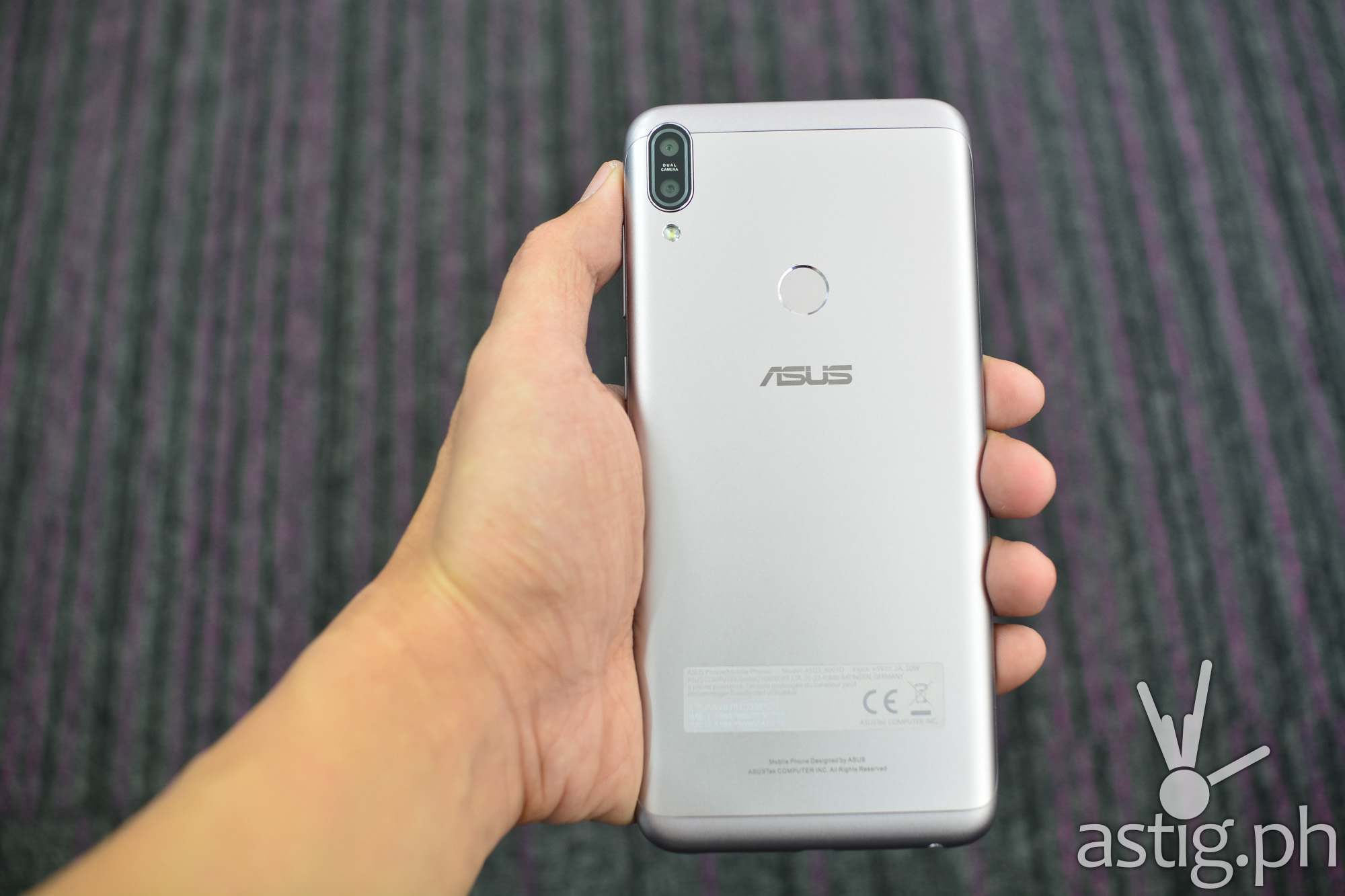 Performance
The absence of support for the 802.11ac standard should translate to a performance hit, though you may not immmediately realize this unless you are connecting to a highly congested 2.4GHz AP.
Thing is, if you are the type who needs to play games on a 5GHz network, then you might need a more powerful phone. Truth is, 2.4GHz is enough for most of us casual gaming peasants.
Snapdragon 636 is a fine mid-range SoC. It is exactly the same chipset found on the Zenfone 5, and that costs twice as much as the Zenfone Max Pro M1. Many of this year's mid-range phones use it, including the Redmi Note 5 and the Xiaomi Redmi Note 5 Pro, Mi Max 3, Lenovo Z5,  Nokia X6, and the Moto Z3 Play
If there's one thing to look out for, it's hanging and crashing, which, in our experience, happens fairly often in Android phones running custom UI.
So imagine our surprise when we found out that the Max Pro runs on stock Android, with Treble support! Stock Android, man! Is this the real life? Is this really ASUS? To my knowledge, they have never done this before.
Unfortunately things are not perfect: apps would slow or stop responding from time to time, breaking what would otherwise have been a seamless user experience. The good thing about software issues it that they can easily be addressed by an OTA (over-the-air) update. I would really have wanted things to work right off the bat considering we are already on stock Android, but understand that this is a first for ASUS.
Given the company's consistency in releasing updates, I would give them some leeway here. There are even rumors that the Zenfone Max Pro M1 is upgrade-able to Android P.
In our experience, ASUS is quite consistent in releasing regular updates for the Zenfone line. What's nice is that they continue to support their older models years after its release.
As of writing, it has been 2 weeks since the Zenfone Max Pro M1 went official, and we have already downloaded and installed at least five OTA (on-the-air) system updates for the phone.
Other than this, face unlock is slow and unreliable, failing at least 25% of the time. We got so used to unlocking the phone using the fingerprint scanner and entering the unlock pattern that we forgot this phone even had that feature.
Performance benchmark results: ASUS Zenfone Max Pro M1
Geekbench: 4214
Antutu: 114746
PCMark Work 2.0: 5892
PerformanceTest Mobile (CPU): 47053
PerformanceTest Mobile (memory): 4770
PerformanceTest Mobile (disk): 36241
Gaming
Adreno 509 is a solid mid-tier GPU that can easily give you at least 30 FPS (frames per second) on the newest games at medium graphics settings. What's nice about the 500 series is that you can push your graphics settings a bit to say, medium-high, and still get decent, playable frame rates.
This places the Zenfone Max in a very sweet spot where you can play every game in the market and get decent graphics. I'm talking about games like NBA 2K18, Lineage 2 Revolution, Rise of Darkness, Tekken Mobile, and Black Desert Mobile.
Mobile eSports and MOBA-type games in particular are optimized run as fast as possible on minimum resources so the Max M1 is fully capable of handling titles like Clash Royale, Arena of Valor (AoV), Mobile Legends, Hearthstone, Vainglory, PUBG, or Rules of Survival (RoS).
Watch the video demonstration to see how well the Zenfone Max Pro M1 peforms with various games.
Any serious (aka "addicted") mobile gamer knows that battery life plays a vital role when playing on the move. At most, a 3000 mAh Android smartphone will net you around 4 hours of continuous gaming with the screen turned on, so you usually end up carrying power banks or even a spare phone.
On the Max Pro M1, we managed to get at least 7 solid hours of non-stop gaming with the screen set to 50% and power saving disabled. The phone manages to stay cool even after hours of continuous gaming, so we are definitely pleased by this.
Storage space could be a concern when gaming on the Zenfone Max Pro M1. Games with really good graphics typically run upwards of around 1.5 GB to over 2 GB. On the 32 GB variant, that leaves little room for your applications and videos. Good thing it comes with a micro SD slot, otherwise, be prepared to shell out an additional 4,000 Php for the 64 GB variant.
3D gaming benchmark results: ASUS Zenfone Max Pro M1
3D Mark Sling Shot Extreme – OpenGL ES 3.1: 933
3D Mark Sling Shot Extreme – Vulkan: 756
Antutu GPU: 20793
Antutu Marooned: 3982
Antutu Coastline: 6510
Antutu Refinery: 1031
PerformanceTest Mobile (3D Graphics): 1050
Photography
When it comes to photography, the Zenfone Max Pro M1 packs a 16 MP f/2.0 + 5 MP f/2.4 dual rear camera and a single 8 MP f/2.0. Both front and rear cameras are equipped with LED flash. Neither of the two has optical image stabilization (OIS).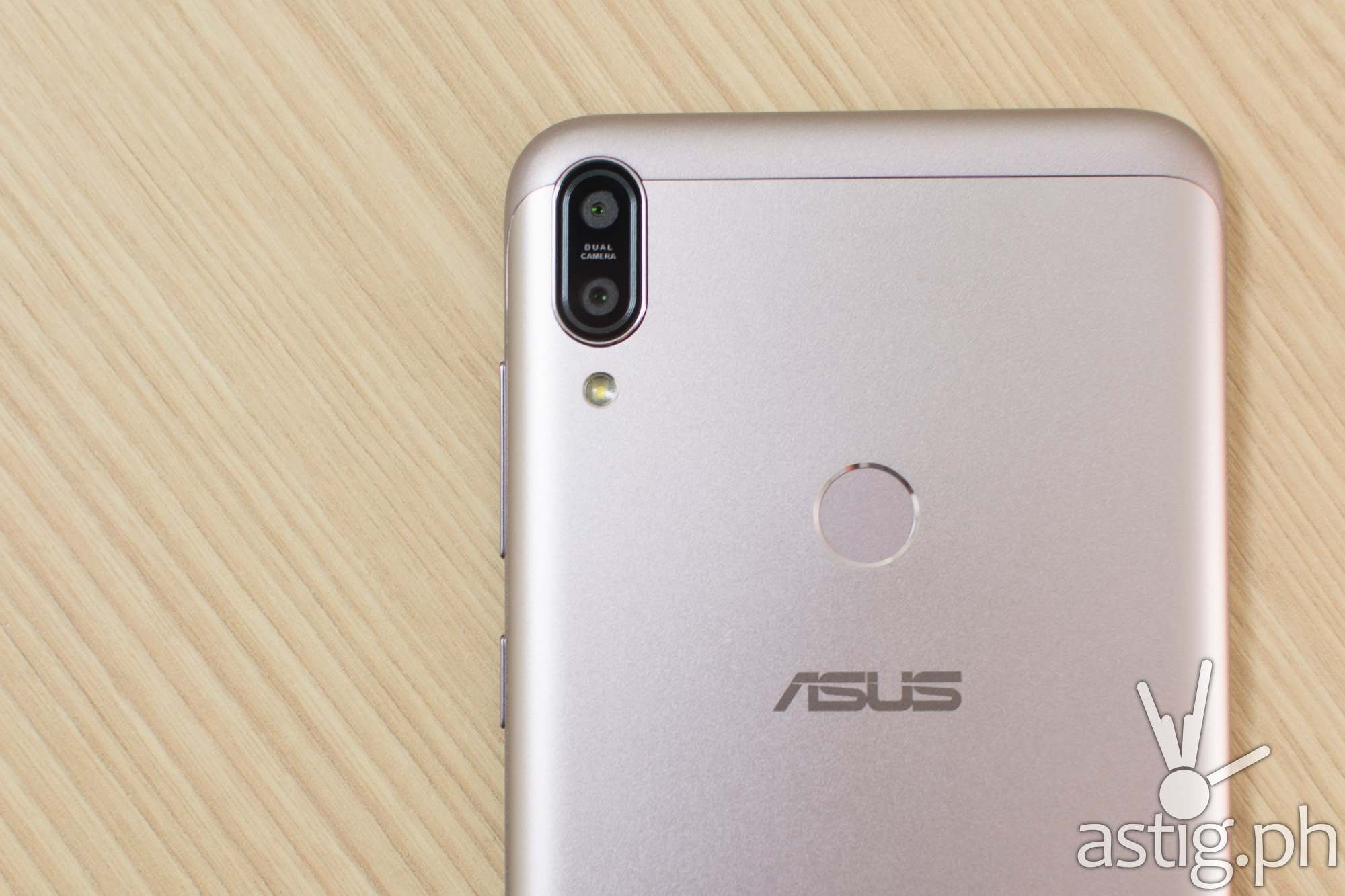 You won't be able to find a dual camera phone within the same price range. Most flagships don't even have a front-facing flash! We have to give props to ASUS for loading the Max Pro M1 with features.
Interestingly, ASUS went with Snapdragon Camera as the default camera app on the Zenfone Max Pro M1 instead of, say, Google Camera, or their own Pixel Master.
The software interface is not as polished as Pixel Master, and the features are a bit limited. It doesn't come with manual shooting mode, and you won't be able to save in RAW format without rooting your phone. We suspect this decision has to do with the way depth effect is implemented on the Snapdragon Camera. It seems to do a better job at edge detection compared to Pixel Master.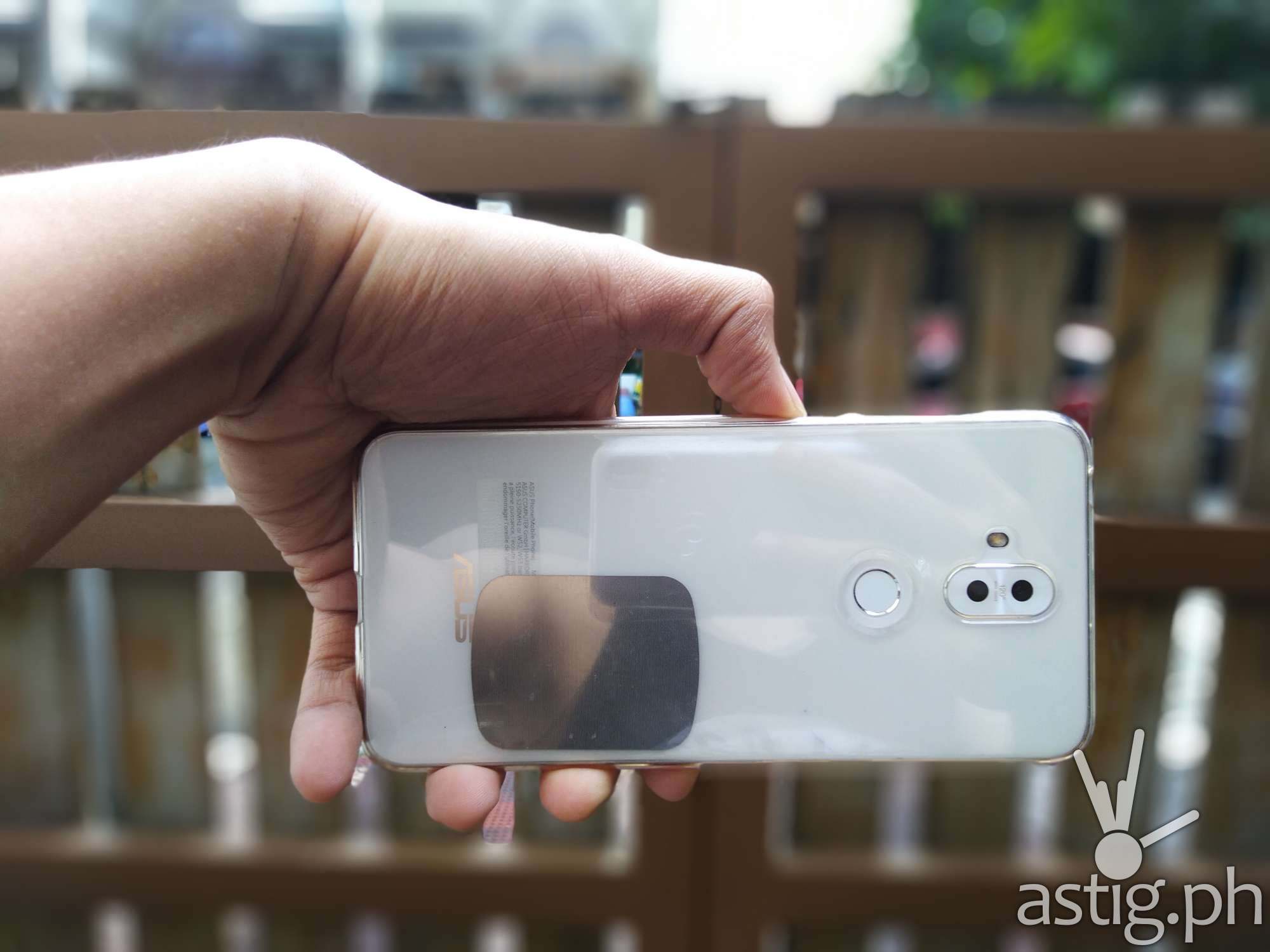 It still fails our depth effect test, but the results are pretty consistent across every lighting condition. You just need to stay very still because we still get a bit of blur even in a room with decent lighting.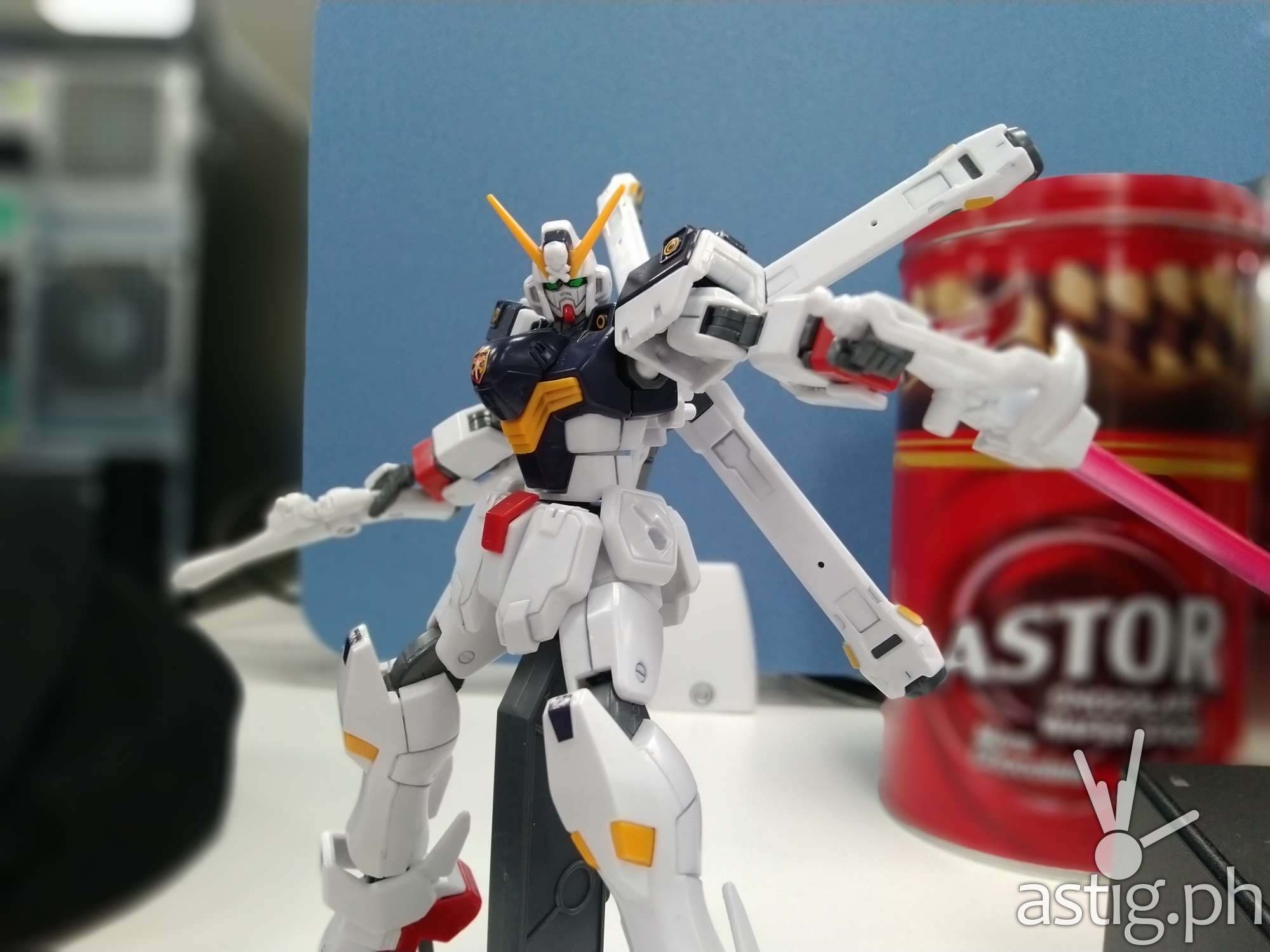 HDR shots actually look natural and not over-saturated or over-processed, though the resulting images are a little darker than those taken in Auto mode.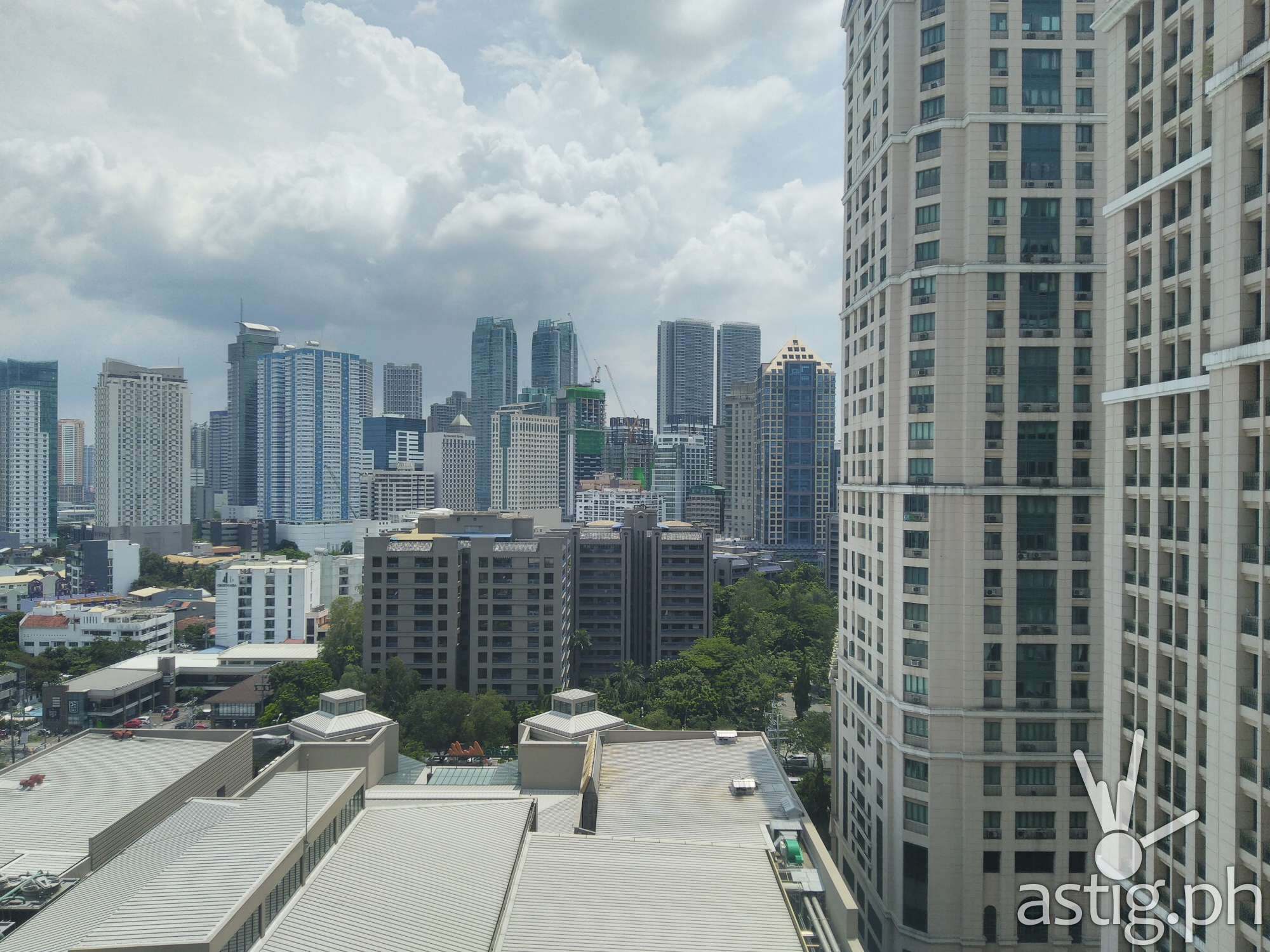 Selfies are pretty decent, though you really need good lighting this time around because we are shooting at f/2.2 aperture with no OIS.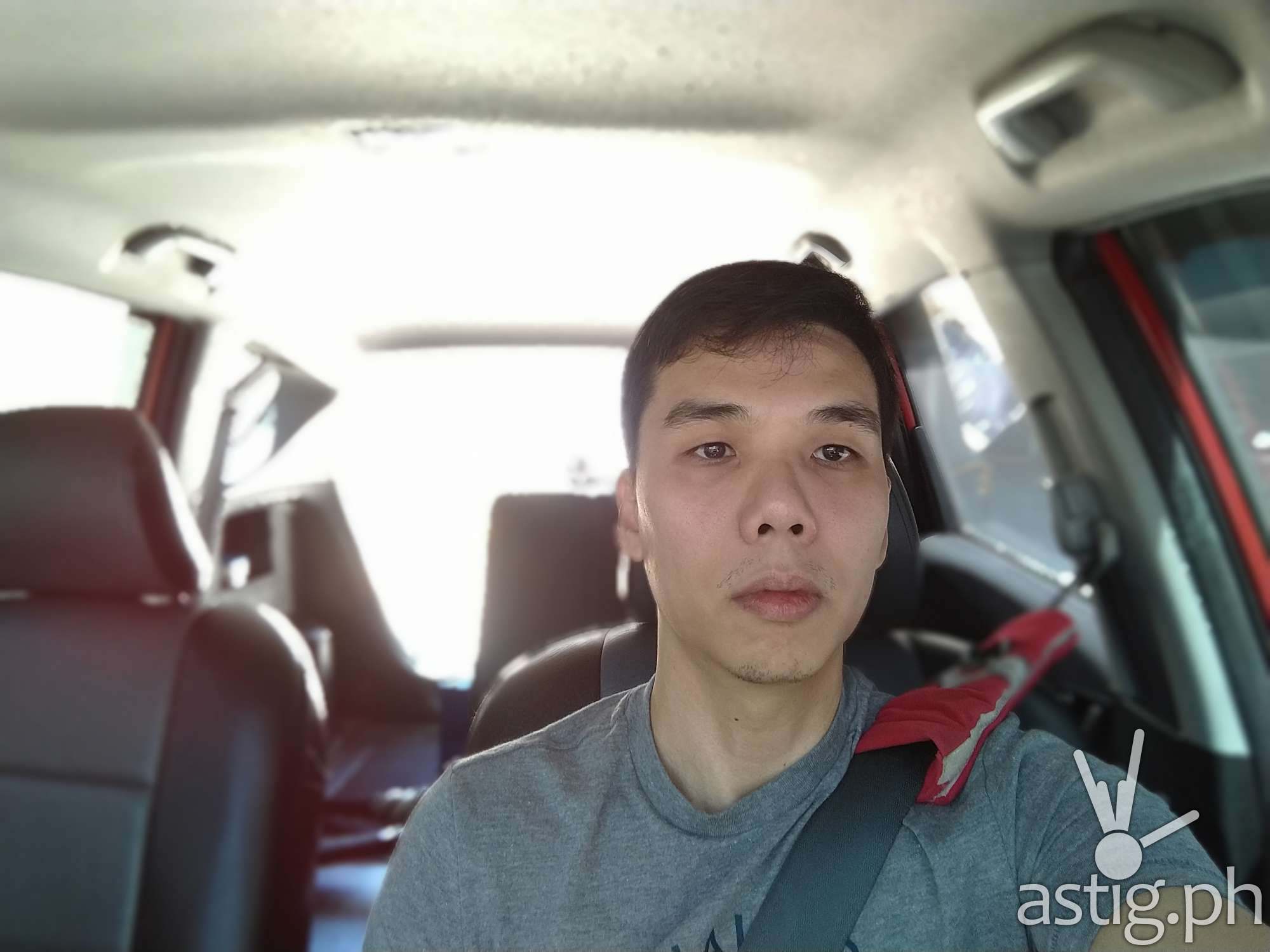 Overall the resulting images look pretty decent, though you need to be extra still when taking shots indoors since we are are limited to an aperture of f/2.2 with no OIS. Sharpness is a tad high and colors pop without looking over-saturated, so they look nice on your phone's small screen while remaining acceptable on a desktop monitor or a television screen.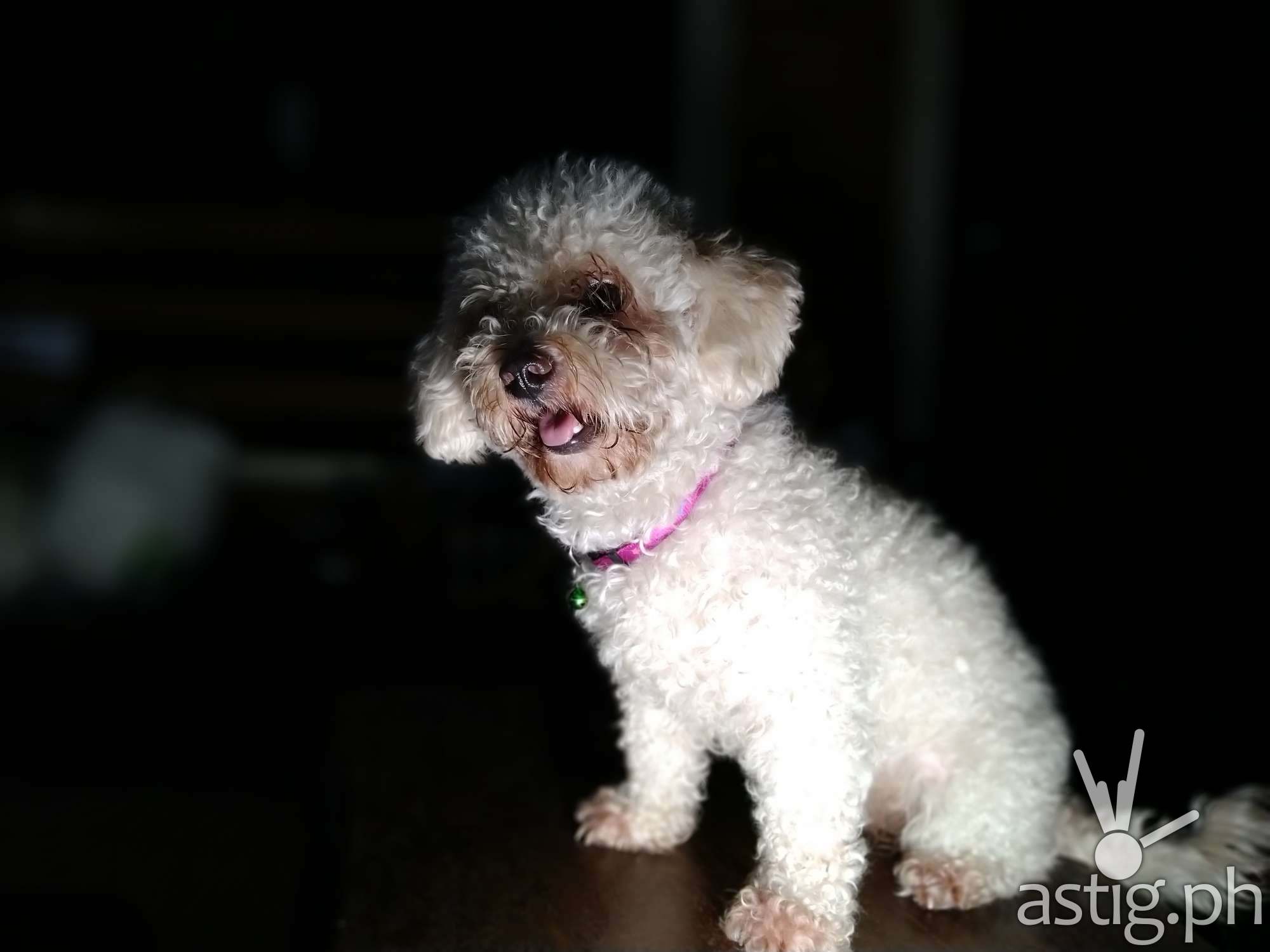 Low light performance could really use some help. I found it difficult to take decent hand-held photos without introducing some blurring.
Shooting with a really small aperture of f/2.2, means the camera needs to compensate by slowing the shutter speed down in order to brighten up the scene. Hand-held shots tend to shake the camera, so OIS could have helped, which the Max Pro M1 unfortunately lacks.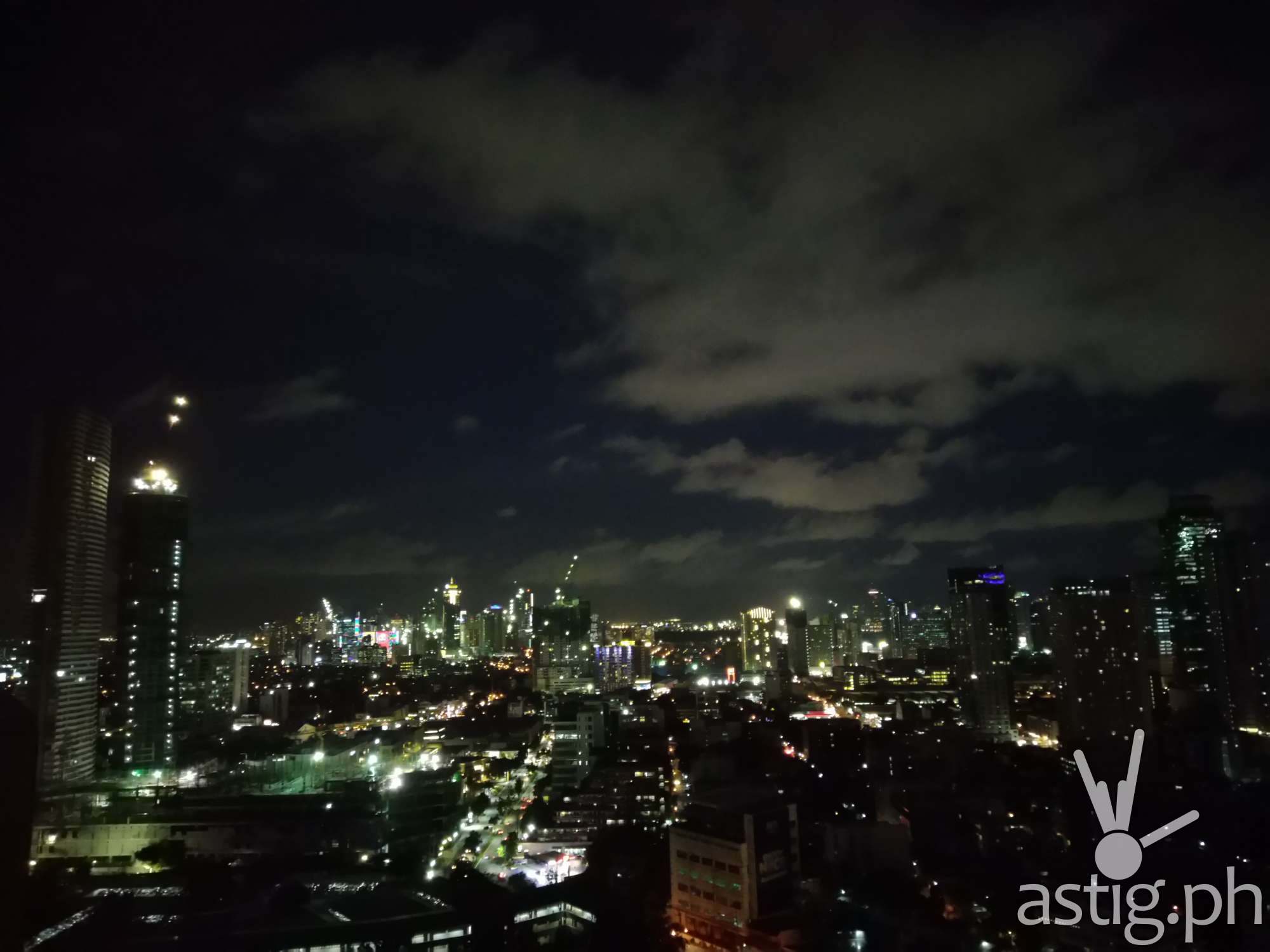 ASUS Zenfone Max Pro M1 sample photos
Unaltered photos – resized and compressed only for web viewing.
Battery
Battery life has always been the highlight of the Max series, and the Max Pro M1 ranks among the highest in terms of battery capacity among all the smartphones available worldwide. In the Philippines, you won't find anything higher than 5000 mAh on anything that's not a phablet.
Now without getting too technical, higher battery capacity does not automatically result to a better yield on the field (uy, rhyme!).
Many factors come into play such as the phone's components and how you use it, which is why it is challenging if not impossible to put "battery life" as a numeric value.
For example, a phone with 2000 mAh battery running on standby will last longer than a phone with 5000 mAh battery constantly running a 3D game or taking a video with the screen on maximum brightness. Point is, everyone's experience varies depending on how they use it.
We did run the benchmarks though. The average screen-on time (SOT) was pretty consistent at around 7 hours, which may not look that impressive until you factor in standby time, which went all the way up to 79 hours and 16 minutes – a whole 3 days.
Real world use is often a mix of screen-on and standby, and AccuBattery pegs this at 19 hours and 54 minutes, which is quite close to our actual experience.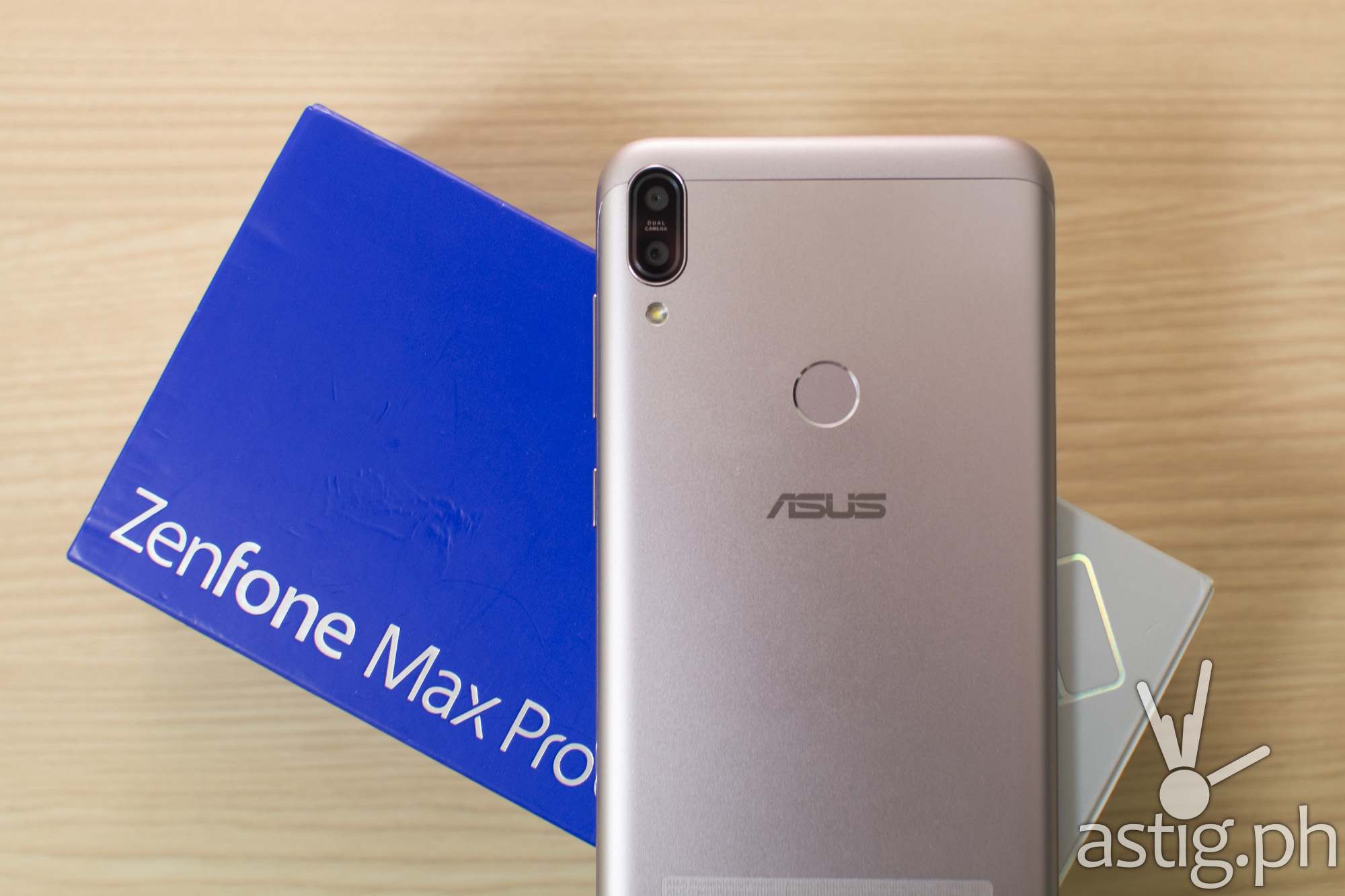 Real-world battery test results: ASUS Zenfone Max Pro M1
Gaming stress test: 7h (100% screen brightness, mobile data only)
Gaming non-stop test: 8h 30m (50% screen brightness, mix of Wi-Fi and mobile data)
Normal use: 25h 15m (auto screen brightness, mix of Wi-Fi and mobile data)
Battery life benchmark results: ASUS Zenfone Max Pro M1
PCMark Work 2.0 Battery Life: 6 hours 52 mins
AccuBattery: 19h 54m (combined use); 7m 6m (screen on); 79h 16m (standby)
GSam Battery Monitor: 22h 32m (combined use); 7h 22m (screen on max)
Verdict
The Zenfone Max Pro M1 elevates the Max line, which has graduated from being a decent backup phone with a large battery to a strong mid-range contender.
You get a balance of performance, features, and battery life. This winning combination is almost everything you might look for from a smarpthone released in 2018. Even the most hard-to-please smartphone critic should at least appreciate the essentials, which include: dual SIM with a dedicated micro SD slot, a big screen with no notch, Snapdragon 636, stock Android, good dual rear cameras with front and rear depth effects, fingerprint scanner with face unlock, 3.5mm audio jack, and of course, a battery that can last for days – all this, for a price below most mid-range phones!
Aside from a faster processor, you only need to add three things to make this a flagship: Wi-Fi 802.11ac support, dual front-firing speakers, and IP68 water proofing. Leave fancy screens and glass chassis to those who want that specific look, thanks.
The Zenfone Max Pro M1 offers so much value for a mid-range phone compared to the rest of the Zenfone line, we worry ASUS might actually be competing against itself!
Priced at only 9,995 Php (3 GB RAM + 32 GB ROM variant), we have a solid contender for best value smartphone of 2018 here, boys and girls!
Do you agree or disagree? Do you own a Zenfone Max Pro M1? How do you like it? And the most important question of all: which is more masarap, keso-cheese pichi-pichi or niyog-ish pichi-pichi?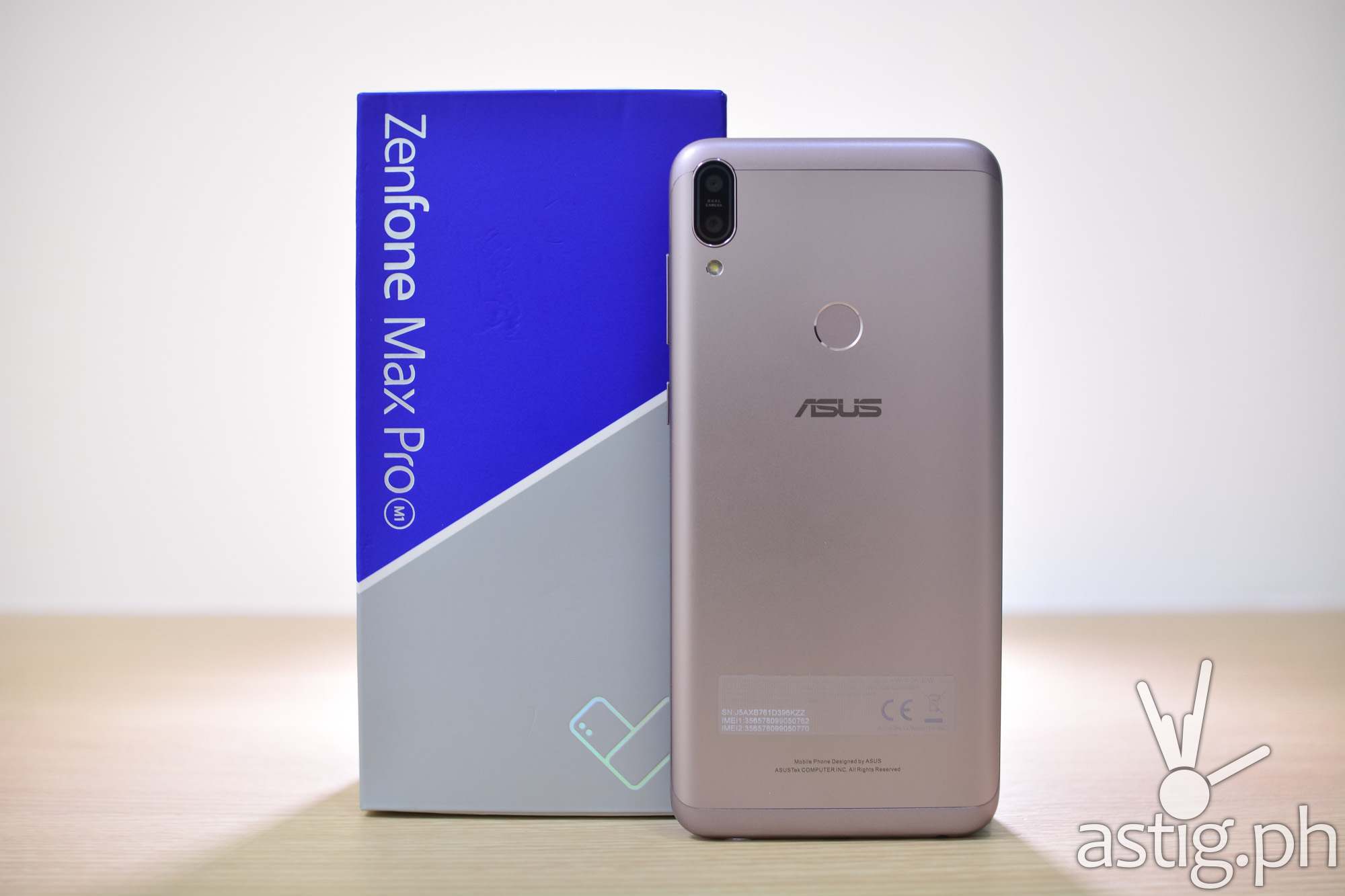 What's ASTIG
5.99-inch HD IPS LCD screen with no notch
Stock Android
Dual rear cameras with front and rear depth effect
Excellent battery life
Priced below most mid-range options
What SUCKED
No Wi-Fi 802.11ac support
Poor low light performance on both front and rear cameras
Software bugs
Face unlock is slow and unreliable
Nitpicks
Rounded corners despite the bezels
Would have wanted USB Type-C instead of MicroUSB (added cost)
OIS on the rear camera would have been great (added cost)
The name "Zenfone Max Pro M1" is a mouthful
No reverse charging like the previous gen Zenfone Max?
Asus Zenfone Max Pro (M1) ZB601KL technical specifications
Display: 5.99″ 2160×1080
OS: Android 8.1 (Oreo)
SIM: Dual SIM (Nano-SIM)
Chipset: Qualcomm Snapdragon 636
CPU: Octa-core 1.8 GHz Kryo 260
GPU: Adreno 509
Memory: 3 GB RAM + 32 GB ROM or 4 GB RAM + 64 GB ROM
Expansion: microSD (dedicated slot)
Camera (rear): Dual 13 MP f/2.2 + 5 MP f/2.4 or Dual 16 MP f/2.0 + 5 MP f/2.4
Camera (front): 8 MP f/2.2
Connectors: 3.5mm, microUSB
Communications: Bluetooth 4.2, Wi-Fi 802.11 b/g/n
Fingerprint sensor: Yes
Battery: 5000 mAh Li-Pro
Price: P11,995 > P9,995 get it on Lazada