Most of us have, at some point, turned to the stars to find out more about our special someone. Zodiac signs are like personality cheat-sheets, giving us a fun and entertaining way to understand what makes our loved ones tick. With Valentine's Day just around the corner, those birth charts will come in handy in picking out a present that our significant other will surely appreciate.
Whether you're present-hunting for a meticulous Virgo or a rebellious Aquarius, Shopee has you covered with big discounts on the best tech gifts when you shop on Gadget Zone this February 3.
For the intelligent and trend-setting Air signs on the lookout for something new
Known to be spontaneous and adventurous, it can be tricky to find gifts for Fire signs that can keep up with their ever-changing and on-the-go lifestyle.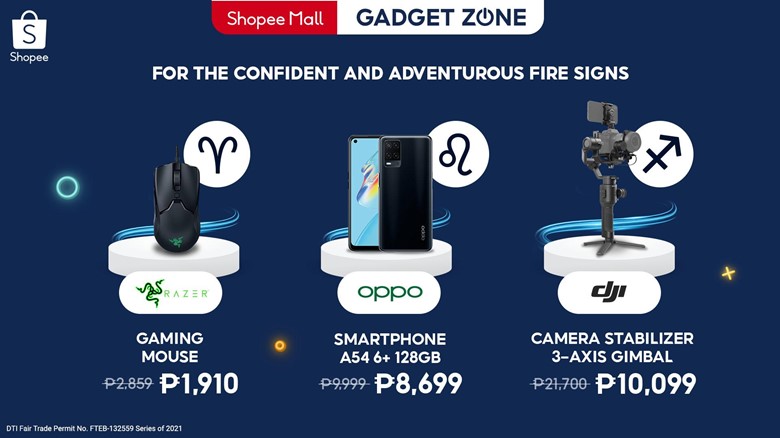 Sagittarius: DJI Ronin-SC Camera Stabilizer
The DJI Ronin-SC Camera Stabilizer is perfect for the adventure-seeking Sagittarius, with its lightweight and compact build that makes it easy to pack and carry wherever you go.
Leo: OPPO A54
Leos love being the center of attention, so the OPPO A54 is the perfect phone for selfies and video calls that show them at their most glamorous.
Aries: Razer Viper Mini Gaming Mouse
Let Aries channel their competitive spirit with this Razer Viper Mini Gaming Mouse to enhance their gaming experience with absolute control, precise accuracy and seamless movement.
For the practical and dependable Earth signs who are the masters of WFH
Earth signs have mastered the ways of home life long before everyone else, so gadgets that spruce up their space will always be appreciated.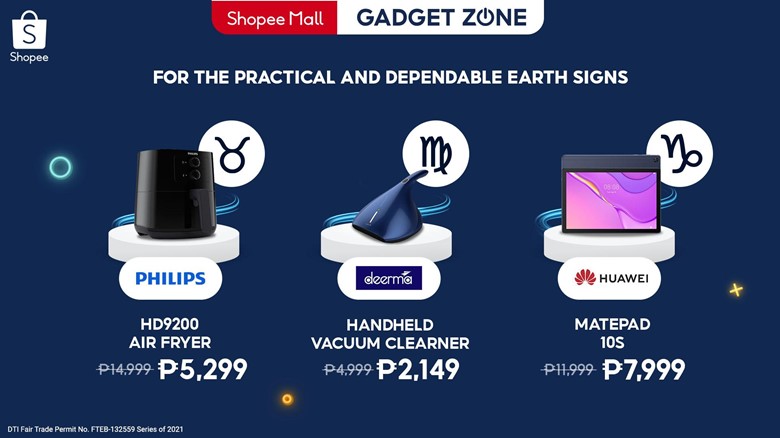 Taurus: Philips HD9200 Air Fryer
Taurus natives are known to be foodies, making the Philips HD9200 Air Fryer the perfect gift for convenient meal preps and fun kitchen experiments.
Virgo: Deerma CM818 Handheld Vacuum Cleaner
For the perfectionist Virgo who needs to keep their home office clean and tidy at all times, this Deerma CM818 Handheld Vacuum Cleaner comes with a built-in 200ml large capacity dust collector and powerful suctions, making sure that all dust and dirt are thoroughly removed.
Capricorn: HUAWEI Matepad 10s Tablet
For one of the hardest workers in the Zodiac, reward your Capricorn partner with a HUAWEI Matepad 10s Tablet to help them achieve their career goals.
For the intuitive and caring water signs who are highly attuned to emotions
Water signs are great at connecting with others and have the ability to understand in detail their own and others' emotions.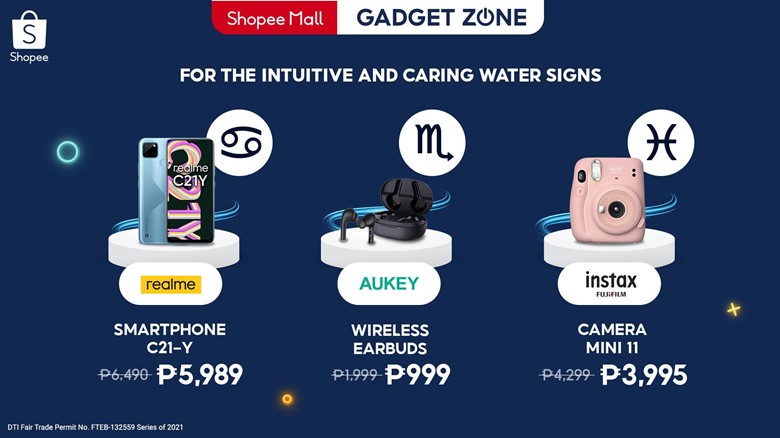 Cancer: realme C21-Y
The realme C21-Y is the perfect gift for the loyal and devoted Cancer during times like these, with its 13MP AI Triple Camera designed for crisp video calls and a 5,000mAh massive battery that helps you stay connected throughout the day.
Scorpio: Aukey Wireless Earbuds
Mysterious and passionate Scorpios love having "me time," so show them love with these Aukey Wireless Earbuds, which come with a 5-hour long battery life and a powerful bass performance that's perfect for their evening soundtrip sessions.
Pisces: Instax Camera Mini 11
Pisces are the dreamers of the Zodiac, so let them freely express their creativity and capture meaningful moments with the Instax Camera Mini 11.
For the intelligent and trend-setting Air signs on the lookout for something new
Air signs are visionaries who are always eager to explore something new.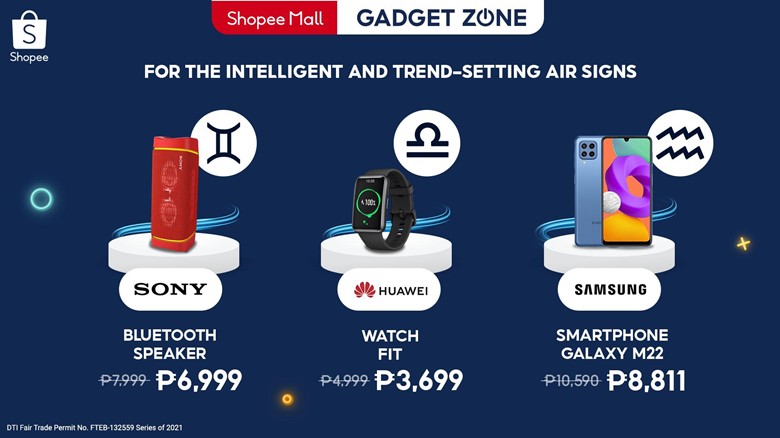 Gemini: Sony SRS-XB33 Bluetooth Speaker
For the inventive and entertaining Geminiss who love to curate playlists, the Sony SRS-XB33 Bluetooth Speaker is a must-have, with its Stamina Mode that extends battery life up to 24 hours and a Live Sound button that gives a unique three-dimensional sound experience.
Libra: HUAWEI Watch Fit
You can't go wrong with the HUAWEI Watch Fit for the charming and fashionable Libra– this stylish smartwatch fits into their aesthetic lifestyle perfectly with its eye-catching colorway, 97 workout modes, and a 24-Hour Heart Rate monitor.
Aquarius: SAMSUNG Galaxy M22
For the free-spirited Aquarian who's always two steps ahead, the Samsung Galaxy M22 has an eye-catching, modern design with powerful mobile photography features, making it the perfect mobile phone for their creative, innovative personality.
Grab all these gizmos and find discounts up to 90% off on popular gadgets when you visit https://shopee.ph/m/gadgetzone. Get big discounts from the best brands such as Phillips, OPPO, Vivo, PerySmith, Samsung, Huawei, Razer, Zeus, Akari Lighting, HyperX, Deerma, DJI, Mcdodo, Tigernu, Xiaomi and POCO on February 3.
As you shop for the perfect Valentine's gift for your significant other, make sure to checkout with ShopeePay for exclusive perks and savings; such as daily free shipping and cashback vouchers. With Shopee's all-in-one e-wallet, you can look forward to cashless payments and deals when you buy load, pay bills, send money, and scan to pay at thousands of merchants nationwide.