MANILA, Philippines – About 3,000 students from the highest-need, senior-ready public high schools in Metro Manila are now learning science, technology, engineering, and mathematics (STEM) with the help of brand new equipment received recently from the Caltex Fuel Your School (FYS) program of Chevron Philippines Inc. (CPI), marketer of high-quality brand of Caltex fuels and lubricants.
A global Chevron social investment program that was first introduced in the country this year, Caltex FYS involved motorists and the public who supported the said campaign during the donation period wherein every 4-liter fuel purchase in any of the 153 Caltex stations in Metro Manila, Rizal, and Cavite generated one peso donation to fund the projects.
Chevron aims to reach a P5M donation fund or at least P150,000 per target beneficiary school. This amount was met during the fuel-up drive and social media campaign from June 15 to July 15, 2015. This funded the 28 STEM classroom proposals that were shortlisted by program partner American Chamber Foundation as submitted by 27 of the 33 schools pre-selected by DepEd as schools most in need of support in Metro Manila.
The delivery of the STEM teaching tools such as laboratory equipment, engineering kits, scientific calculators, laptops, tablets and multi-media projectors to the schools were received with both delight and tears by the teacher-proponents, most of whom were still having a hard time believing their wishes had come true.
Kalayaan High School in Pasay City, teacher/project proponent Reynaldo Cordova said that "[These] brand new electronics and technical apparatus will help realize the dreams of the poorest of the poor students [of Kalayaan High School] of becoming free from poverty". In Pasay City South High School, on the other hand, teacher/project proponent Jonalyn Suzara requested 303 units of brand new scientific calculators. "I can vividly remember how my students use palengke-style calculators in computing. They were complaining, 'Ma'am, we cannot make logarithmic computations here.' That will not be a problem anymore with these scientific calculators," added Suzara.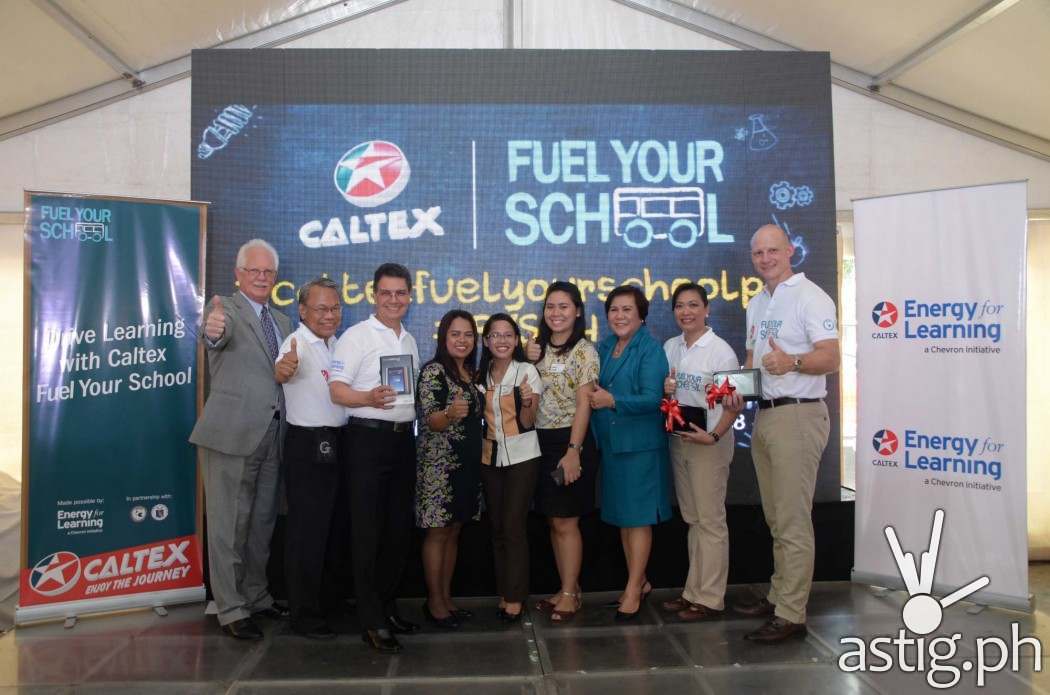 Some of the teachers got emotional upon receiving their requested STEM equipment and materials. In Carlos L. Albert High School in Quezon City where most students have limited or no access to the Internet, teachers vouched that the state-of-the-art multimedia materials from Caltex FYS will help students learn faster through interactive participation. Said a teary-eyed Cecilia Biapo, the school's science department head, "In the past, storms and typhoons forms were discussed through 'MP3' or 'Manila Paper 1, 2, 3'. Now, we have 48-inch flat screen TV! Who wouldn't want to see animations of cyclogenesis with that?" she relayed.
Other schools took a step closer to their specific academic visions after receiving the STEM equipment. Imelda Quiban, the STEM department head of Pitogo High School in Makati City, shared, "To craft the finest biochemistry research, our student-researchers used to rent an autoclave – or sterilizer machine in a university in Laguna for PhP5,000. But now, we have our own! Whereas we were forced to use 'vintage' equipment, now our autoclave is shiny and brand new. Thanks to Caltex, our school will soon be the 'center of science research' in Makati."
To help spread awareness and thus enable more people to donate and like the projects posted in the FYS website, the Caltex campaign also ran a Facebook component, prompting several of the schools to devise gimmicks and strategies to rack up votes. Caloocan National Science and Technology High School, the smallest school among the shortlisted schools in terms of student population, emerged as the victor after getting the most number of votes. Teacher/project proponent Fel Rose Ignacio despite their relatively small school population campaigned to the students through a daily "Facebook voting hour" and had the students view the instructional video she and her co-teachers created exclusively for Caltex FYS. She recalled, "We uploaded this video and shared the link to the dedicated Facebook page in which all of our students were members, then they utilized the 'web-of-mouth' strategy and shared with their network."
Also in the top three based on the Facebook voting rank are Culiat High School in Quezon City and Pasay City East High School. All three schools received a new laptop each as a bonus prize in addition to the STEM materials they asked for, for the untiring but fruitful campaigning both in social media and fuel-up drive.
Motorists and the social media community played a significant role in the Caltex FYS program. Entrepreneur Mich Mori said, "I supported the campaign because I wanted to do my part in helping these kids have a bright future. Who would've thought that a portion of my weekly gas expense can turn into something beneficial?" Blogger Andy Nieva meanwhile relayed, "When you see, read, and like the [Caltex FYS] projects on Facebook, you somehow turn a leisure [activity] into valuable support for the beneficiary children. In this little way, I fueled up the dreams of these students to become a reality."
According to Olivia Dagdag, the principal of Camp Gen. Emilio Aguinaldo High School in Quezon City, "I set the direction of our school and that is to achieve our Caltex FYS project. Unity is the key to success. That is why I believe the Caltex FYS program became successful not only because of our school initiative, but also with the collaboration of the motorists, the community, and the private sector."
Raissa Bautista, manager for CPI's Policy, Government, and Public Affairs, explained that the company believes that "Education is the greatest equalizer. The combination of quality school equipment provided by Caltex FYS, passionate teachers, and motivated students will make education a very powerful tool for economic growth and sustainability."
Caltex Fuel Your School is part of CPI's Energy for Learning Initiative which supports educational programs that create opportunities for individuals to acquire new knowledge, gain new skills, and be exposed to different ways of thinking.
To find out more about the STEM projects of the beneficiary schools, go to www.CaltexFuelYourSchoolPH.com.