QUEZON CITY, Philippines – Aicelle Santos is back from her stint as Gigi Van Trahn in the Miss Saigon global tour to reprise her role as Aileen in the Philippine Educational Theater Association's (PETA) longest-running hit Pinoy musical Rak of Aegis, running from July 5 to September 29, 2019!
Rak of Aegis is written by Liza Magtoto, directed by Maribel Legarda, and features songs from the popular 90's band, Aegis, arranged for the show by Myke Salomon. The musical tells the story of Aileen, a young girl with a big voice who dreams of viral fame on YouTube and guesting on the Ellen Degeneres show. While Aileen's motives at first seem shallow, she later reveals that it is because she wants the world to know of her barangay's condition: submerged in flood for almost three months, with their livelihood and health all slowly drifting off with the waters.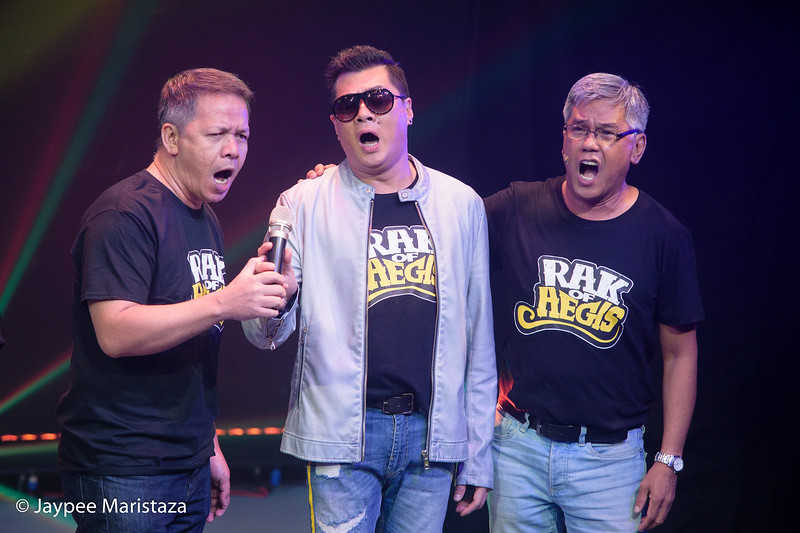 Aicelle Santos is PETA's original Aileen when Rak of Aegis first debuted in 2014. The show continued with Aicelle in the principal role until the show's fifth season in 2017, when Aicelle became part of the Miss Saigon global tour. Rak of Aegis continued on its sixth season in 2018, with Kim Molina top-billing the musical as Aileen.
This 2019, due to insistent public demand, Rak of Aegis will have its seventh season, co-presented with the Organisasyon ng mga Pilipinong Mang-aawit (OPM), The PhilPop MusicFest Foundation (PhilPop), and PLDT Home Fibr, as "a tribute to and celebration of original Pinoy music and artists," according to Rak of Aegis director Maribel Legarda.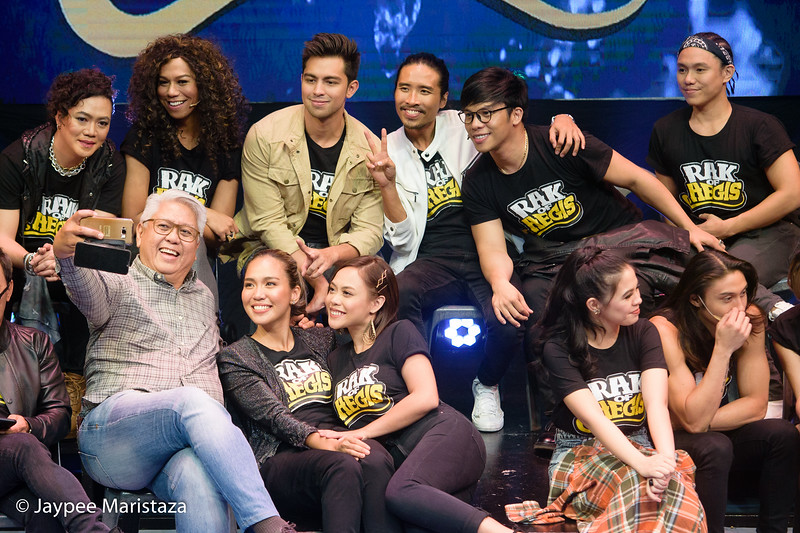 Aicelle returns with fellow Aileens: Viva artist and award-winning actress and singer Kim Molina, and World Championships of Performing Arts multi-medalist and division winner Shaira Opsimar. "Ito 'yung pamilya na babalik-balikan mo," says Aicelle. "After doing an international show, 'nung nabalitaan kong magkakaroon uli ng Rak… Game! Kasi gusto ko sila makasama uli." Rak of Aegis Season 7 also welcomes a new Aileen, Kimberly Baluzo who won 1st Runner Up in Wish 107.5 Wishcovery 2018.
Moreover, OPM legends are an exciting addition to the cast: singer-songwriter and actor-comedian Randy Santiago (Fernan); multi-award winning singer-songwriter Noel Cabangon (Kiel); and world music performer and actress Bayang Barrios, and singer-actress Jenine Desiderio (Mary Jane) who will be joined by Leah Patricio from The Voice of the Philippines Season 2 (Mercy); GMA artist and singer Derrick Monasterio (Tolits); Viva artist and two-time PhilPop grand prize winner Yumi Lacsamana (ensemble); and up and coming theater artists Ashe Uy, Marynor Madamesila, Lemuel Silvestre, and Gerard Dy as members of the ensemble.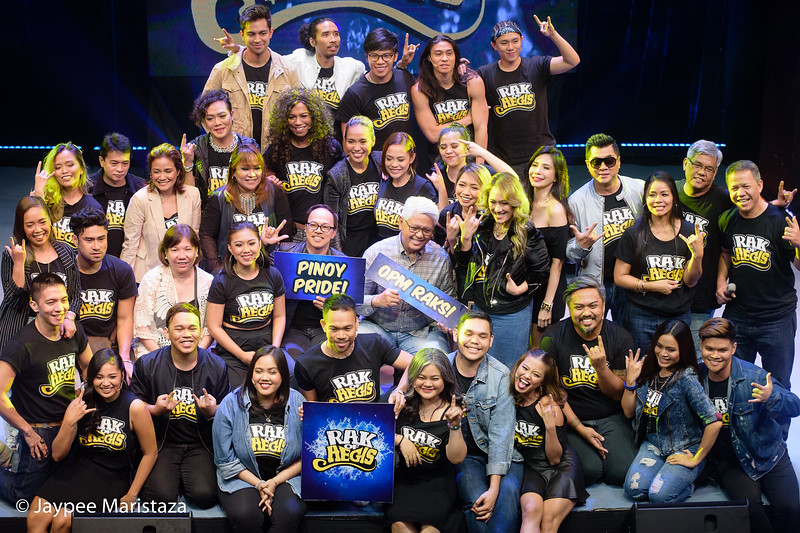 Another attraction is the comeback of the original and returning cast: Isay Alvarez-Seña and Sweet Plantado-Tiongson (Mary Jane); Robert Seña and Renz Verano (Kiel); Kakai Bautista and Neomi Gonzales (Mercy); Myke Salomon, Poppert Bernadas, and Vince Lim (Kenny); Jerald Napoles, Pepe Herrera, and Joshua Bulot (Tolits); Ron Alfonso and Jimmy Marquez (Jewel); Gie Onida and Rody Vera (Fernan); and Gimbey Dela Cruz, Gab Pangilinan, Matel Patayon, Abi Sulit, Teetin Villanueva, Gold Villar-Lim, Paeng Sudayan, Roi Calilong, Gio Gahol, Carlon Matobato, and John Moran as members of the ensemble.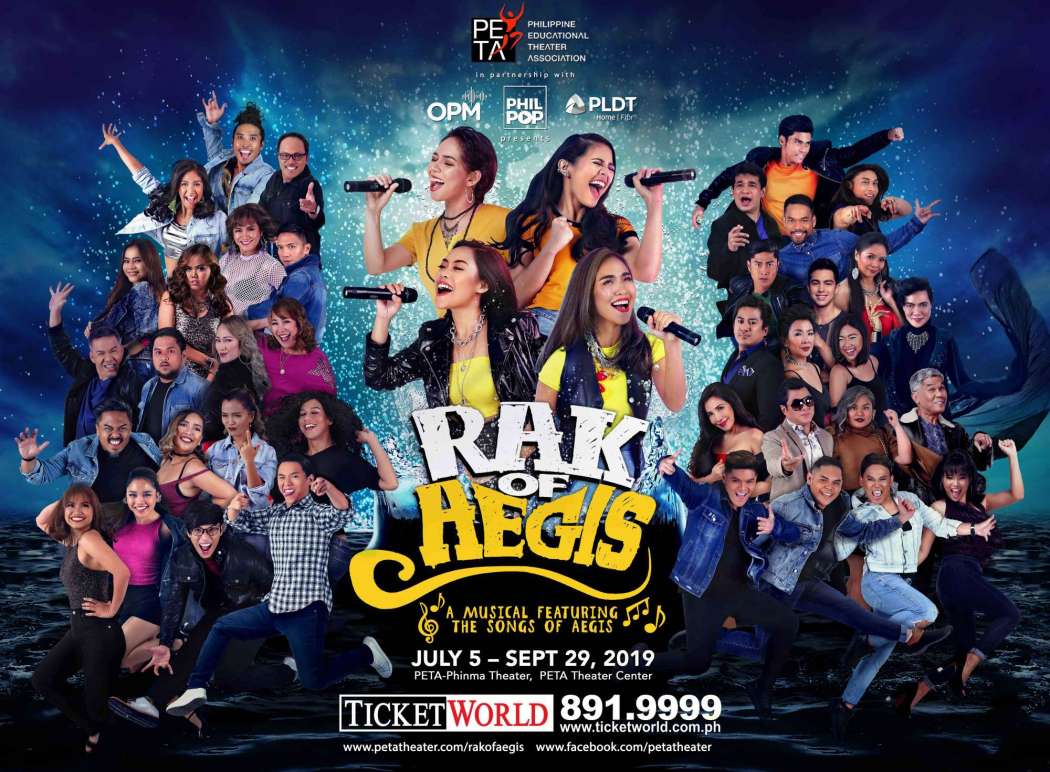 A raging storm of laughter, powerhouse vocals, and rousing stories of Pinoy resilience await audiences once more in Barangay Venezia!
Rak of Aegis runs from July 5 to September 29, 2019 at the PETA Theater Center, with shows from Thursdays to Sundays. For ticket and showbuying inquiries, contact TicketWorld at 891-9999 www.ticketworld.com.ph or PETA Marketing and Public Relations Office at 725-6244 and 0917-539-1112. www.petatheater.com/rakofaegis.