Before psyllium fiber became a source of dietary food fiber, a Filipino named Albert Garcia, took the initiative to introduce the product to the Philippines.
A marketer and advocate of preventive health care, Albert used to play football with the Philippine National Football Team. He produced the first Philippine branded all-natural fiber supplement.
His goal was to contribute to the increased well-being of Filipinos by getting them to adopt a healthy lifestyle that included a fiber-rich diet.
Garcia walks the talk. He has been taking psyllium food fiber daily from the time he came out with his first brand in 2001 up to the present, now branded as MEGAFIBER, his value-for-your-money fiber supplement brand.
Dubbed as the "Mr. Fiber" of the Philippines, Garcia and his marketing team, were said to be the original marketer of psyllium food fiber in the country.
Garcia leads a very active life, plays competitive golf, does mountain climbing. Among his achievements include Mt. Pulag, Mt. Apo, Mt. Kinabalu in Sabah, Mt. Makulot, Mt. Makiling, Mt. Pinatubo, Mt. Makulot and Mt. Kosciusko in the Snowy Mountains.
He travels to explore new tourism areas, swims with the whale sharks (butanding), scuba dives and prefers the outdoor life.
If his current state of health is to serve as an indication, then it appears that Garcia succeeded in his goal of increased one's well-being by consuming psyllium fiber.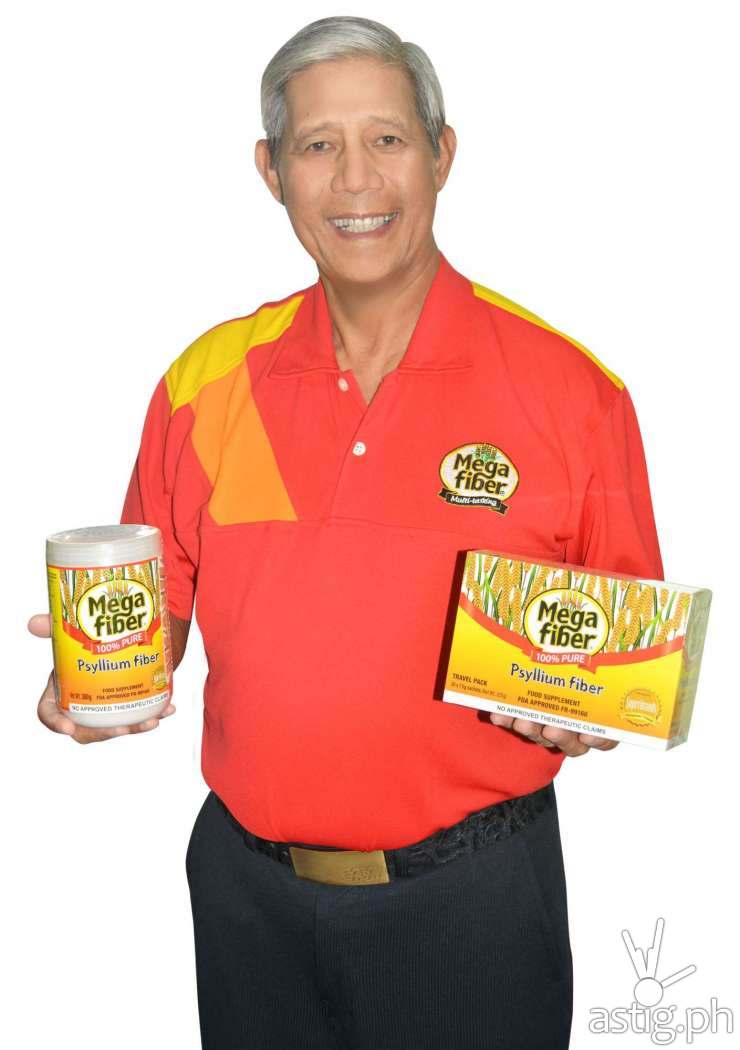 At the age of 69, Garcia is enjoying good health. A recent routine medical procedure for colonoscopy and CT Scan showed that he has a clean bowel system, free from polyps and the dreaded colon cancer.
On top of this, he has low cholesterol levels with increased good cholesterol, normal blood pressure, and his blood sugar though slightly elevated is under control.
He attributes these health gains to his increased fiber intake which has contributed greatly to his preventive health care. His personal experience is what inspires Garcia to further carry on with his advocacy.
To get even more people to regularly take psyllium fiber, Garcia introduced MEGAFIBER as a quality fiber supplement that is priced relatively lower than other brands.
The brand carries the many health benefits of psyllium fiber at half the price, giving consumers more value for their money.
MEGAFIBER is available in 7.5g sachets at P10.75 a piece (P325 for a box of 30 sachets), and bigger 300g jars sold at P430. It is also available in half-kilo family size pack for P705.
MEGAFIBER is available in Mercury Drug outlets and other major drugstores nationwide.
For details, visit www.megafiber.com.ph. Contact 524-6549, 354-2208 to 09 and 09474890262 or e-mail info at megafiber.com.ph.