Photos of Eat Bulaga host Alden Richards in the middle of what is observed to be a vehicular accident earlier went viral. The said incident reportedly happened in the Alabang area. A few hours ago, Alden's father, Richard Faulkerson, Sr. reassured all the concerned fans through Twitter that there is nothing to worry and referred to the incident as a light car accident. Alden himself also tweeted that he is okay.
"Okay lang po ako!" he said in a Twitter post.

His father, Richard Faulkerson, also said that his son was all right.


"Don't worry guys … Just a light car accident. #thankyouLord," Faulkerson said in a Twitter post.
The Inquirer Bandera report said Richards was with his assistant identified only as "Tenten" who was also unhurt in the accident.
Bandera quoted Mark Sablan of GMA Artist Center who said Richards was "fine after the car accident."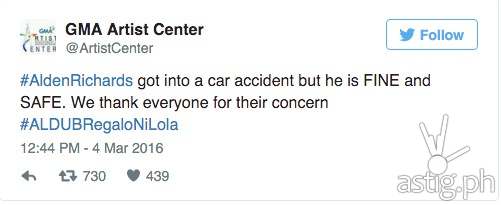 "Thanks 4 the concern, guys. Happy 2 share that #AldenRichards is FINE after the car accident this AM. Si Mama TenTen din! #ALDUBRegaloNiLola!" Sablan said.
Photos have circulated on the Internet showing the damaged car of Richards
Here are some of the posts that went viral: