ASUS Philippines officially launched their latest laptop series for 2018, consisting of the ZenBook, ZenBook Pro, ZenBook S, and VivoBook S.
First launched in 2011, ASUS Philippines showcased the entire ZenBook portfolio in front of media partners and distributors at Okada Manila on Friday evening.
READ: ASUS ZenBook 13 / 14 / 15, ZenBook Pro, ZenBook S, VivoBook S launched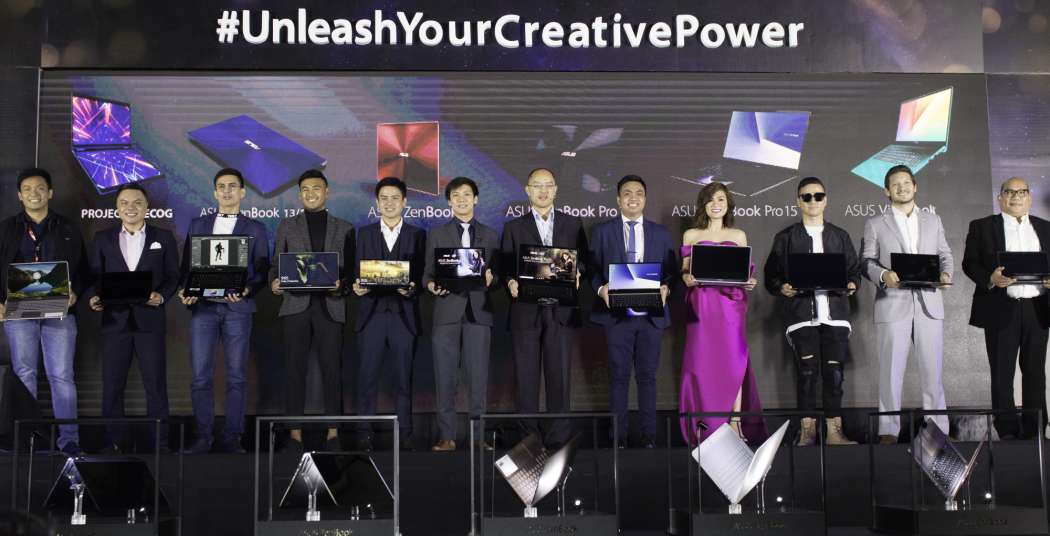 ASUS is launching 4 main models in the Philippines, all powered by 8th generation Intel Core processors:
ASUS VivoBook S14 / S15: productivity machines ideal for workplaces
ASUS ZenBook 13 (UX333) / 14 (UX433) /15 (UX533): ultra-portable laptops ideal for travel
ASUS ZenBook Pro: powerhouse machine for work and play
ASUS Zenbook S (UX391): lightweight and mobile with up to 20 hours battery life
In the Philippines, the price of the ZenBook and VivoBook starts at 47,995. Variants are based on CPU speed (i5 or i7) storage (SATA SSD, SATA M.2 SSD, and NVMe M.2 SSD), memory (4/8/16), and GPU (discrete and on-board).
ZenBook 13 vs iPad Pro 12.9: the thinnest and lightest ZenBook yet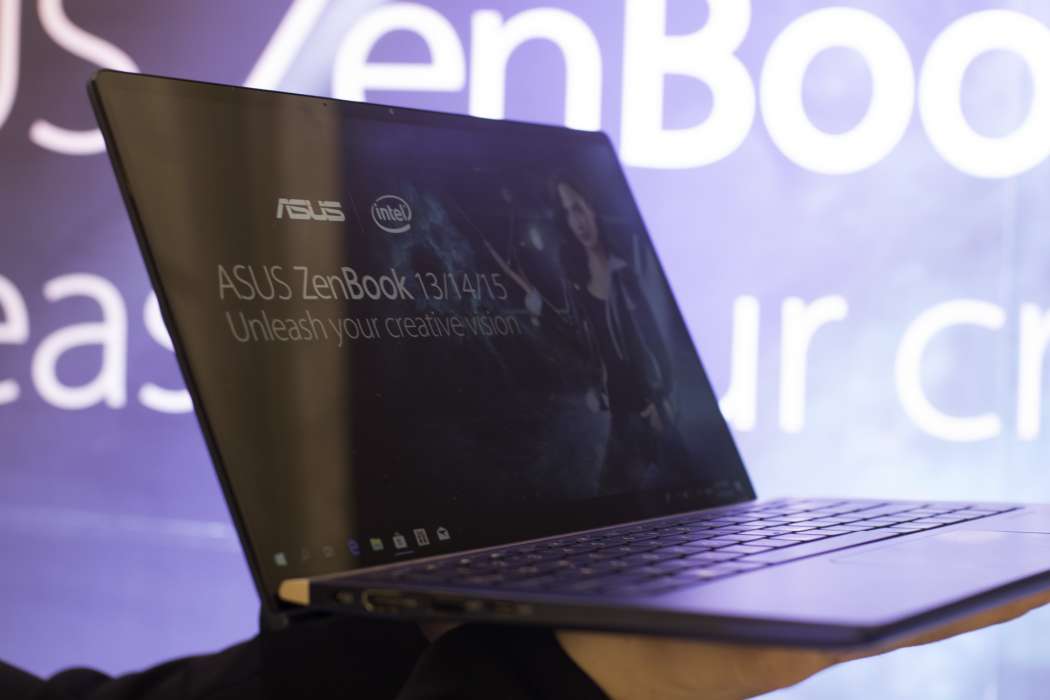 The new lineup includes the ZenBook 13, an ultra-portable laptop with a 13.3-inch screen encased in extremely thin bezels, for an incredible screen-to-body ratio of up to 95%.
There's more: the ZenBook 13 is only 16.9 millimeters tall and only weighs 1.09 kilograms (2.4 pounds), making it the lightest and thinnest ZenBook laptop from ASUS to date.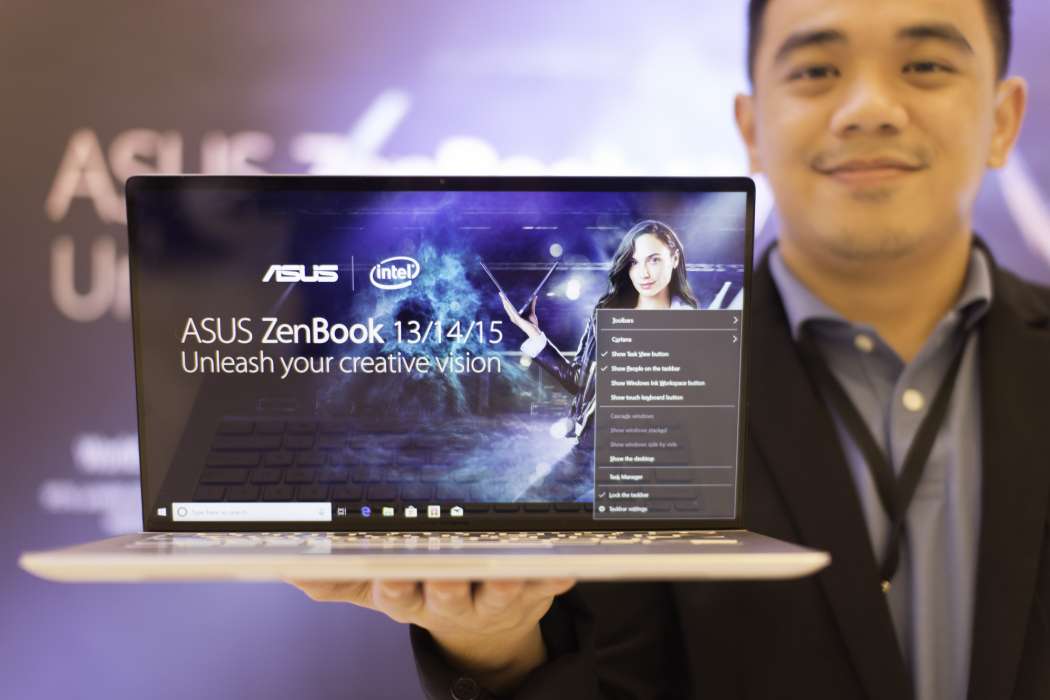 For reference, the 12.9-inch iPad Pro was 6.9 millimeters tall and weight 713 grams (1.572 pounds) when it came out in 2017.
What happened to the VivoBook Flip and Transformer Book series?
The new lineup marks a shift back to the traditional form factor: the ZenBook Flip and Transformer Series are notably absent from this year's update.
READ: ASUS VivoBook Flip review: sleek, portable, productivity tool powerful enough for moderate gaming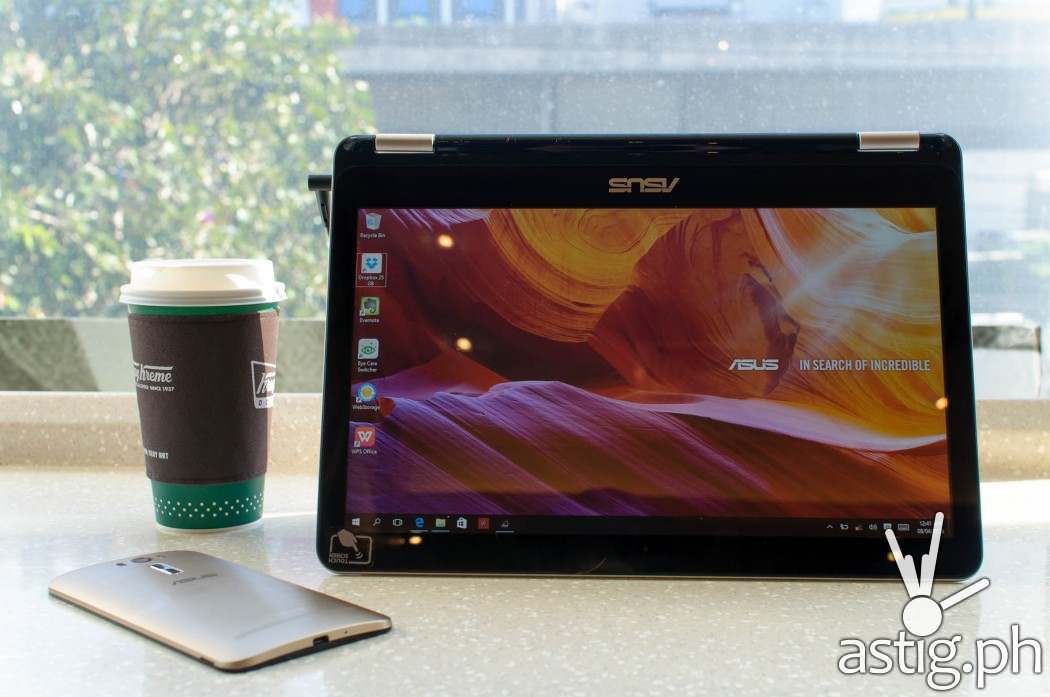 ASUS' 2-in-1 convertible laptop VivoBook Flip first came out two years ago with a remarkable screen that could be "flipped" all the way back, allowing its users to use it as a tablet.
On the other hand, the ASUS Transformer Book had a detachable screen, allowing users to separate the upper half and use it like a tablet when on-the-go.
Availability
ASUS' newest ZenBooks and VivoBooks locally available in the Philippines in Q4 2018. Price and specifications are listed below.
Technical specifications and price (Philippines)
Model
Display
Processor
RAM
Storage
GPU
SRP
ZenBook 13 UX333
UX333FA-A3009T
13.3 " FHD
i5-8265U
8GB
PCIEG3x2 NVME 256G M.2 SSD
Intel UHD Graphics 620
54,995
UX333FN-A4015T
13.3 " FHD
i5-8265U
8GB
PCIEG3x2 NVME 256G M.2 SSD
NVIDIA GeForce MX150
62,995
UX333FN-A4016T
13.3 " FHD
i5-8265U
8GB
PCIEG3x2 NVME 256G M.2 SSD
NVIDIA GeForce MX150
62,995
UX333FN-A4115T
13.3 " FHD
i5-8265U
8GB
PCIEG3x2 NVME 256G M.2 SSD
NVIDIA GeForce MX150
66,995
ZenBook 14 UX433
UX433FN-A6090T
14 " FHD
i5-8265U
8GB
PCIEG3x2 NVME 256G M.2 SSD
NVIDIA GeForce MX150
62,995
UX433FN-A6145T
14 " FHD
i5-8265U
8GB
PCIEG3x2 NVME 512G M.2 SSD
NVIDIA GeForce MX150
66,995
UX433FN-A6108T
14 " FHD
i7-8565U
16GB
PCIEG3x2 NVME 512G M.2 SSD
NVIDIA GeForce MX150
77,995
UX433FN-A6024T
14 " FHD
i7-8565U
16GB
PCIEG3x2 NVME 512G M.2 SSD
NVIDIA GeForce MX150
77,995
ZenBook 14 UX533
UX533FD-A9110T
15 " FHD
i5-8265U
8GB
PCIEG3x2 NVME 256G M.2 SSD
NVIDIA GeForce GTX 1050 Max-Q
74,995
UX533FD-A9074T
15 " FHD
i7-8565U
16GB
PCIEG3x2 NVME 512G M.2 SSD
NVIDIA GeForce GTX 1050 Max-Q
89,995
ZenBook Pro 14
UX480FD-BE010T
14 " FHD
i7-8565U
16GB
DDR4 PCIEG3x2 NVME 512G M.2 SSD
NVIDIA GeForce GTX 1050 MAX Q
94,995
ZenBook S UX391
UX391UA-EG020T
13.3" FHD
i5-8250U

i7-8550U

8GB
SATA3 256G M.2 SSD
Intel UHD Graphics 620
69,995
UX391UA-ET082T
74,995
UX391UA-ET088T
74,995
VivoBook S15
S530UN-BQ031T (Gold)
i7-8550
8G
1TB+256G SSD
MX150 2GD5
63,995
S530UN-BQ003T (Grey)
i7-8550
8G
1TB+256G SSD
MX150 2GD5
63,995
S530UN-BQ138T (Grey)
i5-8250
4G
1TB+256G SSD
MX150 2GD5
51,995
S530UN-BQ139T (Gold)
i5-8250
4G
1TB+256G SSD
MX150 2GD5
51,995
VivoBook S14
S430UN-EB022T (Gold)
i7-8550
8G
256G SSD
MX150 2GD5
60,995
S430UN-EB023T (Grey)
i7-8550
8G
256G SSD
MX150 2GD5
60,995
S430UN-EB018T (Gold)
i5-8250
4G
1TB+256G SSD
MX150 2GD5
50,995
S430UN-EB019T (Grey)
i5-8250
4G
1TB+256G SSD
MX150 2GD5
50,995
S430UN-EB016T (Grey)
i5-8250
4G
256G SSD
MX150 2GD5
47,995
S430UN-EB017T (Gold)
i5-8250
4G
256G SSD
MX150 2GD5
47,995