TAGUIG, Philippines – (UPDATED 1-Oct-14 19:33) A video showing Bonifacio Global City guards restraining a Caucasian man at the corner of 5th and 30th Avenue in BGC at 5:24PM on Saturday September 27 has been uploaded to YouTube in what can be considered a classic case of police brutality.
The video shows an un-armed Caucasian man wearing a light-colored polo shirt, khaki shorts, and blue sneakers being manhandled by at least seven uniformed officers while another one lay still, just a few meters away. Initially he was being restrained by two Bonifacio Global City guards, and two more quickly join the fray.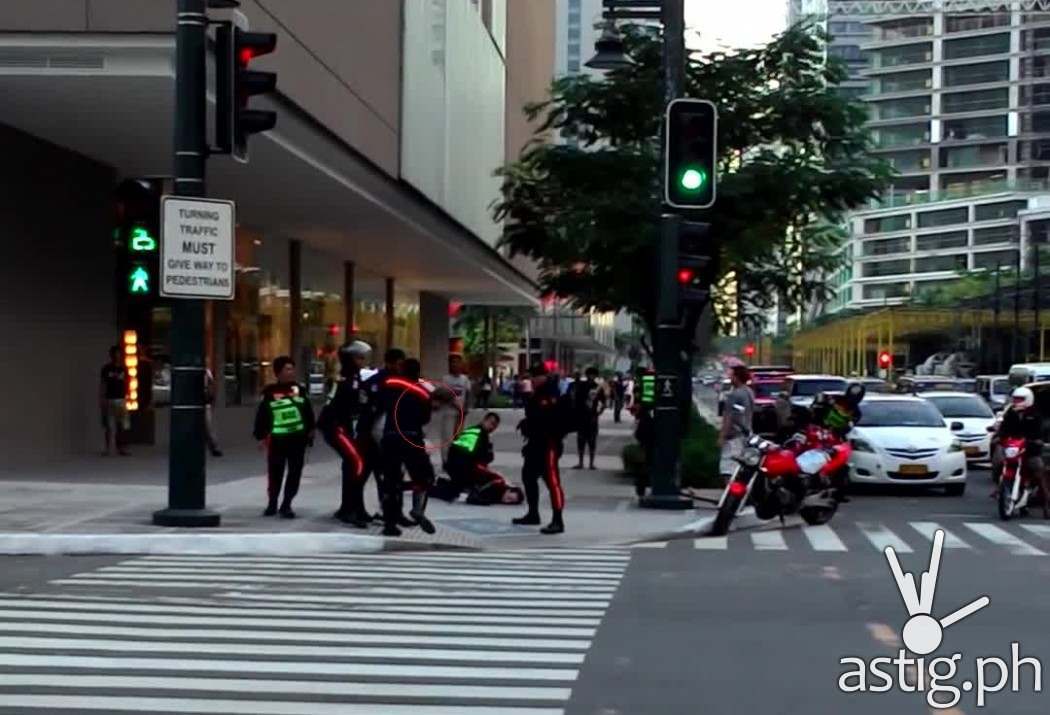 A marshal wearing only the standard black and orange guard uniform (no reflector) can be seen punching the Caucasian man in the stomach. A few seconds later he is surrounded and being forced onto the floor, his body pink and sore and his clothes all torn.
In the confusion, one of the guards can be heard saying "posasan mo!" (put cuffs on him) while the white keeps on saying "I'd like you … I'd like you … yes … it's okay … it's okay".
At the end of the video, one of the guards can be seen approaching the cameraman while shouting "hoy! putang ina mo ah! huy bakla!" (hey! you son of a bitch! you faggot!)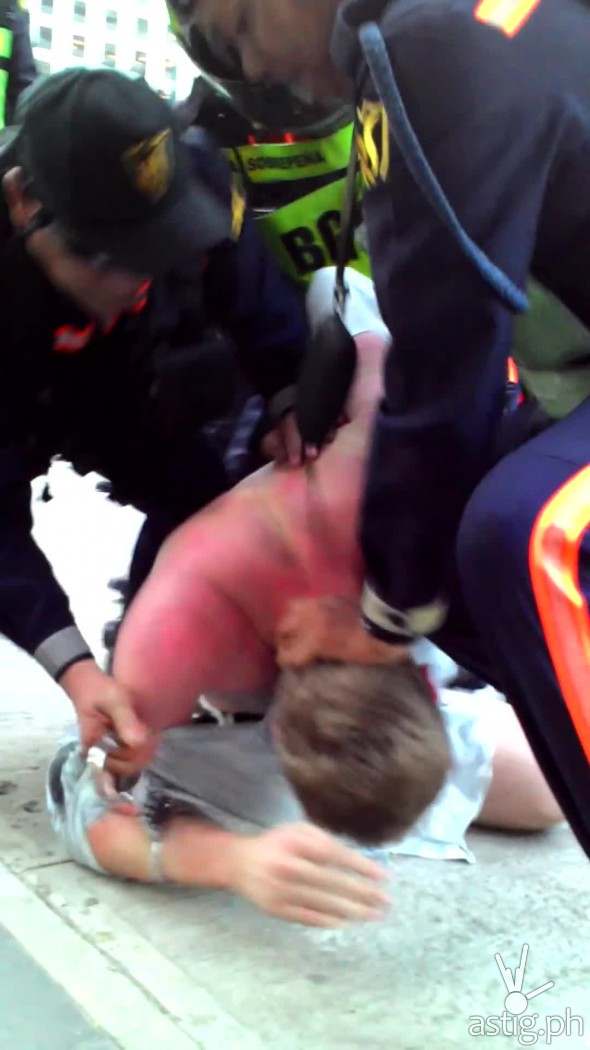 Bonifacio Global City, Taguig contains a very high presence of expatriates from other countries due to the presence of business establishments and BPO (business process outsourcing) companies.
Just two best friends on vacation
According to our source, the two are English best friends Sam & Chris. Sam is a BGC resident and Chris is staying for vacation.
Here's what happened before this kickboxing incident:
The English men's names are Sam & Chris, two of the nicest people I've known in the city. Sam is a resident of BGC & Chris is his best friend who's here for vacation.
Sam just wished to use his skateboard and have fun that Saturday Afternoon | Sept 27. They initially played in front of Banana Republic along fifth avenue, two lady police women approached them and nicely told them that they can't use the board in that area and they instructed them to play at the park instead, which they did.
At the park, a lady marshal | the one shown in the video with a proud look at 1:16 stopped them rudely unlike the police women. As per Sam's sharing, in their country they look up to their police officers as kings, they respected them and honour them, so their words were gold. So between the police women & the marshals, they believed the words of the police. They insisted to the marshal that they were told that it is okey to skate in that area and that's where the argument began.
Marshal called for back-up and two Big Marshals arrived, confiscated the skate board, in Sam's mind he just want to get the skateboard and run off as he was already scared, which he successfully did. Then new set of reinforcements arrive and this video is what happened next. They got caught.
Given, that the marshals' were right that it is indeed prohibited to skate although ironically, to play IN A PARK, does it have to end this way? Where's the maximum tolerance ruling? Oh maybe this marshals have a different code. We don't need to be an investigator to figure out that there is something wrong here, they already got him but still the marshals had a grand time I guess showing off their kickboxing skills.
To make it even worse, Sam, with a bruised face and a broken rib and Chris were arrested for being charged with PHYSICAL INJURY by two of this wonderful marshals. Really clever and wise move. They got detained that very night.
Our experience with the investigating team made the night even worse. Few CLOSED DOOR briefings with the complainants (the marshals) and the police happened that night investigator needed to ask what happened, we were waiting for our turn to be asked about our side but it never came.
"Dito ko naintindihan, kawawa ka talaga kapag wala kang kakilala. Kahit ikaw na ang agrabyado, kayang kaya nilang palabasin na ikaw ang masama. I realized, ang bigat pala kapag ikaw na ang nasa ganitong sitwasyon." (This is where I realized, you are really at a loss if you don't know anyone. Even if you are the one being aggravated, they can easily manipulate the situation and make it appear like you were in the wrong. I realized, it is very heavy for someone to be in this situation)

For some reason they weren't allowed to file a counter-charge that very night and we weren't able to do anything to prevent them from detaining the two. Where in fact, Sam & Chris, were supposed to be the one filing that PHYSICAL INJURY CASE. If there's any lawyer reading this we would really appreciate your advice sirs and madams.
Sam is currently confined in St. Lukes & Chris is being held at Taguig Police Station just beside City hall of Taguig as suspects.
You may verify the validity of this story, if this video is still not enough..
If you have the access kindly get hold of the CCTV footage from 3-5pm along Fifth Avenue and at 28th street corner 7th street and their sworn statement at BGC police station.
Kindly share until it gets to the right authorities, they're being held for 4 days now.
They don't have much friends here.
They don't know what to do.
They badly need our help.
Bonifacio Global City responds with an official statement
Bonifacio Global City issued the following statement through its Facebook page: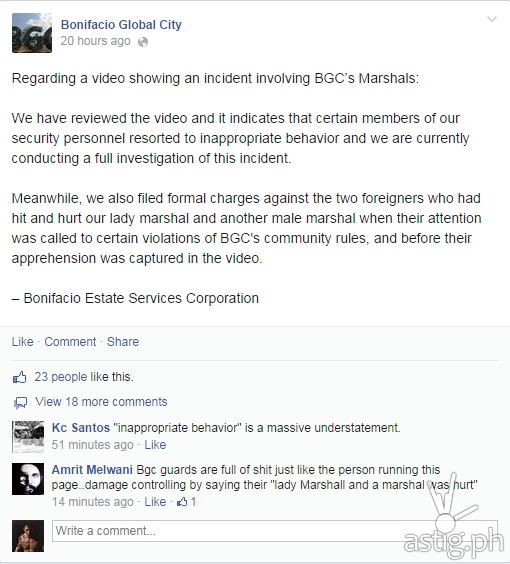 Regarding a video showing an incident involving BGC's Marshals:
We have reviewed the video and it indicates that certain members of our security personnel resorted to inappropriate behavior and we are currently conducting a full investigation of this incident.
Meanwhile, we also filed formal charges against the two foreigners who had hit and hurt our lady marshal and another male marshal when their attention was called to certain violations of BGC's community rules, and before their apprehension was captured in the video.
– Bonifacio Estate Services Corporation
Independent investigation
(UPDATED) ASTIG.PH performed an independent investigation to validate and cross-examine the facts surrounding the story.
We questioned a few witnesses in the area, including one of the guards near the area who had first-hand information on the event. Our independent investigation corroborates with the story provided by our initial source, as well as the statement issued by Bonifacio Global City.
According to the parking lot guard, the female marshal, got into an argument with the two Englishmen. She was trying to tell them to go elsewhere, however the two visitors insisted that they were told by the police that they could skate there.
During the exchange one of the men happened to brush into the female guard's chest. Because of the impact, the female guard was caught off-balance and the vest got removed. According to our source, the brush may have been unintentional.
As a result, the female guard called the radio, while the two Englishmen tried to run away. A marshal riding a motorcycle tried to run after the men, but crashed his motorbike in the rush.
The marshals then called for backup on the radio, and that is when chaos happened. When the other marshals saw what was happening they joined the fray to backup their comrades, thinking the two Englishmen may have done something extremely bad.
Julie C comments on the When In Manila Facebook page:
I was there at the park when it started. A lady guard was asking them nicely to transfer since the park is not intended for skateboarders. The simple argument went wild when one of the foreigners went amok and hit the lady guard several times. Since she was hurt, she asked for immediate back-up and hearing the response, the two foreigner escaped. The chase got up to the part where this video was taken. Please, dont blame the BGC guards for their action. They were just responding to a distress call. They were just doing their job.
If anyone knows these two foreigners, or know how we can reach them please get in touch with us through our
Contact page
or
message us on Facebook
. We would like to help.
Update (1-Oct-14 19:33):
We received were contacted by representatives from Bonifacio Estate Services Corporation (BESC). They have issued the following official statement, which also appears on the official BESC Facebook page:
Last Saturday, September 27, 2014, at around 5:25 pm, there was an incident in Bonifacio Global City (BGC) involving BGC's marshals and two foreigners. A portion of this incident was captured in a video that circulated in social media.
We regret this incident and apologize for the conduct of some of our marshals. We will take all necessary steps to discipline the marshals involved, and ensure that this incident is never repeated.
This incident began at our children's play park in Terra 28th, where a BGC lady marshal approached two foreigners to advise them of the "No Skateboarding" rule at the park. The two foreigners resisted the advice, with one of them uttering an expletive, and a second marshal was radioed for assistance. While insisting that they comply with the rules, the two marshals were shoved and punched by the two foreigners, and the latter ran from the scene. More back-up marshals were requested, a chase ensued, and the scene of the apprehension was captured by the video.
We do not prohibit skateboarding but limit it along the closed roads of Turf BGC for the safety of the general public. We also plan to put up a Skateboard Park near 34th St. in the next couple of years.
Our marshals are tasked to enforce the rules and maintain peace and order within BGC, and while their actions in this particular incident were not unprovoked, we do not condone the over-aggressive behavior shown by some of them in this incident. We will strive to ensure that BGC marshals always act professionally, lean on the side of restraint, and are able to regain the trust and confidence of everyone who lives, works and visits BGC.