Its official, Facebook will open its Philippine office.
With the opening of Facebook Philippines, which found its home in Manila, the top social network strengthened its investment in the country.
Leading the operations as country head is Digs Dimaguiba, the former head of Samsung Philippines' mobile business.
Hours before the launch, Dan Neary posted a congratulatory note on his Facebook profile.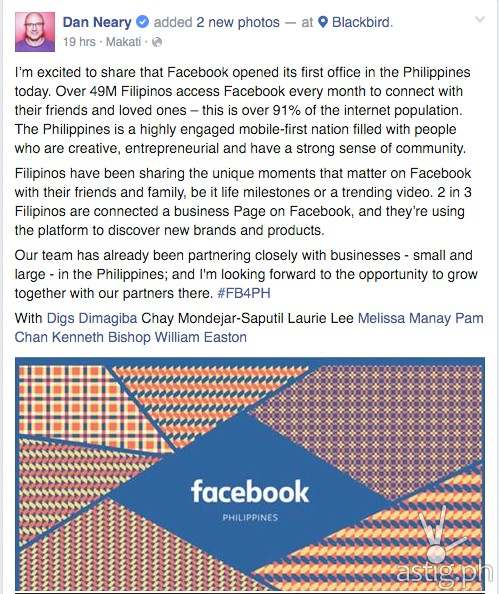 "I'm excited to share that Facebook opened its first office in the Philippines today. Over 49M Filipinos access Facebook every month to connect with their friends and loved ones – this is over 91% of the internet population. The Philippines is a highly engaged mobile-first nation filled with people who are creative, entrepreneurial and have a strong sense of community.
Filipinos have been sharing the unique moments that matter on Facebook with their friends and family, be it life milestones or a trending video. 2 in 3 Filipinos are connected a business Page on Facebook, and they're using the platform to discover new brands and products.
Our team has already been partnering closely with businesses – small and large – in the Philippines; and I'm looking forward to the opportunity to grow together with our partners there. ‪#‎FB4PH‬"
Facebook in the Philippines is also hiring two positions including:
Community Operations
Product Marketing