This season of giving, ninongs and ninangs are expected to give something to their little inaanaks. With Christmas just about a week away, are you ready for the bombardment of cheery text messages "Pamasko po, Ninong!" or "Merry Christmas po, Ninang!" reminding you of your duty as godparent?
Here we present to you five little hacks for ninangs and ninangs to show some love this Christmas in the New Normal.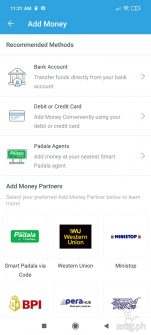 Refer your inaanaks to PayMaya – Get your inaanaks to download the PayMaya app and use your referral code (like mine is cxg697) and get them to validate their account and use the "Add Money" feature to earn P100 instantly for free.
Send aguinaldo via PayMaya – Once everyone has their own PayMaya accounts, ninongs and ninangs can easily send aguinaldo via PayMaya's "Send Money" and "Bank Transfer" features.
Send "treats" via PayMaya – Treat your inaanaks to virtual gifts like prepaid load, steam credits or fast food vouchers. Just open the PayMaya app and go to "Treats."
Deliver food – You can also have food delivered to your inaanak's home which can be shared with the whole family. Get the best deals at PayMaya's partner merchants when you pay using your PayMaya mobile number.
Every time you #ScanToPay via PayMaya QR, pay with your PayMaya mobile number online, or purchase items at the PayMaya in-app shop for a minimum of P100, you get to earn a raffle entry at PayMaya's PayMayaguinaldo raffle promo for a chance to win up to P1,000,000 until January 10, 2021! For more information check out our previous post here.
If you haven't yet, download the PayMaya app today at https://official.paymaya.com/CAK1/425eb133.