A Globe Telecom customer by the name of Sara Pagsibigan has taken to social media to post a detailed account of her horror story with the telecoms company.
It all began with what appeared to be a simple case of double charging over her handset, which she paid for on December 13, 2013 to the tune of P39,120.
According to Sara, she was once again charged the amount of P39,419 on December 16, 2013, something that should not have happened since she already settled the first bill.
What followed was four agonizing months of calls, letters, and in-store follow-ups that led to nothing but more frustration.
Fed up, Sara stormed the Globe Telecom Headquarters in BGC, Taguig with an executive escalation, where she apparently wasted hours going through layers of bureaucracy just to get her demand letter through.
In the end, all she received was letter of apology from Globe Telecom's lawyers and an offer of 3 months of free subscription valued at P299 / month – for a total of P897.
She claims that she never got her double charge worth over P30,000 back.
The post has since received over 10,000 shares, many coming from people claiming to be Globe Telecom customers who experienced poor customer service.
Joan Yu-Caballero writes: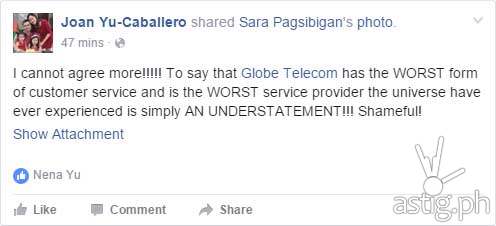 I cannot agree more!!!!! To say that Globe Telecom has the WORST form of customer service and is the WORST service provider the universe have ever experienced is simply AN UNDERSTATEMENT!!! Shameful!
Amycel Ignacio, on the other hand, laments the lack of alternatives:

Been a globe victim of poor customer service … Because there is not enough competition in telecommunications … We are forced to use their crappy service …
Others such as Zed Ditucalan, said that the incident was a possible case of institutional capture:

There are only two answers: either a case of institutional capture or plain and simple poor services of our telcos. Maybe both.
We have contacted Globe Telecom requesting for a statement on this issue. We will update this story when that happens.
Update (25-Jan-16): We have received an official statement from Globe Telecom. You can read it here.
Full post by Sara:
I am writing this post because businesses such as Globe Telecom should be accountable for their system glitches and bad customer service. I was not angry at the start. I made a simple inquiry as to why my bill was showing a huge overpayment amount. However, the series of events after this inquiry was an absolute nightmare that has left me feeling helpless and victimized.
The hotline and the Globe store managers told me that the huge overpayment amount on my bill was a double charge and that the money would be returned to my bank. The Store Manager showed me the details on his computer, wherein the first charge for my handset was done on December 13, 2013 for P39,120 and the double charge was done on December 16, 2013 for P39,419. He took my credit card details and said that he would process the bill refund. I called the hotline and went to the Globe store several times for 4 agonizing months (July – October 2015). A Store Manager repeatedly told me to check my bank because "the issue was resolved and the charge back was done".
I tried to follow up through all the channels – HOTLINE, STORE, TALK2GLOBE CHAT, TWITTER, EMAIL, and FACEBOOK to no avail. Going back and forth the store, repeatedly calling the hotline for 4 months to ask for an update, and chasing managers for updates was time consuming and frustrating. Most of the time there were no updates at all. There were times when my call was not documented. I had to repeat myself in every single call. Hotline representatives were unable to see all the cases and escalations for this single issue. I was promised updates but nobody ever followed through. There were often no managers to talk to when I called the hotline. I requested for hotline managers to call me and even raised a case specifically for a manager to call me, but I never got a call. And during a rare instance wherein I was able to speak with a few supervisors and a manager, they said that their hands were tied because it is the backend that should contact the client once the case has been logged on their end. This backend department did not give me any update for 3 months in spite of all the escalations I have raised. This shows how disconnected the departments are and how limited the service is on the hotline's end. The original case that was opened by a Store Manager was closed without my knowledge and without any update.
Different information was provided on different channels. A Store Manager assured me that the issue was fixed and that I should check my bank because the charge back was done, while someone from a different department called me saying that it was a technical error and that no money would be returned to my bank. The Store Manager always provided late updates and I had to be the one to follow up. She always had an excuse for not getting back to me. She even called to say that she confirmed that the chargeback was done. I asked for names of the heads of departments as I wanted to address them in my escalation letter but they never gave me this information nor responded to my escalation. She completely stopped providing updates and ignored my escalation letters. The escalation letter addressed to her boss did not reach her boss nor did I get a response. This was absolutely rude and downright offensive.
I also raised a separate query through the hotline reporting that the Globe machines in all Globe stores are useless as the machines do not provide change and customers are unable to check thier balance on the machine. There is only one machine in the store so customers have to fall in line and endure long wait times. Then once it is your turn, you find that it cannot give change and you cannot check your balance so you go to the cashier. But the cashier directs you back to the machine. It is so frustrating. This case also had ZERO updates. I raised a lot of cases and escalation cases through the hotline and NONE of them ever got back to me with an update.
Desperate for a resolution, I raised an EXECUTIVE ESCALATION with all the names, dates, event details, and screenshots. I personally submitted these to the head office in the Globe Telecom Headquarters, BGC. Even my experience in the head office was AWFUL. There were 3 people at the reception desk but they shared only ONE phone, which I found absurd since they are a TELECOMMUNICATIONS company! Hence, people queue in line and endure long wait times. One man in line even said "Globe kayo tapos isa lang ang telepono niyo?! Pfft!". The receptionist told me that most of the secretaries of the executive offices are "difficult to reach". There are layers and layers of personnel under the secretaries of these important people and all are "very busy". She said that people are not allowed to deliver letters to the offices. Hence, these letters are stuck at the reception desk until someone from the executive offices pick them up. What a system! I had to raise my voice, get mad, and insist that the receptionists use the only phone they have to call those offices to get someone to pick up my letters before the day ends as this is an executive escalation and is very urgent. They finally called and texted the concerned people until someone from the office of the President and CCEO arrived to get the letters. The Area Manager, the boss of the Store Manager who said the money had been returned to my bank, told reception that he would go to the lobby to meet me. He made me wait for 30 minutes and when I followed up with the receptionists, he told them that he could not meet me at all and would just send someone to receive my letter. Some Manager, you are! It took the person he sent another FULL HOUR to arrive at the lobby.
This same Area Manager texted me saying that he was available for a meeting and when I was already driving to meet him he texted me saying that he had already arranged another appointment and would not be able to meet me. I submitted 5 escalation letters in total, 2 to the Globe store, 2 online, and 1 to the executive offices in BGC. My 2nd letter to the Globe store was addressed to this Area Manager and he told me that this escalation letter NEVER reached him. He said that he never got that letter, he does not know why it was not forwarded to him, and he cannot do anything about it. He basically knows that his Store Manager did not give him my escalation letter and this same person gave me wrong information that the money was returned to my bank but he did NOTHING about it.
Never mind the P30,000 ++ money they said they had double charged me and that they confirmed was returned to my bank, all I wanted was to cancel my subscriptions w/o penalty and be given a full report of what exactly happened with the preventive measures that they will be enforcing to avoid similar incidents in the future. At the very least, I wished to spare my friends and family who are still Globe subscribers from experiencing the same awful service.
In the end, all I received was an apology letter from their lawyer. I also got a call from the Area Manager who said that they would not be providing me with the report of the investigation that I requested for, as this is only for internal use. My request to terminate my 2 contracts as compensation for the horrible customer experience was rejected, that they can only offer 3 months free subscription (P299/mo.), and that the only explanation he could give me was that I was just a victim of a lapse in process. To them, the time, gasoline, energy, and effort I spent chasing them plus the frustration and poor service I received from them plus the incident report that they refused to give me was worth just that – 897 pesos to be exact. I did not accept this appalling offer.
One of my contracts ended last month. When I called to terminate my contract, I was asked for a reason. I said that they should refer to the executive escalation on the account. The person said that there was NO RECORD of any executive escalation. I said that I could give her the name of the Area Manager that handled the executive escalation. She said that they have no way of reaching the Area Manager. I was shocked that my executive escalation magically disappeared into thin air, but I simply said "That is not my problem. Please terminate my contract." My remaining contract ends in September 2016 and I will surely be terminating that as well.
Now I wonder where in their VISION of "happiest customers" will my experience fit in?
If their way of creating "a wonderful world for people, businesses and the nation", as stated in their company MISSION, is the way they do business and treat customers in this incident, then we are doomed to be "victims of lapses in process".
Finally, I think they need to retrain their staff (from the ground up) of their company's CORE VALUES:
"We put our customers first." I surely didn't feel that.
"Our people make the difference." That Store Manager definitely made a difference by giving me WRONG information saying that I should check with my bank because the charge back was done and by NOT giving my letter to her boss AND she was able to get away with it since her boss didn't even lift a finger to reprimand her.
"We act with integrity." How can there be integrity when nobody is accountable for anything?
"We care like an owner." Yes, they absolutely care about themselves as they did nothing for me.
"We keep things simple." Simple enough not to care about how customers are treated.
"To us, it's be fast or be last." They were indeed fast in closing out my cases without any resolution and in magically making an executive escalation disappear in a flash.
4 months of agony – bad process, slow investigation, zero updates, wrong resolutions, contradictory statements among different departments, rude managers not calling back/ not providing timely updates/ not informing their boss of the escalation, unresolved cases being closed without any feedback, poor helpdesk support, overall frustrating customer experience, no compensation whatsoever was given, and no incident report was provided. THIS IS MY HORRIBLE EXPERIENCE WITH GLOBE TELECOM. I did not receive any form of justice, so please share this to let everyone know what kind of a shitty company Globe Telecom is. I am simply "a victim of a lapse in process".