MANILA, Philippines – An online shopping mall called Hallo Hallo Mall is selling cheap, brand new cars – with prices going for as low as 50% less than dealer rates – with no down payment on a 3-year monthly installment plan.
The name "Hallo Hallo" is a play on the Filipino phrase "halo halo" which literally means "mix mix". The online store calls itself the "Philippine National Internet Shopping Mall". It offers points convertible to cash for every visit.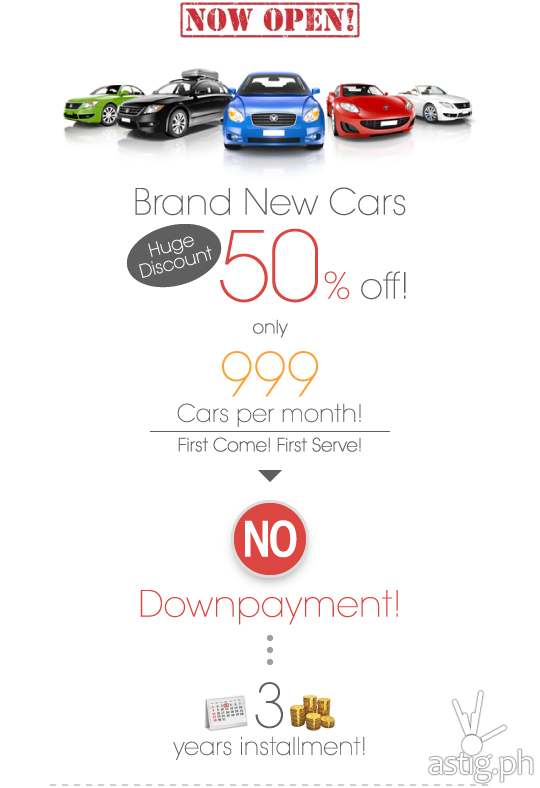 According to the Hallo Hallo Car shopping page, 999 cars are being sold per month at a first-come, first-serve basis. The cars available include 26 models from Japanese automotive makers Toyota, Honda, Nissan, Mistubishi, Suzuki, and Isuzu.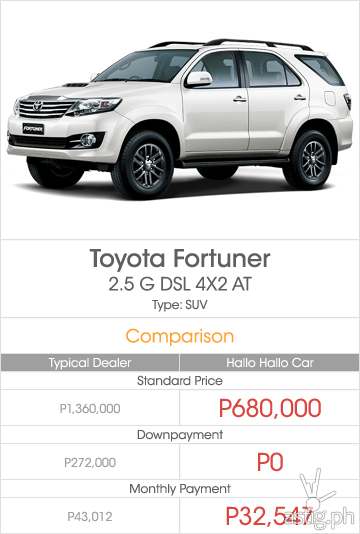 The prices are very attractive when compared to the cost of buying a brand new car from a legitimate dealer. For example, the Toyota Fortuner 2.5G DSL 4×2 AT retails for P1.36 Million is listed at only P680 Thousand pesos.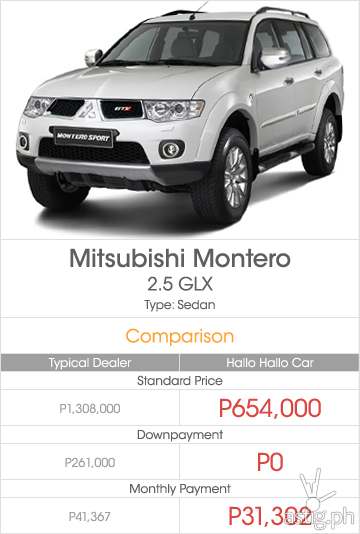 A brand new Mitsubishi Montero 2.5 GLX only costs P654,000 as opposed to P1,308,000 when bought online.
Aside from cars, Hallo Hallo Mall also sells the brand new iPhone 6 Plus at a very low price of only P37,899.
Hallo Hallo Mall – FAKE / SCAM?
The Hallo Hallo Car Shop page reads:
Get the LOWEST and MOST AFFORDABLE brand new cars only here at Hallo Hallo Car! Over 26 models to choose from different top Japanese Manufacturers!
"Too good to be true", says one netizen, quoting the famous English idiom.
So far, the website has received both positive and negative reviews. Mark Ross Canaoay of thinkrichbefree.com wrote a post describing how he spent only 41 pesos for a brand new blender, among other things:
3rd Purchase (Small Triangle) = 30 centavos
4th Purchase (Blender) = 41 pesos and 41 centavos (41.41)
5th Purchase (O+ Mobile Phone) = 530 pesos and 23 centavos (530.23)
6th Purchase (Stand Fan) = 592 pesos
The downside, according to Mark, is the delivery time, which can really test your patience. Mark concludes:
Hallo Hallo Mall is legit, if you're still having doubts, and it is actually a very good online shopping site. It gets a plus for being the only Philippine shopping site that gives points to its customers. The not so good thing about Hallo Hallo Mall that I experienced personally is their delivery time but others (e.g. website's user-interface, promos, freebies, etc.) are all great.
A commenter named thesa writes:
If you're going to need the item immediately, do not buy at Hallo Hallo Mall or on other online shopping sites. Just buy it offline, or in malls or department stores.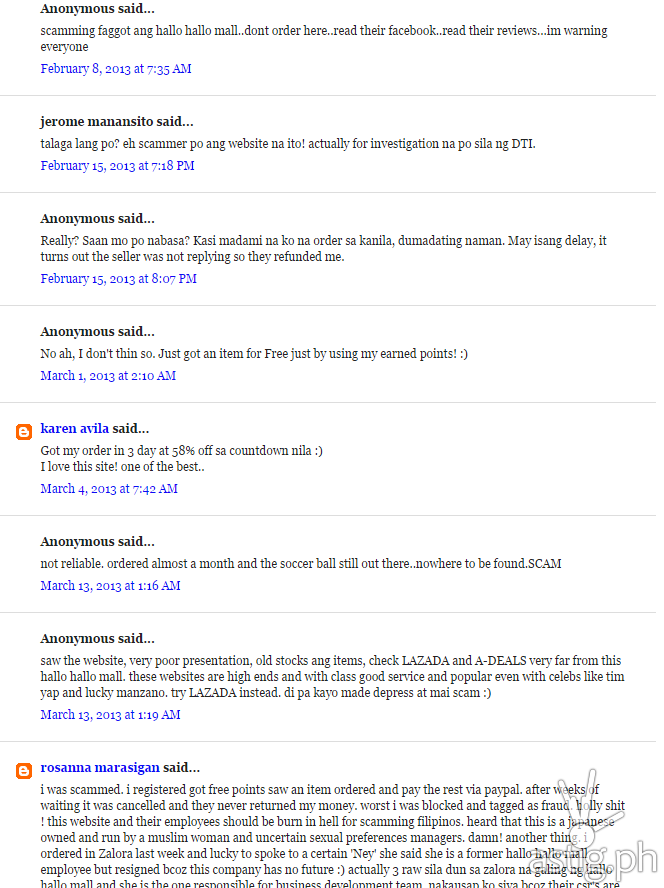 Online blog Review Counter also wrote about the experience, saying:
Hallo Hallo Mall, is basically an online shopping mall where there are lot of shops and products to choose from … I got a lot of items there for free, in just 3 months
On that same page, Jerome Manansito issues a warning that they are already under investigation by the Department of Trade and Industry (DTI).
talaga lang po? eh scammer po ang website na ito! actually for investigation na po sila ng DTI. (really? this website is a scam! they are actually for investigation by the DTI)
Reader Rosanna Marasigan added that she was scammed, saying she got blocked and got tagged as fraud after paying for an item via Paypal. She also said that she was able to speak to a former Hallo Hallo Mall employee who resigned and went to Zalora because the company had no future:
i was scammed. i registered got free points saw an item ordered and pay the rest via paypal. after weeks of waiting it was cancelled and they never returned my money. worst i was blocked and tagged as fraud. holly shit ! this website and their employees should be burn in hell for scamming filipinos. heard that this is a japanese owned and run by a muslim woman and uncertain sexual preferences managers. damn! another thing. i ordered in Zalora last week and lucky to spoke to a certain 'Ney' she said she is a former hallo hallo mall employee but resigned bcoz this company has no future 🙂 actually 3 raw sila dun sa zalora na galing ng hallo hallo mall and she is the one responsible for business development team. nakausap ko siya bcoz their csr's are all engaged then un na dial ko eh sa department nila napunta, very professional ang tone ng voice and she did not say anything agains hallo hallo mall but told me na i should contact the seller prior ordering 🙂 WOW if good employees like her leaves hallo hallo mall..means this company/management really has problems.
An anonymous commenter also shared his negative experience. Similar to Rosanna, he got tagged as fraud after paying through credit card:
I for one, also have bad experienced with the site. I ordered a tablet for P8990.00 paid thru credit card of my friend. They emailed me and told me it was fraud, and I need to send some requirements to justify that I have the right to use the credit card. I send 3 ids of my friend and also the credit card photo as well (but I covered the security code at the back). I though it was ok, so I was excited for the tablet that I ordered.
but the next day they ask for further info, like billing statement, authorization letter and more ids, failure to comply within 24 hours will result to cancellation of order,
so I have it cancelled cause my friend and I will not see each other for 3 days.
The bad thing is, they already charge the card, which they said is fraud.
And was told that i will be refunded after 15 banking days.
I check sites and reviews and found out that there are so many customers who are not refunded. so I keep on waiting now, what should I do?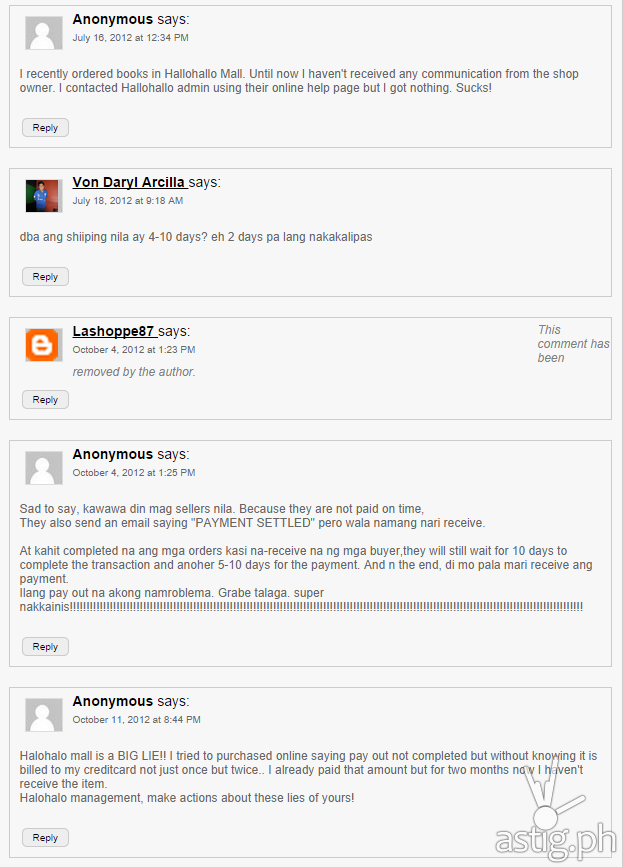 TJsdaily gave Hallo Hallo Mall a mostly positive review back in 2012, saying that the company enlisted Glaiza de Castro, CNN, Star Movies, ESPN, Fox, and the Discovery Channel to assist in the mall's promotion. The blog post, however, does not provide any insight on the source of this information.
The said post has already gathered its own share of negative comments.
It gets even worse …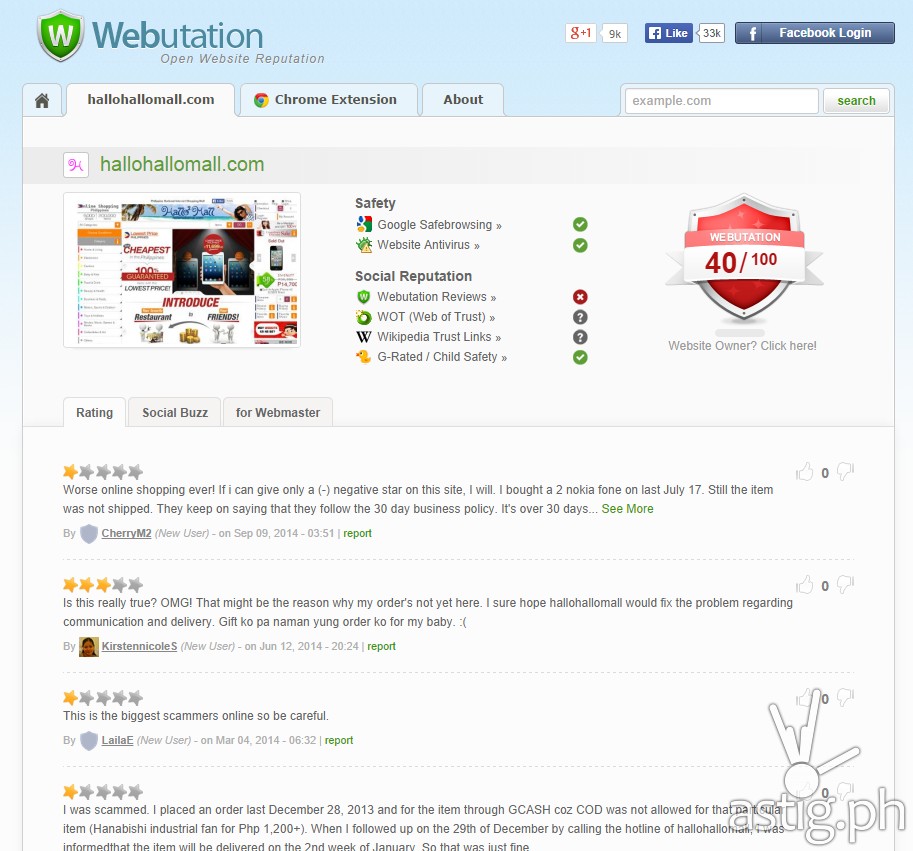 The blog comments are just the beginning. Webutation, the Open Website Reputation project, contains mostly negative comments about Hallo Hallo Mall, calling them scammers and fraudsters.
User LavP writes:
I was scammed. I placed an order last December 28, 2013 and for the item through GCASH coz COD was not allowed for that particular item (Hanabishi industrial fan for Php 1,200+). When I followed up on the 29th of December by calling the hotline of hallohallomall, I was informedthat the item will be delivered on the 2nd week of January. So that was just fine.
Today is January 10th, 2014. last day of the second week of January. The item has not been delivered yet. I double checked my hallohallomall account and went to the status of the order. I was surprised when I was informed that the item is out of stock and that they will deliver within or after 2 weeks. I started to worry! I searched the internet if I could find some issues or comments about hallohallomall experiences. I found a lot! And some people got the same experiences with mine! I even read a comment where his/her money was not refunded!
So I called the hotline of hallohallomall but no one was answering. I got their corporate number and I got someone on the phone and was transferred to the customer service rep who used to answer calls. Her name is Ruby. And her opening line was "is this sir val?" (referring to my name). The lady knew the caller probably because they are already familiar with the sound of my comments whenever I talk to these people.
I told her that when I placed the order, it was not stated in your website that the item is out of stock. Had I known that it was out of stock, I would never placed an order! So I said, I want a full refund of what I have paid. I said I can't wait for 2 more weeks for the items to be delivered. We need the fan in our church! I could buy for an industrial fan somewhere like in a mall.
You know what? The refund according to that certain Ruby is going to be processed within 15 days? I shouted and said, "if you are quick to get the payment online, you must also be quick in refunding to the customers especially when it is your fault!"
Now, I'm going to the Brgy. Hall of San Lorenzo Makati to file a complaint against hallohallomall. I will request that the brgy should summon the manager to see me at the brgy. hearing on Monday!
User MarkjosepH shares an interesting experience, where he ordered an Imation headset but received an A4Tech Mouse:
i've ordered an IMATION HEADSET but they delivered A4TECH Mouse…. too bad… The Dept of Trade and Industry should do something about this. i think…. tooo tooo bad
User webreviewer talked about how the website is using Glaiza de Castro and Arnold Clavio to project a legitimate image to the public:
NOT RELIABLE, SCAMMER ! they will just get your payment and WALAHhhh your money is the rest of the history. VERY VERY VERY SLOW delivery, it will take 2-3 months, CUSTOMER SERVICE SUCKS they are unreliable, unknowledgeable and uneducated things (i believe they are not human) REFUND is abit funny as you can get it after 2 weeks…if they will refund you but according to my pal Geoffrey his refund is still in the air , after they approved his order (after 6 days of paying in dragon pay) now they cancelled it on the 4th day and told my friend that his order is OUT OF STOCK..my gosh HAHAHAHAHA this website is a real JOKE???!! and one thing that is very funny..the unknown GLAIZA de castro is their endorser and worst they are claiming that ARNOLD CLA VIO is the owner of this website..well KNOCK KNOCK gma 7..is this true, you are running a SCAM FULL website? hear yeh hear yeh
A certain "Jess" outlines his (or her) experience using Hallo Hallo Mall on Complaints Board.PH. According to Jess, the site requested for photos of valid ID's as well as a authorization letter, something which other online stores never did:
I ordered MAGIC LEVERAGE CURLFORMERS and High Speed Magic Roller from Hallo Hallo mall. When I logged in, I used my facebook account. Then I followed all the steps and paid via Paypal (like I always do).
I received an email Saying: We require our Credit Card users to provide us with the following:
1. Actual Photo or Scanned copy of the credit card used: Front & Back (please cover the CSV on the back of the card) or a copy of the Credit Card's previous billing statement.
2. Actual Photo or Scanned copy of the Card Holder's valid ID (w/ signature)
3. Authorization letter from the Card Holder (If applicable. Kindly indicate relation of card holder to card user in the letter)
4. Actual Photo or Scanned copy of the Card User's valid ID (w/ signature)
I was actually pretty doubtful about this because ensogo, groupon, lazada and metrodeal never asked me for these. Sending out financial details is very concerning. But i still complied and sent a screenshot of my statement of account and valid ID (PRC ID).
That evening, i received an email from Hallo Hallo mall that my order/s was/were cancelled. The email said:
Please be informed that your order/s has been cancelled.
There are different reasons why orders are being cancelled:
– You have failed to provide complete requirements on time
– The order was found to be a fraudulent transaction
– You have an invalid/incomplete/insufficient address or information
– The seller/shop is unresponsive, suspicious, fraud, or no longer active
– Unavailable or out-of-stock item/s
– You initiated the cancellation
– You have failed to process payment
– You have created multiple accounts – which is a violation in our Terms of Use
This is annoying after sending out your financial details. They could have been more clear, which of the reasons was the reason why they're cancelling my order. Not sure if this is Hallo Hallo issue or the merchant issue. They did say that they will reverse the cost from my credit card within 15 banking days. Wow soooo feaking annoying. I really hope they do reverse the payment. I am never buying from Hallo Hallo mall. And I hope they don't use my financial details for scams/bogus transactions…. SCARY!!! Now I am nervous… They just lost an online shopaholic.
Do your due diligence
There are many fake online businesses that try to scam unsuspecting people of their hard-earned cash. As always, due diligence is necessary when buying anything online.
The website's Contact Us page provides a single e-mail address and a phone number, not even a physical address:
Customer Support (e-mail):[email protected]
Business Number:(02) 478-4444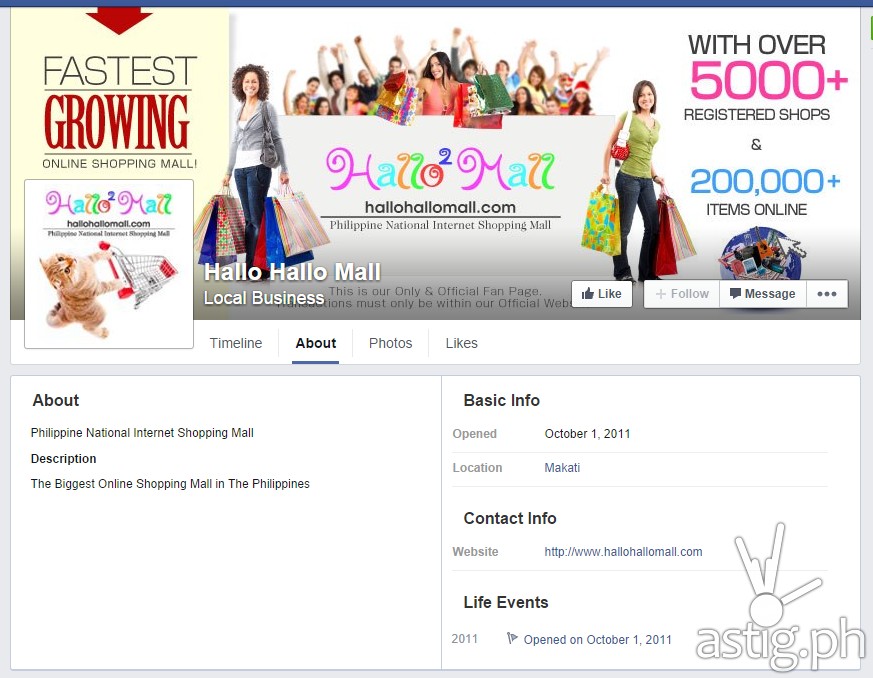 The Facebook page of Hallo Hallo Mall was created on October 1, 2011 and currently has over 500K likers. However, it provides very little information as to the nature of business and the people behind it.
The About section describes the page as "Philippine National Internet Shopping Mall", and the Description says that they are "The Biggest Online Shopping Mall in The Philippines". According to the page, they are located in Makati.
The banner says that they have over 5,000 registered shops and over 200,000 items online.
A quick whois query shows that the domain hallohallomall.com was registered by a person named Yasunari Okada from Osaka, Japan of a certain company called Crayon Inc.
Registrant Name: Yasunari Okada
Registrant Organization: Crayon, Inc.
Registrant Street1: 2-10-20 Yakeno
Registrant Street2: Crayon Box 1F
Registrant City: Tsurumi-ku, Osaka-shi
Registrant State/Province: Osaka
Registrant Postal Code: 538-0037
Registrant Country: JP
Registrant Phone: +81.0669139041
Registrant Phone Ext:
Registrant Fax: +81.0669139043
Registrant Fax Ext:
Registrant Email: [email protected]
Registry Admin ID:
A quick search for Yasunari Okada takes us to the page of "Crayon Goods", one of the shops registered on Hallo Hallo Mall. It has a listed address at the 11th Floor of Enterprise Center in Ayala, Makati.
Contractor Name:  Yasunari Okada
Representative Name:   Yasunari Okada
Address:  11F Tower 1, The Enterprise Center, 6766 Ayala Av., Makati, 1220, Philippines
According to the Crayon Inc. website, they are a "communication innovator" with offices in Tokyo Osaka Japan, Manila Philippines, Shanghai China, Sydney Australia and San Francisco USA.
As of writing, we were unable to reach Hallo Hallo Mall for comments.
UPDATE (13-Oct-14):
A "former employee" of Hallo Hallo Mall comments on iammar13's blog post:
ex employee. nsa amin ang items, kami nag shi ship, khit disable na ang shop,di namin tinatanggal ang items,kaya ayun madalas cancel at refund. kasama sa kasinungalingan ng customer service na kunwari wala s amin ang items ng countdown at timesale pero ang totoo ang hallo hallo mall ang me hawak ng items at nag shi ship kaya pwede ninyo talaga sila ireklamo sa DTI. ayoko na kasi ng ginagwang panloloko ng Hallo hallo mall kaya po binibigyan ko ka kayo ng warning.
An anonymous user proceeded to call her out, saying:
Anonymous (February 18, 2013 at 1:00 PM)
hahaha ex employee? lanee noriega? is that you?
Hindi porket tinaggal ka ng management ng Hallo Hallo Mall dahil sa pagnanakaw mo e gagawa ka ng madaming accounts para maninira?
The following exchange ensues:
che (February 18, 2013 at 8:57 PM)
amazing, i am not lanee noriega, im jho or joanne 🙂 excuse me, i did not stole any from this company and i am not making other accounts para manira, reputation is already dirty and exxxxxxcuseeeee meeeeee ! as far as i know kayo ang gumagawa ng maraming account ara iangat ang basura ninyong kumpanya. i think i know you TOMBOY ka di ba 🙂 but i wont put a name here, di naman ako kasing cheap mo eh ..chillax
Anonymous (March 4, 2013 at 11:39 PM)
Hi Lanee Noriega 🙂 Buhay pa pala ang avid na maninira sa Hallo Hallo! wala pa din bang trabaho dahil sa tanda ng edad mo and paguugaling squatter mo?
shiela (March 28, 2013 at 10:38 AM)
tutal isa kang duwag at anonymous ka, ako si shiela,siguro naman kilala mo ako. gusto ko lang mag comment kasi bakit wala akong makitang comment dito na kapangalan kay lanee? binura ninyo ba? tulad ng pagbura ninyo ng mga comment sa fb? tsaka nga pala naka chat ko si ate lanee, me trabaho siya at sosyal kasi naka skype ko pa siya nsa singapore siya for training, international company yun.
Hallo Hallo Mall's response: we do not operate Hallo Hallo Cars
We were able to get in touch with Hallo Hallo Mall, who responded saying that Hallo Hallo Cars is being handled by another entity not related to Hallo Hallo Mall, and that inquiries should be directed to the Hallo Hallo Car page.
In addition, we asked Hallo Hallo Mall for the location of their office, to which they responded:
Please be aware that Hallo Hallo Mall / Car is an ONLINE shopping site and all items being sold on our website is with the respective shop owners.
Hallo Hallo Mall / Car, only serves as a payment gateway between customers and shop owners.
A message on the Hallo Hallo Cars page now reads:
We are sorry to announce thar we are SOLD OUT for the month of October. The next 50% off promo on 999 cars will be on November 1st, 2014.