Have you seen the latest cover of Philippine Tatler Magazine for October 2015 edition?
Well, you have to check out the"the ultimate arbiter of high society, taste and glamour," as they dubbed themselves, where the dashing Ilocos Norte Governor Imee Marcos nailed wearing a "crimson" dress while striking a pose showing her perfect legs.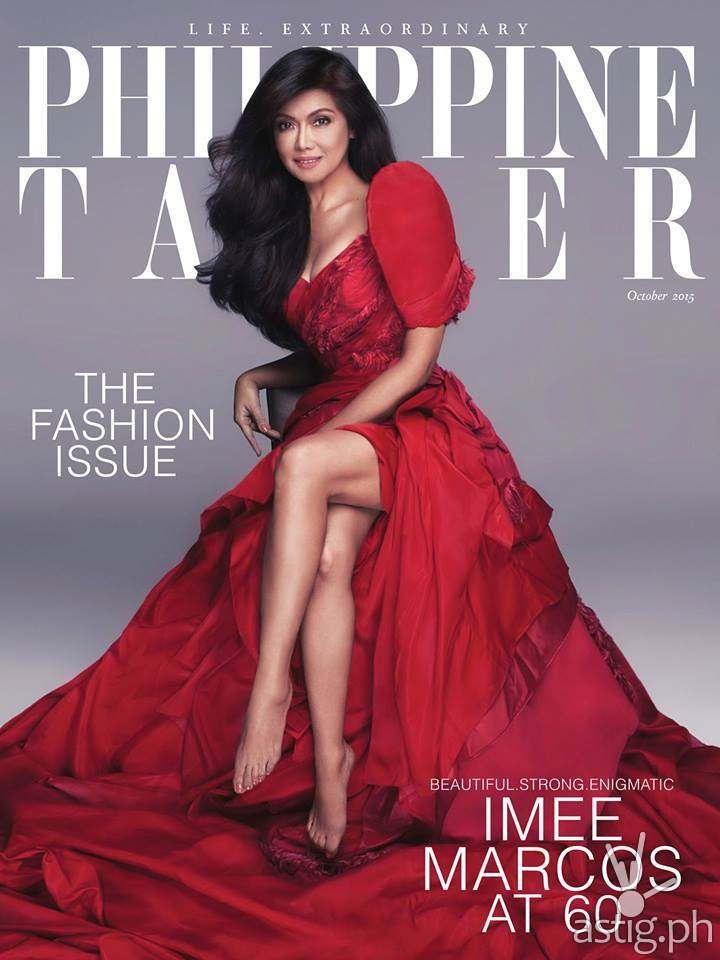 The release of the cover in the social media account of the magazine drew mixed reactions among the netizens.
Ageless beauty
Others praised the ageless beauty of the woman of the hour who despite celebrating her 60th year of existence did not lost the youthful look and ofcourse, the glamour she inherited from former first lady Imelda Marcos.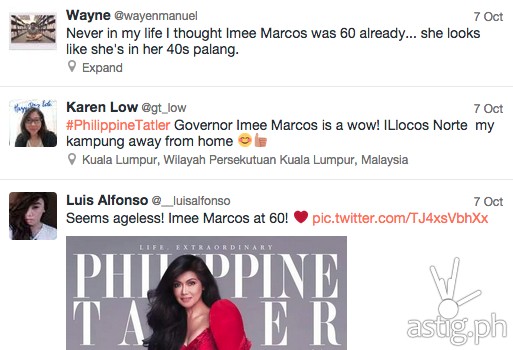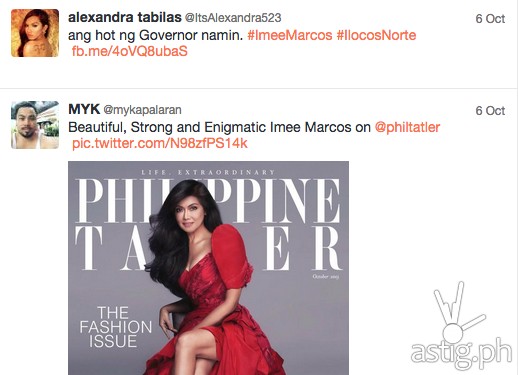 Impressive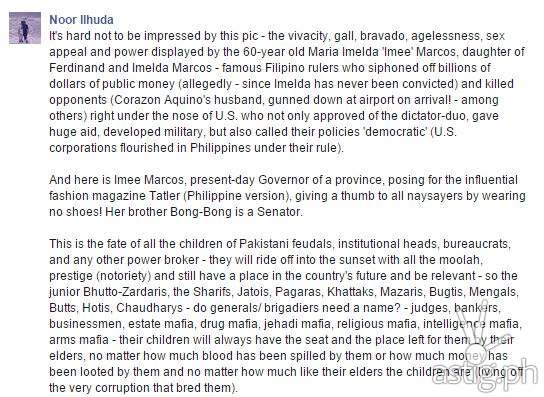 Noor Ilhuda could not help but be impressed, saying:
It's hard not to be impressed by this pic – the vivacity, gall, bravado, agelessness, sex appeal and power displayed by the 60-year old Maria Imelda 'Imee' Marcos, daughter of Ferdinand and Imelda Marcos – famous Filipino rulers who siphoned off billions of dollars of public money (allegedly – since Imelda has never been convicted) and killed opponents (Corazon Aquino's husband, gunned down at airport on arrival! – among others) right under the nose of U.S. who not only approved of the dictator-duo, gave huge aid, developed military, but also called their policies 'democratic' (U.S. corporations flourished in Philippines under their rule).
And here is Imee Marcos, present-day Governor of a province, posing for the influential fashion magazine Tatler (Philippine version), giving a thumb to all naysayers by wearing no shoes! Her brother Bong-Bong is a Senator.
This is the fate of all the children of Pakistani feudals, institutional heads, bureaucrats, and any other power broker – they will ride off into the sunset with all the moolah, prestige (notoriety) and still have a place in the country's future and be relevant – so the junior Bhutto-Zardaris, the Sharifs, Jatois, Pagaras, Khattaks, Mazaris, Bugtis, Mengals, Butts, Hotis, Chaudharys – do generals/ brigadiers need a name? – judges, bankers, businessmen, estate mafia, drug mafia, jehadi mafia, religious mafia, intelligence mafia, arms mafia – their children will always have the seat and the place left for them by their elders, no matter how much blood has been spilled by them or how much money has been looted by them and no matter how much like their elders the children are (living off the very corruption that bred them).
Accusations of corruption during Martial Law
While others cursed her or maybe, her family who was accused of stealing public funds for their capricious desires during the Martial Law, coined as the darkest era in the Philippine history.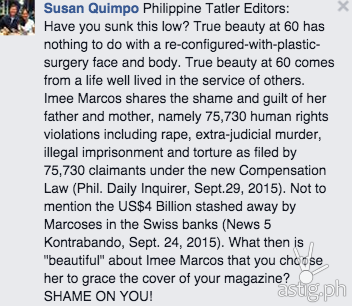 "Philippine Tatler Editors:
Have you sunk this low? True beauty at 60 has nothing to do with a re-configured-with-plastic-surgery face and body. True beauty at 60 comes from a life well lived in the service of others. Imee Marcos shares the shame and guilt of her father and mother, namely 75,730 human rights violations including rape, extra-judicial murder, illegal imprisonment and torture as filed by 75,730 claimants under the new Compensation Law (Phil. Daily Inquirer, Sept.29, 2015). Not to mention the US$4 Billion stashed away by Marcoses in the Swiss banks (News 5 Kontrabando, Sept. 24, 2015). What then is "beautiful" about Imee Marcos that you choose her to grace the cover of your magazine? SHAME ON YOU!," Susan Quimpo commented.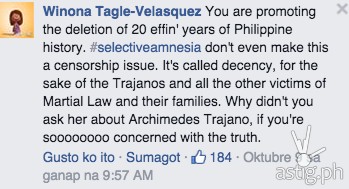 Winona Velasquez meanwhile said, "You are promoting the deletion of 20 effin' years of Philippine history. #selectiveamnesia don't even make this a censorship issue. It's called decency, for the sake of the Trajanos and all the other victims of Martial Law and their families. Why didn't you ask her about Archimedes Trajano, if you're soooooooo concerned with the truth."
Others condemn the magazine's facebook page for deleting the negative feedbacks.
Seeing RED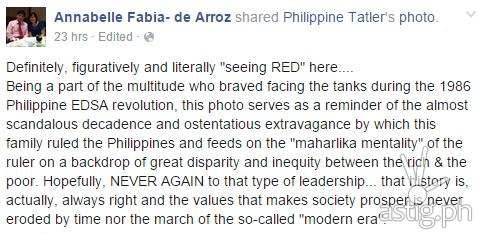 Annabelle Fabia-de Arroz could not help but see RED, saying:
Definitely, figuratively and literally "seeing RED" here….
Being a part of the multitude who braved facing the tanks during the 1986 Philippine EDSA revolution, this photo serves as a reminder of the almost scandalous decadence and ostentatious extravagance by which this family ruled the Philippines and feeds on the "maharlika mentality" of the ruler on a backdrop of great disparity and inequity between the rich & the poor. Hopefully, NEVER AGAIN to that type of leadership… that history is, actually, always right and the values that makes society prosper is never eroded by time nor the march of the so-called "modern era".
An image Oscar Wilde would envy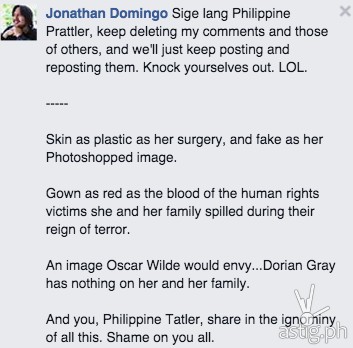 "Sige lang Philippine Prattler, keep deleting my comments and those of others, and we'll just keep posting and reposting them. Knock yourselves out. LOL.

—–

Skin as plastic as her surgery, and fake as her Photoshopped image.

Gown as red as the blood of the human rights victims she and her family spilled during their reign of terror.

An image Oscar Wilde would envy…Dorian Gray has nothing on her and her family.

And you, Philippine Tatler, share in the ignominy of all this. Shame on you all," Jonathan Domingo said.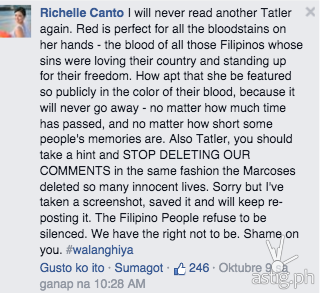 "I will never read another Tatler again. Red is perfect for all the bloodstains on her hands – the blood of all those Filipinos whose sins were loving their country and standing up for their freedom. How apt that she be featured so publicly in the color of their blood, because it will never go away – no matter how much time has passed, and no matter how short some people's memories are. Also Tatler, you should take a hint and STOP DELETING OUR COMMENTS in the same fashion the Marcoses deleted so many innocent lives. Sorry but I've taken a screenshot, saved it and will keep re-posting it. The Filipino People refuse to be silenced. We have the right not to be. Shame on you. #walanghiya," Richelle Canto commented.
According to the blog post entitled The Crimson Stain by The Marocharim Experiment, it narrated how the blogger Marck viewed the Imee Marcos cover as a representation of "bloody martial law" that has been hidden in the "superficial" where our eyes have been deceived.
"Because that isn't Imee Marcos sitting on that cover, with her bare feet dangling elegantly by the folds of her scandalously-long terno. Those are the very bare feet of the millions of Filipinos who suffered from famine in Negros and other parts of the Philippines. Under the "glory days" of Marcos, they starved, subsisting on "fortified" grain, and walked barefoot on ground parched and left fallow. All this happened while Imelda was entertaining concert pianists and Hollywood actresses in Malacañang, while Ferdinand was wheelin' and dealin' with the cronies that made up the government. All this happened while Imelda started collecting thousands of shoes, and built her socialite dreams on the backs of the barefoot children of famine, who walked the dry ground to bury the baby that died.
That infant—like Apo Macliing, Edjop, Eman Lacaba, Liliosa Hilao, Lorena Barros, Juan Escandor, and so many others—all left a crimson stain in the ground, in a hue no different from the cloth of Imee Marcos' gown," he said.
Satan's princess

Tess Nulud called Imee Marcos "Satan's Princess", saying:
Satan's Princess dressed in Pure Victims' Bloody Red Dress Whatta Bloody Life they live!
Truly repulsive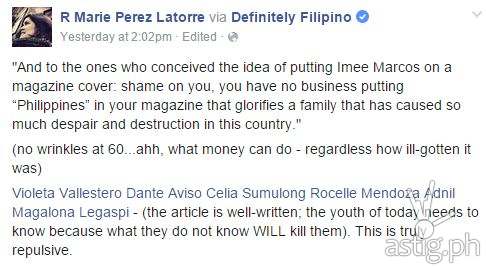 Marie Perez Latorre, on the other hand, found the cover repulsive. She writes:
And to the ones who conceived the idea of putting Imee Marcos on a magazine cover: shame on you, you have no business putting "Philippines" in your magazine that glorifies a family that has caused so much despair and destruction in this country."
(no wrinkles at 60…ahh, what money can do – regardless how ill-gotten it was)
(the article is well-written; the youth of today needs to know because what they do not know WILL kill them). This is truly repulsive.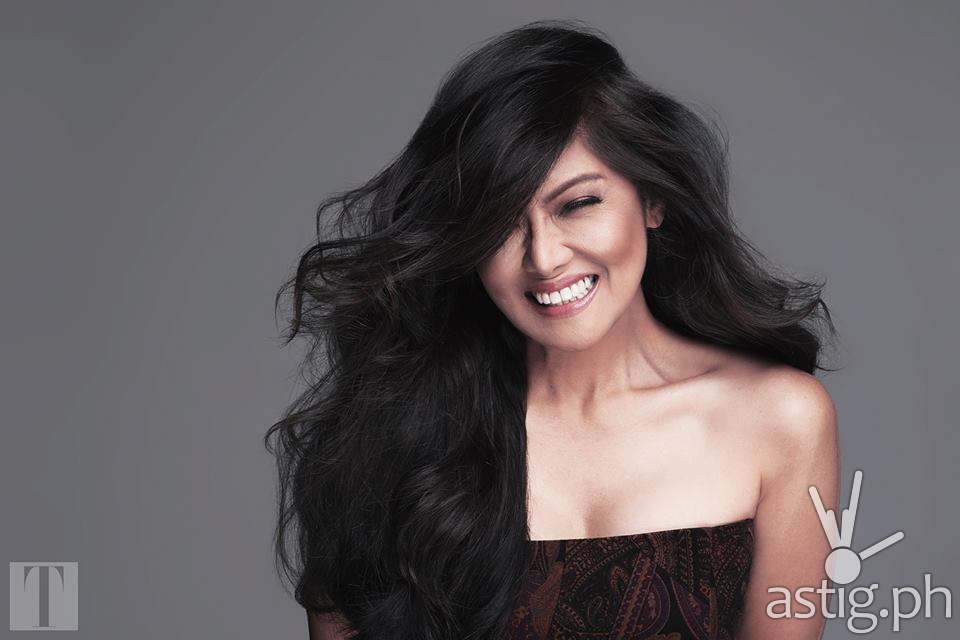 Bongbong: drugs, party, bulakbol
Lorraine Marie T. Badoy compares Imee against his brother Bongbong in a detailed plea that ends in a wake-up call.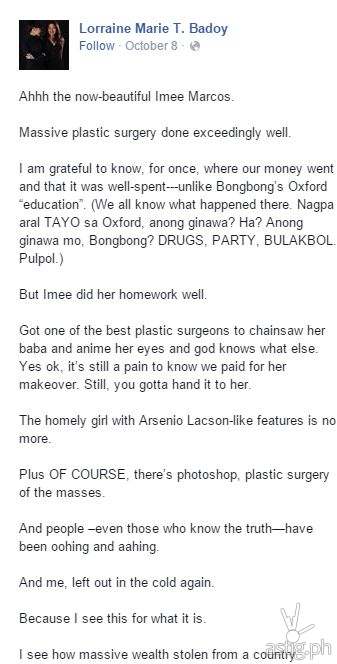 Ahhh the now-beautiful Imee Marcos.
Massive plastic surgery done exceedingly well.
I am grateful to know, for once, where our money went and that it was well-spent—unlike Bongbong's Oxford "education". (We all know what happened there. Nagpa aral TAYO sa Oxford, anong ginawa? Ha? Anong ginawa mo, Bongbong? DRUGS, PARTY, BULAKBOL. Pulpol.)
But Imee did her homework well.
Got one of the best plastic surgeons to chainsaw her baba and anime her eyes and god knows what else. Yes ok, it's still a pain to know we paid for her makeover. Still, you gotta hand it to her.
The homely girl with Arsenio Lacson-like features is no more.
Plus OF COURSE, there's photoshop, plastic surgery of the masses.
And people –even those who know the truth—have been oohing and aahing.
And me, left out in the cold again.
Because I see this for what it is.
I see how massive wealth stolen from a country bleeding and down on its knees can be used to buy not just respectability but oh-darn-god adoration from the very people this family of shameless thieves have bled dry.
I look at this and I can't help but see, in my mind's eye, the hordes of people who swoop down on Rustans grocery in my neighborhood when it closes at night, to scavenge for food.
And I see reed-thin half naked children knocking on my car's window to beg for food.
Millions upon millions of Filipinos living worse than dogs—under our bridges, in hovels made of torn tarpaulin and stitched together with the flimsiest of their desperate hopes.
And I cannot help but see children of Samar covered in boils weeping with pus and blood from their heads down to their toes because there are no health services in a country mired in widespread theft by those in power—the solid Marcos legacy: systemic and systematic corruption.
And I can, once again, smell the sour pungent smell of the severely impoverished that hits you in the face and stays on your skin no matter how hard you scrub nor how many times you soap yourself.
And I see red, Imee.
I see the blood of thousands of martyrs of Martial Law–bloodied, hogtied, chopped with evidence of severe torture, rape.
And I see the bloodied body of Archimedes Trajano—the 22 year old Mapua student who had the temerity to ask Imee Marcos in an open forum "Must the Kabataang Barangay be headed by the president's daughter?" And this so angered the plastic-surgeried one that Archimedes Trajano was picked up right there and then by Imee's bodyguards and tortured and killed.
22 years old.
And his life was over.
22 years old.
Like my son is now.
And as curious-to-know-answers as my son is. Lucky for my son, he can now ask that question of any politician and not get killed. (And NO. I AM NOT A FAN OF NOYNOY. OH YUCK.)
I look at this and I see Archie's parents looking down on their 22-year old son's bloodied body in the mortuary and asking "Why him, God? Why our son?"
Before I hear any Marcos loyalist ask me for proof, eto na: In 1993, A U-S Federal Court in Honolulu awarded Agapita Trajano and ten thousand other Filipinos two billion U.S. dollars in damages for human rights violations covering torture, disappearance and murder under the Marcos regime.
Fat chance though that this will register with the willfully obtuse (obtuse is a polite term for 'stupid').
So yeah, I look at the heavily-photoshopped, massively-plastic-surgeried Imee and I see the truth Marcos loyalists do not want to see and what the deeply asleep cannot see:
A monster who continues to live in vulgar extravagance with wealth stolen from generations of Filipinos.
Someone who is part of that family of obscene fucks who stole our country's bright future and has done so without a tinge of shame nor remorse.
And I see too, that OTHER obscenity—the Philippine Tatler, the Maurice Arcaches and Tim Yaps of Philippine high society (as in, "High ka ba?") who collude with each other and cover each other's crimes and grant each other respectability—no matter if it damns an entire country.
The feudal lords spraying Chanel no 5 on each other to cover the stench of blood on their hands and extolling each other so those who are asleep will blindly follow and oooh and ahhh.
Gising, mga kababayan ko.
Nagmamakaawa ako.
The rage of netizens against Imee and the entire Marcos family can be accounted to the recent commemoration of 43rd anniversary of Martial law dictatorship which is also timely as another Marcos is set to return in Malacanang soon in the name of Senator Bongbong Marcos who will run for vice-presidential race in the upcoming 2016 elections.
Do you believe that the Crimson dress has significance in the bloody Martial law? or Marcos revival of its suspended reign of terror three decades ago? What do you think of Imee Marcos at 60? Comment your thoughts.