World singing champion Jed Madela dropped his latest album "Iconic" this week without notice, making him the first Filipino artist to release an album unannounced. The 14-track full album, released under Star Music, can now be exclusively streamed on Spotify.
Living up to its album title, "Iconic" features Jed's unique versions of tracks by music icons such as Madonna ("Like A Prayer"), Mariah Carey ("Love Takes Time"), Celine Dion's "That's The Way It Is" feat. 5thGen), and Whitney Houston's ("Didn't We Almost Have It All"). Jed is the only male Filipino artist to release an album featuring the said divas' hits.
"For a time, I was reported to have lost my voice due to sickness, and this album proves that I still have it. I've done things in this album that I had not done before, and you'll know what they are if you listen to 'Iconic,'" said Jed.
"We also intended to release the album exclusively on Spotify to reach to a wider audience all over the world, especially the music enthusiasts," he added.
"Iconic," Star Music's biggest album for 2015, also marks a first for Jed – a duet with Asia's Songbird Regine Velasquez-Alcasid in the classic song "Somewhere Over the Rainbow."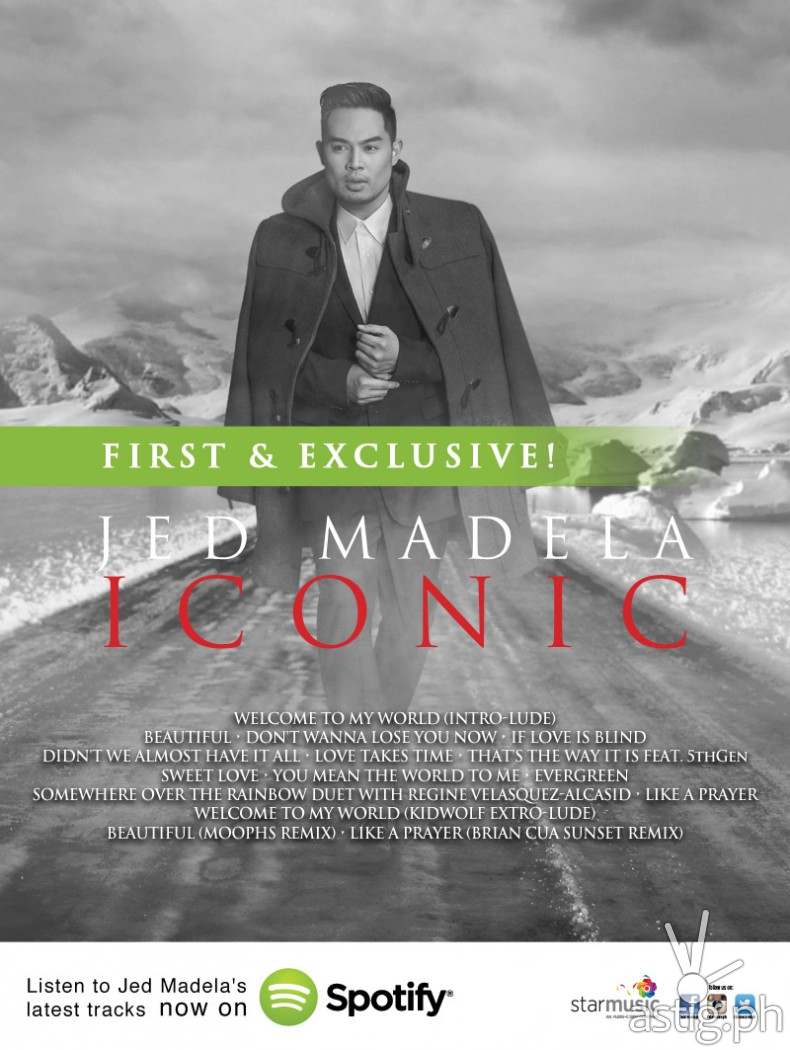 Jed also experiments with new sound and sumptuous beats with EDM-laced tracks such as his remake of Christina Aguilera's pop ballad "Beautiful," "Like A Prayer (Brian Cua Sunset Remix)," "Beautiful (Moophs Remix)," and Jed's original composition "Welcome To My World," which acts as the album's opening and closing tracks served up in two versions.
Also included on the track list are Jed's remakes of Barbra Streisand's "Evergreen," Gloria Estefan's "Don't Wanna Lose You Now," and Toni Braxton's "You Mean the World to Me."
Physical copies of "Iconic," produced by Jonathan Manalo and Jed, will be available at all record bars nationwide on May 8. Digital tracks, on the other hand, can be downloaded starting May 7 from online music stores such as iTunes, Mymusicstore.com.ph, Amazon.com, and Starmusic.ph.
For more information, visit Starmusic.ph or follow Star Music's official social media accounts at Facebook.com/starrecordsphil, Twitter.com/starrecordsph and Instagram.com/Starmusicph.