Ten years is a good round number to wrap up an era. For its first ten years, Cinema One Originals has produced some of the most unique, diverse, adventurous independent films in Philippine cinema. On its eleventh year, it is ready to level up.
Welcome to Cinema One Originals Mark 2.0. As exemplified by its new tagline "Kakaiba Ka Ba?" Cinema One Originals continues to uphold diversity and uniqueness in Philippine Cinema, an exhortation and an affirmation for both filmmakers and film-goers. This year marks the first of another ten years and beyond and promises more of the same only bigger, better, bolder.
Starting everything off are our nine Originals 2015. Joel Ferrer's cross-generational screwball rom-com "Baka Siguro Yata" which stars Valerie "Bangs" Garcia, Dino Pastrana, Ricky Davao, and Cherie Gil.
Sheron Dayoc's religious horror gothic "Bukod Kang Pinagpala" featuring real-life mother and daughter Bing Pimentel and Maxie Eigenmann as a mother and daughter in the grip of sinister forces.
Ivan Andrew Payawal's comedy about suicide and celebrity "The Comeback" features Kaye Abad as a fading star whose life takes an unexpected turn.
Sari Dalena's "Dahling Nick," an experimental docu-fiction hybrid that celebrates the life and work of Nick Joaquin with Raymond Bagatsing in the eponymous title role.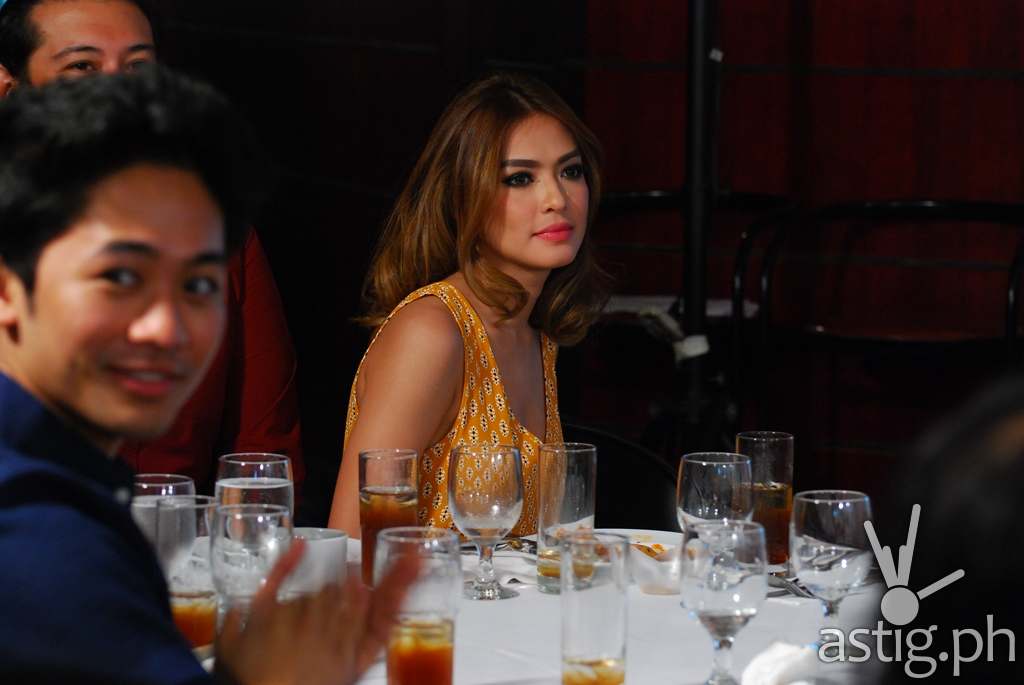 Bor Ocampo's "Dayung Asu," featuring Ricky Davao and Junjun Quintana as a father and son enmeshed in a life of crime, is a homage to Pinoy action set in a unique milieu.
Ralston Jover's "Hamog" blends neo-realism and magic realism with Zaijan Jaranilla and Teri Malvar as street children.
Carl Joseph Papa's fully-animated "Manang Biring" is the touching story of a terminal patient and her estranged daughter with Erlinda Villalobos in the title role.
Raymond Red's "Mga Rebeldeng Walang Kaso" is a look back at the early days of the first wave of Philippine independent cinema with Felix Roco, Epi Quizon, Earl Ignacio, and Nicco Manala.
And lastly, Ara Chawdhury's "Miss Bulalacao", which introduces performance artist Russ Ligtas in his first film role, is a comedy about a young drag queen whose life is changed by a strange encounter.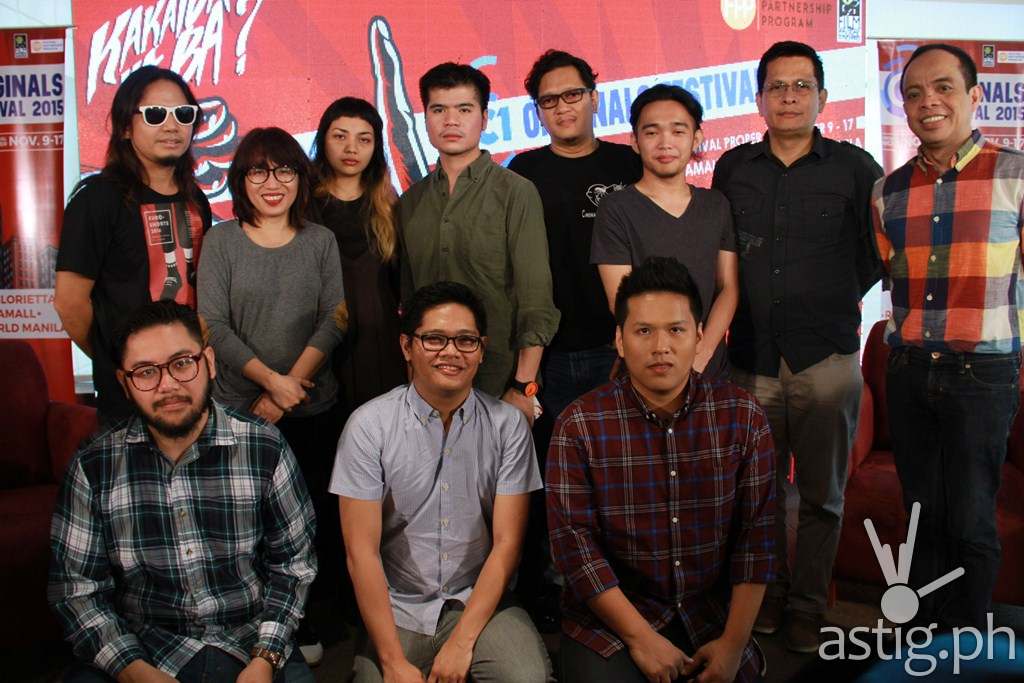 Aside from the nine Originals 2015, there will a Special Presentation of Cinema One's production of Sherad Sanchez's found footage horror film "Salvage," with Jessie Mendiola as a reporter lost in a haunted jungle. There will also be an impressive program of films showcasing the best of world cinema, including Miguel Gomez's "Arabian Nights," Hou Hsiao Hsien's "The Assassin," Hong Sang Soo's "Right Now Wrong Then," Yorgos Lanthimos' "The Lobster," and Roy Andresson's "A Pigeon Sat On A Branch."
This year's Filipino Classics will be highlighted by a restoration of Ishmael Bernal's "Ikaw Ay Akin" with no less than Nora Aunor and Vilma Santos, as well as restorations of Lino Brocka's "Insiang" and Marilou Diaz Abaya's "Karnal."
In the spirit of commemorating revolutionary cinema, Cinema One Originals 2015 will pay tribute the first wave of Pinoy indies, the short filmmakers from the 80s led by Raymond Red, Nick De Ocampo, Rox Lee and Joey Agbayani, the pioneers of alternative cinema. As an auxiliary program, there will be also a showcase of 10 short films from the Philippines, New Zealand and Iran. Here is the form's glorious past and it's glittering future.
From November 9-17, cinemas at Trinoma, Glorietta, Resorts World and SM Megamall will be haven for discerning cinephiles as Cinema One Originals once again celebrates cinema with a difference. Kakaiba ka ba?
Cinema One Originals 2015 independent films
Baka Siguro Yata (Joel Ferrer, genre: Romantic Comedy)
Cast
Dino Pastrano as Carlo
Valerie "Bangs" Garcia as Melissa
Cherie Gil as Remy
Ricky Davao as Adrian
Katrina "Hopia" Legaspi as Myka
Boo Gabunada as Jinno
Anna Luna as Nica
Chanel Latorre as Mae
Nicco Manalo as Japot
Jerald Napoles as Gio
Alex Medina as Epol
Synopsis
Baka Siguro Yata is a comedy drama which revolves around Carlo, a 29-year old unambitious graphic designer whose only passion is to play music with his co-unambitious long-time friends. After discovering that his girlfriend of 6 years is a lesbian, he seeks to find refuge on a one-night stand with a high school classmate named Melissa. However, Melissa gets pregnant which in turns everything in disarray. Melissa's sister and her boyfriend mulls over their planned first sex but gets cold feet due to what happened to her sister. Carlo's divorced parents, on the other hand, discreetly starts seeing each other as they rekindle their 20 year old relationship by having an affair and secret meetings while they cheat on their new partner. Baka Siguro Yata tells a story of love within three generations. It tells how each generation understand and perceive the idea of love.
Bukod Kang Pinagpala (Sheron Dayoc, genre: Horror)
Cast
Bing Pimentel as Stella
Max Eigenmann as Stephanie
Paolo Paraiso as Demon
Lou Veloso as Mang Nardo
Lui Manansala as Aling Natty
Kiko Matos as James
Senon Palomares as Fr. Atilano
Extras as mga deboto
Synopsis
In an old house replete with images of Catholic icons and symbols, a young lady struggles with the demented religious fanaticism of her mother, who it seems cannot differentiate between pious fervour and demonic possession- for both exist simultaneously in her being.  The daughter seeks help for mother's behavior, but as days go by, their relationship turns from harrowing to horrific, as strange phenomena occur inside the house, driving the daughter to evade and overcome her mother's deranged machinations.
Dahling Nick (Sari Dalena, genre: Docu-drama)
Cast
Raymond Bagatsing                       Nick Joaquin/Don Badong/Bro Fernando
Alessandra de Rossi                       Virgin Mary / Maria
Ma. Isabel Lopez                              Anastasia
Adrian Cabido                                  Onching
Paul Cedric G. Juan                                   Leocadio Joaquin
Banaue Miclat-Janssen                 Doña Salome Joaquin
Che Ramos-Cocio                           Sara Joaquin
Ping Medina                                     Ping Joaquin
Roli Inocencio                                  Mang Emong
Kiko Matos                                        Master Novice
Angelina Kanapi                              Elizabeth
Dindi Gallardo                                  Imelda Marcos
Lance Raymundo                            Ferdinand Marcos
Bernardo Bernardo                          Adrian Cristobal
Emmanuel Dela Cruz                     F. Sionil Jose
Nick Lizaso                                       Juan Ponce Enrile
Karl Medina                                      Danny Dalena
Ross Pesigan                                   Pete Lacaba
Thea Yrastorza                                 Marra Lanot
Kris Lanot Lacaba                            Serafin Lanot
Karla Pambid                                    Elena Roco
Opaline Santos                                Virgie Moreno
Aba Lluch Dalena                           The Sculptor
Ronah Adiel Rostata                       Ninotchka Rosca
Darwin Gordon de Roxas               Greg Brilliantes
Nico Bagsic                                       Joma Sison
Bong Cabrera                                   Mang Jojo
Gabby Padilla                                   Agueda
Hazel Faith Dela Cruz                    Catalina Montiya
Jasmine Capule                               Cousin Marina
Jessa Lyn Capule                            Cousin Elena
Cos Zicarelli                                      Rodrigo
Faye Alhambra                                 Natalia
Johnny Regana                               Angelito
Kino Sicat                                          Children
Paris Sicat
Kirsten Moya
Rica Abad                                         Mujeres Ilustradas
Jane Valderama
Noemi Bayoneta
Synopsis
Short
DAHLING NICK is a documentary drama exploring the life and works of National Artist for Literature, Nick Joaquin.
Long
DAHLING NICK is a documentary-drama exploring the life and works of National Artist for Literature Nick Joaquin, who only accepted the National Artist Award on the condition the Marcos administration release a well-known writer who was being unjustly detained during Martial Law. Depicting the "inner world" of this canonical writer, who wrote both novels as well as journalistic works, the juxtaposition of documentary interviews, episodes from his life, and evocative imagery from his literary pieces will create a cinematic collage. DAHLING NICK is a celebration of Joaquin's life and inimitable contributions to Philippine arts.
Dayang Asu (Bor Ocampo, genre: Action-Drama)
Cast
Ricky Davao as Mang Peping
Junjun Quintana as Tonton
Inna Tuason as Jeljel
Lui Manansala as Lola Miding
Bernard Laxa as Ahmed
Elora Españo as Nadjoua
Kelvin Vistan as Amor
Alex Manansala as Burbos
Marco Nepomuceno as Mayor Macapagal
Ronnie Tayag as Governor Macapagal
Bajun Lacap as Mang Domeng
Gina Villa as Aling Lydia
Synopsis
Short
Amidst legalized corruption, a son struggles to prove to his father that he is fit to survive in a dog-eat-dog world.
Long
Money flows in the quarry business. Running it means constantly keeping a lot of people satisfied. And, digging deeper reveals a scheme designed for legalized corruption. Workers issue "official receipts" for the passway fee collected from every truckload of sand coming from the quarry site, 24/7.
A passway marks the delineation between two sides. It is exactly in the middle and serves both as entry and exit.
Tonton, the son of a quarry master, enters the world of quarrying.
A newbie to the business, he does his best to toughen up and blend in with his co-workers. On top of that, he struggles to prove to his father that he is fit to be part of and eventually run the business. As his co-workers search for a dog to butcher for his birthday, he tries to deal with a landlord who demands for a higher cut on the earnings. However, his diplomatic attempt on swaying the landlord is futile, proving that his father's ways are more effective. Things get out of hand and he is forced to make a decision. "Dayang Asu" is inspired by true events.
Hamog (Ralston Jover, genre: drama)
Cast
Zaijan Jaranilla as Rashid
Teri Malvar as Jinky
Sam Quitania as Tisoy
Bor Lentejas as Moy
OJ Mariano as Danny
Anna Luna as Paula
Mike Liwag as Bernard
Lou Veloso as Abdul
Kyline Alcantara as Super Girl
Synopsis
Short
A story of 4 street children called "Batang Hamog" who  got hooked in 2 consecutive  and unexpected events in their daily routine of crime and survival in the busy  Manila streets.  One of them suddenly disappears in the hands of a kidnapper, with a clear fate of being oblivious; while the other kid dies in a fatal car accident.  How will the remaining street kids cope with such tragedies?  Where will they go next?
Long
A child's play at the end of innocence, heading towards a journey at the beginning of life.  It showcases 4 street children called "batang hamog" who got hooked in 2 consecutive and unexpected events in their daily routine of crime and survival in the busy streets.  One of them, Jinky, the only girl in the group, suddenly disappears in the hands of a kidnapper, a taxidriver they victimize with haphazard thievery while his vehicle got caught in heavy traffic.  The youngest, Moy suddenly dies in a fatal car accident during a petty heist.  Rashid, the Moslem boy, could not fathom the thought of leaving his dead friend in the morgue after finding out that he is an escaped ward from the orphanage; Moy has no known relatives to take care of his burial.  Rahid needs to learn the Christian tradition of burying their dead. Meantime, the eldest in the group, Tisoy, Jinky's boyfriend feels equally lost looking for her in their regular hangouts.  He gets haunted by his sordid past when he spots a crying boy, shouting his mother's name. Until he experiences something beyond the ordinary when he starts seeing an animated character he only used to watch on television and in some animated films. Tisoy believes his dreams have finally come alive.
Manang Biring (Carl Joseph Papa, genre: Drama-Comedy)
Cast
Erlinda Villalobos as Biring and JerryMailes Kanapi as Eva
Alchris Galura as Terence
Patrick Sugui as Yohan
Bea Benedicto as Amanda
Lance Raymundo as Richard Abadilla
Cherry Pie Picache as Nita
John Carlo Tan as CJ
Synopsis
MANANG BIRING is a dark comedy-drama about a feisty, terminally ill old lady who has long accepted her imminent passing due to stage-4 breast cancer but then receives an unexpected letter from an estranged loved one announcing their return for Christmas
Mga Rebeldeng May Kaso (Raymond Red, genre: Youth Drama)
Cast
Felix Roco (Rem)
Nicco Manalo (Pat)
Epy Quizon (Deo)
Earl Ignacio (Sid)
Angela Cortez (Mara)
Synopsis
The film is based on true events surrounding the emergence of the underground alternative cinema movement of the 1980s. Just after the February '86 People Power revolution that toppled the Marcos dictatorship, a band of young filmmakers organize their own independent film & video festival and declare the legitimacy of the emerging "new wave" movement of alternative cinema. The film also touches on crossing paths with the brewing underground music scene, and their fateful collaboration with iconic pioneer Pinoy punk band Betrayed.
Miss Bulalacao (Ara Chawdhury, genre: small town drama)
Cast
Dodong – Russ Ligtas
Lisa – Chai Fonacier
Poldo – Ferdinand Mesias
Mercy – Tessie Tomas
Peter – Keith Deligero
Fr Tony – Mon Confiado
Marlina – Nanette Inventor
Esme – Gen Mijares
Toto – Tita Chris
Hilda – Paz Tabuldan
Belen – Nikki dela Paz
Dario – Ronyel Compra
Kriston – Jeff Ogario
Synopsis
Short
Miss Bulalacao is about a young drag queen, Dodong, who joins a barangay gay pageant to gain acceptance in his father's community. He is instead met with hostility from his father, who chases him to a jungle, where he sobs to a lone bright star. What follows is the strangest night in his entire life, and an even stranger 9 months when he realizes he is pregnant. With only his stepmother, Lisa, as support, Dodong deals with ridicule from a barangay who does not believe him – until the rumors becomes a headline in a tabloid, "BAKLA, INA NG DIOS!".
Long
On the eve of the fiesta of Punta Bulalacao, somewhere in the island province of Biliran, 15 year old Dodong joins a gay pageant and is asked the question, "What is the essence of being a woman?" He answers "Motherhood", and is crowned Miss Bulalacao". His victory is greeted with rage from his father, Poldo, who takes after him with a dos por dos. He spends the night in the jungle, sobbing to a lone star. The star grows larger and larger, until Dodong's hiding place is engulfed in white. In the morning, he remembers nothing and is swept up in the village's fiesta preparations.
Aside from Poldo, he lives with his young stepmother, Lisa, who is cold to him. He assists her with odd jobs around town – most frequently for their rich neighbor, Maam Mercy, who has a son named Peter. Dodong only has eyes for the city-bred Peter but he never notices him or anyone in their small village. The village folk spend their days gossiping about each other and life continues as it always has.
And then Dodong gets sick. He and Lisa visit the barangay health official who recommends they get an ultrasound to rule out gallstones. Instead of gallstones, the monitor reveals a tiny heartbeat. Dodong is confused. The health official suggests that maybe Dodong is biologically female, except his genitalia is submerged, or his clitoris overdeveloped. They are recommended to go to an OB, who laughs at them as soon as Dodong claims he is pregnant.
Soon, word spreads about Dodong's claims. At first, the news is met with repulsion, then amusement, and then bewilderment when some of the villagers realize he isn't lying. The rumors reach the tabloids, where Dodong's situation is transformed into a miracle. The community members one by one become devotees, fashioning themselves into a cult. Only his father is unconvinced. Poldo spends more and more time with his old girlfriend-turned-mistress, Esmeralda – further detaching himself from the household.
Soon church officials are knocking on their door to verify the "miracle".
The Comeback (Ivan Andrew Payawal, genre: Comedy-Drama)
Cast
Patrick Garcia
Kaye Abad
Valeen Montenegro
Matt Evans
Adrienne Vergara
Julia Enriquez
Bea Galvez
Kate Alconga
Sheena Ramos
Synopsis
Short
The Comeback is a comedy about a 32 year old crazy, OA fading superstar actress who loses everything in her life and decides to commit suicide but on the day she decides to kill herself, she receives a package containing 4 letters and ashes in a vase: a dead man's ashes in search of a home.
Long
Angela Velasco had it all: Fame, money, expensive clothes, a mansion, true love, fans that adore her, friends that support her. Even though she lost her parents at a young age, she has been a fighter and made it on her own. But that was before…Before the nasty rumors, before her showbiz downfall, before her deepest heartbreak, before all of her friends leave her, before the never-ending debts, before her disgusting diva attitude, before the drugs and alcohol, before the parties, before her attempted suicide.
Feeling like she lost everything, on the decided day of her suicide, her attempt gets cut by an arrival of a package that contains 4 letters and a vase with ashes in it. One letter is addressed to the owner of the house. She then gets the surprise of her life when she finds out that the ashes are remains of a dead man named Kiko who used to be the owner of the house Angela is staying in. Kiko is requesting if the owner of the house can help him find his real destination: to the arms of the 3 names: Melanie, Letty or Irene,that are written on the letters.
The arrival of Kiko's ashes sparks like a good luck charm for Angela as she tries to juggle her "comeback" with her old antics while she embarks on a journey finding a home for Kiko but in the process she finds a home for herself.