MANILA, Philippines – Almost nude photos of Hollywood celebrity Kim Kardashian have appeared on an article on PAPERMAG entitled "No filter: An afternoon with Kim Kardashian", one day after teaser photos were released online.
According to the PAPERMAG article, she (Kim Kardashian) looks exactly the same in person as she does in photographs or on television, unlike most people – with one exception.
Amanda Fortini writes:
She is smaller than she appears in images, with tiny, almost doll-like ears and feet and hands. Everything else about her seems amplified, tumescent.
Kim shows everything in the newest batch of photos released by PAPERMAG.
In one shot she is almost completely naked, with the exception of a black dress which hangs by her hands.
Apart from that, Kim Kardashian is completely naked from her head head down to her knees.
In another shot Kardashian turns to the right, revealing her round bubble butt while still showing her boobs.
The photos were taken by celebrity French photographer Jean-Paul Goude.
While she looks amazing in photos, Kim Kardashian revealed that she rarely uses filters on the selfies that she posts on Instagram.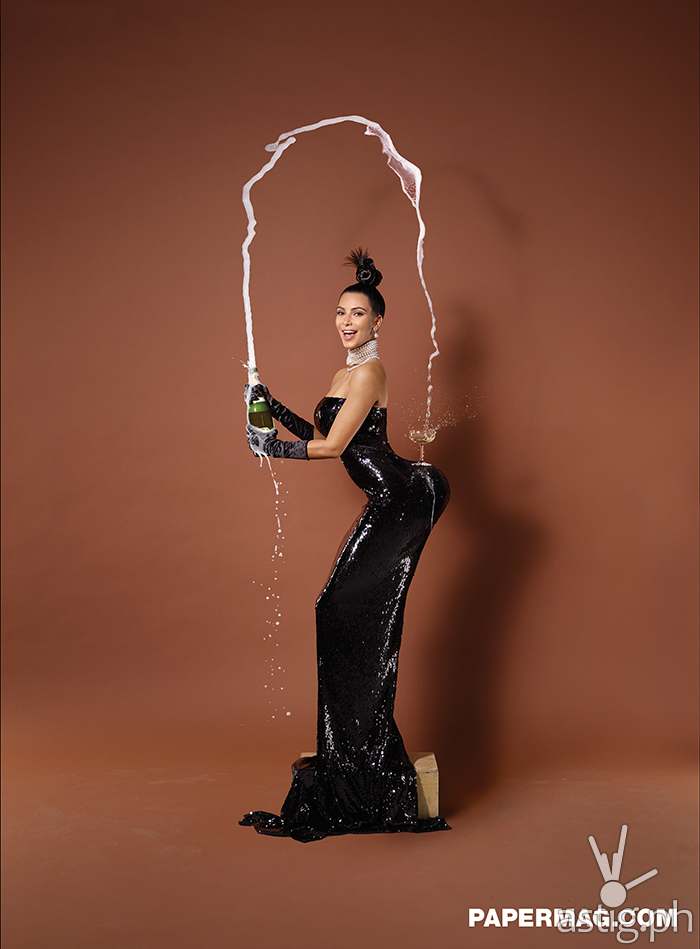 She owes much of her fame to social media, which she embraces wholeheartedly.
"I don't think social media was that heavy when we started our show, but I think we really evolved with social media", says Kardashian.
Kim also realizes that cameras are everywhere, so she always tries to look her best. Kim Kardashian tells PAPERMAG:
"There's nothing we can do that's not documented, so why not look your best, and amazing?"
Kim Kardashian earlier posted a teaser photo of her Winter 2014 PAPERMAG cover on Instagram with the hashtag #BreakTheInternet which showed her bare behind. The photo has since received over 737 thousand likes. Kim K is the third most followed Instagram celebrity with over 21 million followers.
Kanye West posted the same picture on his Twitter account with the hashtag #ALLDAY.
Kim Kardashian PAPERMAG photoshoot (photos)