TV host and actress Kris Aquino expressed in her Instagram post that she will leave ABS-CBN to pursue a stress-free life away from showbiz.
In a series of posts, the "Queen of All Media" shared her farewell statement, thanking the Kapamilya network for their relationship.
"Thank you, Kapamilya. Our relationship as a family started October 28, 1996 and it will soon end this March 23, 2016. A total of 10,354 days working for ABS-CBN, my life's most fulfilling professional journey because of your love, acceptance and loyalty," Aquino said.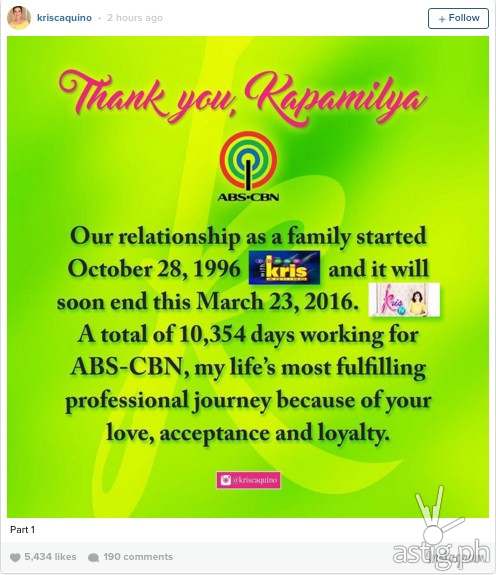 The presidential sister said that she doesn't want her siblings and two sons to worry about her health.
"Just like all of you, I love my FAMILY. My most valuable life destiny is to be a Mama to KUYA JOSH and BIMBY; and to be a loving, selfless sister to ATE, PINKY, NOY and VIEL: a bunso who doesn't give them constant worry because of my health and safety," she said.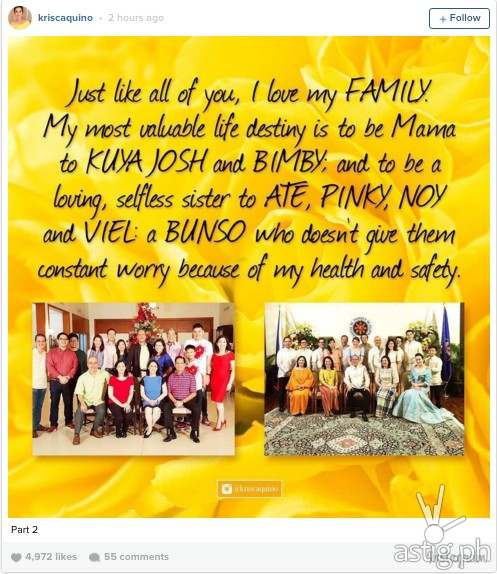 "I'm not putting a time frame, but with my type of work, it's realistic to accept by leaving ABS-CBN I'll be replaced and soon forgotten… My sons and I will travel, we'll move to our new home, and I'll eat healthy, sleep early, exercise regularly, and live quietly-everything to make sure Kuya Josh and Bimby have a healthy mother."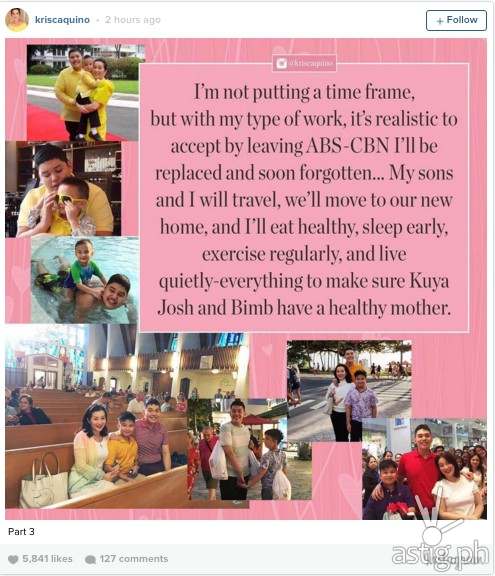 Aquino also thanked her supporters and her endorsements and hoped that she will be missed.
"My not so healthy heart wants to thank all of you for your LOVE, for me, my family & my work. I'LL BE BACK W/ A 100% HEALTHY HEART SO I CAN LOVE ALL OF YOU EVEN MORE & for much longer," she said.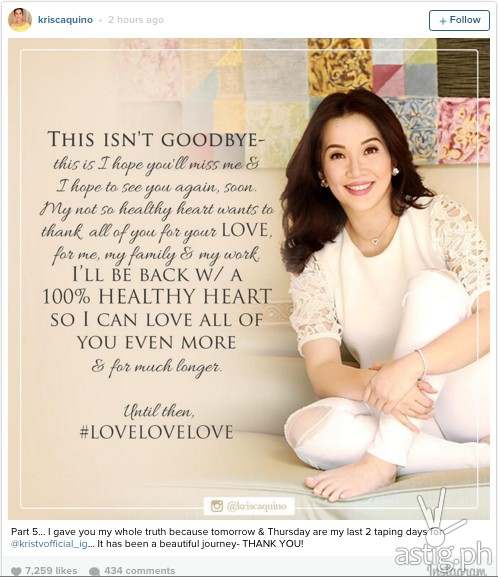 Source: PEP and Inquirer reports