Nike, a sports manufacturing giant has terminated Manny Pacquiao's contract following his claims that gay couples are "worse than animals."
Darren Rovell of ESPN provided Nike's confirmation after an initial report from TMZ: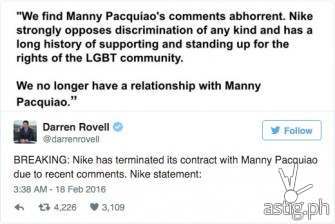 Pacquiao has been a Nike athlete since 2006, and as noted by TMZ, all of his merchandise has seemingly been dropped from the manufacturer's website.
Rovell added that Pacquiao joins Lance Armstrong, Ray Rice, Adrian Peterson and Oscar Pistorius as athletes Nike has cut ties with in the last three-and-a-half years.
The eight-weight world champion appeared in an interview with Filipino television station TV5 earlier this week when he made the controversial claims (h/t the Guardian).
Top Rank Boxing, Pacquiao's promoter, provided a statement about Pacquiao's claims:
You might wrongly think that the Manny Pacquiao-Tim Bradley fight is suddenly in jeopardy. That's because nobody knows how fast Pacquiao can recover from surgery needed to remove his foot from his mouth.

The fight is April 9.  The scars will be deep, and not all physical.

For those of you vacationing on Jupiter the last few days, this is what happened. Pacquiao made a public statement in his native Philippines in which he said that gays and lesbians were "worse than animals" because animals had sex with the opposite gender.

That statement was immediately, and understandably, taken as a grotesquely misguided and misinformed view of humanity.

This was not the Pacquiao everybody knew. This was not the all-inclusive, time-for-everybody Pacquiao who has grown into an international icon in just his 37 years on this planet. In the blink of an eye, he went from beloved to buffoon.  

It made no sense. Pacquiao isn't stupid. What he said, and that he said it, was.
Pacquiao is running for a seat in the senate and made the comments to be posted on TV5's election site, Bilang Pilipino.
Pacquiao claimed that because animals don't do it, humans should not, either: "It's common sense. Do you see animals mating with the same sex? Animals are better because they can distinguish male from female. If men mate with men and women mate with women they are worse than animals."
Pacquiao took to his official Twitter account to issue an apology on Tuesday evening, presumably under the impression he had made an error in judgment with his earlier comments:
It's not uncommon for high-profile athletes to lose out on endorsement deals after controversial personal beliefs or actions they've committed come to light.
As one of the biggest sport brands in the world, Nike's decision to cut ties with Pacquiao could encourage some of the 37-year-old's many other sponsors to follow suit.
Long-term rival Floyd Mayweather Jr., who defeated Pacquiao via unanimous decision in May 2015, told TMZ, "We should let people live the way they want to live," when asked for his take on Pacman's shocking comments.
Up until now, Pacquiao has been looked upon as one of boxing's all-time greats and a legend of the sport, despite his failure to defeat Mayweather last year.
However, many fans are likely to have seen their perceptions of the veteran altered as a result of his apparent views.