A pet owner took to social media her disappointment  after realizing her 5-month old pet's tongue was accidentally cut by the pet groomer
The netizen namely Chiqui Caedo Zuniga narrated how she found out that the tongue of her pet was horribly cut.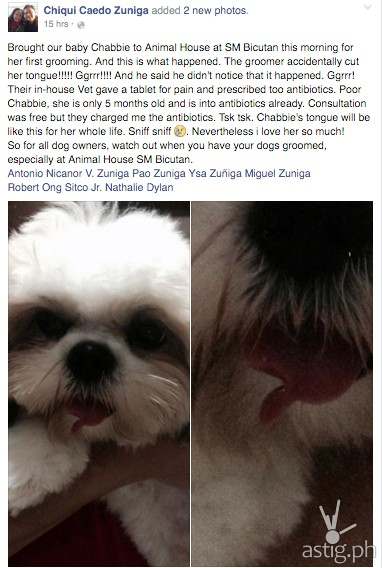 Brought our baby Chabbie to Animal House at SM Bicutan this morning for her first grooming. And this is what happened. The groomer accidentally cut her tongue!!!!! Ggrrr!!!! And he said he didn't notice that it happened. Ggrrr! Their in-house Vet gave a tablet for pain and prescribed too antibiotics. Poor Chabbie, she is only 5 months old and is into antibiotics already. Consultation was free but they charged me the antibiotics. Tsk tsk. Chabbie's tongue will be like this for her whole life. Sniff sniff . Nevertheless i love her so much!
So for all dog owners, watch out when you have your dogs groomed, especially at Animal House SM Bicutan.
Shortly, she gave an update to the situation of her pet.
We just got back from Animal House Vet Hospital in Jupiter Street Makati and seeked advice from the vet there. Since that facility was complete to address emergency situations, we found it best to go there just in case our Chabbie needed any medical procedure. And it was best there since the incident happened in one of their branches.
The vet said there are 3 options (1) have the ripped part sewed back together but there is no assurance that the tongue will be one again. (2) cut off the torn part, but this will give Chabbie pain and will cause bleeding, and she may not be able to eat. 3) let the tongue be. Since Chabbie is in no pain, and can eat and drink. This would be the best option. The down side is that our baby chabbie's tongue will be like that forever. 
Sorry I couldn't answer all of your messages but we really appreciate all of your sympathies and concerns regarding the issue! Thank you so much! Also, we will push through in filing a case against Animal House – SM Bicutan Branch.
Chabbie is well and the good news is that she is in no pain and she can eat and drink.
It's good to know that her pet's situation become better but the groomer should be held liable for what happened to Chabbie.
A quite similar case happened to the pet owner namely Mariam Al-alawi who took to social media her frustration and aggravation on the malpractice of a veterinarian who performed the dental extraction operation she did not ask for.
It was just supposed to be a teeth cleaning, but the careless veterinarian extracted more than 16 "milk teeth" that cause the death of the  pity dog.
Your thoughts about these malpractices?