Fastfood chain McDonald's has issued a public advisory against a politician who has been accused of claiming credit for the free McMuffins which will be distributed on Monday, March 14.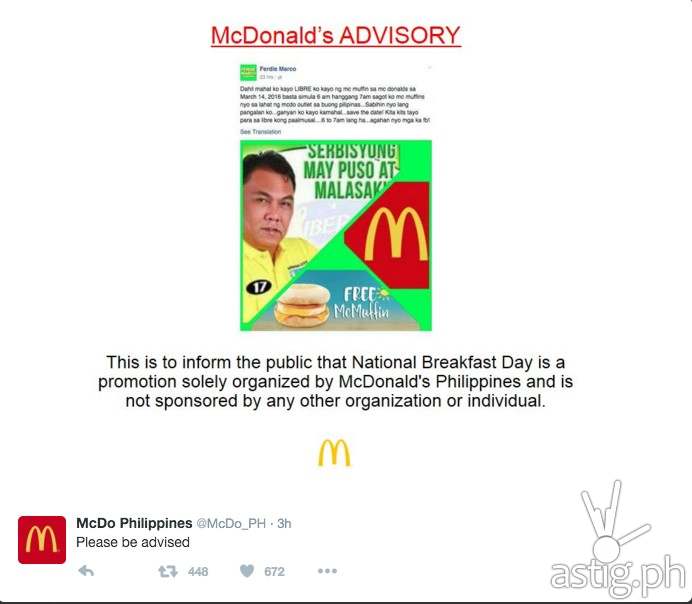 In an advisory posted on its social media pages, McDonald's Philippines shared a photo of what appeared to be a Facebook post of a certain Ferdie Marco, who is allegedly running for councilor in Marikina City.
Marco claimed he would treat the public to free "McMuffins", a McDonald's breakfast product, on March 14—the fast-food giant's "National Breakfast Day" promo.
"Dahil mahal ko kayo LIBRE ko kayo ng mc muffin sa mc donalds sa March 14, 2016 basta simula 6 am hanggang 7 am sagot ko mc muffins nyo sa lahat ng mcdo outlet sa buong Pilipinas… Sabihin nyo lang pangalan ko… ganyan ko kayo kamahal… save the date! Kita kits tayo para sa libre kong paalmusal… 6 to 7 am lang ha… agahan nyo mga ka fb!" Marco said in his screen-captured post, which is now nowhere to be found on his Facebook page.
Marco's post contained a photo collage of his picture against a Liberal Party logo backdrop, the McDonald's logo, and its "free McMuffin" graphic.
McDonald's clarified that its "National Breakfast Day" event was their own initiative and not sponsored by any third party.
"This is to inform the public that National Breakfast Day is a promotion solely organized by McDonald's Philippines and is not sponsored by any other organization or individual," the fast-food giant said.
The photo of alleged Ferdie Marco taking credit to Free McMuffins has been deleted since it went viral.
The politician doesn't confirmed yet if the posters really came from his camp.
Source: Reports from Inquirer