We love Wham! Burgers and we love their fries, especially the spaghetti fries. In case you missed it, check out review of this exciting burger joint, complete with high resolution mouth-watering photos. We even have a video of Wham! Burgers being cooked. Heck, we even came up with our own tagline,
Wham! Bugers: Knockout sa sarap!
This May we are celebrating burger month and Wham is making everyone's next burger lunch out extra-special with finger-friendly, crisp and addictingly good french fries for free. Since this favorite side dish makes a gastronomically glorious pair with a juicy and char-grilled burger that's always in season, burger lovers shouldn't miss this offer whole month of May.
Simply print out the Free Fries Lunch Out Coupon below (right-click on the image and select PRINT) and avail this promotion from 11 AM to 3 PM with a purchase of any burger.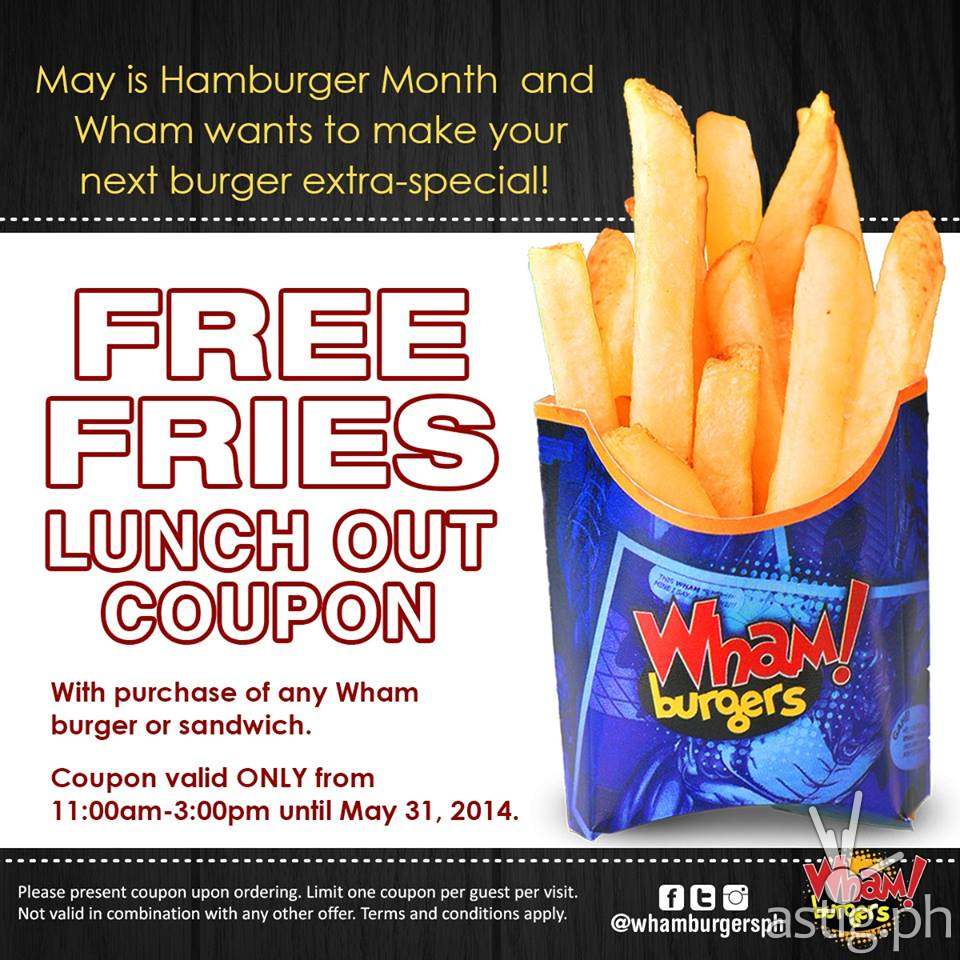 Spicing up every bite of your favorite burger are the variety of toppings and cheese choices as a savory addition, guaranteed to tweak the taste from something spicy, cheesy or tangy. With burgers and free fries supremely good as this, your lunch out surely calls for the companion of family and friends to fully enjoy Wham's 100% char-grilled beef, the star in this filling and satisfying celebration.
[stextbox id="astig"]
Wham! Burgers
Address: SM Mall of Asia (North Wing), Pacific Drive Manila Bay Reclamation Area, Pasay
Store hours: 10:00AM – 9:00PM daily
Phone: +63.2 556.9394 / +63.2 2121212 (delivery)
Website: www.whamburgers.com
Facebook: Wham! Burgers
Twitter: @WhamBurgersPH
Instagram: whamburgersph

[/stextbox]