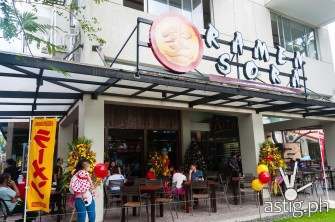 SUBIC, Philippines – A couple of months ago Gerry's Philippines opened its first concept restaurant, Sweet Chili in Fisher Mall, Quezon City. Today, Gerry's brings in another concept, Ramen Sora, the famed ramen shop from Hokkaido, Sapporo, Japan.
The brainchild of Chef Yoshi Ishise, Ramen Sora earned a strong online following, and rates highly on travel websites such as Trip Advisor.
We joined Gerry Apolinario and his crew at the soft opening of Ramen Sora at the Subic Bay Freeport Zone in Zambales.
What is Ramen Sora? Watch our interview below, or read on for our full review.
Menu
The menu is quite simple, but to the uninitiated the task of deciding on your first ramen can become daunting. This can be done in 1-2 steps.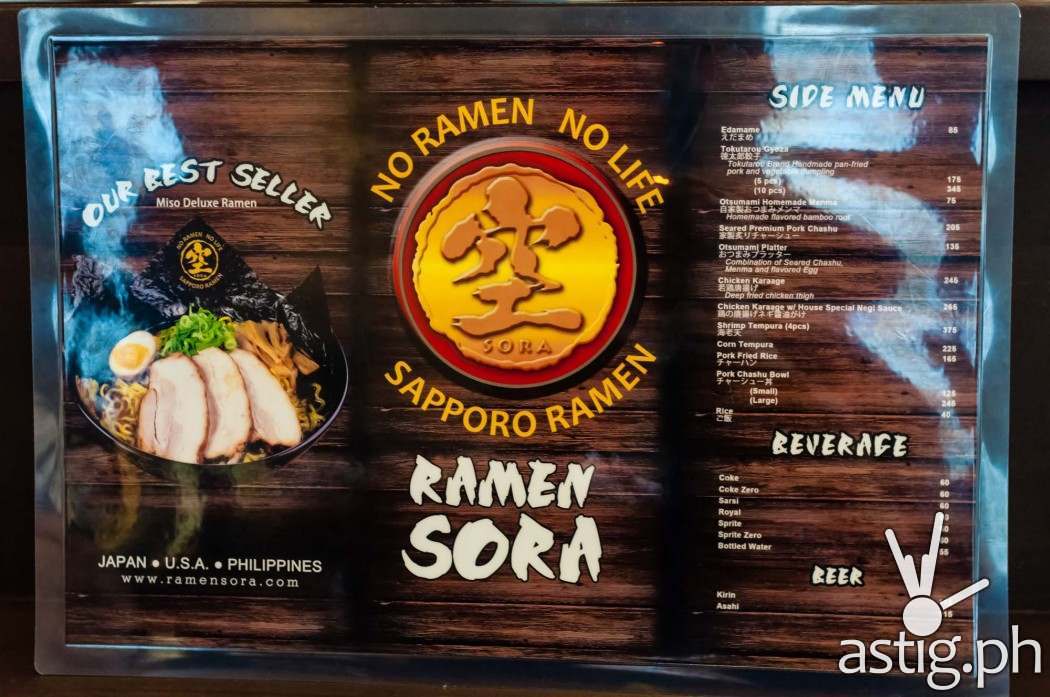 You begin by choosing the soup base. There are three choices: miso (house specialty), shio (salt based), and shoyu (soy based). Miso is the house specialty, so  if it's your first time, go for miso.
Each one of these three flavors have their own sets of toppings, which consists of chashu pork, menma (bamboo shoot), and tamago (soft boiled egg).
You can stop here, or you can choose from one of three additional variants – corn butter ramen, menma ramen, and nori ramen. Corn butter adds corn butter to your ramen. Menma has more bamboo shoots, and nori has more nori (dried seaweed).
If it's your first time at Ramen Sora we suggest you go for their best selling ramen, Miso Deluxe Ramen. At 405 PHP, Miso Deluxe Ramen comes with more nori, menma, and 3 times more pork chashu and regular Miso Ramen.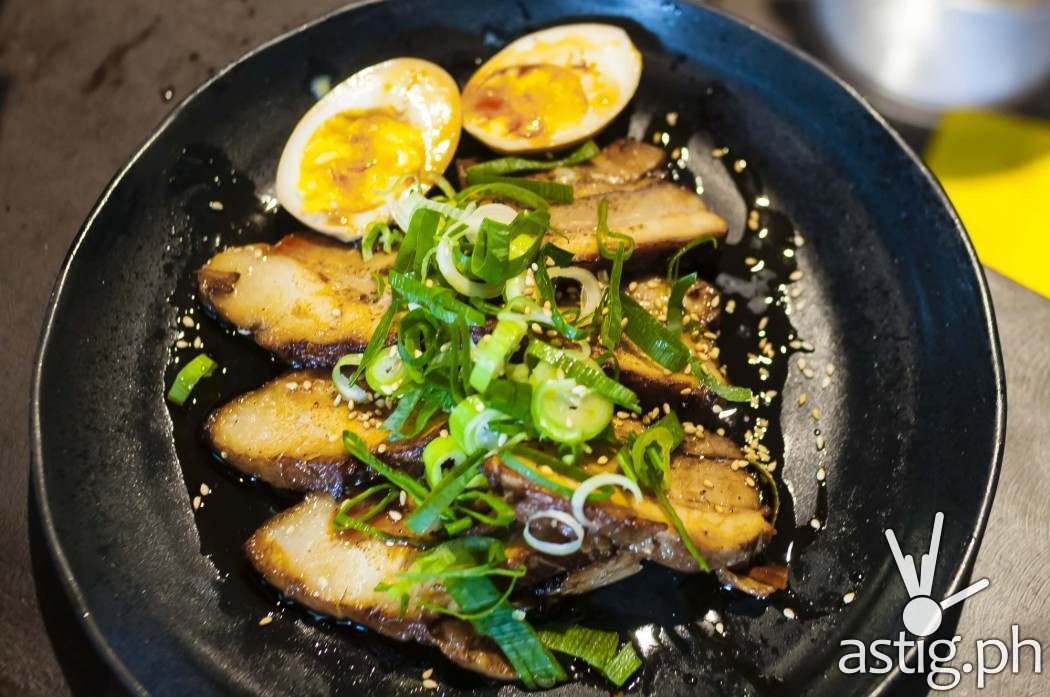 Among the non-ramen items we were quite impressed by the seared pork chashu.
For this dish, the same pork chashu used in ramen is seared with a torch and served with soy-based sauce. It is very tasty.
Another must-try is the chicken karaage with house special negi sauce. This dish uses use deep-fried chicken thighs with a thin layer of coating.
It is very filling and goes well with rice.
Other notable items in the menu include shrimp tempura (4 pieces at 375 PHP), fried pork rice (165 PHP), and tokutarou gyoza (5 pieces at 175 PHP).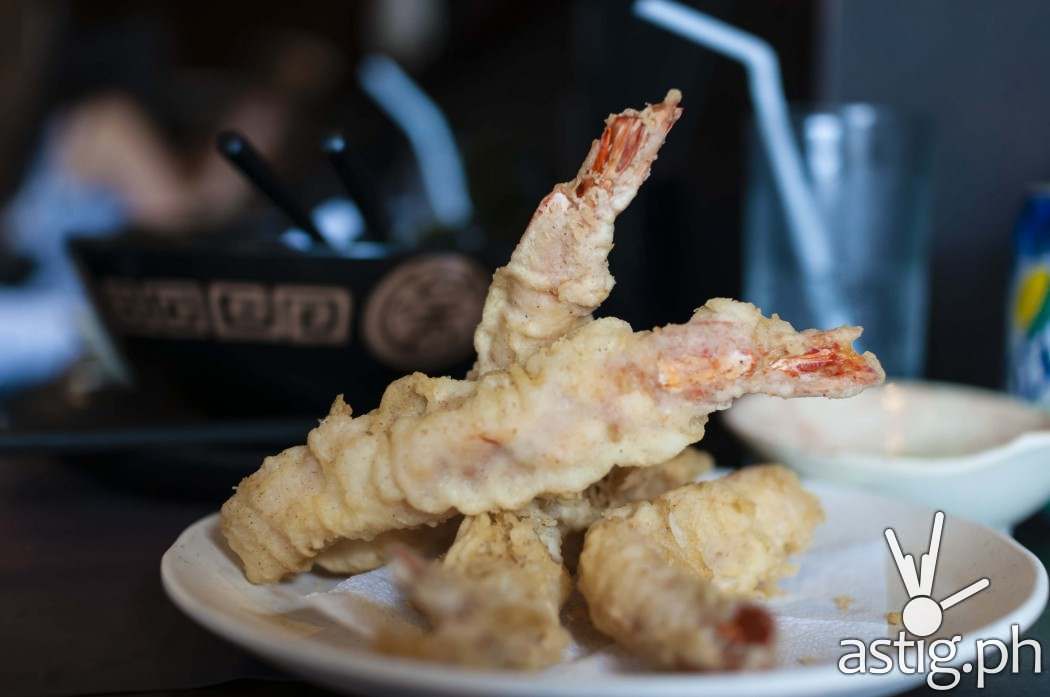 We heard so much about the tokutarou gyoza, which is made in-house from scratch using a machine.
This can be a good thing for better quality control, however it can be a problem because the restaurant then has to rely on the machine and unfortunately for us, someone plugged it into the wrong outlet when we visited.
We did not get to try Ramen Sora's highly-acclaimed gyoza that day.
Beverages are limited to Coke and Sarsi products, although Japanese beer brands Kirin and Asahi are also available.
Taste
When I first tried the Miso Deluxe Ramen I could not believe how salty it was. It tasted like I was drinking seawater. I had a difficult time keeping it down.
Of course, it was a soft launch and we were among the first to try the "localized" version.
Gerry tells me that they are still adjusting the formula. The quality of local produce – including water and salt is different from the one in Japan, and they had to make a number of adjustments.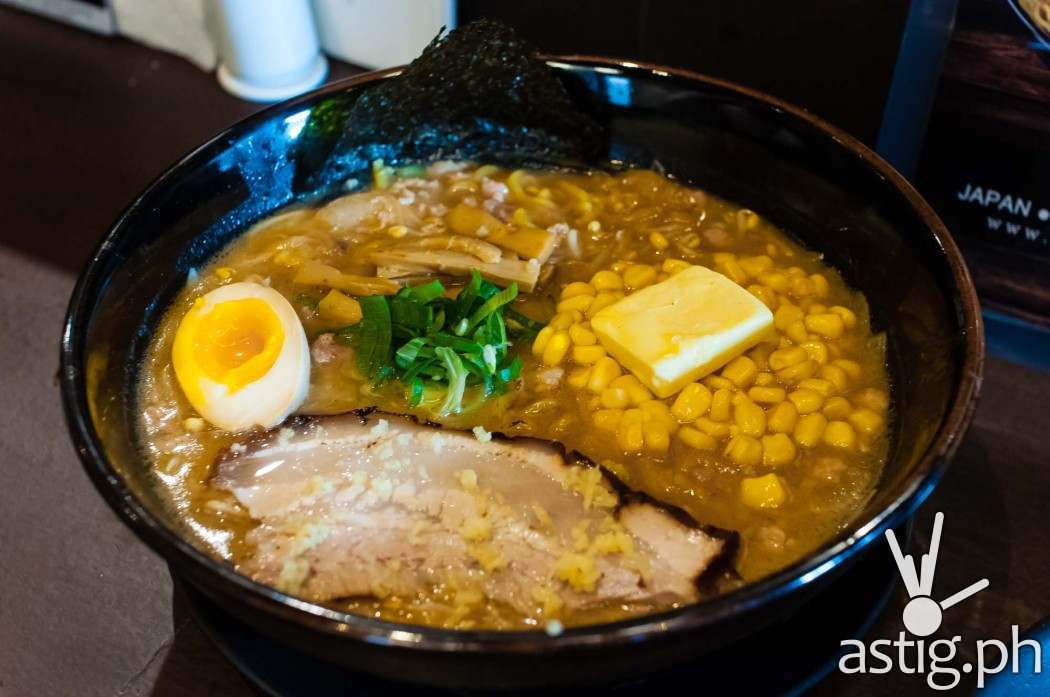 That said, the broth used in Ramen Sora is extremely heavy and tasty. It is unlike anything I have ever tasted before. The same goes for the noodles – it is very thick and heavy.
The combination of the broth and noodles is where the magic happens. It is a very different experience compared to the other ramen places.
To prove this I tried other ramen shops when I got back to Manila. Although the level of saltiness is better in the other shops, the taste and experience of Ramen Sora still stood out.
Perhaps in time they will be able to adjust the level of saltiness to perfection, and when that time comes we may have a serious contender for the title of the best ramen restaurant in the Philippines.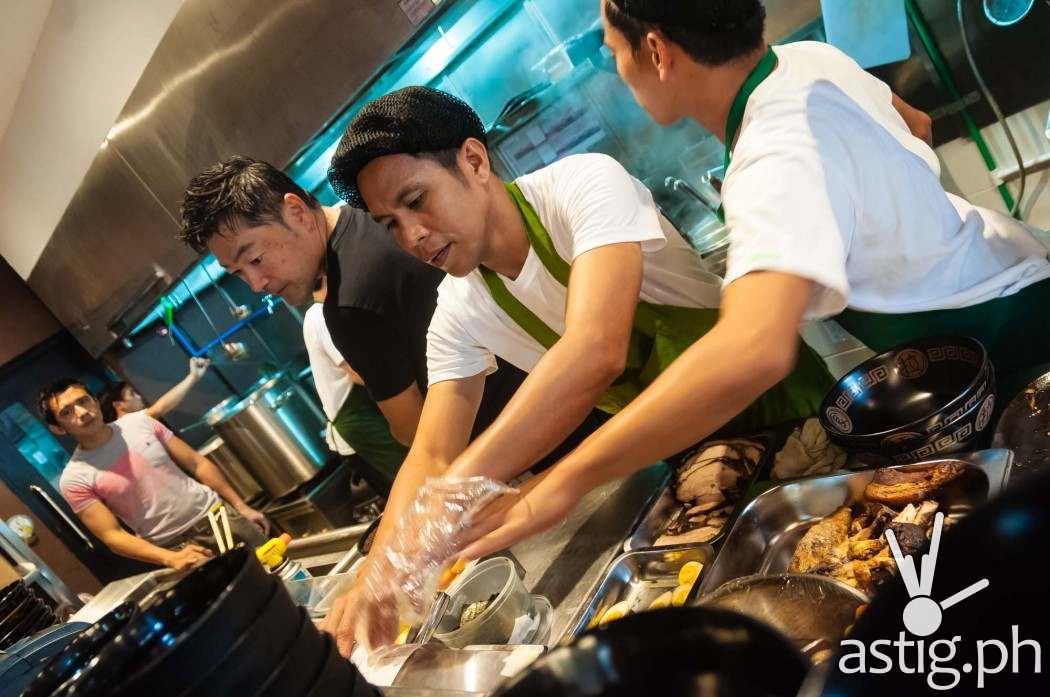 In the meantime, I found that adding broth helps. If you are like me and you found it too salty, you can request for additional broth to dilute your ramen.
Other than this everything else was perfect – the chashu pork was tender, and the tamago egg was soft and tasty – just the way it should be.
Given the choice I would not include nori and menma (bamboo shoots) in my ramen.
I'll let you in on a secret, though this one might not be for everyone.
If you like spicy food, add 40 pesos to make your ramen spicy. This made the ramen extra special. By the time I tried the spicy version, I was already full and immediately regretted not going for spicy at the very beginning.
Spicy is the best way to enjoy Ramen Sora. I would not have Ramen Sora any other way.
Price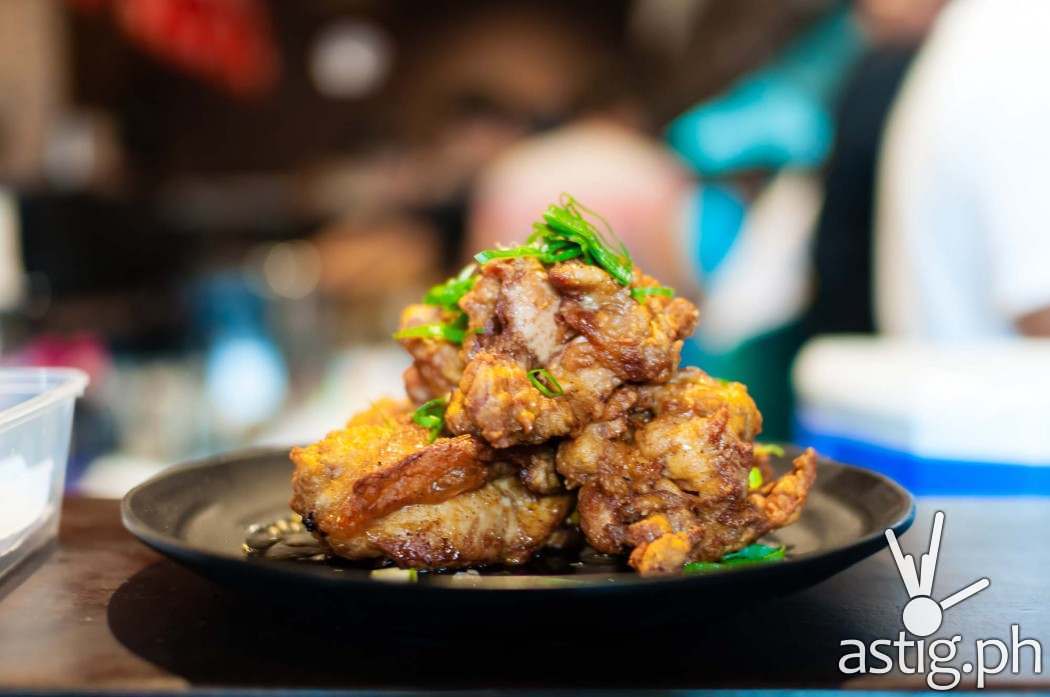 By using a base menu that can be built through addons, Ramen Sora becomes very competitively priced. The cheapest order is the Shio Ramen and Shoyu Ramen at 285 PHP while the most expensive is the Miso Ramen at 325 PHP.
Compare that to an average cost of 400 PHP per order at most ramen shops in Metro Manila, the ramens at Ramen Sora is definitely sulit.
Of course, the location does have an impact on the cost. This is, after all, located in the province.
According to Gerry and his team, they would like to be able to maintain the price once they bring Ramen Sora to Metro Manila. Let's wait and see.
I wish I could say that the rest of the items in the menu are competitively priced. However, I feel they are a little on the heavy side.
375 PHP for 4 pieces of shrimp tempura, 175 PHP for 5 pieces of gyoza, or 60 PHP for Coke can easily bring your average cost per head up to 300 PHP.
The most sulit non-ramen item for me would have been the Seared Pork Chashu with House Special Negi Sauce – which at 265 PHP per order still feels a little heavy, and you definitely will want rice or something else to enjoy it with.
Ambiance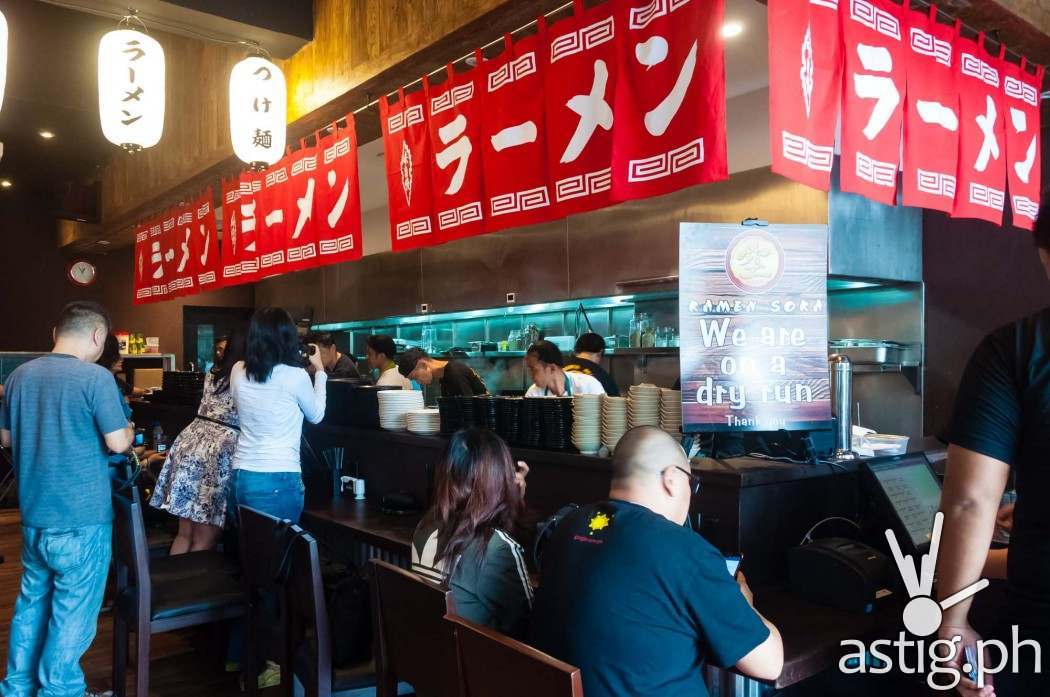 Gerry and his team wanted to bring Sapporo to the Philippines. That is, when you step into Ramen Sora, you will be transported to Sapporo, Japan.
The place is very relaxing and comfortable. It did not have the usual "ramen place" stink – perhaps because it is still quite new, or they just have really good exhaust systems.
I like that they have an open counter where you can watch them prepare the food right in front of you.
Conclusion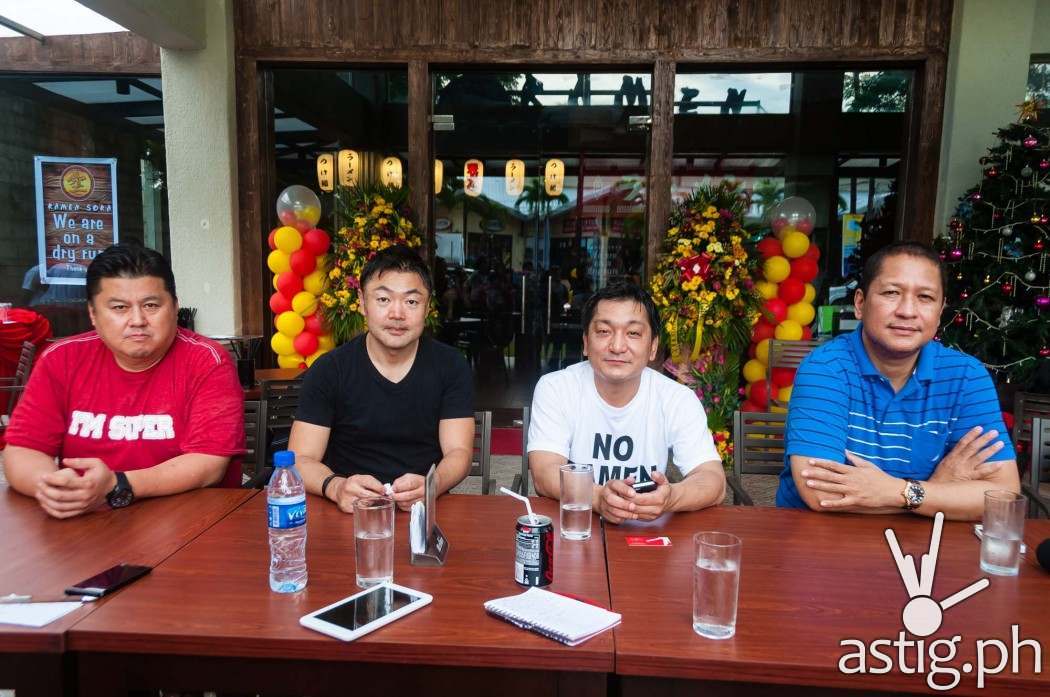 The broth and noodles in Ramen Sora is an entirely new experience, allowing it to stand out from the many ramen restaurants competing for your tummy.
Non-ramen winners such as the Chicken Karaage and Seared Pork Chashu gives an added edge.
The restaurant is very new and they are still adjusting the formula – perhaps time, experience, and customer feedback will help perfect the menu. When that day comes, Ramen Sora will definitely be among the best ramen restaurants in the Philippines.