Android tablets or "Pads" as you may call it, have that one feature that allow it to excel as alla round productivity and entertainment devices: big screens. So when the realme Pad 2 became official with its 11.5 inch display and a MediaTek Helio G99 chipset, we immediately thought about how it would be a serious contender for mobile gaming.
So, is the realme Pad 2 good for gaming? Watch our videos below courtesy of the TechKuya tech review channel on YouTube, or keep scrolling for the deep-dive.
realme Pad 2 specs highlight
Display: 11.5 inches; 1200 x 2000 pixels; IPS LCD, 120Hz, 450 nits
OS Android 13; realme UI 4.0
Chipset (SoC): MediaTek Helio G99 (6nm)
Memory (RAM) + storage: 6/8GB + 128/256GB
Cameras: 8MP f/2.0 (rear), 5MP f/2.2 (front)
Battery: 8,360 mAh; 33W SuperVOOC charge
Audio: Dolby Atmos Quad Speakers, 2 microphones, dual mic noise cancellation
Official price (Philippines): P13,999 (6+128GB), P17,999 (8+256GB)
realme Pad 2 display, build quality review
As the saying goes: Go big, or go home and boy did realme go BIG this time around, packing a massive 11.5 inch IPS LCD screen into the realme Pad 2, up by over an inch over its predecessor, the OG realme Pad 1. The panel is also brighter and faster, able to go up to 450 nits of peak brightness with a refresh rate of up to 120Hz.
These improvements are crucial in the world of Android tablets where display size – and quality – may be the deciding factor between grabbing the Pad 2 over a smartphone.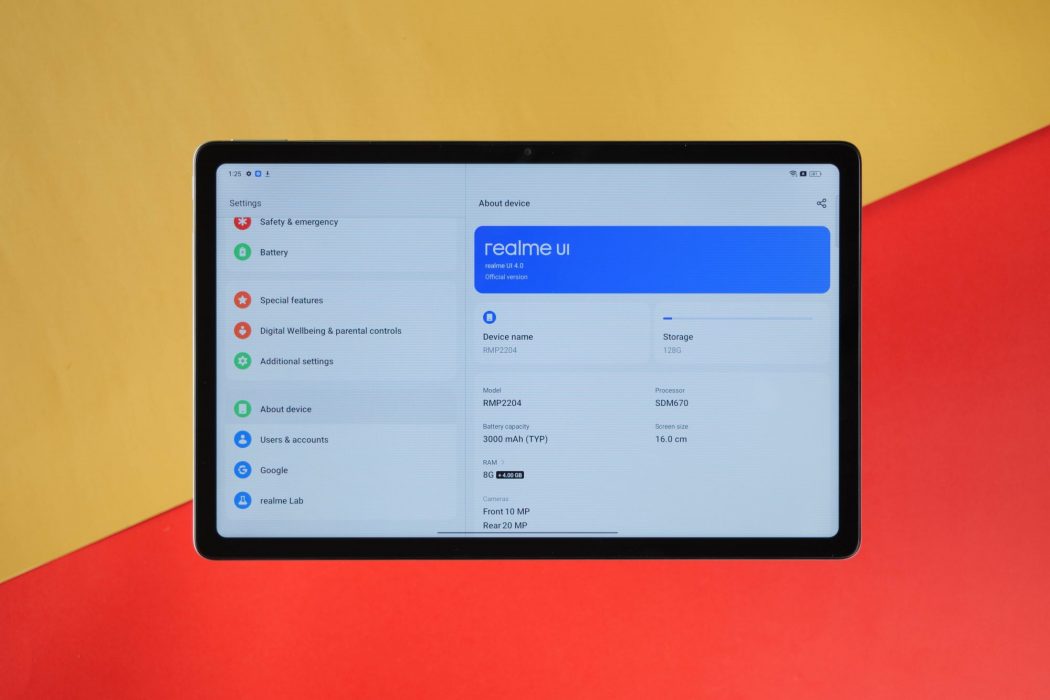 The first realme Pad did not come with an official stylus, so we were really, really hoping to see a stylus this time around. While you can always settle for aftermarket pens – and there are plenty of those in the marketplace – the results are unpredictable, especially for precision input like drafting and drawing.
Based on our research, it seems that the closest thing that we have to an official stylus is the realme Pencil, which costs around P4,795 if you get it from DataBlitz. According to the description, the realme Pencil was made specifically for the realme Pad X.
Note that we currently do not have access to the realme Pencil, so we cannot vouch for its performance on the realme Pad 2.
Overall build quality on the realme Pad 2 is more refined compared to the first realme Pad. With a depth of only 7.22m, it remains slim with barely an increase in surface area (thinner bezels, maybe?) It is slightly heavier, but that additional heft also brings the benefit of having more battery capacity.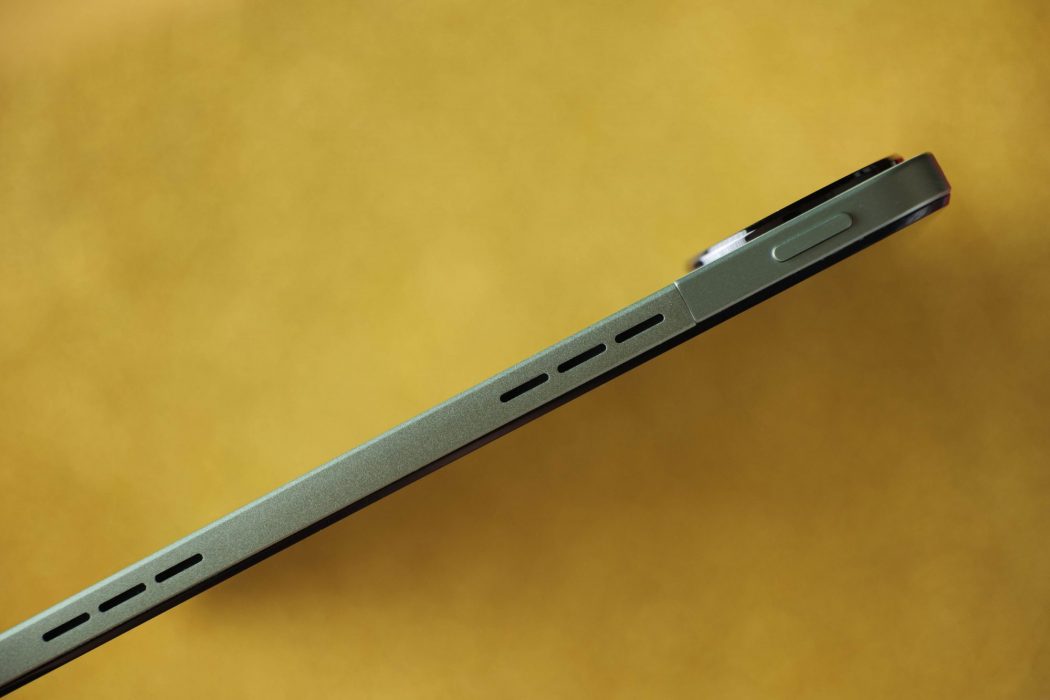 It still rocks four loud speakers with support for Dolby Atmos, but like most Pads released this year, the 3.5mm audio jack has gone the way of the iPhone and most upper mid-range Android phones – scrapped with no hopes of returning.
Fine, we get it: wires bad, wireless good. We are on team TWS ourselves. However, allow us to say that while we would never touch another wired headset again outside of our recording studio, we have family members who are stuck firmly in the 90s.
Getting them to go wireless is a massive challenge, so unless there's a USB-C to 3.5mm audio adapter somewhere out there, we guarantee they will be using those quad loud speakers to rock the entire house during early morning calls.
We can live with it, and so can you.
Now for the important bit: realme Pad 2 comes with 4G LTE support, and that's one of the reasons why this tablet – or pad – costs slightly more than WiFi-only tablets.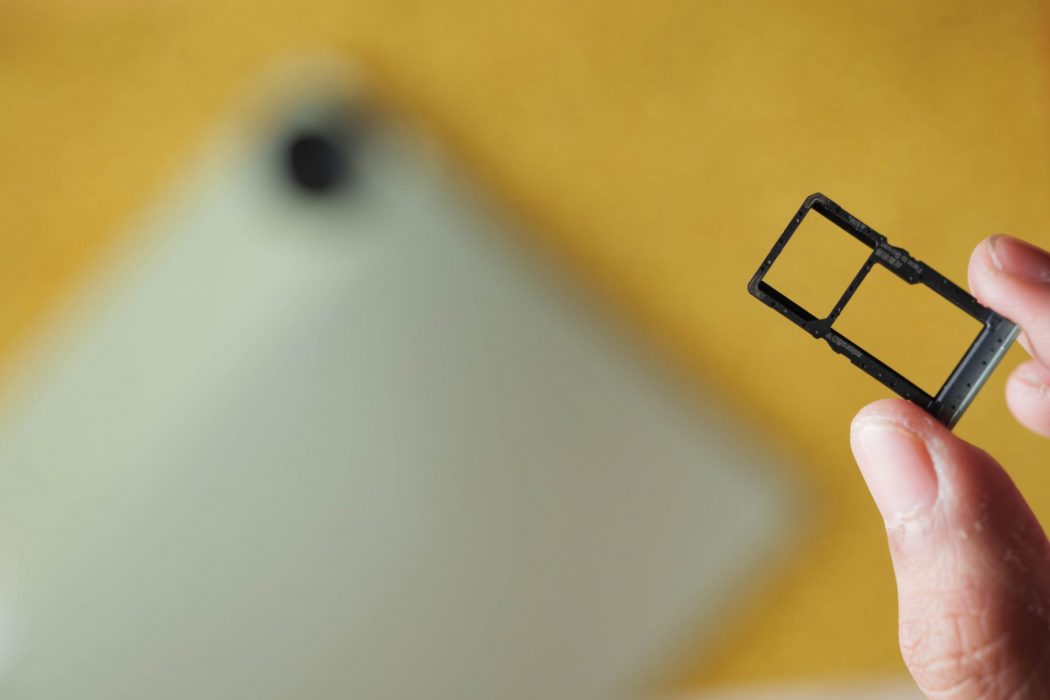 This is a wise move by realme, since it allows you to put a SIM card and make calls or send SMS messages. However, a much more important benefit in our opinion, is that this allows you to use the realme Pad 2 as a wireless access point!
Its long battery life makes it a perfect access point when traveling. On top of that, it eliminates the need for an extra device, since you might want to bring a tablet for entertainment anyway.
On top of this, you get to conserve battery life on your phone, which is most likely what you will be using to take photos anyway!
Also, if you happen to have another realme or OPPO device, you can even automatically connect the devices and share data seamlessly through a feature called Communication sharing.
Aside from a nano sized SIM card, the Pad 2 also takes in a microSDXC expansion card for additional storage.
It's a clever design decision on the part of realme, we hope support for mobile data and memory expansion cards on tablets were more common.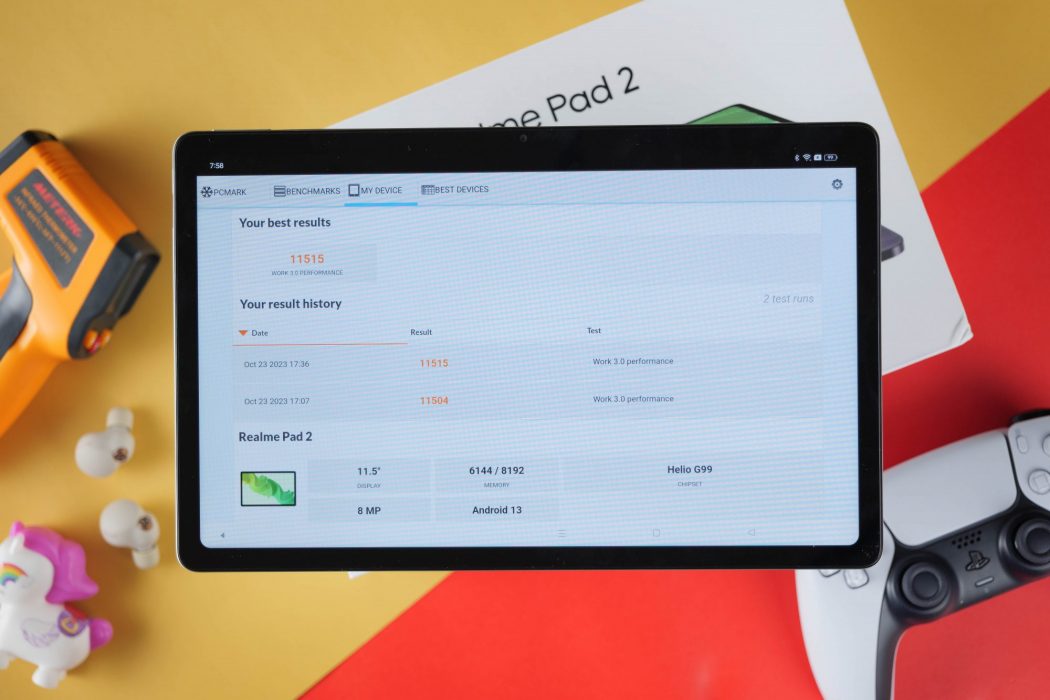 realme Pad 2 performance review
Powering the realme Pad 2 is a chipset that we're quite familiar with, the MediaTek Helio G99. It is the mid-range chipset of choice for quite some time now, and well – it also happens to be the same chipset powering last year's realme 10 and the upcoming realme 11 4G.
With its proven performance, it's a solid mid-range platform to build your device on. However, we are more excited to see how its improved power efficiency will affect battery life on the Pad 2. We'll get to this later, but for now, here are some benchmark numbers:
realmad Pad 2 (8+256GB) performance benchmark results
For our gaming benchmarks, we ran the realme Pad 2 in WiFi mode with Power Saving turned off and performance mode set to "Smart".
Our benchmark unit is the realme Pad 2 LTE with 8+256GB of memory and storage configuration.
AnTuTu: 431095, temperature delta: 1.1 degrees Celsius
PCMark Work 3.0 performance: 11504
PassMark: 9439 system, 4489 CPU, 15958 memory, 116393 disk, 20907 2D, 21714 3D
In case you did not notice, the disk performance is quite good, scoring 116K points which lands in the upper region for 2023. Everything else is within the median for mid-range devices coming out this year.
Meaning the realme Pad 2 can handle most productivity and distance learning apps with ease: we're talking Zoom, Microsoft Teams, Microsoft Office, Microsoft Outlook, Evernote, Google Drive, and so on.
However, the mobile applications that really benefit from having a bigger screen are video editing apps like Lightroom and Capcut. The realme Pad 2 handled both apps like a champ.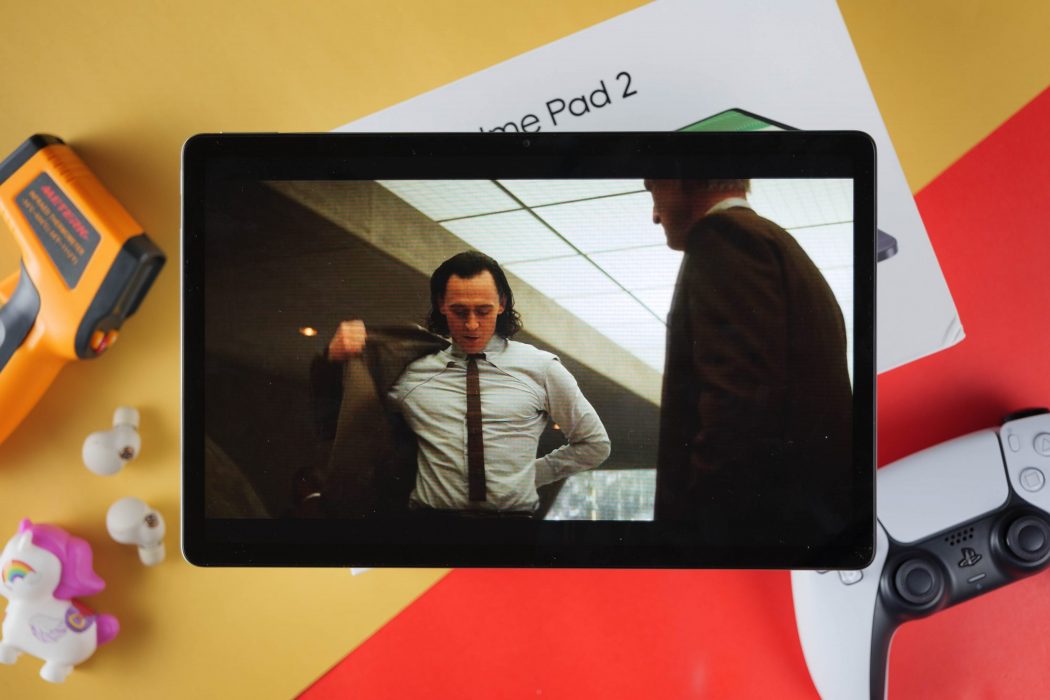 realme Pad 2 entertainment review
Speaking of having big screen, what better way to enjoy that 11.5-inch IPS LCD display than binging on your favorite shows on YouTube, Netflix, and Disney Plus?
Peaking at 450 nits, the increased brightness capacity means you won't have to struggle as much when viewing the screen during the day. Sunlight glare is still problematic, but our use case for the Pad 2 was mostly restricted indoors, so it can easily be managed by simply moving to a shaded spot.
How about you, do you use your tablets outdoors? How often do you do it, and more importantly – why? Let us know in the comments. We won't judge, promise.
We were hoping to finally get HDR / HDR10 support in the Pad 2, but we understand that it is a budget tablet and the target market might not appreciate it.
Then there's the audio component: realme Pad 2 comes with Dolby Atmos Quad Speakers. You can't miss it, since it's highlighted in the official product page. In landscape mode, there are two big vents on each edge of the Pad to let the air escape and boy, it really packs a punch. You can really FEEL the vibrations (feel it, feel it).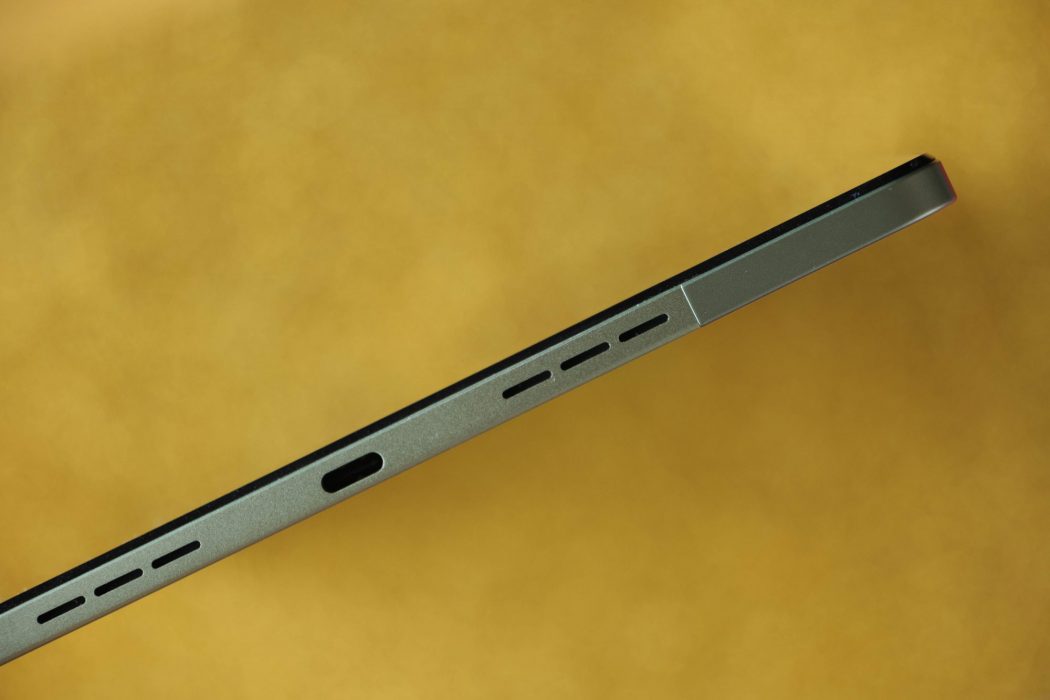 Good loud speakers are even more valuable in a tablet like the realme Pad 2 since it does not come with an audio jack. Yes there are amazing TWS (true wireless stereo) headphones out there, but even with low latency ones there are instances where audio lag becomes apparent.
Also, we may not always want to have things sticking in our ears.
For audio afficionados: The realme Pad 2 has a narrow dynamic range with a clear bias towards the middle spectrum. It delivers clear mids, though highs and lows (especially) are not always resolved, and clarity needs to be improved.
For non-audio afficionados, we doubt you will notice. It is not tunog lata, so please enjoy.
The best thing about watching / streaming / consuming content on the realme Pad 2 is the battery life. According to the official product page, that 8360mAh of battery capcity can deliver 17 hours worth of video playback. To put things into perspective, that's like waking up at 6am and watching all the way until 11pm without any breaks and without recharging.
A typical drama on Netflix lasts around 45 minutes, so let's round that into 1 hour. That means that you can watch 17 episodes' worth before recharging. Disney Plus series like Loki and Secreet invasion only have 6 episodes, so you'll be finished with the both of them before you even stop to recharge the realme Pad 2.
What are you watching right now and how many episodes does it have?
Now before we forget: Yes, it supports Widevine L1, which means you will be able to stream the full HD version of your favorite shows and it will look super sharp on your full HD display!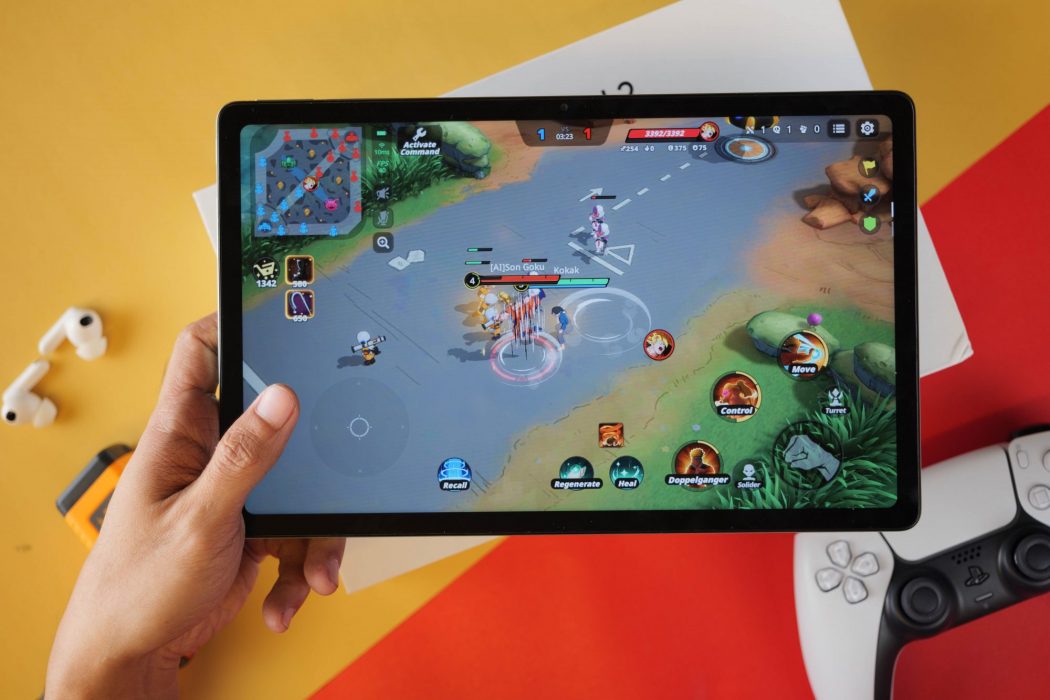 realme Pad 2 gaming review and benchmarks
Now we get to the real reason why the realme Pad 2 caught our eye: mobile gaming.
When we heard that it will be powered by the MediaTek Helio G99, we were ecstatic. You see, the Helio G series is designed to deliver optimized mobile gaming experience, and the G99 is the highest in the series.
We are also quite familiar with it, having experienced the Helio G99 on the realme 10. We know from experience that it can easily handle moderate to intense mobile games, including graphically intensive AAA titles such as Genshin Impact and Honkai: Star Rail.
That phone had a 6.4 inch screen, so can you imagine playing these gorgeous looking games on display that's almost double the size? At 11.5 inches, the realme Pad 2 is a massive upgrade, and it looks so much better in real life where you can appreciate all the intricate details in glorious full HD.
It's worthy of its own full length gaming review, but this is something that needs to be shown to be appreciated, so just click on the play button and while you're at it, check out the TechKuya channel on YouTube and give us a sub. Your support goes a long way for us to keep producing quality content, so we truly appreciate it.
Spoiler: the realme Pad 2 handled everything we threw at it, from classics such as Mobile Legends and Garena Free Fire, to modern titles such as Dragonheir and Jump: Assemble.
For our stress test we ran Honkai Star Rail at the Highest graphics settings. While playable, we found that Medium settings delivers the best balance of smooth, stable frame rates without sacrificing too much in terms of visual fidelity and special effects.
One thing we wish to highlight is how stable the system temperature remained during our gaming sessions. This came out when we did our gaming benchmarks, with AnTuTu reporting only a 1.1 degrees Celsius rise in temperature.
This means that we can keep playing for longer periods of time without worrying about performance throttling.
So, is the realme Pad 2 good for gaming? Yes, definitely!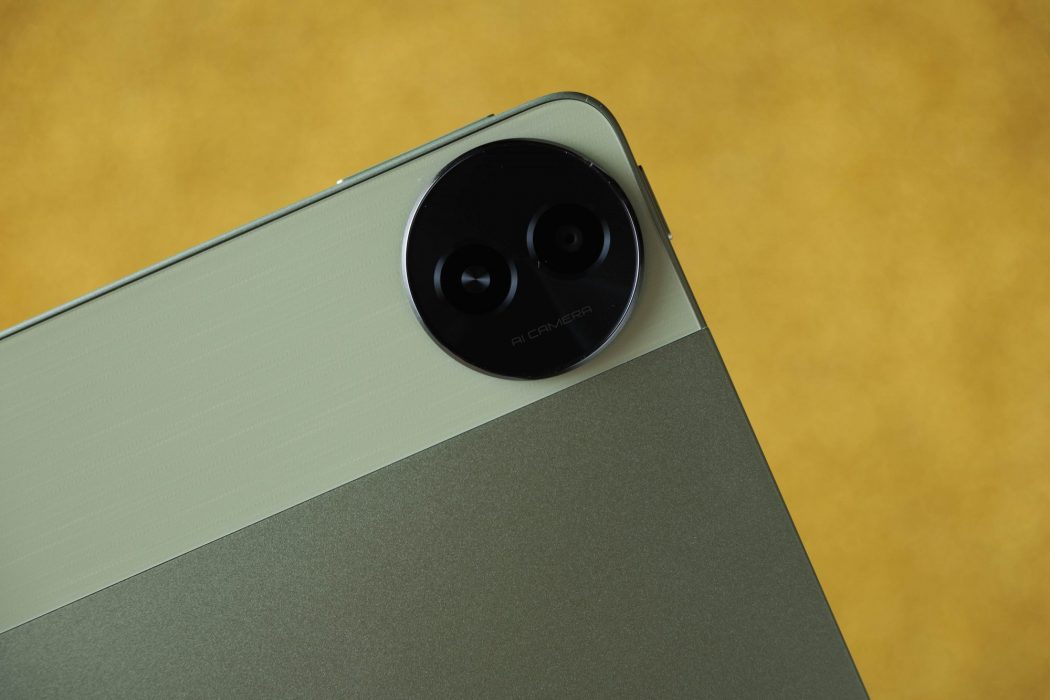 realme Pad 2 cameras
realme Pad 2 comes equipped with basic cameras: there's an 8MP sensor in the rear and a 5MP selfie camera in the front, located at the top edge in landscape mode.
Circular camera island seems to be the theme for realme in 2023, with its numbered series phones having a similar arrangement in both the realme 10 and realme 11 Series phones.
We're really digging this look, as it creates an interesting visual when seen from the rear.
Photos and videos captured on both sensors are serviceable. We don't see ourselves taking too many photos and videos with an 11.5-inch tablet. It's simply too big and too heavy.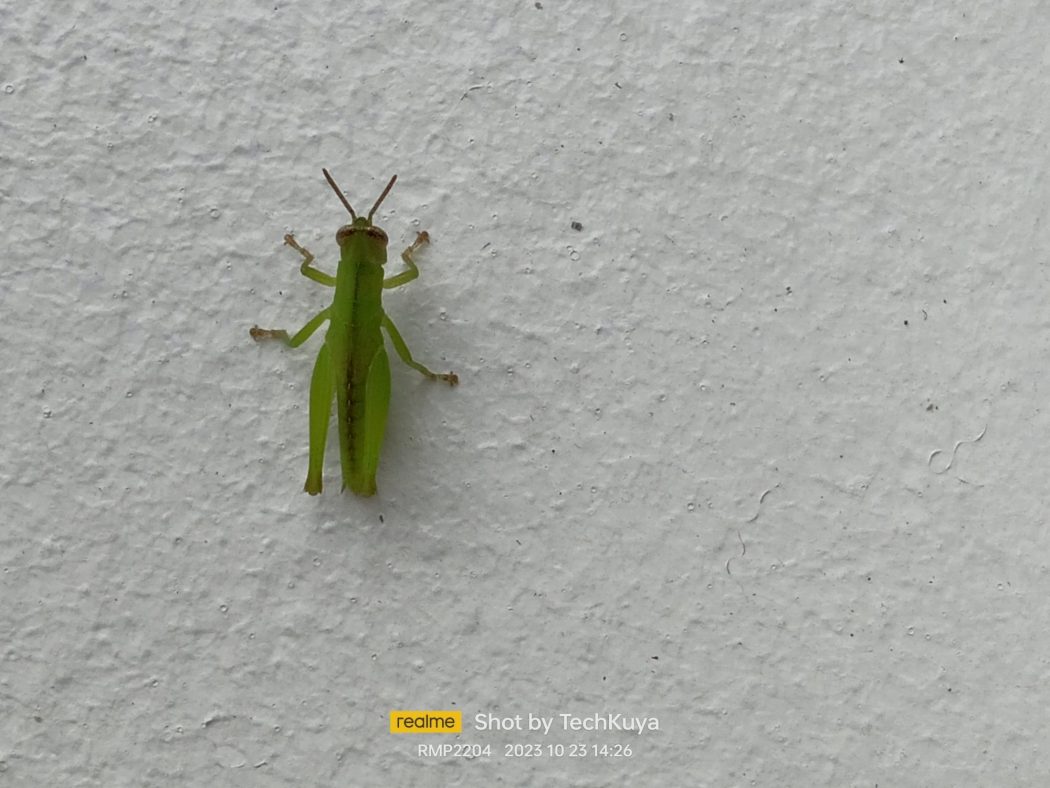 A better selfie camera would be helpful for video calls. It's too grainy and noisy to appreciate, although it will be streamed over the Internet anyway so it should not be a major cause for concern.
realme Pad 2 battery life and charging
Battery life benchmarks were conducted in the lab with our calibrated brightness levels in WiFi mode, Power Saving turned off, and performance mode set to "Smart".
PCMark work 3.0 battery life: 15.5 hours
AccuBattery: 14h 32m (screen on), 25h 17m (combined), 34d 18h (screen off)
Note: Accubattery results are based on 13 sessions over 7 days
realme Pad 2 review summary
How much is the realme Pad 2? In the Philippines the realme Pad 2 is available in two configurations, priced as follows:
realme Pad 2 (6+128GB): P13,999
realme Pad 2 (8+256GB): P17,999
So, is the realme Pad 2 Worth It?
At its current price point of below 20 thousand pesos, the realme Pad 2 LTE is undoubtedly a compelling tablet. Think of it this way: its 6GB variant, which retails for P13,999, is just a slightly larger mid-range phone, and those things typically retail for around that same price range.
Grab it on sale for even less, and you have yourself a winner.
Its sleek design, vivid display, and powerful performance make it a worthy choice for both productivity and entertainment. Whether you're a student, professional, or a casual user, this tablet offers a lot for its price. It strikes a balance between affordability and premium features.
In summary, the realme Pad 2 is a valuable addition to realme's product lineup. If you're in the market for a tablet that doesn't break the bank but offers features similar to a regular smartphone but with a bigger screen, the realme Pad 2 is an excellent choice.
Ready to make your purchase? You can buy the realme Pad 2 LTE here.
Enjoy up to 95% off + free shipping when you check out with our affiliate links👇
🛒 Shopee: https://shope.ee/LAOvtP6tF
🛒 Lazada: https://s.lazada.com.ph/s.7mrYA?cc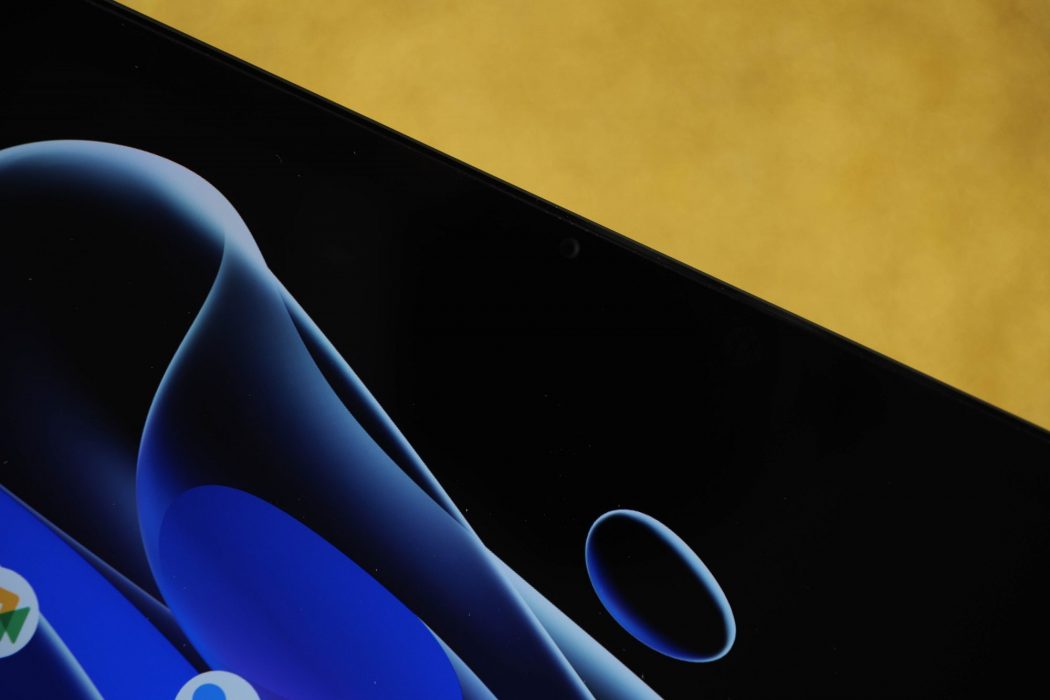 realme Pad 2 technical specifications (Philippines)
Display: 11.5 inches; 1200 x 2000 pixels; IPS LCD, 120Hz, 450 nits
SIM: Nano-SIM
Network frequencies: 2G / 3G / 4G
OS Android 13; realme UI 4.0
Chipset (SoC): MediaTek Helio G99 (6nm)
CPU: Octa-core  (2×2.2 GHz Cortex-A76 & 6×2.0 GHz Cortex-A55)
GPU: Mali-G57 MC2
Memory (RAM) + storage: 6/8GB + 128/256GB
Expansion: microSD (dedicated slot)
Main camera (rear): 8MP f/2.0
Selfie camera (front): 5MP f/2.2
Connectivity: 2.4/5 GHz Wi-Fi 802.11 b/g/n/ac; Bluetooth 5.1
I/O: USB Type-C; fingerprint scanner (side)
Battery: 8,360 mAh; 33W SuperVOOC charge
Colors: Inspiration Green, Imagination Grey
Audio: Dolby Atmos Quad Speakers, 2 microphones, dual mic noise cancellation
3.5mm audio jack: None
Official price (Philippines): P13,999 (6+128GB), P17,999 (8+256GB)