Claudine Barretto posted a love letter from her ex-boyfriend, the late Rico Yan, on her Instagram account on Sunday December 27.
In the post she tagged Rico Yan's sister, Tina Yan, with the note "we @tinamarieyan miss u terribly". The post also showed a picture of Claudine and Rico beside the letter.
The letter, apparently written in Rico Yan's own handwriting, bore the following message:
To my hunny,

By the time you read this, I must be in CDO already.

Just want to thank you for last night. You were wonderful!!! And because of that, I'm sure I'm gonna have a hard time sleeping without you by my side tonight. 🙁

But nevertheless, I still love you very much!

MWAH!!

Rico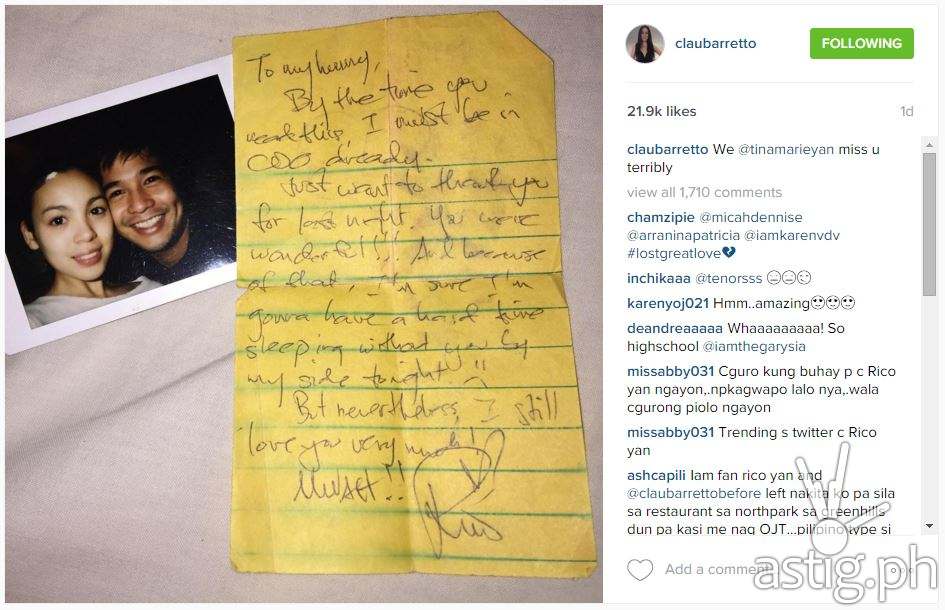 Rico Yan was found dead back in March 29, 2002 by his friend Dominic Ochoa inside his hotel room in Dos Palmas Resort in Puerto Princesa, Palawan.
Autopsy reports indicated cardiac arrest caused by acute hemorrhagic pancreatitis as the cause of death. Rico was 27 years old when he died.
Three weeks before his death, Claudine and Rico had broken up over a big fight after four years of being together.