The ROG Phone 3 is the third generation in a line of smartphones dedicated to mobile gaming. This time around, there are 3 variants, including the entry-level Strix Edition. Previously we've seen similar budget variants on the ROG Phone and on ROG Phone II although some markets know it better as the Tencent Edition.
ASUS brought the more affordable Strix Edition of the ROG Phone II into the Philippines last year, and thankfully, they are doing it again this year with the ROG Phone 3 Strix Edition.
READ: ROG Phone 3 PH now official: price, specs, availability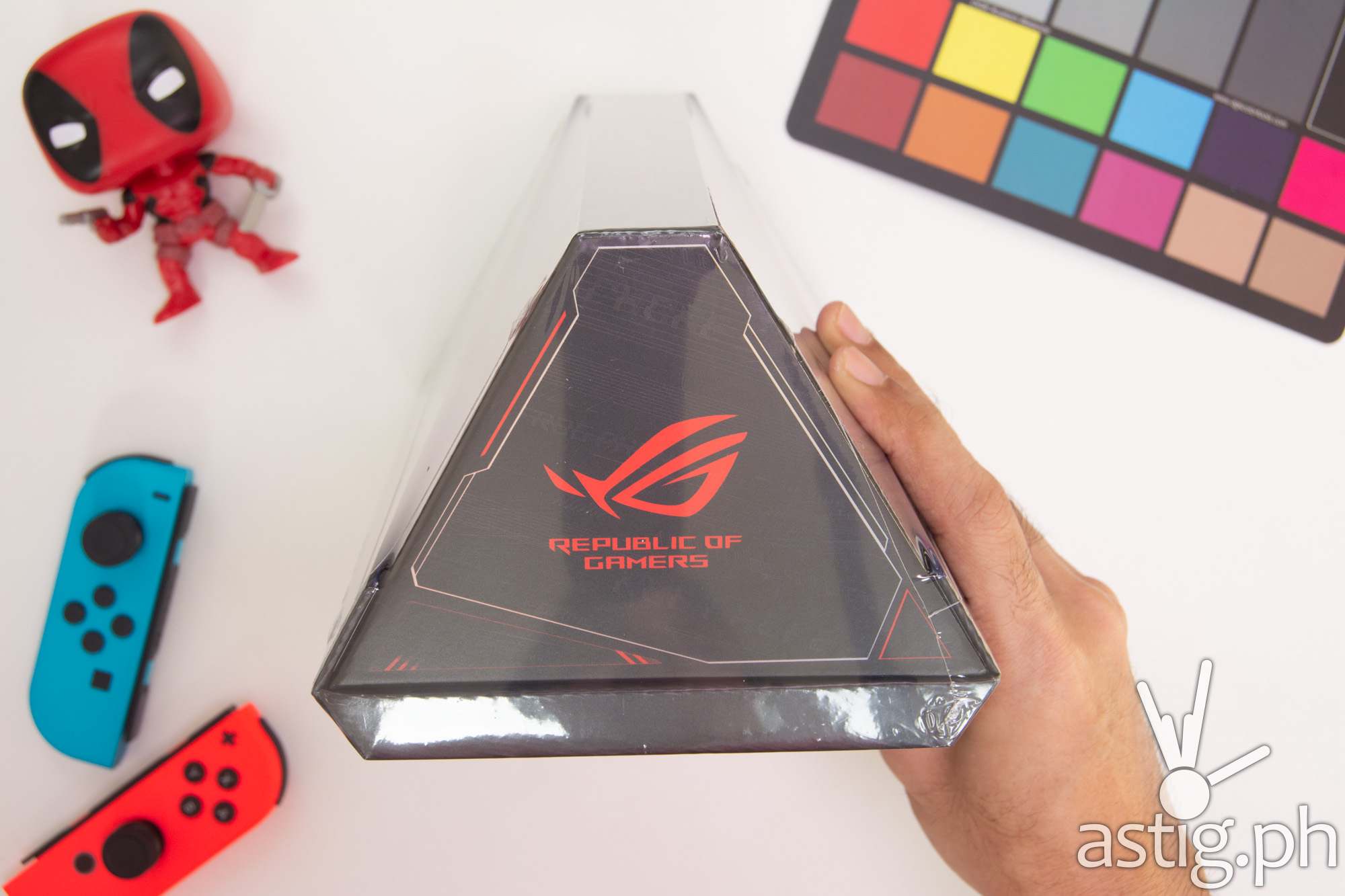 Both the Classic (aka Standard) and Strix edition of the ROG Phone 3 comes packed in an edgy 22-cm triangular prism that slides out to reveal its equally exciting contents.
Let's quickly list down the contents and review the published specs. Skip ahead for our first impressions review of the ROG Phone 3 Strix Edition.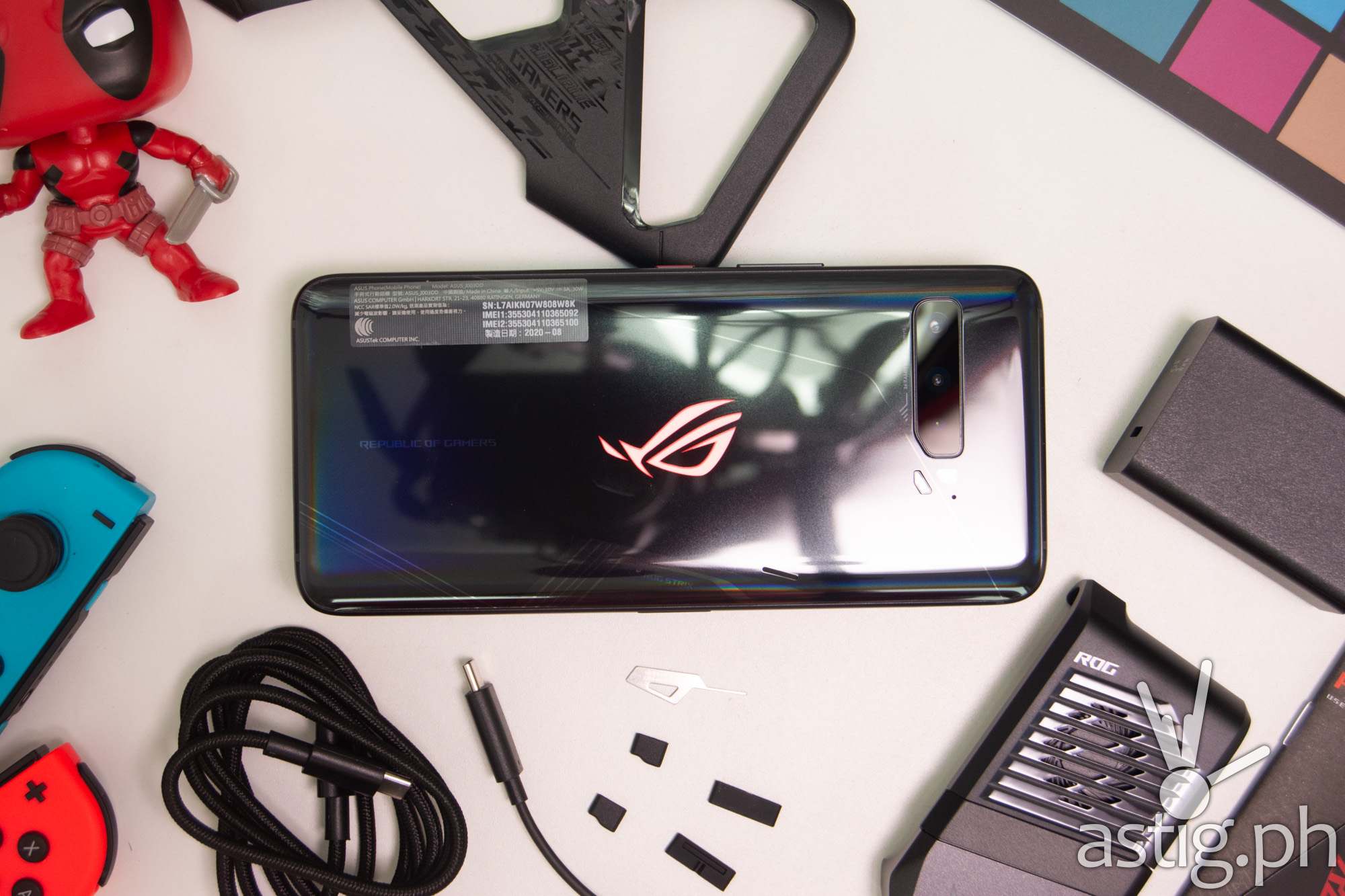 ROG Phone 3 Strix Edition: What's in the box?
ROG Phone 3 Strix Edition (8GB + 256GB, SD865)
Aero Case
AeroActive Cooler 3
USB Type-C to USB Type-C cable (fabric coated)
USB Type-C to 3.5mm headphone jack adapter
Ejector pin (SIM tray needle)
USB power adapter
2x spare silicone plugs for USB Type-C port
2x spare silicone plugs for side-mounted custom connector
Documentation (user guide, warranty card)
Republic of Gamers Sticker
Classic vs Strix Edition
Externally, the only visual difference between the Classic and the Strix Edition is the text "ROG STRIX" etched on the heatsink area in the back rather than the phrase "Aerodynamic System" which is not only shorter, but also much cleaner to look at.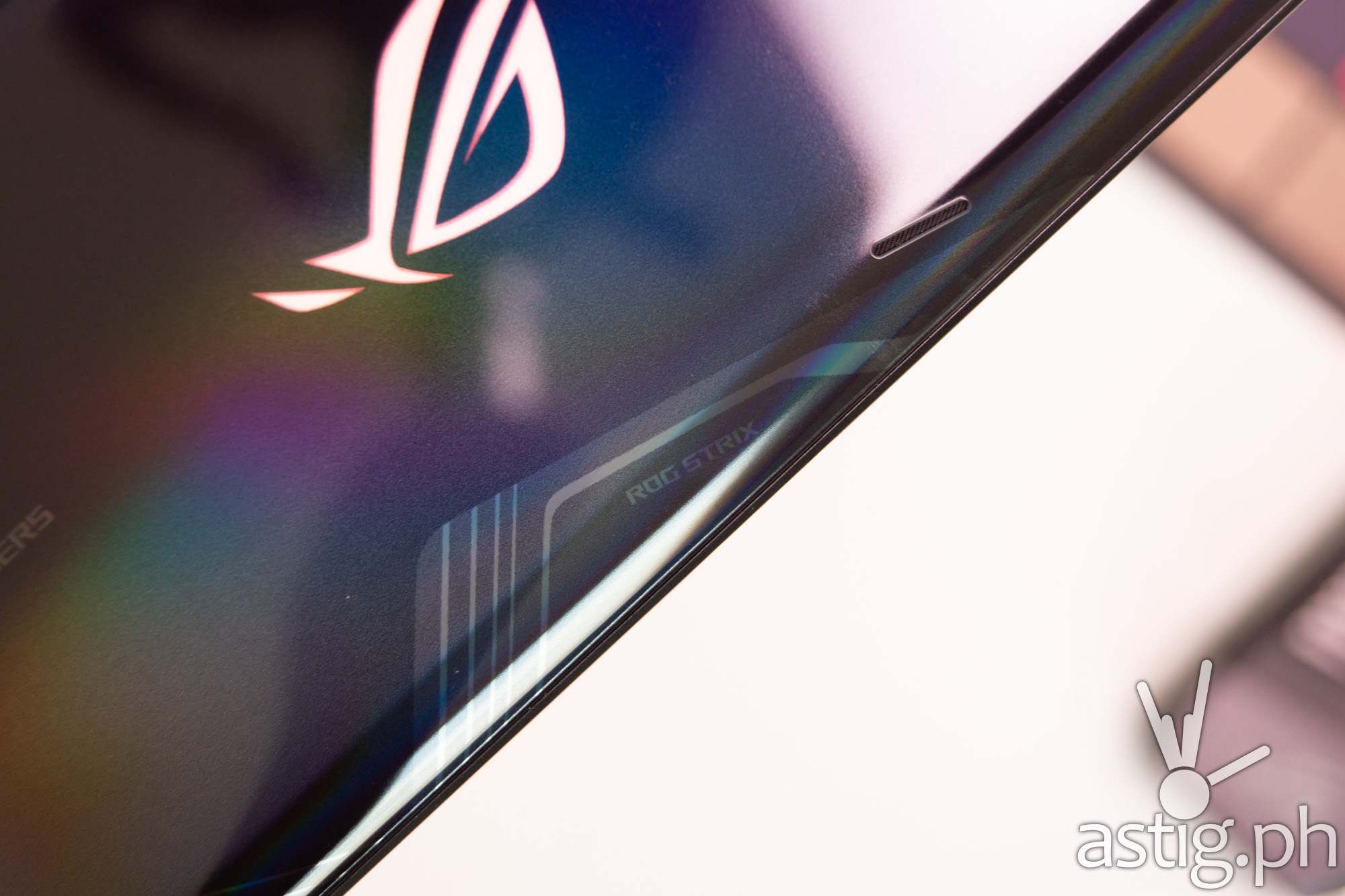 Apart from this, the main difference between the two would be in its internal components: Note only does the Classic Edition offer more storage and memory, but it also runs on the speed-binned Snapdragon 865+, while the Strix Edition runs on the Snapdragon 865.
Both chipsets essentially offer the latest and greatest 5G performance from Qualcomm, although the CPU and GPU on the 865+ is stable at 10% faster clock speeds.
Apart from the SoC, we also get less memory (RAM) and storage on the Strix Edition at 8GB + 256GB instead of 12/16GB + 512GB on the Classic Edition.
ROG Phone 3 vs ROG Phone II: Faster and more refined
Looks-wise, it retains the same strikingly bold design as its predecessors, defined by sleek lines and sharp corners, except this time around the entire rear is covered in Gorilla Glass 3.
This includes the heatsink which had a larger exposed area in the ROG Phone II. This time around, the "exposed" area is smaller and also covered in glass.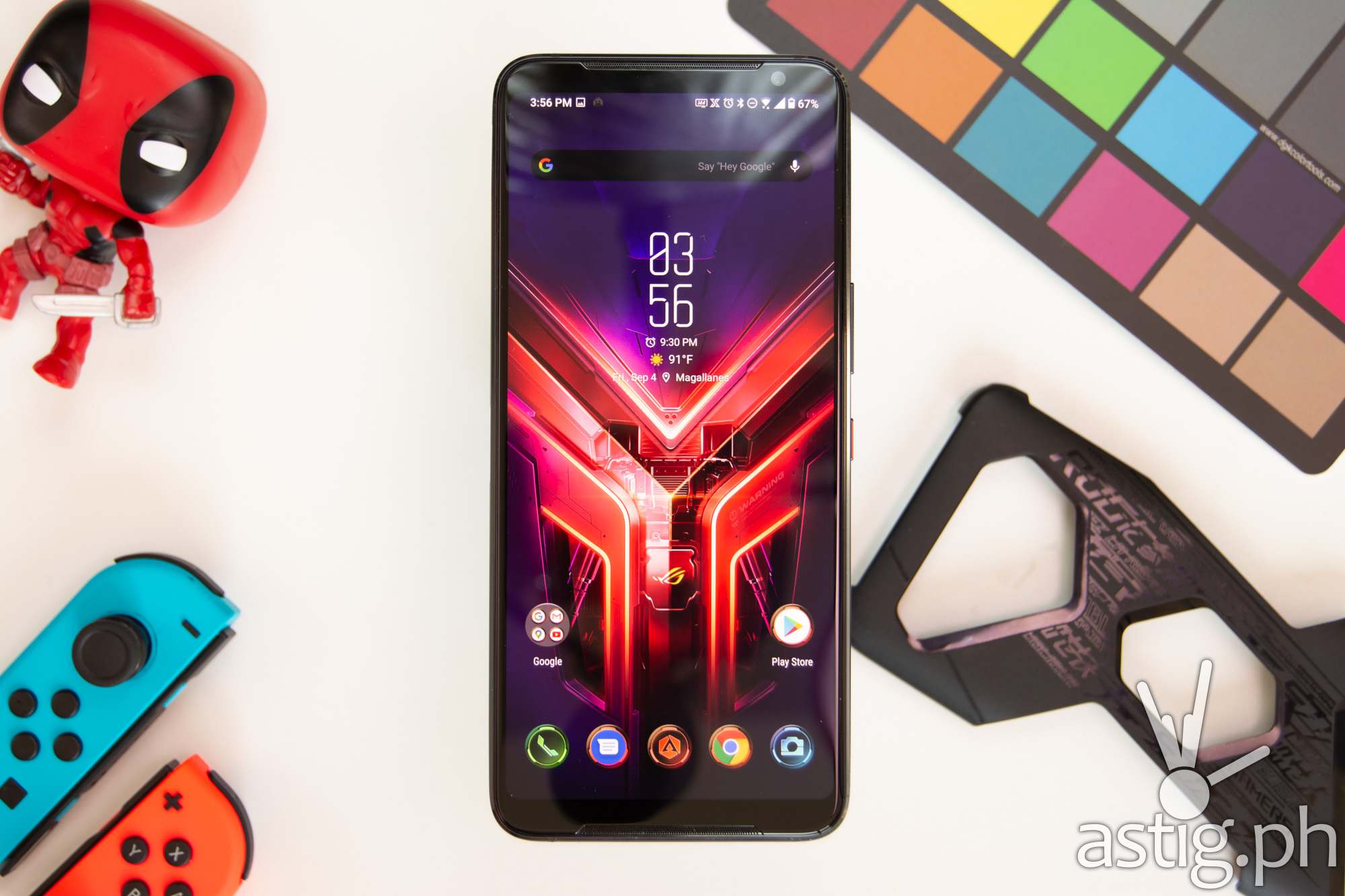 It also does away with the 3.5mm audio port, although thankfully, we get a USB Type-C to 3.5mm converter along with the package.
The AeroActive Cooler 3 also includes the provision for a 3.5mm audio jack.
Hmm, I wonder what would happen if we connected headphones onto both ports?
Despite having better sealing compared to the ROG II, the ROG 3 comes with neither IP rating (waterproof and dustproof) nor wireless charging (inductive charging).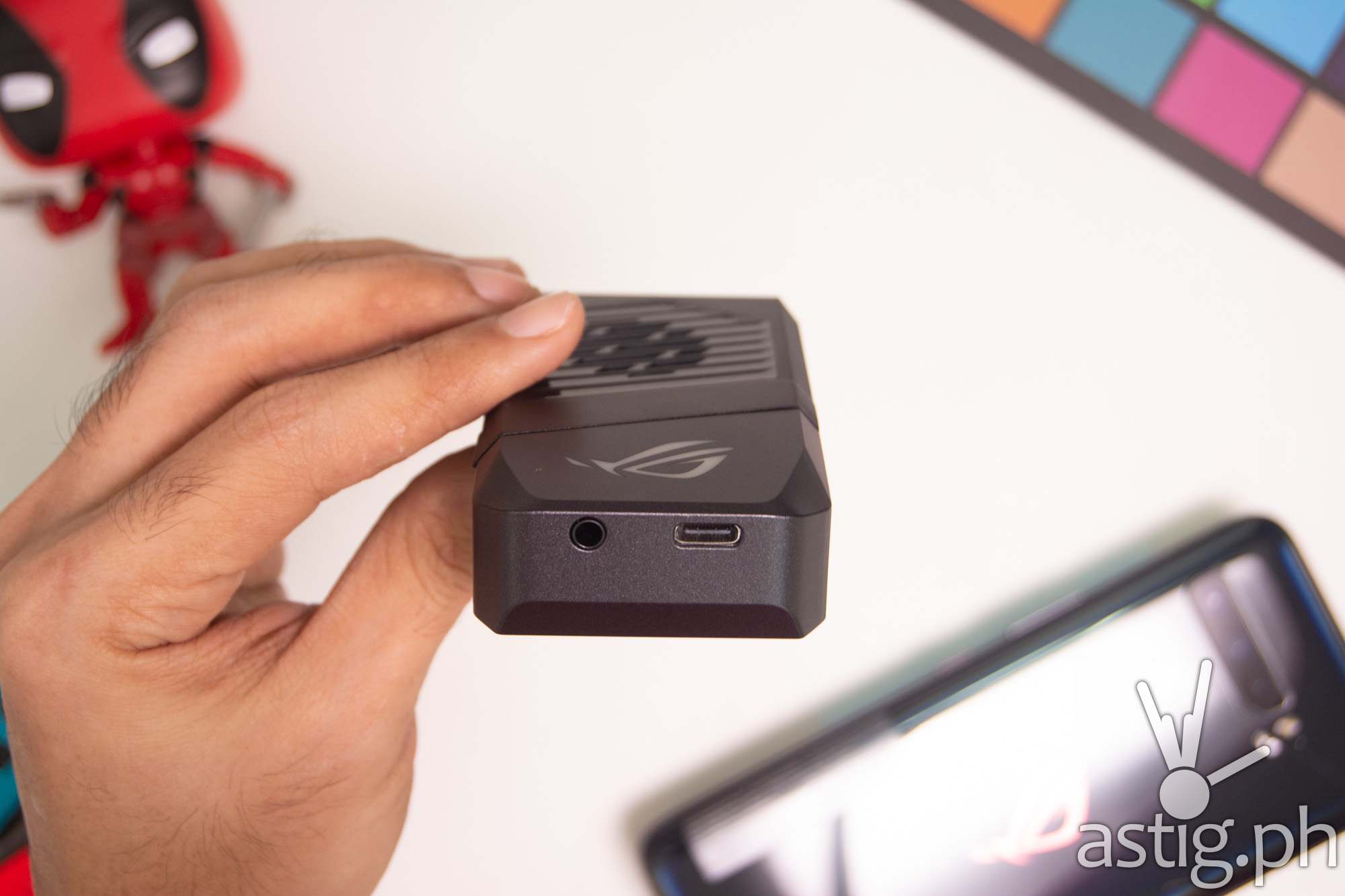 We couldn't help but wonder if these recent design changes might be an indication that we're headed towards an IP rating and wireless charging on the ROG Phone 4?
When I held the ROG Phone 3 in my hands, the first thing that came into my mind was that it felt much lighter and thinner than the ROG Phone II, so imagine my surprise when I found out that they weigh the same and bear identical dimensions.
Everything else follows the blueprint laid out by its predecessors: dual stereo speakers, optical Fingerprint On-Display (FOD) sensor, a USB Type-C port at the bottom, and a custom connector to the side which lets you connect numerous ROG Phone accessories such as the AeroActive Cooler 3, Kunai Gamepad, Twinview Dock, and the WiGig Display Dock.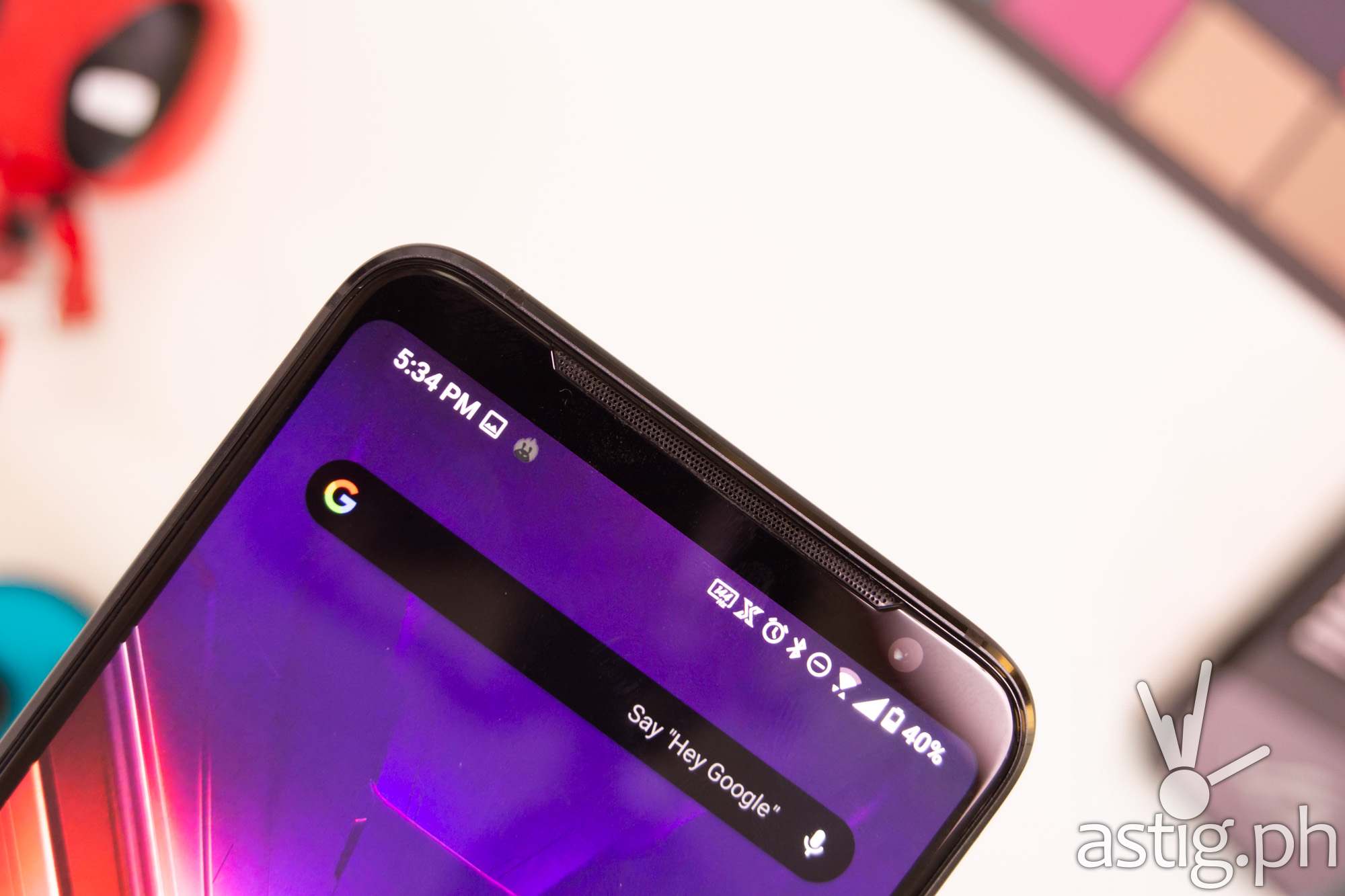 The notch-less AMOLED display also remains the same at 6.59-inches, though it now supports high refresh rates up to 144Hz, with touch sampling rate set to almost double at 270Hz.
Audio quality on the built-in stereo speakers also appears to have been improved – to my ears, the mids and highs are a lot more defined, and the bass is a lot punchier that you can actually feel the vibrations even at lower volume levels.
ROG Phone 3 application and media performance: A true flagship
Fans of stock Android experience would be pleased to know that the ROG UI tries to stick to the stock experience as much as possible, something that ASUS appears to have worked on ever since the ZenFone Max series came out.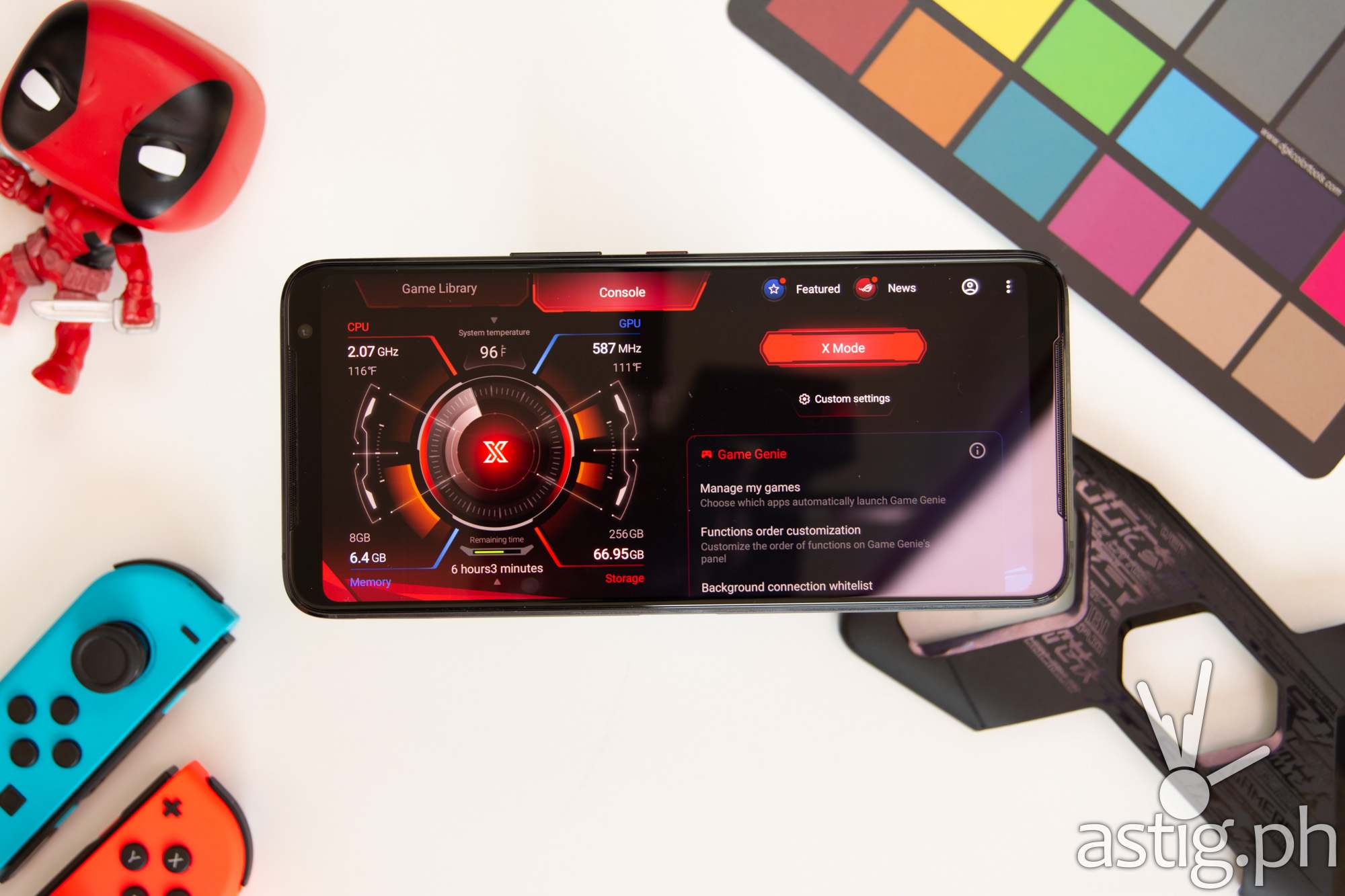 In addition to the Google ecosystem, we get the Armoury Crate, a feature on the ROG Phone series which allows us to fine tune and control all the added features such as lighting effects, AirTriggers, and configure performance profiles for each game or application.
For synthetic benchmarks, we were still able to hit 600K in AnTuTu with X-Mode enabled and the AeroActive Cooler 3 running. This easily takes us well within the top 5 in the worldwide rankings. Without the cooler, we were only able to go up to 590K. Not as high, but still comfortably within the top 10.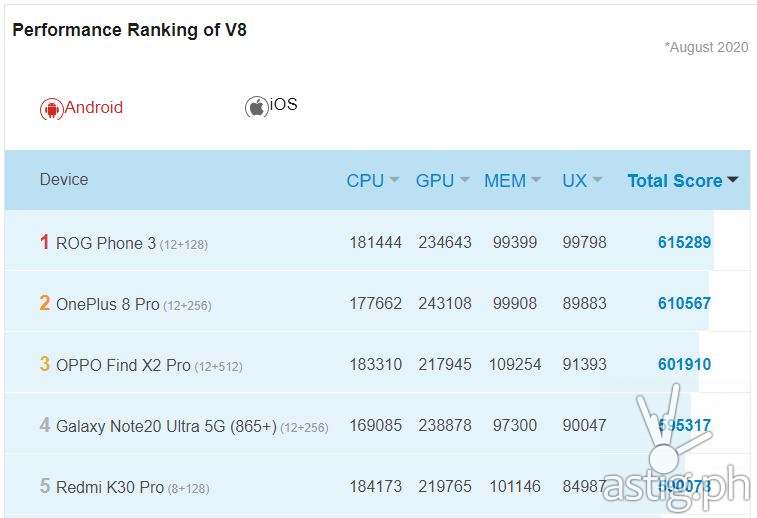 As of August 2020, the ROG Phone 3 holds the #1 spot at a total score of 615,289. It is followed by the OnePlus 8 Pro, Oppo Find X2 Pro, Galaxy Note 20 Ultra 5G, and Redmi K30 Pro – all of which run on the Snapdragon 865 and 865+ platform.
I'm not sure if this score aggregates both the Strix and the Classic Edition, but I'm pleased to see that we're not far behind.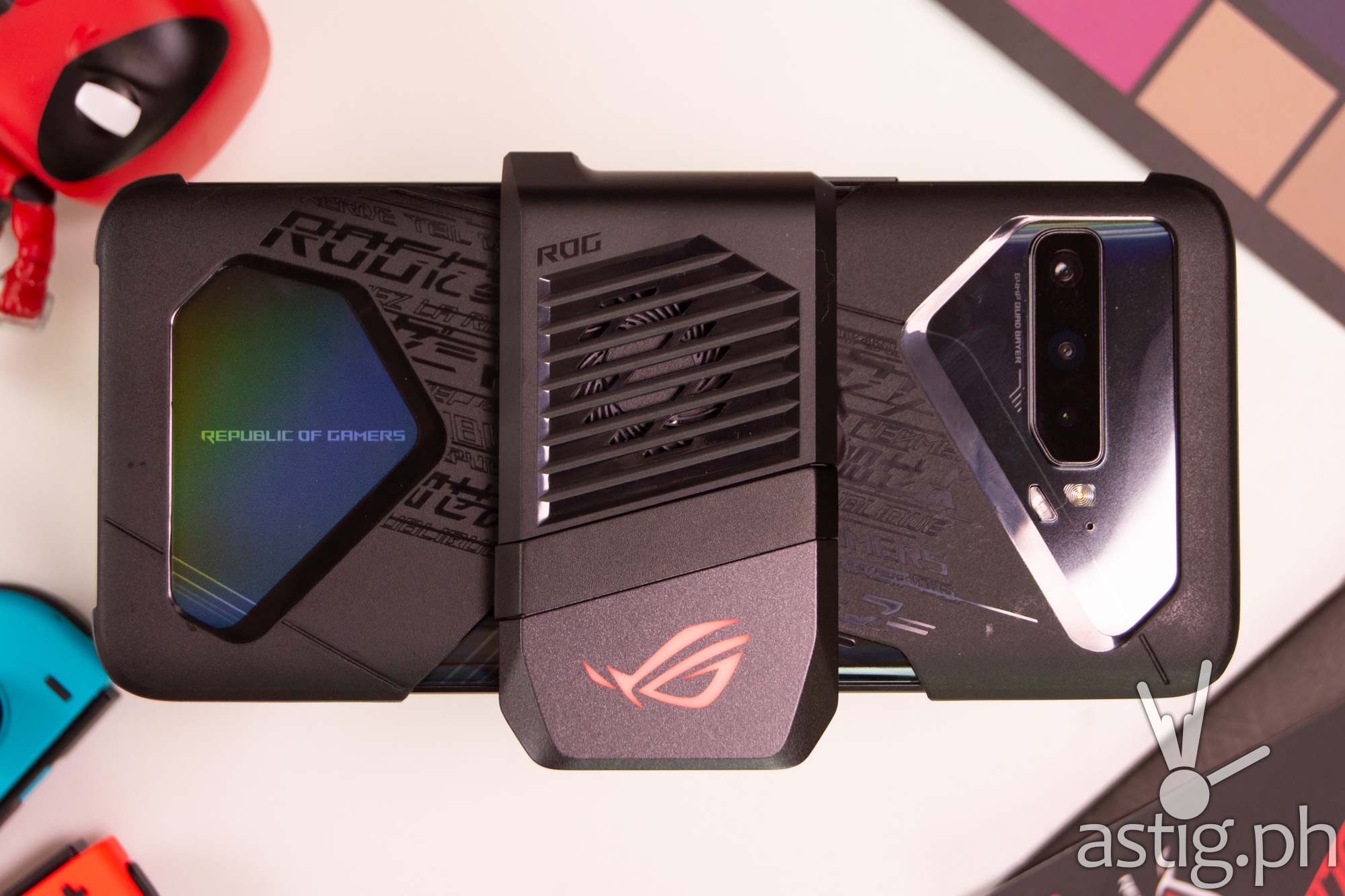 ROG Phone 3 gaming performance: 144FPS!!!
After installing several popular MOBA, FPS, and MMORPGs, we immediately cranked the graphics settings all the way up to the highest possible setting.
This includes games such as Mobile Legends, Marvel Super War, Fortnite, Call of Duty Mobile, Asphalt 9, and Dragon Raja.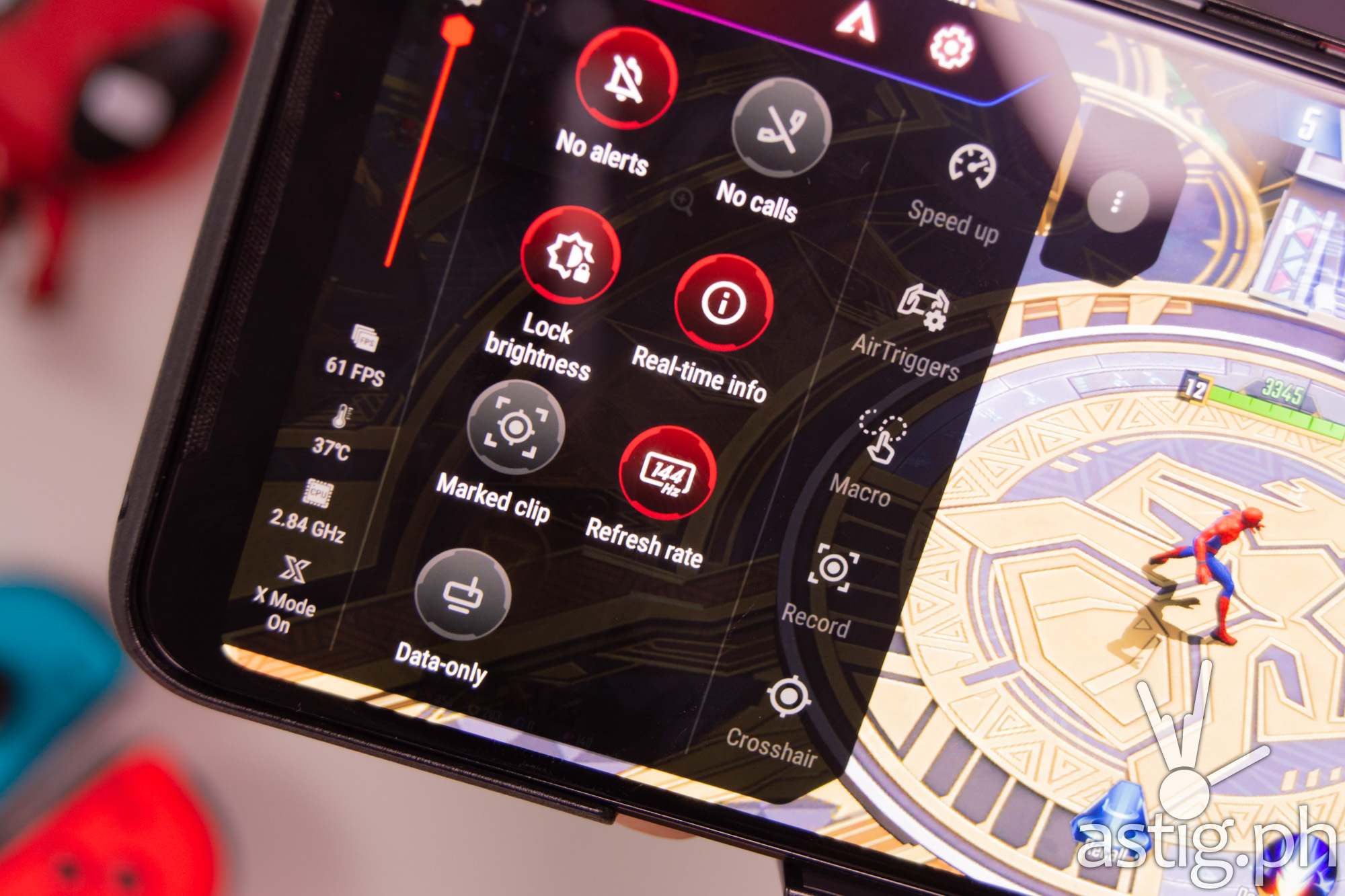 All of them were steady at 60 FPS with no discernible stuttering. The only cases where we noticed a drop in FPS would be when the game was loading assets, like at the beginning of a map in Fortnite.
We also tried running several games that support high refresh rates such as Vain Glory, Alto's Adventure, and Dead Cells, all of which were stable at 144 FPS.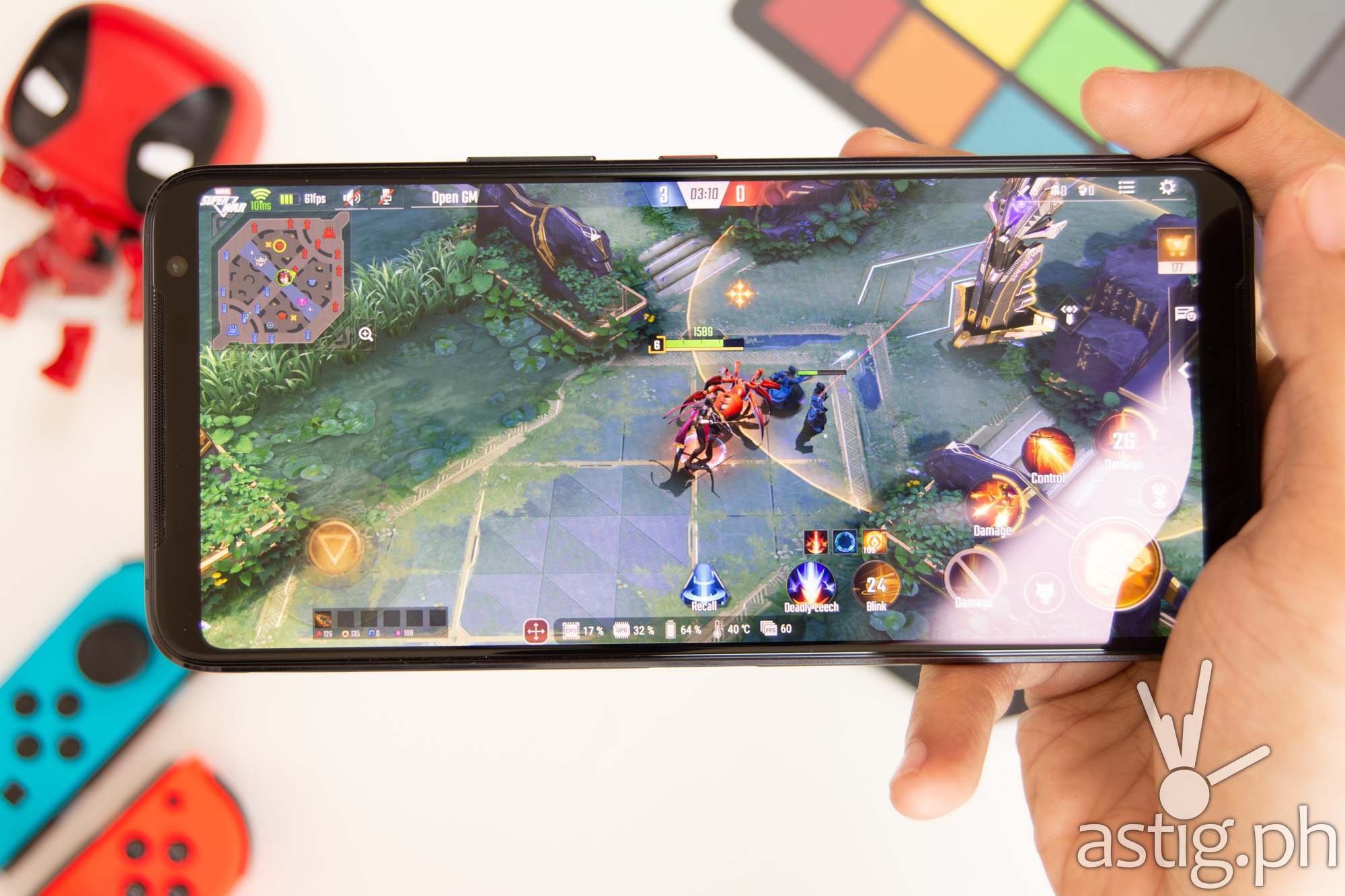 This left us a little unsatisfied, though not in the way that you might think. It's just that we have such a powerful phone in our hands, that it feels like there aren't enough graphically demanding games available to uh, test – I mean – *play* it with.
We're talking triple-AAA games with multiple shaders, particle effects, physics, high resolution textures and high definition models – the works!
So if you have any titles in mind, we are all ears.
Photography: 64MP triple cameras and 8k video
ROG Phone 3 follows the trend of having at least three cameras, sporting a 64MP f/1.8 wide angle camera, a 13MP ultrawide camera, and a 5MP macro camera.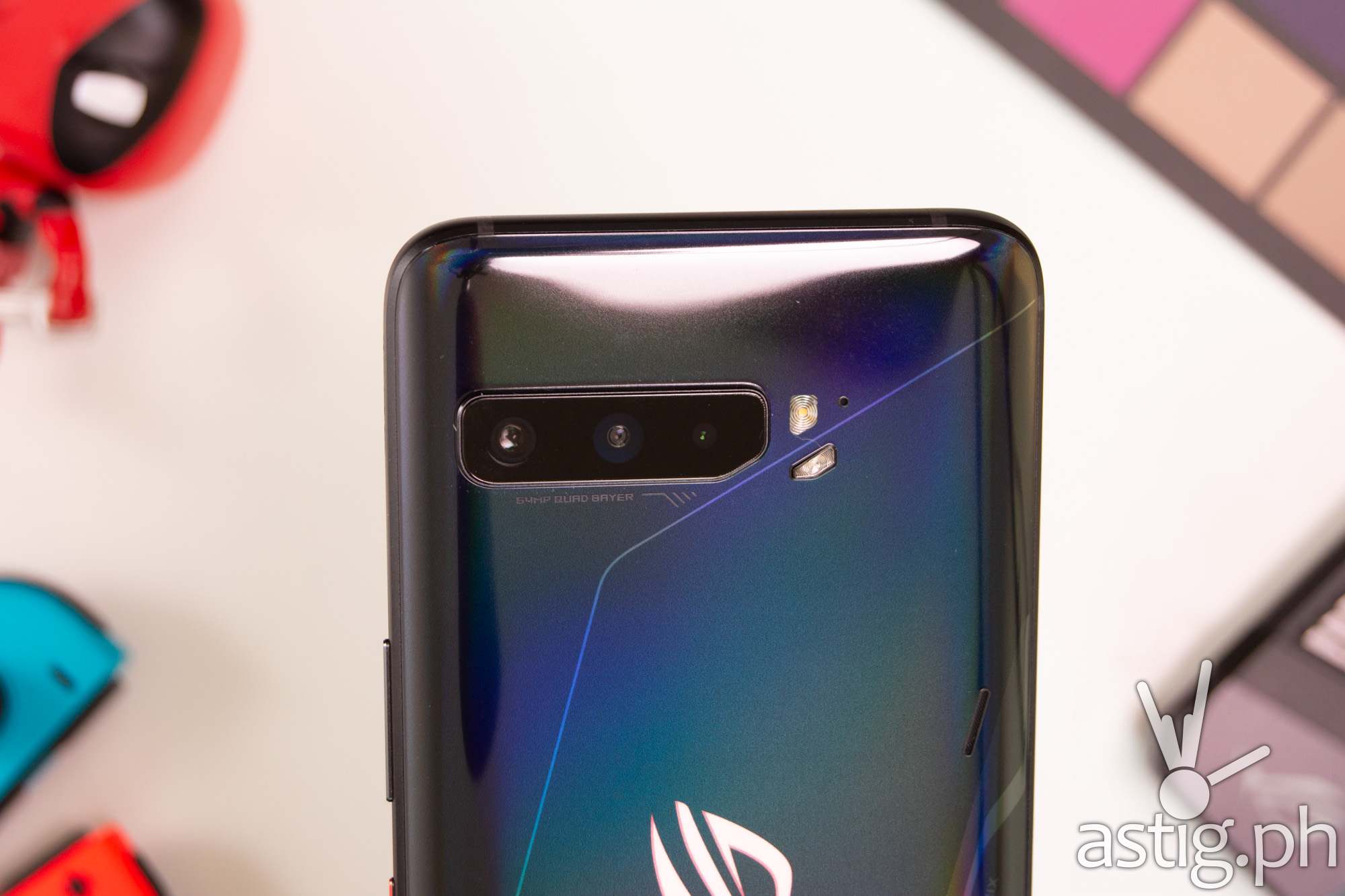 Its main sensor, a 64 MP Sony IMX686, is the best that we can get in a smartphone today, though it's not clear to us if it comes with hardware image stabilization or OIS (optical image stabilization) in addition to EIS (electronic image stabilization).
Photos are much more detailed than before, and the macro sensor is a welcome addition for those who need to take images up-close.
We can now take 8K videos, though the phone issues a warning that it can become very hot while doing so, which is to be expected.
Our selfie camera stays the same at 24MP, although it now offers more depth at f/2.0 compared to f/2.2 on the ROG Phone II.
ROG Phone 3 price and availability in the Philippines
ROG Phone 3 Classic and Strix Editions are currently available for purchase at ASUS and ROG stores in the Philippines and online via the ASUS Philippines eStore. It is also available at the Official ROG Store on Shopee and the ROG Flagship Store on Lazada, though the Strix Edition currently appears to be out of stock on everywhere we looked.
Prices are as follows:
ROG Phone 3 Classic Edition SD865+ (16GB + 512GB): 54,995 PHP
ROG Phone 3 Classic Edition SD865+ (12GB + 512GB): 49,995 PHP
ROG Phone 3 Strix Edition SD865 (8GB + 256GB): 39,995 PHP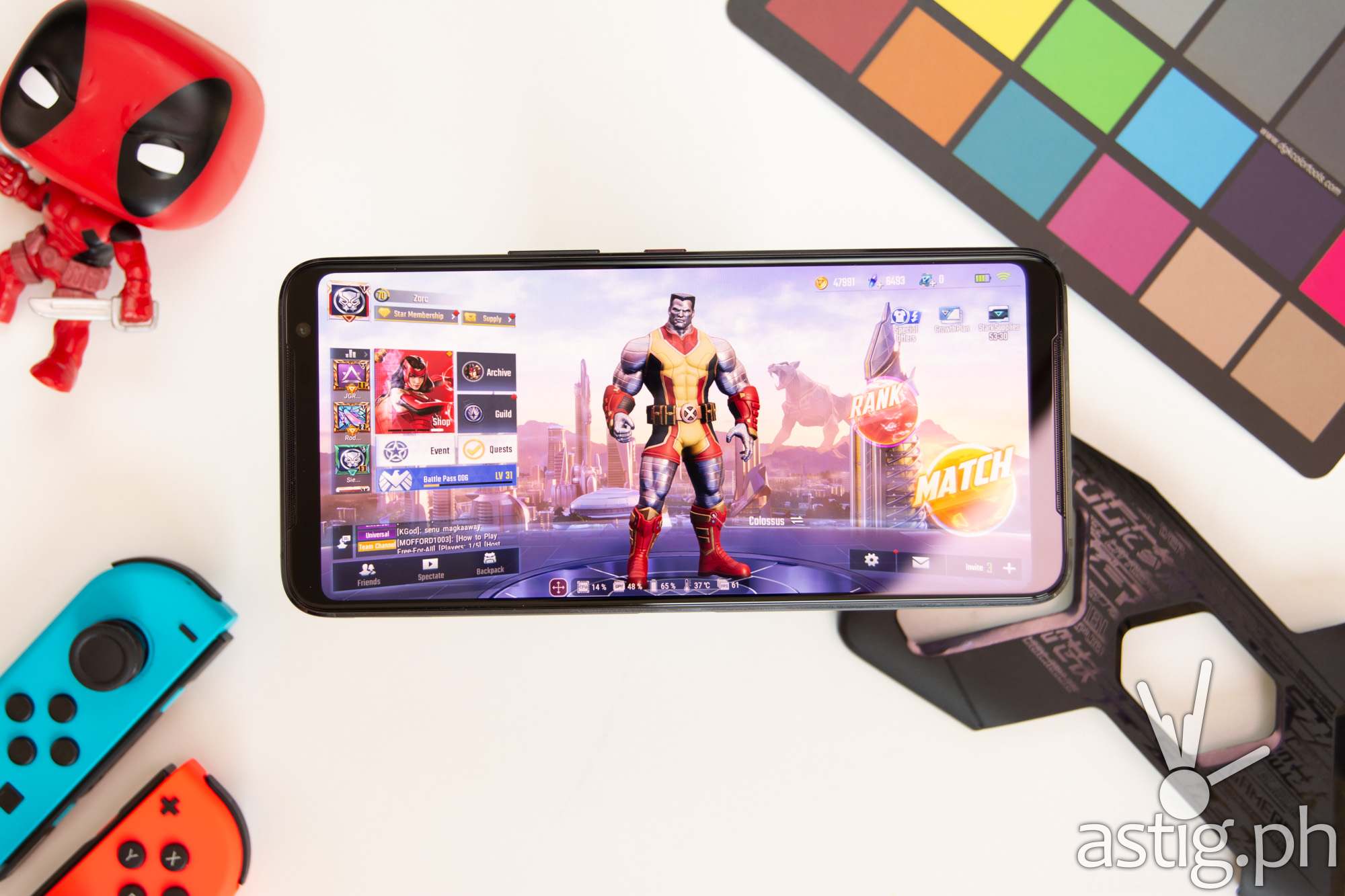 ROG Phone 3 (Strix) technical specifications (Philippines)
Display: 6.59 inches; 1080 x 2340 pixels; AMOLED; Gorilla Glass 6; HDR10+; 144Hz refresh rate (270 Hz touch sampling rate)
SIM: Dual SIM (Nano-SIM)
OS Android 10 (Q); ROG UI
Chipset (SoC): Qualcomm SDM8250 Snapdragon 865 (7 nm)
CPU: Octa-core (1×2.84 GHz Kryo 585 + 3×2.42 GHz Kryo 585 + 4×1.8 GHz Kryo 585)
GPU: Adreno 650 (645 MHz)
Memory (RAM) + storage: 8GB + 256GB (Strix Edition)
Expansion: none
Main camera (rear): 64MP f/1.8 (wide); 13MP f/2.4 (ultrawide); 5MP f/2.0 (macro)
Selfie camera (front): 24MP f/2.0
Connectivity: 802.11 b/g/n/ac/6 dual band; Bluetooth 5.2, A2DP, LE, aptX (HD, Adaptive); A-GPS+GLONASS+BDS+Galileo+QZSS+GNSS; NFC
Audio: Dual stereo speakers
I/O: 3.1 (side), 2.0 (side) USB Type-C 1.0; proprietary ROG connector (side); fingerprint scanner (under display, optical)
Battery: 6,000 mAh; 38W fast charging; Power Delivery 3.0; Quick Charge 4.0; 10W reverse charging
Colors: Black Glare
Price (Global): 799 EUR / ~45,500 PHP
Price (Philippines): 39,995 PHP (8GB + 256GB)
ROG Phone 3 (Classic) technical specifications  (Philippines)
Display: 6.59 inches; 1080 x 2340 pixels; AMOLED; Gorilla Glass 6; HDR10+; 144Hz refresh rate (270 Hz touch sampling rate)
SIM: Dual SIM (Nano-SIM)
OS Android 10 (Q); ROG UI
Chipset (SoC): Qualcomm SDM8250 Snapdragon 865+ (7 nm)
CPU: Octa-core (1×3.1 GHz Kryo 585 + 3×2.42 GHz Kryo 585 + 4×1.8 GHz Kryo 585)
GPU: Adreno 650 (645 MHz)
Memory (RAM) + storage: 12GB + 512GB; 16GB + 512GB
Expansion: none
Main camera (rear): 64MP f/1.8 (wide); 13MP f/2.4 (ultrawide); 5MP f/2.0 (macro)
Selfie camera (front): 24MP f/2.0
Connectivity: 802.11 b/g/n/ac/6 dual band; Bluetooth 5.2, A2DP, LE, aptX (HD, Adaptive); A-GPS+GLONASS+BDS+Galileo+QZSS+GNSS; NFC
Audio: Dual stereo speakers
I/O: 3.1 (side), 2.0 (side) USB Type-C 1.0; proprietary ROG connector (side); fingerprint scanner (under display, optical)
Battery: 6,000 mAh; 38W fast charging; Power Delivery 3.0; Quick Charge 4.0; 10W reverse charging
Colors: Black Glare
Price (Global): 1099 EUR / ~63,000PHP (16GB + 512GB); 999 EUR / ~57,000 PHP (12GB + 512GB)
Price (Philippines): 54,995 PHP (16GB + 512GB); 49,995 PHP (12GB + 512GB)