Galaxy M20 is Samsung's very own budget mid-range smartphone, bringing with it several improvements including a bigger screen, dual rear cameras, and a extended battery life – all the while keeping the price at only 10,990 pesos.
For some reason, whe Korean company decided that the Galaxy M20 will be an online-only release – an extremely competitive space, currently dominated by Chinese brands. As we've seen in the recent launches, the online-only competition has been heating up with the launch of OPPO's sub-brand Realme in an effort to compete against Xiaomi and Huawei's sub-brand, Honor.
The M20 came out over month ago and since then, several brands have launched their own online-only phones, including the Realme 3 and the Redmi Note 7.
Screen
The most noticeable "feature" if you can call it that, of the Galaxy M20, is the notch. Who would have thought it would happen but here it is, a Samsung phone with a notch.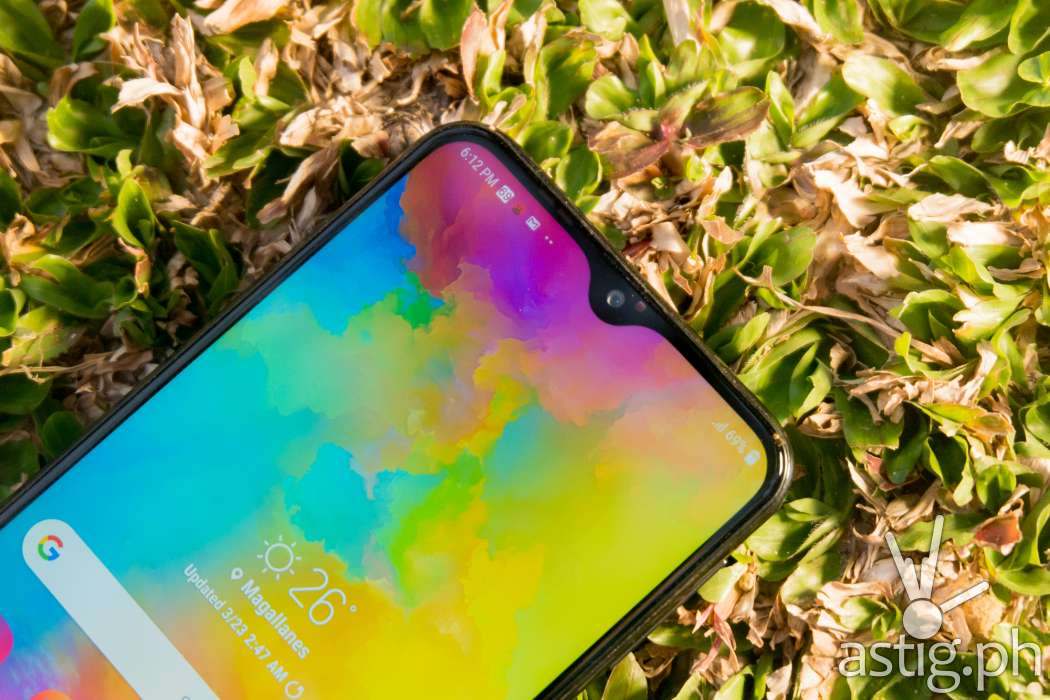 After dodging the notch in 2018, it seems not even Samsung could avoid this trend, which they call the Infinity-V display. By being late to the game, Samsung missed the opportunity to be the first to implement what we now more commonly identify as the "waterdrop" notch.
Samsung's implementation is no different from OPPO, Vivo, Huawei, or OnePlus – we get a nice v-shaped notch in the top-middle area allowing for thinner bezels running all the way to the sides, and a chin that's roughly double in thickness. It certainly is nothing like what we've seen in the Galaxy S10 Series, which maintained an equal amount of thinness all around.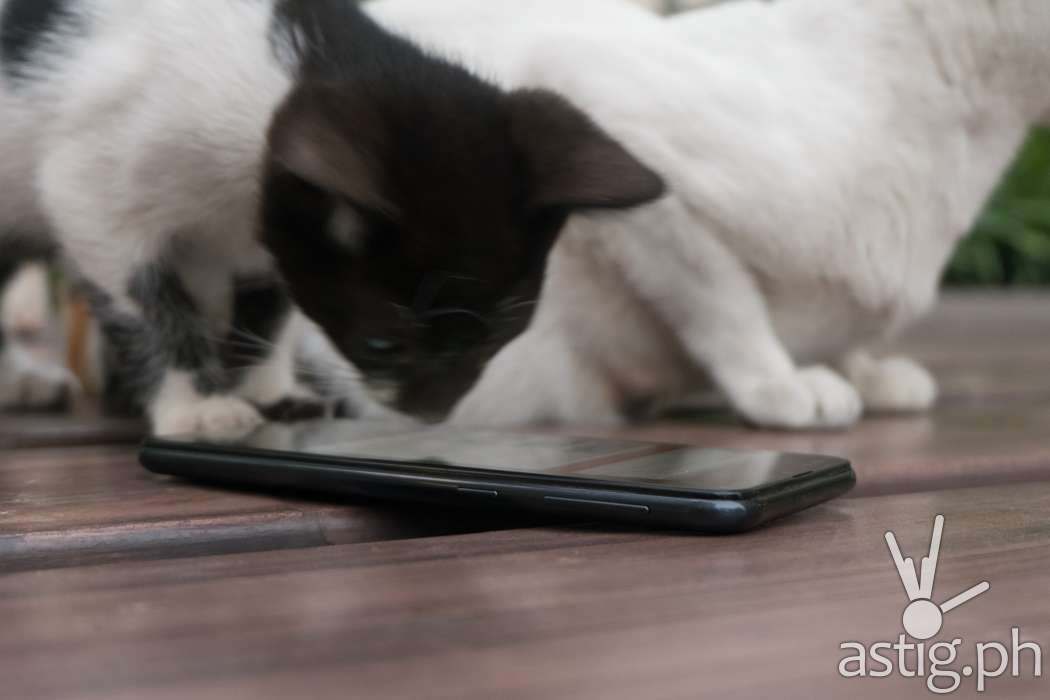 The display panel is also noticeably thicker than anything in the Galaxy series. The elevation is about 1-1.5 millimeters thick. It's not as thick as what we've seen in the OPPO and Vivo budget phones, but coming from Samsung I was expecting something less conspicuous.
A top panel maker like Samsung adopting the notch is probably a good indicator that we are still several releases away from a truly all-screen display – at least one that does not rely on mechanical workarounds to hide the front-facing camera.
Of course Samsung went with a PLS TFT panel on the Galaxy M20, which, without being too technical, can be thought of as the Korean manufacturer's in-house equivalent of the IPS LCD. Unlike the latter, however, the M20's screen seems to produce more saturated colors, and the white balance appears to be quite neutral, without the bluish or yellowish tint usually seen in cheaper screens.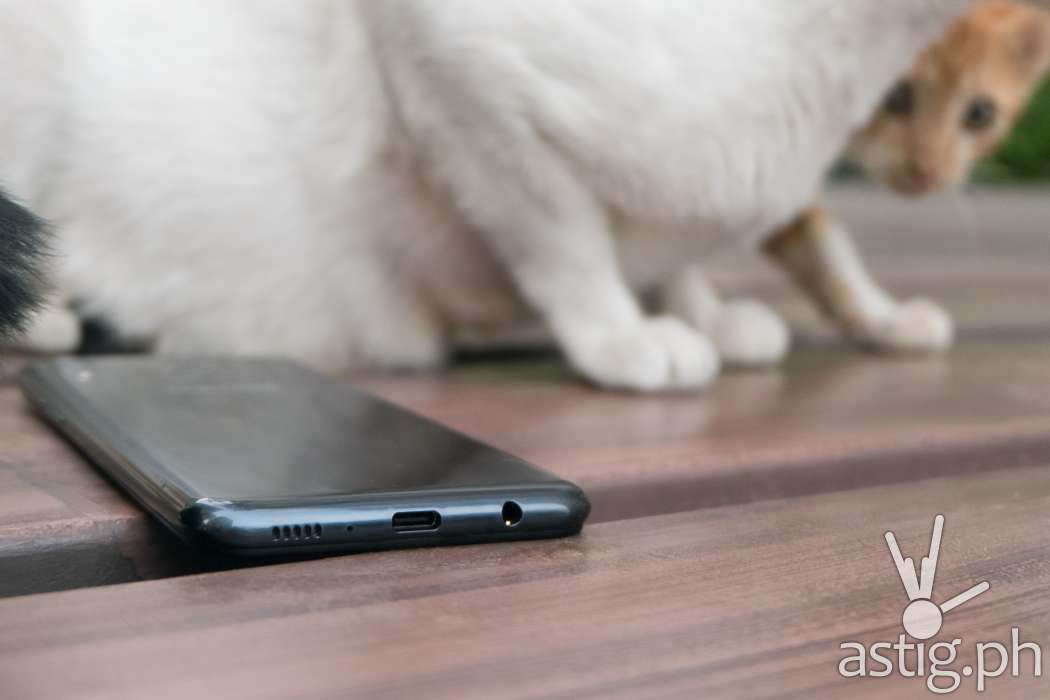 Our biggest issue with the screen, however, are the phantom touches – or the digitizer's inability to distinguish between actual key presses and accidentally rubbing your palm against the left and right edges of the screen, which can be  problem because the bezels are simply too thin.
Nothing that can't be fixed with a humble phone case to add thickness to both sides, but it's a shame – unlike glass gsandwiches, this phone has an all-plastic build, so it's not as fragile. If not for the phantom touches, I would rather use this phone in all its naked glory.
Build quality
The Galaxy M20 maintains a similar look and feel as the Samsung Galaxy A7: smooth all-around, sticking to a more traditional all-plastic chassis as opposed to the glass sandwich trend that dominated most of 2018.
It's not the most attractive phone out there, but as mentioned earlier, it's better enjoyed without a case.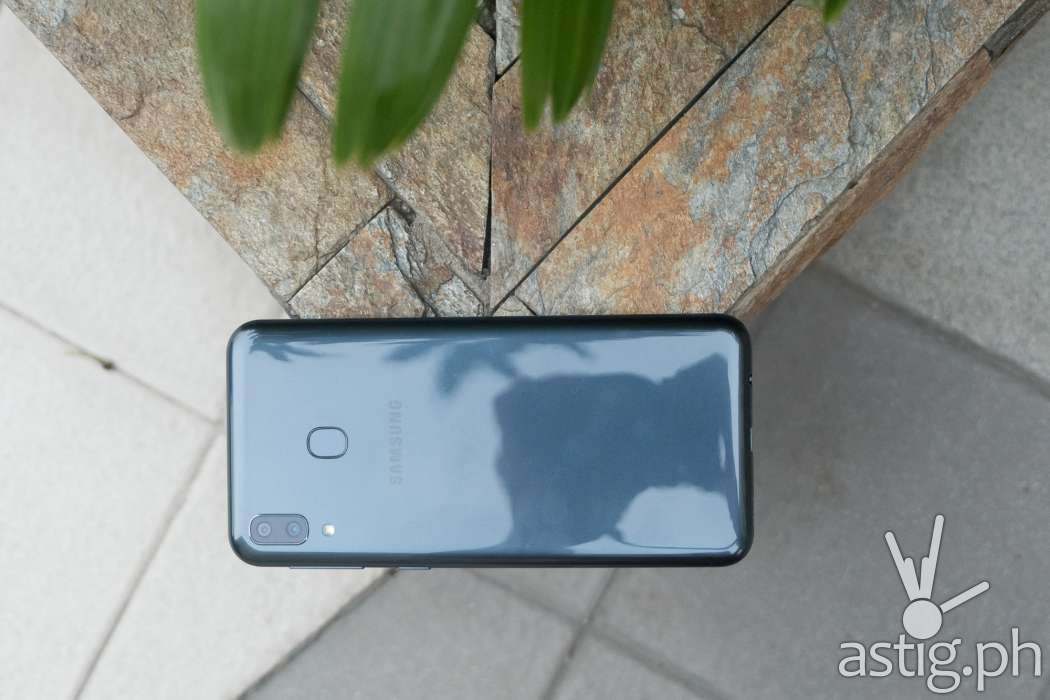 As a budget device, it doesn't have a Bixby button, though it does come with a rear-mounted fingerprint scanner as well as a 3.5mm audio jack. USB Type-C finally seems to be making its way into budget phones this year, and the M20 among those who are finally able to move on from Micro USB, thankfully.
The camera hump at the back is kept at a minimum, so the device feels very smooth overall.
A triple-slot tray lets you use two SIM cards and a micro SD expansion card at the same time. We had some trouble releasing it though: the hole doesn't seem to be properly aligned to catch the ejector pin.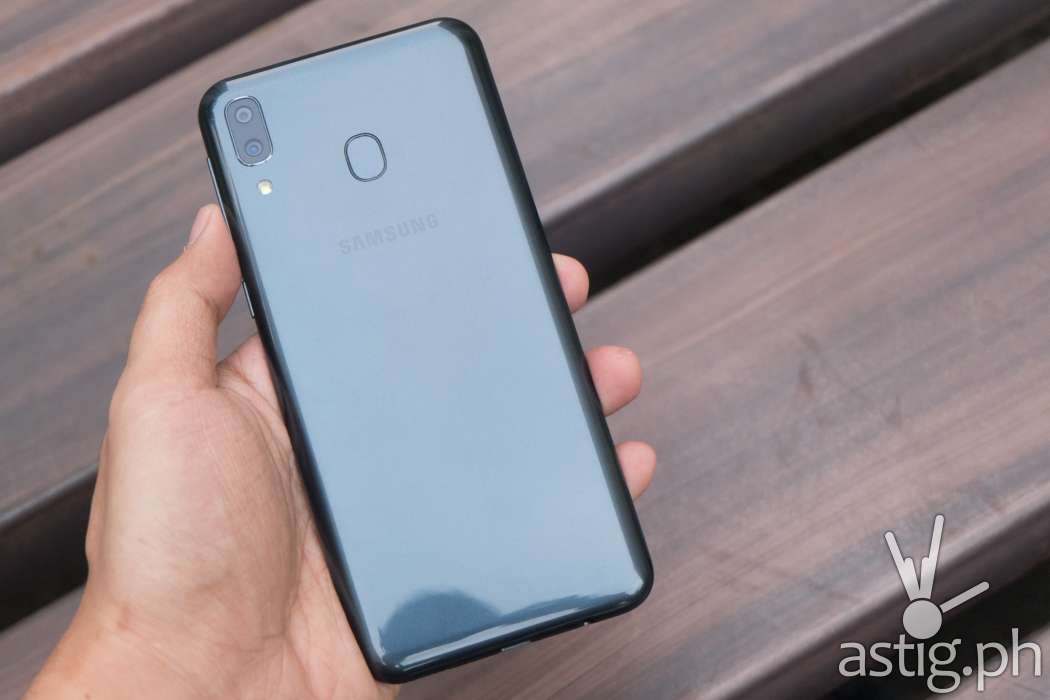 Performance
Like the display panel, Samsung once again relies on in-house technology, banking on the 14nm octa-core Exynos 7904 chipset to do the heavy lifting. Memory and storage-wise, the M20 starts off at 3GB RAM + 32GB storage.
Performance-wise, it comes close to the Snapdragon 632 or the Snapdragon 660, but it lags behind the Helio P60.
Our synthetic benchmarks hovered around 106,963 in Antutu while Geekbench scores it at 1,310 for single-core performance and 4,107 for multi-core performance.
When it came to actual use, the M20 takes a while to load and switch between applications. Though not as fluid, it manages to run consistently, even after we've maxed out its internal storage from installing a bunch of games and downloading several large video files.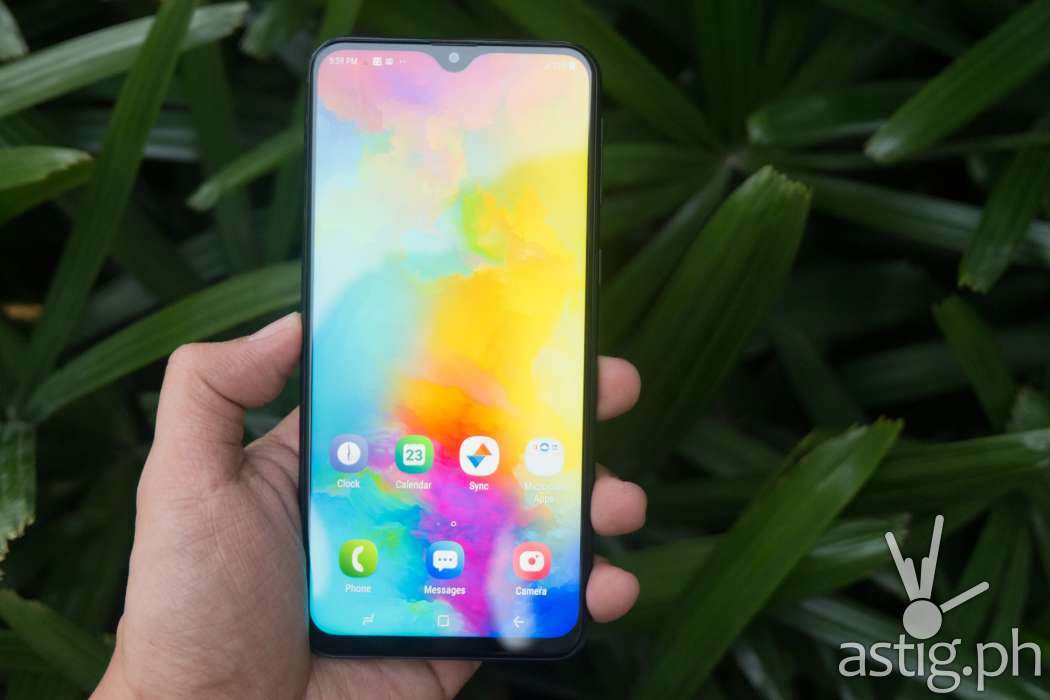 GPS also works consistently, I could almost always get a lock within 10 seconds, and it stays locked provided I'm not inside a tunnel or a building.
Like most budget mid-range phones, the Galaxy M20 does not support the faster 5GHz WiFi frequency. Although limited to 2.4GHz, we did run into any speed or range-related issues.
I also have a small issue with the face unlock, which takes an awfully long time to process, especially if we're trying to unlock in the dark. More often than not, the screen would light up while trying to recognize facial information, but it takes too long so I revert to other methods like entering my security pattern or with the fingerprint reader.
Our biggest concern, however, and one which made me double-think the M20, stems from the performance of its 4G radio. Mobile data is very inconsistent indoors, often reverting to H+ instead of 4G or losing data connection entirely. By contrast, our reference phone chugs along fine.
Because of its long battery life, the M20 was the ideal mobile hotspot, and I really tried to make it work. Alas, it proved to be a futile exercise, as I would often lose connectivity even in areas covered by my carrier. To validate this, I had another phone on the same carrier with mobile data turned on, and it worked just fine.
It's always refreshing to find an Android smartphone that doesn't run on either MediaTek Helio or the near-ubiquitous Qualcomm Snapdragon chipset, however, in the case of the M20, it might be wiser to stick with something that's been tried and tested.
Performance benchmark results
Antutu: 106963 (overall)
PCMark Work 2.0 score: 5206
PerformanceTest Mobile: 7339 (system); 137561 (CPU); 12113 (memory); 41768 (disk)
Gaming
The Galaxy M20 ran every mobile game we threw at it, although we had to turn down the graphics settings in some graphically-intensive games like PUBG and Lineage 2 Revolution in order to get better frame rates.
Mobile-optimized games like Mobile Legends and Mu Origins 2 ran smoothly, though it lags behind other mid-range phones when it comes to loading times, which can be painfully slow if you're used to faster phones.
Once the game is fully loaded things are generally smooth, though there may be delays when opening menus and switching between screens, depending on the game you are playing.
It's a shame – with its long battery life, the M20 would have been the ideal device for mobile gaming, if not for the inconsistent mobile data performance and high loading times.
So the Galaxy M20 ended up being more of a backup device, only using it when my main phone was low on power.
Gaming benchmark results
3DMark Sling Shot Extreme: 583 (OpenGL); 1097 (Vulktan)
PerformanceTest Mobile: 5392 (2D Graphics); 1675 (3D Graphics)
Photography
Moving onto photography, the Samsung Galaxy M20 is equipped with dual rear cameras: a 13MP f/1.9 module and a 5MP f/2.2 module fitted with an ultra-wide angle lens.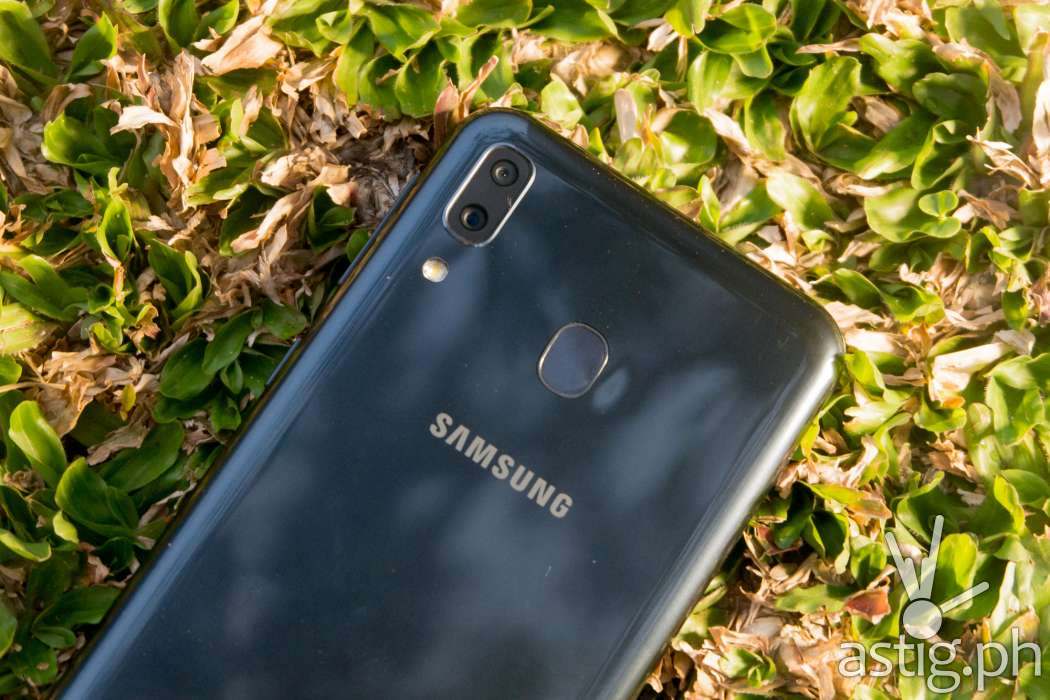 We gotta hand it to Samsung here – while most budget mid-range phones came with dual cameras, you could only take photos using one sensor, since the other sensor is purely for depth perception. The M20 lets you take photos with both sensors at varying focal lengths.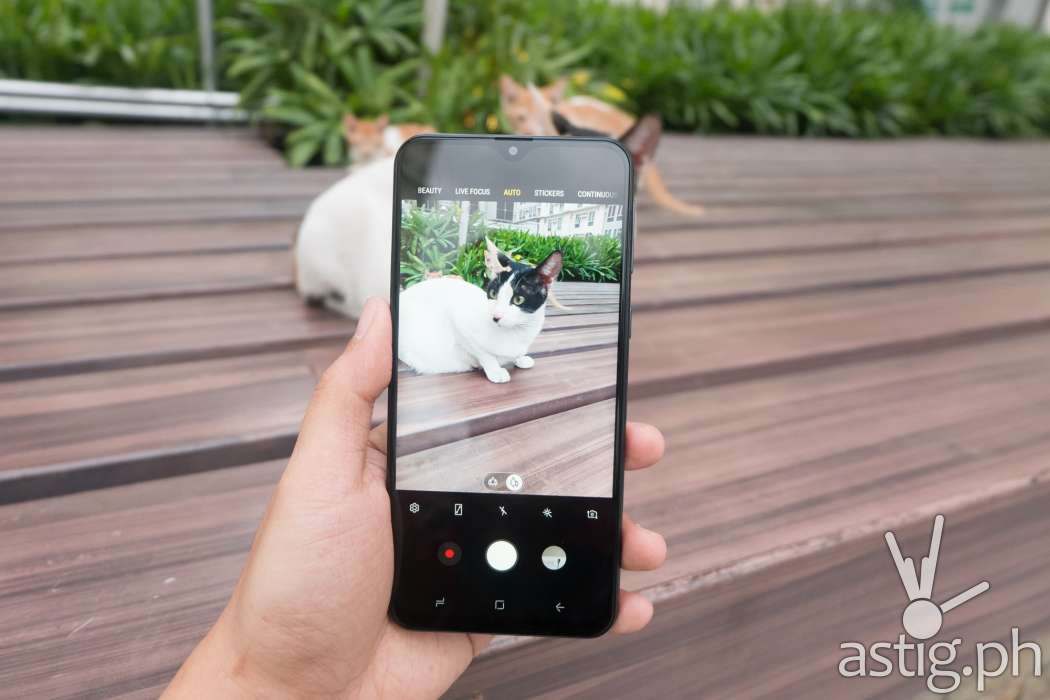 Generally, the M20 takes sharp images during the day, but it struggles without sufficient lighting. As a result, I had to take several shots before I got the image I wanted, and I missed some important shots because they were either blurry or out of focus.
Having two sensors works in favorably for the M20 when taking photos in "Live Focus" mode, Samsung's take on Apple's "portrait mode" for that simulated depth of field / bokeh effect. It works even with low light, though there are some misses here an there where it fails to correctly isolate the subject from the background.
Speaking of low light, the M20 does not have "night mode" so shots taken in the dark are not too exciting.
Foreground isolation is not as good on the front-facing camera, though the photos were generally decent. We get nice AR stickers too.
The wide-angle camera allowed me to take unique shots that would otherwise not have been possible with the regular camera, though the image quality is just not as good main module, so I used it sparingly.
Photos captured with the stock camera software generally looked good on the phone, but close inspection on the desktop shows a lot of smoothing and sharpening, resulting in loss of detail. Also, the stock camera app does not provide that much information when taking photos. For example, HDR mode is set to Auto by default, but there's no way to tell if HDR was activated for the shot or not. Another example: there's no way to control shutter speed in Pro mode, nor can switch to the wide-angle camera.
Furthermore, the M20 lacks AI scene detection. Like it or hate it, AI was one of the highlights of 2018, and almost every mid-range phone had it.
Personally, it doesn't matter: I found an old version of GCam modded by iDan to works on Exynos and shot photos with it most of the time. It just takes better pictures so in the end, it only shot photos on the stock app if I wanted to use the wide-angle camera.
Battery Life
Samsung puts a lot of weight on battery life on the Galaxy M20. What's cool is that they managed to fit a 5000 mAh Li-Pro battery capable of fast charging at 15W while maintaining an extremely slim form factor.
In general, we were able to get over 24 hours of mixed use with the screen set to above 50% brightness and mobile data running during the day. With more conservative use, we could easily go up to three days on a single full charge, and that says a lot about how power efficient the Samsung Galaxy M20 can be.
It is without a doubt, the longest we've ever experienced on the Samsung Galaxy series, and that made reviewing the phone challenging because it's just so hard to drain.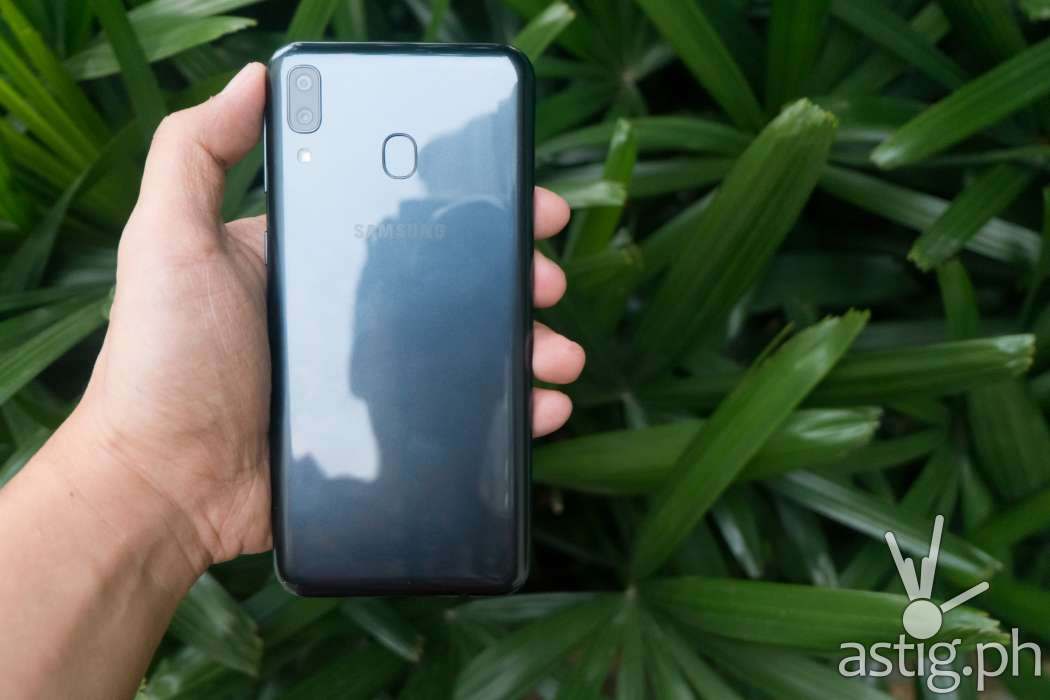 As mentioned somewhere in this article, the long battery life made it ideal as a mobile hotspot or as a backup gaming device. There is, however, a third use: the Galaxy M20 excels as a mobile entertainment device, and I would often leave it streaming music on Spotify to my Bluetooth headset while I work. I also use it to watch a lot of videos – whether I'm streaming or watching offline, it's really nice to not have to worry about running out of battery life.
Based on our usage statistics, AccuBattery estimates 10 hours of use with screen on, and 29.5 hours of combined use, and a whopping 64.5 hours of battery life with the screen off. That's almost three full days, and that's with power saving off! I can only imagine how much longer we could get out of the M20 if we turned it on.
Battery life benchmark results
AccuBattery: 9h 56m (screen on); 63h 58m (screen off); 29h 20m (combined use)
GSam Battery Monitor: battery life: 1d 17.4h (12h 49m active); screen on: 6h 56m (11h 15m max)
PCMark Work 2.0 battery life: 12h 20m
Verdict
Samsung Galaxy M20 represents an unexpected shift in Samsung's strategy – for the first time ever, we now have a Galaxy phone that's only being sold online at a very competitive price point.
In some ways it represents Samsung's accomplishments so far: an amazing display and a CPU that uses in-house technology is as Samsung as a phone can get. Unfortunately the decision to go in-house hurts the phone's performance, and the inconsistent mobile data performance left us wanting more.
It does alright in the photography department – the dual cameras are well-executed, letting us take photos with two different focal lengths.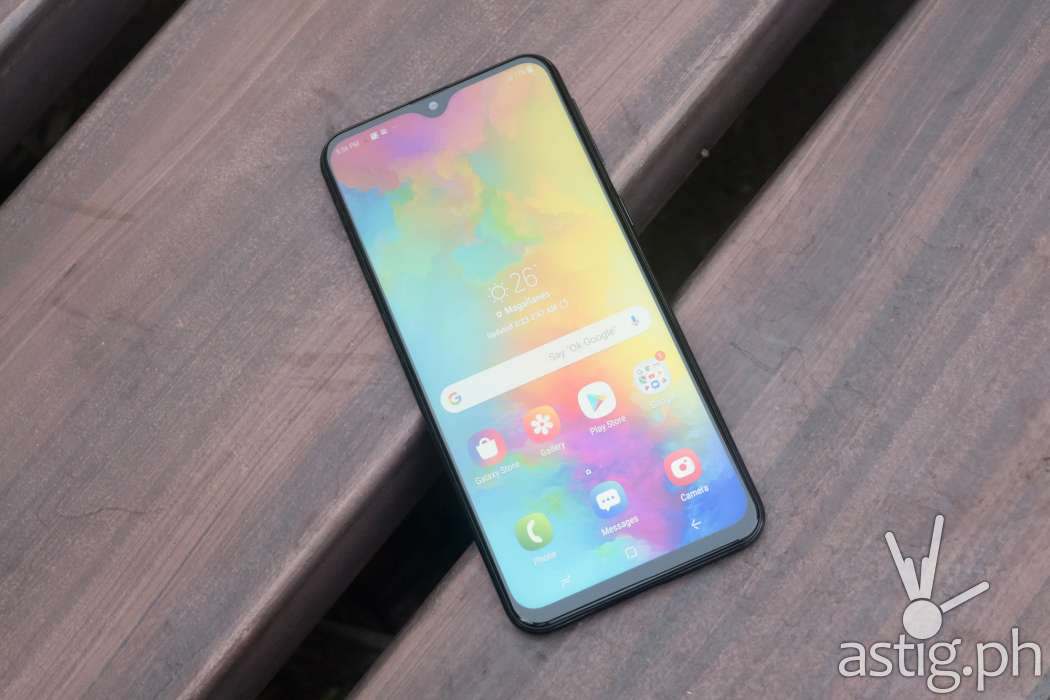 What surprised us the most is how long it took to drain this phone. The battery life on the M20 is nothing short of remarkable, carrying us two days on a single charge.
This makes the Samsung Galaxy M20 a decent choice as a backup smartphone, but until we see more consistent mobile data performance, there are simply better options out there – until the next iteration, that is.
Samsung Galaxy M20 specs:
Screen: 6.3″ 1080×2340 PLS TFT "Infinity-V" notch display
SIM: Dual SIM (dedicated Nano SIM slots)
Chipset: Exynos 7904 Octa (14nm)
CPU: 8-core (2×1.8 GHz Kryo 260 Gold + 6×1.6 GHz Kryo 260 Silver)
GPU: Mali-G71 MP2
OS: Android 8.1 (Oreo) + Samsung Experience 9.5
Memory (RAM): 3/4 GB
Storage: 32/64 GB
Expansion: microSD (dedicated)
Rear camera (main): Dual 13 MP f/1.9 + 5 MP f/2.2 (ultra-wide)
Front camera (selfie): 8MP f/2.0
I/O & sensors: 3.5mm audio jack; USB Type-C 1.0 data + power delivery; fingerprint (rear-mounted)
Connectivity: Wi-Fi 802.11 b/g/n; Bluetooth 5.0 A2DP
Battery: 5000 mAh Li-Pro (15W charging)
Colors: Charcoal Black, Ocean Blue
Price: 10,990 PHP (Philippines) (~180 USD)