In the most recent National TV ratings released by Kantar media, ASAP was able to regain its title as "undisputed" Sunday musical variety show as it beat Sunday PinaSaya's TV Ratings after couple of months.
ASAP gained 14.6% against rival Sunday noontime show Sunday PinaSaya with 13.7%.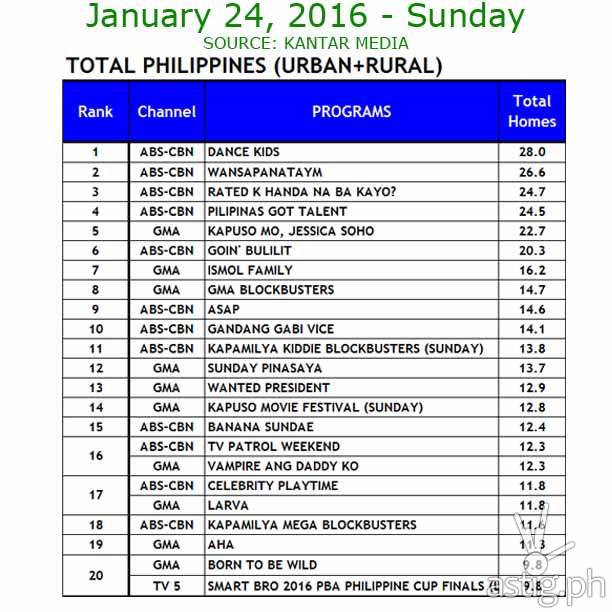 On September 27,2015, GMA Network's "Sunday PinaSaya" won in both AGB Nielsen's Mega Manila TV Ratings and Kantar Media's National TV Ratings. The Alden Richards-powered variety show scored 17.2% while ASAP 20 settled for 13.3%
In AGB Nielsen Mega Manila TV Ratings, "Sunday PinaSaya" scored 22.3% against "ASAP 20's" 8%.
The ratings of Sunday PinaSaya has been consistently beating ASAP 20 in the last quarter of 2015 as AlDub appearances in the show became frequent. This forced ASAP to make changes in the show, inserting comic segments like what the rival show offers. This change has been controversial since ASAP mainstay Martin Nievera expressed his opposition about the matter. Due to decreasing ratings, the ABS-CBN top management implemented reforms in the blocking. The three hour variety show was cut down into two hours paving way to Banana Sunday, which they found as the show that can rival with Sunday PinaSaya.
In the first weeks of 2016, we have seen the new strategy has positive effects as the TV ratings of ASAP rose again dramatically like Its Showtime who has been consistent in beating its rival, Eat Bulaga since January 11, after it showcased its new segment "Tawag ng Tanghalan."
Since AlDub phenomenon rose into fame last August, the popular tandem of Alden Richards and Maine Mendoza, known as "AlDub" help boost the ratings of two GMA7 noontime shows namely Eat Bulaga and Sunday Pinasaya.
Eat Bulaga achieved its record-breaking history in its Tamang Panahon episode with  50.8 rating in Mega Manila, according to data from AGB Nielsen. The ratings even beat Pacquiao vs Bradley fight with only 48.9%.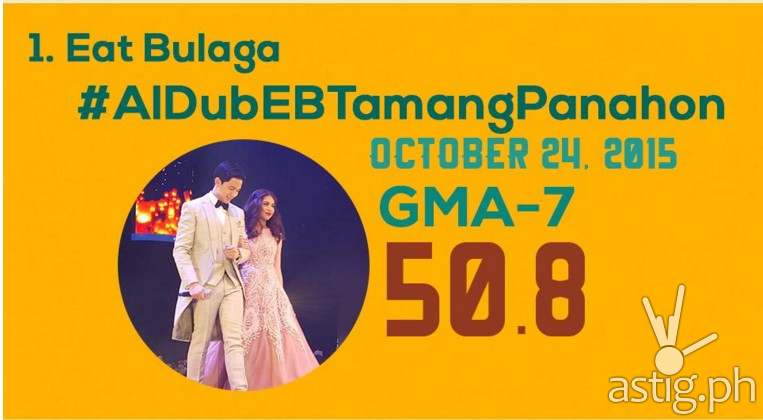 Ratings provider Kantar Media meanwhile said that Eat Bulaga got 40.1% national TV ratings to topple ABS-CBN's It's Showtime which received 10.2% .
Now that ASAP and It's Showtime are slowly regaining its glory again, shall it safe to say that AlDub is losing its appeal?