Social media has been bombarded by viral posts against arrogant commuters, politicians and drivers. The post of commuter Hannah Quiwa that went viral is no exception.
In her Facebook post. she detailed what this arrogant taxi driver did to her and her family.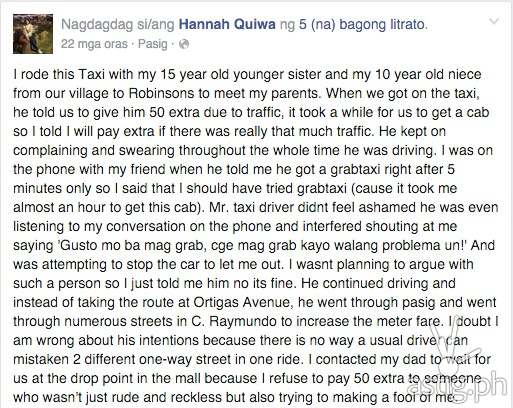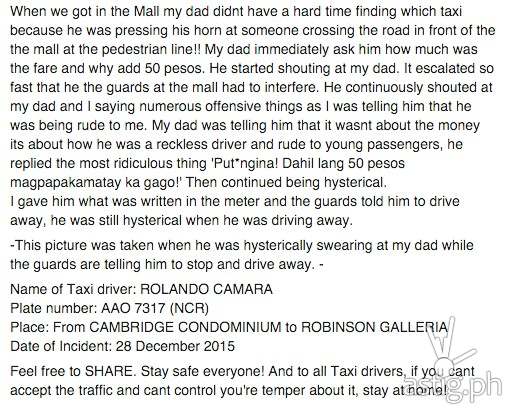 I rode this Taxi with my 15 year old younger sister and my 10 year old niece from our village to Robinsons to meet my parents. When we got on the taxi, he told us to give him 50 extra due to traffic, it took a while for us to get a cab so I told I will pay extra if there was really that much traffic. He kept on complaining and swearing throughout the whole time he was driving. I was on the phone with my friend when he told me he got a grabtaxi right after 5 minutes only so I said that I should have tried grabtaxi (cause it took me almost an hour to get this cab). Mr. taxi driver didnt feel ashamed he was even listening to my conversation on the phone and interfered shouting at me saying 'Gusto mo ba mag grab, cge mag grab kayo walang problema un!' And was attempting to stop the car to let me out. I wasnt planning to argue with such a person so I just told me him no its fine. He continued driving and instead of taking the route at Ortigas Avenue, he went through pasig and went through numerous streets in C. Raymundo to increase the meter fare. I doubt I am wrong about his intentions because there is no way a usual driver can mistaken 2 different one-way street in one ride. I contacted my dad to wait for us at the drop point in the mall because I refuse to pay 50 extra to someone who wasn't just rude and reckless but also trying to making a fool of me.
When we got in the Mall my dad didnt have a hard time finding which taxi because he was pressing his horn at someone crossing the road in front of the the mall at the pedestrian line!! My dad immediately ask him how much was the fare and why add 50 pesos. He started shouting at my dad. It escalated so fast that he the guards at the mall had to interfere. He continuously shouted at my dad and I saying numerous offensive things as I was telling him that he was being rude to me. My dad was telling him that it wasnt about the money its about how he was a reckless driver and rude to young passengers, he replied the most ridiculous thing 'Put*ngina! Dahil lang 50 pesos magpapakamatay ka gago!' Then continued being hysterical.
I gave him what was written in the meter and the guards told him to drive away, he was still hysterical when he was driving away.
-This picture was taken when he was hysterically swearing at my dad while the guards are telling him to stop and drive away. –
Name of Taxi driver: ROLANDO CAMARA
Plate number: AAO 7317 (NCR)
Place: From CAMBRIDGE CONDOMINIUM to ROBINSON GALLERIA
Date of Incident: 28 December 2015
Feel free to SHARE. Stay safe everyone! And to all Taxi drivers, if you cant accept the traffic and cant control you're temper about it, stay at home!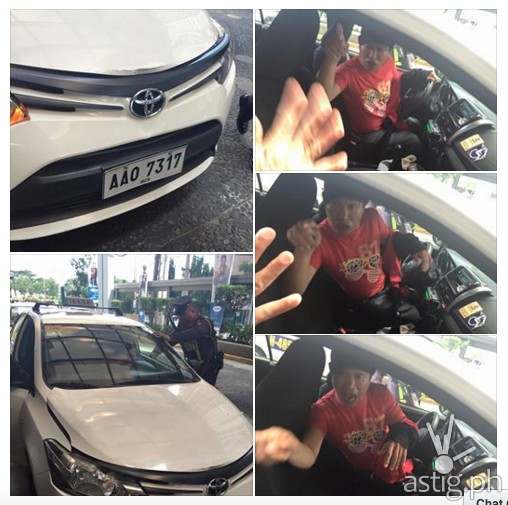 What do you think of the taxi driver's bad attitude? Why many drivers act like this?