PHILIPPINES – Metro Manila is on heightened alert as Typhoon Mario (tropical storm Fung-Wong) continues moving towards Northern Luzon.
PAGASA earlier issued an advisory expecting heavy rainfall all over Metro Manila and parts of Northern Luzon.
Tropical Storm Mario is centered 64 kilometers North Northeast of Tuguegarao City as of 10AM today, with maximum sustained winds reaching 85 kph and gustiness of up to 100 kph.
Classes in Metro Manila and government offices have been suspended. The Philippine Stock Exchange (PSE) has also suspended all trading activities.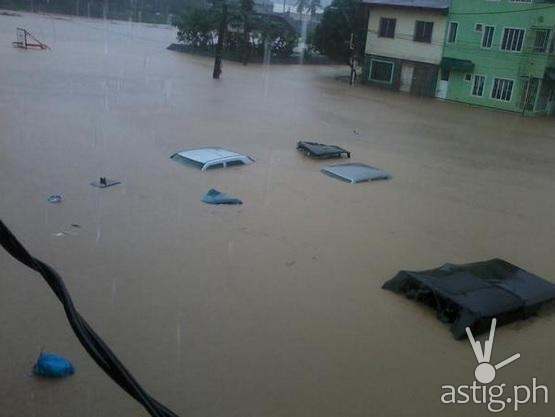 The Manila International Airport Authority (MIAA) has diverted six international and cancelled four domestic flights to NAIA.
Diverted International flights:
MU211 Pudong China – Manila (diverted to Clark)
TR2728 Singapore – Manila (diverted to Clark)
3K763 Singapore – Manila (diverted to Clark)
5J258 Bangkok – Manila (diverted to Clark)
5J679 Pudong China – Manila (diverted to Clark)
5J752 Singapore – Manila (diverted to Clark)
Cancelled domestic flights (Skyjet Airlines and Cebu Pacific):
5J513 (Manila – San Jose)
5J514 (San Jose – Manila
5M816 (Manila – Basco)
5M815 (Basco 0 Manila)
Heavy Rainfall Warning has been issued all over Metro Manila and parts of Luzon, with estimated rainfall amounting between 7-20 mm per hour (moderate – intense) for areas within the 350 km diameter of the Tropical Storm.
Residents in low lying areas such as Metro Manila are alerted against possible flash floods and landslides.
Continuous monitoring of dams and river basins are being performed by the government and vigilant citizens.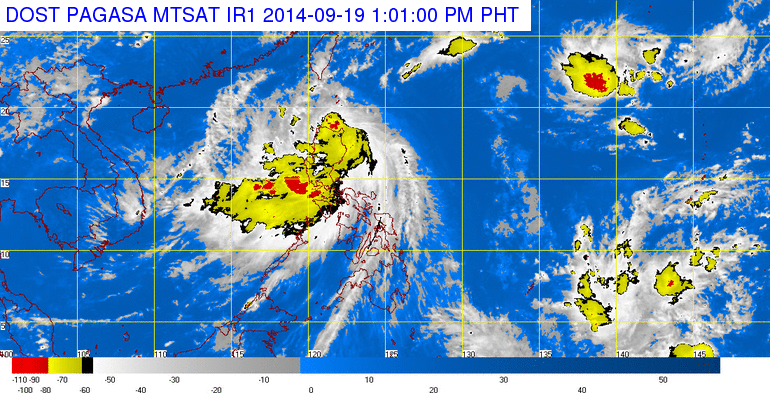 Public storm signal #2 issued over Cagayan including Calayan, Babuyan and Batanes Group of Islands, Isabela, Kalinga, Apayao, Mt Province, Abra, and Ilocos Norte.
Typhoon signal number 1 has been issued over Aurora, Quirino, Nueva Vizcaya, Ifugao, Benguet, Ilocus Sur and La Union.
Typhoon Mario is expected to be at 190 Northwest of Itbayat, Batanes by tomorrow, Saturday. PAGASA expects tropical storm Mario to be outside the Philippine Area of Responsibility (PAR) by Sunday morning.
Over social media, photos of heavy flooding brought about by TS Mario in key cities such as Marikina and Makati are being compared to the disaster about by typhoon Ondoy and Habagat.
#ABISOMARIKENYO@youscoop Libis Sto. Niño, Marikina City pic.twitter.com/nEbPFyJHkh

— PIO Marikina (@MarikinaPIO) September 19, 2014
#ABISOMARIKENYO@PIA_NCR along Riverbanks Center… ( BARANGKA ) pic.twitter.com/44rupo3JUK

— PIO Marikina (@MarikinaPIO) September 19, 2014
Wag naman sana maulit yung Ondoy Ng Dahil sa Mario na Yan !pic.twitter.com/SGLQmCJn0E

— Dith ❤ (@chichaydith_16) September 19, 2014
Feeling Ondoy na po si Mario. Tama na. pic.twitter.com/z5a3CnnYFq

— ADRIENNE (@jensayson) September 19, 2014
(Photo via ABS-CBN News)