TAGUIG, Philippines – (UPDATED) A traffic sign found along Bonifacio High Street in Bonifacio Global City (BGC) bearing the slogan "BGC is Photo Friendly" has earned the ire of netizens.
The slogan is imposed on top of an illustration of Bonifacio High Street, augmented by smaller text saying:
ALL CAMERAS ALLOWED
Permits, however, are required for:
video / photo shoots for weddings,
debuts and other commercial shoots.
For security reasons, taking photos is not
allowed in utility areas, security posts, schools,
banks, embassies and construction sites.
The sign also bears the logos of Bonifacio Global City and Bonifacio High Street.
The image, posted by Jay Jallorina on Facebook, comes with the following explanation:
IS BGC TRULY PHOTO FRIENDLY?
SYNOPSIS: Tripods + DSLRs are not allowed unless you apply for a permit first.
Was shooting (or tried shooting) in BGC yesterday. DSLR, tripod. Time was around 2pm. I Got asked for a permit 3 times by 3 different security marshals. Each time, I tried quoting the sign. But then after their persistent and rather unclear explanation of things, I agreed on one marshal's invitation to discuss the matter at the security office (on 7th street).
My question was very simple. What does this sign mean? If BGC is photo friendly, why am I being asked for a permit just because I had a tripod with me. I did not find the word "tripod" nor "no tripods allowed" in the sign.
Here are the plethora of answers and retorts I got from the security officers:
1. My camera is "sophisticated." It looks professional. Several times they mentioned it was big. Sophisticated, professional and big cameras are NOT allowed. I reread to them the clause in the sign. ALL CAMERAS ALLOWED. I don't know if they heard me but they insisted that if I was to use my camera, I better get a permit.
2. I replied: "Sabi po sa sign na eto, kung kasal, debut or pang commercial/advertisement and kukunan ko, dapat akong kumuha ng permit. Eh hindi ko naman po ginagawa ngayon yun… andito lang ako para mag practice mag photography. I'm taking pictures for myself. Their reply was "hindi namin alam ang tunay mong gustong kunan."
Huh? "Pwede nyo naman po itanong yun. Atska wala naman po akong kasamang model or debutante or ikakasal, why are you assuming I'm shooting something na kailangan permit? Again, no concrete reason given. Basta bawal tripod. Kailangan kumuha muna ng permit pag may tripod.
The assumption is, if you look professional and your gear looks professional, you must be doing commercial work. You need to get a permit.
Incidentally, there was a BF-GF couple shooting before I went to the security office. The guy had his camera on a tripod but he was using it as a sort of gimbal/stabilizer for a video he was shooting his GF. They too got approached by the marshall…because of the tripod!
3. There was this (arrogant) guy who was sitting in a table away from our discussion, he was behind his laptop, suddenly cutting in. "Parang party yan eh! Pag inimbita ka, bubuksan mo ba pati yung ref?! Private property to, hindi basta-basta pwede gawin yung gusto nyo."
Okaaay. I wanted to ask eto ba ang "friendly" in "BGC is Photo Friendly" but decided against it. I just replied, "anlayo na po nyan sa tanong ko, hindi naman po ako pumunta ng party."
Private property, maraming bawal. Then what's with this Photo Friendly sign? I interpreted it as an invitation. Passionate minds can come here in BGC and enjoy photography. Apparently, even after explaining my non-commercial intentions, I cannot practice my kind of picture-taking here.
Ok BGC, I respect it's a private property and your rules, your way. I will say this though:
– You are no different from other places (like Makati CBD). There's a very confusing distinction between what kind of shoots need permits and otherwise. If this is the case, I guess you need not put up these signs as it is false advertising. When you say friendly please mean it. Friendly is non-discriminating. Even your marshals should be trained to be non-confrontational, non-threatening and most importantly aware of the policies. One of the marshals had no idea about the sign even as I had just displayed it on my phone. Said one marshal: "Saan yan sir?"
– ALL CAMERAS ALLOWED. I think you should re-write this part. ONLY CELPHONE AND POINT-AND-SHOOT CAMERAS ALLOWED. I did notice that there were a lot of teens trying to shoot cosplay and fashion stuff, they were all using (big) DSLRs, big lenses and reflectors. Your marshals did not seem to ask permits from them. I asked one of them if they had a permit and the answer is no. So we can use a dslr but just for shooting models and the like?
– If tripods are not allowed, sure I'll respect that also. But this wasn't mentioned in the sign so I didn't know. Perhaps BGC should be specific. No tripods, No flash, No off cam flash, No lights, No portable power generators, No modifiers, etc. etc. It was better noon nung walang sign. Everyone assumed bawal mag shoot sa BGC unless you had a permit and everyone was fine with that.
– Marshals cannot assume things. Just because I'm using a DSLR and tripod doesn't automatically make me a professional photographer. Nor can they assume I'm doing professional work. A professional musician plays an instrument for a living…but he/she could also be playing the same instrument sometimes just for fun. Marshals should first ask if they suspect something. A simple "Hi sir/maam, para saan po yan?" can easily make photographers explain their side calmly.
– In the sign's graphic, you can clearly see buildings and some of the iconic things around BGC (like the suspended rock fountain). It appears to me that this is a symbol of the scenery. When scenery is photographed, a tripod is usually employed to get the sharpest results. So why use a graphic of a landscape shot and not make BGC friendly for landscape photographers? Confusing more. If the graphics were of people shooting other people and/or cosplay characters, I would have understood.
– Please be consistent. Implementation of policies seem to shift daily, weekly or monthly. Sometimes I'd see people with tripods shooting in BGC and the marshals don't seem to bother.
I hope BGC can clarify these things. To the security office's credit, the person I spoke to (I only got his first name, Romy) was courteous and tried to explain things nicely to me. I didn't agree with his interpretation of the wordsd in the sign, but he was kind and not arrogant. Unlike the other one there. He also assured me that he will correct the marshal's approach, as I had suggested.
In the meantime, back to shooting in Harbor Square.
Jay quickly added, saying "What's really confusing is that there a lot of these kids shooting cosplay and general fashion-fashion stuff in one of the parks and wala naman sumisita sa kanila. There must have been 4 or 5 groups….parang magkakabarkada lang shooting with DSLRs and reflectors." He continues by posing the question "hindi ba mas easier to assume that they might be shooting a pre-nup or debut with that setup than me just shooting the sky with my tripod?"
Netizens were quick to agree with Jay.
"Grabe napakatagal na issue na nito hindi lang jan sa BGC kundi anywhere na may buildings jan sa Pinas. Di ko parin magets kung anung kinakatakot ng establishments/places jan at ayaw nilang makunan ng litrato. Bakit naman dito sa Singapore and sa Hong Kong okay lang? Di ba nila naisip na mas mapopromote ang magagandang places satin through photos?" shares Lemjay Lucas.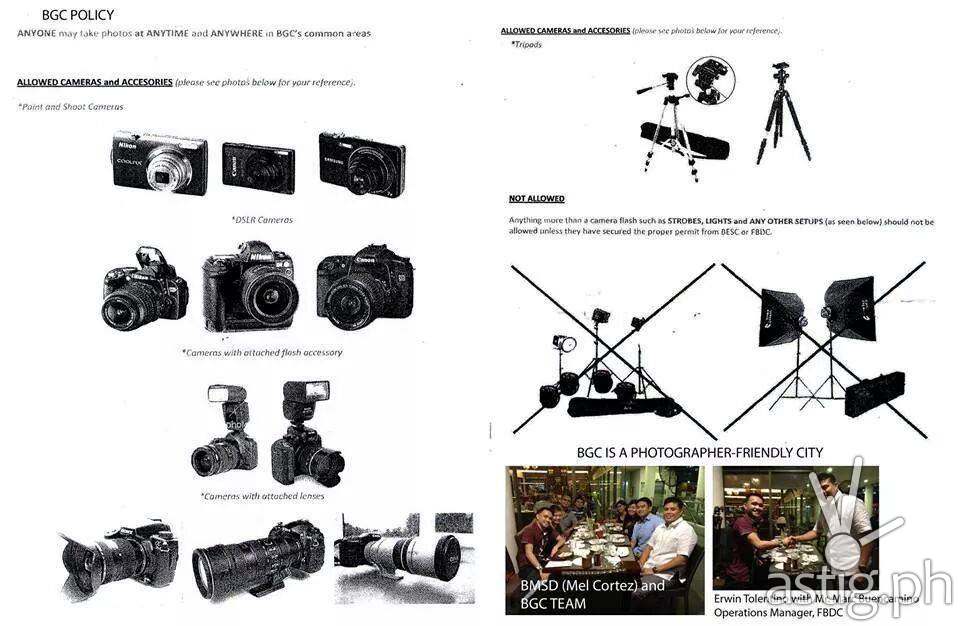 Erwin Tolentino Y-Dulay, however, confirmed the said policy. He posted a photo while saying "Sir Jay kami po yan ni Sir Mel with the BGC Mngt. Last year. We talked about that problem and they gave me that BGC Policy.. But I think the guards are not fully aware of that and they are not well-oriented. If we still encounter that. I think we should talk again to the management? I still have their numbers…"
Many netizens, however, still refuse to trust BGC's said "policy". Hochi Abaya pointed out that dashboard and helmet cams like GoPro are also not allowed.
"It's why many of us have more pictures of cities abroad like HK or Singapore than of our own cities," quips Lauren Malcampo.
ZLord Brian compared this to the "bike friendly" policy, calling them a-holes. "Same case with them being bike friendly…. but you can't park your bike anywhere in their parks… such a-holes, " posted ZLord.
The photo was re-posted on the tsikot.com forums.
User enterbay disagreed with the sign. Sharing his experience, he said: "Not at all! my family went there on saturday at nasita ako ng guard for taking a photo of that "BGC is photo friendly" notice with my DSLR! (D4, 24-70, SB910 mounted setup). Hindi na ako nakipag argue at itinago nalang ang camera ko at nilabas nalang nung nag dinner kami sa restaurant."
"One time though I was able to take some shots with my tripod and SLR in BGC. Nilapitan ako ng guard at nagtanong tanong. Sabi ko personal use pero makulit pa rin. Dinadrag ko lang conversation while continuing my shots and then nung natapos ako umalis nalang rin ako," shares jut703.
Members of ASTIG.PH Team were stopped by authorities when we tried taking photos with a DSLR earlier this month. We were told that if we wanted to take photos for any reason, we had to secure a permit from the administrators.
Update (25-Nov-2014): Landscape photographer Nicco Valenzuela posted a status update on Facebook after a meeting with members of the Fort Bonifacio Development Corporation (FBDC) to discuss concerns surrounding the "BGC is Photo-friendly" signage.
According to Valenzuela, photography is indeed allowed within BGC, and the FBDC is apologized for not communicating the revamped policy with security personnel.
In addition, FBDC clarified that all types of cameras including professional DSLRs with flash units and tripods are allowed. Lightstands, umbrellas, and softboxes, however, are not. As mentioned earlier, shoots for commercial purposes, weddings, and debuts are also not allowed.
The FBDC added that photography is not allowed in banks, schools, embassies, and utility areas.
Full text excerpt follows.
Had a very fruitful meeting this afternoon with Mr. Marc Buencamino, Mr. Manny Blas of Fort Bonifacio Development Corporation (FDBC), the governing body over Bonifacio Global City (BGC) and of course Jay Jallorina about the issue regarding the sign that says "BGC is Photo-friendly" and the incident yesterday with the BGC marshals.
Here are the points discussed:
1. FBDC is very much apologetic for the incident. Mr. Blas said that they "blew it" by not being able to communicate the details of the policy about doing photography in BGC to their security personnel.
2. FBDC posted the "Photo-friendly" sign with the intention of telling photographers that photography is indeed allowed (and even embraced) in BGC with very few exceptions.
BRIEF SUMMARY OF THE POLICY:
– ALL CAMERAS ARE ALLOWED (even the professional/sophisticated looking ones)
– ON CAMERA FLASH UNITS are allowed
– TRIPODS are allowed
THINGS THAT REQUIRE A PERMIT:
– Use of lightstands/umbrellas/softboxes (they may be obstructive to the walkways)
– shoots for commercial purposes
– shoots for weddings/debut
– Film shoots
PLACES NOT ALLOWED:
– Banks
– Schools
– Embassies
– Utility areas
ALL KINDS OF PHOTOGRAPHY ARE ALLOWED.
SOME REQUIRE A PERMIT. SOME AREAS ARE OFF LIMITS.
3. The flaw was that the Marshals who are in charge of security in the common areas in BGC (Streets, parks, etc) were not properly oriented regarding the "Photo-friendly" policy. The Bonifacio High Street guards were. FBDC has promised to ensure more effective dissemination of the policy to their security personnel.
4. FBDC apologizes for the rude behavior of some of their marshals and promise that they be told to give more respect when talking to anyone.
QUICK GUIDE WHEN SHOOTING:
1. Follow policy. Secure permits if indicated.
2. Do not obstruct the walkways
3. You may still be approached about the nature of your shoot but once the security personnel have been oriented, proper communication with them will suffice.
4. Converse with the guards with respect in the same way you would like to be respected.
5. Have fun!
Kudos to BGC and FBDC for seeking to resolve the issue very quickly!
(images by Jay Jallorina, Erwin Tolentino Y-Dulay, and Nicco Valenzuela)