The supposed to be fun night became a mishap dubbed as  Closeup Forever Summer tragedy
Four concert goers have died and one is in critical condition after drinking what is believed to be spiked drinks at an event last night in Pasay City.
A report from National Capital Region Police Office (NCRPO) spokesperson Chief Insp. Kimberly Molitas said Ariel Leal, Lance Garcia and Ken Migawa and an American were found unconscious while the concert was going on.
The three persons, according to initial investigation, were unrelated and under the influence of alcohol when they were rushed to the San Juan de Dios Hospital for treatment.
Molitas said that the casualties were from different parts of the venue.
Closeup, the organizer of the concert meanwhile released a statement regarding the issue.
FULL STATEMENT BELOW:
Closeup and its organizing agency, Activations Advertising, and staging agency, Eventscape, are deeply saddened by the events that transpired on the early hours of May 22, 2016.
We regret that despite the very stringent measures and precautions we have put in place to ensure the safety and security of all attendees involved, this incident still transpired. As such, strict protocols were followed to immediately provide medical assistance, as well as rush all those involved to the nearest hospital where they can receive emergency care.
We extend our deepest sympathies to the families of those who've passed away, and commit support in their time of bereavement. Likewise, our efforts are now focused on supporting those needing medical assistance so they may fully recover.
We are fully cooperating with the authorities in the ongoing police investigations.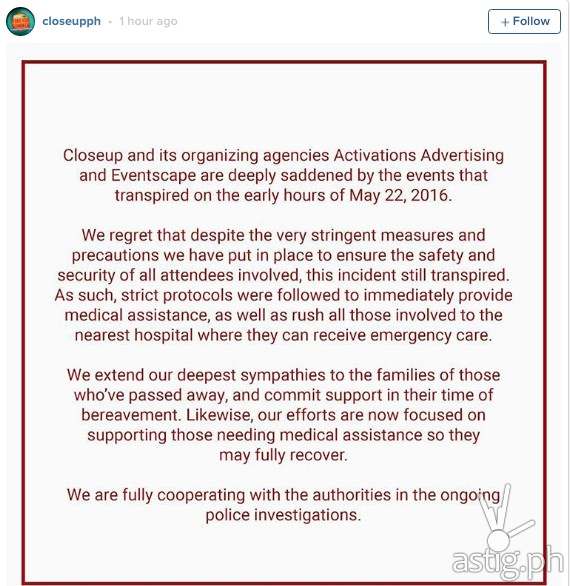 There are allegations on social media that the drinks were laced with Green Amore, a lethal mix of ecstacy and shabu also known as "fly high."