MANILA, Philippines – The Apple iPhone 6 and iPhone 6 Plus is now available on Globe Telecom. Starting with plan 299, postpaid subscribers can avail of this much awaited next-generation smartphone.
The Globe microsites can be viewed here for the iPhone 6 and here for the iPhone 6 Plus. At the moment, prepaid and postpaid Globe users can only pre-order. The devices will not be available until November.
Globe earlier launched an online registration which allowed customers to pre-register for the iPhone 6 and iPhone 6 Plus.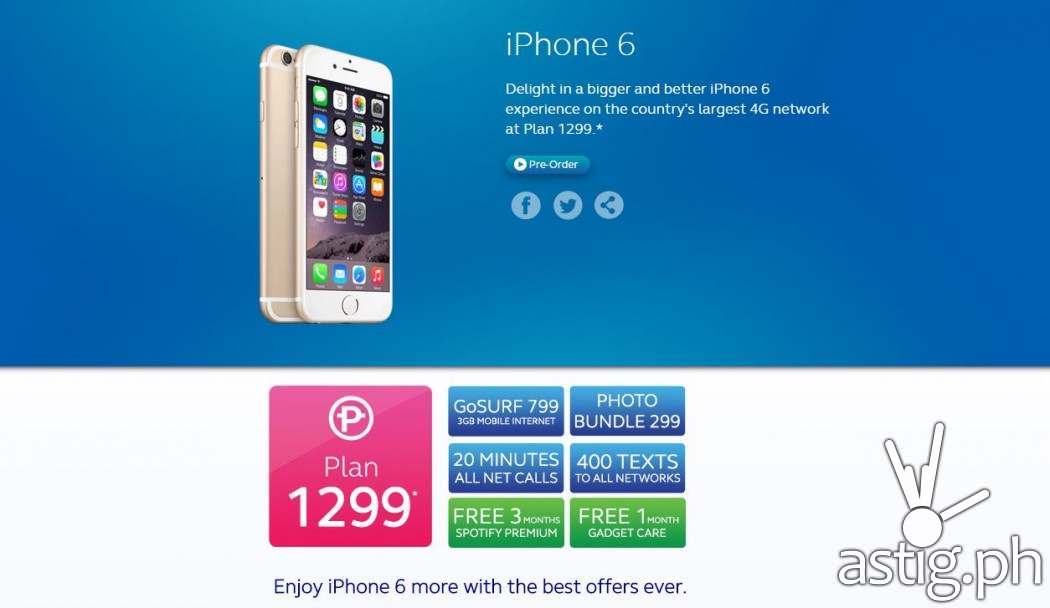 At plan 1299, subscribers can avail of the iPhone 6 with 800 PHP monthly cashout for 24 months. The iPhone 6 is available at the same plan with a 24-month cashout of 1,000 PHP.
The 16GB iPhone 6 comes free at plan 2499 with a 24-month lockdown period, while the iPhone 6 Plus is free at plan 3799.
The iPhone 6 and iPhone 6 plus is also available to prepaid subscribers starting at 37,500 PHP for the 16GB iPhone 6.
iPhone 6: Available at Plan 1299 with P800 monthly cashout for 24 months
Plan inclusions:
GoSURF 799 for 3GB of mobile internet monthly
Photo Bundle for access to Instagram, Photo Repost, Photo Grid, and Instasize
20 minutes of calls to all networks
400 texts to all networks
Free 3 months of Spotify Premium
Free 1 month of Gadget Care
 iPhone 6 Plus: Available at Plan 1299 with P1,000 monthly cashout for 24 months
Plan inclusions:
GoSURF 799 for 3GB of mobile internet monthly
Photo Bundle for access to Instagram, Photo Repost, Photo Grid, and Instasize
20 minutes of calls to all networks
400 texts to all networks
Free 3 months of Spotify Premium
Free 1 month of Gadget Care
Globe iPhone 6 Globe postpaid plan matrix
iPhone 6 16GB
All Unli Plan
Plan 299
Plan 499
Plan 999
Plan 1299
Plan 1799
Plan 2499
Plan 3799
6 Months
32,030
32,120
31,310
30,820
30,260
27,360
28,030
24,910
12 Months
31,380
31,570
29,940
28,960
27,850
22,040
23,380
17,150
18 Months
30,730
31,010
28,580
27,110
25,430
16,720
18,740
9,380
24 Months
29,016
29,280
26,160
24,000
19,200
10,800
FREE
FREE
30 Months
28,099
28,429
24,529
20,400
16,800
4,800
FREE
FREE

*Plan 1299 + P800 cash-out per month for 24 months
iPhone 6 64GB
| | All Unli Plan | Plan 299 | Plan 499 | Plan 999 | Plan 1299 | Plan 1799 | Plan 2499 | Plan 3799 |
| --- | --- | --- | --- | --- | --- | --- | --- | --- |
| 6 Months | 37,070 | 37,160 | 36,350 | 35,860 | 35,300 | 32,400 | 33,070 | 29,950 |
| 12 Months | 36,420 | 36,600 | 34,980 | 34,000 | 32,880 | 27,080 | 28,420 | 22,180 |
| 18 Months | 35,770 | 36,050 | 33,610 | 32,140 | 30,470 | 21,760 | 23,770 | 14,420 |
| 24 Months | 33,840 | 34,200 | 30,960 | 30,000 | 24,000 | 14,400 | 4,800 | FREE |
| 30 Months | 32,870 | 33,320 | 29,270 | 28,200 | 21,000 | 9,600 | 2,400 | FREE |
iPhone 6 128GB
| | All Unli Plan | Plan 299 | Plan 499 | Plan 999 | Plan 1299 | Plan 1799 | Plan 2499 | Plan 3799 |
| --- | --- | --- | --- | --- | --- | --- | --- | --- |
| 6 Months | 42,100 | 42,200 | 41,380 | 40,890 | 40,340 | 37,430 | 38,100 | 34,990 |
| 12 Months | 41,450 | 41,640 | 40,020 | 39,040 | 37,920 | 32,110 | 33,460 | 27,220 |
| 18 Months | 40,800 | 41,080 | 38,650 | 37,180 | 35,500 | 26,790 | 28,810 | 19,450 |
| 24 Months | 38,760 | 39,120 | 36,200 | 35,280 | 28,800 | 19,200 | 16,800 | 4,000 |
| 30 Months | 37,761 | 38,211 | 36,200 | 33,300 | 26,400 | 14,400 | 12,300 | FREE |
iPhone 6 prepaid kits
iPhone 6 16GB – P37,500
iPhone 6 64GB – P43,000
iPhone 6 128GB – P48,500
iPhone 6 Plus Globe postpaid plan matrix
iPhone 6 Plus 16GB
All Unli Plan
Plan 299
Plan 499
Plan 999
Plan 1299
Plan 1799
Plan 2499
Plan 3799
6 Months
37,070
37,160
36,350
35,860
35,300
32,400
33,070
29,950
12 Months
36,420
36,600
34,980
34,000
32,880
27,080
28,420
22,180
18 Months
35,770
36,050
33,610
32,140
30,470
21,760
23,770
14,420
24 Months
33,840
34,200
30,960
30,000
24,000
14,400
4,800
FREE
30 Months
32,870
33,320
29,270
28,200
21,000
9,600
2,400
FREE

*Plan 1299 + P1,000 cash-out per month for 24 months
iPhone 6 Plus 64GB
| | All Unli Plan | Plan 299 | Plan 499 | Plan 999 | Plan 1299 | Plan 1799 | Plan 2499 | Plan 3799 |
| --- | --- | --- | --- | --- | --- | --- | --- | --- |
| 6 Months | 42,100 | 42,200 | 41,380 | 40,890 | 40,340 | 37,430 | 38,100 | 34,990 |
| 12 Months | 41,450 | 41,640 | 40,020 | 39,040 | 37,920 | 32,110 | 33,460 | 27,220 |
| 18 Months | 40,800 | 41,080 | 38,650 | 37,180 | 35,500 | 26,790 | 28,810 | 19,450 |
| 24 Months | 38,760 | 39,120 | 36,200 | 35,280 | 28,800 | 19,200 | 16,800 | 4,000 |
| 30 Months | 37,761 | 38,211 | 36,200 | 33,300 | 26,400 | 14,400 | 12,300 | FREE |
iPhone 6 Plus 128GB
| | All Unli Plan | Plan 299 | Plan 499 | Plan 999 | Plan 1299 | Plan 1799 | Plan 2499 | Plan 3799 |
| --- | --- | --- | --- | --- | --- | --- | --- | --- |
| 6 Months | 47,140 | 47,230 | 46,420 | 45,930 | 45,370 | 42,470 | 43,140 | 40,020 |
| 12 Months | 46,490 | 46,680 | 45,050 | 44,070 | 42,960 | 37,150 | 38,490 | 32,260 |
| 18 Months | 45,840 | 46,120 | 43,690 | 42,210 | 40,540 | 31,830 | 33,840 | 24,490 |
| 24 Months | 43,257 | 43,617 | 41,500 | 39,600 | 33,600 | 24,000 | 21,600 | 8,497 |
| 30 Months | 42,122 | 42,572 | 41,500 | 37,800 | 31,200 | 19,200 | 17,100 | FREE |
Globe iPhone 6 Plus prepaid kits
iPhone 6 Plus 16GB – P43,000
iPhone 6 Plus 64GB – P48,500
iPhone 6 Plus 128GB – P54,000