Balance, detail and variety. These are the things paramount to good Thai cuisine. If you are looking for a Thai restaurant that has it all, Just Thai is the perfect place to visit.
Situated in the heart of Bonifacio Global City, Just Thai opened its doors in 2012 to people who love to eat food from the land of Siam.
Upon entering the place, there's an Asian culture that makes you feel you are home. The interior design is inclined to the rich culture of Thailand, specifically the practice of Buddhism and building temples. However, there's a touch of modernity and contemporary art that can be seen there.
Thai food is usually spicy that is why some people avoid to have it but in Just Thai, the customers have the discretion what level of spiciness they want to without losing the taste and aroma.
Food was served in very palatable plating that made my mouth water.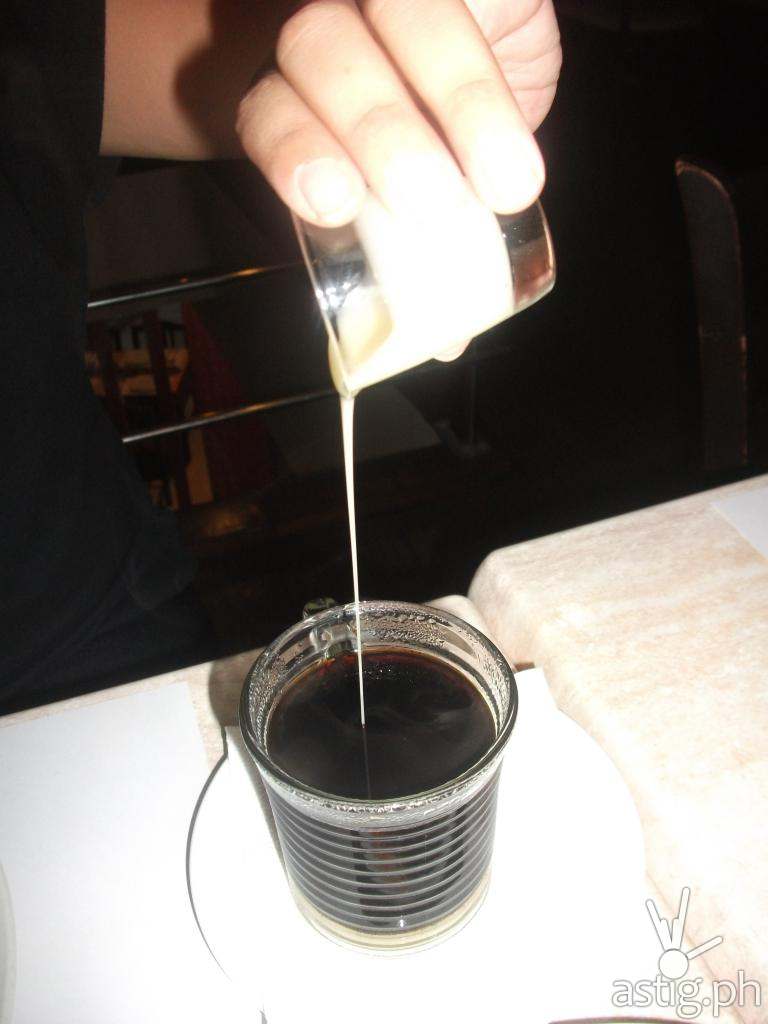 Hot Thai Brew Coffee. Although I do not drink coffee, I recommend this for coffee lovers! The coffee is brewed that is why it is different compared to other artificially prepared coffees. The condensed milk will improve the taste more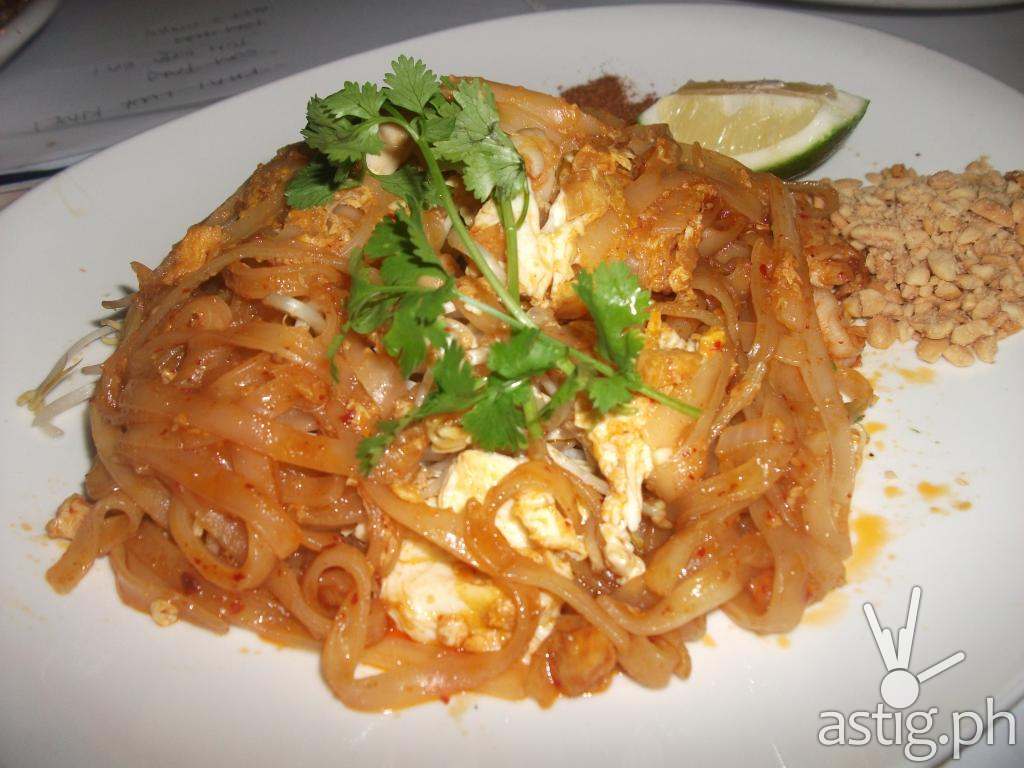 Pad Thai.  Just like palabok here in the Philippines. The rice noodles is stir fried with eggs, tamarind juice, chopped chilies , crushed peanuts, lime , and topped with fresh coriander leaves.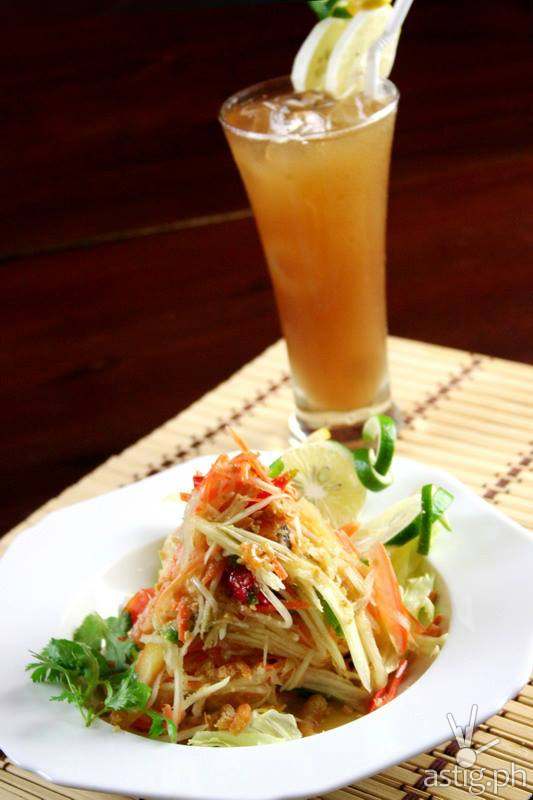 Som Tam is green papaya salad which is similar in texture with our own atchara. It is freshly made  from sliced green unripe mango. The texture is crunchy made up of crushed peanuts, dried shrimps, tomatoes, thinly sliced carrots, lettuce leaves, with young long beans. This is the perfect appetizer.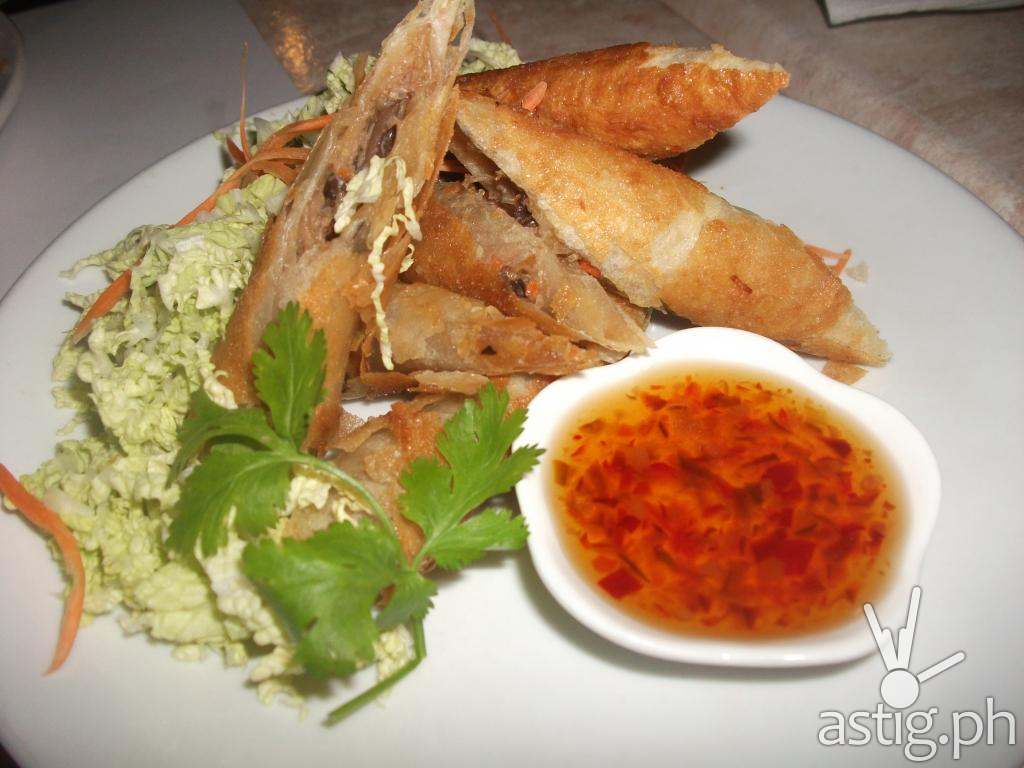 Poh Piah Tod or Thai spring rolls. Fried with vegetables, pork and mushroom and other ingredients. The spring roll is crispy, it is best to eat with fresh vegetables dip in a chili sauce! Perfect for vegetarians.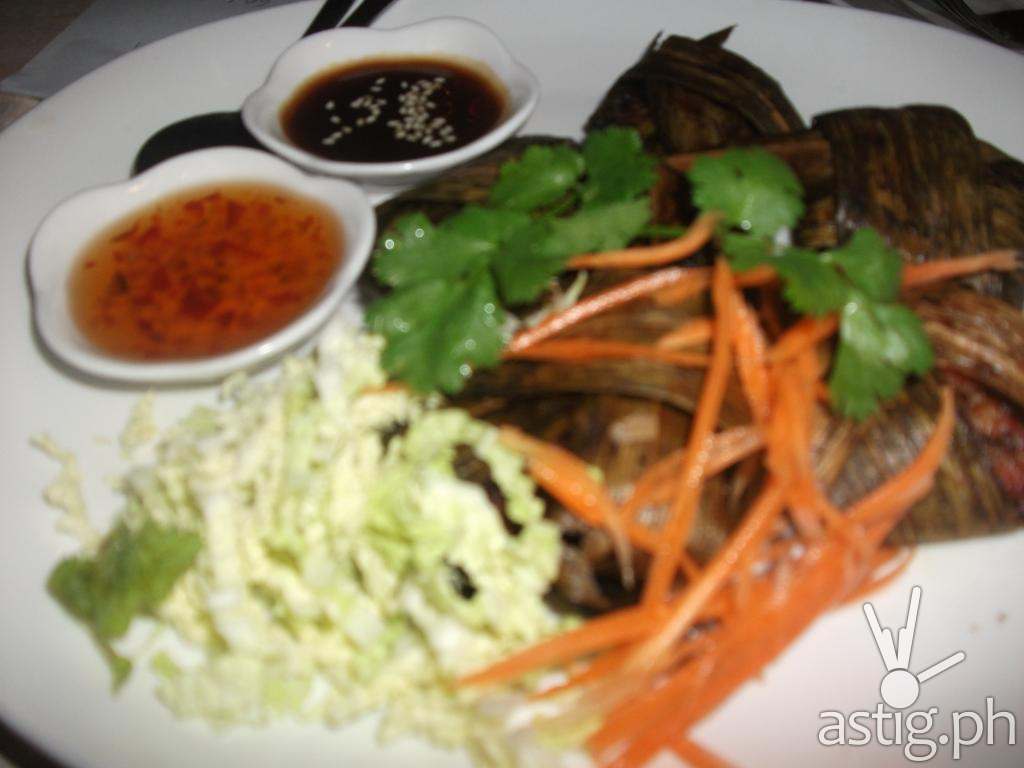 Gai Ob Bai Toey is fried chicken wrapped in pandan Leaves. The chicken is cooked with special Thai sauce covered with pandan leaves. The aroma of the pandan leaves wrapped the chicken and its taste very flavorful. This dish is decorated with chopped fresh cabbage and dips such as the sweet dark soy-sesame sauce and sweet chili sauce.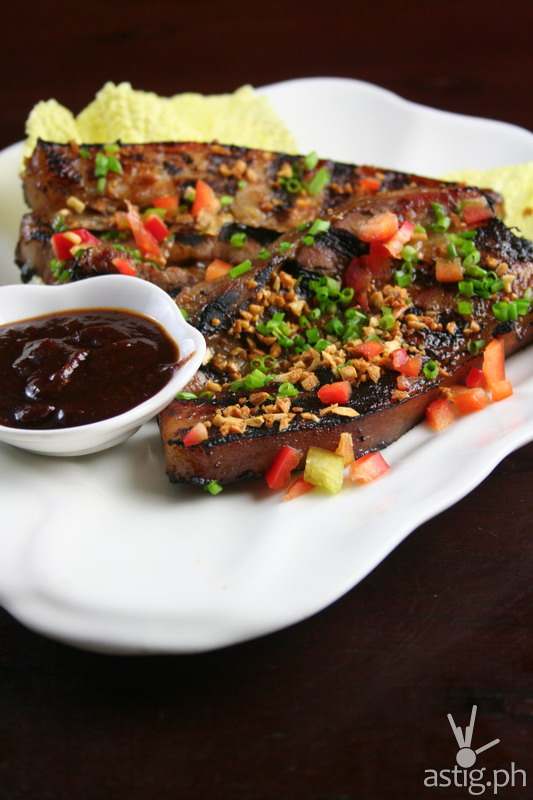 Moo Sam Cham Yary is grilled pork with tamarind Sauce. The pork is grilled to perfection. It is marinated with special sauce. The meat is tender and so playable.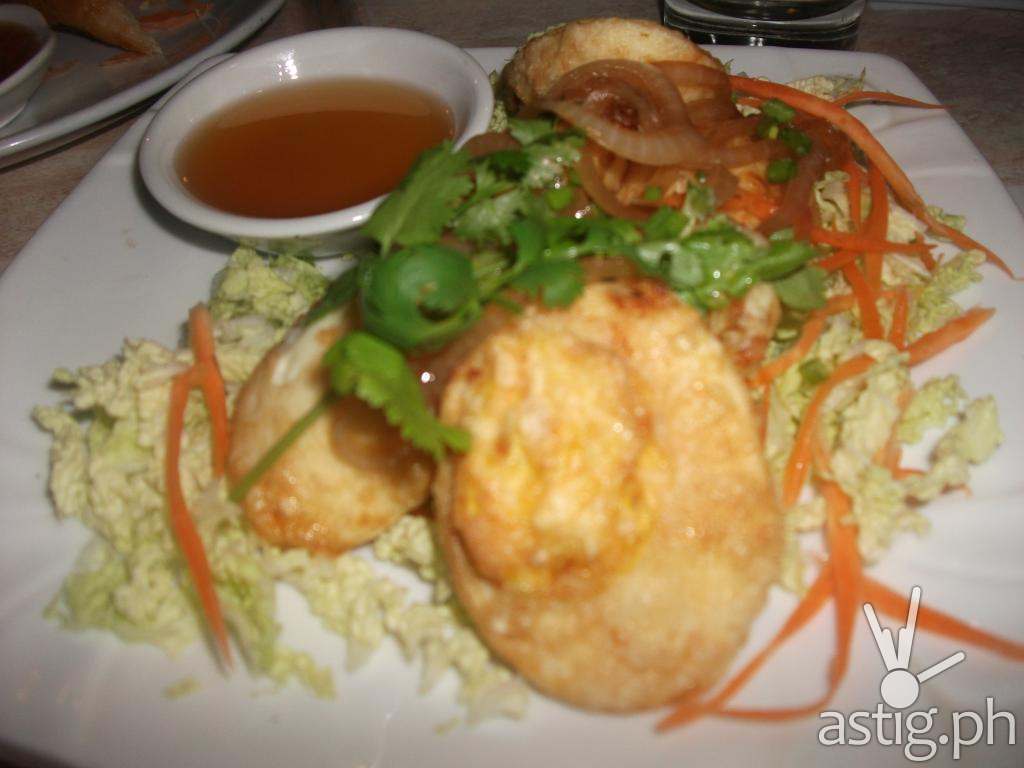 Kahi Luuk Khoei or crispy hard boiled egg. The egg was hard boiled then fried to crispy perfection.  You will love to eat this with chopped fresh vegetables, caramelized chopped onions, coriander leaves and a sweet fish sauce.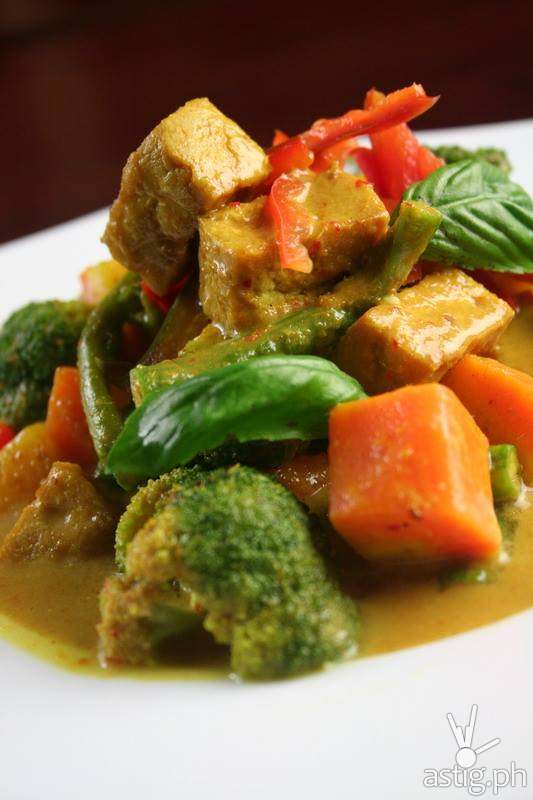 Gaeng Lenang or vegetable tofu in yellow curry.  Tofu eaters must try this food, It had bits of  diced carrots, eggplant, broccoli. This is a healthy all-vegetable dish.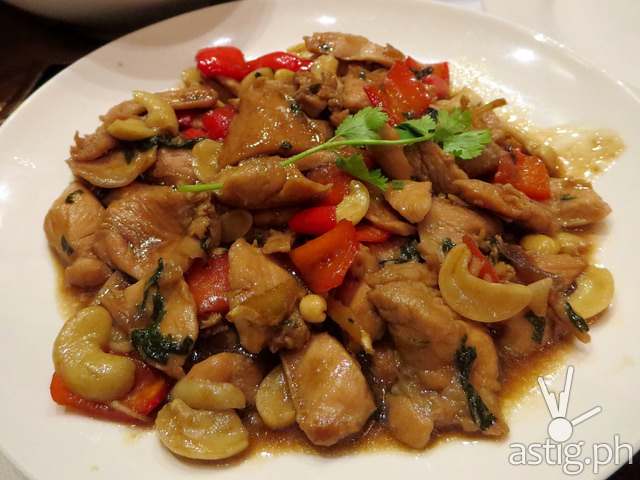 Gai Pad Met Ma Maling or chicken with cashew. One of my favorites because it taste like dishes here in our country. Cashew and Chicken are well cooked to serve the hungry costumers. Highly recommended!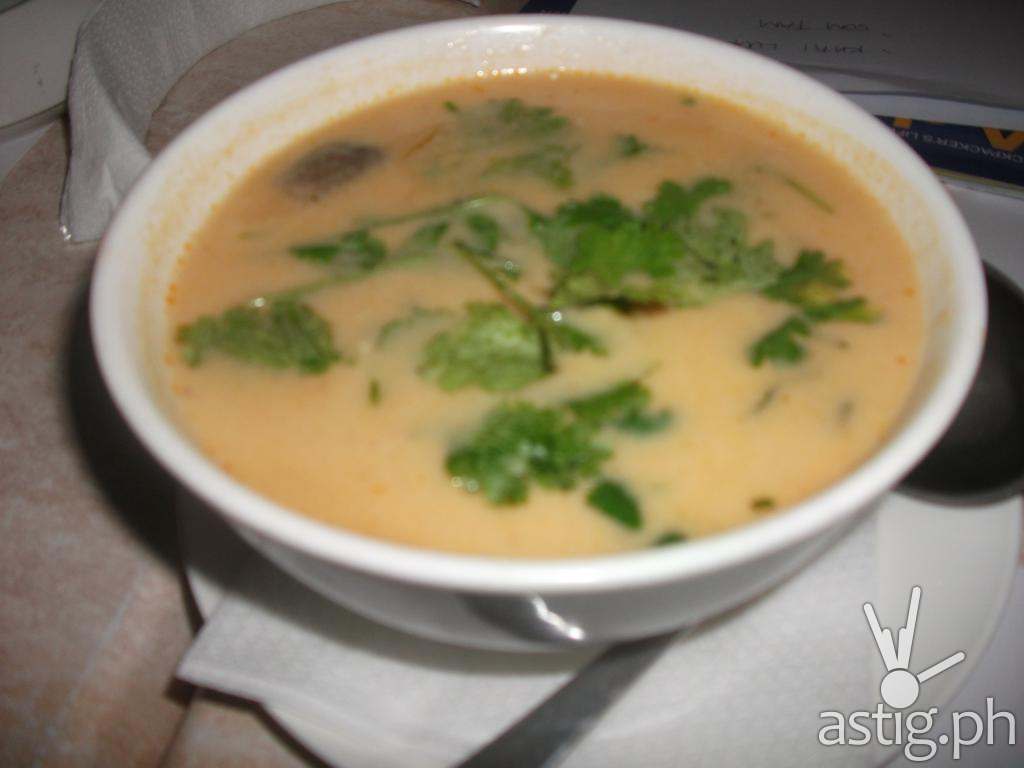 Tom  Kha Gai or chicken soup in coconut broth with galangal. It is a chicken soup with coconut milk and yellow ginger that has a strong taste. Your hunger in broth will be sufficed by this food.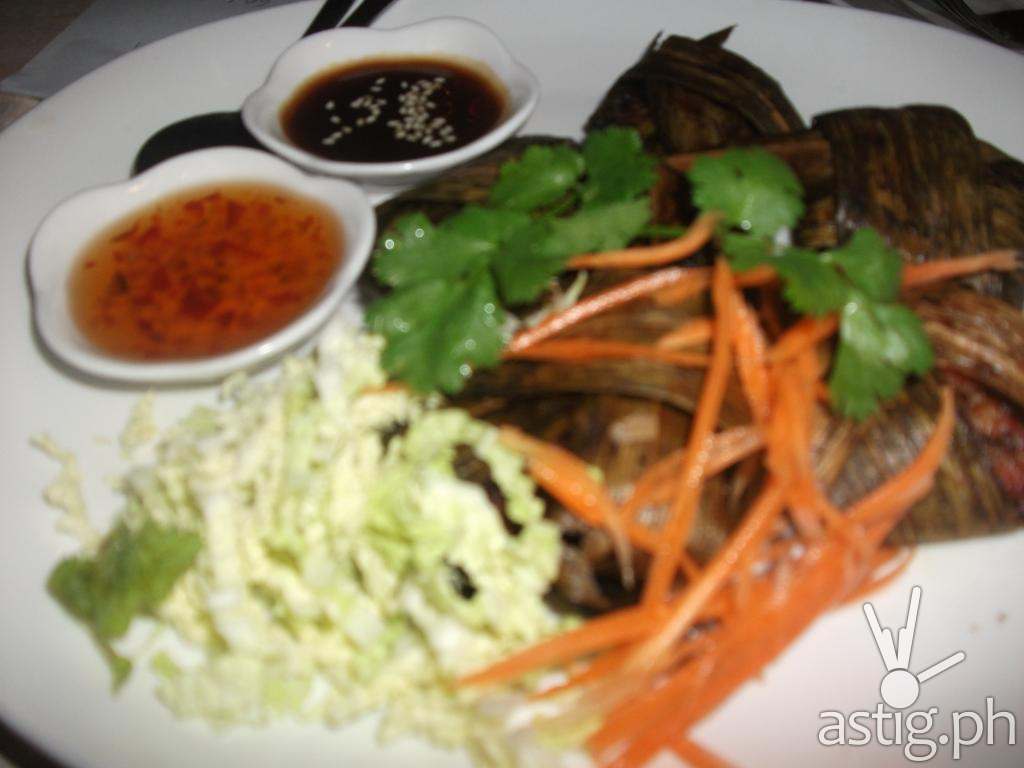 Crispy Catfish with Sliced Green Mangoes. The fish is already deboned which makes it very easy to consume. It goes perfect with thinly chopped mangoes, fresh chilies, chopped onions and a spicy dip.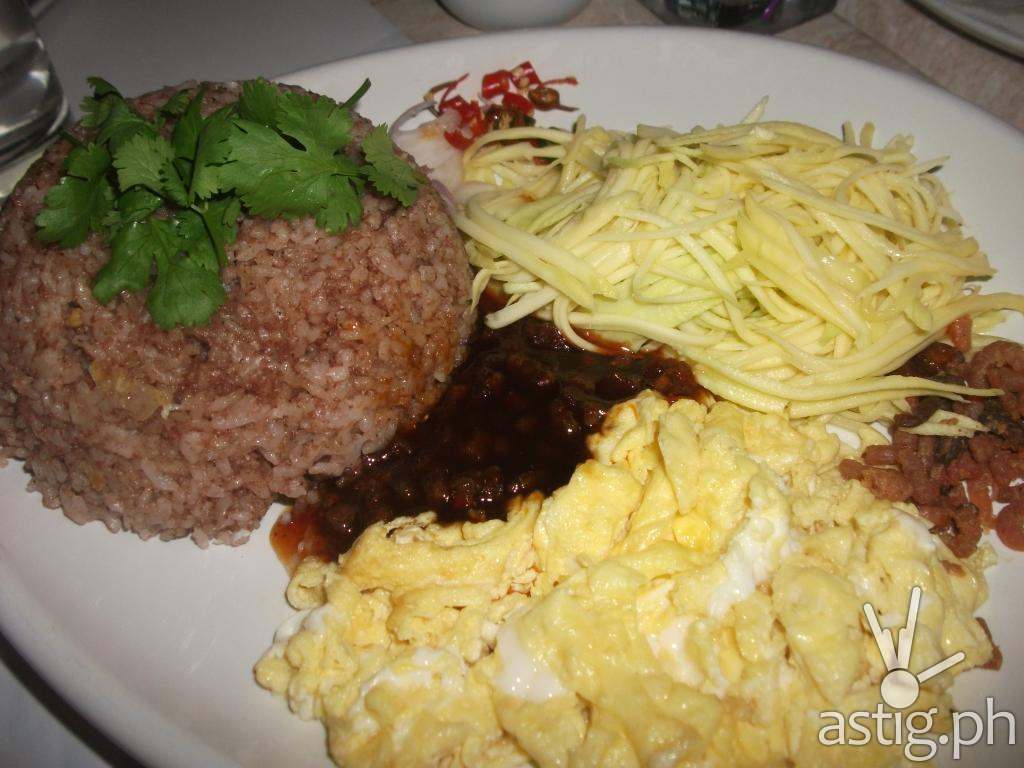 Kaho Krok Kopi or Thai bagoong (shrimp paste) rice. Rice is very important among Thais because they considered it as a staple food same as Filipinos. Thai bagoong rice with sliced green guapple mangoes (manibalang), scrambled eggs, sweet pork topped with chopped fresh chillies,  chopped  coriander leaves as toppings. Perfect for those who wants a heavy lunch or a dinner either.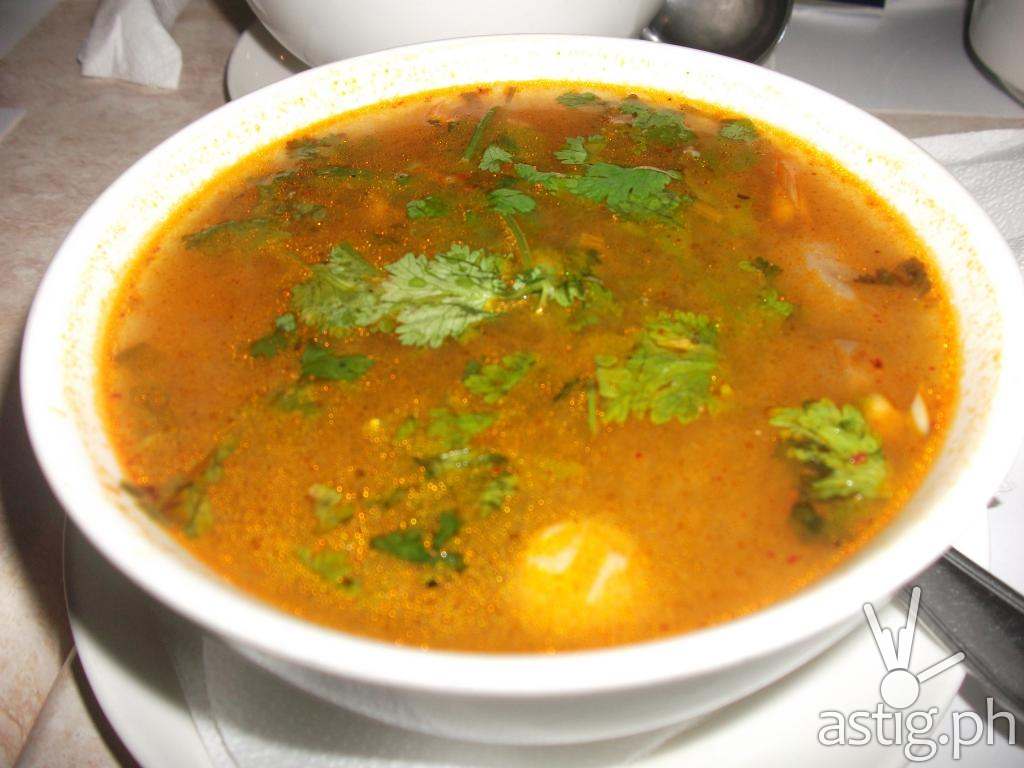 Tom Yum or Tom Yam  is a Lao and Thai hot and sour soup. Tom yum has distinct hot and sour flavors, with fragrant herbs used in the broth. The broth is made of stock and fresh ingredients such as lemon grass (tanglad), Kaffir lime leaves – is locally called kabuyao or cabuyao, galangal (luyang dilaw), coconut milk (gata ng niyog) lime juice, fish sauce, crushed chili, fragrant herbs, pepper, tiger prawn, topped with chopped coriander leaves. Some would consider Tom Yum as Thailand's national soup.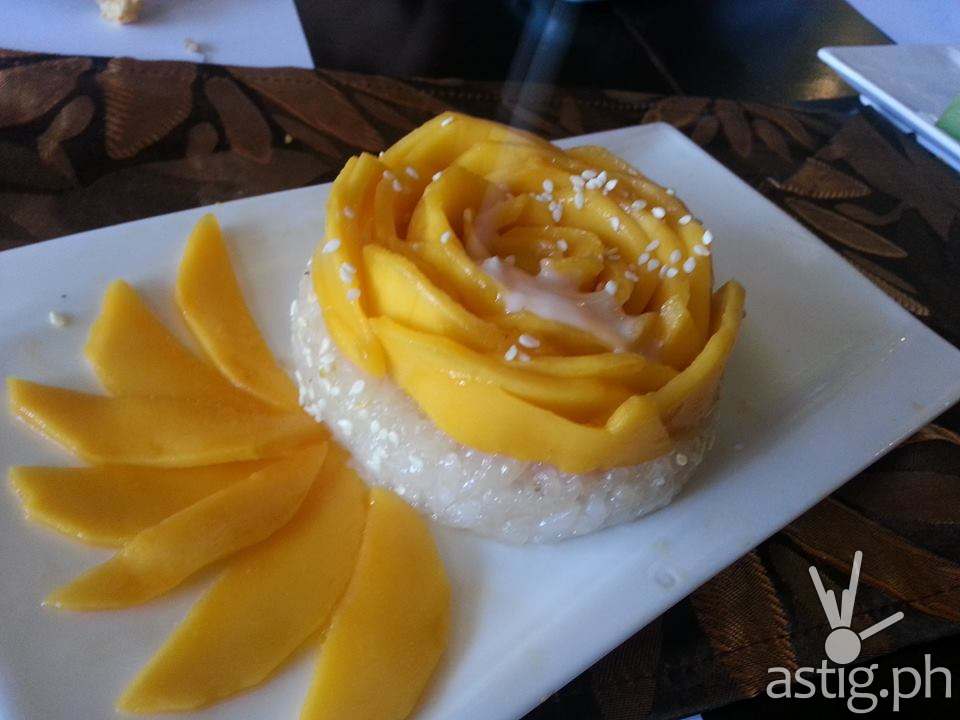 Mango Sticky Rice. The sticky rice under the lotus flower-designed chopped ripe mango is just like our own version of biko. It is perfect with coconut milk as dip.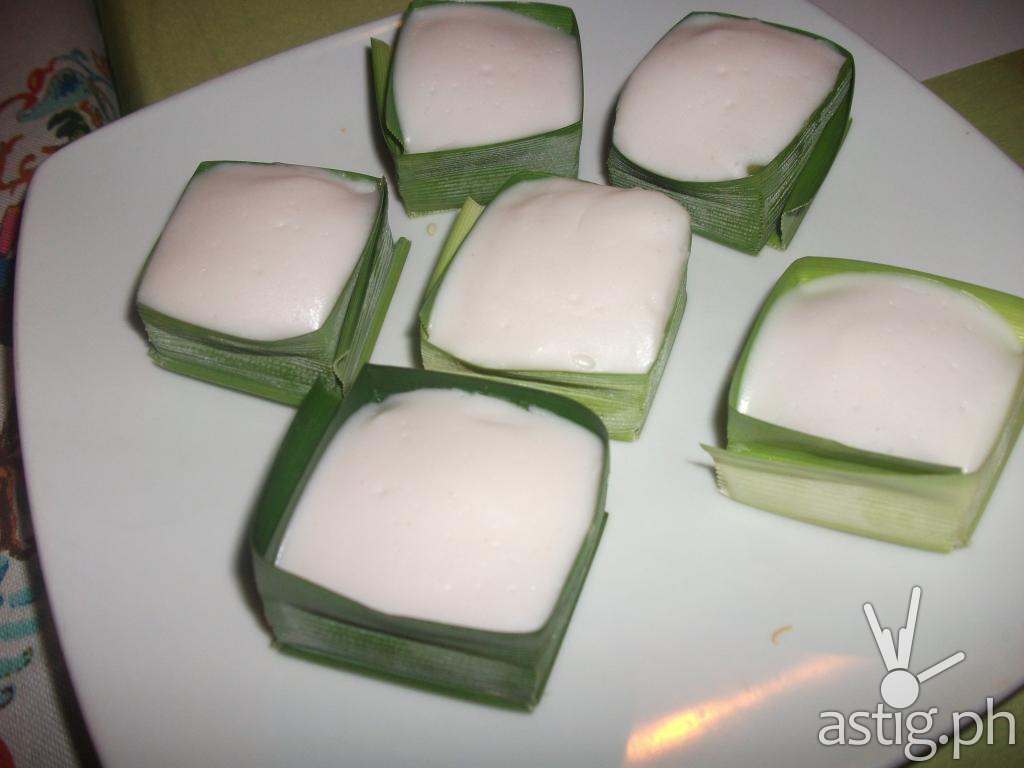 Tha Khoa or Coconut Pudding wrapped in Pandan Leaves. You will fall in love with this pudding-like desert because of its sweetness and texture. It's so soft that you will love to bite each piece of it.
Visit Just Thai Restaurants on its branches in Alabang, Manila Bay (near MOA), and Bonifacio Global City to experience one of a kind immersion to Thai culture.
[stextbox id="astig" caption="Just Thai Philippines"]Branches:
Forbestown (Burgos Circle) Fort Bonifacio +63.2 403.8718
Prism Plaza, TwoE-Com Center, Manila Bay (near MOA) +63.2 519.8135
Molito Lifestyle Center, Alabang +63.2 808.4058
Facebook: Just Thai official Facebook page[/stextbox]
Photos credits: Rence Chan