Following last year's success, The New Vios Association of the Philippines (NVAP) will be staging Kailangan Kita Part II: A Thanksgiving Concert for Cancer Survivors on February 6, 2016 at 6:00pm at the Samsung Hall, SM AURA, BGC Taguig.
The star-studded benefit concert will feature Rico J Puno, Nina, Bradley Holmes, Lloyd Zaragoza, Richard Merk, Melissa De Leon, and Willy Cordovalez plus more surprise guests.
Every year on February 4th, the World Cancer Day (WCD) is observed to raise awareness on cancer and to promote its prevention, detection, treatment, care and rehabilitation.
The WCD is the one singular initiative under which the entire world unite together in the fight against the global cancer epidemic.
Significantly, the number of cancer cases and related deaths worldwide is estimated to double over the next 20 to 40 years if no action is taken now.
Taking place under the tagline 'We can. I can.', World Cancer Day 2016 will explore how everyone – as a collective or as individuals – can do their part to reduce the global burden of cancer.
Just as cancer affects everyone in different ways, all people have the power to take various actions to reduce the impact that cancer has on individuals, families and communities.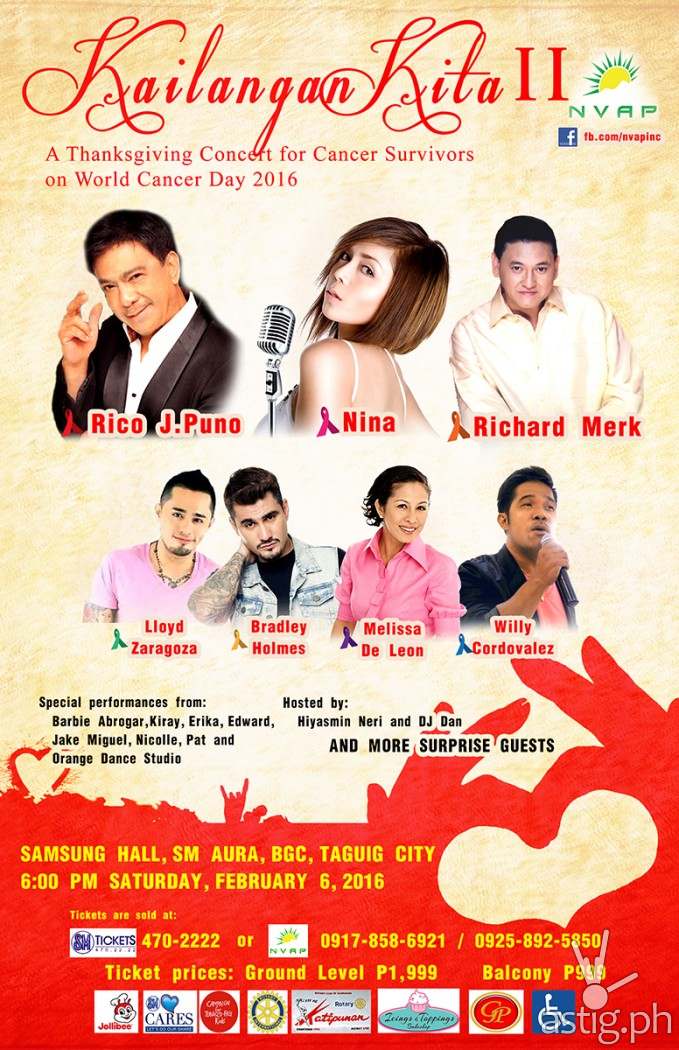 What: Kailangan Kita Part II: A Thanksgiving Concert for Cancer Survivors
When: 6:00 PM Saturday February 6, 2016
Where: Samsung Hall, SM Aura, BGC TaguigThis is a free seating concert so early birds gets the nearer seats. For tickets visit SM Tickets and MetroDeal or contact NVAP at 0917.4925.765