MANILA, Philippines – KFC USA and KFC Philippines sent ASTIG.PH this official statement on the "fried rat" photo originally posted by Devorise Dixon on Facebook:
A customer has made a serious claim against KFC in the US and refuses to cooperate in the investigation. The images the customer originally posted do not include this second angle because it clearly shows it's a piece of hand-breaded white meat chicken. Based on this, and the fact that he refuses to allow anyone to see the product, KFC US is left to believe that he intended to deceive the public with this hoax and are considering all options.
The photos were originally uploaded on Facebook by Devorise Dixon, a 26 year-old resident of Southern California, USA at 9:29 PM on June 12, 2015: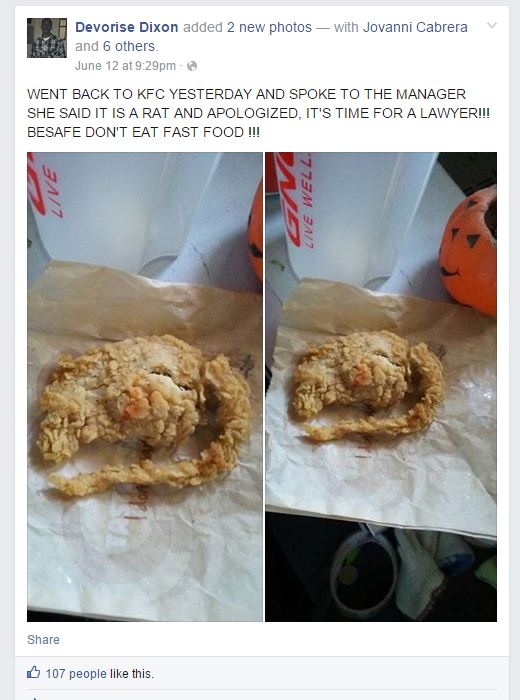 The post bore the following caption:
WENT BACK TO KFC YESTERDAY AND SPOKE TO THE MANAGER SHE SAID IT IS A RAT AND APOLOGIZED, IT'S TIME FOR A LAWYER!!! BESAFE DON'T EAT FAST FOOD !!!
Netizens around the world have called out Devorise's bluff, including a person using the alias 'smilingturtle' who posted a diagram explaining the hoax on image sharing site imgur:

In the meanwhile, enjoy unlimited waffles with the new KFC Breakfast Buffet from June 13 to July 15 from 7:30-10AM at participating KFC outlets in the Philippines!