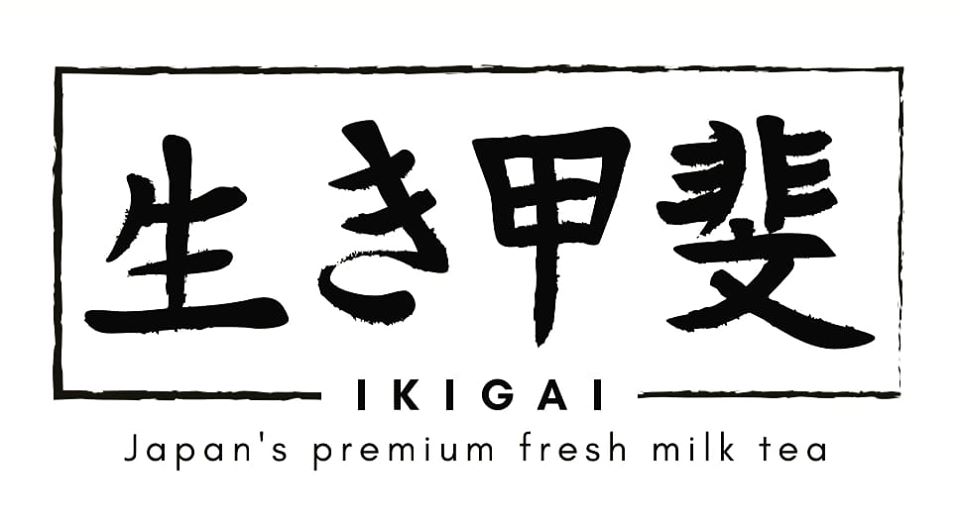 The milk tea lifestyle has grown leaps and bounds only in the past few years! And that's only in the Philippine setting alone. Local and foreign franchised brands are showing up left and right. This only shows that people have greatly accepted that aside from soda's and cups of coffee's the spunk of drinking milk tea's has become a preppy and good vibes way of life. Regardless of age, gender and drinking preferences.
On that note, have you heard of the week long new player in milk tea town? Let's give a bouncy welcome to IKIGAI Milk Tea!!!  Clap, clap, clap sound effects please!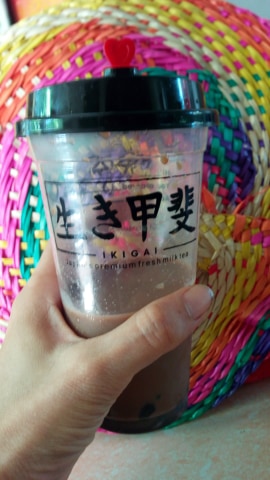 Ikigai is a Japanese word whose meaning encompasses joy, a sense of purpose and meaning and a feeling of well-being in life.
In business, ii is the incorporation of those elements to an employee's position is thought to yield the highest level of productivity from that individual while also fostering job satisfaction and loyalty to the organization.
Based in Makati, yours truly recently received five exciting flavors from the owner herself, Ms. Jo Marie Tagle who has been in the food business for a good number of years. I am glad the milk tea's  were delivered in this lose quarantine GCQ (general community quarantine) period due to CoVid19 pandemic.
"I don't take the pandemic as show stopper. I take it as an opportunity for home service delivery." shares Ms Jo Marie who has been getting several inquiries on her franchise offers from interested parties this early on.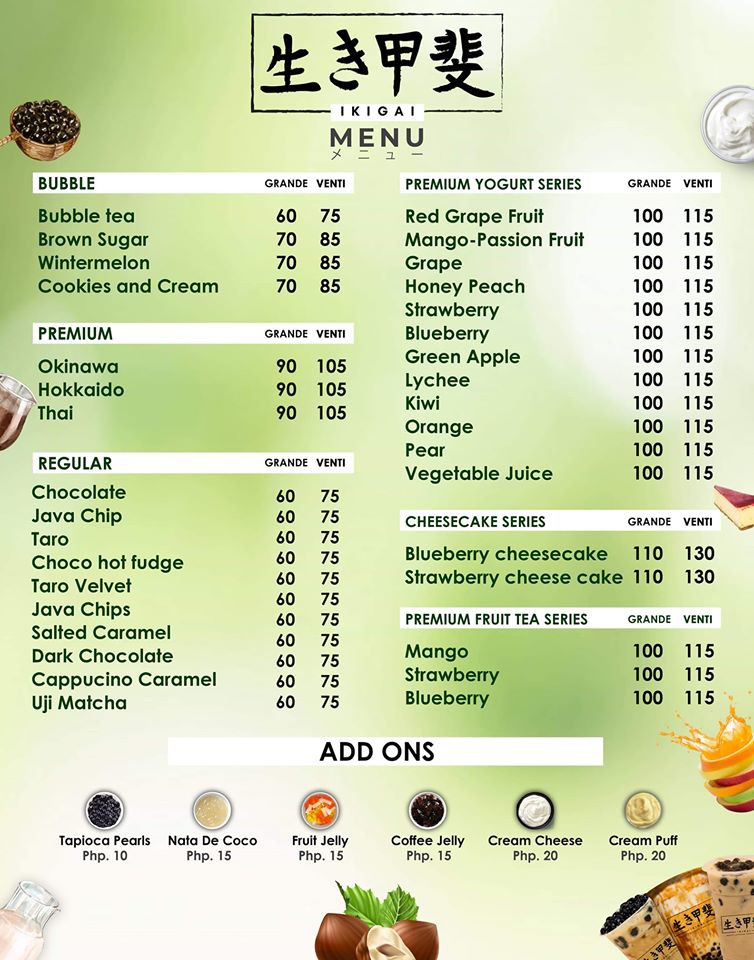 The five tasty flavors were: Hokkaido, Brown Sugar, Dark Chocolate, Passion Fruit Tea and Strawberry Cheesecake.
I was also provided with the latest menu of other yummy flavors and milk tea options that include the premium yogurt and fruit tea series among many others.
The price range is of P60 to P130 is fair enough considering their grande size at an affordable rate of P60 is the regular size of the nearest competitors.
I was not sure if the milk tea's had ice cubes when they left the headquarters in Makati en route to my Quezon City. When i had my first few sips, the lead star taste of tea was very, very distinct but not overpowering. My family is a milk tea fan so they were also able to partake of the tasting batch.
Here's a quick run down of my first dibs on IKIGAI Milk Tea mini haven:
HOKKAIDO — considered as a premium choice in the menu, their Hokkaido flavor tasted just right. Not too sweet. With soft and chewy tapioca pearls as sinkers. Price starts at P90 (Grande).
DARK CHOCOLATE — prominently capturing, Ikigai's version of Dark Chocolate came out well and refreshing. Tapioca pearls are the preferred sinkers to this delight. p60 for a Grande size.
PASSION FRUIT YOGURT — part of the premium yogurt series, my drink came out too sweet for me since it was also paired with nata de coco sinkers. I placed some ice cubes this time to let the chill effect settle to neutralize sweetness which the fruit is passionately known for. P100 when you order Grande.
BROWN SUGAR —  I was also expecting this bubble tea variant to taste sweet as well but it proved otherwise. I personally opt and prefer brown sugar over white. The sweetness level did not overpower me and again i had another field day munching those soft chewy black pearls away. P70 in Grande size.
STRAWBERRY CHEESE CAKE —  this variant came as a surprise for me since I have not encountered a cheese cake series before. And I believe it's a welcoming treat for someone like me who's a big fan of cheese cake pastries in buffets. Before enjoying Ikigai's cheese cake options, make sure the ice and chill level is cold enough to surely appreciate the fusion of sweet n sour berries and the sucrose of cheese cakes. P110 when you order Grande.
What do you think are the Owner's Top 3 Fave Milk Tea flavors? They are the following:
Blueberry Yogurt
Wintermelon with cream cheese and
Okinawa
IKIGAI Milk Tea in Makati is only available for Take Out Deliveries for now. I personally hope when the pandemic settles, they will have a cool dine-in portion as well.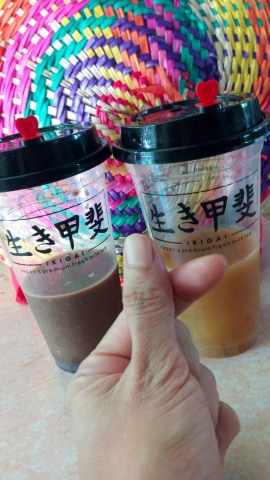 My admiration of Ms. Jo Marie soared higher, putting up a business in the middle of a health crisis which affected the economy in many of the affected businesses around, So I asked her, what made her and her partners decide to put up a milk tea place amidst all the other brands and similar beverage  existing?
"I am a sole owner of ikigai milk tea. I decided to start a milk tea business because i am challenged to create a milk tea brand that will differ to every competitor. I wanted to create a brand that is affordable yet can be aligned to those expensive and famous brand competitors. Aside from that, the goal is to share and spread the idea of earning with those who wanted to start their own business too."
Woow! My hats off to you ma'am! Risk taker indeed which will go places! What is even better news, she has been getting interested parties inquiring about her IKIGAI Franchise Packages ranging from P4,999 to p19,999!
Ms. Jo Marie was happy to disclose that IKIGAI MILK TEA started only last June 8, 2020 and as of to date she has five confirmed franchisees in 

Davao
Canlubang, Laguna
Taft, Manila
Taytay, Rizal and
Bacoor, Cavite and groooowing!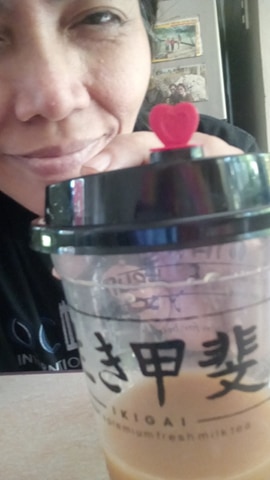 Check out these exciting franchise packages below to start your Milk Tea Business Adventure!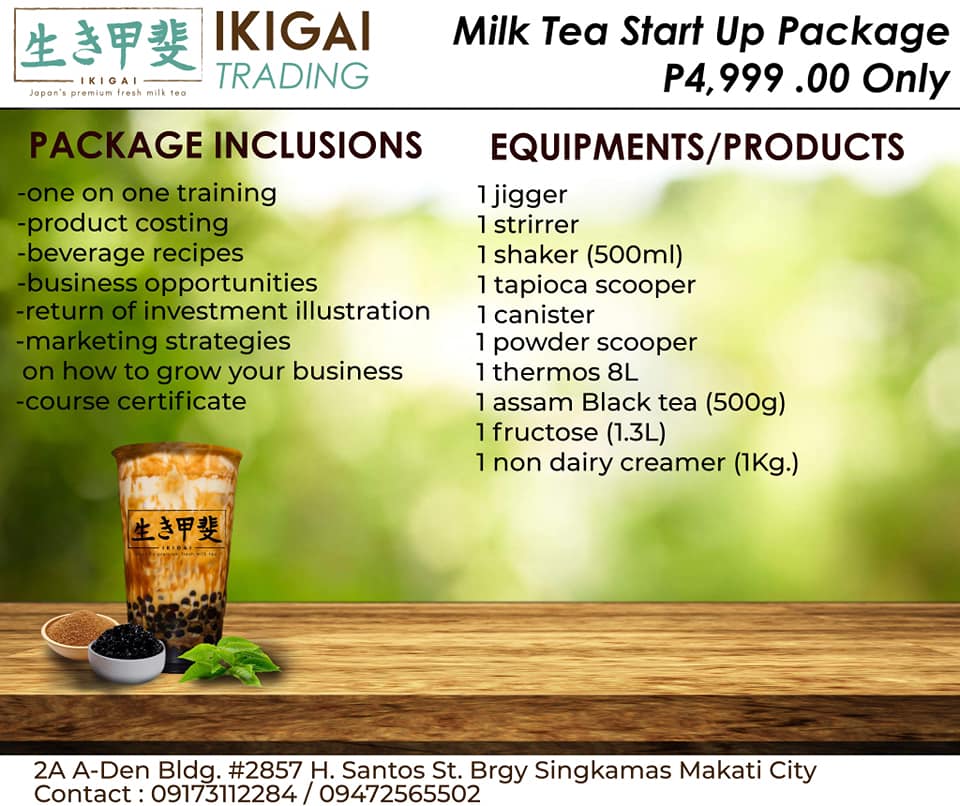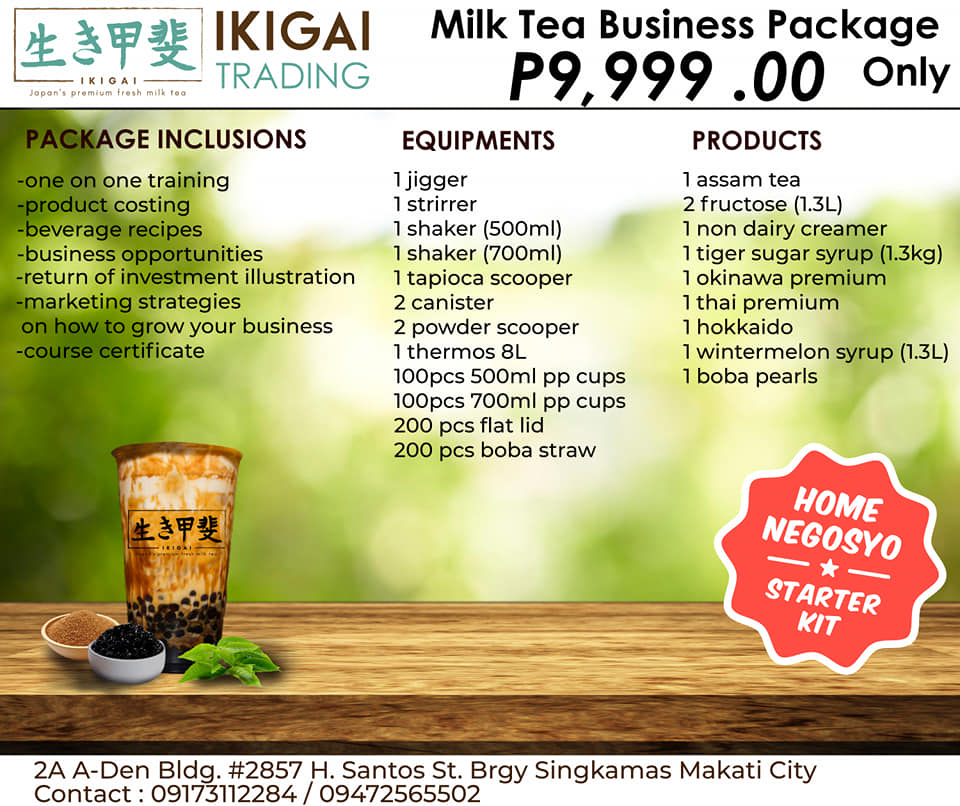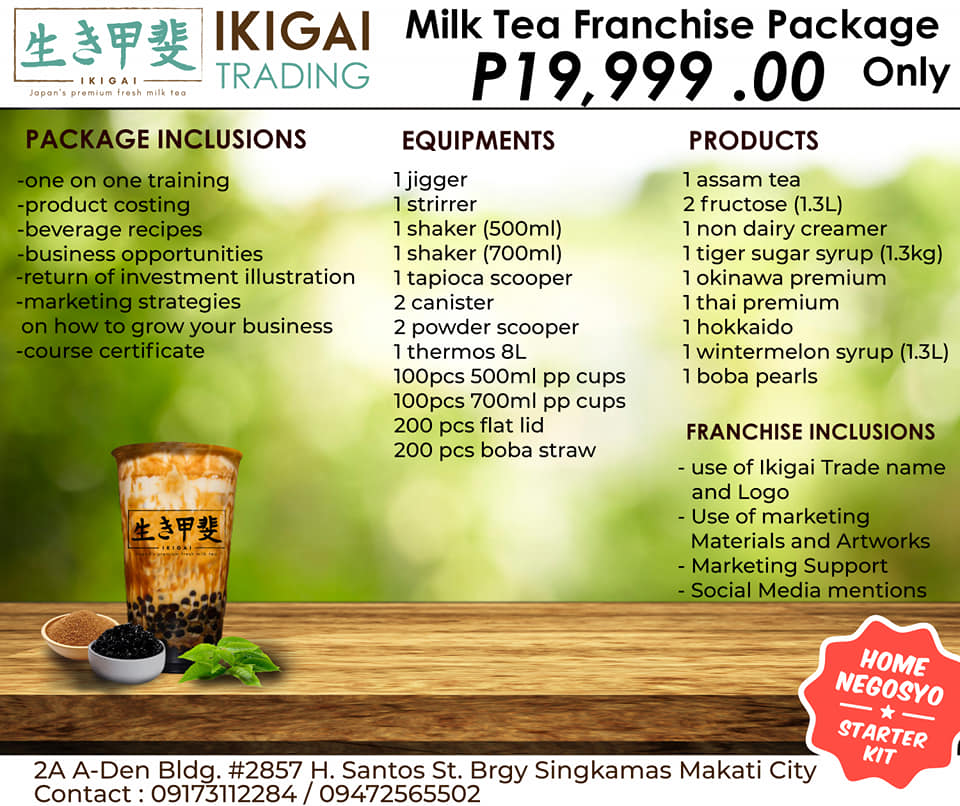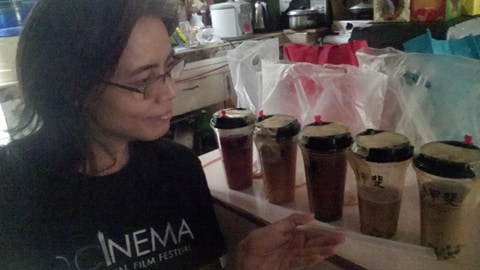 I am grateful that IKIGAI is part of my milk tea adventure. I hope you will have a Quezon City franchise soon.
Just like the zen and simplicity of the Japanese, IKIGAI is your newest and latest enjoyable milk tea option that's affordable to your wallet and budget. It boasts of the simple joy of giving in to your milk tea craving that can be happily shared among family, friends and dabarkads in quarantine period or not.
Let's get into the IKIGAI milk tea mood shall we?
For orders within Metro Manila please call or text 09173112284 /09472565502. ENJOY! 💋

Other branches include:
🍇Ikigai Makati Branch – 09173112284
🍇Ikigai Taft Manila Branch – 09062232877
🍇Ikigai Davao City- 09952950335
🍇Ikigai Malabon City Branch – 09152135168
🍇Ikigai Davao Del Norte Branch – 09954518588
🍇Ikigai Bacoor Cavite- 09237280606

Follow their Facebook Page on:  https://www.facebook.com/Ikigaimilktea/
Delivery Fee applies depending on location within Metro Manila.
"" Domo arigato gozaimasu Ms. Jo Marie Tagle, sole owner of IKIGAI Milk Tea and Trading.