Mobile gaming has been on the rise for quite some time now. COVID-19 accelerated that growth even further, restricting most of the world's population to indoor activities. So when Lenovo announced that it is working on the Legion Phone Duel back in July, we were stoked and why not?
Known for quality desktops and notebook laptops, Lenovo launched its Legion brand of high-performance gaming machines and peripherals three years ago to great success. Furthermore, Lenovo has everything it needs to create quality mobile devices when it acquired Motorola Mobility from Google in 2014.
So what happens when the team behind the wildly successful Motorola RAZR uses their Google and Lenovo advantage to create a Legion-branded mobile gaming phone? We hope you see why we're super excited.
Read on as we review the Lenovo Legion Phone Duel.
Lenovo Legion Phone Duel specs
Display: 6.65 inches; 1080 x 2340 pixels; AMOLED; HDR10+; 144Hz refresh / 240Hz touch sampling rate
SIM: Dual SIM (Nano-SIM, dedicated slots)
OS Android 10 (Q); Legion OS / ZUI 12
CPU + GPU: Octa-core Snapdragon 865+ (7nm); Adreno 650 (645MHz)
Memory (RAM) + storage (ROM): 12GB + 256GB; 16GB + 512GB
Camera: 64MP f/1.9 (wide), 16MP f/2.2 (ultrawide); 20MP f/2.2 (selfie), motorized pop-up
Battery: 5,000 mAh
Price (Philippines): Php39,995 (12GB + 256GB); Php49,995 (16GB + 512GB)
Build quality, design
The design of the Legion Phone Duel is unlike anything we've seen before, although we suspect gamers will be right at home with its bold, distinct look. It does away with traditional designs such as curved corners. Instead, we have this edgy, octagon-shaped silhouette.
It also breaks tradition by going for a horizontal or "landscape" orientation as its default mode of operation as opposed to the vertical or "portrait" orientation that most of us are used to. This is one phone that's meant to be used in landscape mode, and its designers made sure to remind us of that every course of the way.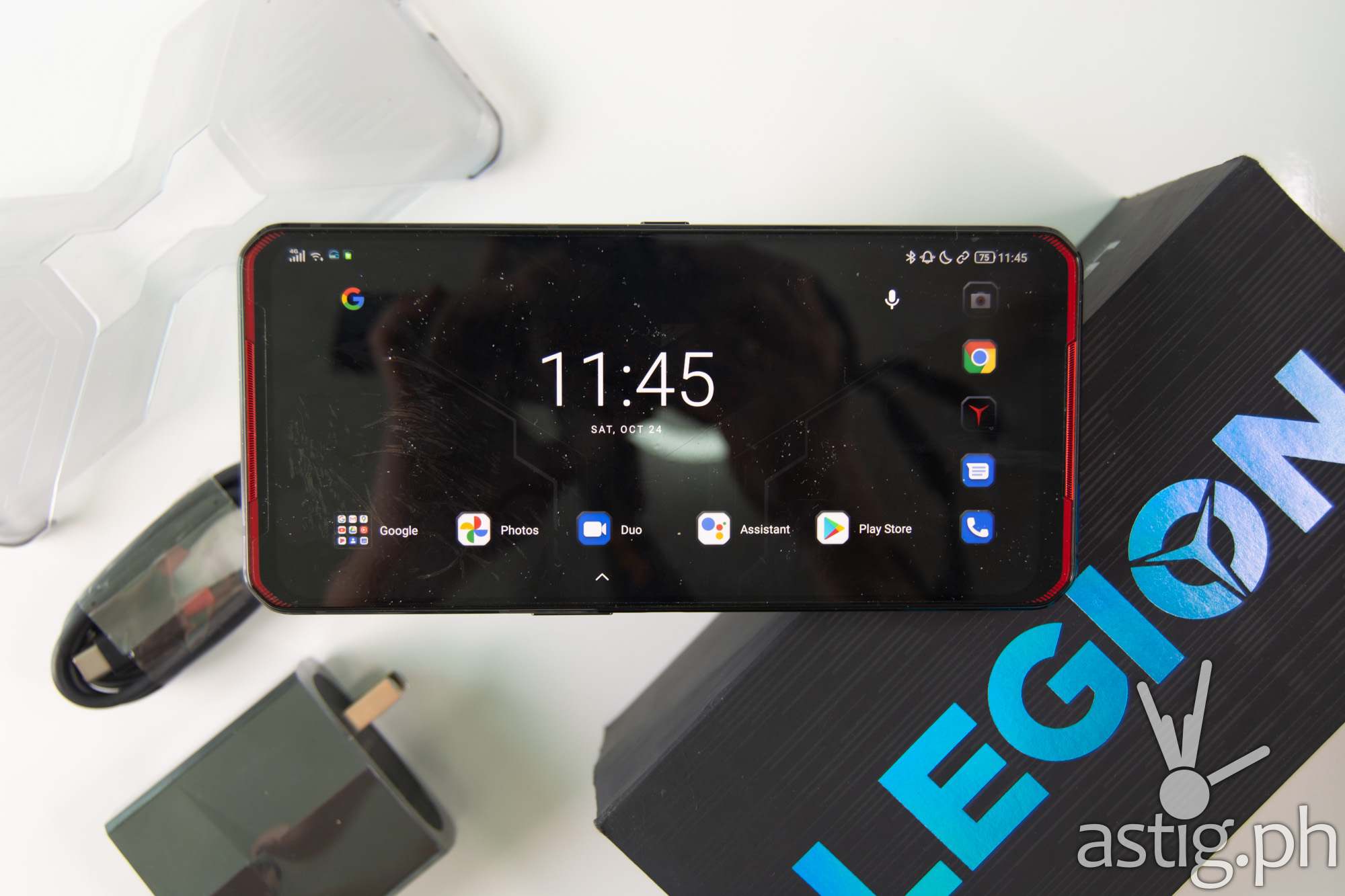 From the very beginning, we are forced to turn it horizontally in order to unpack the unit and boy, what an experience: the box itself opens up in three segments, which, upon opening, plays the "Lenovo Legion" sound effect. It's an industrial sound that kind of reminds us of a door opening in Quake or Doom. We half-expected Doom guy to come charging at us from out of the box, except we are greeted by the phone itself.
We've never seen or heard anything like this before, and it does put a smile on our face.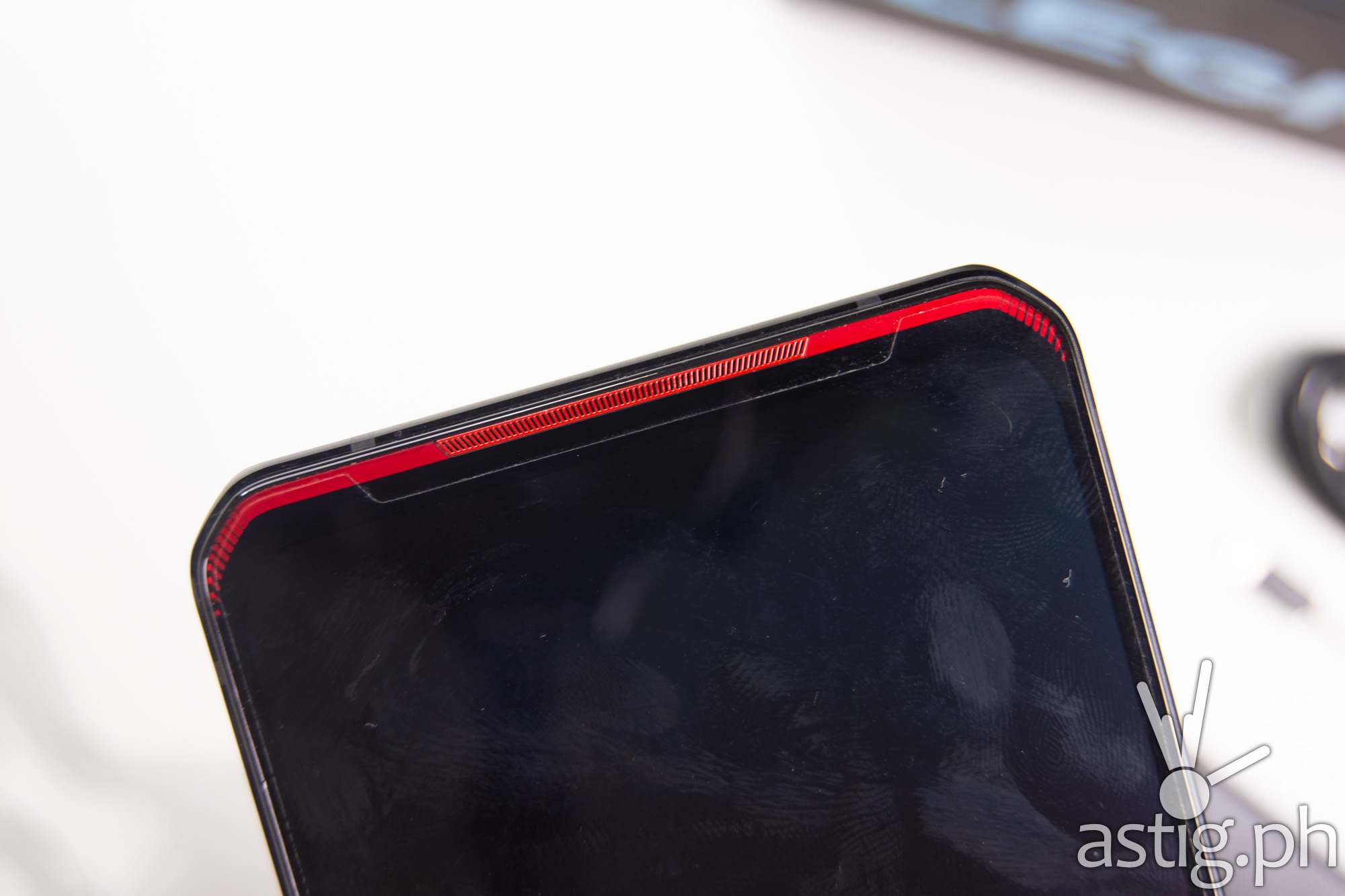 Apart from the brightly-painted left and right edges where the dual speakers are located, the face of the phone Legion Phone Duel is almost all screen. There is a noticeable gap between the speakers and the screen, though. The Duel is already quite tall, so we hope Lenovo can minimize or completely eliminate this gap in future.
Depending on the color of the unit that you have, the left and right edges of the screen are accentuated by either blue or red, which is a nice touch. Most phones have nothing but black at the front, so it really stands out when you're using it.
Speaking of which, this phone is one big boi: its 6.65-inch AMOLED screen is one of the biggest you can find. The only ones bigger are phablets like the Galaxy Note 20 (6.9 inches), iPhone 12 Pro Max (6.7 inches), OnePlus 8 Pro (6.78 inches), and the TECNO Pouvoir 4 (7 inches).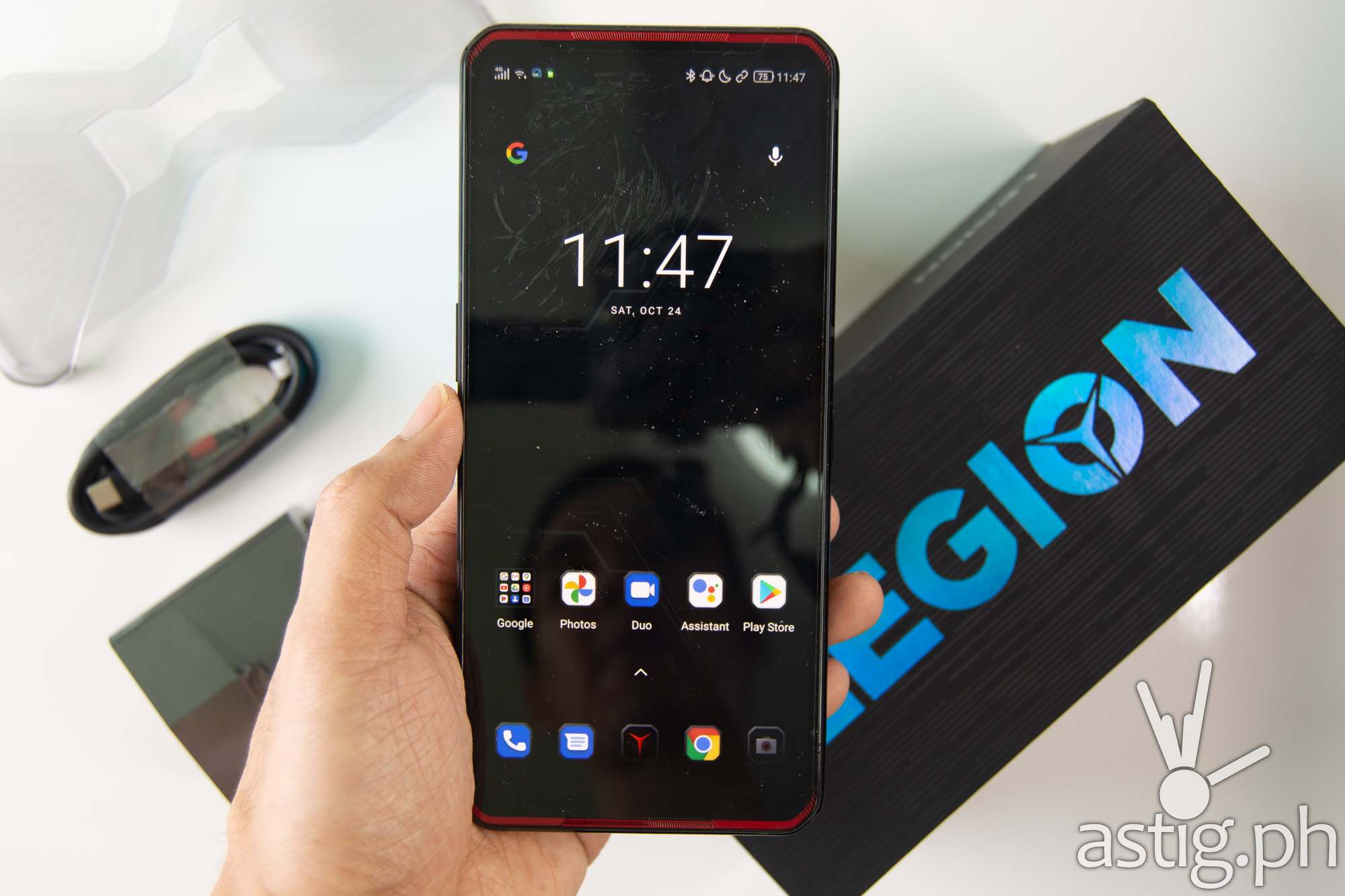 Now I'm a big phone person – I love big phones with big displays, but the thing about the Legion Phone is that it also feels big. It's quite hefty at 239 grams, and the sharp edges make it feel bigger when you're holding it compared to phones with curved edges, and that's without the case.
But hey, that's a sacrifice we're willing to make to get that big, gorgeous 6.65-inch screen.
Not only does the display use an HDR10+ capable AMOLED panel, the refresh rate also goes all the way up to 144Hz at its native resolution of 1080×2340, making it one of the fastest AMOLED screens in the market. We're not sure if the digitizer comes with a layer of protective glass like Gorilla Glass, but it does come with a pre-installed screen protector for good measure.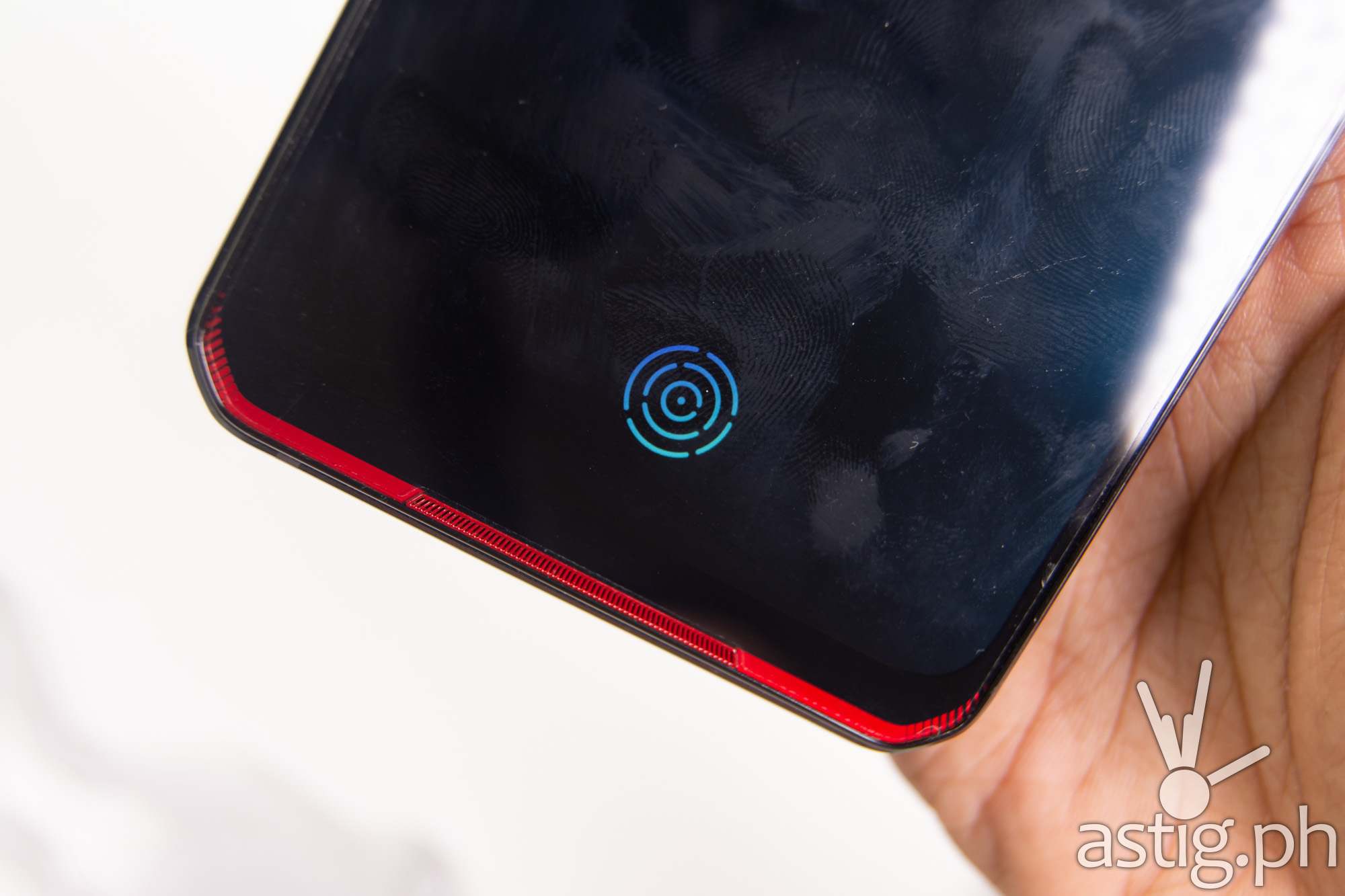 It's a good panel, but it suffers from the same limitations that we've already seen on high refresh AMOLED panels: first, its peak brightness lags behind Super AMOLEDs and second, the colors lose saturation as you move to higher refresh rates. The former isn't really much of a problem as opposed to the later, which is quite noticeable when you move from 60Hz to 144Hz. The colors just seem more washed out, especially the blacks, which take on a slightly reddish tint.
This is an artifact that we've observed specifically on high refresh rate AMOLED panels. It doesn't seem to be present on high refresh rate LCD panels. The phone also is also equipped with an under-display optical fingerprint scanner, which works but, like most phones using this technology right now – just doesn't match the speed of capacitive sensors.
Still, it's one of the best displays that you can get in 2020, and while the front of the Legion Phone Duel is quite impressive, the same may be said of its back, which stands out with that X-shaped middle with multiple X-shaped holographic outlines. Every tiny bit of movement changes its colors, dancing from red to green to to blue.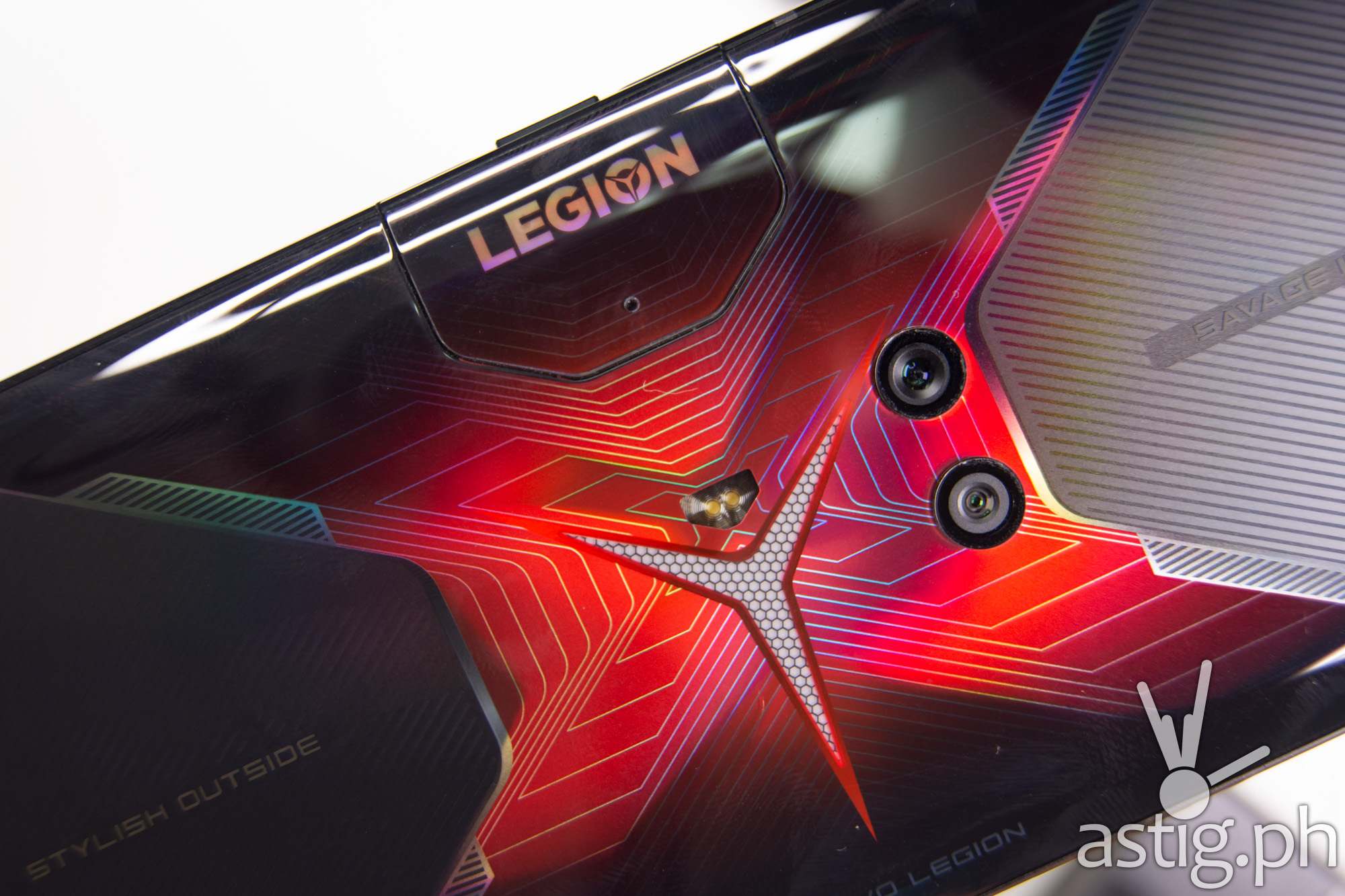 At the center we find the RGB back-lit LEGION logo / icon, which lights up in different colors depending on what you set it to. Its dual rear cameras are located a little off-center to the right, while a dual LED flash module is located slightly to the top of the logo.
The words that make up the slogan slogan "stylish outside" and "savage inside" are tastefully etched on the left and right panels, while the LEGION text logo adorns the top where the mechanical selfie camera pops out.
It's an aggressive, bold design that simply begs for attention, and thankfully, the hard cover case that comes with the package doesn't just cover it all up.
Speaking of which, can we take a moment to appreciate the case? Over the course of this review, we've had one particularly heart-stopping drop from chest height. It wasn't an intentional drop test – the phone just slipped out of carelessness, hitting the road. We saw it fell on its corner, landing screen-first on the asphalt. We were certain we'd end up explaining how we ended up shattering the first ever Lenovo gaming phone but nope, not a single scratch.
Whew!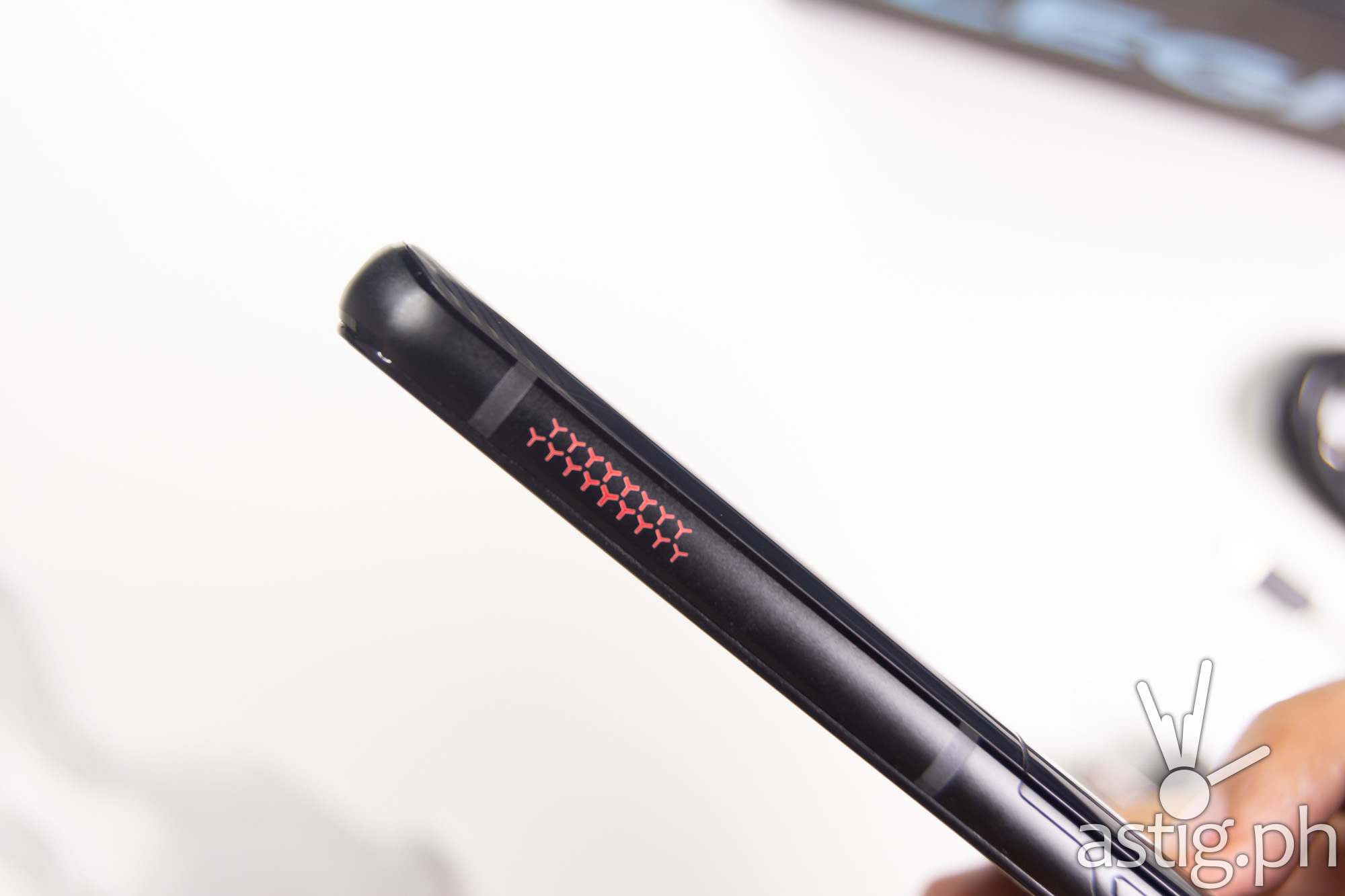 If the top (right in vertical mode) edge has the 20MP pop-up selfie camera and dual ultrasonic triggers, the bottom (left in vertical mode) edge features a second USB Type-C port, in addition to the one at found at the right (bottom in vertical mode). The dual USB ports work together to deliver power and charge the 5,000 mAh battery, which is also divided into two 2,500 mAh modules.
Unfortunately for those of you who need a 3.5mm audio jack, this phone has none, although it does come with a USB-C to 3.5mm converter. With the exception of our hi-fi systems, we have long switched over to wireless speakers and headsets, including a wireless head-unit for our car. Bluetooth receivers are relatively inexpensive, and we would like to think that the audience that the Legion Phone Duel caters to – mainly the gamers and techies, won't miss the 3.5mm audio jack that much.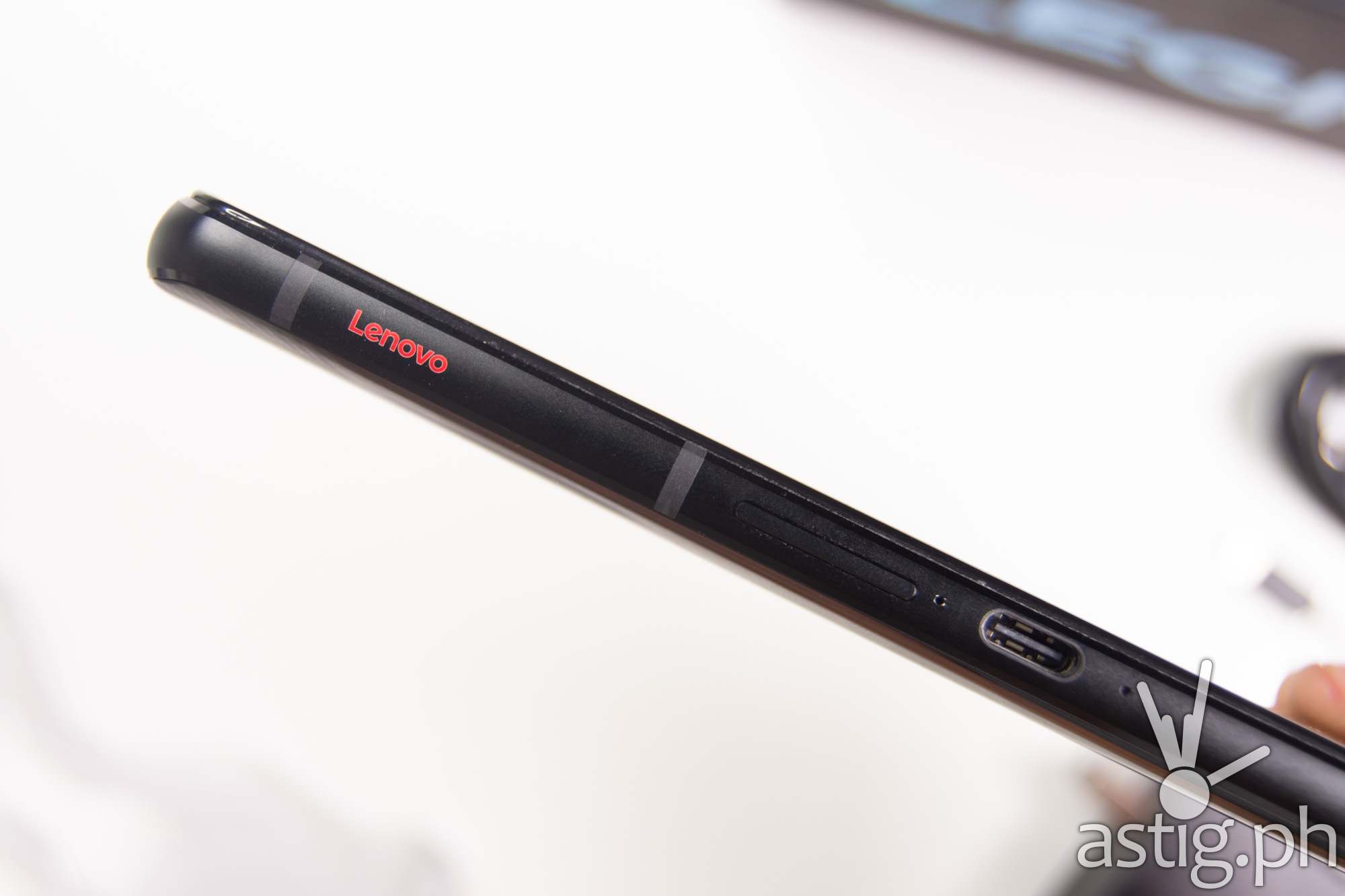 As a counterpoint though, the 3.5mm audio jack provides the least amount of latency to your audio receiver, so one would imagine that a phone focused on speed and performance would at least have this option.
Perhaps the component was removed to make the phone more dust proof and water proof?
Unlike other flagship phones, the Lenovo Legion Phone Duel does not have an IP68 rating. It doesn't even come with any IP rating at all.
True to the "dual" theme, we also get dual SIM support with two Nano-SIM slots. The SIM tray is also a little different from what we're used to seeing in most smartphones wherein the SIM cards are placed on either side of the tray rather than side by side.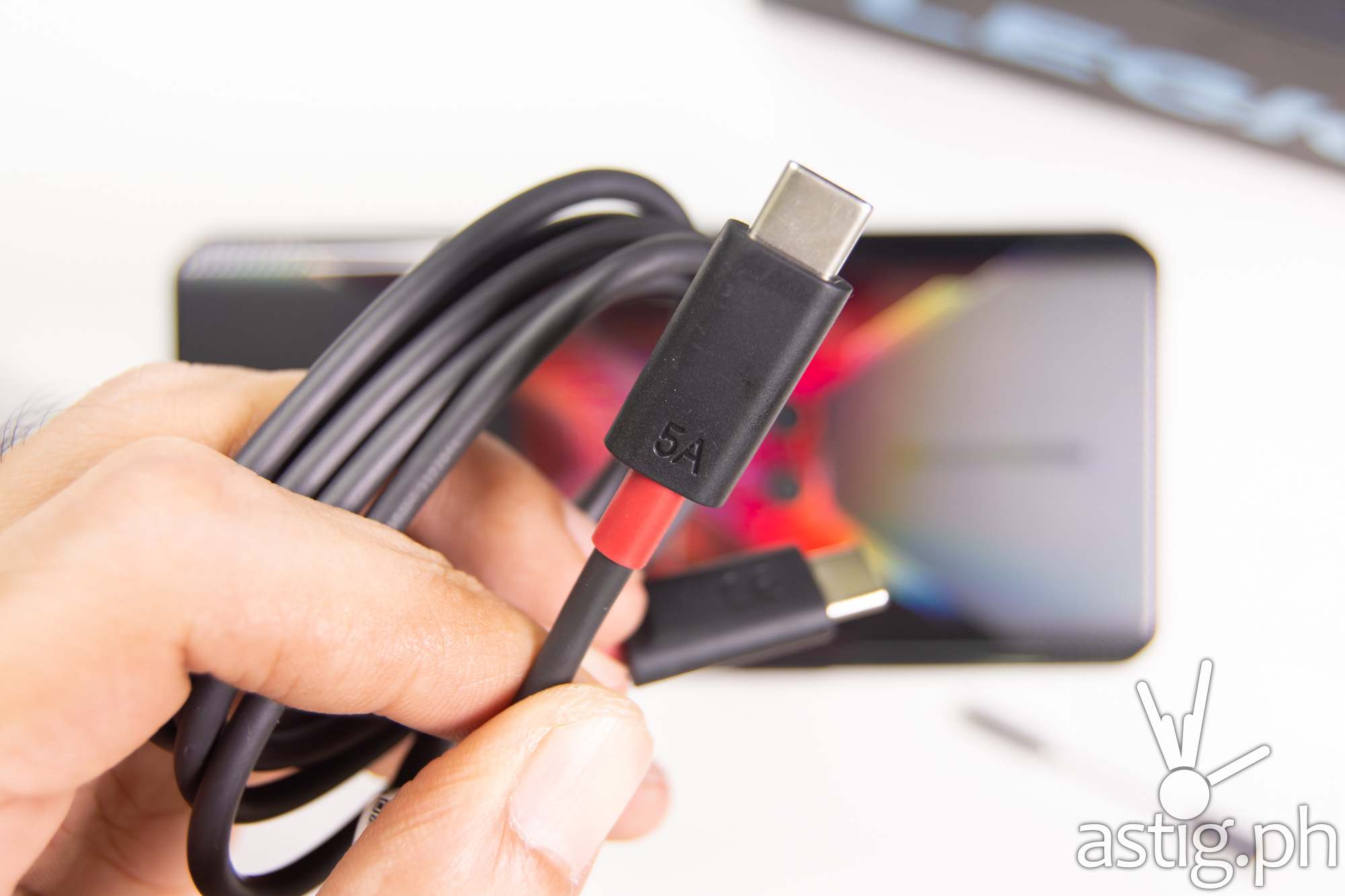 Does the Legion Phone Duel have an expansion slot?
None of the Legion Phone variants come with an expansion slot. In the Philippines, the lowest model (Blazing Blue) comes with 256GB while the highest model (Vengeance Red) comes with 512GB of storage, which should be plenty for most.
However, games are getting bigger every day, and while most of us have already moved to cloud streaming and cloud storage services, we are aware that there are those of you who still store music and videos on external micro SDXC / SDHC cards.
Are you one of them? If so, comment and tell us what you use your micro SD card for. We really want to know.
Performance
Lenovo Legion Duel runs on the Qualcomm Snapdragon 865+ platform, a flagship chipset that uses a manufacturing technique called speed-binning to get the best yield of the lot, allowing them to clock the CPU higher, running at a maximum of 3.09 GHz / 3100 MHz instead of 2.84GHz / 2840 MHz on the non-Plus Snapdragon 865. The Adreno 650 GPU also runs at a much higher frequency – 645 MHz as opposed to the standard 587 MHz.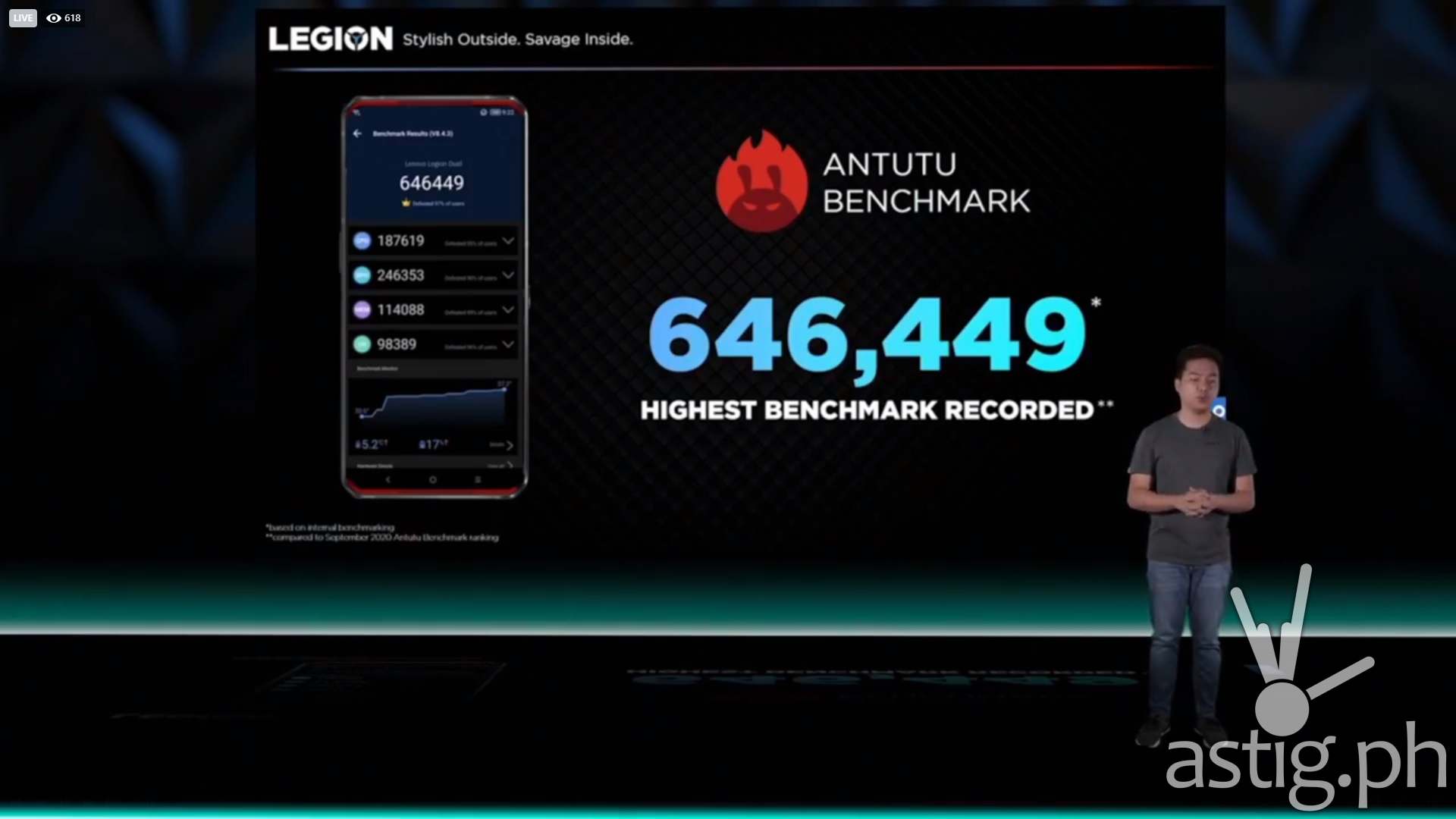 Although the chipset is fabricated using a 7nm process, the Snapdragon 865 series requires a separate Snapdragon X55 5G modem instead of an integrated 5G modem like the Snapdragon 765. As a result, it's much more expensive and likely more power-hungry.
Synthetic benchmarks place the Legion Phone Duel at the top 5% of all Android smartphones. We easily got over 630K in AnTuTu out of the box, without any optimizations. This places the Duel squarely in the #1 or #2 spot worldwide, right beside the ROG Phone 3. At the local launch, Legion Philippines showcased a record score of 464,449 in AnTuTu, putting it at #1 for September.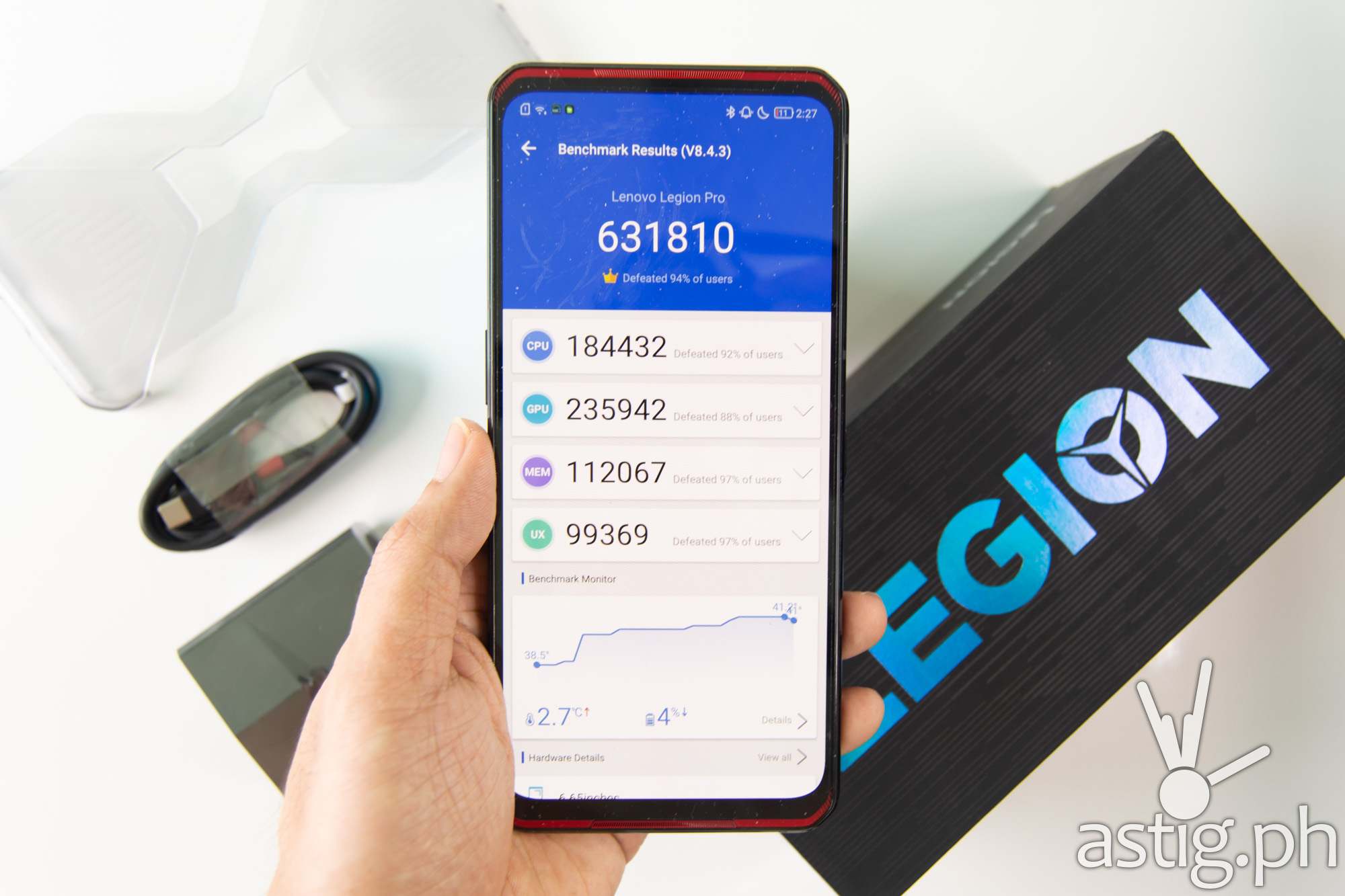 Actual user experience is smooth and seamless, the phone was snappy and responsive at all times, even after days of continuous use without restarting. The phone has neither hanged nor crashed the entire time that we were using it.
Does the Lenovo Phone Duel work with 5G operators in the Philippines?
We tried using the Lenovo Phone Duel to connect to Globe Telecoms' 5G network, and the experience was more than satisfying. At its peak, we managed to hit over 400Mbps in Makati, which is more than 5 times what we normally get on 4G. It seamlessly switches between different technologies, and downgrading to 4G in areas not covered by 5G, and automatically switching between Wi-Fi and mobile data when the Wi-Fi connection goes down.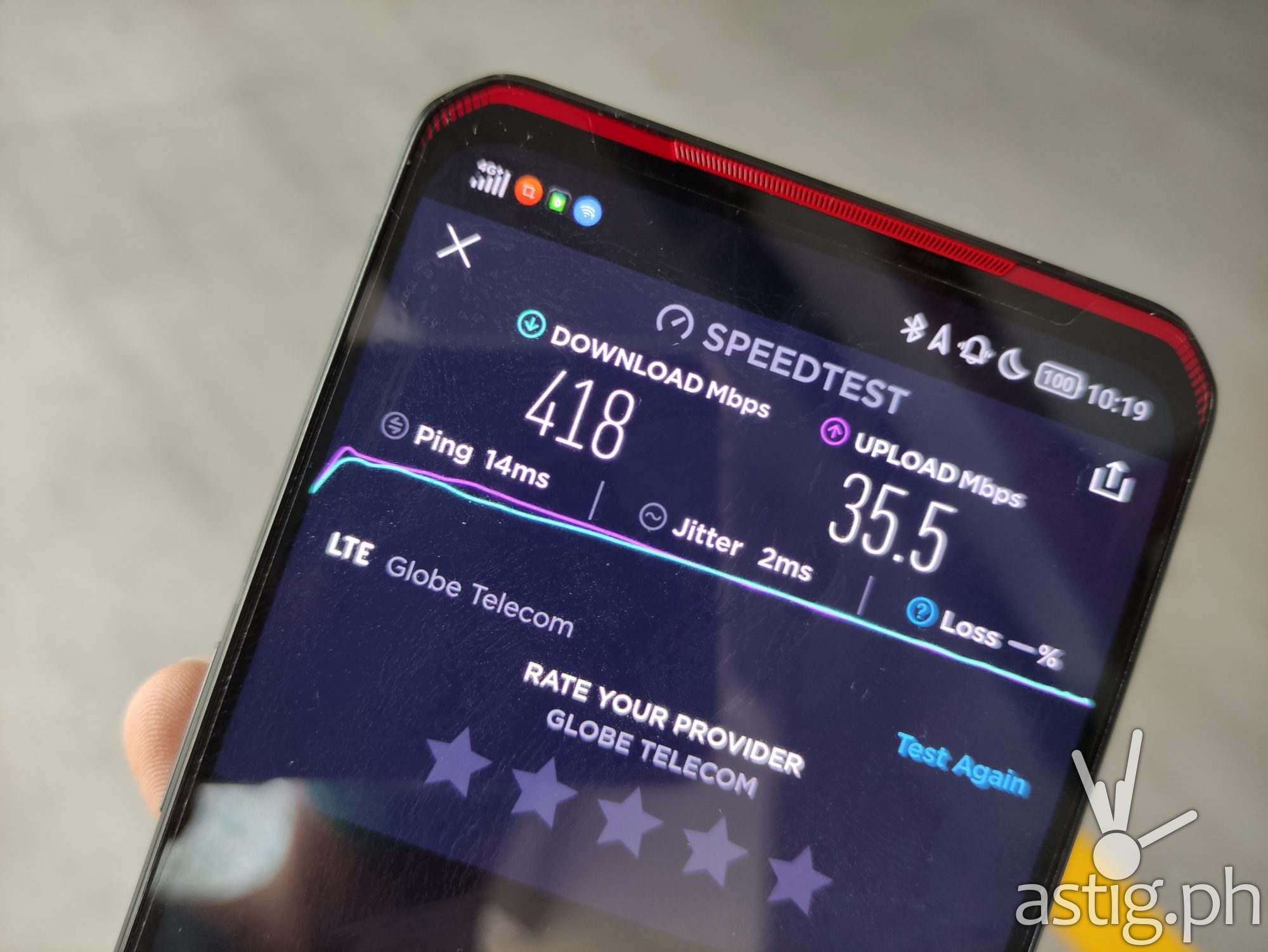 With the Duel, Lenovo has a true 2020 flagship on their hands.
There is one thing, though: we mentioned earlier that the phone is clearly designed to be used in landscape mode. We are not used to this orientation, and we suspect that most smartphone users are not used to it, either. That's not a big issue, as long as portrait mode is fully supported. However, there have been instances wherein the phone would switch to landscape mode while being held upright, and it disrupts what is otherwise a seamless experience.
Gaming
According to Lenovo, they designed the Legion Phone Duel from the ground up. They "listened and plotted out end-user pain points that we wanted to solve." One of these is the ability to live stream while playing mobile games by moving the selfie camera to the top edge of the phone in landscape mode, hidden via mechanical pop-up. This is because majority of the games are played in landscape orientation.
Traditionally, the selfie camera is located on the top edge of the phone in portrait mode, which becomes the left edge when rotated horizontally.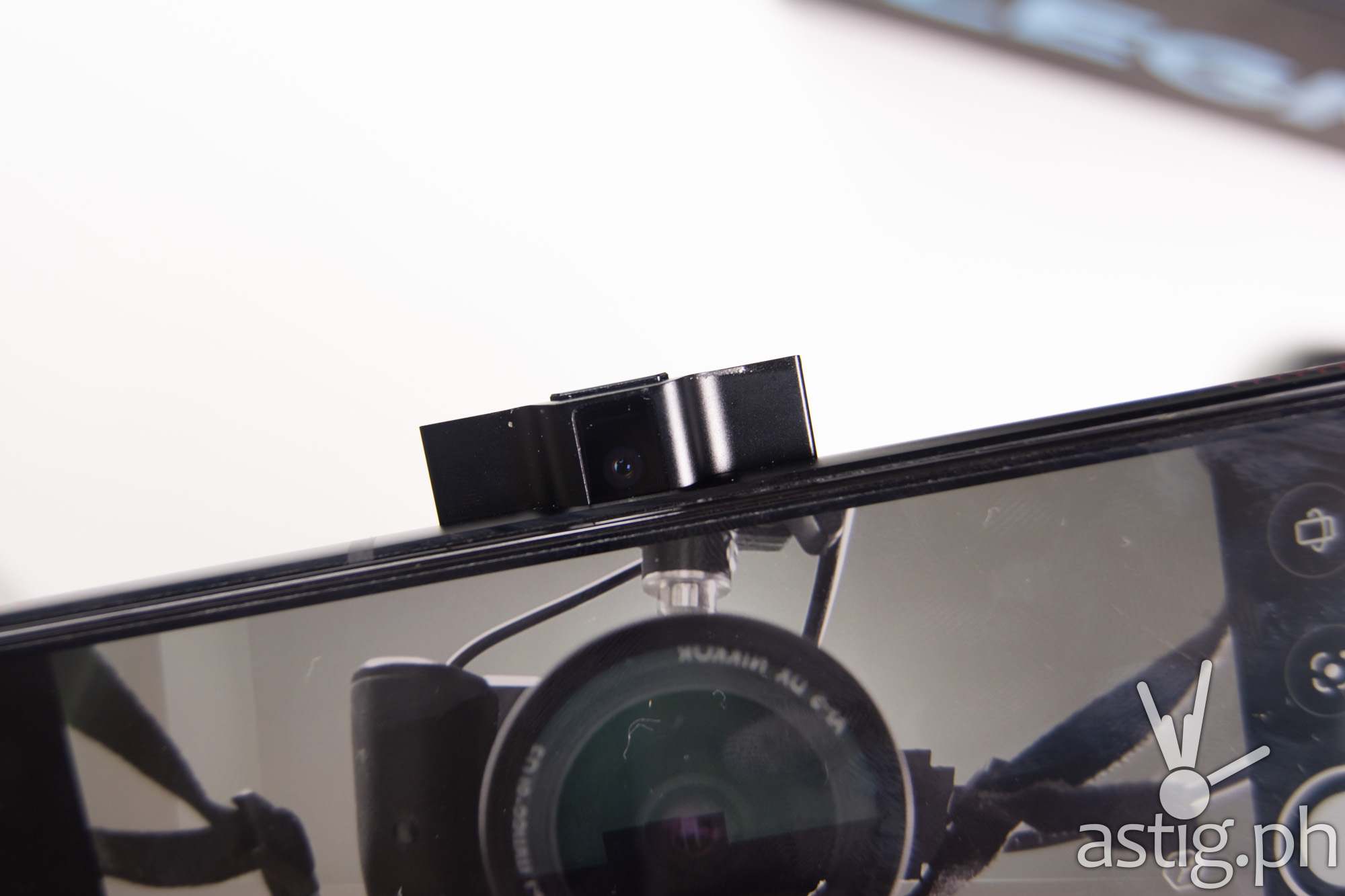 This poses a problem for streamers, since most games are played in landscape orientation, and the left side is usually where the directional buttons are located. So you're going to need a separate camera in order to show yourself while streaming.
It's a bold move from Lenovo to break away from this mold, and the fact that they are willing to take this kind of risk on their first gaming phone shows their trust and commitment to this design.
When it comes to actual gaming, the two biggest factors are speed and latency. Lenovo addresses these problems in several ways, which we'll break down into the following:
Speed
Battery life
Thermals
Connectivity
Input
Display
First, speed – the Duel runs on the Snapdragon 865+ platform, which consists of a 3 GHz CPU and a GPU clocked at 645 MHz. It is also equipped with a UFS 3.1 internal storage. This hardware configuration is the fastest you can get your hands on right now, and as we've mentioned earlier, benchmarks show that the phone scores easily takes the #1 or #2 spot. It's clearly no contest that the Duel is one of the most powerful gaming phones that money can buy.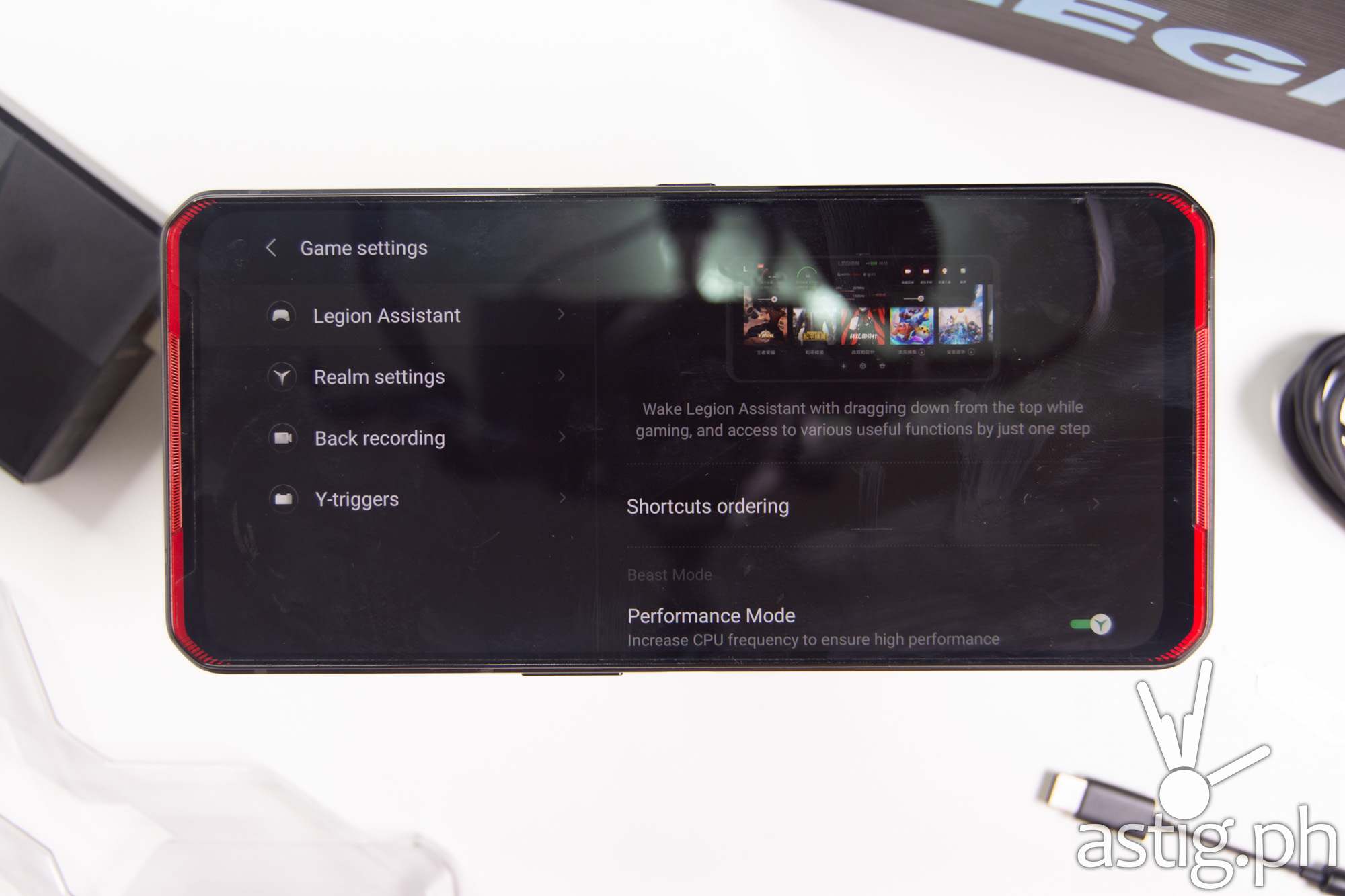 However, with great speeds come great power consumption, and serious mobile gamers are acutely aware of this.
This gives rise to two problems: battery life and cooling (thermal management). Battery life we all know, since this affects even non-gamers. To address this, Lenovo fitted the Duel with two 2,5000 mAh battery modules for a total of 5,000 mAh of power. In our internal tests, were managed to squeeze 5 hours of continuous gaming out of the box, without any power management and display brightness set to 50 percent.
Should you run out of battery, you can always plug the phone into an electrical outlet, and it will charge at a speed of 65W, which is already faster than most phones available today. Lenovo took this one step further by splitting adding a second USB Type-C port, so you can charge both battery modules simultaneously at 90W, which brings down the time it needs to charge the phone from zero to 100 percent in just 34 minutes, making it the fastest charging smartphone right now.
That's not all – continuous gaming sessions can cause the phone to overheat, which causes thermal throttling – a protective mechanism built into the chipset to prevent structural damage. This usually happens with on newer 3D games that have a lot of post-processing effects that can run at high refresh rates of 60FPS or higher. It stresses the CPU, GPU, and battery so much so much, that temperatures easily rise above 40 degrees Celsius.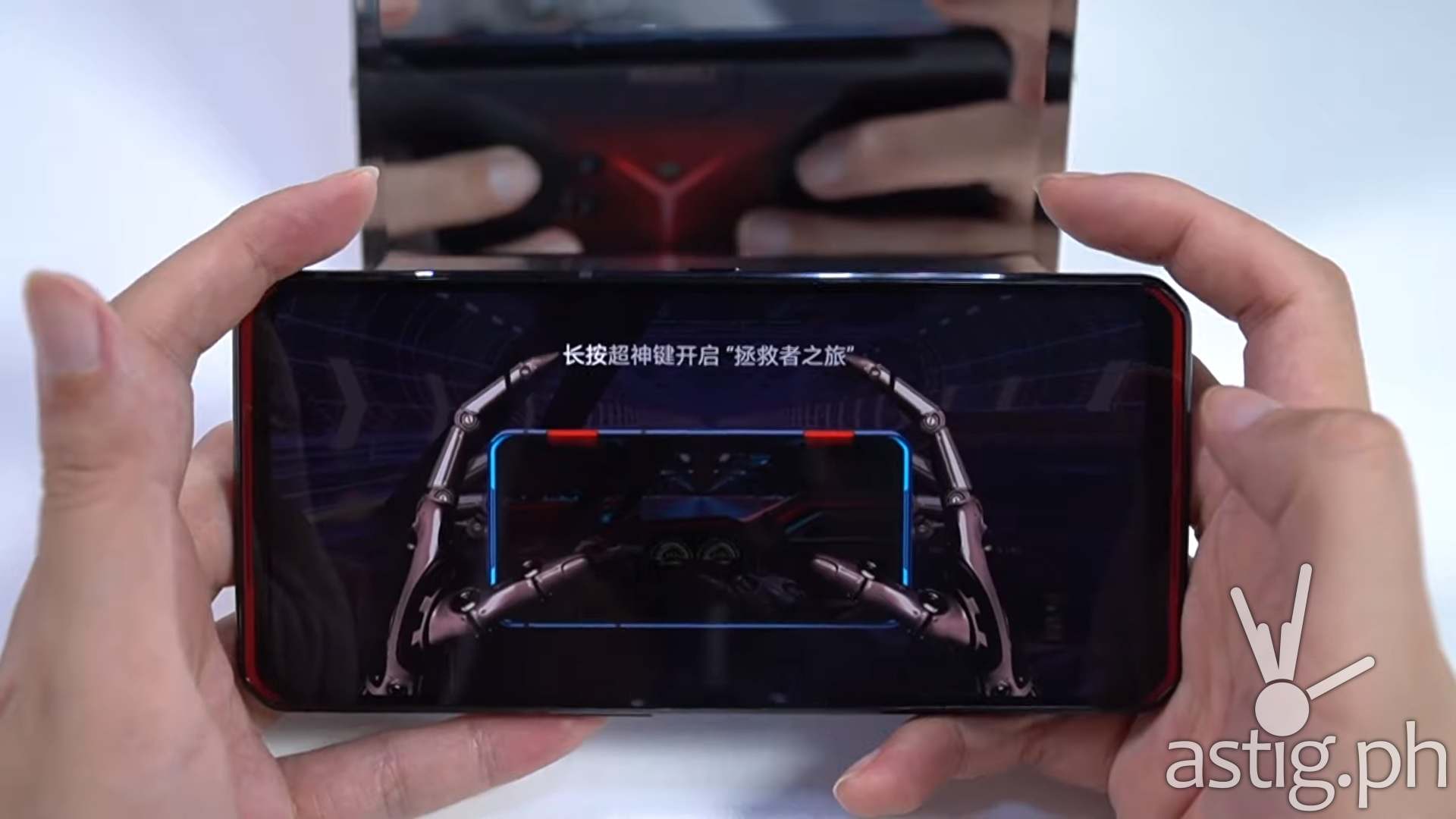 We're talking about playing games on Wi-Fi. Mobile data raises system temperatures even further, and we suspect 5G will raise it even more, though we haven't been able to test 5G extensively due to its limited coverage. Aside from 5G, the Legion Phone Duel supports the Wi-Fi 6 standard for connectivity. Those of you who are lucky enough to have fast broadband can maximize your connection by using an 802.11 ax router, giving a significant speed boost of up to 9.6Gbps, double that of the Wi-Fi 5 standard.
Speaking of 5G, it really helps that the Legion Phone Duel is supported by Philippine carriers Smart and Globe. Not only does it serve as a good backup to your Wi-Fi, it can potentially replace it. As mentioned earlier, we managed to exceed 400Mbps using Globe 5G, and we never really went below 270Mbps.
Even at its slowest, our 5G connection was still faster than the fastest commercially-available Fiber / DSL residential connection being served by any ISP in the Philippines. Granted, mobile data is also so much more expensive, and there aren't that many 5G users around so this may change once it goes mainstream, but the infrastructure there if you're willing to pay extra for 5G speeds.
Finally, let's talk about input and display. These two are tightly coupled on mobile phone where the display also serves as your input device. Most modern mobile games run at 60FPS, with a few supporting faster refresh rates like 90Hz. Some are even un-capped, only limited by your display's maximum refresh rate.
On the Legion Phone Duel, the limit is set to 144Hz at 1080×2340. For reference, desktop PC monitors currently go up to 4K 240Hz, but you need a very powerful rig to run games at that speed, so 4K 144Hz is considered a good compromise, 1080P 144Hz is also great if you're on a budget.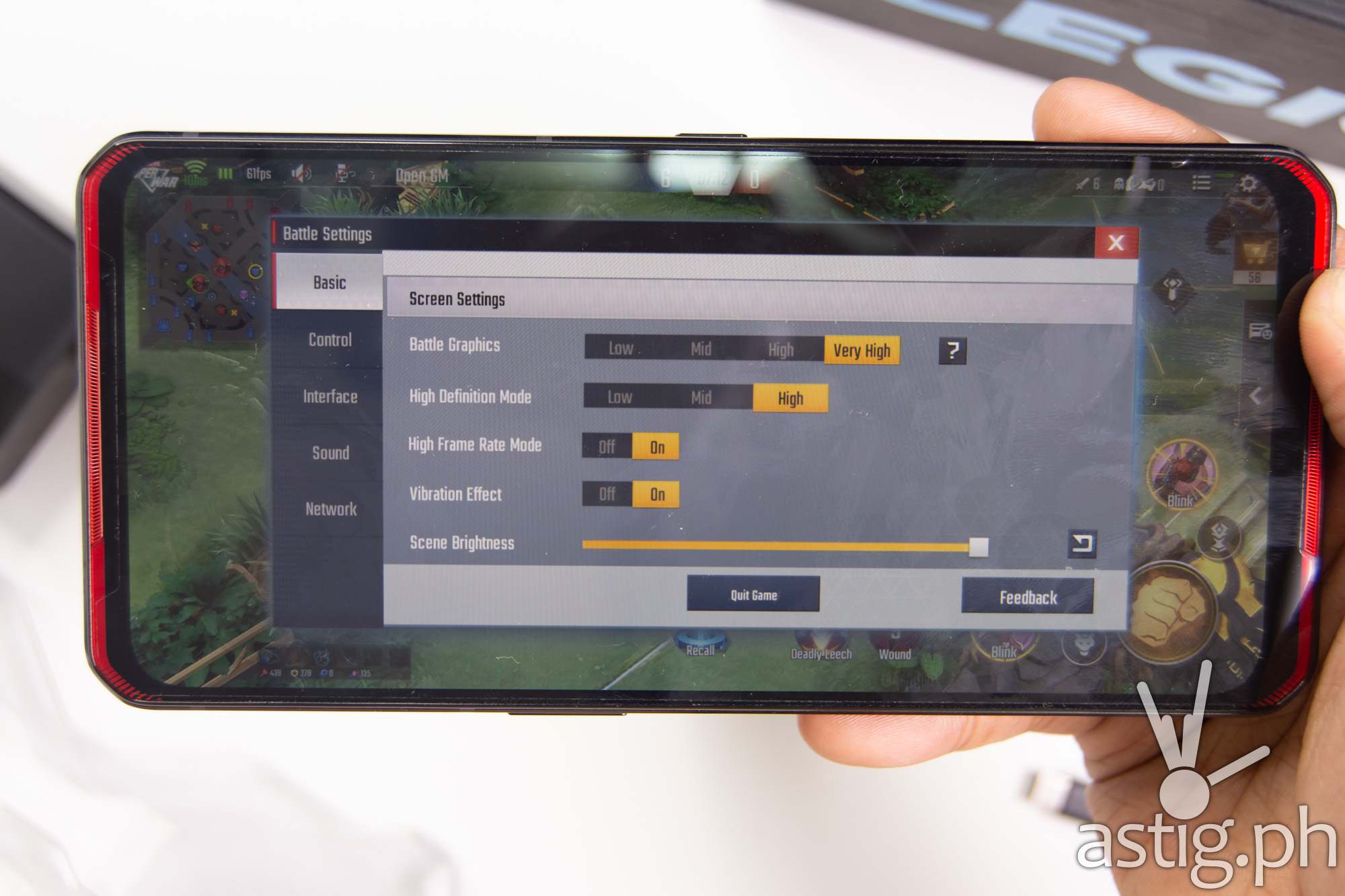 For mobile games, we feel the biggest visual improvement can be seen when you jump from 60Hz to 120Hz. Anything higher is almost imperceptible, so 144Hz sounds just about right, and we're glad that the Duel supports it natively.
But mobile gamers know that having a fast display is not enough. Input latency, or the speed by which the display aka input device reads the instructions coming from your fingers, is critical, especially with competitive gaming.
Imagine playing Mobile Legends, your team mates are down to a sliver of health, and you swipe up to heal them, but because of input latency it took 1 millisecond before it took effect, and by that time they were already dead. It's an exaggerated scenario, but I hope you get what we're trying to say.
The Legion Phone Duel addresses this with a touch sampling rate of 240Hz – almost double the refresh rate, in order to reduce input lag. It works well both on paper and in practice – response is almost instantaneous.
Lenovo takes input even further by adding ultrasonic air triggers, which gives you two additional buttons at the top, although it lacks the tactile feel of real buttons it's a good compromise for those who play shooters like PUBG without having to resort to external attachments to simulate physical triggers.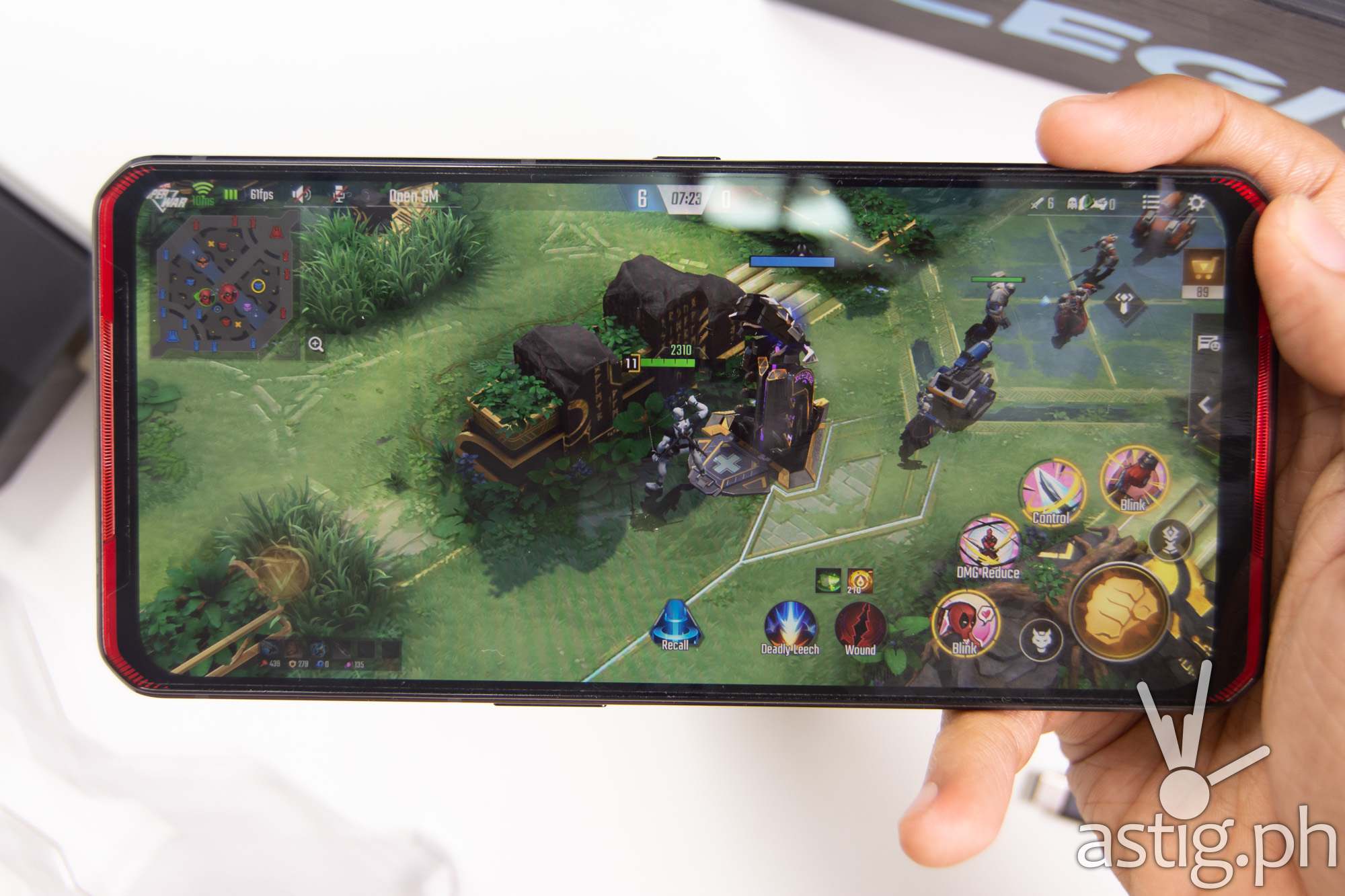 We have a very powerful chipset in the Snapdragon 865+, which makes frame rates almost a non-issue with this phone. We were able to run most major AAA games at the highest setting and hit the 60FPS frame rate cap without worrying about throttling. This includes League of Legends: Wild Rift, Marvel Super War, Call of Duty Mobile, Dragon Raja, A3: Still Alive, V4, Black Desert Mobile, Asphalt Legends, and of course – Mobile Legends.
Even on long gaming sessions where the phone gets noticeably hot, it was not enough to trigger thermal throttling, and the phone stayed in high frame rate mode all the time. More importantly, the games load almost instantly thanks to its high-speed UFS 3.1 internal storage, and this is probably one of the most noticeable aspects especially for gamers who are used to long loading times.
The only games where the phone seems to struggle with are Fortnite and Genshin Impact. Frame rates are generally good, but it does drop below 60FPS during high-action sequences.
Entertainment
The Legion Phone Duel is undoubtedly a great gaming device, so we already have the framework for a good media device for streaming media and listening to music and podcasts.
Several things make it stand out: first, it comes with full Widevine L1 support, so we can stream DRM-restricted content from providers like Netflix and Amazon in full HD and higher (i.e. 4k).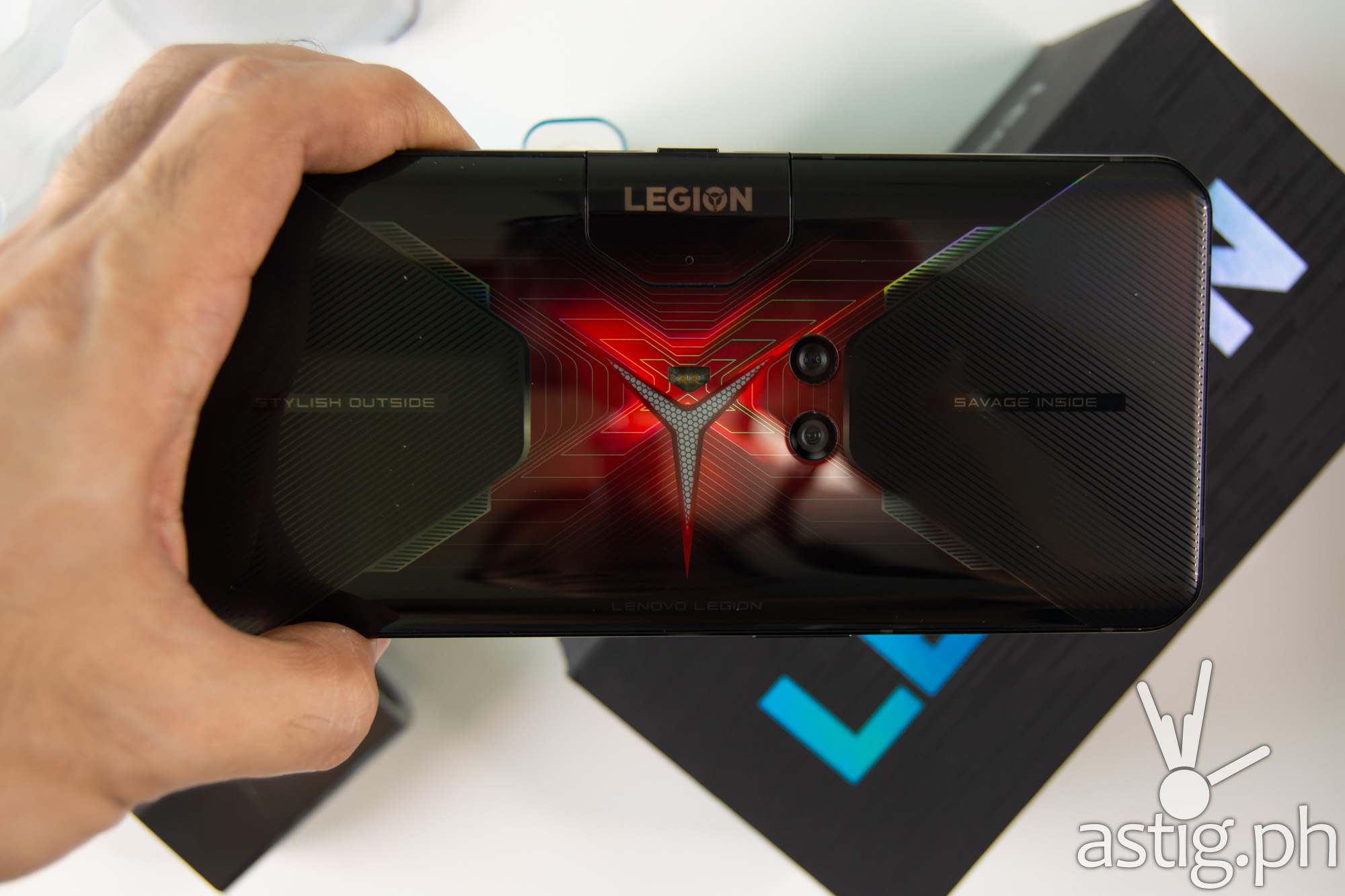 Second: the AMOLED panel supports HDR10+, which is a hardware standard for playing back HDR content, primarily from Blu-ray and Amazon Prime Video. It is backwards-compatible with HDR10, too. Without going into too much detail, this simply means clearer and more vivid display of HDR videos.
Third, it comes with dual front-firing loud speakers tuned by Dirac Audio, delivering good quality 3D stereo sound experience. The acoustic chambers are said to be 1.4cc in volume – we don't know how big this is compared to your regular smartphone, but to our ears it is one of the loudest if not the loudest speakers that we've ever heard on a smartphone.
We're serious – the sound reverberates through the phone so hard, you can literally feel it. Yep, read it again – the Lenovo Phone Duel has speakers so strong, you can feel the sound.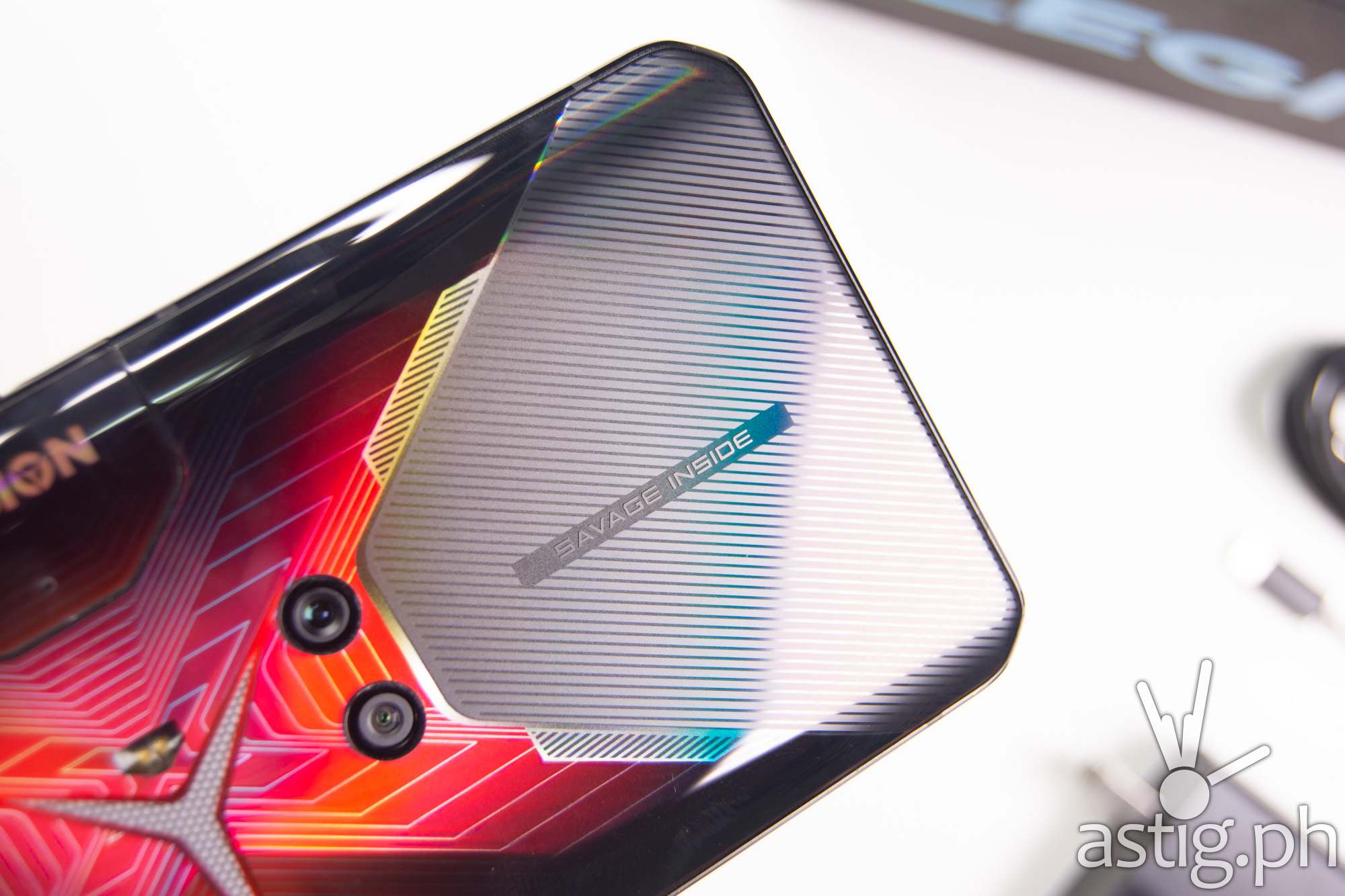 Like we said in the beginning, this phone unfortunately does not come with a 3.5mm audio jack, so if you want to hook it to up to wired speakers, you're going to have to use the USB-C to 3.5mm converter that comes with the kit. Thankfully we have two of these USB-C ports, so you can still charge while your speakers are plugged in.
For those of you who like to listen wirelessly, the phone supports Qualcomm's aptX HD and aptX Adaptive technology for low-latency wireless audio streaming via Bluetooth.
Camera
True to its name, the Legion Phone Duel has a dual camera system consisting of a 64MP f/1.9 Samsung GW1 sensor and a 16MP f/2.2 ultra-wide sensor. Unlike most phones, the camera module is located dead center at the back of the phone, where the RGB logo is located.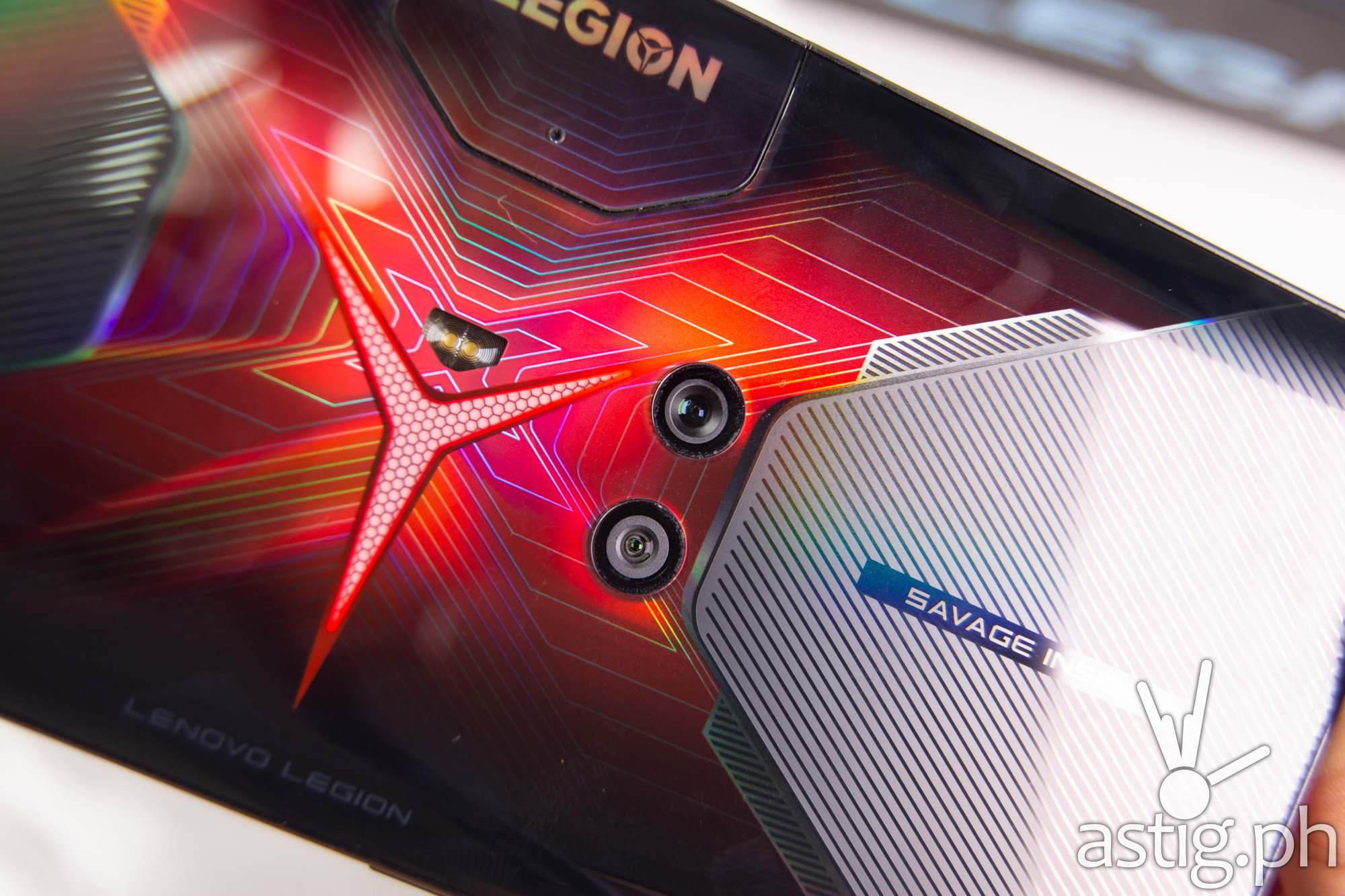 As a result, photos are more "centered" since the lenses are almost dead center when you hold the phone either in portrait or landscape mode. On the other hand, the chances of covering the lens with your fingers are much higher, especially when taking photos with one hand. On several occasions, I've taken photos with my finger partially or fully covering the lens, so I had to re-take.
It feels weird having to "un-learn" habits formed with the traditional smartphone layout, but it can be minimized with time.
Photos taken with the 64MP main camera are quite sharp, although the is chance of blowing out some of the highlights, especially when shooting in non-HDR mode. Color science is fairly decent – not too saturated with moderate noise reduction.
Low-light shots are fairly decent, with around 9 out of 10 of our indoor shots coming out sharp. We're talking fairly lit rooms and mall type scenarios.
In true "Duel" fashion, we also get dual LED flash, which really helps address those low-light situations.
Shots taken in portrait mode shots, night mode, and even macro mode are surprisingly good – not something you'd expect from a phone designed for gaming.
The Samsung GW1 sensor packs a punch, and Lenovo have done something right with their camera software. We're quite pleased with the results.
Its 16MP ultra-wide sensor is also surprisingly good, though obviously nowhere near the 64MP sensor when it comes to dynamic range and sharpness.
One of the things that really set this phone apart is with the front-facing camera, which now pops out of the side via mechanical motor. It's located where the power button is at, so the power button also pops out when you engage the selfie camera. It's a 20MP sensor, which is quite generous for 2020 and even bigger than the ultra-wide sensor in the rear.
Because it's located at the top when using the phone in its default landscape mode, streamers can play most games without the accidentally covering the camera. Not only that, the location and focal length is designed so that the camera can capture your entire face.
This feature is a godsend if you're a streamer. In the past whenever I tried to stream anything, my fingers would occasionally cover part of the camera. Worse, it would only show the top half of my face. Lenovo's designers have clearly engineered this phone to solve this problem.
However, there's a drawback to this design: try taking a selfie in portrait mode with your right hand and chances are, the pop-up camera will end up hitting your palms, covering it or forcing it to retract.
So, you will have to get used to taking selfies with your left hand, or just take selfies in landscape mode the way it was designed. The results are quite good, they look naturally centered like an actual photo taken by someone else as opposed to a shot that you took while holding the phone.
The camera supports 4K 30FPS video recording with gyro-EIS (electronic image stabilization). The phone doesn't have any built-in optical image stabilization (OIS), but we didn't really miss it.
You can also take photos and videos with both the front and rear camera at the same time, which can be handy in certain situations where you'd like to show both viewpoints at the same time.
Battery life
Powering the Legion Phone Duel are dual 2,500 mAh battery modules, for a total of 5,000 mAh. On average, this yields around 5 hours of total gaming time with everything running on full blast. That's certainly more than most phones could manage, but I was hoping it could be higher. We already have a huge phone on our hands, might as well go all-out and get extra battery life – but that's just me.
Battery life for mixed-use scenarios ranges from around 1-1.5 days. This includes about an hour or two of driving around with mobile data and GPS enabled while using Waze or Google Maps and around two hours of playing games. The rest of the time is spent browsing, streaming videos on Wi-Fi, and idling.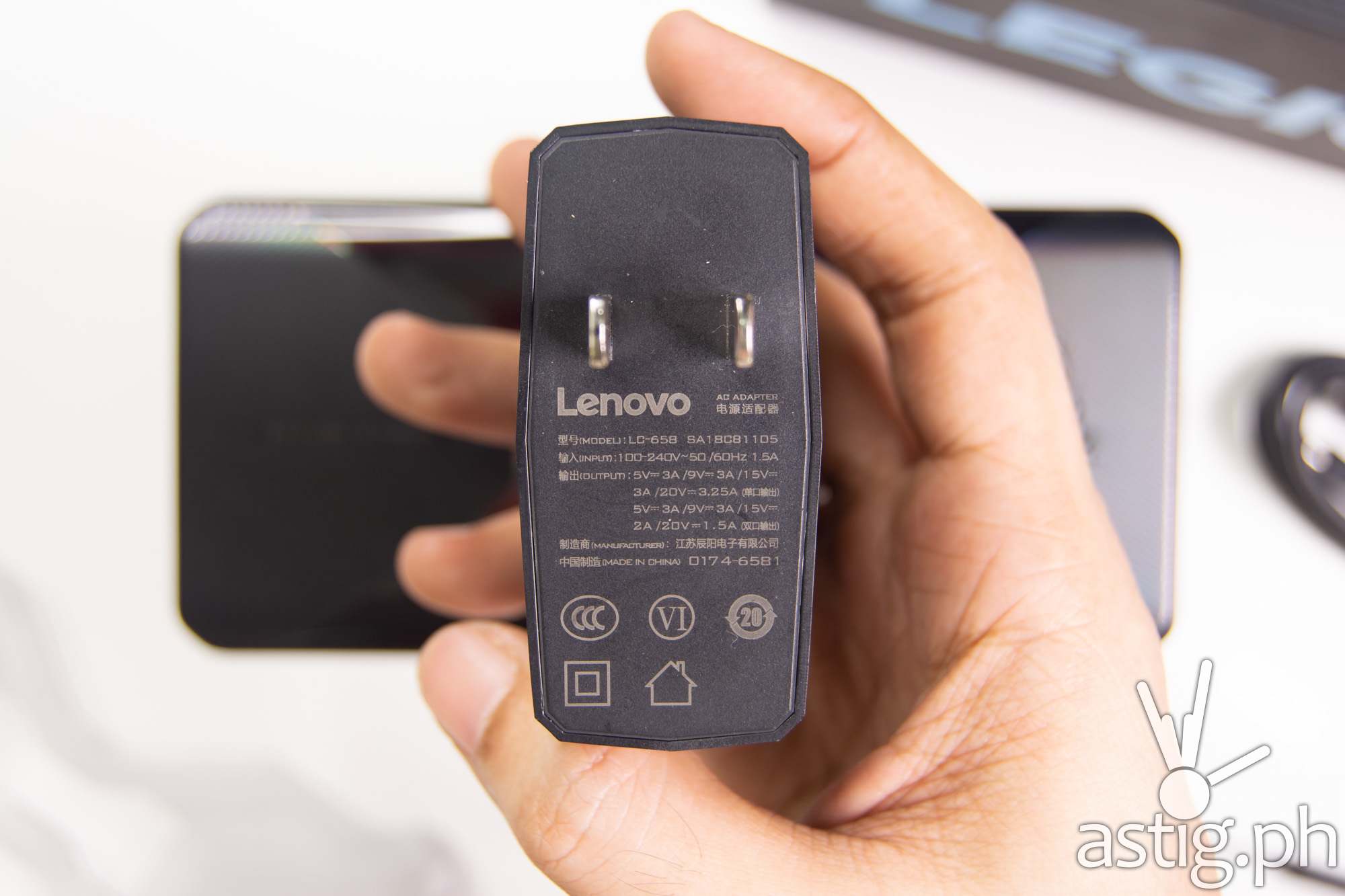 What's great about the Legion Duel is that it doesn't take too much to re-charge the phone. With one USB-C port plugged in, the phone charges at 65W, so you can just leave it plugged in while doing something else and you'll be back at full battery life without even noticing it.
If you're in a hurry, you can plug two USB-C chargers at the same time for up to 90W, which takes the phone from zero to 100 in just 34 minutes. That's mind-blowing for 2020, no other phone comes close to this speed right now, and the engineering team at Lenovo should be very proud of this feat.
Synthetic benchmarks tell us that we have around 5 hours of total screen on time and around 10-12 hours battery life in mixed use case scenarios. Synthetic benchmarking software PCMark did give us close to 7 hours of use though, which is higher than our total screen on time – possibly because we spent most of that time playing games.
Benchmark results
Performance benchmarks:
AnTuTu: 631810

PCMark Work 2.0: 12535

PassMark: 11845 (system); 30132 (CPU); 28867 (memory); 137468 (disk); 47657 (2D graphics); 61116 (3D graphics)

GeekBench: 976 (single-core); 3326 (multi-core)
Gaming benchmarks:
3DMark: 7852 (sling shot extreme); 4261 (wild life)
Battery benchmarks:
AccuBattery: 4h 54m (screen on); 18h 27m (screen off); 10h 5m (combined)

GSam: 12h 0m (mixed); 5h 48m (active); 4h 35m (screen on); 4h 24m (max)

PCMark Work 2.0 battery life: 6h 42m
Verdict
For their first gaming phone, Lenovo is taking a lot of risks with the Legion Phone Duel. It deviates from what most consumers are used to, taking huge design risks in order to bring the best mobile gaming and streaming experience, addressing pain points that other manufacturers usually ignore.
"Stylish" on the outside, the phone offers a fresh, bold style and a more landscape-oriented design. Then you have that pop-up camera which immediately sets itself apart from everyone else. "Savage" on the inside, the phone offers the best performance gamers could ever look for in a gaming phone for 2020.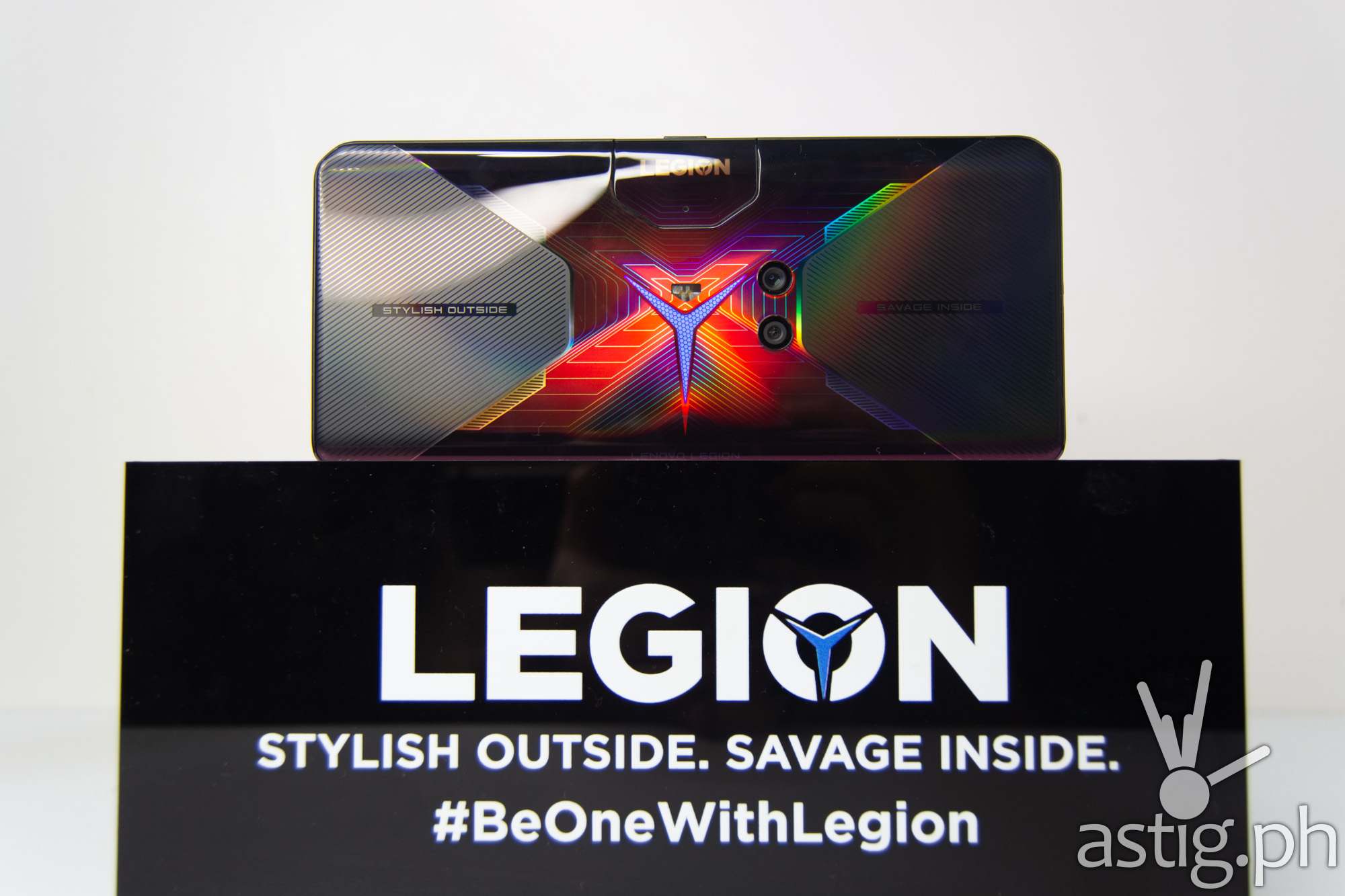 With the Duel, Lenovo has one of the fastest 5G gaming phones in terms of performance (90Hz display, Snapdragon 865+ chipset, UFS 3.5 storage), connectivity (5G, Wi-Fi 6), and charging speeds (90W).
More than just a gaming phone, the Duel is an excellent multimedia device with its powerful Dirac-tuned dual loud speakers. For creatives, expect good quality shots with its main camera, while streamers will appreciate its innovative pop-up motorized selfie.
Will this risk pay off?
There is still room for improvement, and the quest for the perfect phone is never-ending. You don't get an expansion slot. There's no 3.5mm audio jack. For a flagship phone, it doesn't come with an IP rating nor does it come with wireless charging. The in-display fingerprint scanner could be faster. Battery life could be better.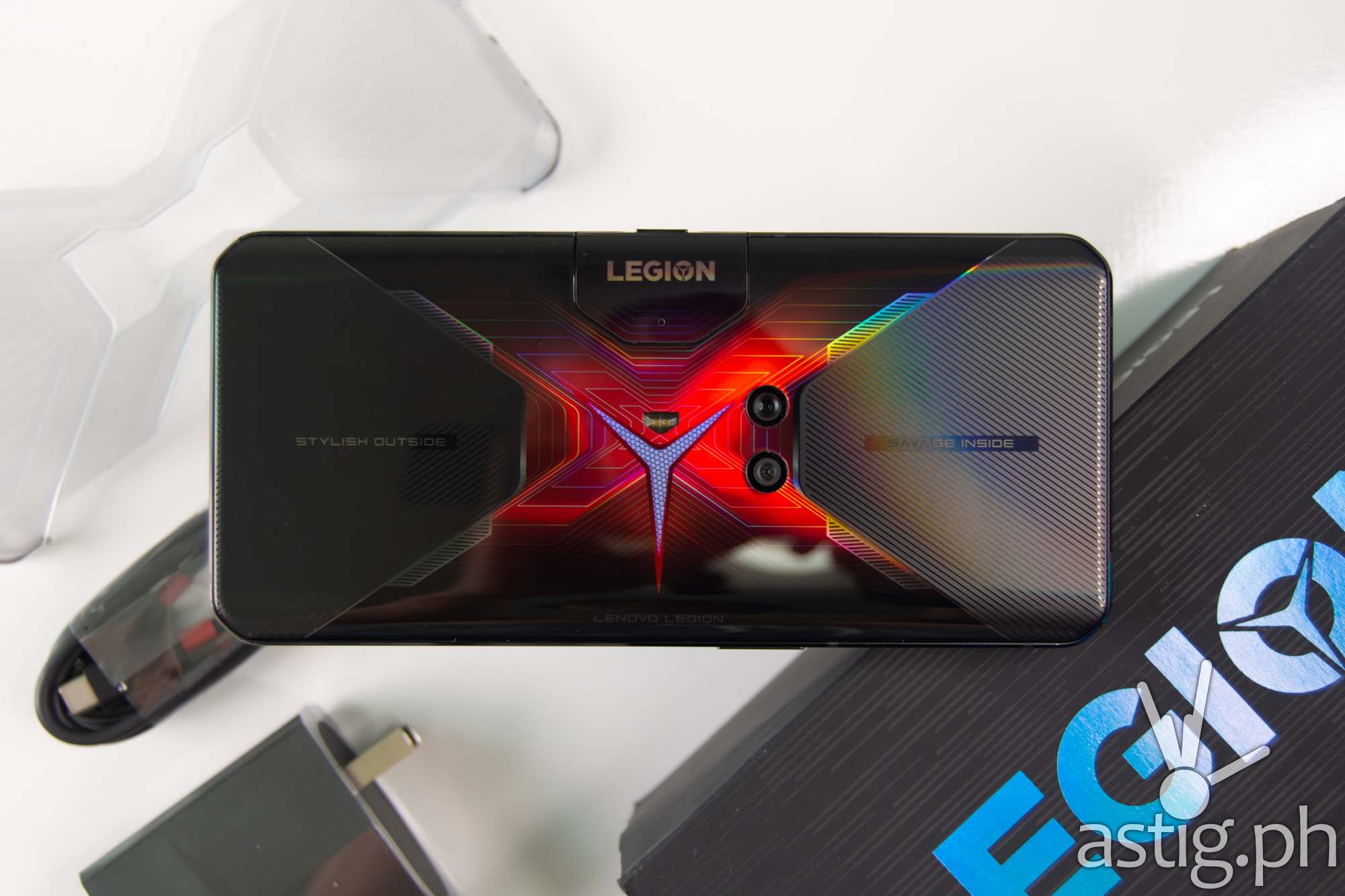 Most of all, there's a steep entrance fee if you ever want to own one. At least in the Philippines, the 12+256GB Blazing Blue costs Php39,995, while the 16+512GB Vengeance Red variant costs Php49,995 – a far cry from its more aggressive pricing in China, which starts at only 3,499 yuan or around Php25,500.
Things will get better though, for sure, but for their first attempt at a gaming phone, we can surely appreciate Team Legion's efforts in creating a solid contender for the best gaming phone in 2020.
Pros

Flagship performance
Hardware and software tuned for gaming
Built-in left and right ultrasonic triggers
Unique pop-up camera designed for streaming
Bold, distinct design
Powerful stereo loud speakers
Unmatched charging speed

Cons

Big and bulky
No IP rating
No wireless charging
Expensive
Legion Phone Duel technical specifications (Philippines)
Display: 6.65 inches; 1080 x 2340 pixels; AMOLED; HDR10+; 144Hz refresh rate (240 Hz touch sampling rate)
SIM: Dual SIM (Nano-SIM)
OS Android 10 (Q); Legion OS / ZUI 12
Chipset (SoC): Qualcomm SDM8250 Snapdragon 865+ (7 nm)
CPU: Octa-core (1×3.1 GHz Kryo 585 + 3×2.42 GHz Kryo 585 + 4×1.8 GHz Kryo 585)
GPU: Adreno 650 (645 MHz)
Memory (RAM) + storage: 12GB + 256GB; 16GB + 512GB
Expansion: none
Main camera (rear): 64MP f/1.9 (wide), Samsung GW1 sensor; 16MP f/2.2 (ultrawide)
Selfie camera (front): 20MP f/2.2, motorized pop-up
Connectivity: 802.11 b/g/n/ac/6 dual band; Bluetooth 5.0, A2DP, LE, aptX (HD, Adaptive); A-GPS+GLONASS+BDS+Galileo+QZSS; NFC
Audio: Dual stereo speakers (Dirac)
I/O: USB Type-C 3.1 (side), USB Type-C 2.0 (bottom); fingerprint scanner (under display, optical)
Battery: 5,000 mAh; 90W fast charging (dual)
Colors: Vengeance Red, Blazing Blue
Price (Philippines): Php39,995 (12GB + 256GB) Blazing Blue; Php49,995 (16GB + 512GB) Vengeance Red