TECNO Pouvoir 4 is the brand's entry-level Android phablet (smartphone-tablet hybrid) for 2020. Packing a 7-inch screen and a 6,000 mAh battery, it finally brings multiple cameras to the TECNO Pouvoir line with its quad camera system. As opposed to the beefier TECNO Pouvoir 4 Pro which runs on the MediaTek Helio P22 chipset with 18W fast charging, the base model is powered by the Helio A22 and charges at standard speeds.
Check out the specs below, or skip ahead for our TECNO Pouvoir 4 hands-on review.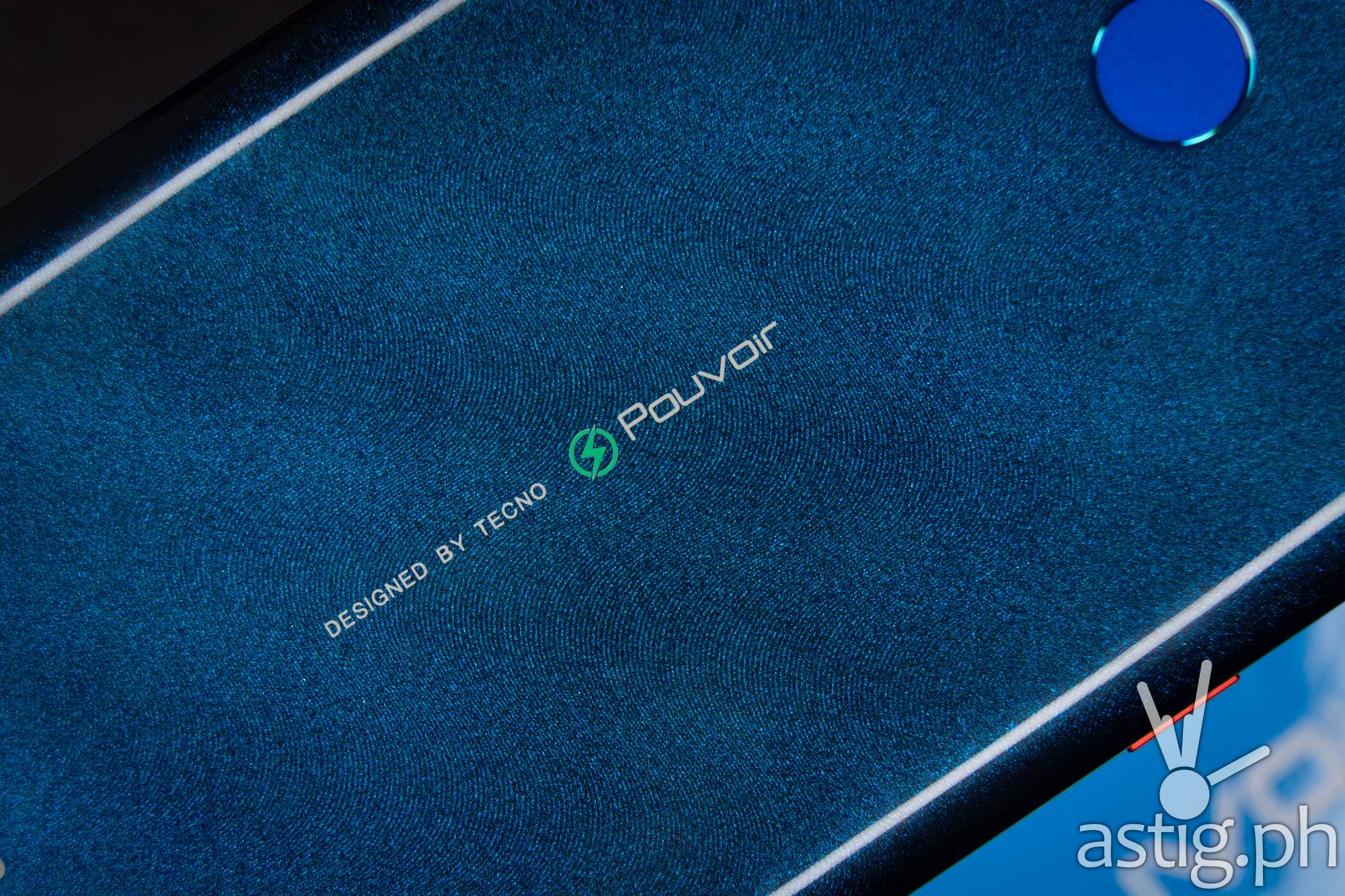 TECNO Pouvoir 4 specs
Display: 7 inches; 720 x 1640 pixels; IPS LCD
SIM + expansion: Dual SIM (nano-SIM, dedicated slots), microSD
OS Android 10 (Q); HiOS 6.0
CPU + GPU: Quad-core MediaTek Helio A22 (12nm); PowerVR GE8320
Memory (RAM) + storage (ROM): 3 GB + 32 GB, eMMC 5.1
Camera (rear): 13MP f/1.8 (wide) + 2MP f/2.4 (macro) + 2MP f/2.8 (depth); 8MP (selfie)
Battery: 6,000 mAh
Price (Philippines): Php4,590 (3GB + 32GB); Php5,990 (4GB + 64GB); Php6,990 (6GB + 128GB)
Build quality, design
TECNO Pouvoir 4 is putting big screens to the forefront with its massive 7-inch IPS LCD display. It is one of the biggest displays that we've seen this year, even bigger than the 6.9-inch Galaxy S20 Ultra and Galaxy Note 20 Ultra from Samsung. Despite this, the entire unit doesn't seem much larger than what we're used to. It is about as wide as the 6.67-inch POCO X3 NFC, though it is taller by one centimeter.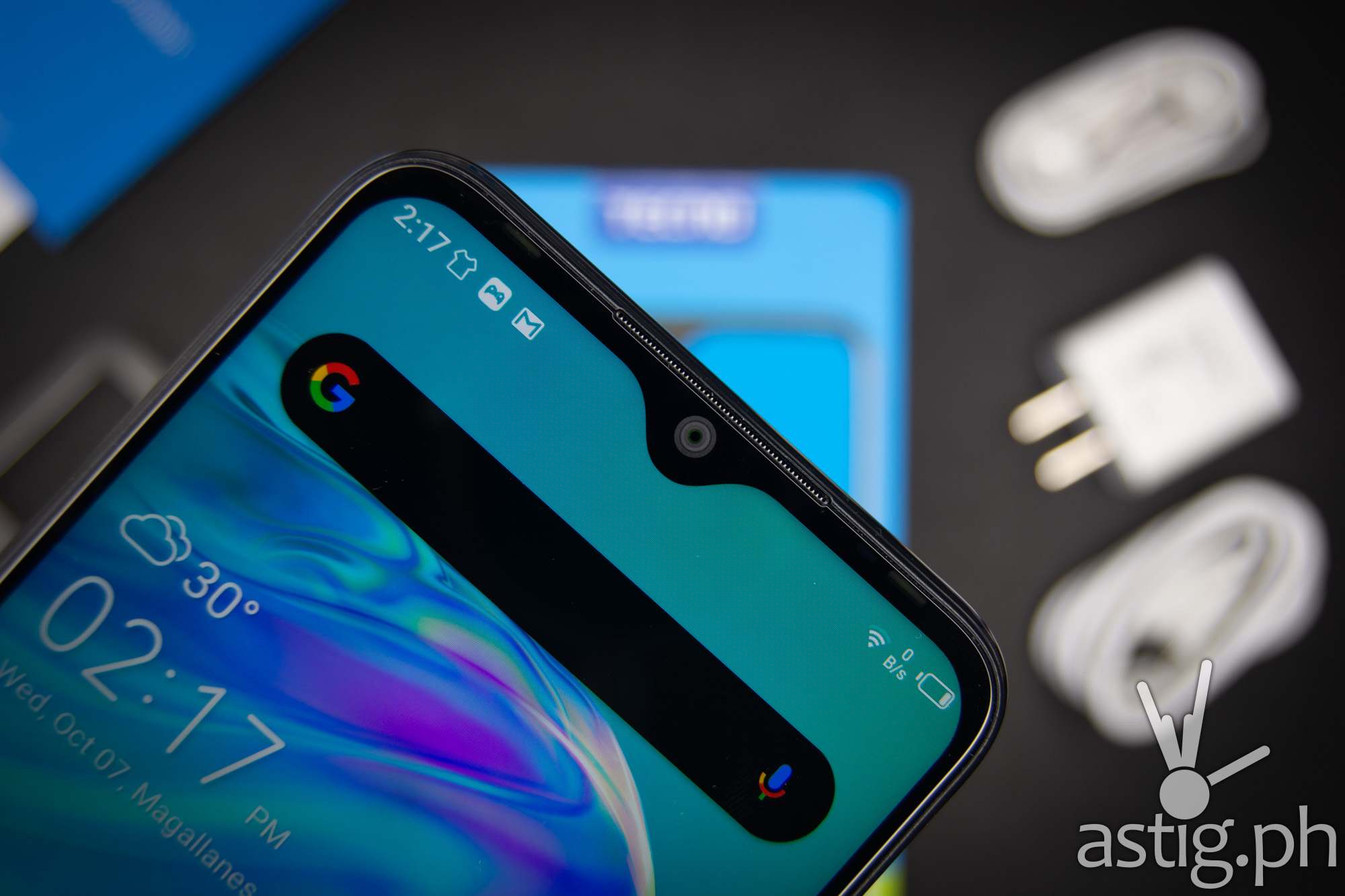 The screen also has a bit of a hump, making this one really thick phone.
A hole-punch called the "Dot Notch" is positioned at the top and center of the screen to enable the 8MP selfie camera to peek through, which is the best placement for the notch. The notch itself is quite deep, almost as thick as the chin, which doesn't help the fact that this is already a tall phablet to begin with.
It is also quite hefty, weighing in at 217 grams.
As someone who is used to heavier phones like the 240-gram ROG Phone 3, the weight didn't really bother me as much as its pocketability. Even as a dude, I don't have too many pants with pockets that could carry it, so I imagine other guys would likely carry it hand-held like I do. Ladies would probably need to carry a purse when traveling with this phone.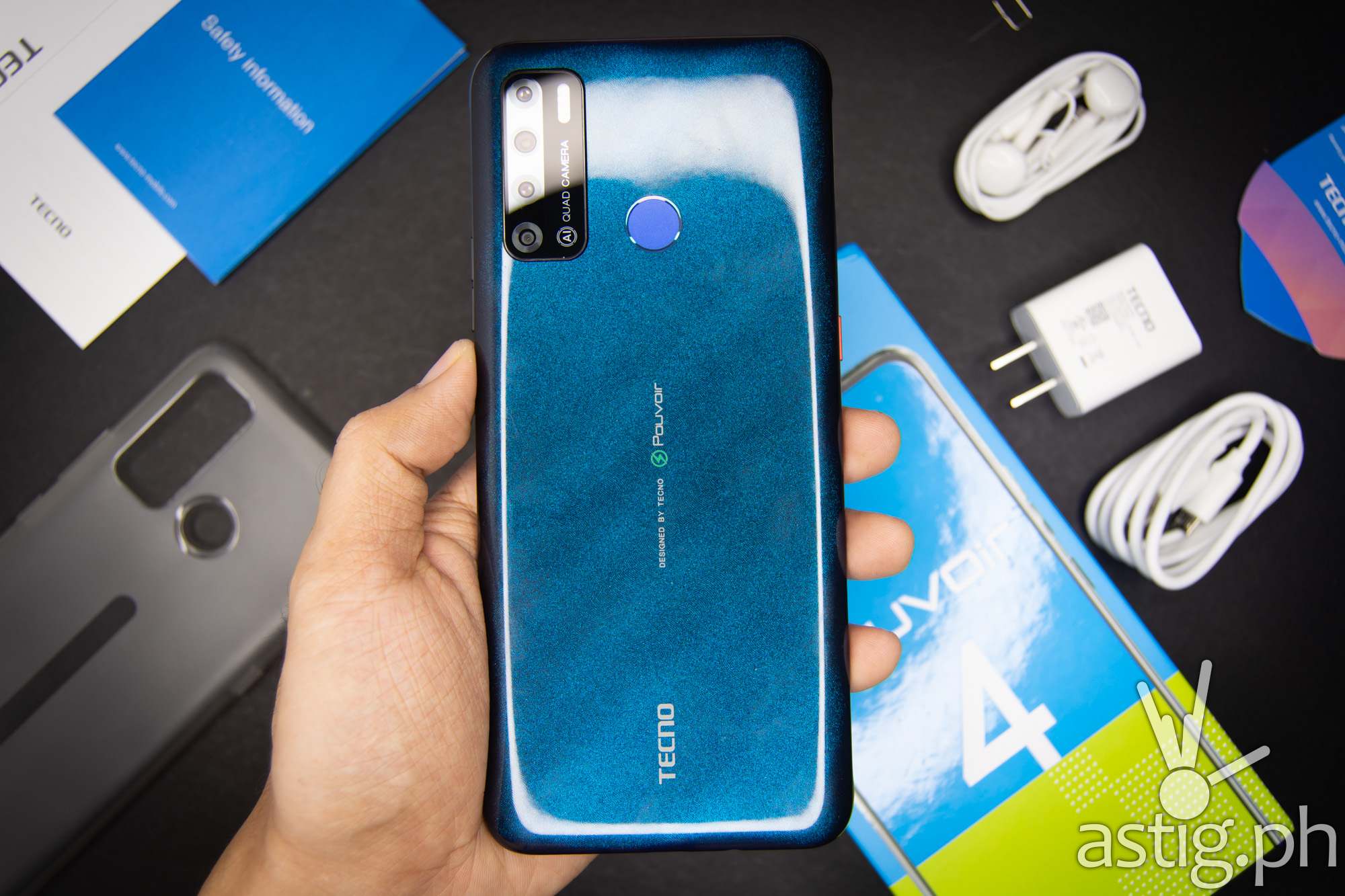 Still, the added screen real estate is awesome for the more senior users or people with poor eyesight like me. I appreciate being able to read the screen without glasses, and I can completely imagine my mom rocking this phone at home.
We get an extra button to the left which triggers Google Assistant. It is conveniently marked with a red outline, which is a nice little bit of detail. There doesn't appear to be a way to remap this button to make it do something else, i.e. to open the camera, take a screenshot, or launch an app. I'm not sure if that's due to some restriction in the licensing agreement between manufacturers and Google, but it would have been nice to have that option.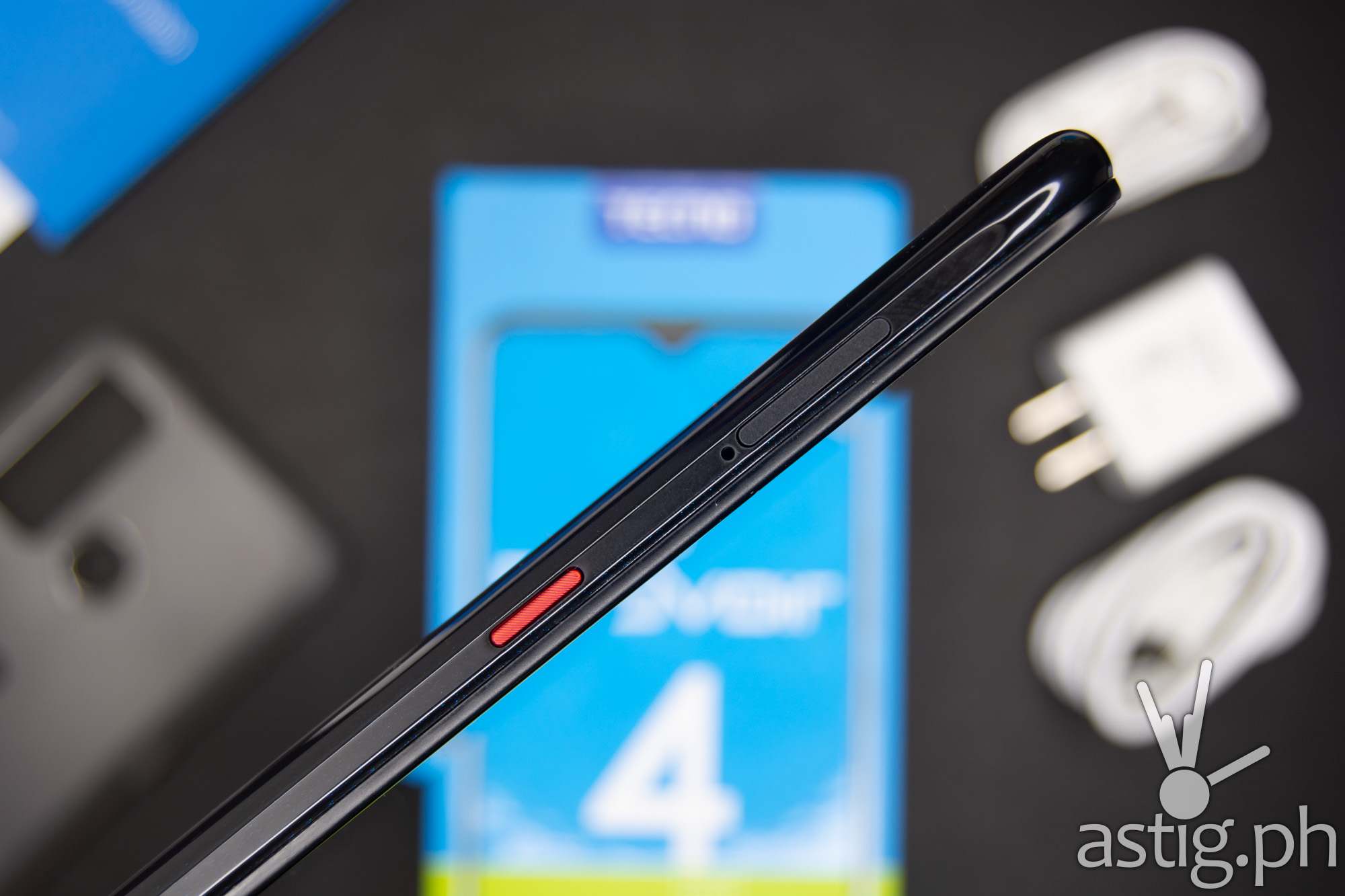 The rear portion of the phone is quite interesting – we had the Cosmic Shine unit, which features diagonal streaks of light and dark blue with flecks that glitter in the light. The addition of a vertically centered TECNO Pouvoir logo not only adds interest, but visually sets the phone apart from other brands.
Even the quad camera module looks slightly different, opting for a tall rounded rectangle with its four cameras encased in a pill beside the quad flash module.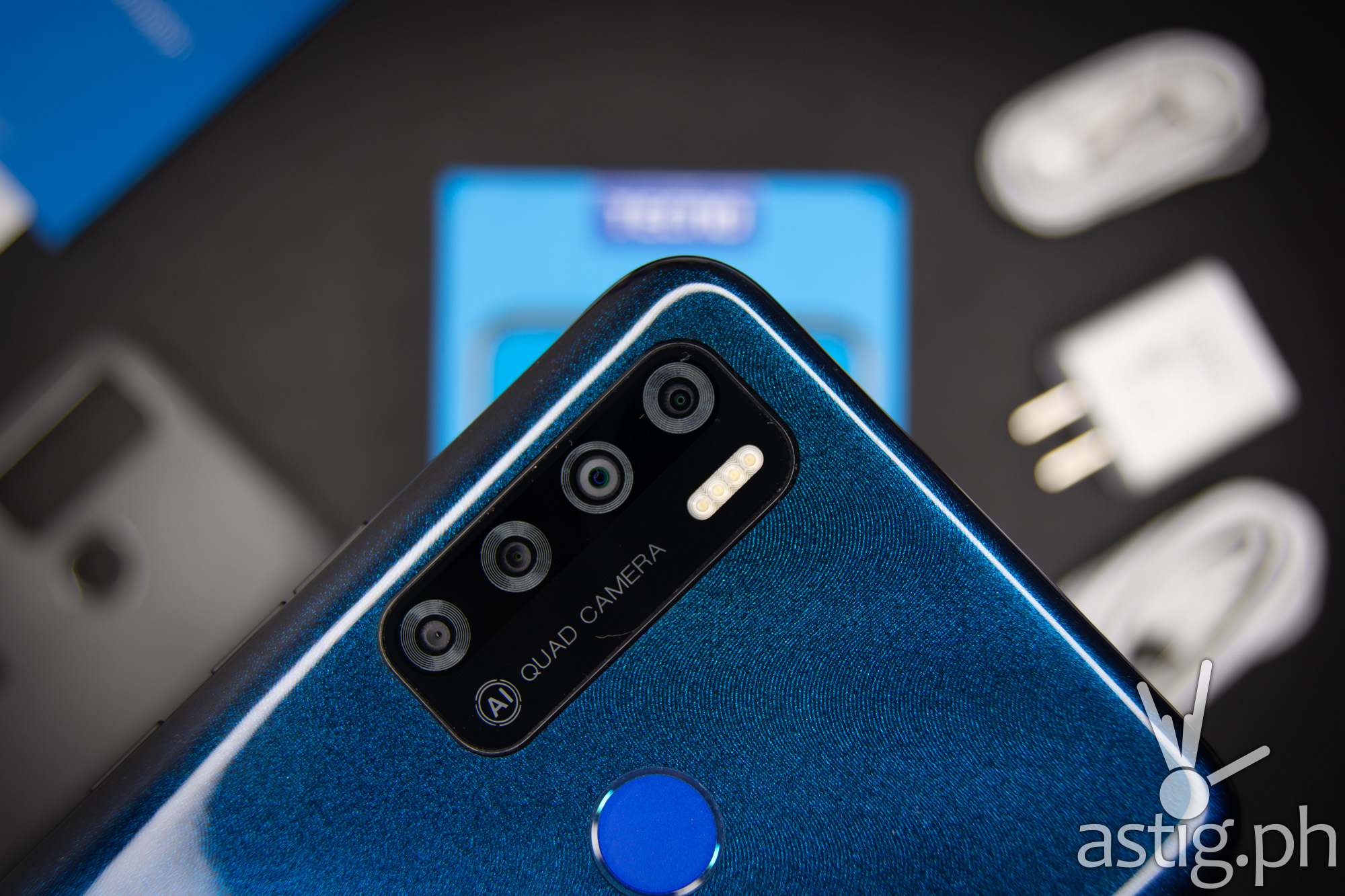 A rear-mounted fingerprint scanner is included for biometric security, which for my medium-sized guy hands are actually quite accessible, although it feels a little weird because the phone itself is so long. At this size, I would have preferred one mounted onto the power button instead, which is so much more accessible.
The phone is endowed with two loud speakers one at the top and one at the bottom. Dual loud speakers are still a rarity these days, especially among entry-level phones. Consider this a treat. We also get 5GHz Wi-Fi connectivity, a feature not normally found among phones below 7,000 Philippine pesos.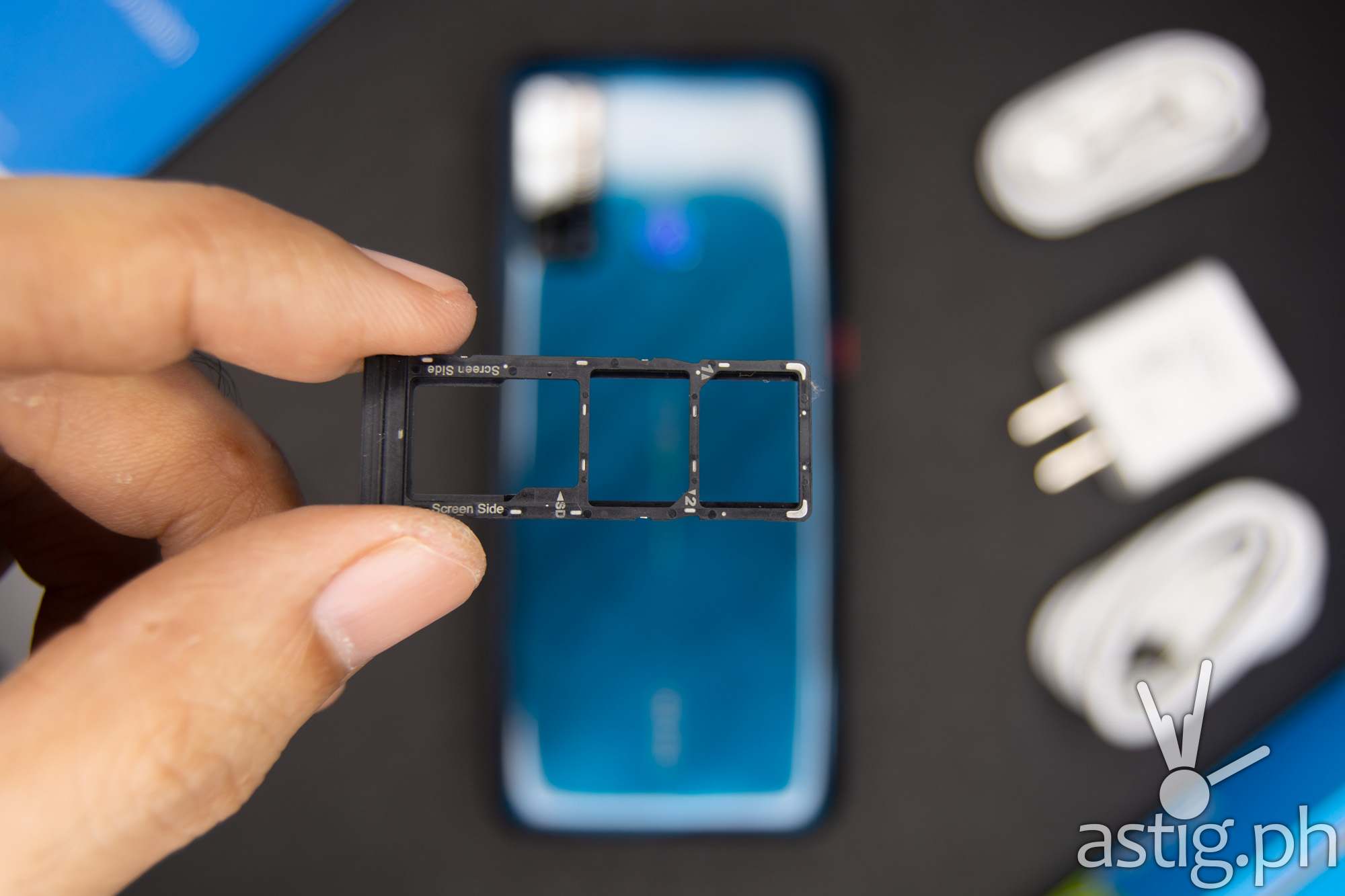 For those of you who need to use a micro SD card in addition to dual SIMs, good news – the TECNO Pouvoir 4 has a triple-slot tray with dedicated dual SIM and micro SD slots.
As a finisher, the phone has a 3.5mm audio jack as well as a 6,000 mAh battery, which the company claims is capable of powering the phone for four days straight. Fast charge is supported at a maximum of 18W.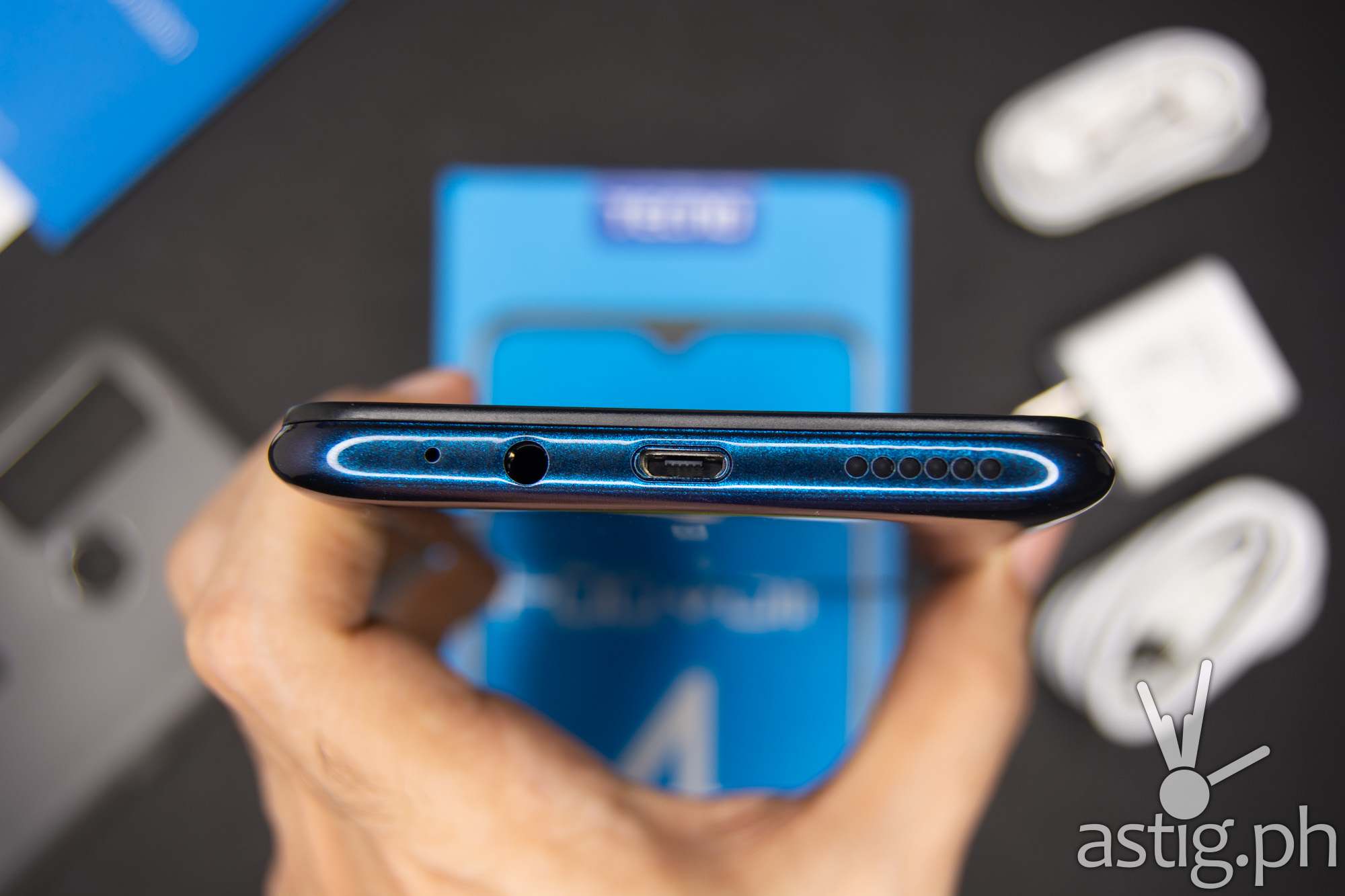 Performance
The TECNO Pouvoir 4 runs on the entry-level MediaTek Helio A22 platform. Launched back in 2018, this two-year old 4G chip has proven its capabilities in numerous phones such as the Nokia 2.2 and 2.3, Vivo Y90, Huawei Honor 8S, Huawei Y5, Redmi 6A, and the Lenovo Smart Tab M8.
We also have a limited amount of memory and storage at 3GB RAM and 32GB of ROM. We experienced occasional crashes on various applications, and we suspect this may be due to our limited resources.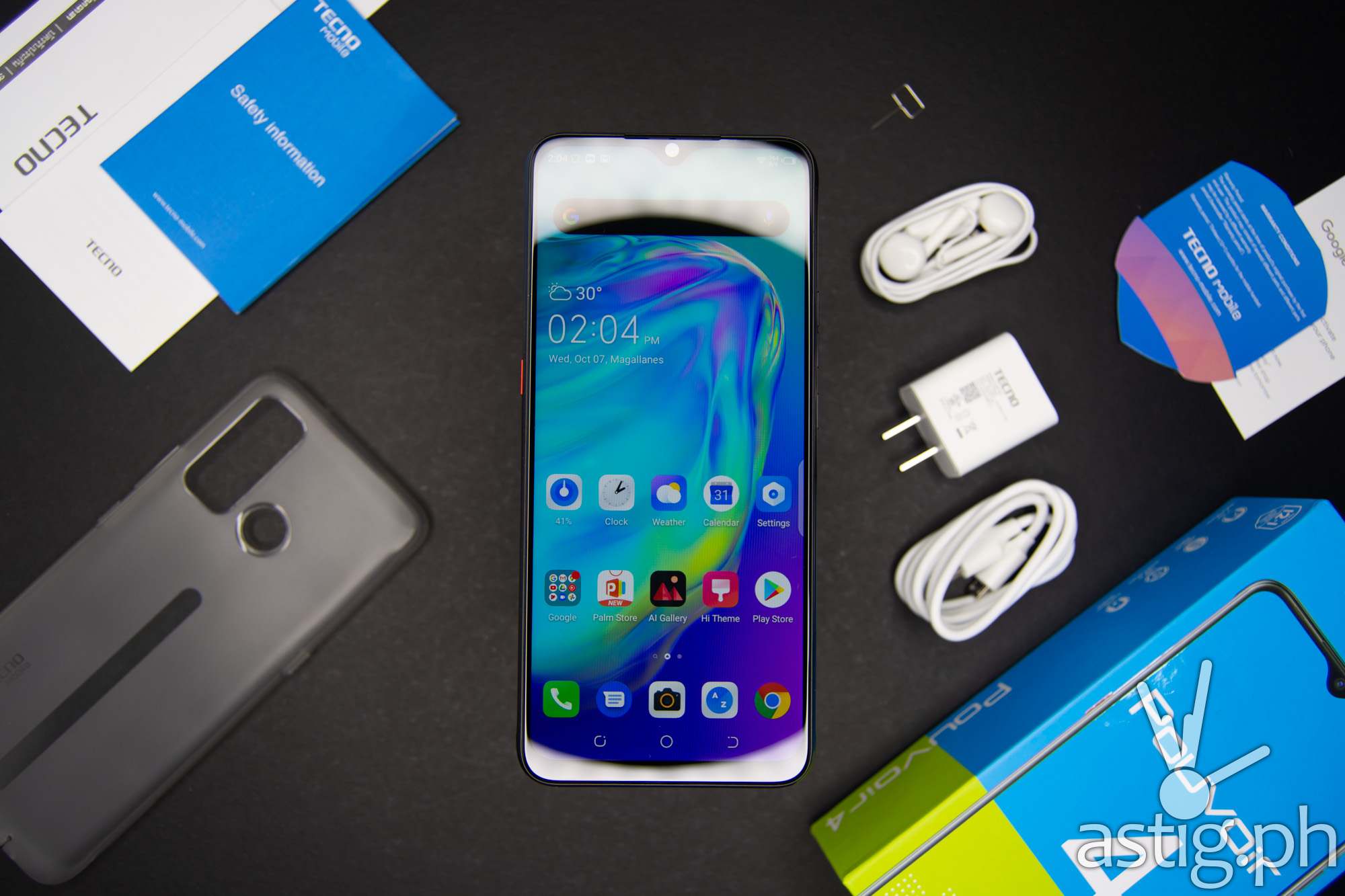 Understandably, synthetic performance benchmarks place it at the lower end of the spectrum, scoring 77k in AnTuTu, however, don't let that score put you off: bear in mind that this is an entry-level device and priced accordingly.
Navigating the Android 10-powered HiOS 6 UI is fairly fluid and packed with loads of useful features and goodies such as built-in Google Assistant, a floating toolbar, multi-window support, and a built-in game booster called "Game Mode".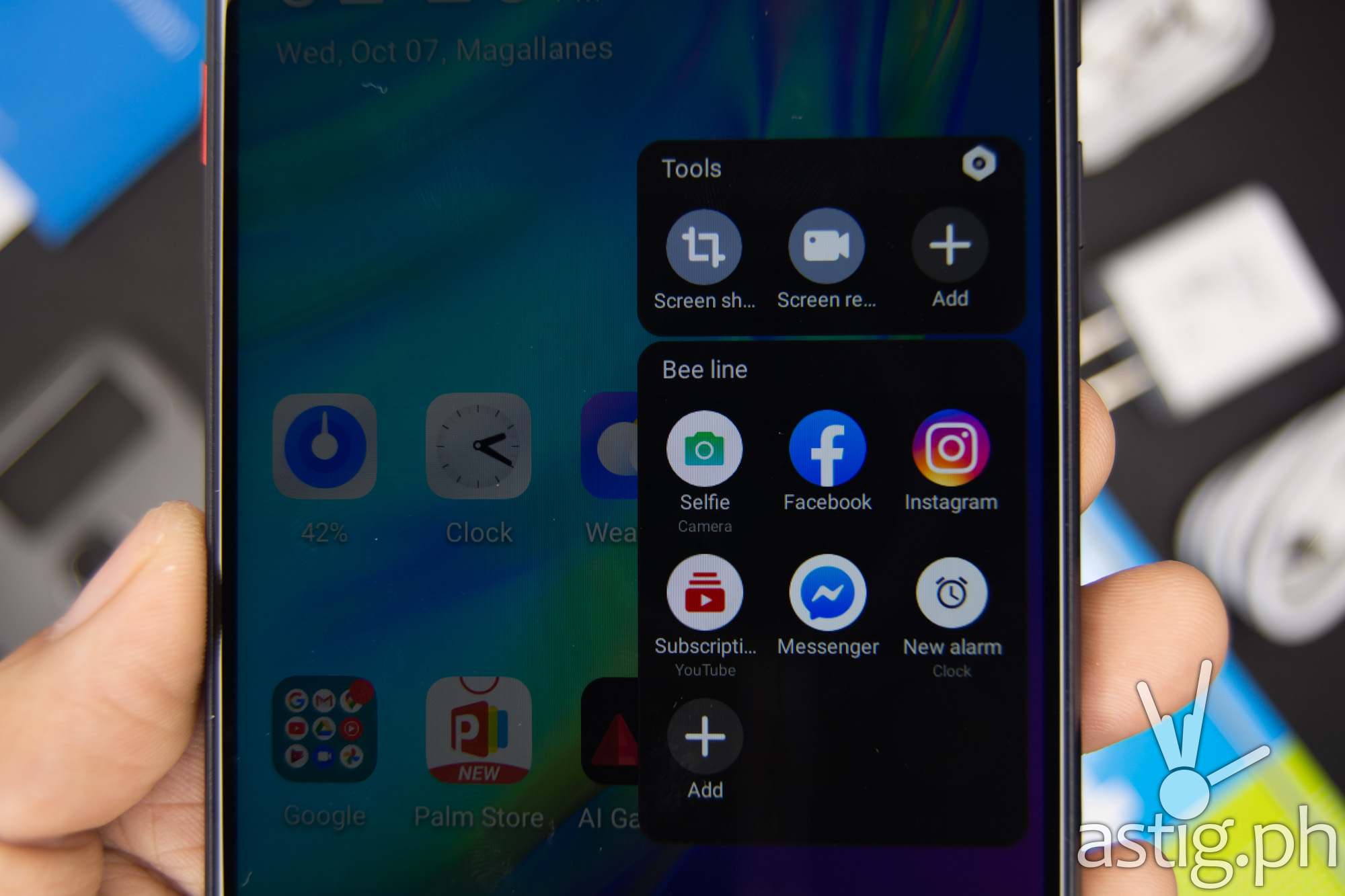 On the flipside, it also comes with numerous pre-loaded apps and advertisements everywhere, which is a step backwards considering many brands have taken steps to minimize bloatware and customizations, choosing a minimalist approach that's as close to stock as possible. Still, it's visually interesting, and gives a feeling of "fullness" when you get your new phone.
You can disable the pre-loaded apps, but you can't uninstall them. Unfortunately, there doesn't appear to be a way to remove or disable the advertisements.
Entertainment
As a mobile entertainment device, the big 7-inch screen provides ample real estate with good viewing angles. The IPS LCD display panel is quite good, only being 720×1640 pixels. We also get dual loudspeakers. Aside from the bottom-firing speaker, the top vent also houses the earpiece which also acts as a secondary, front-firing loudspeaker.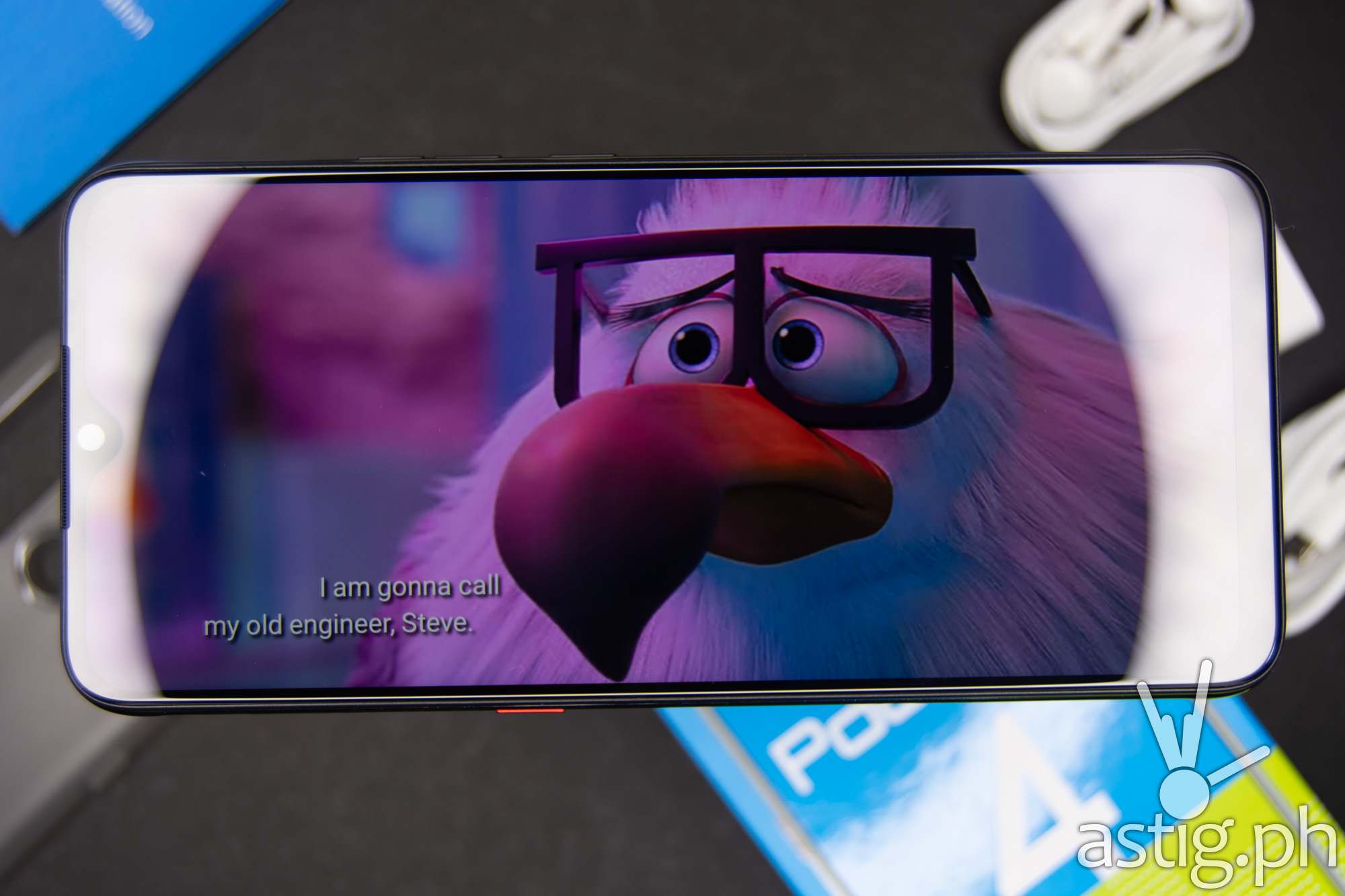 There is a clear bias towards the bottom speaker, which is much louder than the one at the top. Mids and highs are relatively crisp and not too bright, however, there is a lack of depth and dynamic range towards the lower, more bassy frequencies.
We're not complaining though, two speakers are better than one, and it definitely enhances the phone's entertainment experience.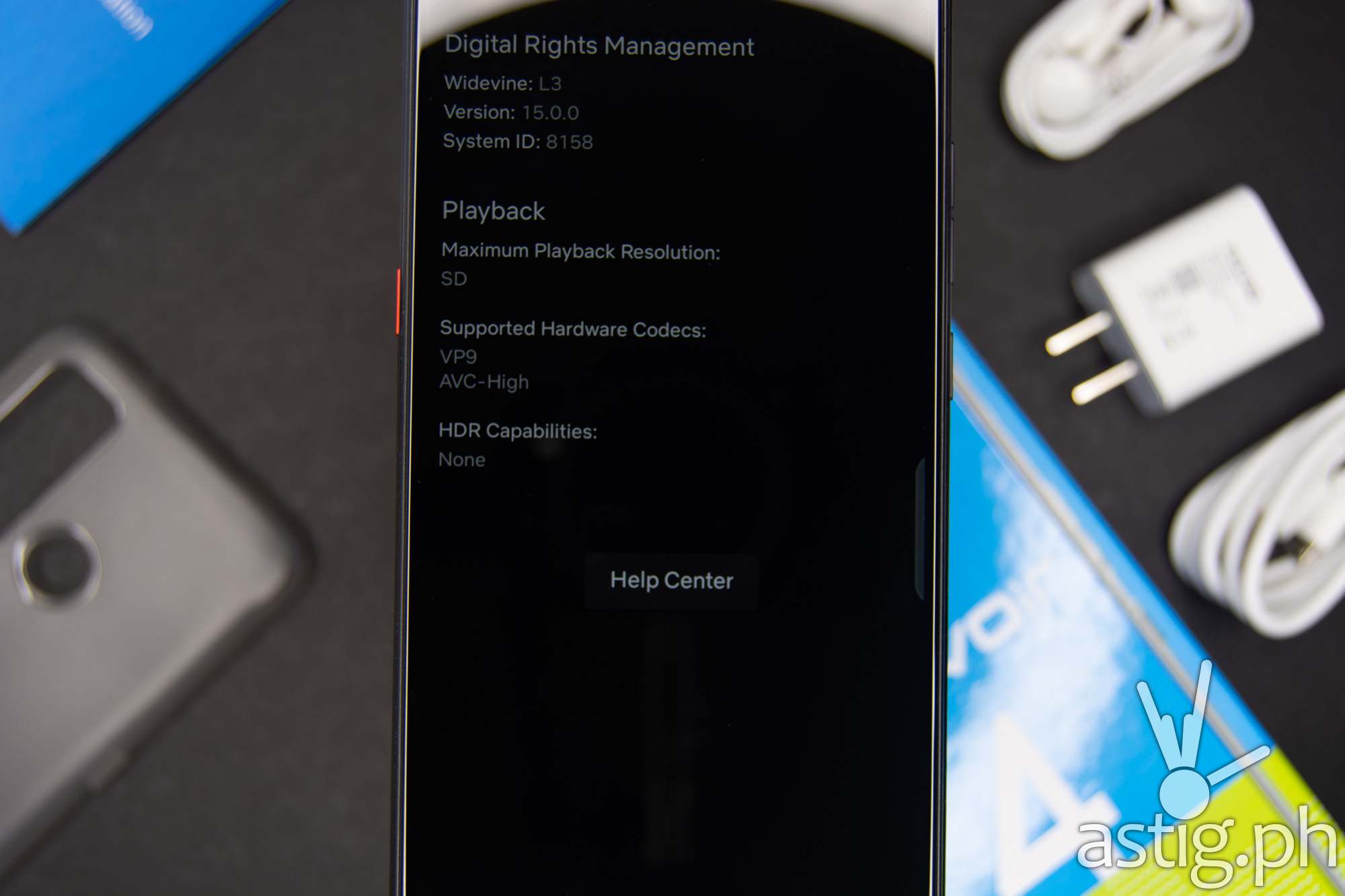 The phone only comes with Widevine L3, which limits playback of DRM-protected content to standard definition (SD), which is a bummer. We would have wanted to get at least HD to match the phone's native resolution when playing shows on Netflix or Amazon Prime. The display panel also doesn't support any HDR standards, but hey – it's a budget phone.
For those of us who use AIoT smart devices, the Pouvoir 4 comes with Google Assistant baked into its core. This can be triggered by simply hitting the special physical button located in the left edge of the unit. It doesn't come a dock, so no Ambient Mode, though you can also trigger Assistant when the phone is unlocked by using voice commands triggered via the "Hey Google" prompt.
Gaming
As mentioned earlier, HiOS 6 comes with "Game Mode", which adds a context menu inside games, which can do things like automatically free up resources, disable notifications, and fire up applications in a window so you can multitask and chat or browse while playing.
However, the best part is the addition of a "Magic Button", which lets you map the physical Volume Up and Volume Down buttons for use in-game. Doing so will disable the ability to adjust volume levels via the volume rocker, but you can do it via the Game Mode popup context menu / toolbar.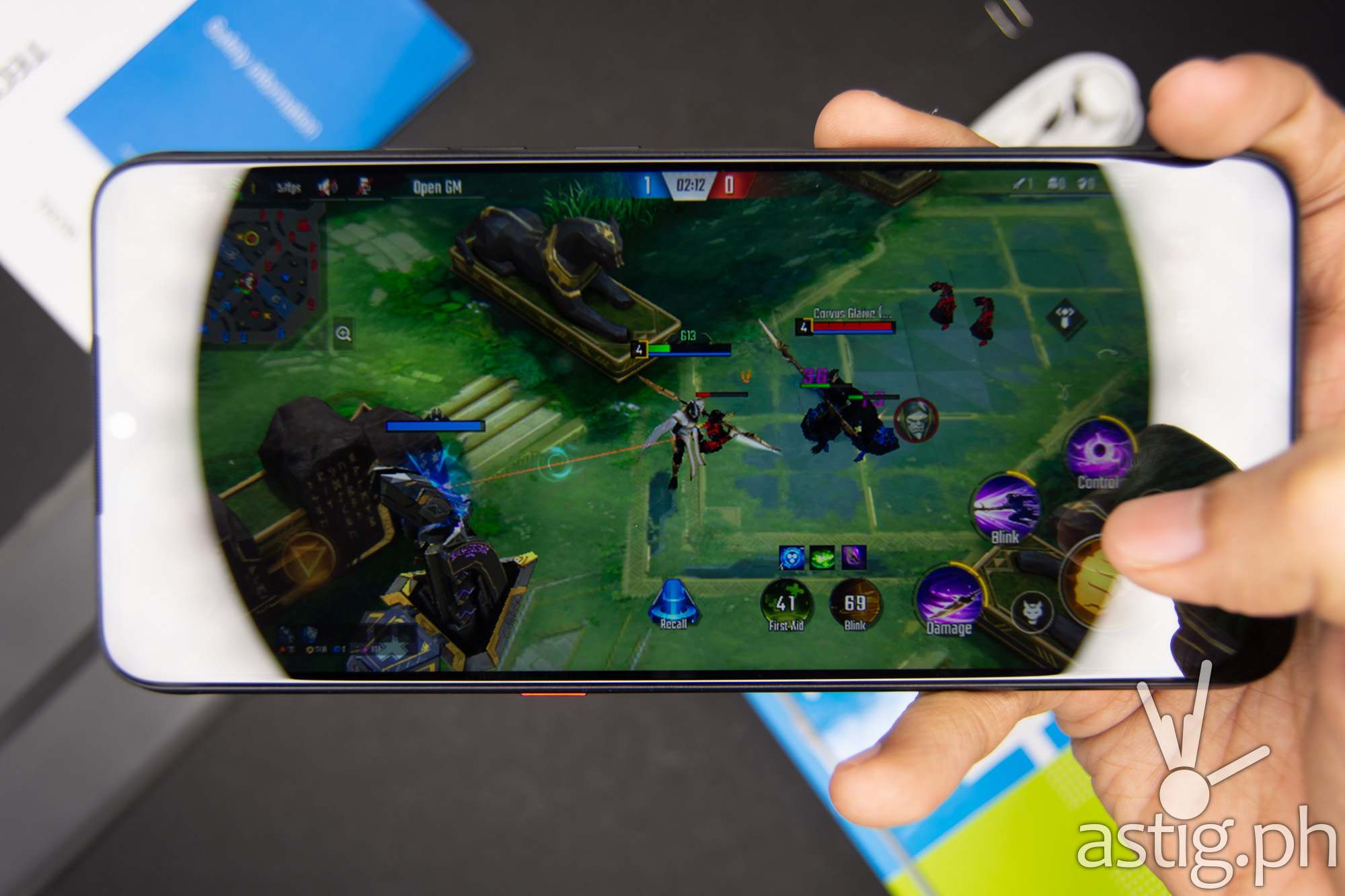 The special Google Assistant button and the power buttons cannot be mapped, and I'm not sure if it would be useful to do so in any game.
Game Mode doesn't come with a frame rate or resource monitor, hopefully they add it in a future update.
While we managed to hit 30 FPS on our reference game Marvel Super War with everything set to low, gaming options are unfortunately quite limited on the TECNO Pouvoir 4. My attempts to play League of Legends: Wild Rift have all failed, as the game simply crashes on the loading screen upon reaching 100 percent.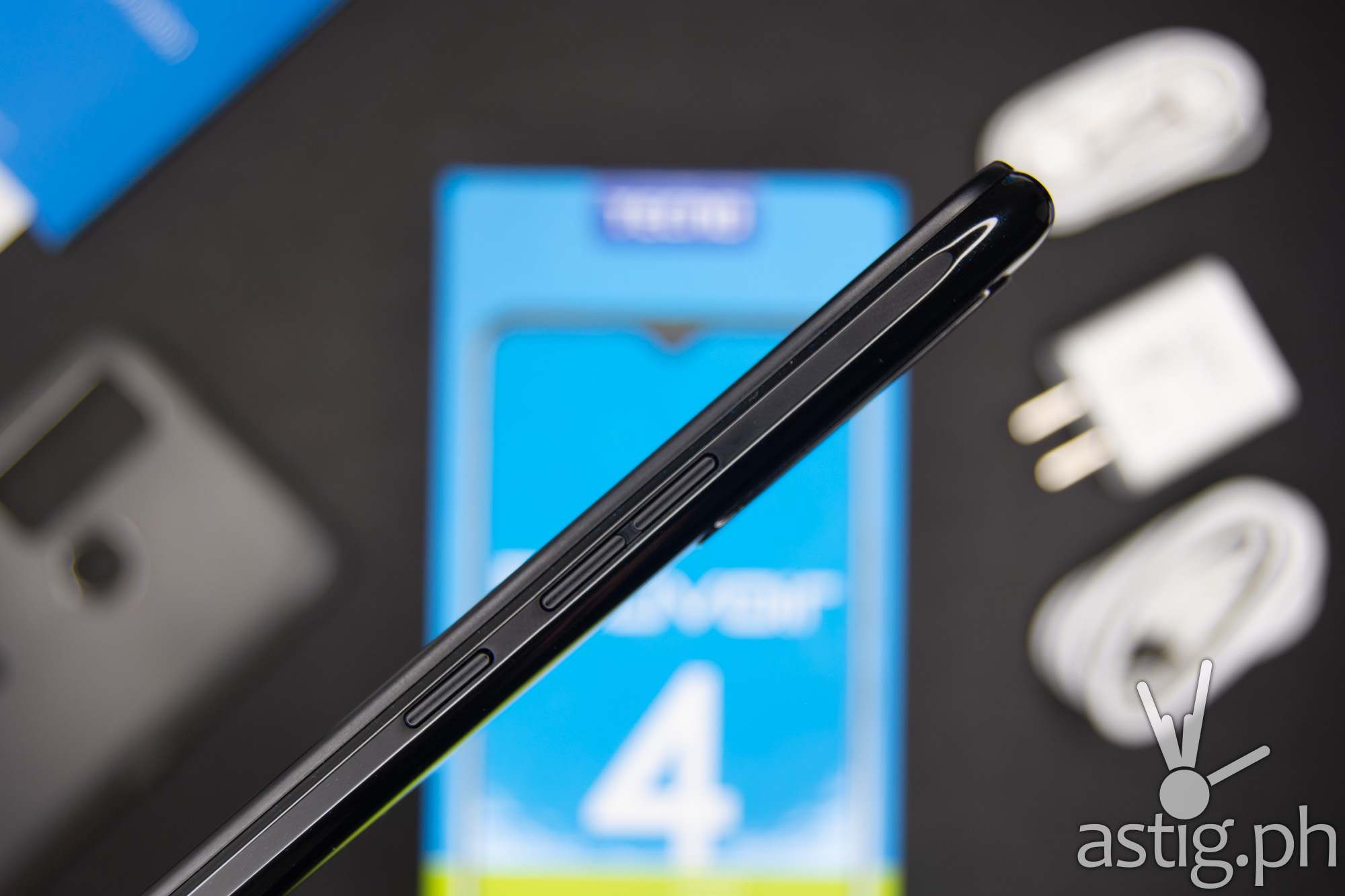 If you play Genshin Impact, you may need to skip this phone, as the Pouvoir 4 is not among the list of compatible devices. Even if you were able to brute-force the installation via APK somehow, the game takes up almost 7GB of disk space, it's quite graphics-intensive that you might not enjoy playing it on an un-optimized device.
Good news for Mobile Legends players, though: this well-optimized mobile game is smooth even with graphics set to High, though there may be frame drops during clashes.
Photography
The TECNO Pouvoir 4 touts a 13MP quad-camera system with four LED flashes. The camera array includes a 13MP f/1.8 main camera, a 2MP f/2.4 macro lens, a 2MP f/2.8 depth sensor, and a QVGA camera. We're not sure what the QVGA (Quarter Video Graphics Array) camera is for, though.
We couldn't find any information about it anywhere, so we reached out to TECNO Philippines seeking answers.
With good lighting, the 13MP sensor takes fairly sharp photos that have a decent amount of dynamic range. Colors appear neutral, and the Helio A22 chipset does a fair job of keeping image grain and noise under control, though the noise and grain rapidly increases with less light.
Indoor shots need to be taken really still in order to be sharp, as none of the sensors come with OIS (optical image stabilization). The Pouvoir 4 doesn't list any special EIS (electronic image stabilization) features, either.
So now we see why we have four rear LED flash and two selfie flash modules – you're gonna need them when you're shooting indoors.
Without good lighting, the shots tend to be grainy and soft, including photos taken with the 8MP selfie camera. Also, you can actually take photos with two cameras despite the phone's quad camera module. So your creative options are limited to wide and macro, which isn't much because macro has a very limited application, so in effect you only actually have one usable lens.
It would have been better to make the QVGA into an ultra wide-angle lens instead, so at least you have three out of four usable cameras.
Battery life
The TECNO Pouvoir 4 packs a 6,000 mAh battery that pairs well with the lower power draw of the Helio A22. The company claims that it can run for four days straight. We have only had the phone for over a week, so our experience here is limited, however, AccuBattery reports that we have around 24hours of screen on time and almost 103 hours of combined use or over 4 days which not just matches the marketing claim, but makes this the longest-living smartphone that we've held this year so far!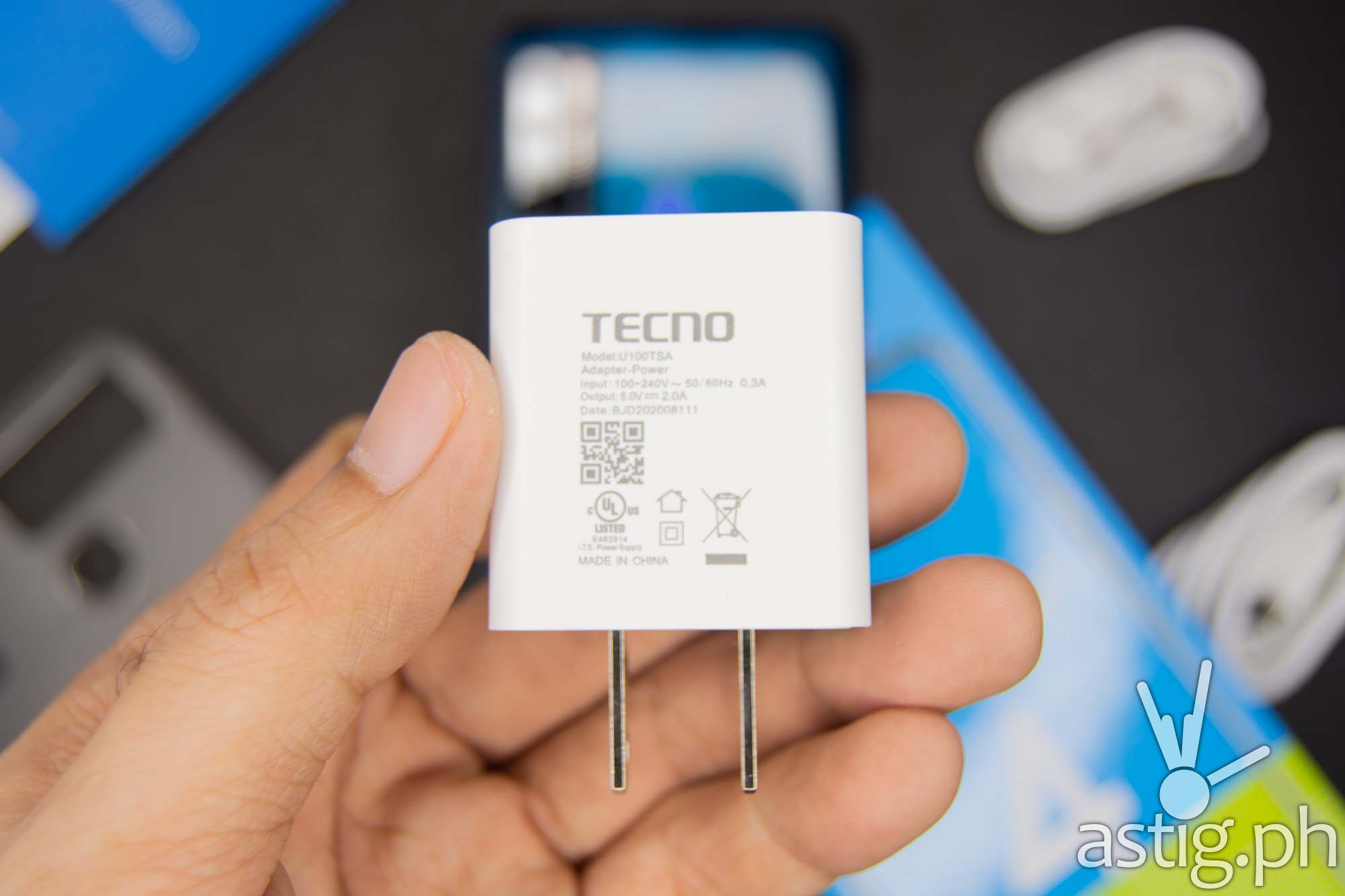 Unlike the Pouvoir 4 Pro which comes with an 18W speed charger, the Pouvoir 4 only comes with standard charging, so we find ourselves leaving the phone plugged in all night to make sure we have enough battery for the next day.
Benchmark results
Performance benchmarks
AnTuTu: 77386
PCMark Work 2.0: 4842
PassMark: 1071 (system); 2596 (CPU); 4304 (memory); 23467 (disk); 9955 (2D); 3842 (3D);
GeekBench: 145 (single-core); 483 (multi-core)
Gaming benchmarks
3DMark Sling Shot Extreme: 285 (OpenGL)
Battery benchmarks
AccuBattery: 24h 6m (screen on); 196h 22mh (screen off); 102h 51m (combined)
GSam Battery Monitor: unknown (not enough data)
PCMark Work 2.0 battery life: unknown (keeps crashing)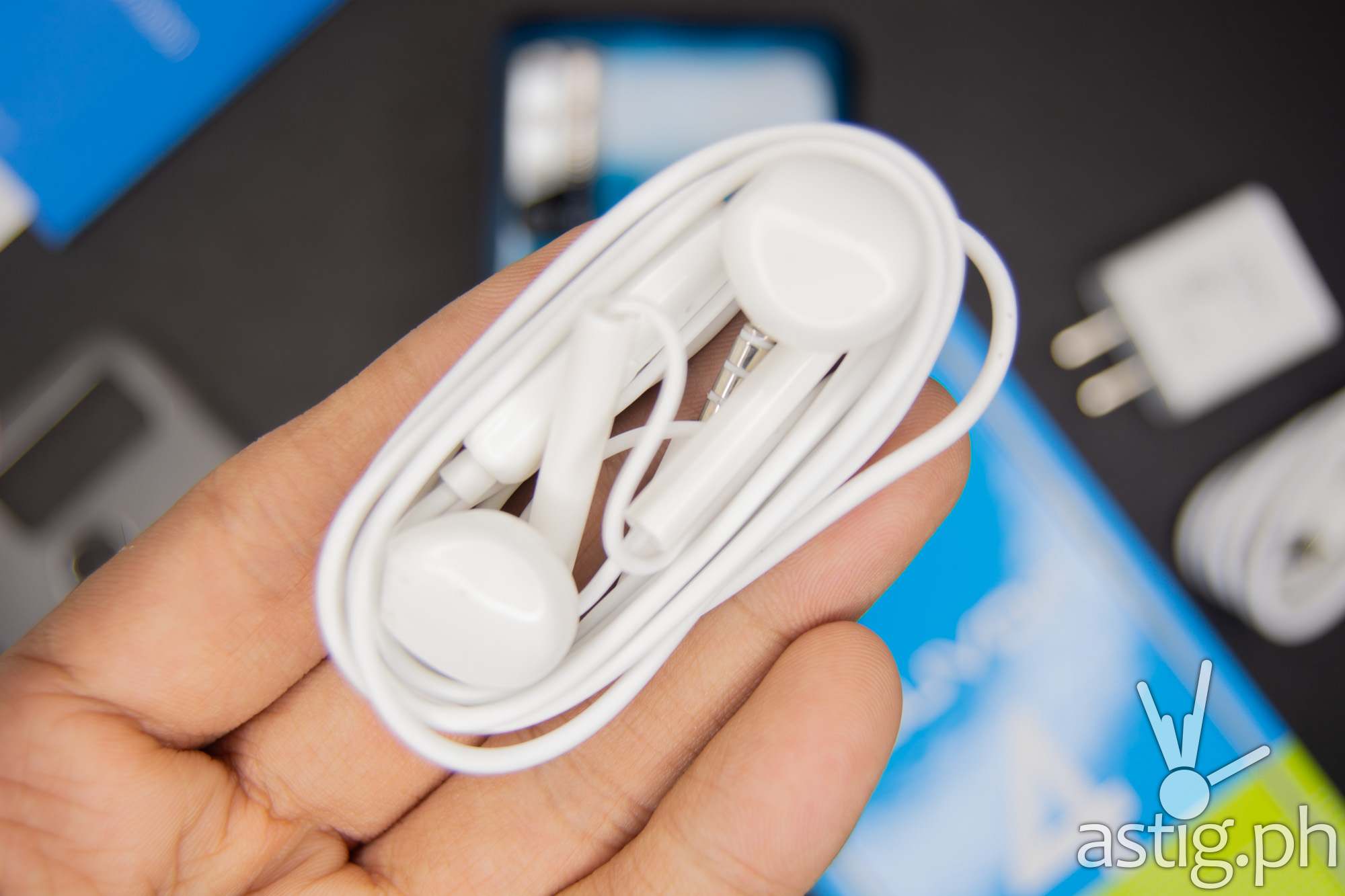 Closing thoughts
TECNO Pouvoir is an interesting take on the phablet. By offering big battery and an even bigger display, it stands out in a market saturated with too many mid-rangers bearing similar specs. We see it filling the gap for light users such as parents and students who need the readability of a big screen and the longevity of a four days worth of battery life in a single charge, but don't want to go with a full-blown tablet.
Performance is at par with the price, which at Php4,590 is an viable alternative for users who are willing to trade speed for a bigger display, battery life, a potentially better camera system, and goodies not found in the same price range such as 5GHz Wi-Fi, a fingerprint scanner, dedicated dual SIM and expansion slots, and Google Assistant support with a dedicated trigger button.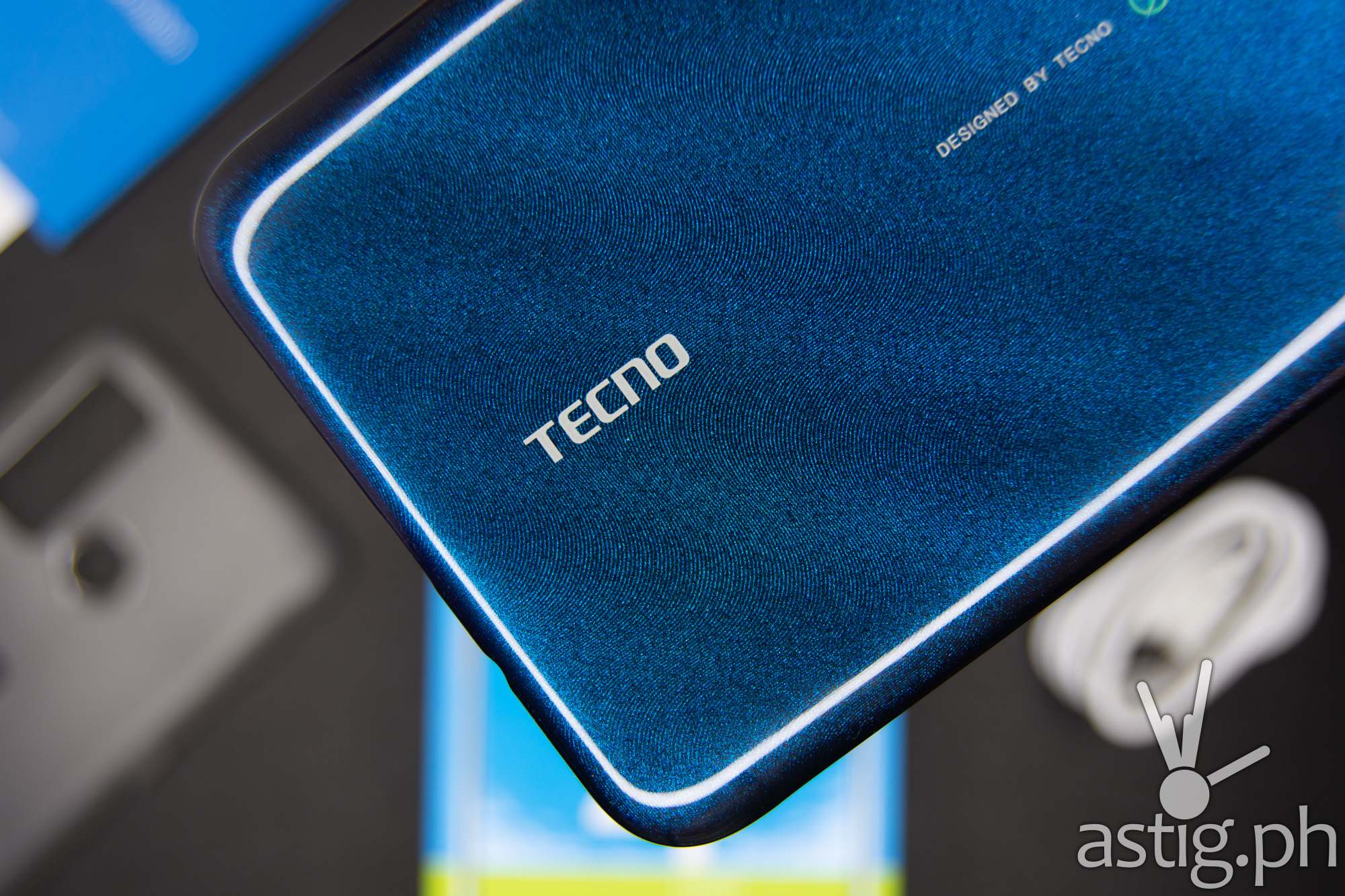 Pros

Excellent 4-day battery life
Large 7-inch screen
Very affordable

Cons

Performance issues
Poor low-light camera performance
TECNO Pouvoir 4 technical specifications (Philippines)
Display: 7 inches; 720 x 1640 pixels; IPS LCD
SIM: Dual SIM (nano-SIM, dedicated slots)
OS Android 10 (Q); HiOS 6.0
Chipset (SoC): MediaTek Helio A22 (12nm)
CPU: Quad-core (2.0 GHz max, Cortex-A53)
GPU: PowerVR GE8320
Memory (RAM): 3 GB
Storage (ROM): 32 GB, eMMC 5.1
Expansion: microSDXC (dedicated)
Main camera (rear): 13MP f/1.8 (wide) + 2MP f/2.4 (macro) + 2MP f/2.8 (depth), quad-LED flash
Selfie camera (front): 8MP f/2.0, dual-LED flash
Connectivity: 2.4/5 GHz Wi-Fi 802.11 b/g/n/ac; Bluetooth 5.0, A2DP, LE
I/O: Micro USB; 3.5mm audio jack; fingerprint (rear)
Battery: 6,000 mAh
Colors: Cosmic Shine, Ice Jadeite, Fascinating Purple
Price (Philippines): Php4,590 (3GB + 32GB); Php5,990 (4GB + 64GB); Php6,990 (6GB + 128GB)