If you're thinking about upgrading or getting a new phone, then you're in luck – 2021 is a good year for smartphones. Not only are 5G handsets becoming more affordable, but several features from the past 2-3 years are now within reach.
Take, for instance, the OPPO Reno5 5G.
Launched back in February, it offers several advancements such as high refresh rate display, good cameras, under-display fingerprint sensor, and one of the fastest charging technologies that you can get your hands on.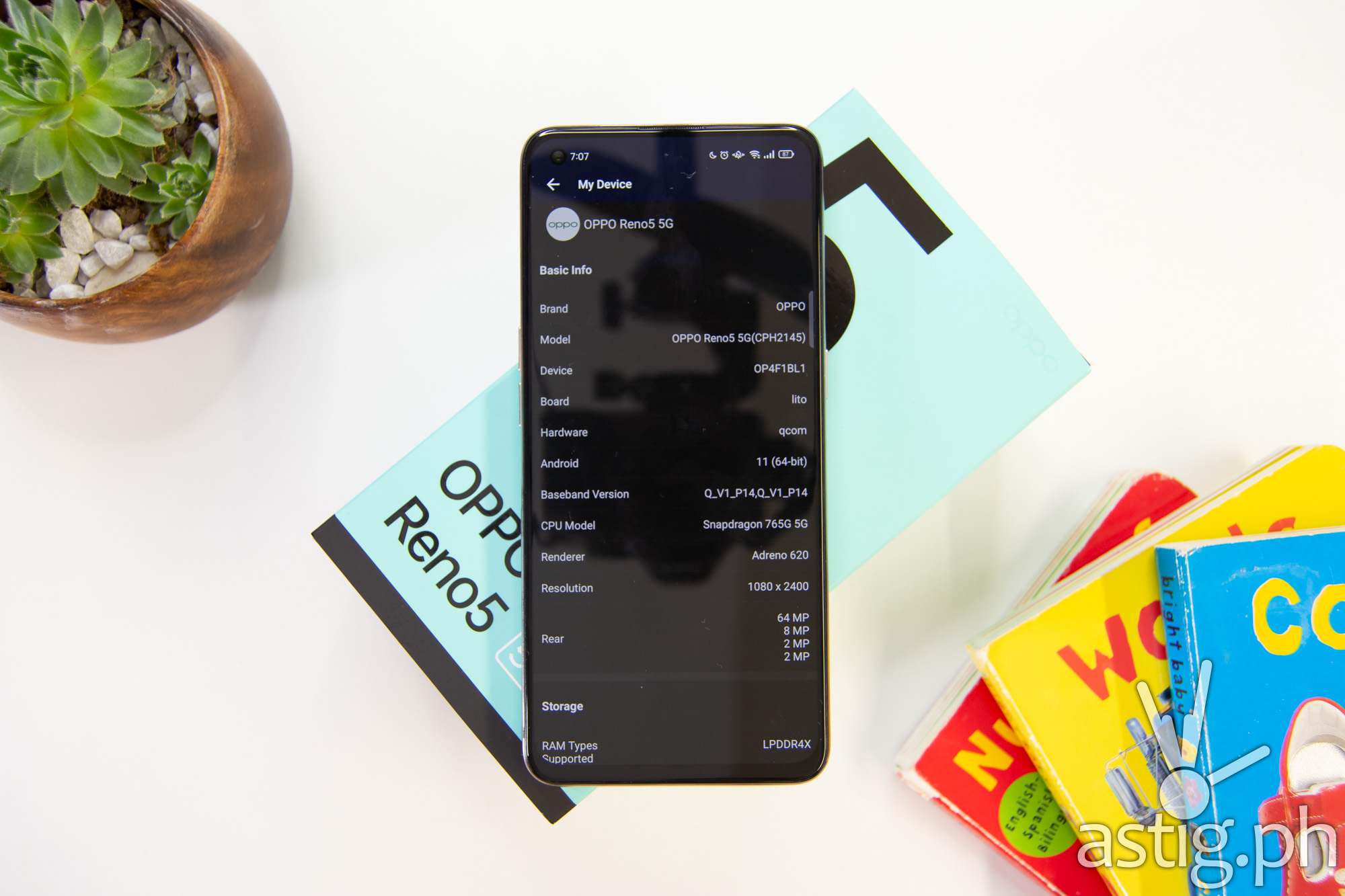 Skip to the bottom for our verdict, or read on as we go in-depth on the OPPO Reno5 5G.
OPPO Reno5 5G specs snapshot
Display: 6.43" 1800×2400 OLED 90Hz, Gorilla Glass 5
OS + UX: Android 11, ColorOS 11.1
CPU + GPU: Qualcomm Snapdragon 765G 5G (7nm), Adreno 620
Memory + storage: 8GB+128GB
Camera: 64MP (wide) + 8MP (ultrawide) + 2MP (macro) +2MP (depth), 32MP (front)
Battery: 4300 mAh 65W, SuperVOOC 2.0
Price: Php18,999 (4G); Php19,999 (Marvel Edition); Php23,999 (5G)
Build quality, display
You know the feeling you get when you get into a new sports car? Well I don't. But I'd like to imagine it's the same feeling as finding the perfect ballpen. Or eating the perfect donut. That's the feeling that I got when I first held the OPPO Reno 5 5G. That thing is super smooth, there are no sharp edges that would cut through your hands, so you can hold it for long periods of time without feeling uncomfortable.
At only 7.9mm it's super thin, and the chrome edges are curved in a way that it doesn't cut through your palms. Like seriously you guys – this is something that you just need to experience in order to appreciate, and boy what an experience it is.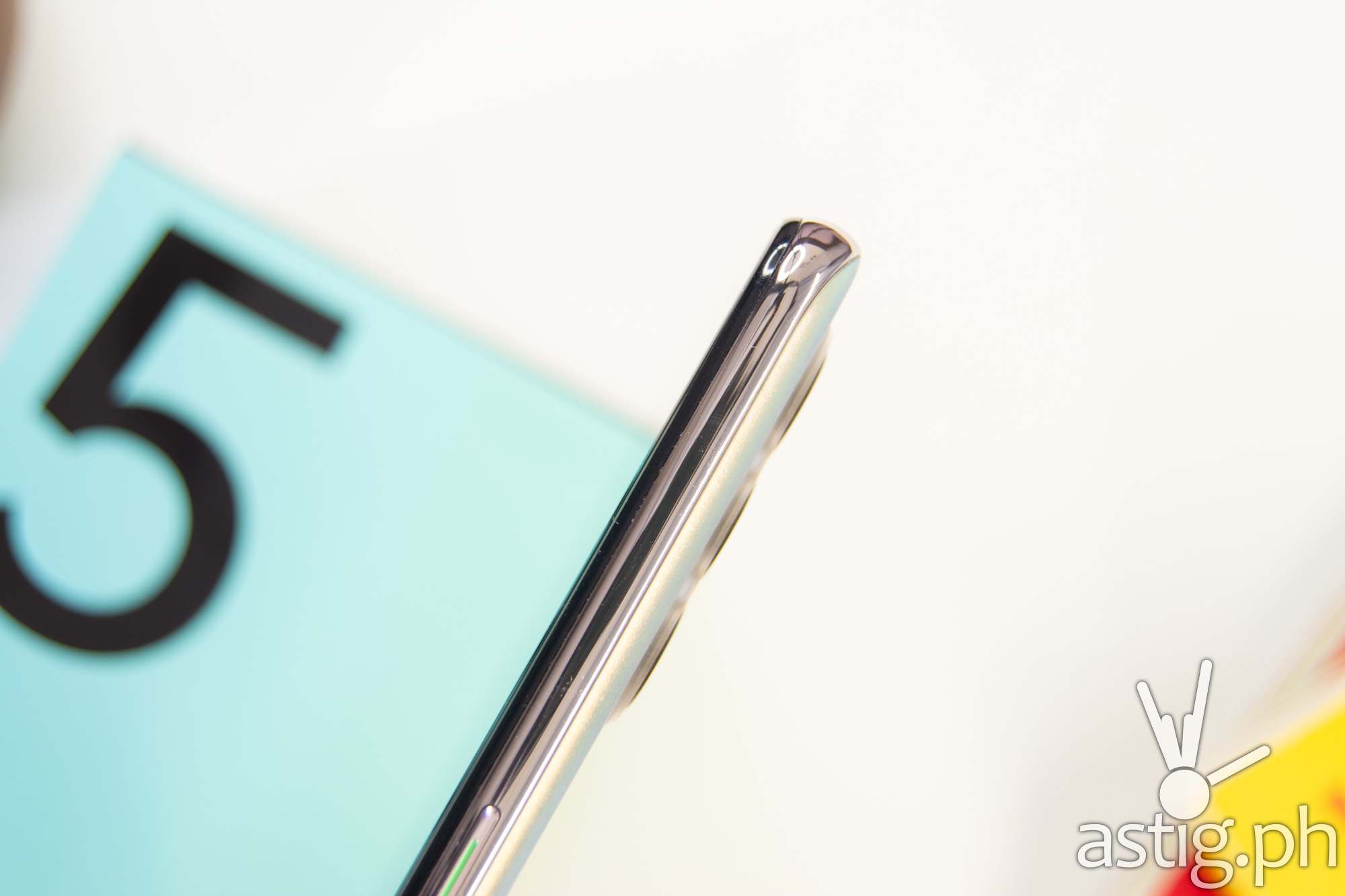 For this review, OPPO lent us the Galactic Silver variant which not only looks awesome – it changes colors from pink to blue to gray-ish – it also feels amazing. It has this really nice texture that makes it feel more like a really good piece of furniture than plastic.
While the rear camera system takes up a significant amount of space and there's a bit of a hump, overall, we really like what we're seeing. It's pretty enough for you to appreciate without being too over-the-top, and the texture is just an added bonus.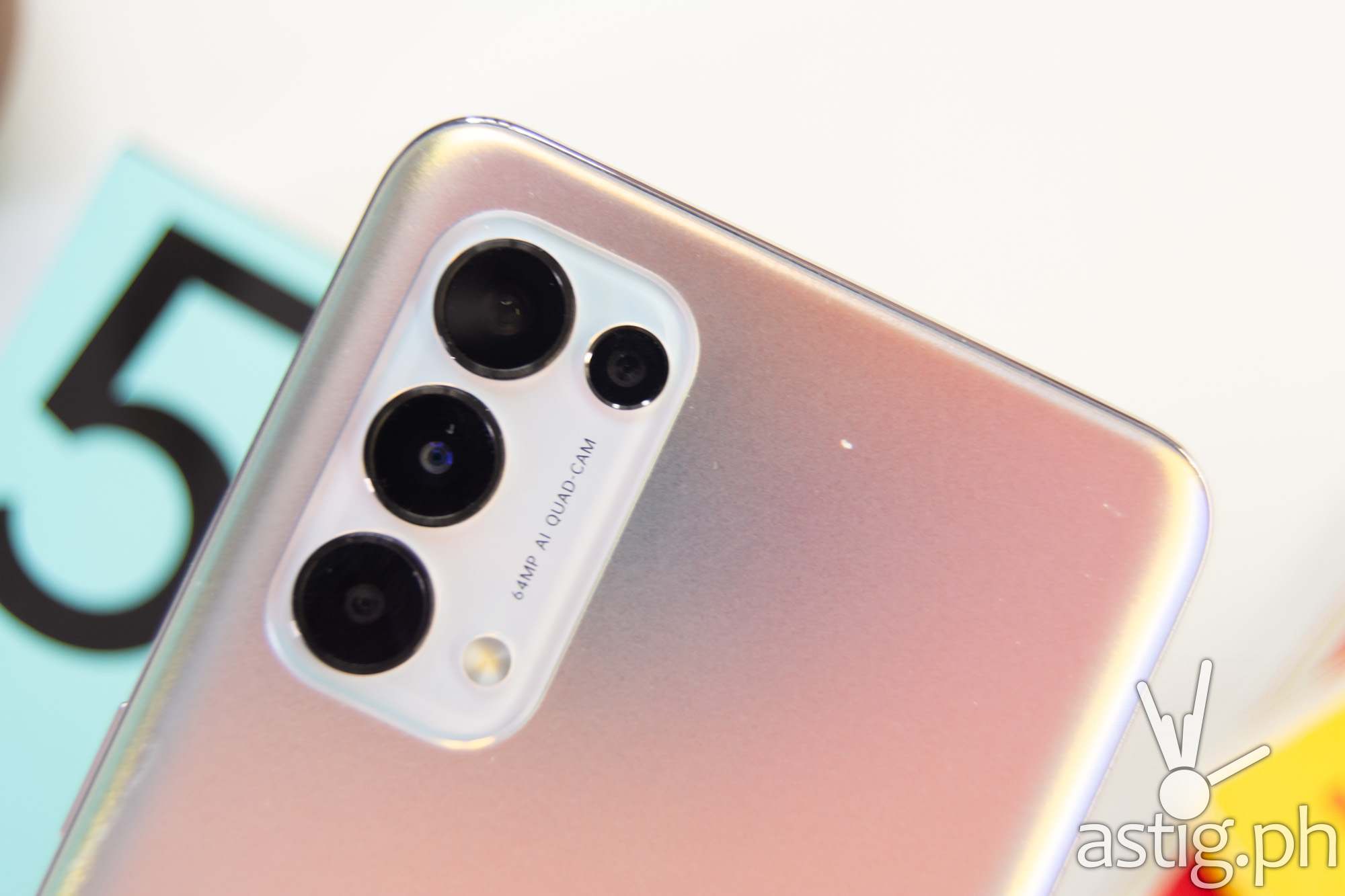 If, however, you prefer something more adventurous, there's a limited-edition OPPO Reno5 Marvel Edition that sports bold colors inspired by Marvel's Avengers. The back features a chrome logo of the Avengers logo, while the rest of the phone features a textured matte finish accented by red and silver chrome parts. Some parts are textured in a way that reminds us of Captain America's armor, which is really cool.
So while it's not exactly marketed as a gaming device, the entire aesthetic and experience gives it a "gamer" vibe.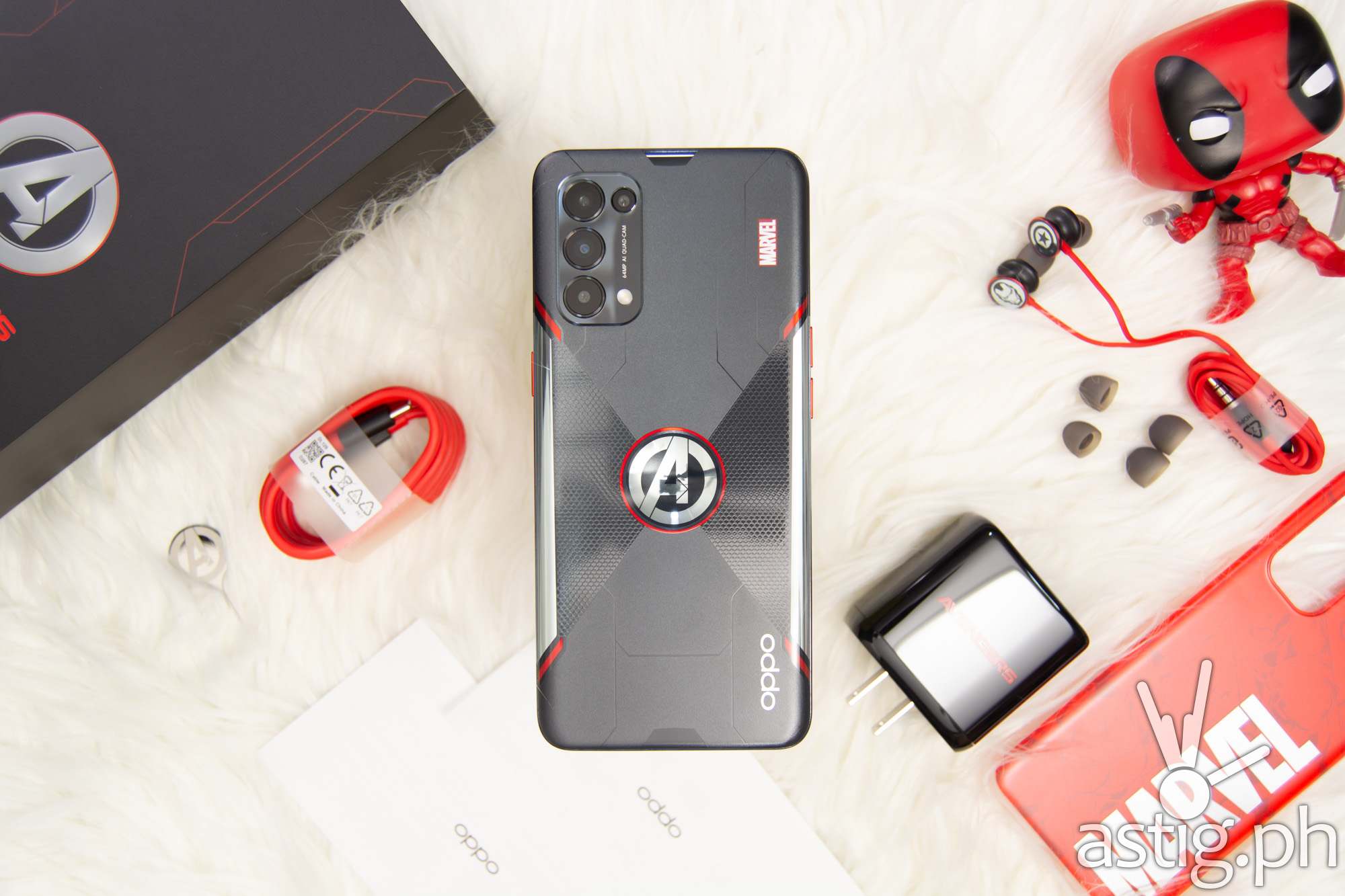 As an added bonus, it comes with Avengers-branded accessories, such as a SIM ejector with the Avengers etched onto it and a headset with Captain America and Iron Man logos on each side.
The Marvel Edition comes with a Php19,999 price tag, which is Php1,000 more than the standard Reno5 4G with the same specs. Unfortunately there's no 5G Marvel Edition so you don't have much of a choice if 5G is a must.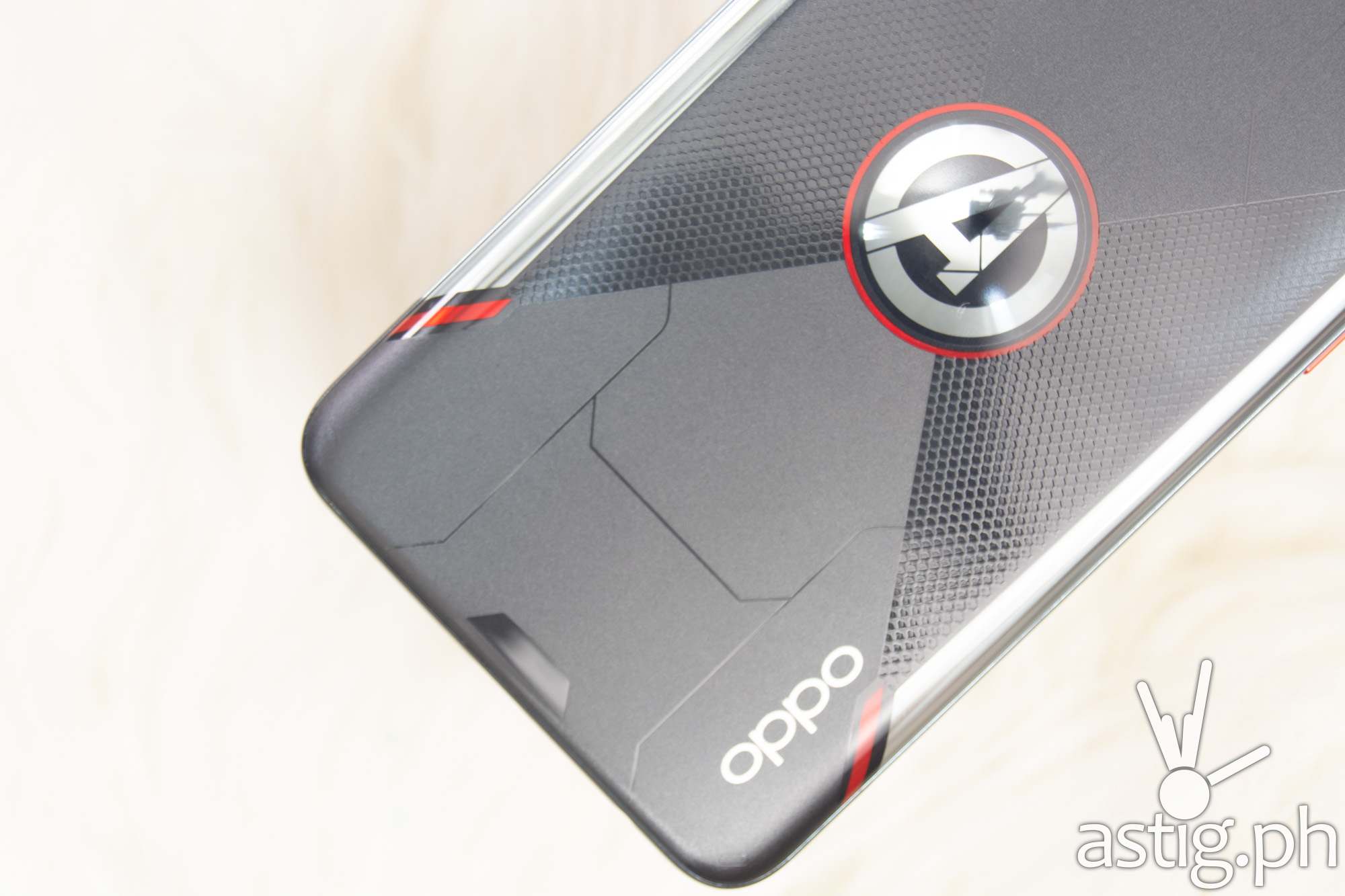 It's not often that we fawn over back designs, and to be honest, we thought that the renders of the Marvel Edition looked a little flat. In reality though, both the Galactic Silver and the Marvel Edition were very well executed, so kudos OPPO's designers for that.
Moving to the front, we find a 90Hz OLED screen with a resolution of 1080×2400 and Gorilla Glass 5 protecting it from casual wear and tear. In true OPPO fashion, there's a pre-installed screen protector so we won't have to install one ourselves which we know does not always go perfectly. The display supports HDR10+ and comes with two color profiles: sRGB (Gentle) and DCI-P3 (Vivid).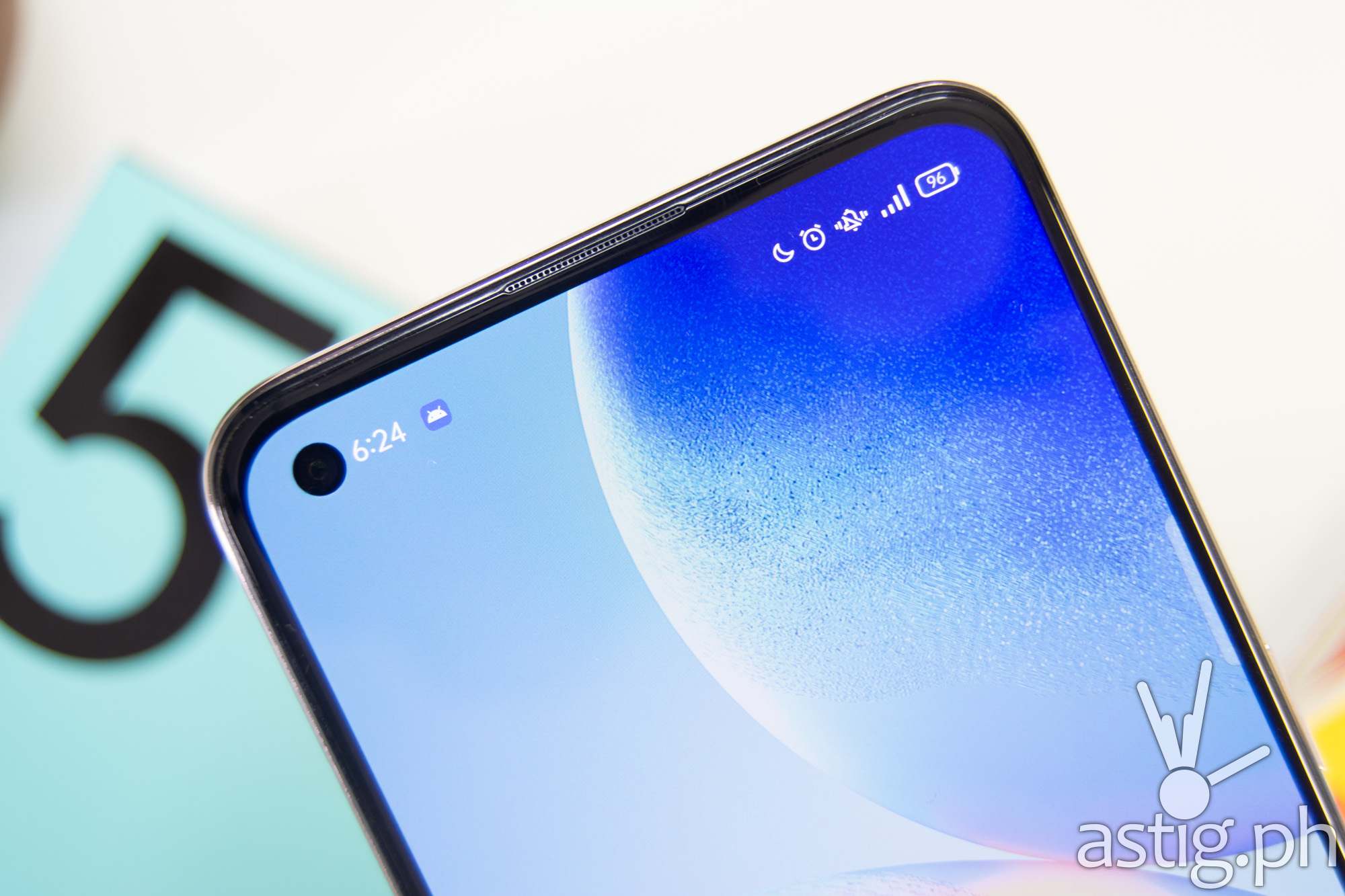 There's a hole-punch notch for the 32MP selfie camera on the upper-left corner which is cool, except we're not too fond of the placement. We prefer our notches centered where it doesn't get in the way of the taskbar and most gaming buttons.
Like its predecessor the OPPO Reno4, the chin on the OPPO Reno5 is thicker than the top edge, although it seems to be much thinner than before, making it appear a little more symmetrical. It's still thicker if you look more closely and break out a ruler, but we appreciate the move towards creating a more symmetrical device.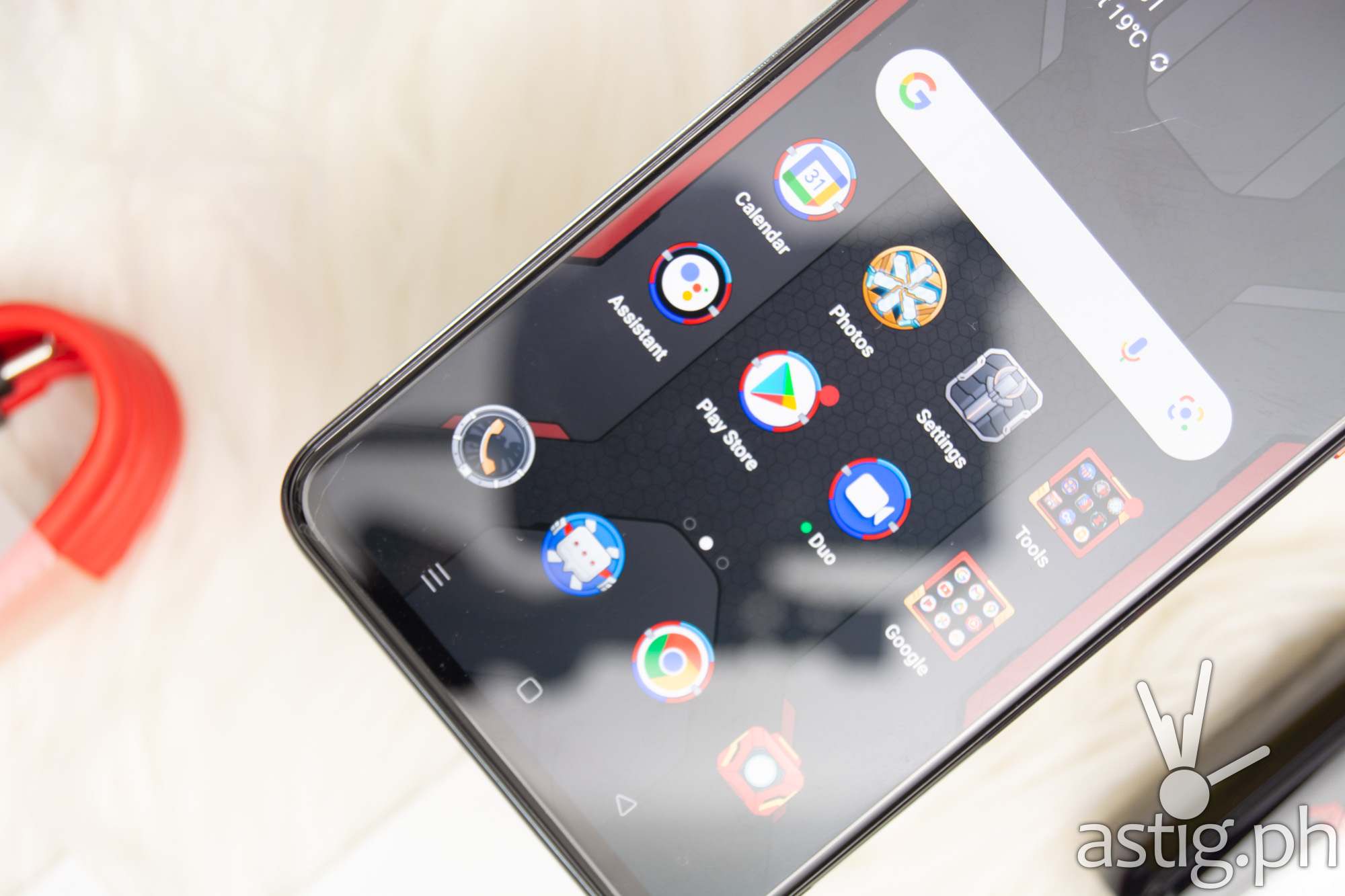 In the same manner, the phone is endowed with an under-display optical scanner.
There doesn't appear to be any significant improvements in speed, though, so we still find ourselves unlocking the phone via facial recognition or manually using a security PIN or pattern from time to time.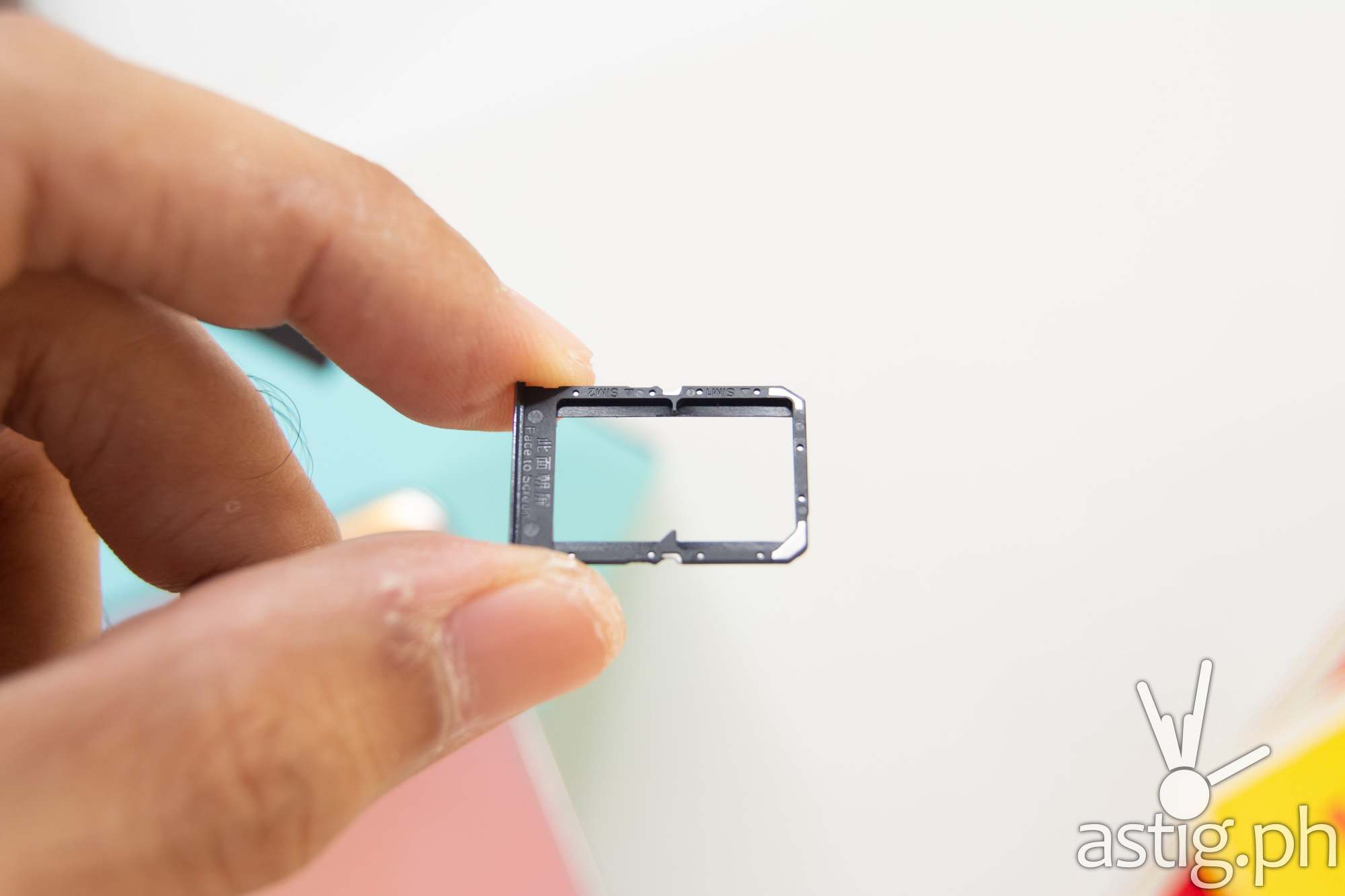 All models come with dual SIM support, but the 4G and Marvel Edition has a dedicated expansion slot, whereas the 5G model does not. It's rather unfortunate since it's only available in 128GB and there are no higher storage options available for those who need a little bit more.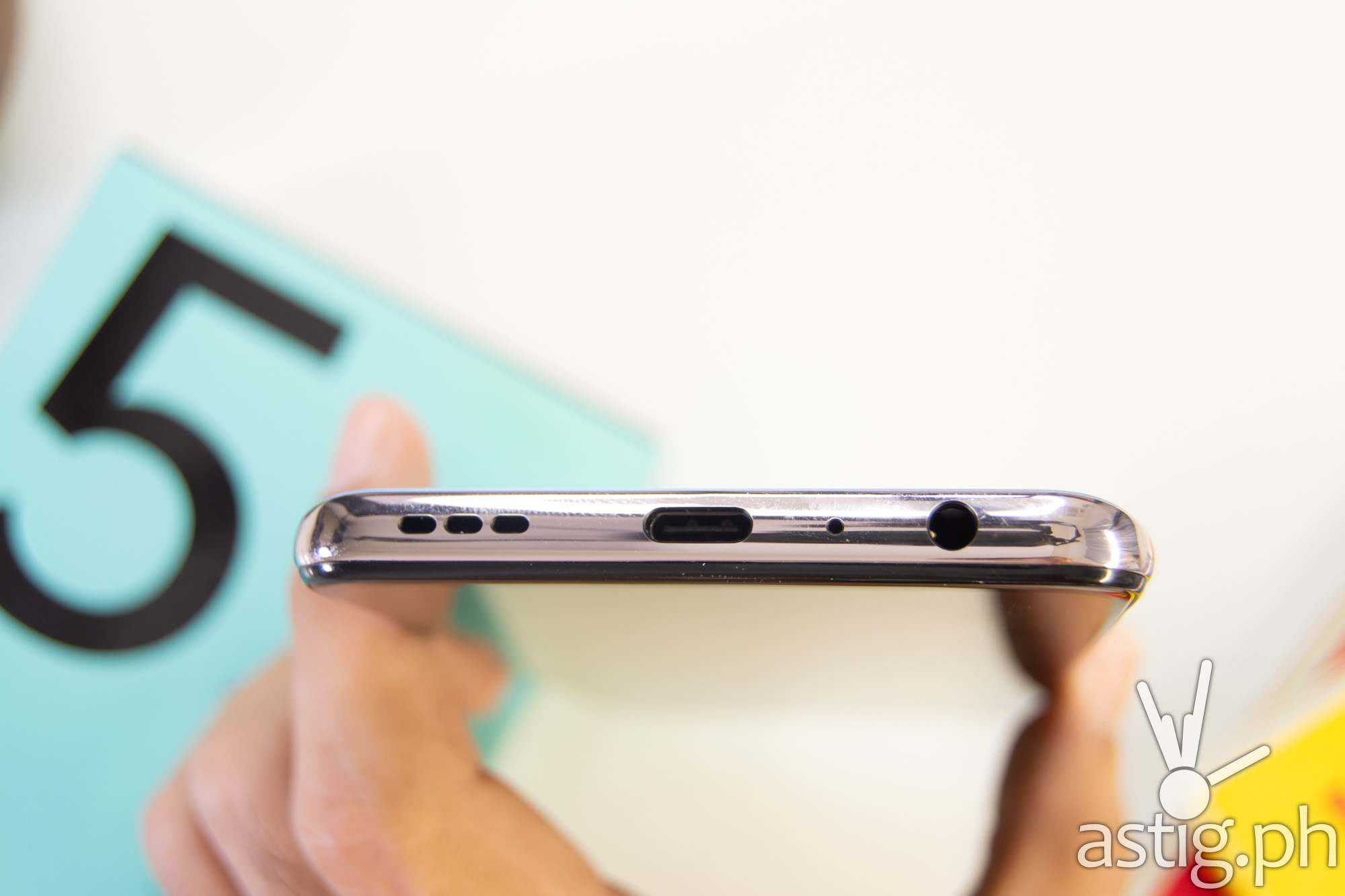 Everything else follows the same blueprint of OPPO mid-rangers for the past year: single bottom-firing loudspeaker, USB-C 3.1, and a 3.mm audio jack for those who need it.
Application performance, benchmarks
Under the hood, both the standard and Marvel Edition OPPO Reno5 are powered by the Snapdragon 720G platform, while the OPPO Reno5 5G packs the slightly beefier 765G with embedded 5G radio.
Performance-wise, the two are not that far apart – we scored 311k on the 4G and 323k on the 5G using the AnTuTu benchmarking software. This places the Reno5 above the realme 7, Google Pixel 3, and Redmi Note 8 Pro but slightly below the Huawei Nova 7i, Sony Xperia XZ2, Xiaomi Mi 10 Lite 5G, and the 3 year-old Galaxy Note 9 Plus.
Made with Visme
OPPO's fastest phones are the Find X3 Pro and the Find X2, both scoring over 600k so it's a little underwhelming – on paper, at least.
Actual user experience is a different matter – the phones are smooth as silk. Perhaps it's the 90Hz display with 135Hz touch sampling rate, but we can't complain about how smooth and snappy everything feels.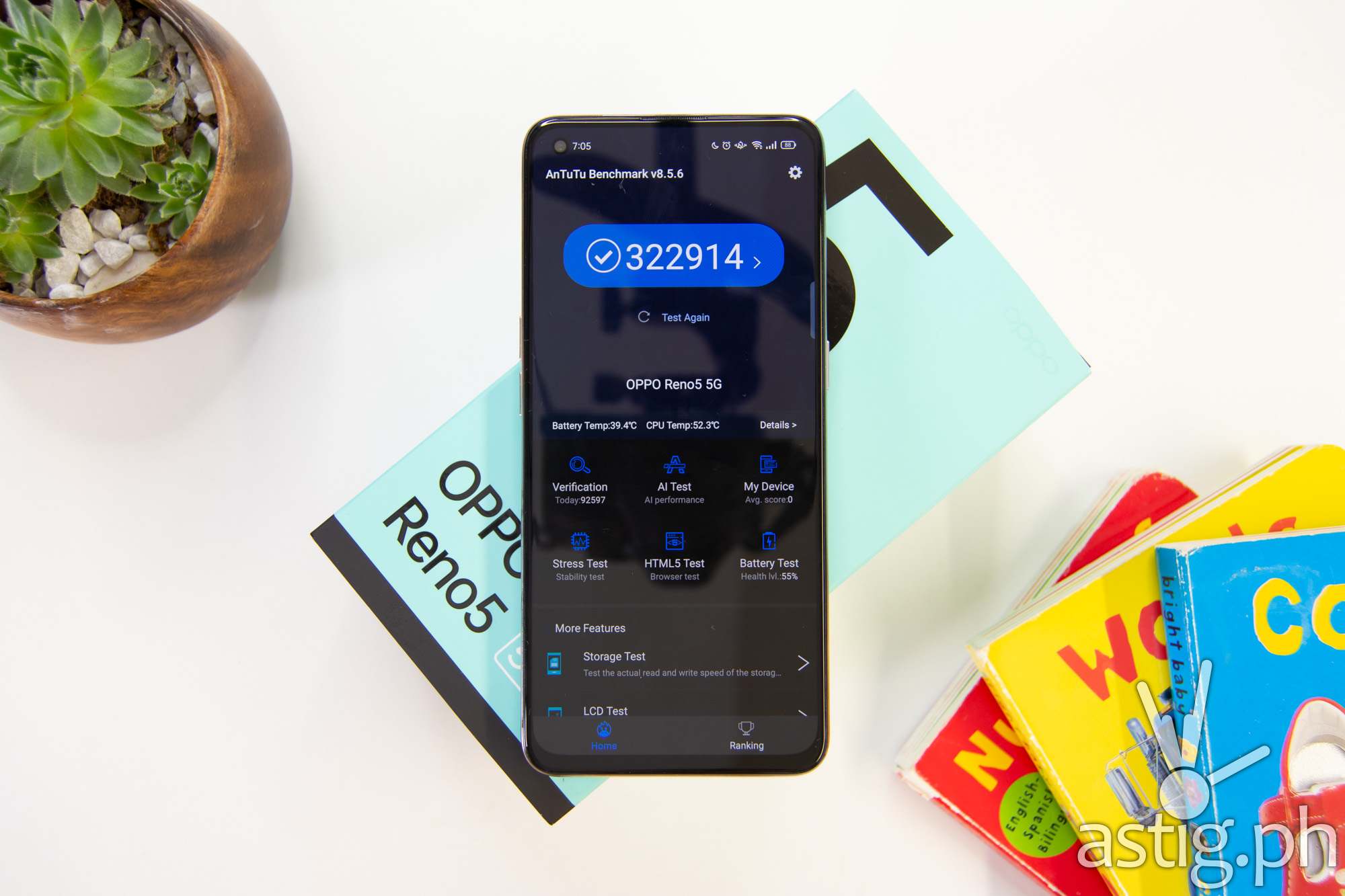 Also, both phones come with 8GB of memory, which also speeds things up when performing memory-intensive operations by reducing the need to rely on the slow swap files located on the phone's internal storage.
By the way, it runs on Android 11 with ColorOS 11.1 out of the box, which is the latest and greatest operating system that you can get from OPPO, so you get all the nifty new features and improvements. This is a big thing, because apart from those things we mentioned, you also get a more consistent and stable user experience.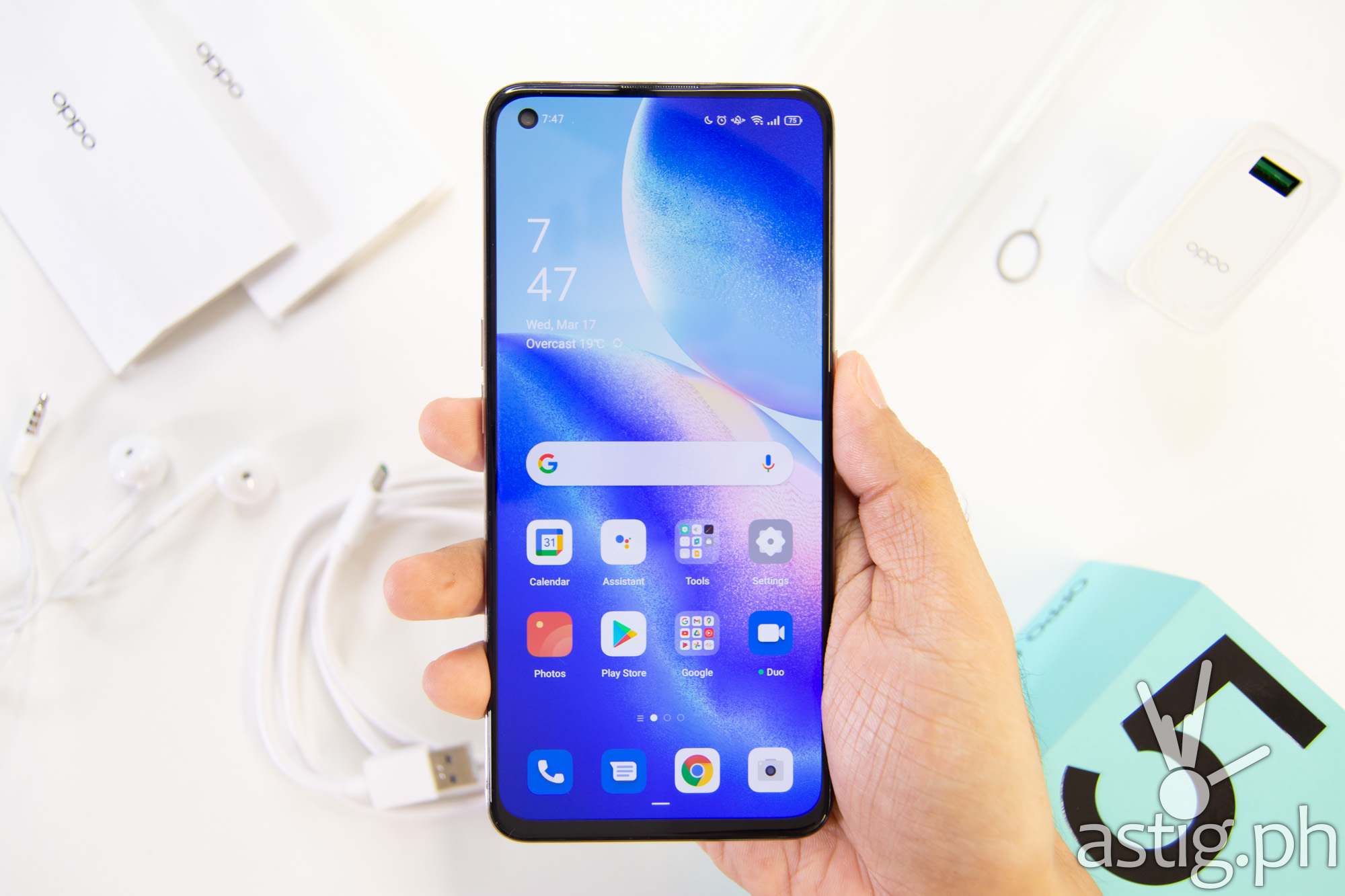 If you're worried about bloatware, there's a prompt at the initial setup phase, but there are a number of apps that will get installed regardless such as Lazada, Netflix, ORoaming, and WPS Office. No worries though, you can easily remove them from the system.
Storage is a generous 128GB UFS 2.1 ROM, and if that's not enough, you can expand it with a MicroSDXC card. It has a dedicated slot, which is great for those who need to run two SIM cards and a storage expansion card at the same time.
Gaming performance
Although not exactly marketed as a gaming device, the OPPO Reno5 Marvel Edition certainly has the looks. So it would be a shame if it weren't up to par, right?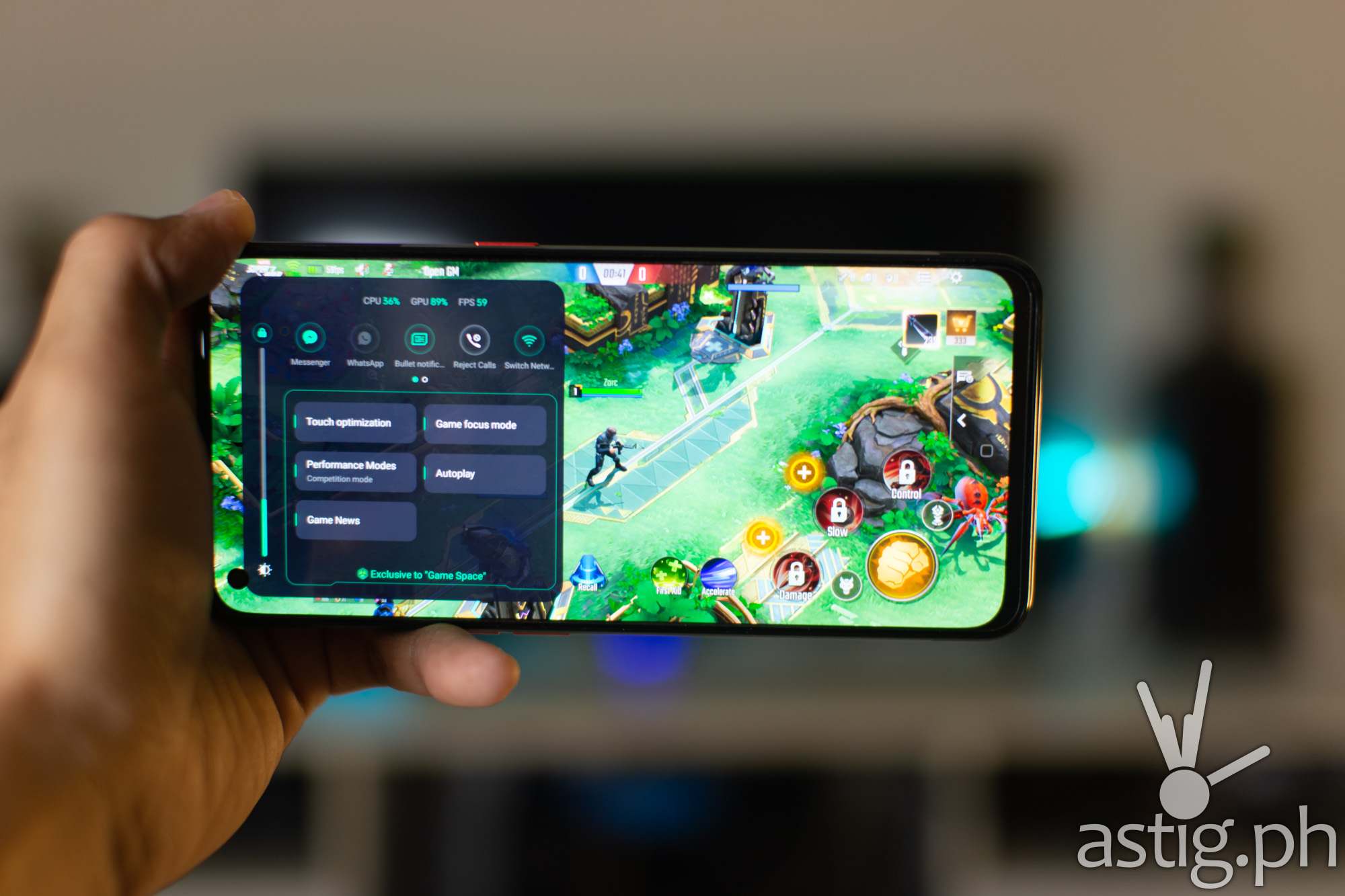 Lo and behold, it actually handles the newest games quite well. On our reference MOBA games Mobile Legends, Marvel Super War, and League of Legends: Wild Rift, we managed to stay above 50FPS during clashes, hitting 60FPS inside the base. This is with everything set to the maximum graphics settings, except for Mobile Legends where the highest settings, Ultra, is disabled.
It didn't even break a sweat with much older games such as Mobile Legends, keeping a constant, smooth frame rate of 60FPS all the time.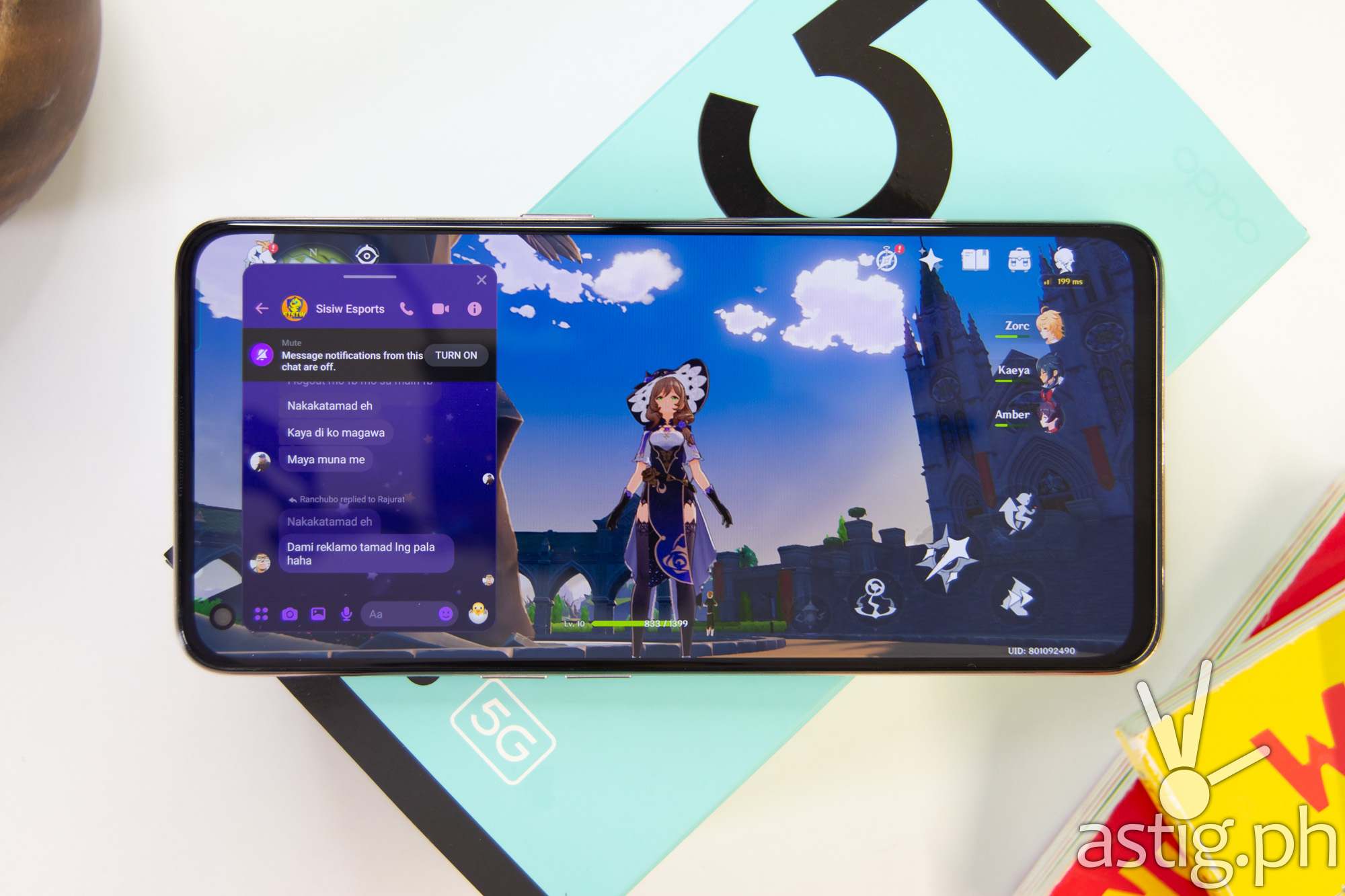 The notoriously graphics-intensive Genshin Impact was a little harder, however, it never went below 30FPS at the highest settings possible graphics settings aka "Overclocked". The Reno5 5G averaged around 40FPS, pushing above 50FPS when in town.
We saw an improvement of around 2-3 FPS on the beefier OPPO Reno5 5G – not a huge difference but it may be something worth considering, since the 5G comes with a significantly higher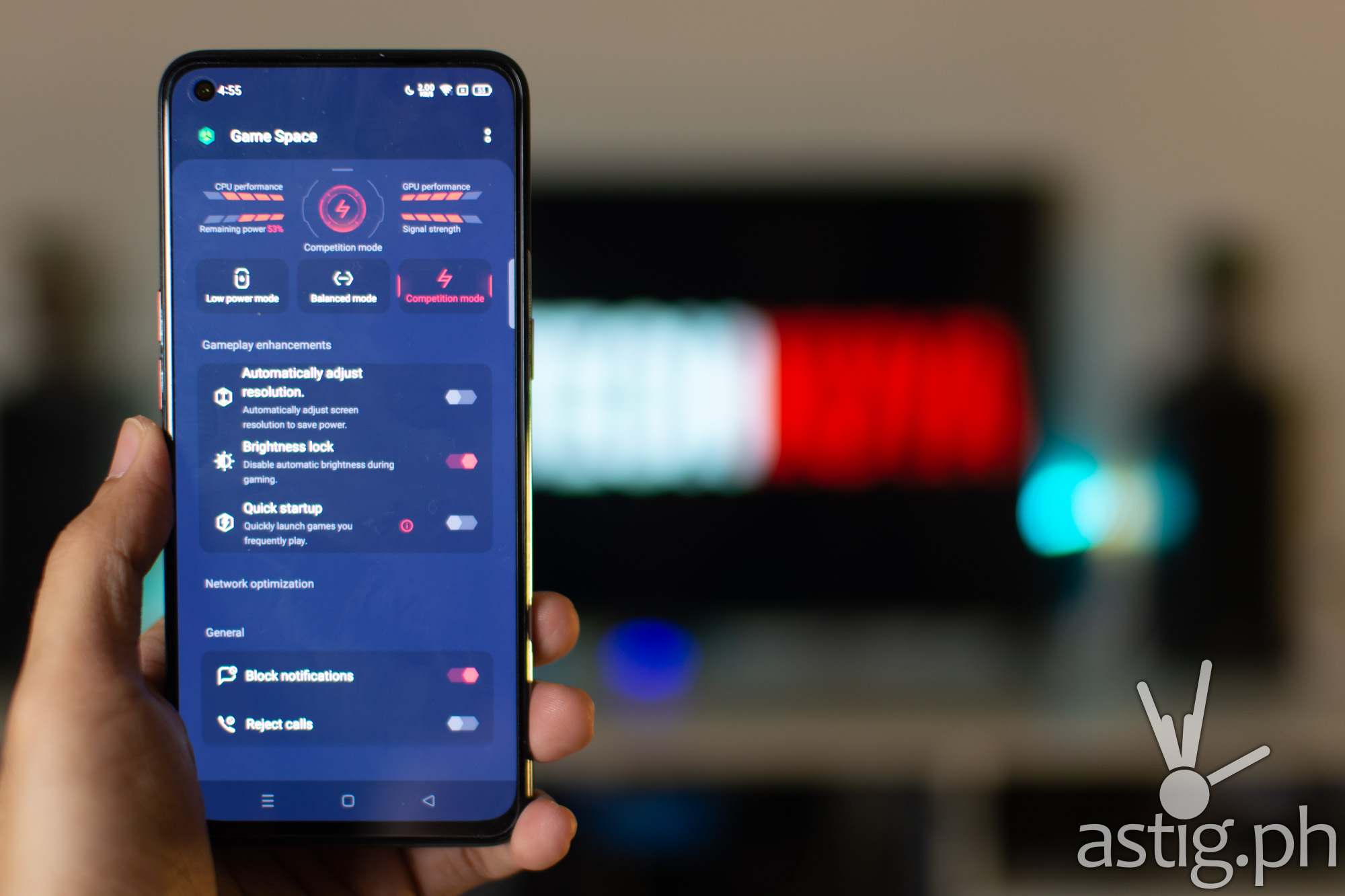 Ever since Android 10, ColorOS is quickly becoming one of our favorites with built-in gaming features centered on an application called "Game Space". It has vastly improved with Android 11 and ColorOS 11, where you can now select from 3 gaming profiles: Low, Balanced, and Competition.
Aside from locking the screen's brightness, it can also automatically adjust resolution to save power and cache games to speed up launch times.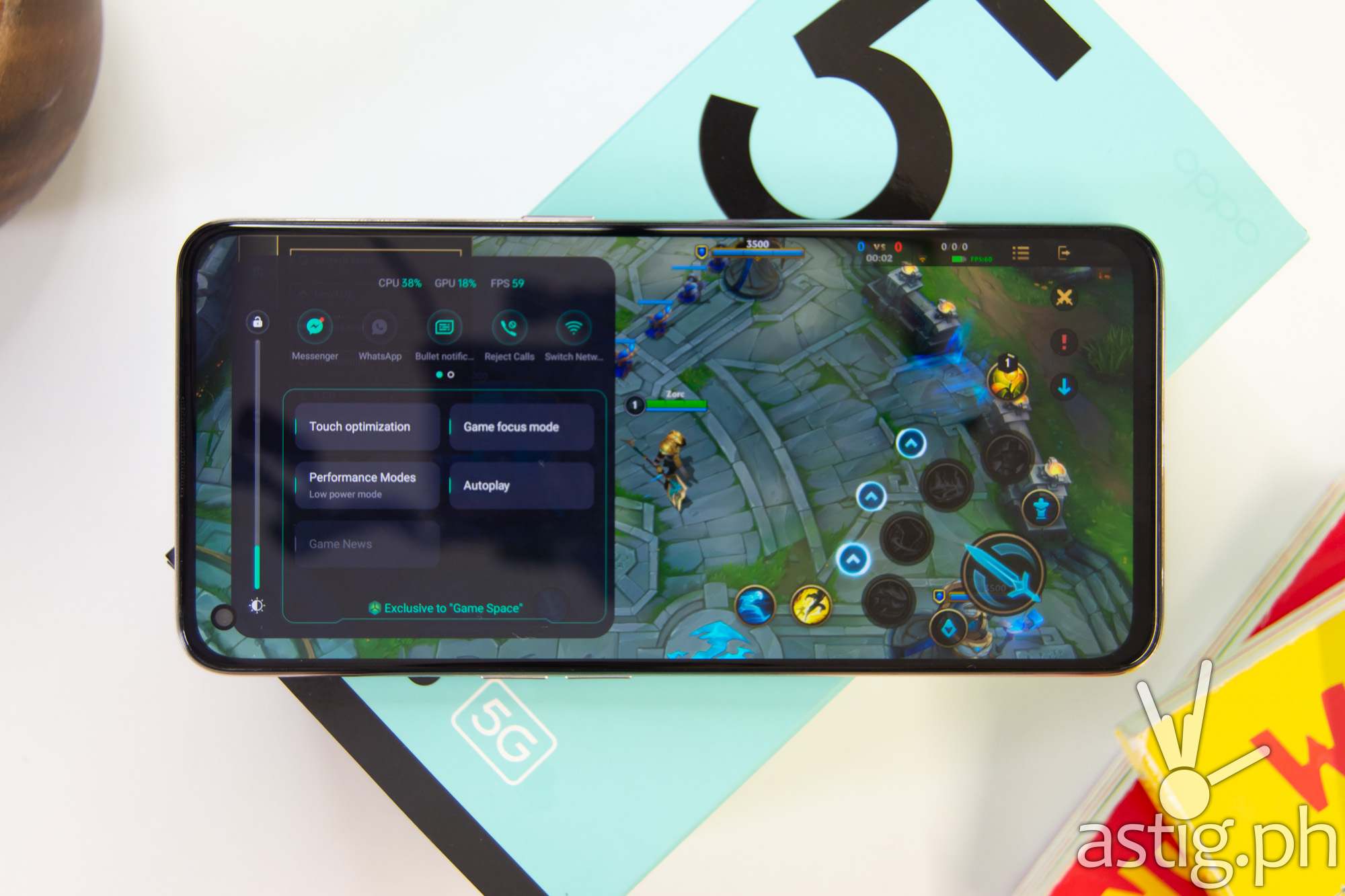 The in-game pullout now lets you do plenty of things without leaving the game such as setting the screen brightness, changing touch and swipe sensitivity, switch performance profiles, and dim the screen to conserve power.
Messaging shortcuts and the ability to overlay chat windows are still there for SMS, WhatsApp, and Facebook Messenger. Bullet notifications are also present, but now it displays a sample message so you can preview what it looks like.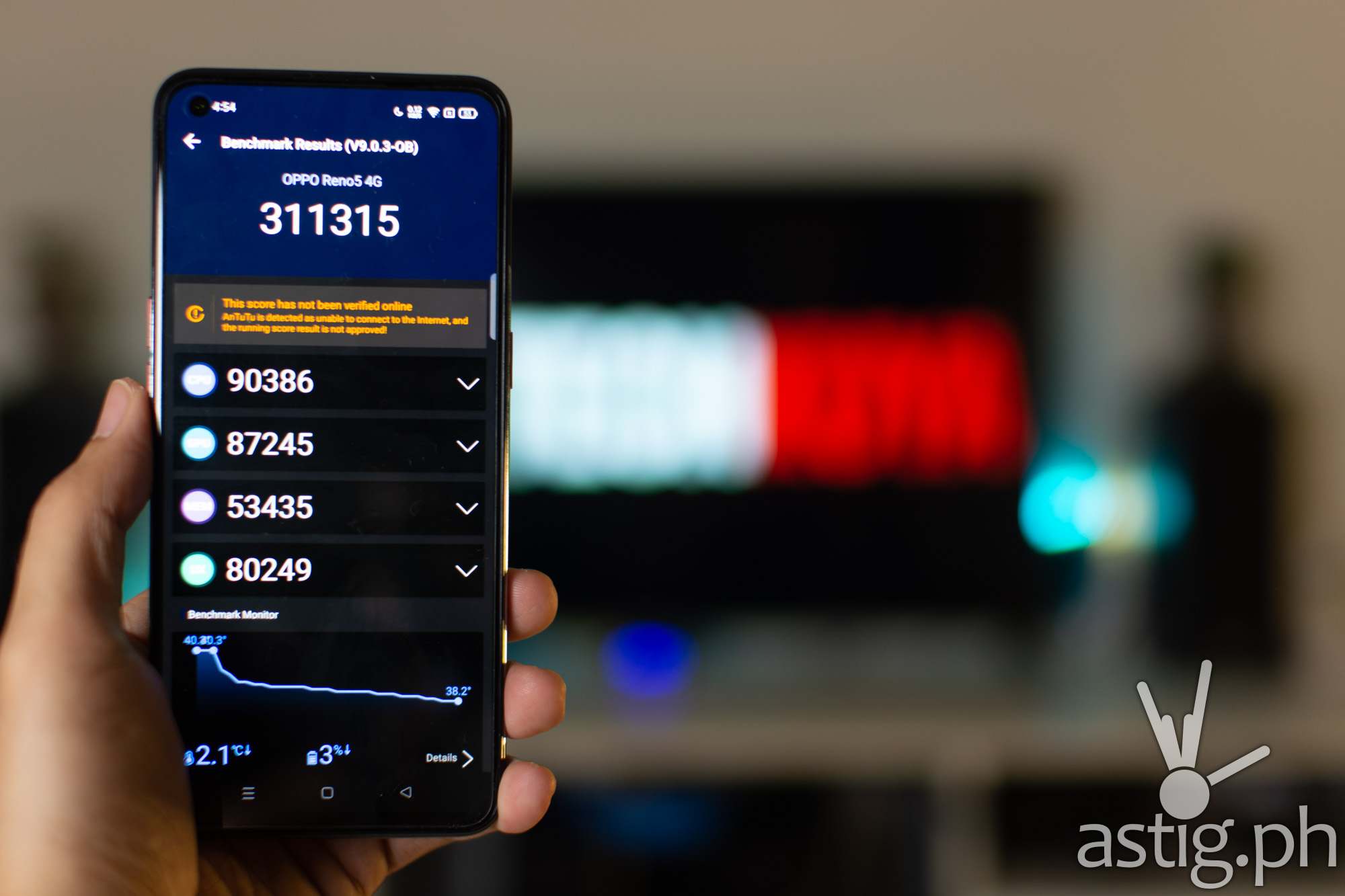 Finally there's a new feature called Game Focus Mode, which is essentially a toggle that turns all notifications, alarms, calls, and pop-ups off so you can completely get rid of distractions while playing your favorite game. This is especially helpful when you're trying to play competitively.
TIP: Make sure to add and configure your game in the Game Space app to get the best gaming performance and experience
Entertainment, sound
Streaming videos on the OPPO Reno5's OLED screen is a wonderful experience. We get Widevine L1 support, which means full HD playback is supported on applications that stream DRM-protected content such as Netflix and Amazon Prime.
It's supposed to support the HDR10+ standard, and it works on YouTube, but for some strange reason, Netflix reports that HDR is not enabled. DRM Info reports that we HDR10, HDR10+, and HLG are all supported, so we find it a little odd.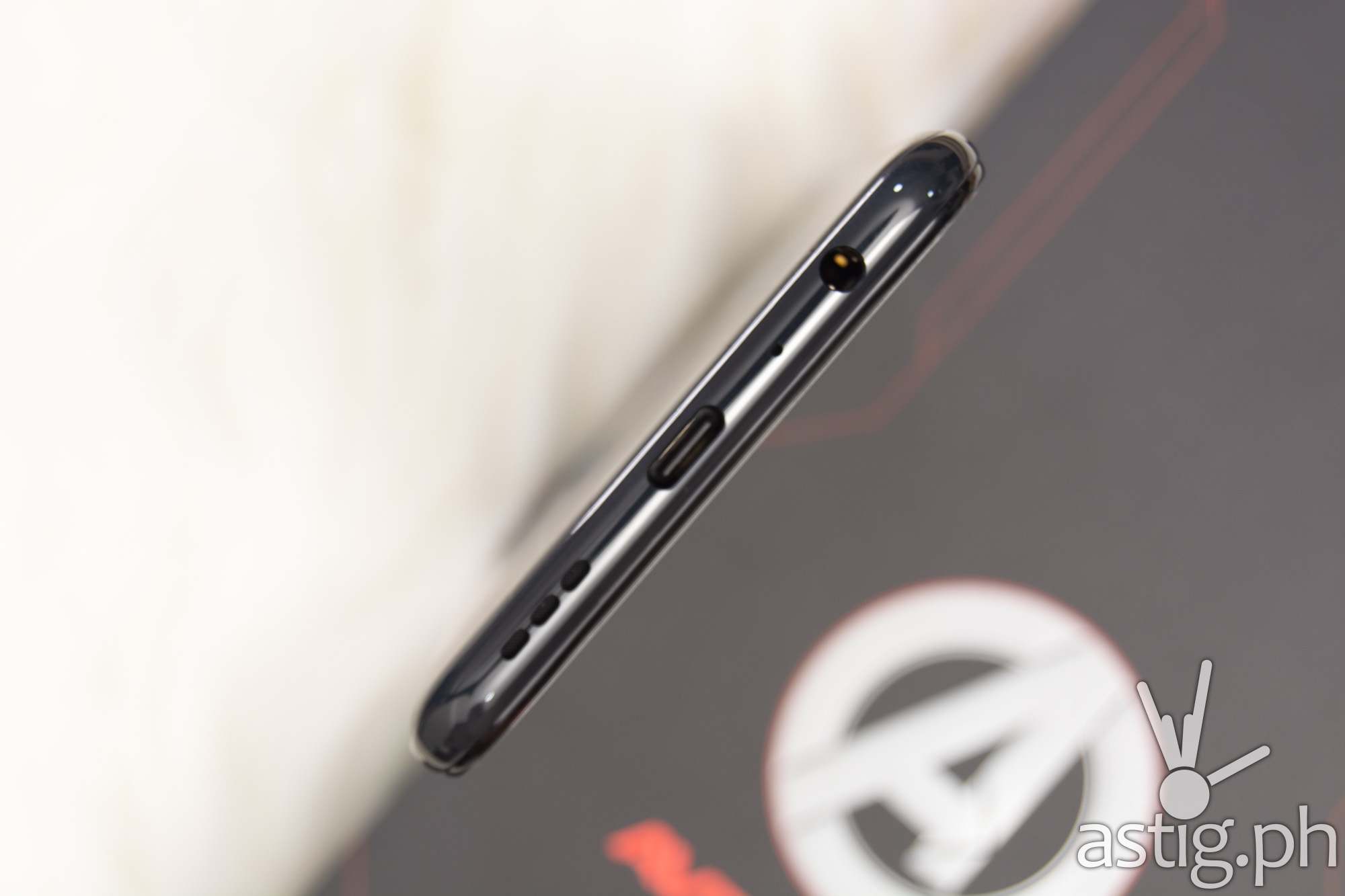 Here's to hoping it's a software fluke that can be patched in a future update.
The phone's single bottom firing loudspeakers are located at the bottom, which means you're going to have to hold the phone with your left hand to prevent muffling it when viewing content in landscape mode.
To our ears, the mids are a bit muddy, and the bass is pretty thin. It has a fair amount of dynamic range without being distorted, so it's comfortable enough to listen to but you may have to crank up the volume a little bit.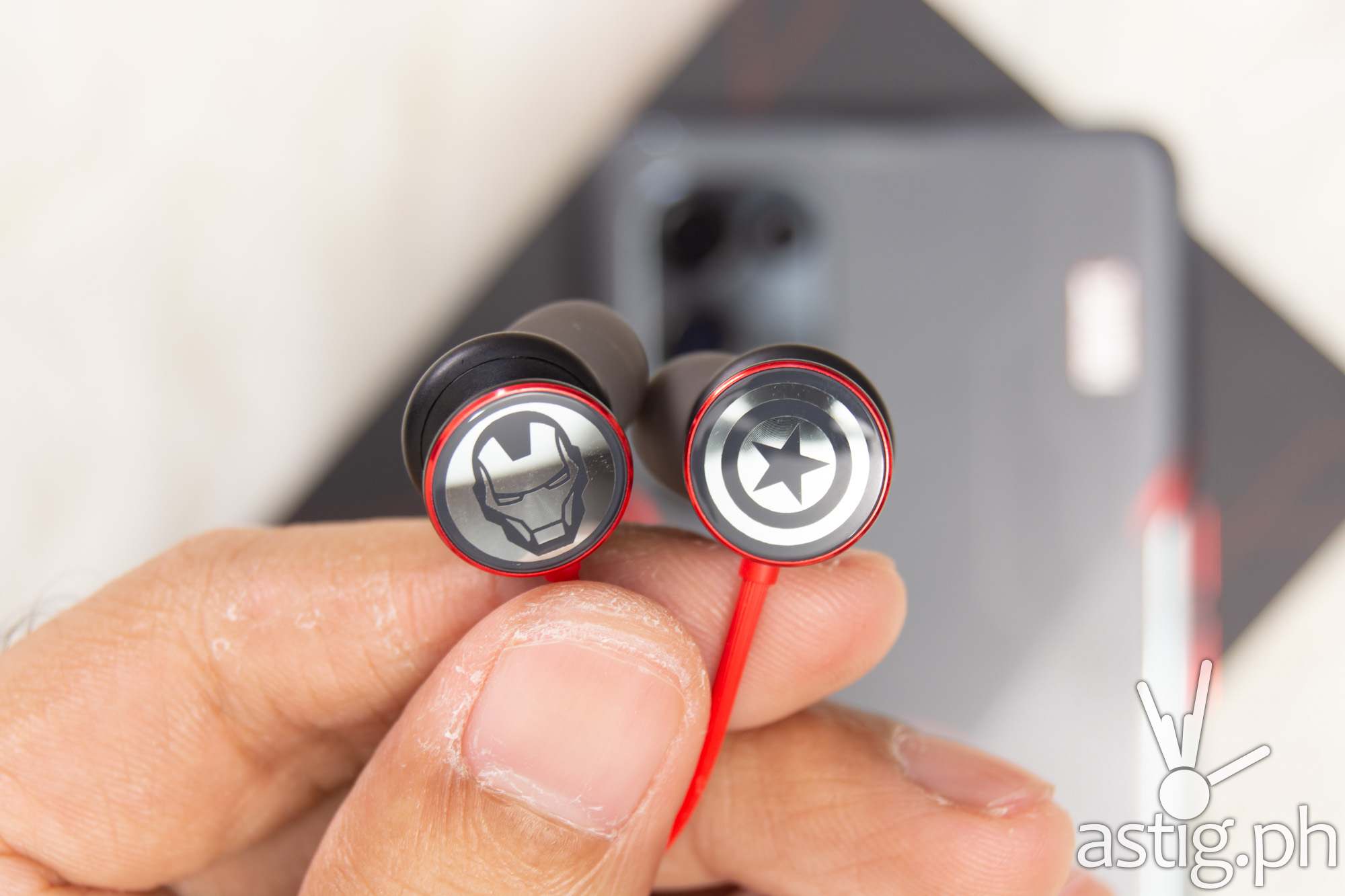 Headsets are still preferable for music and hi-fi audio, and if Bluetooth is your thing, it supports the 5.1 standard with A2DP and aptX HD. There's a free headset in the package, by the way, and to spice things up, the Marvel Edition has the Iron Man and Captain America logos on each side.
Camera
Photos and videos on the Reno5 are taken via a quad-camera system composed of a 64MP f/1.7 wide-angle lens, 8MP f/2.2 ultrawide angle lens, a 2MP f/2.4 macro lens, and a 2MP f/2.4 depth sensor. It uses the battle-tested Sony IMX686 Exmor RS sensor which produces outstandingly sharp results with wide dynamic range.
Unsurprisingly, our photos came out looking clear and crisp, and the shallow f/1.7 aperture meant better low-light shots, albeit a little soft on the edges and around the corners. It would have been better had it been built with hardware OIS.
Like in previous generations, ColorOS 11's built-in camera comes with AI enhancements called "AI ultraclear mode". It works most of the time, though we're not entirely sure what sort of enhancements it is capable of doing. The most noticeable would be an increase in saturation and sharpness, and it seems to do a fair job at identifying the subject, though there was one time where it mistook my plants for food.
What's neat is that you can also enable AI enhancements when shooting videos which, by the way, supports 4K shooting at 30FPS. The caveat is that videos shot in 4K appear to be less stable compared to ones taken at 1080P.
This leads us to suspect the camera shoots at 4K natively, then uses the additional information to apply electronic image stabilization before down-sampling the shot. Either way, we wouldn't recommend shooting 4K videos with this phone unless it's mounted on a tripod.
Photos taken with the 32MP f/2.4 front-facing camera came out looking mostly sharp in the middle, gradually softening around the corners and edges. Dynamic range is not as good as the 64MP main camera, but it serves its purpose for casual photography. At f/2.4, the lens is very deep, so it works best when taking photos and videos from afar.
Likewise, selfie videos work best when taken at a distance, since it is unable to refocus when subjects are held up close, as shown in our sample video below.
Battery life
Regardless of the model, the Reno5 comes with a 4,300 mAh non-removable battery that charges at 65W. We've used the 5G edition for a month and the Marvel Edition for two weeks and consistently did over a day on a single charge.
Starting the day fresh at 100 percent would leave you with enough battery life that you can still use it the following day without charging overnight.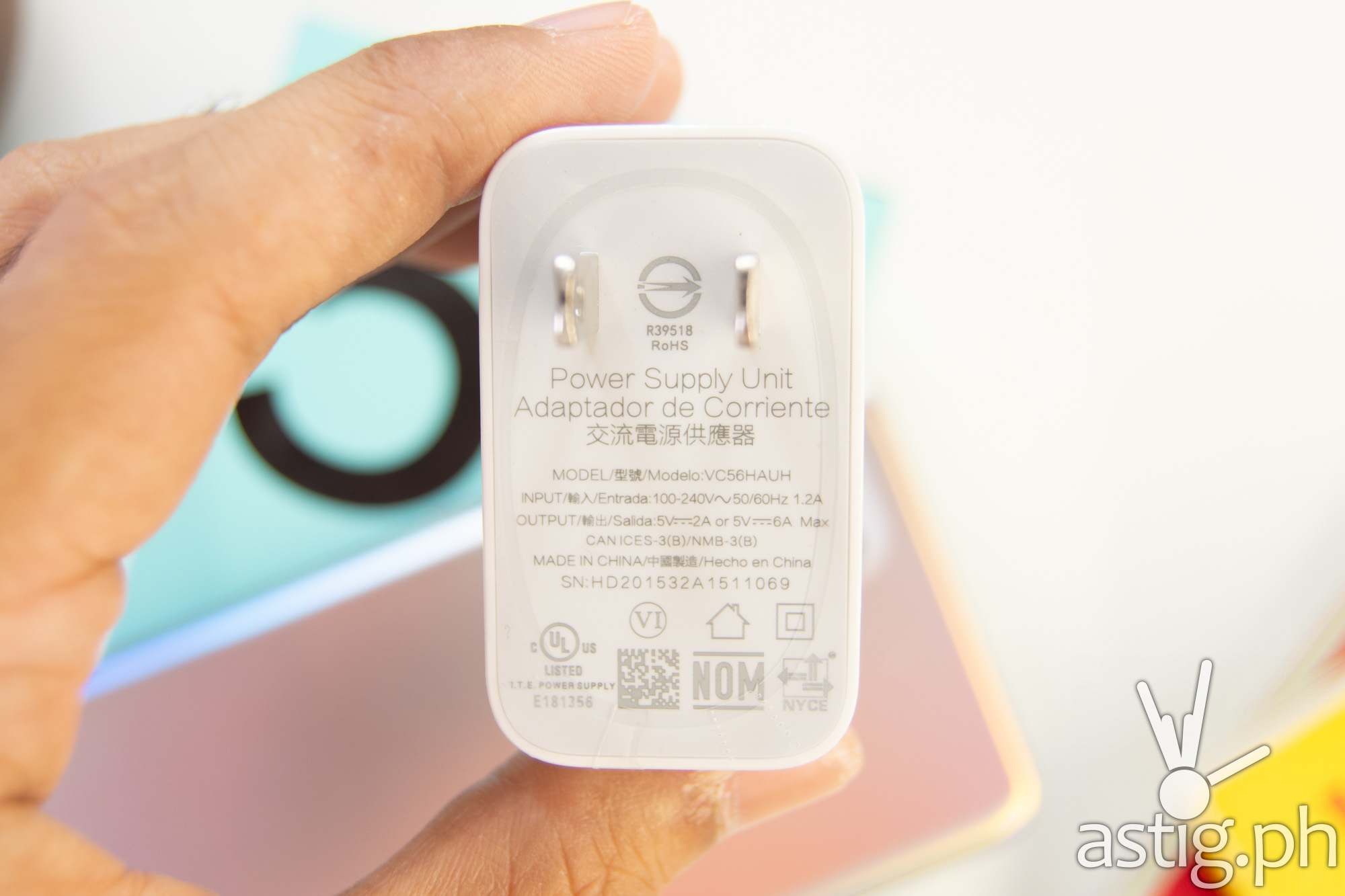 Over a day of battery life may not be that impressive in 2021 where most flagships are pushing 2-3 days, but the thing about the Reno5 is that it gets offset by its insane charging speeds, and that's kind of one of the things that differentiates the Reno5 from other brands.
It's also what differentiates the Reno5 4G from the 5G variant. The 4G Standard and Marvel Edition both max out at 50W which is already 2-3 times higher than current average, but the 5G can go as high as 65W using SuperVOOC 2.0 technology.
According to the official website, that's 100% in only 35 minutes which is absolutely insane, placing it well above the norm as far as charging speeds in 2021 is concerned.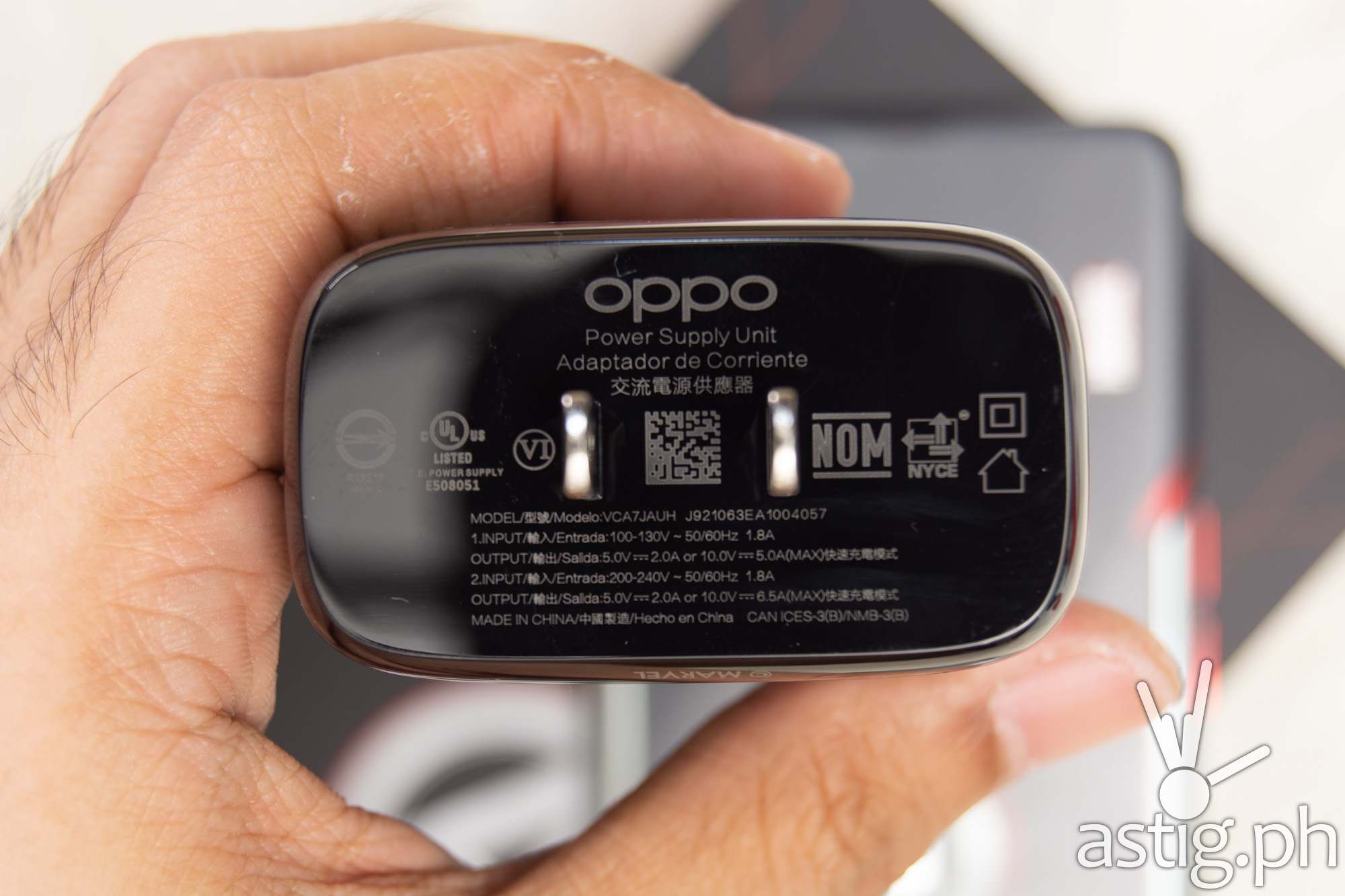 If you do get the Reno5 5G however, you are going to need a separate adapter to achieve 65W, since the one supplied out of the box only goes up to a maximum of 30W (5V 6A). Which is weird, because The Reno5 Marvel Edition has a power supply unit that goes up to 65W (10V 6.5A) despite maxing out at 50W.
Price might be a factor here, but with the Reno5 5G being the highest model, it's a bummer to not have a 65W out of the box.
Wireless charging is another thing that would have added value to the Reno5, but that's notably absent as well.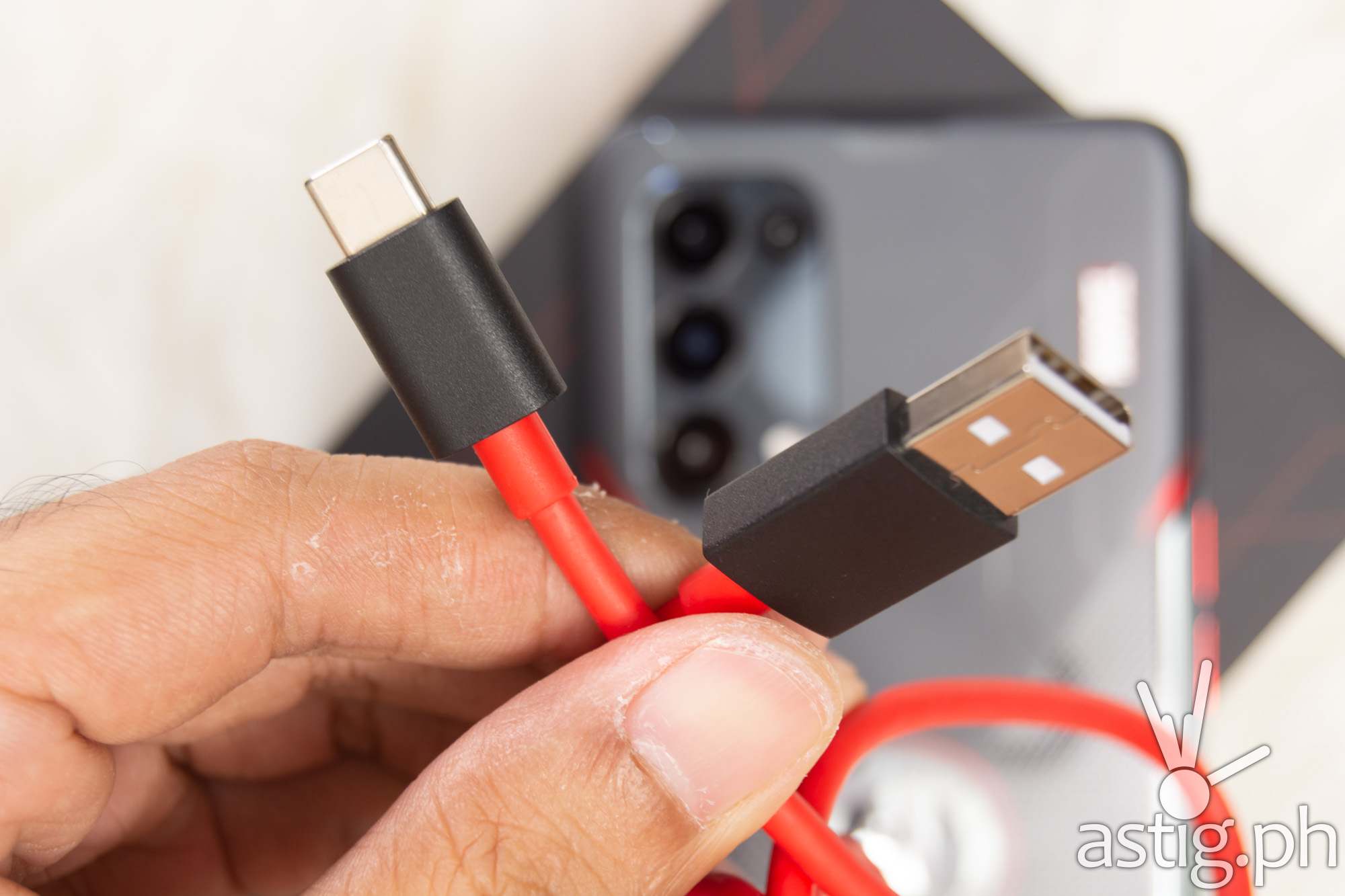 At least we don't have to worry about using inductive material, and the phone can have a nicely textured back cover.
Verdict, price
OPPO Reno5 is a good all-around device that punches above its weight class thanks to value-added features. Highlights include a big 90Hz OLED display with an under-display fingerprint sensor, 64MP cameras, and unmatched charging speeds at 50W (4G) and 65 (5G), respectively.
What really sells this phone for is the construction: It's so very slim and premium looking that you could easily mistake it for a flagship. Then there's the textured back and the Android 11 + realme UI 2.0 which in our opinion, creates an overall experience that gives more expensive alternatives a run for its money.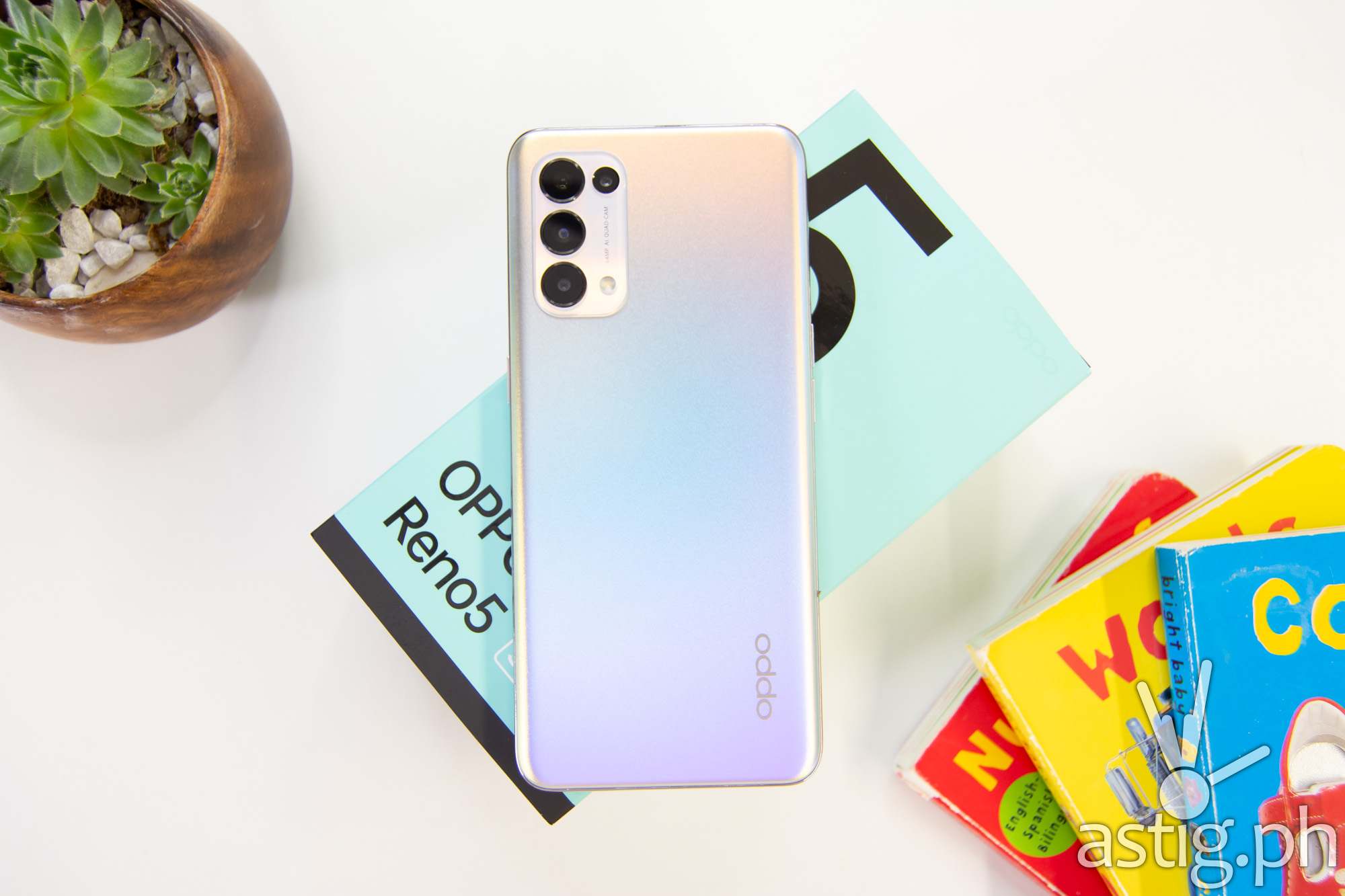 There is room for improvement though: a faster processor, water proofing, or even wireless charging could have elevated this phone to a true budget meal.
Carrying a price tag of Php23,999, the OPPO Reno5 5G is 26% more expensive than the 4G version, and 25% more expensive than the Marvel Edition. That extra cost is enough to do a double take, so you'll have to think carefully if you really need that 5G right now.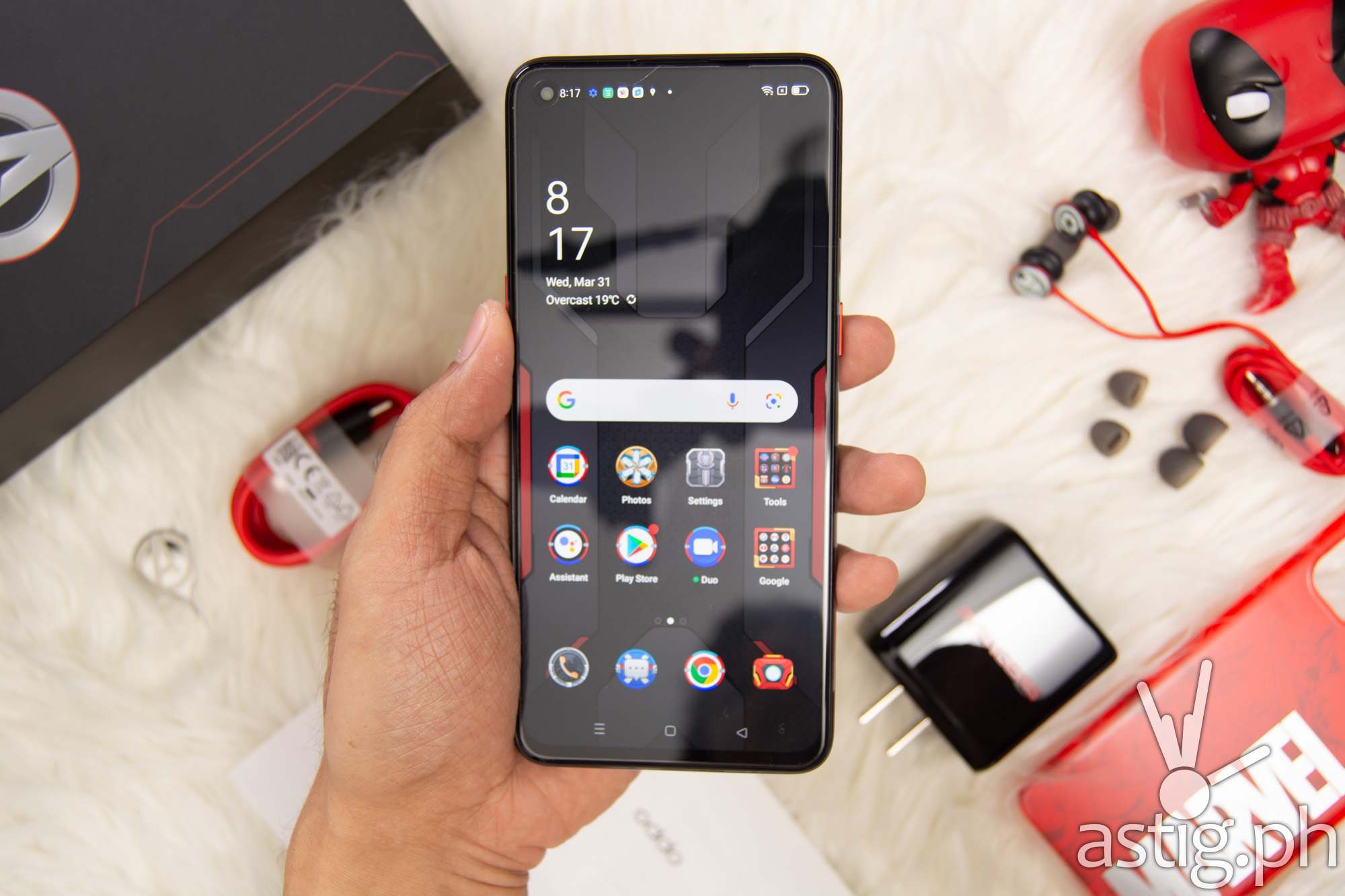 The extra speed boost going from 4G to 5G is nothing to laugh at. We went as high as 450MBps which is seriously fast in the Philippine context – much, much faster than our 100MBps DSL line.
Given that we're still in a pandemic, and movement is restricted. Also, keep in mind that 5G is so fast, you might end up consuming more data than needed. So unless you have unlimited data and you're always on the move, the economical choice is to go with the Reno5 4G or Marvel Edition.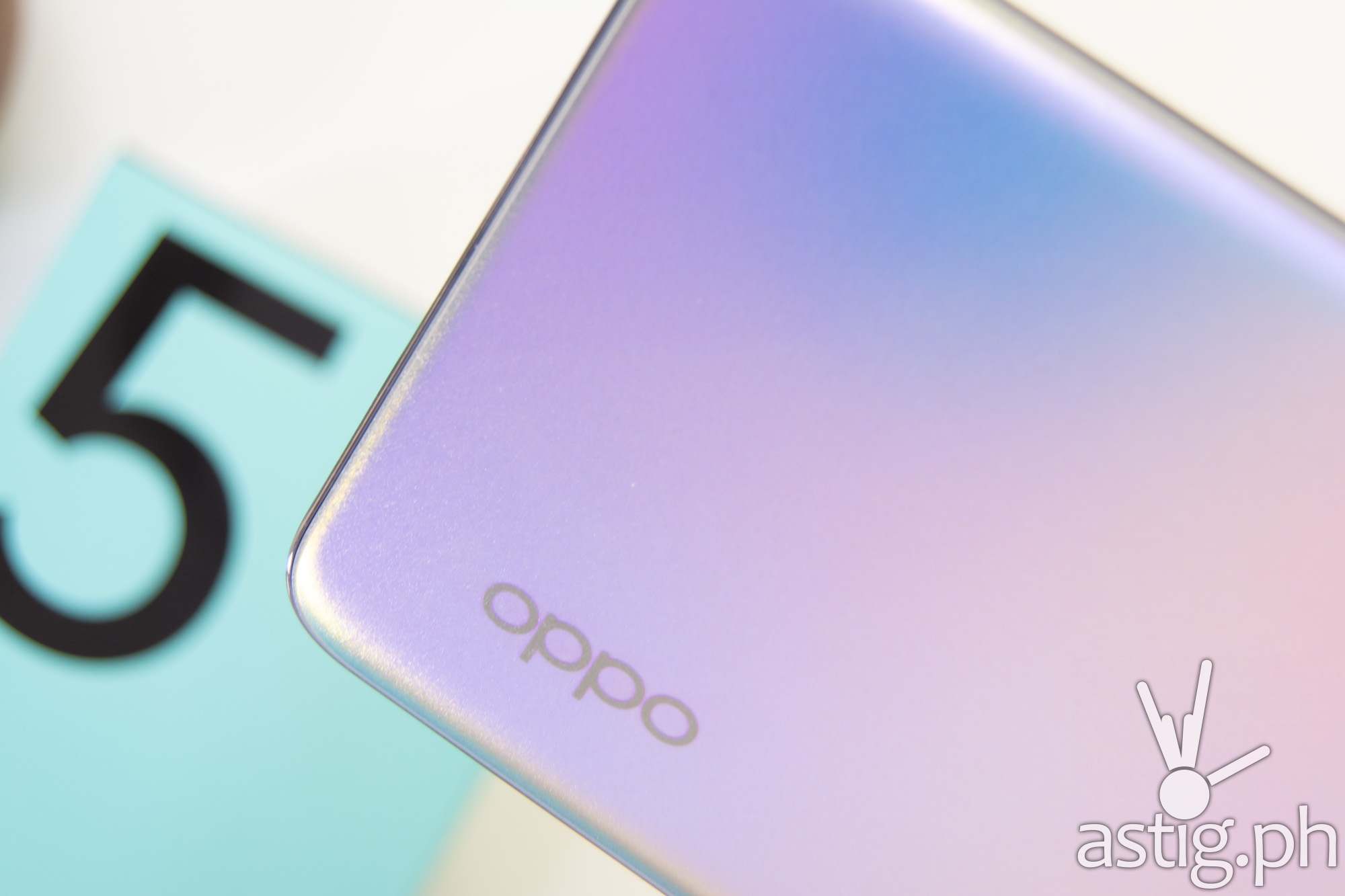 Either way, the Reno5 is a super sexy device that looks and feel like a premium flagship device or a much more expensive gaming phone, so you definitely won't be disappointed with the experience.
OPPO Reno5 5G technical specifications (Philippines)
Display: 6.43" 1800×2400 OLED 90Hz, Gorilla Glass 5
SIM: Dual SIM (nano-SIM, dedicated slots)
OS Android 11, ColorOS 11.1
Chipset (SoC): Qualcomm Snapdragon 765G 5G (7nm)
CPU: Octa-core (2.4GHz max)
GPU: Adreno 620
Memory (RAM) + storage (ROM): 8GB+128GB
Expansion: No
Main camera (rear): 64MP (wide) + 8MP (ultrawide) + 2MP (macro) +2MP (depth)
Selfie camera (front): 32MP f/2.4
I/O: USB-C, 3.5mm audio jack; in-display fingerprint scanner (optical)
Battery: 4,300 mAh, 65W SupreVOOC 2.0 charging technology
Colors (5G): Galactic Silver, Starry Black
Price (Philippines): Php23,999 (5G)
OPPO Reno5 4G / Marvel Edition technical specifications (Philippines)
Display: 6.43" 1800×2400 OLED 90Hz, Gorilla Glass 5
SIM: Dual SIM (nano-SIM, dedicated slots)
OS Android 11, ColorOS 11.1
Chipset (SoC): Qualcomm Snapdragon 720G (8nm)
CPU: Octa-core (2×2.3 GHz Kryo 465 Gold & 6×1.8 GHz Kryo 465 Silver)
GPU: Adreno 618
Memory (RAM) + storage (ROM): 8GB+128GB
Expansion: microSD
Main camera (rear): 64MP (wide) + 8MP (ultrawide) + 2MP (macro) +2MP (depth)
Selfie camera (front): 44MP f/2.4
I/O: USB-C, 3.5mm audio jack; in-display fingerprint scanner (optical)
Battery: 4,310 mAh, 50W SupreVOOC charging technology
Colors: Fantasy Silver, Starry Black (4G) / Quantum Black (Marvel Edition)
Price (Philippines): Php18,999 (4G), Php19,999 (Marvel Edition)