realme 8, the newest addition to realme's iconic numbered series , will be making its official debut in the Philippines alongside the realme 8 Pro on Tuesday, May 11. The event comes hot off the launch of the realme C25, which went official only a month ago.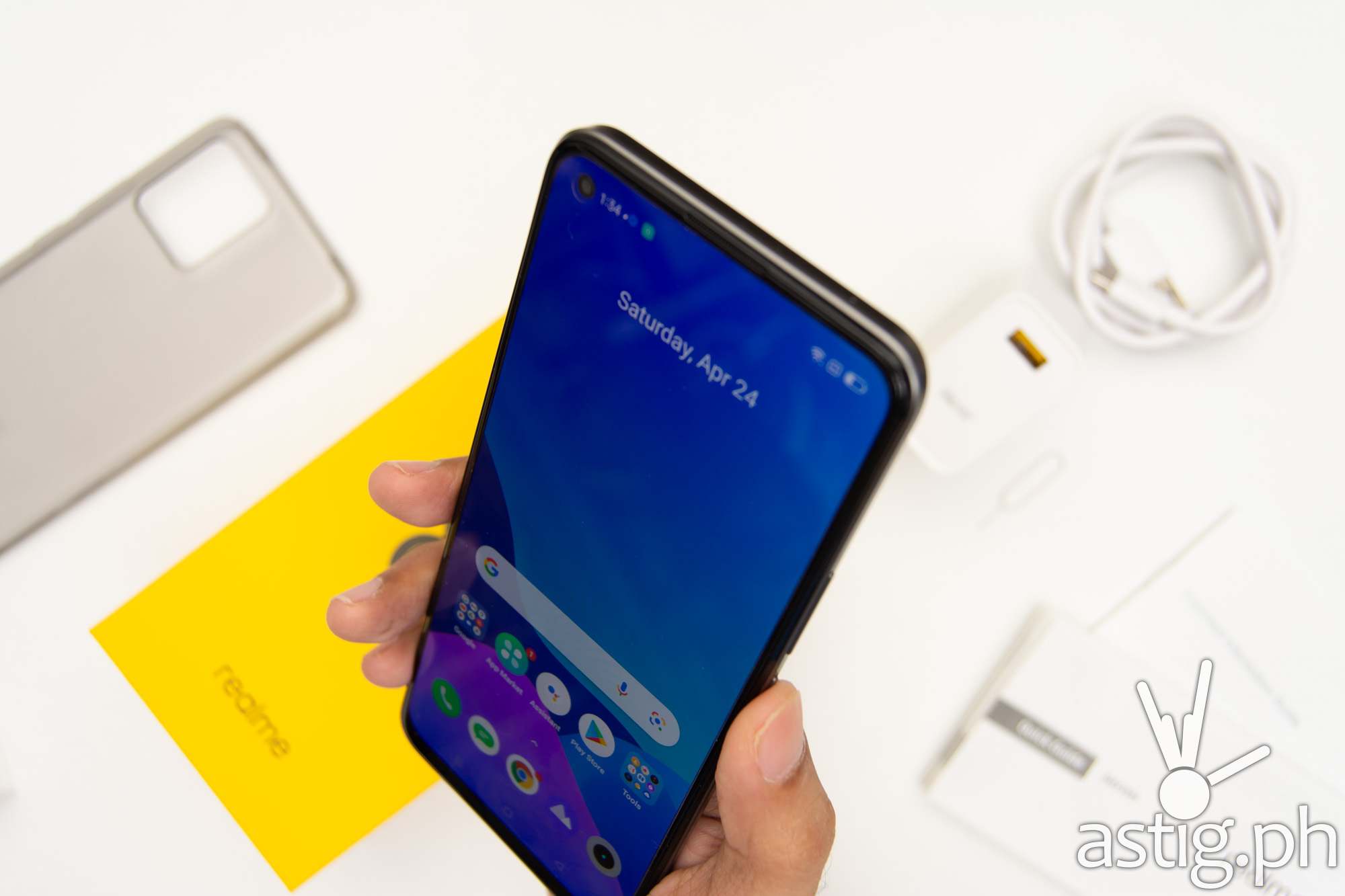 However unlike the realme C25, the realme 8 is a considerably more powerful phone, and why not? The realme numbered series has traditionally offered performance and features at competitive prices, so we were super excited when it arrived on our doorstep.
realme C25 review: A small step for budget phones, a giant leap for the industry
Upon opening the package and holding the unit, we immediately noticed how considerably slimmer and lighter it was compared to its predecessors, the realme 6 and realme 7. We thought we were just imagining things, so we had to check, and it turns out that the realme 8 is at least 15 percent thinner than the realme 7 at only 8mm vs the latter's 9.4mm.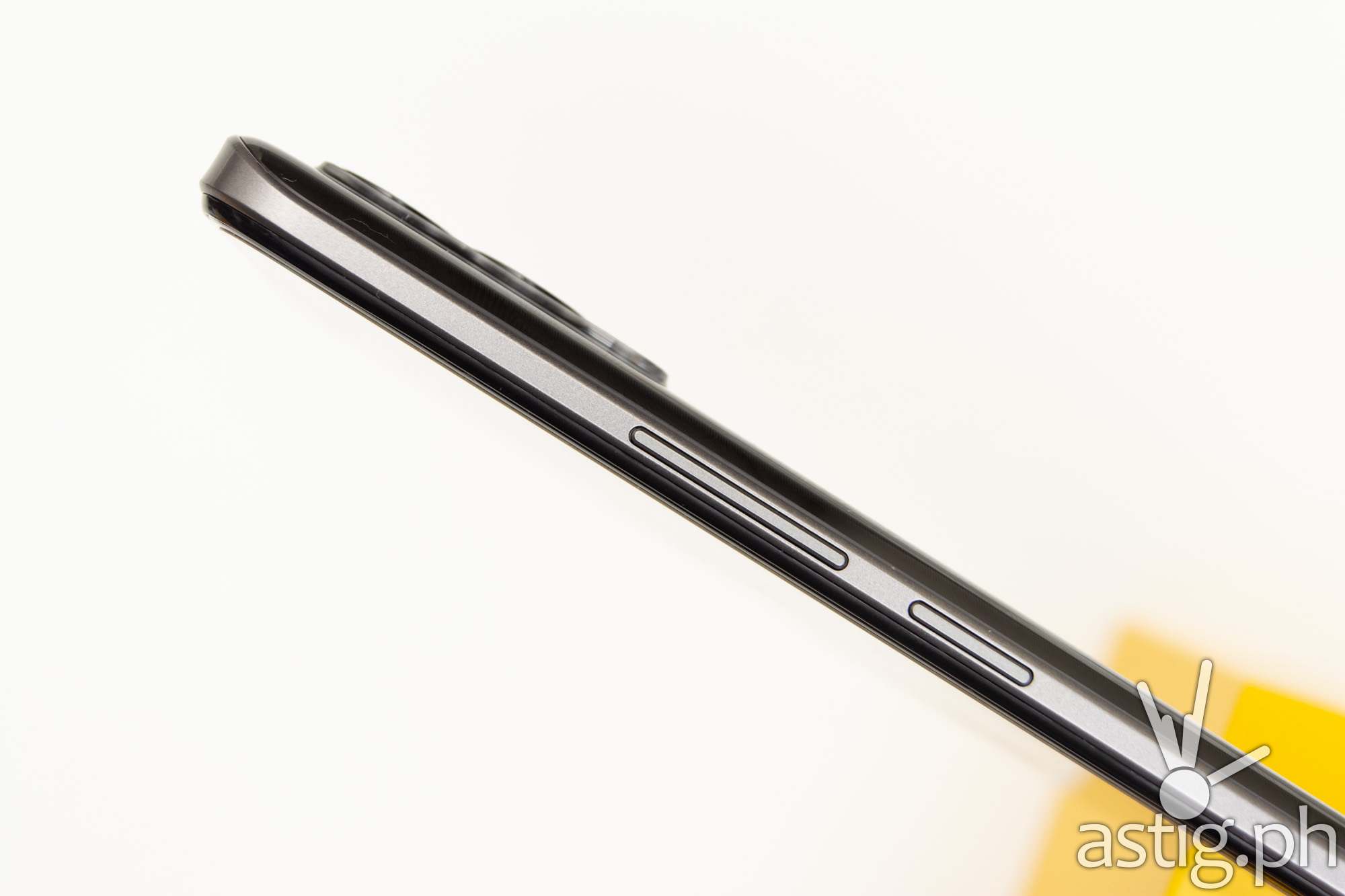 It is also 10 percent lighter at only 177 grams vs 196.5. One would think that a few grams or millimeters wouldn't make a difference, so we were so surprised that it was one of the first things that we noticed.
We fondly recall the first time we held the realme 6 and felt the additional bulk. Back then we didn't mind the added weight and thickness because it also meant more battery life. So it's important to note that this reduction comes whilst maintaining the same battery capacity and charging speed of its predecessor at 5,000 mAh and 30W.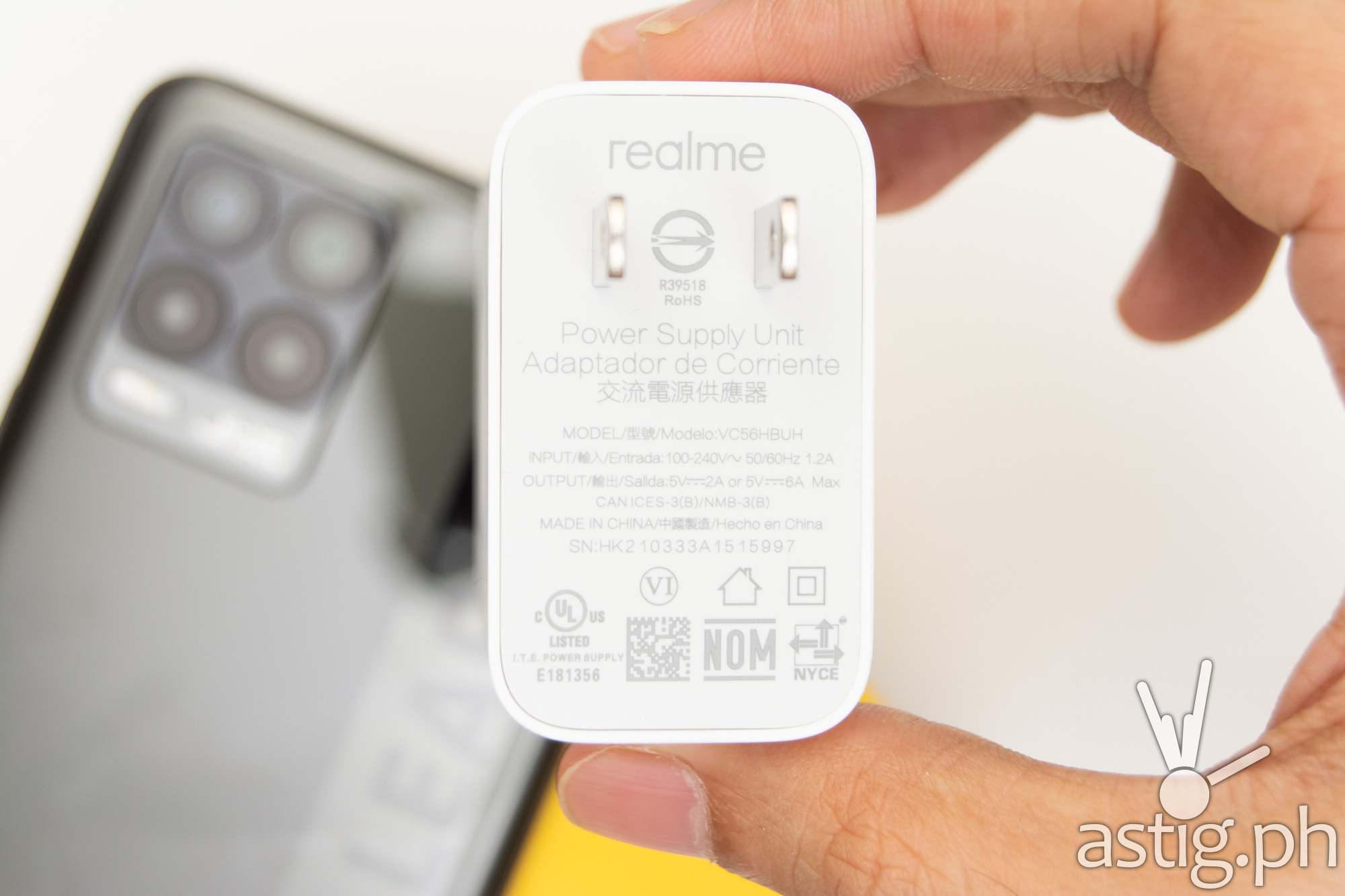 Turning it over to the side, we were shocked to find a tapered aluminum chassis! It's a huge upgrade over the thick, plastic unibody of its predecessors, and a step towards a more premium-looking finish.
HOWEVER,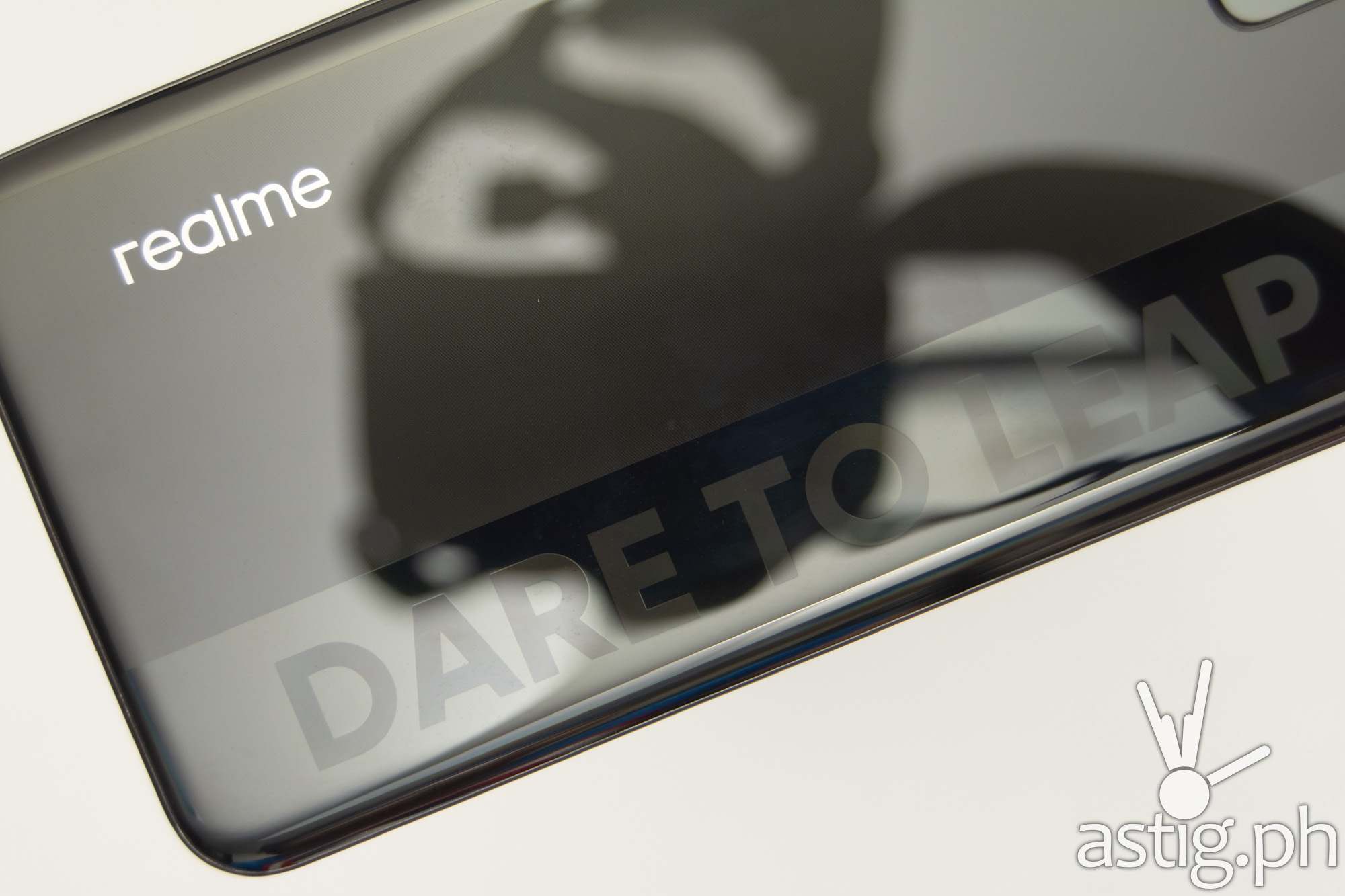 As we move our eyes to the back, we find that not have we reverted to the "glasstic" finish of 2019, we now have the phrase "DARE TO LEAP" in big, bold letters occupying 30 percent of the right-most area. This is in addition to the realme logo printed on the lower-left area.
Don't get me wrong : typography is cool, but in a hip-hop kind of way. If this were a gaming phone then by all means let's go crazy but to me, those huge letters contradict the phone's premium aesthetic.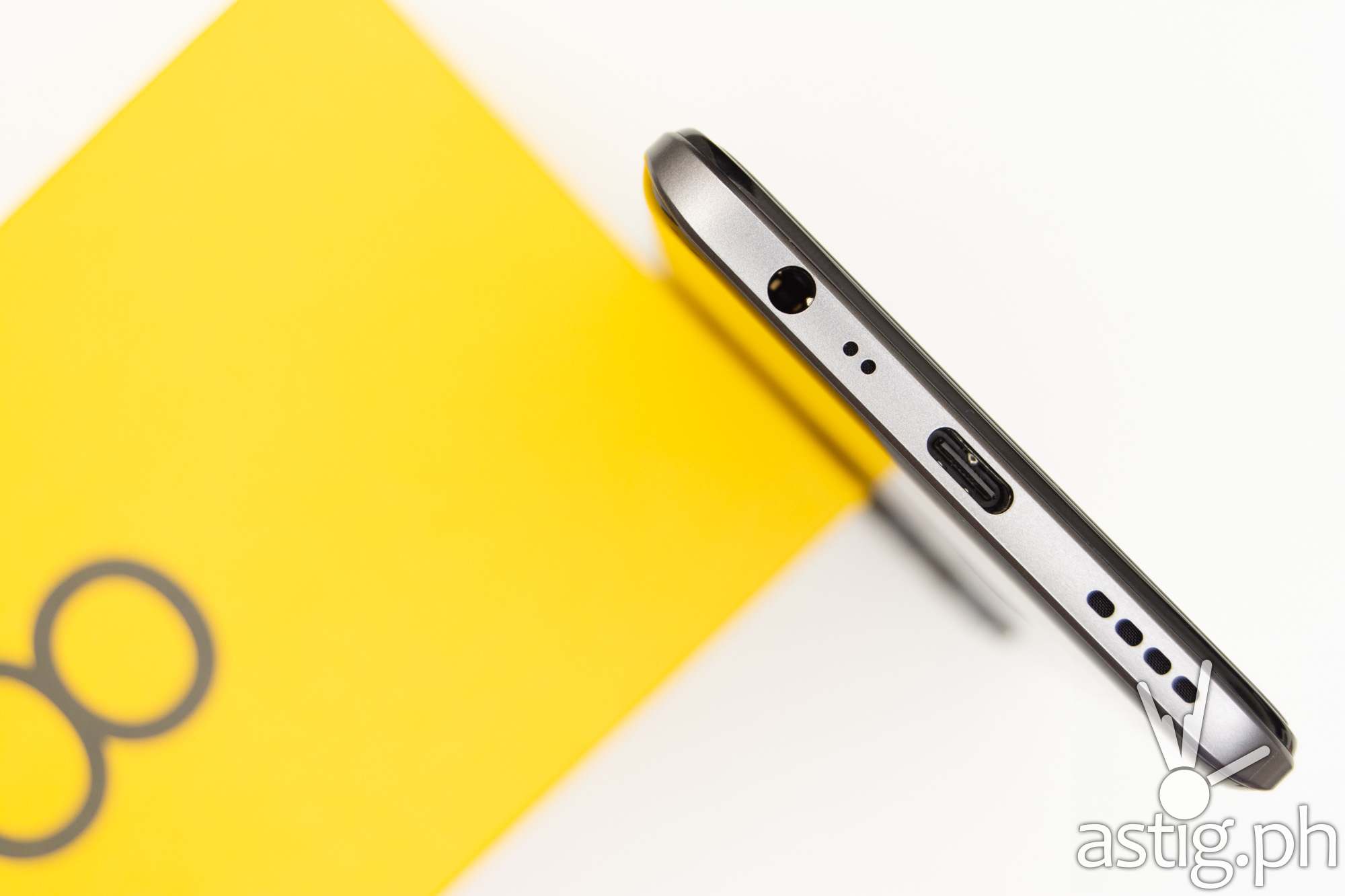 Serious realme, it's confusing.
We have a very thin and light phone with glossy back so that must be premium, right? Then we have that nice, big camera module so once again, premium phone. So where do our big, bold letters fit in?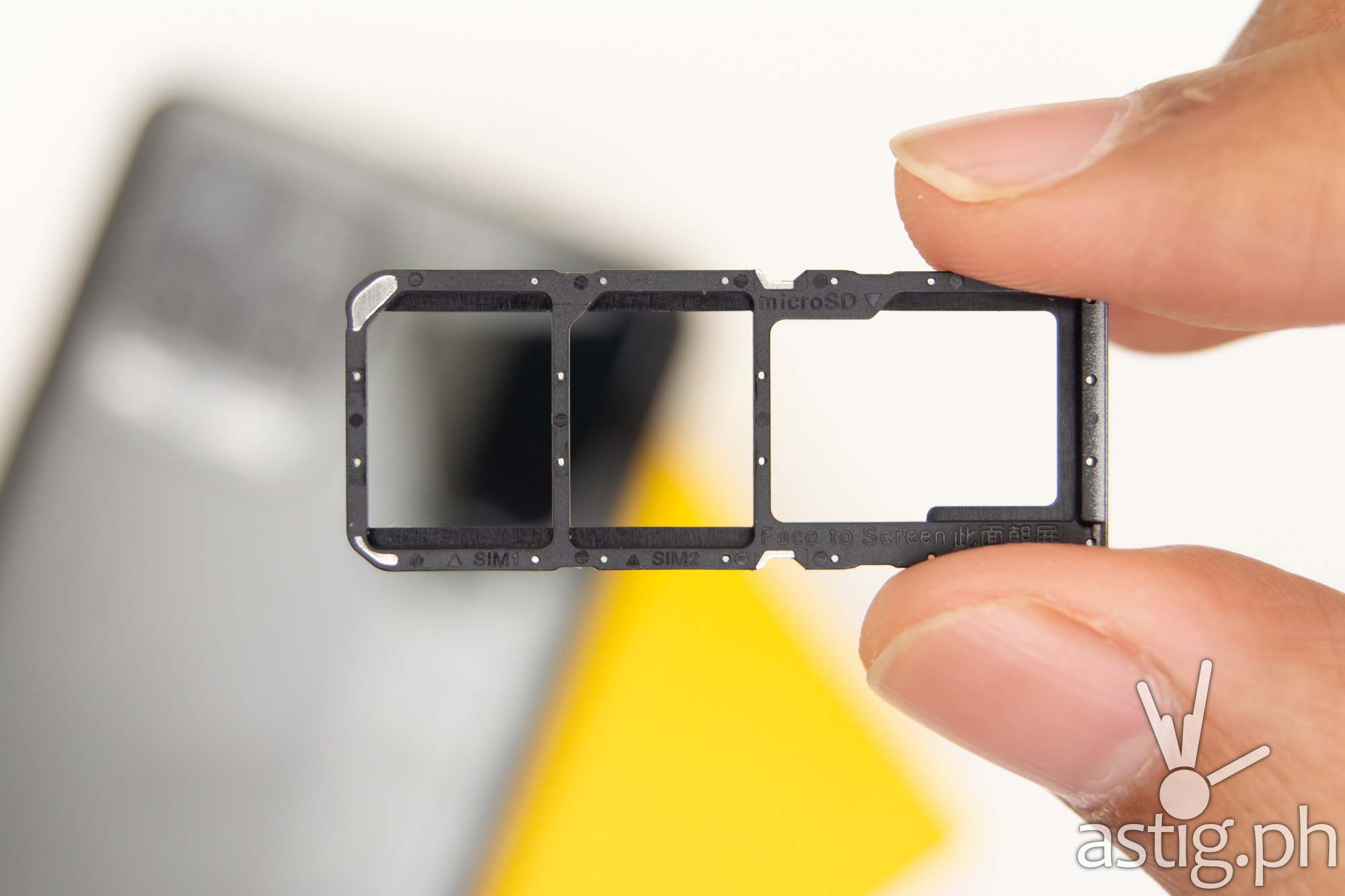 Perhaps the realme 8 is really a gaming phone?
After all, the realme 8 runs on a Helio G95, which is supposed to be MediaTek's premium 4G gaming platform. Perhaps I'll get used to it in time, but for now, those big, bold letters feel out of place and cheapens what would have been an otherwise premium-looking device.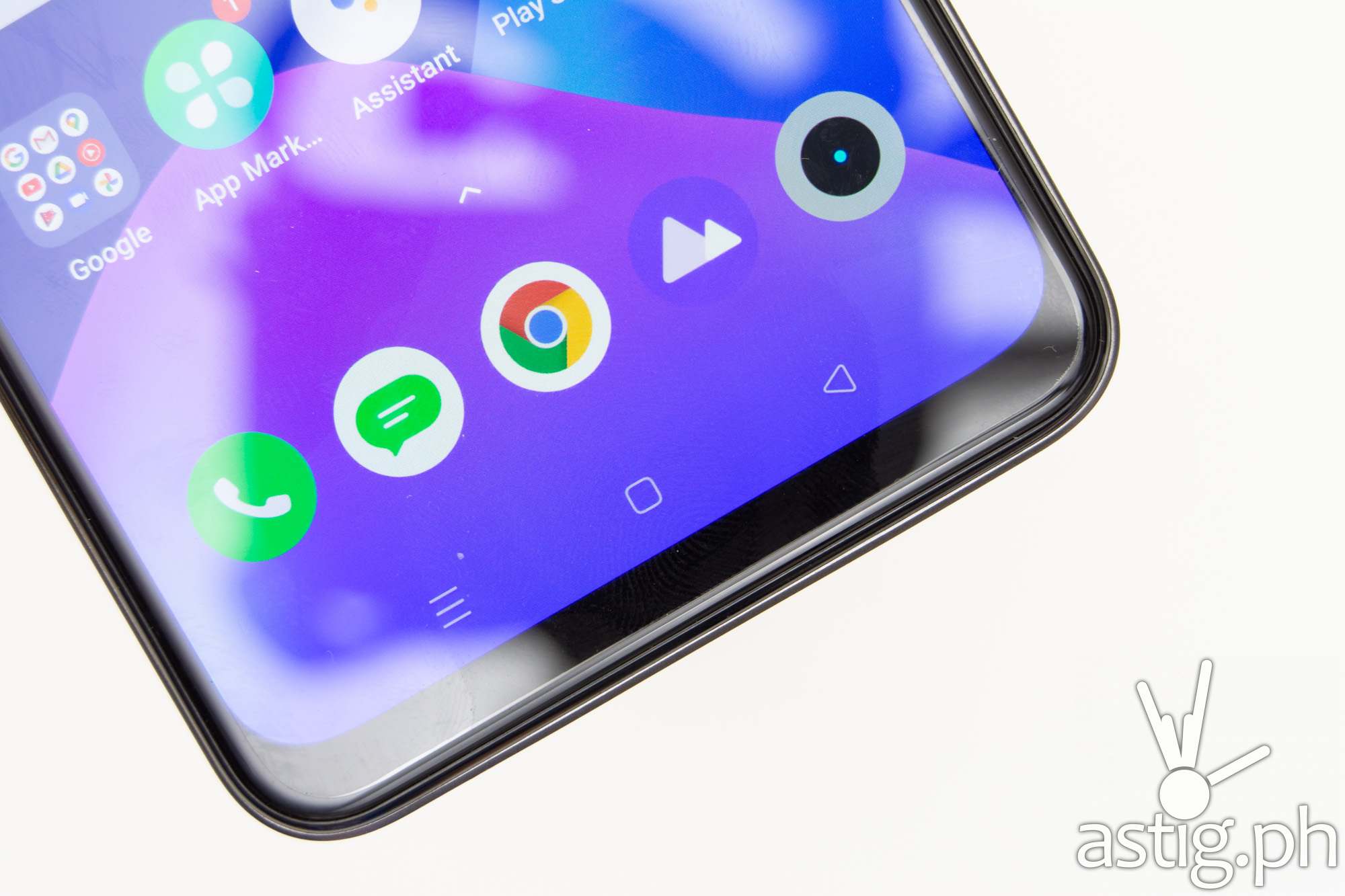 We'll leave the performance benchmarks for a more long-term review, but for now, it feels super snappy and we don't miss having a faster display at all. It's also quite capable for games. After all, the Helio G95 is MediaTek's top-tier 4G gaming chipset.
Yes, Genhin Impact runs smoothly on the realme 8 with graphics on High.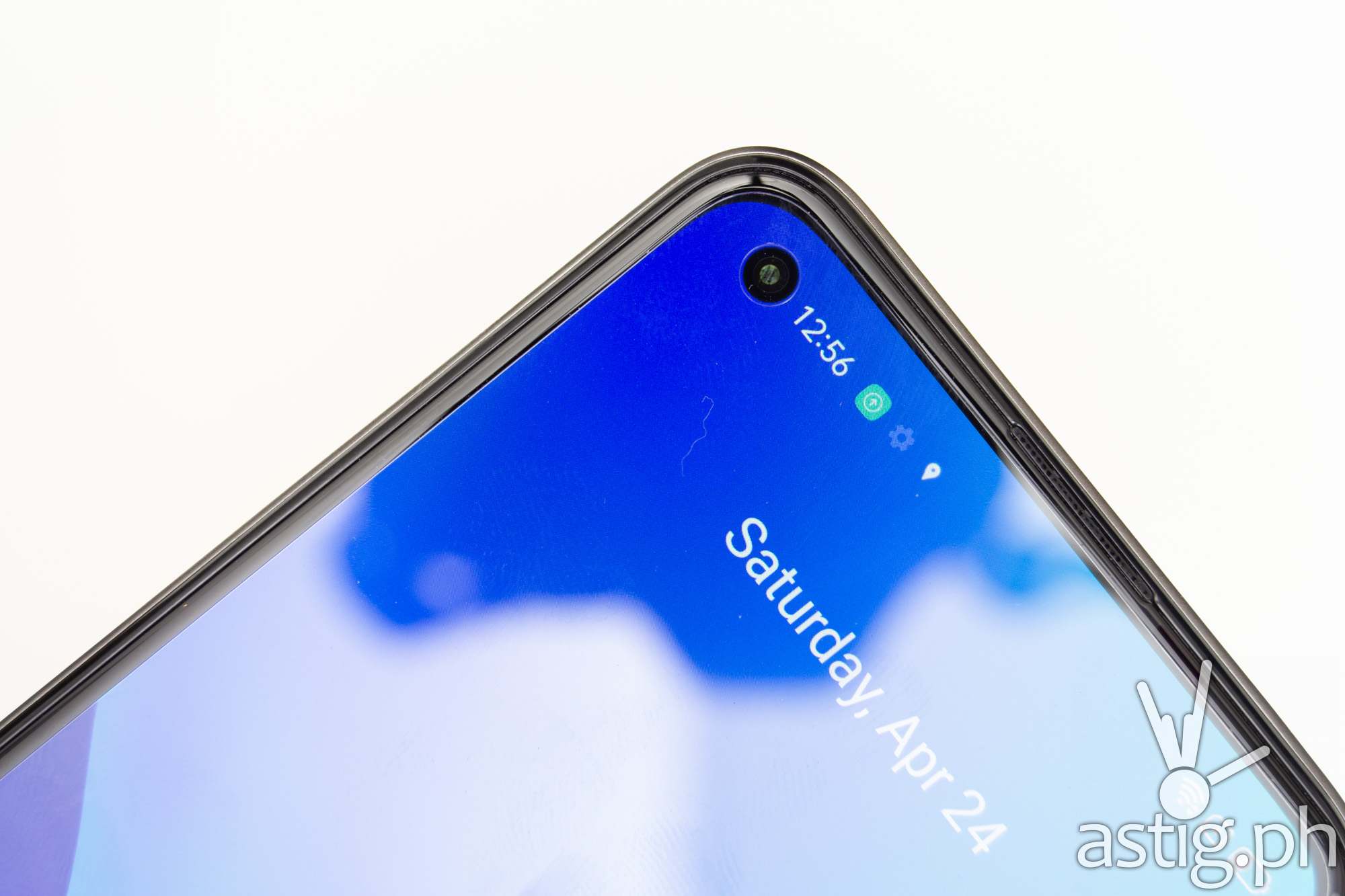 Speaking of which, the display also takes a step towards premium-ness (yes, I just came up with that), taking on a full HD Super AMOLED display panel with 180Hz touch sampling rate. Though we are back to 60Hz native refresh rate, Super AMOLED arguably produces better quality pictures, and we didn't really feel the loss.
But the big, BIG news here is that we finally get an … *drumroll* … under-display fingerprint sensor! That's right folks, previously a feature exclusive to premium smartphones, the under-display fingerprint sensor has now made it to the mid-range line thanks to the realme 8.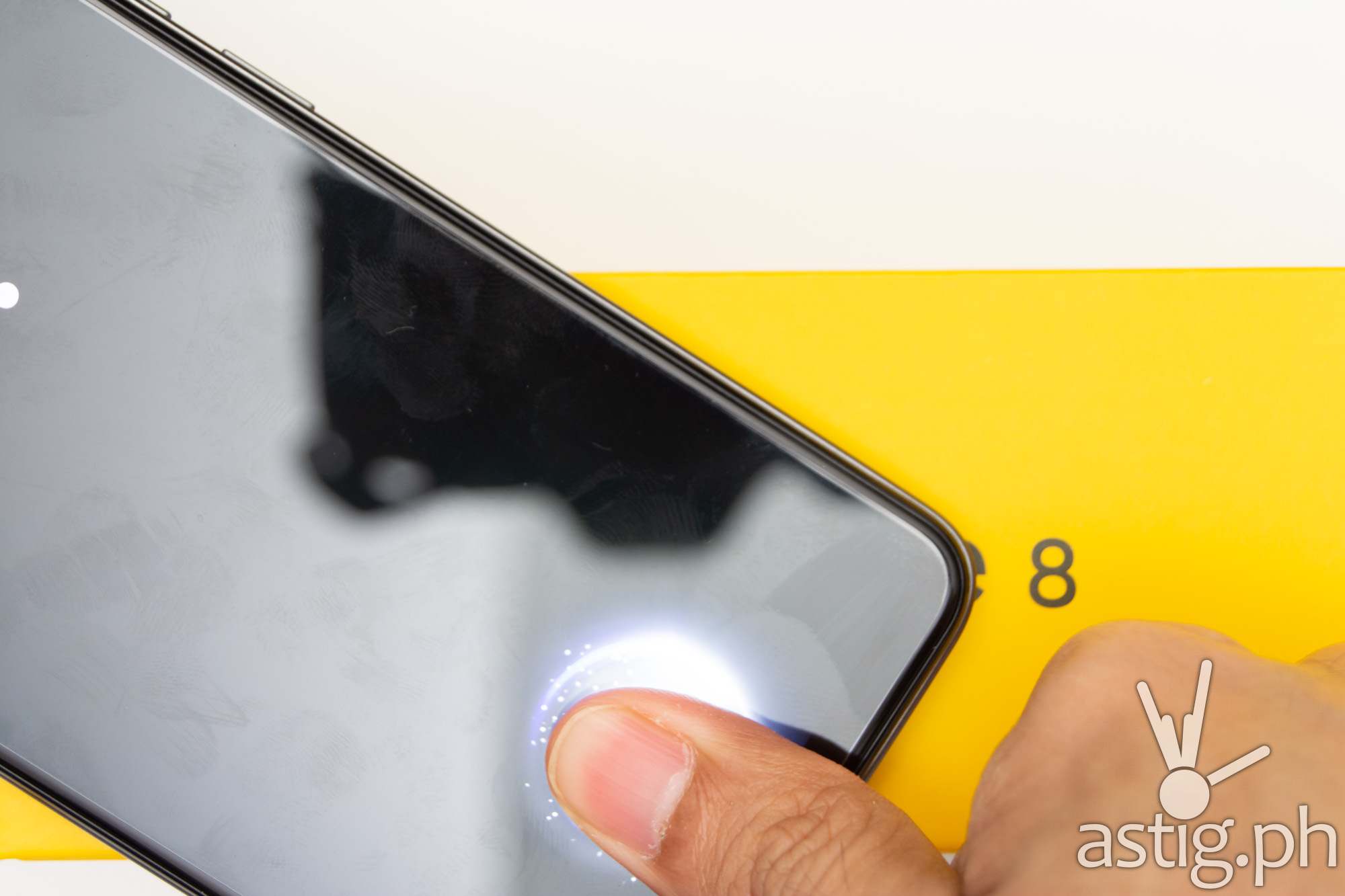 Knowing this, having an AMOLED screen makes sense, since the system needs to be able to turn off those pixels individually in order to read your fingerprint.
Did we mention that realme UI 2.0 on Android 11 is super smooth? Yes folks, we're finally getting realme UI 2.0 and we're loving all the cool new features, especially screen recording capability which now lets us record both system sounds AND microphone audio at the same time – something we were unable to do previously.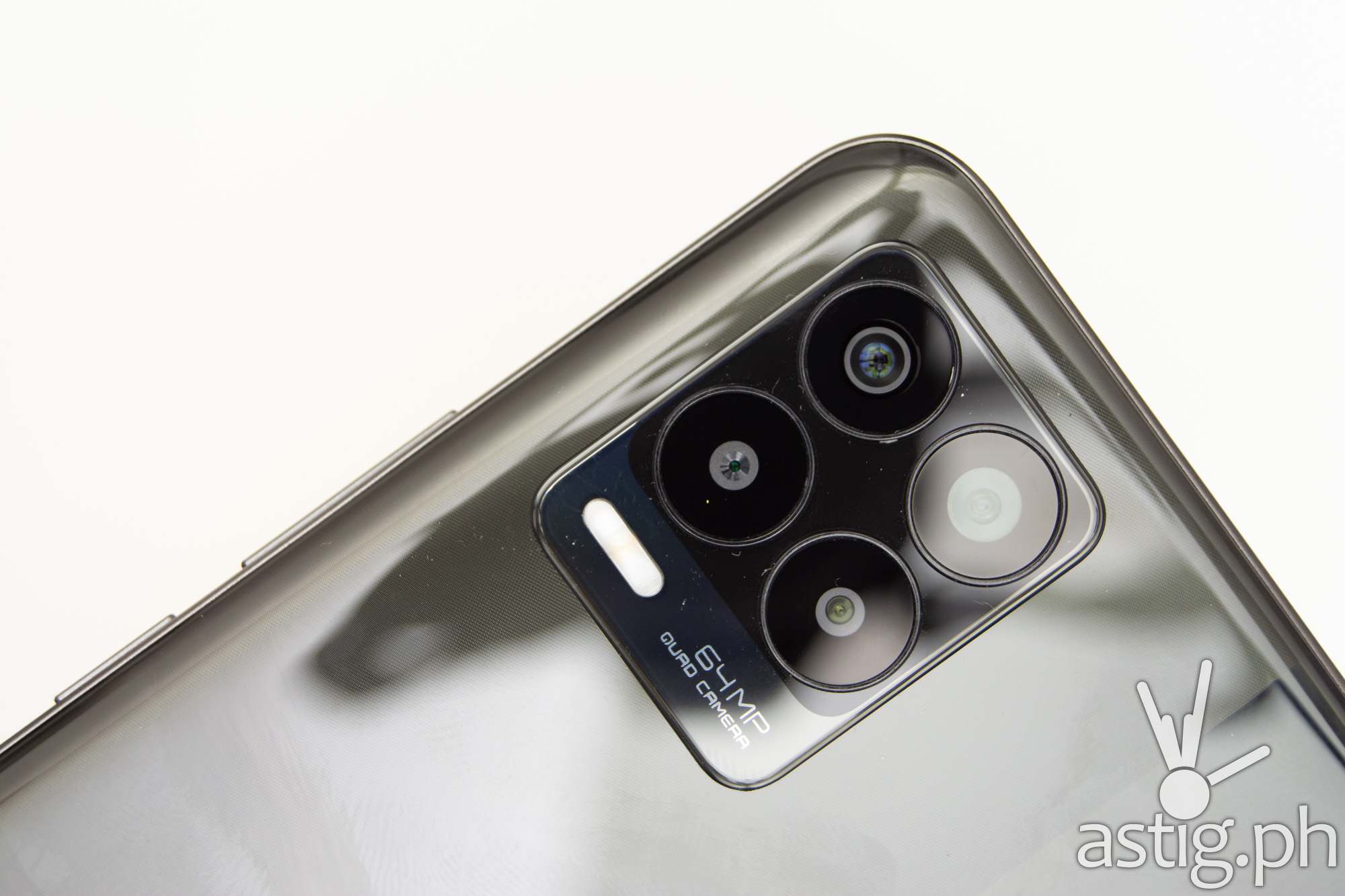 For photography, the realme 8 is blessed with a quad camera system with a 64MP f/1.8 main snapper. It also packs an 8MP f/2.3 ultrawide sensor and a 2MP f/2.4 macro sensor. Those are good specs, but the real gem here is the upgraded camera software that comes with realme UI 2.0!
We enjoyed playing around with the new portrait modes (Dynamic, Neon, and AI Color) and we had a lot of fun with the new in tilt-shift modes. It makes buildings and cars in the city look like miniature toys!
We were excited to find the new Starry Mode that we immediately went out to try to capture shots of the moon amidst the night sky!
With Starry Mode, the camera will be shooting for over four minutes, so you have to be super steady. We took our sample photo using a tripod and it still came out blurry.
We'll keep practicing with this mode but for now, prefer shooting with Night Mode which takes stunning, dramatic shots at night – even handheld!
Generally, the images are sharp and bright, even the ones taken indoors. The white balance seems to be off at times but thankfully, we can manually override these settings in Pro Mode.
We also enjoyed taking close-up photos at 2x, which at times can look better than shots taken with the ultra-macro lens.
Selfies generally look good, though it's a little disappointing to discover that we can't use the new filters with the front-facing camera. You'll have to use the rear camera for that!
There new watermark looks cute too, although it can be difficult to see because of all the colors.
However, our favorite feature new feature has to be the Dual Video mode, which lets you capture a single video with both the front and rear cameras at the same time. You can display both cameras side by side in split mode, or in a smaller window.
Hit play to watch our sample videos!
realme 8 and realme 8 Pro launches in the Philippines at 7PM on May 11. Stay tuned for the Philippine launch ad price reveal on the realme Philippines Facebook page!