realme has been on a roll lately, catapulting itself into the #1 spot in the Philippines only two years after it first entered the country back in November 2018. The brand owes its success to its quality smartphones, taking learnings from their days as an OPPO sub-brand, offering more value compared to other brands in the same price range.
It has since set its sights on smart devices, launching products that leverage cutting-edge technology to enhance one's lifestyle. Earlier, we reviewed realme Smart Scale and the realme M1 Sonic Electric Toothbrush, two products that embody the realme "TechLife" mantra.
Today, we review the 43″ realme Smart TV. While it features a larger, full HD (1920×1080) display panel compared to its 32-inch HD (1366×768) counterpart, everything else is virtually identical, so expect similar performance and picture quality on both.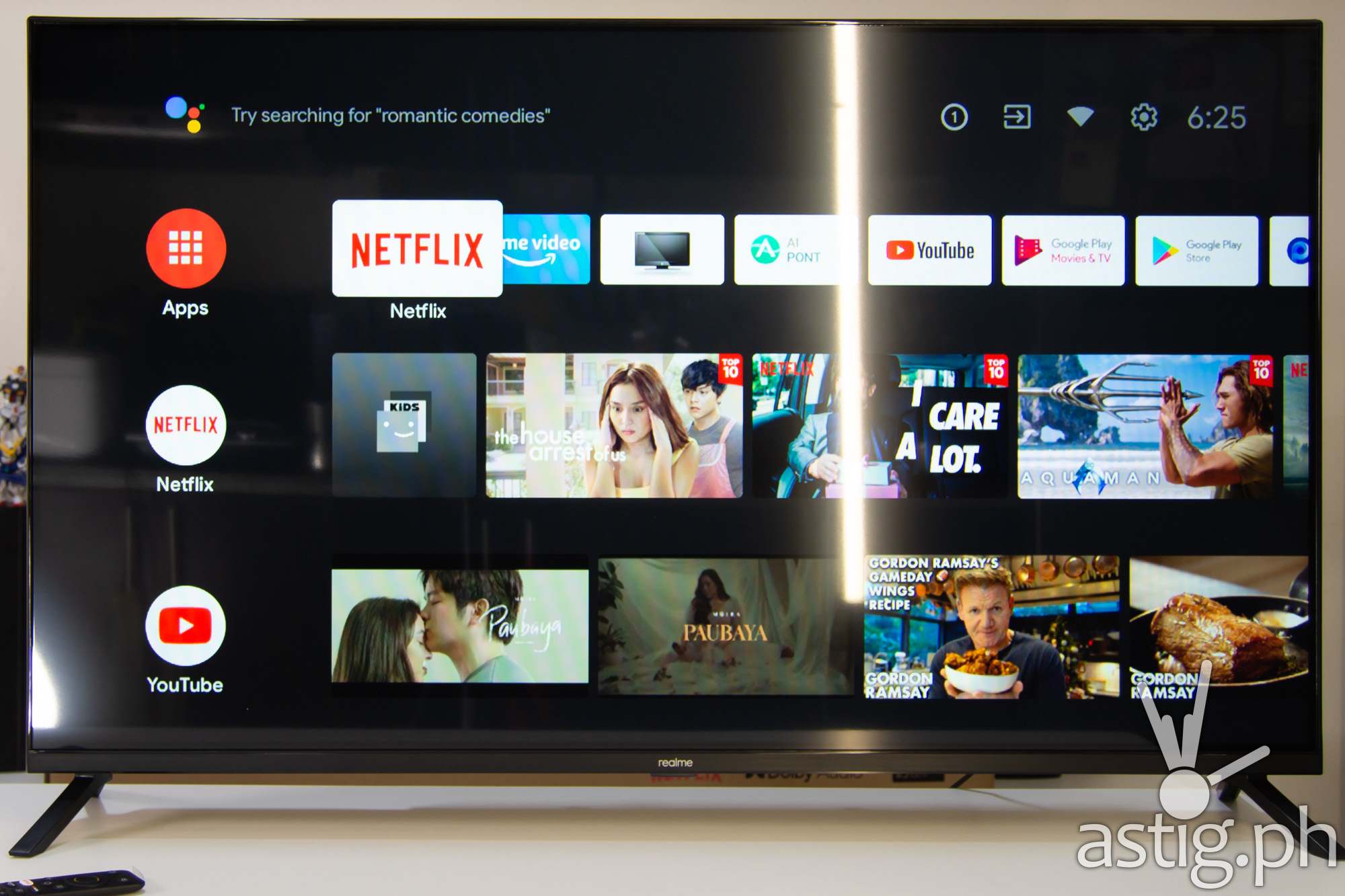 What's in the box?
realme Smart TV
2x base stand
4x screw
Remote control
2x AAA battery
Documentation
Build quality and design
realme has an excellent design team, bagging several awards for its smartphones. This same attention to detail and user experience can be observed on the realme Smart TV – particularly, on the remote control, which can be described as minimal and ergonomic.
The matte finish, tactile buttons, and small form factor feels good and easy to operate – although some users might need to adjust if you're used to having a full number pad to switch between different channels. As someone who mainly uses TV for streaming services, I personally don't miss it, though I do miss having a dedicated button to enable / disable subtitles and to access the context menu.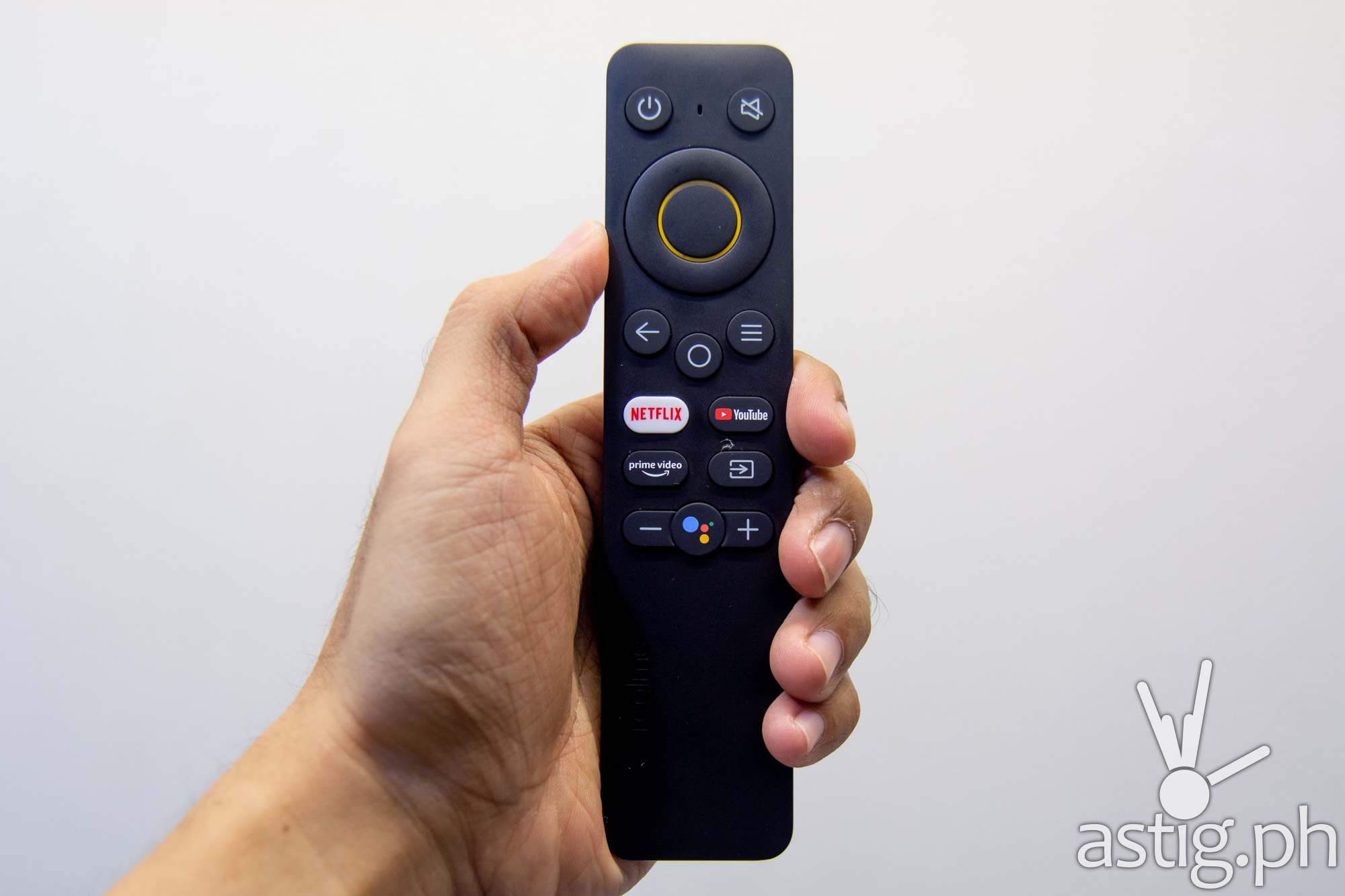 Moving to the display panel, we get an all-black plastic finish with minimal bezels that give the realme TV a premium appearance because for some reason, the notion that thinner bezels = better somehow carried over from smartphones to Smart TVs even though they were not particularly thick before.
So in case you haven't caught it yet, personally, I feel that the bezels are way too thin. I would not have minded nor noticed extra thickness, especially since the bottom edge is much thicker than the rest of the unit.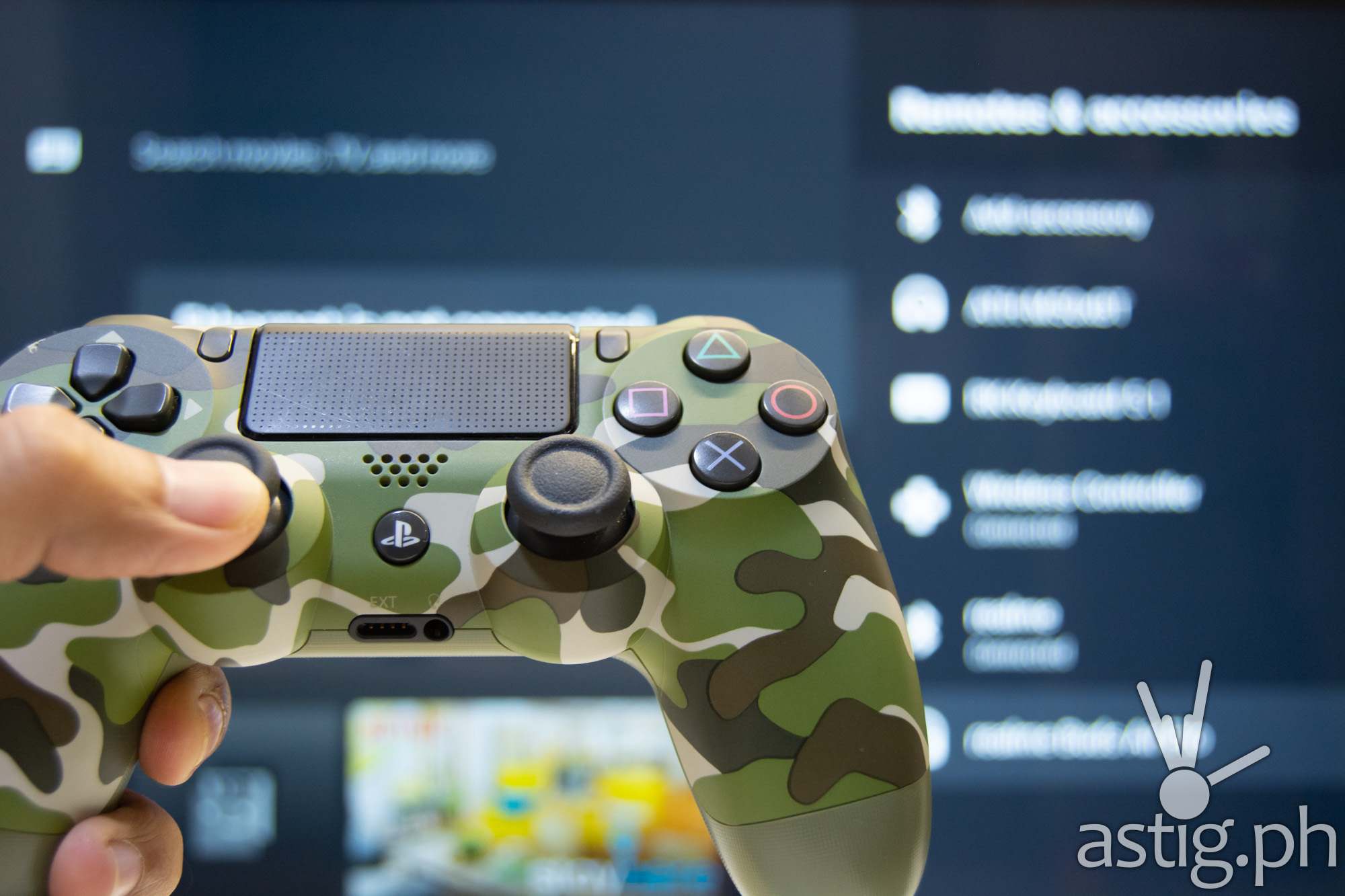 Speaking of which, I do like that there's a physical ON / OFF switch at the bottom, directly underneath the realme logo. However, that's all it is – an ON / OFF button. You can't use it to navigate the device, so you really your remote control or some other input device to control the TV.
By the way, I have tried connecting a Sony Playstation DS4 controller and a mechanical keyboard via Bluetooth and it made navigating and typing on the realme TV so much easier.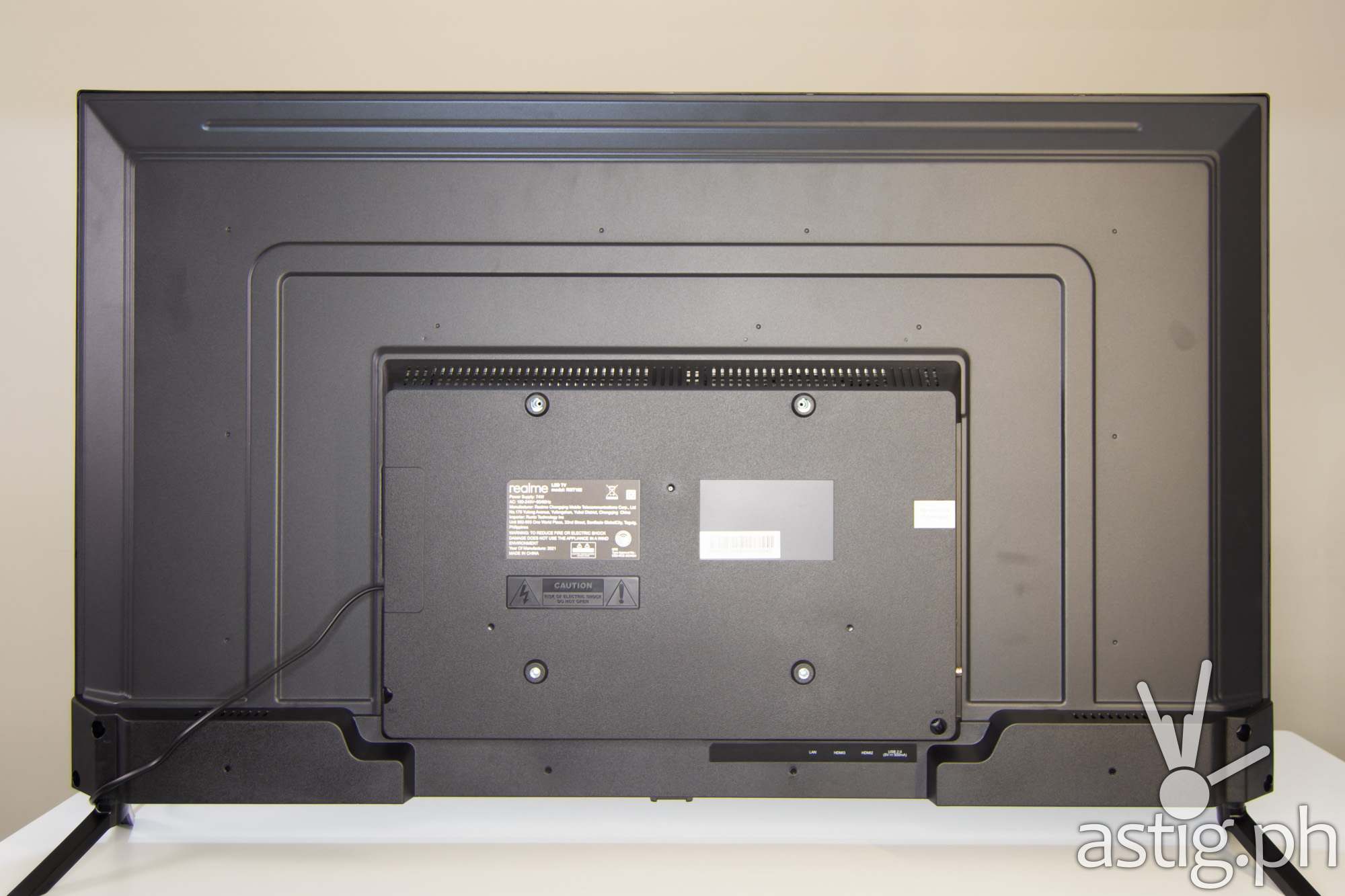 The back of the realme TV is quite thick, which doesn't bother me at all. I am not a fan of super thin displays which feel too fragile when you move them around. Coupled with the plastic base, the realme TV looks and feels like a budget device from the back. This is more obvious if you line it up side by side with older, more premium Smart TVs which are usually more curvy and made with sturdier materials.
But hey, except for that one time when you set things up, nobody really looks at the back.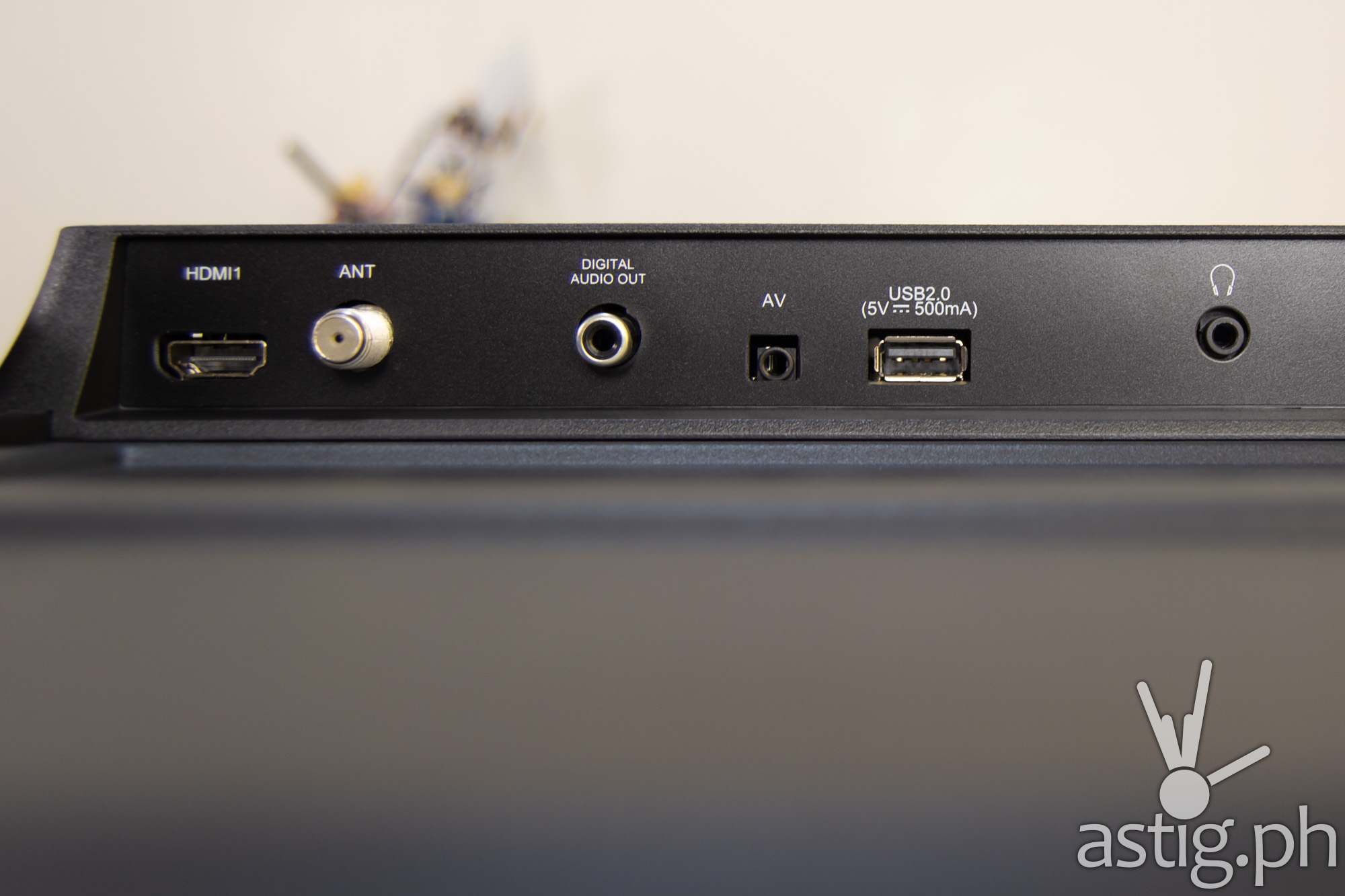 It's fitted with a nice set of I/O ports to the side and at the bottom. This includes 3xHDMI ports, 2xUSB ports, an AV port, an SPDIF port, and a LAN port.
We didn't have any issues connecting external speakers via the AV port or the USB port. By the way, the realme TV supports Dolby Digital Audio, so we connected it digitally via USB to a Schiit DAC-amp stack for even better sound quality.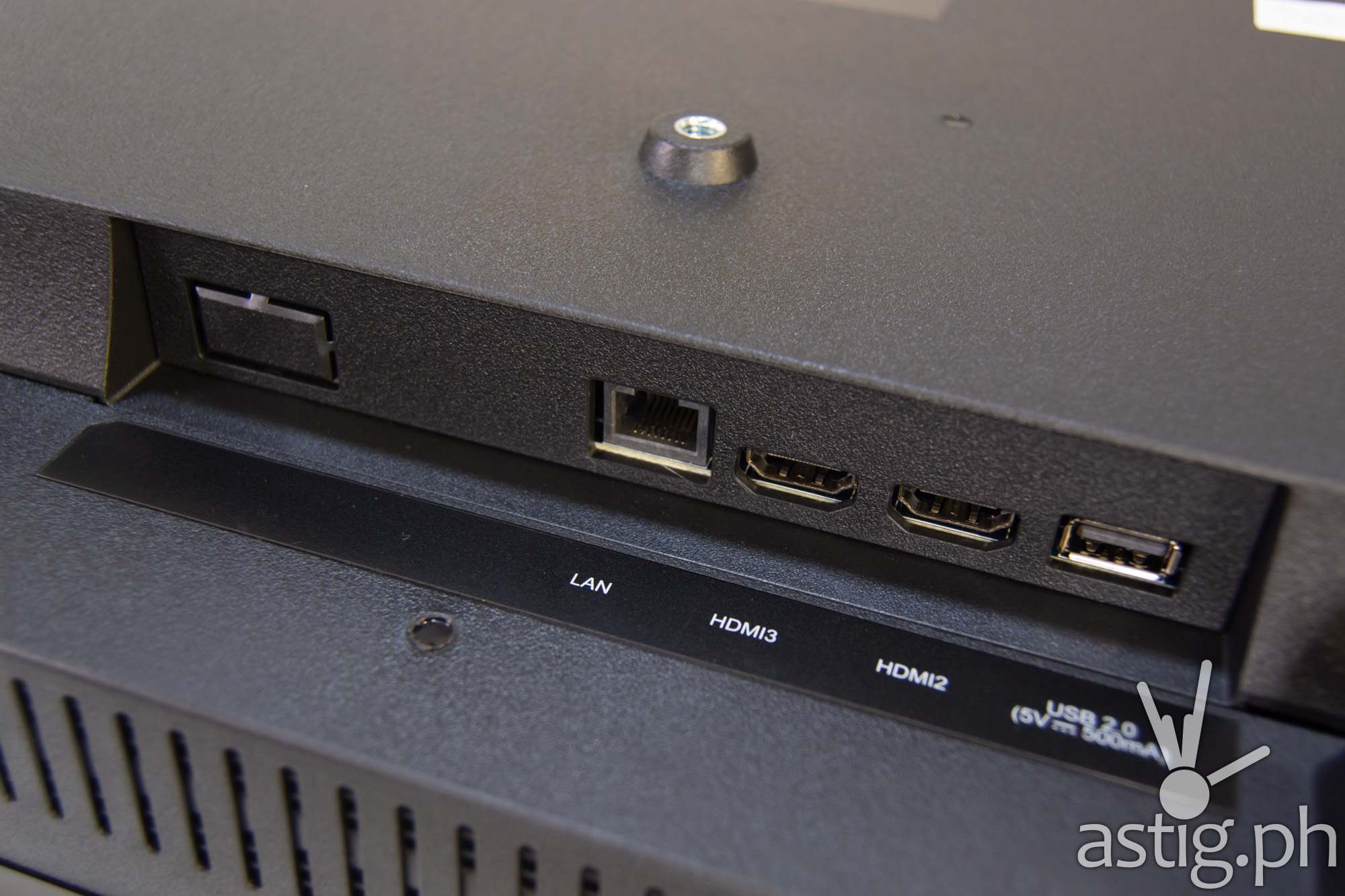 Also, we ran into some challenges connecting the TV to our Wi-Fi at the beginning. It turns out that we were trying to connect to a 5GHz access point, but the unit only supports 2.4GHz standard, but since we were trying to connect using our phone, it didn't limit the selection to 2.4GHz access points.
I am personally not fond of 2.4GHz speeds. It's slow, especially if you plan to do media or screen casting.
So, we ended up connecting the realme TV directly to our Internet router via LAN (Ethernet) cable and all was well.
Display / picture quality
When I first got the realme TV, I did what every sensible tech reviewer should do – stream some HD demo content – you know, the kind of content that they play non-stop in appliance stores with their demo units?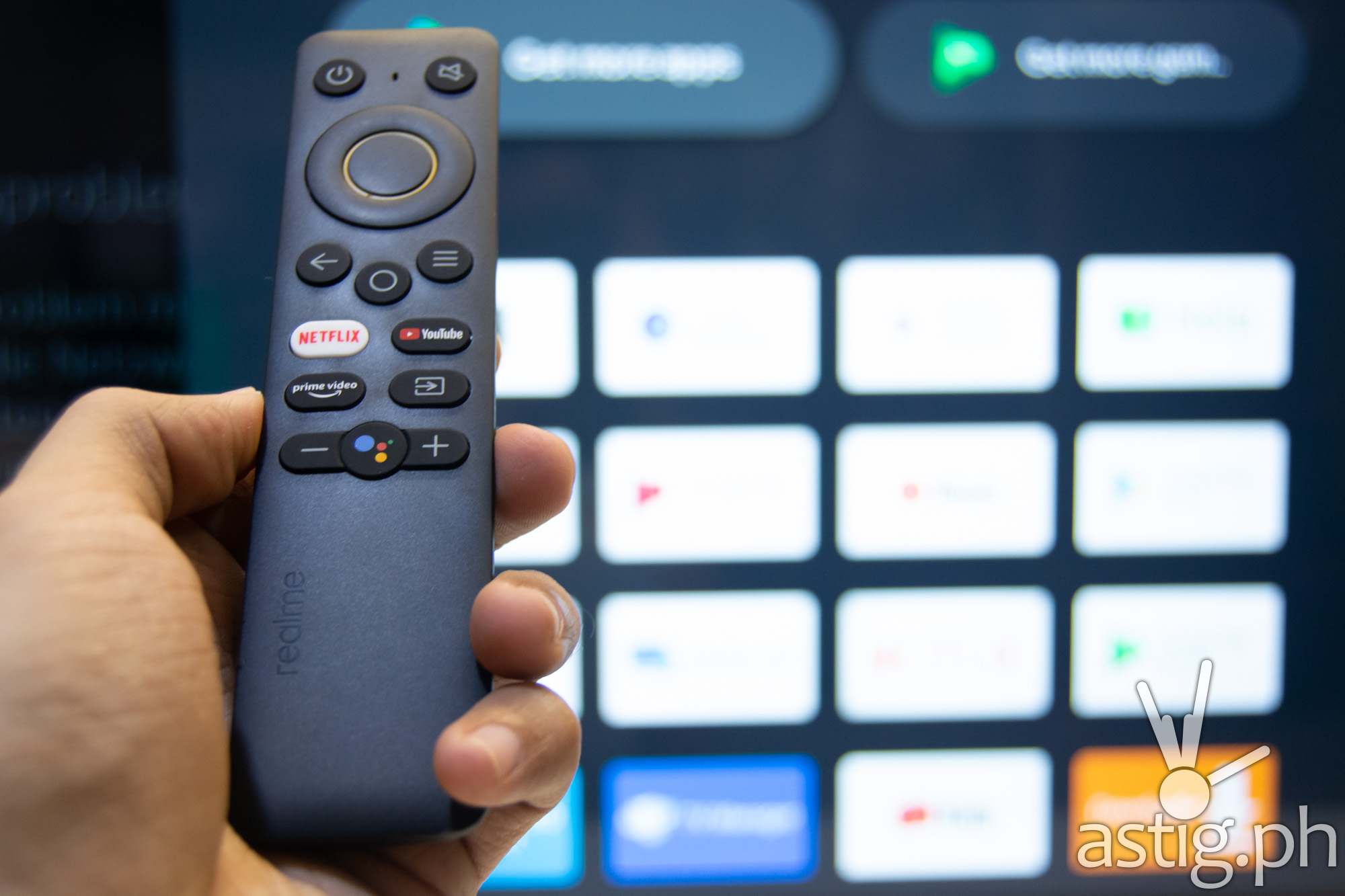 I am sure 99% of you reading this would love it to death. The Chroma Boost picture engine is no joke. Imagine the brightest, sharpest, most vivid TV that you saw when you last walked into an appliance store before that damn Coronavirus came into picture. There's a reason they jack post processing effects up – it looks good and it sells TV sets.
Whatever realme is doing behind the scenes, they are doing it really well. The Chroma Boost engine is damn good at maximizing the 1080P full HD LED display panel. In fact, content is so vibrant that it looks almost HDR despite the lack of HDR hardware.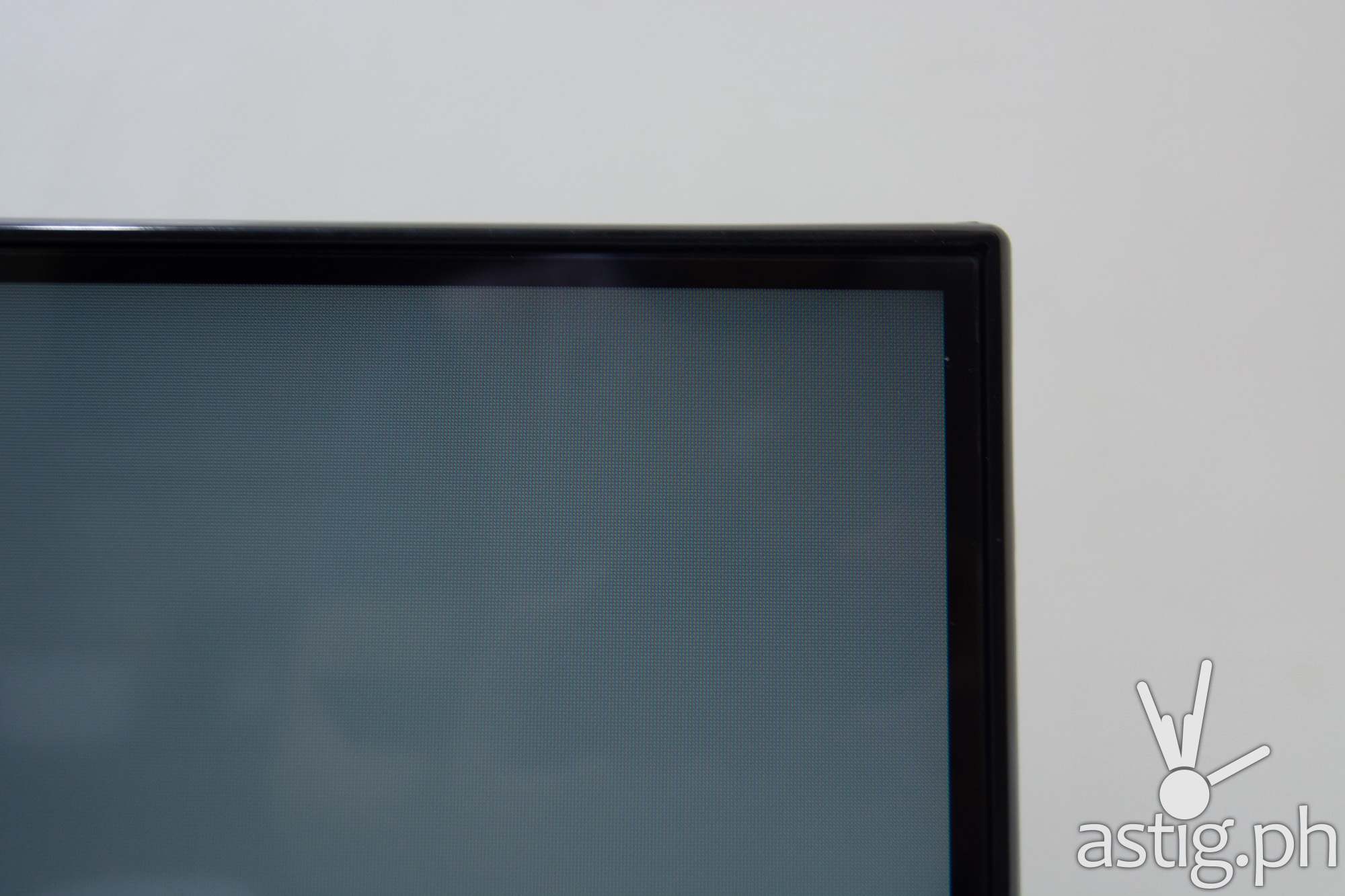 While I normally dislike this type of post-processing, I found it to be tolerable enough to leave it on. It's hard to put into words, but I'll try by saying that it's not too over-the-top: the colors appear vibrant without being oversaturated, the blacks remain deep, and the picture stays sharp even with noise reduction turned on.
Of course, as a content creator, I had to know how the realme TV holds up as monitor. When working with photos and video, I need my display to be as close to reality as possible.
Thankfully, the realme TV comes with a "PC Mode" that turns off most of not all post-processing and passes signal through directly from your computer's graphics card to the TV's image processor.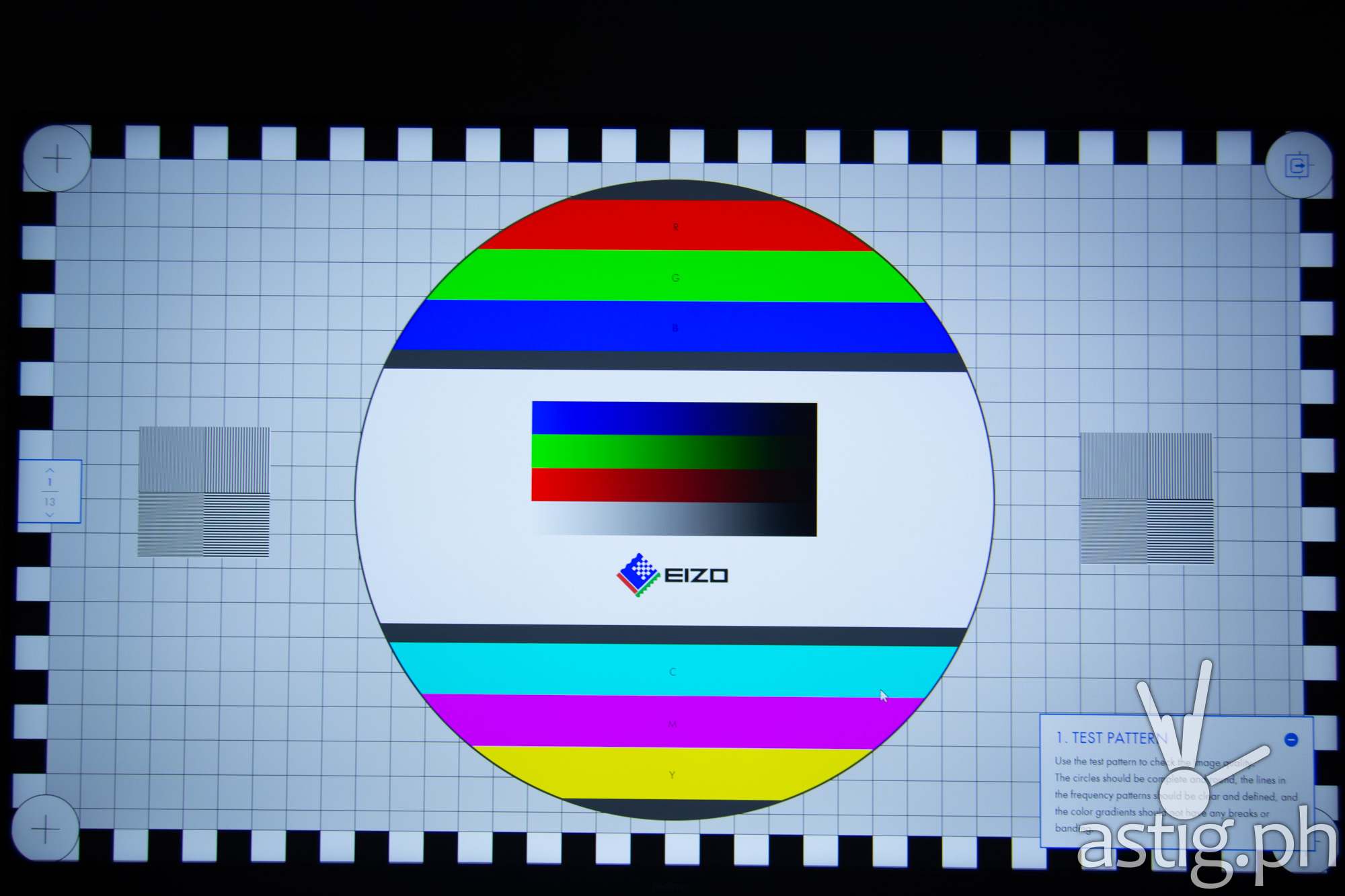 Having done this, I proceeded to attempt simple, ocular monitor calibration using the Lagom LCD monitor test pages when I made a pleasant discovery.
Out of the box, the realme TV is actually quite decent and well-calibrated!
To my eyes at the default settings, it needed little to no adjustment in contrast, sharpness, saturation, or white balance. If anything, gamma levels could use some fine tuning but I am completely ok with the out-of-the-box settings.
It might be an unwarranted prejudice, but I never expected a Smart TV to be this good. Normally, I expect this kind of quality from dedicated desktop monitors, but realme TV surprisingly held up to that standard.
There is room for improvement though – we found visible artifacts such as clouding and bleeding at the top and bottom edges. There is also a visible hotspot at the center where the pixels are brighter compared to the rest of the panel, and the bottom edge is cut off by a pixel or two.
Audio quality
realme Smart TV comes with Dolby support and four (4) built-in loud speakers at 24W. So it's super loud, however, the sound profile consists mainly of mids and some highs. The lower frequencies (i.e. bass) are almost non-existent, so you will need an external subwoofer or a *ehem* realme Soundbar *ehem* to get better audio quality.
You can configure realme TV to output audio in various formats, including lossless PCM, Dolby Digital, and Dolby Digital Plus so you can take advantage of those lovely, ear-gasmic 5.1 or 7.1 surround sound speaker systems that you spent so much time – and money – on.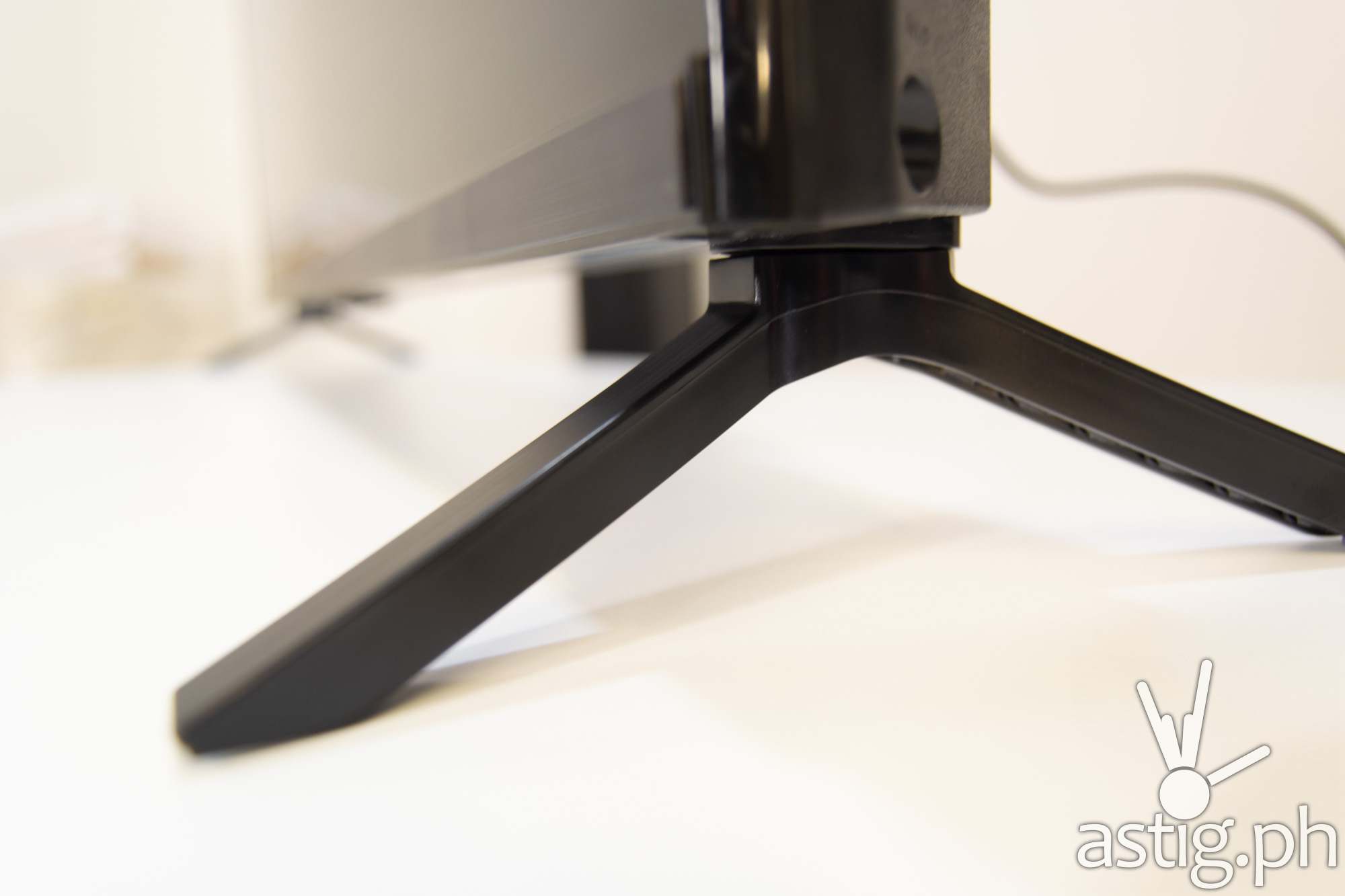 Like we mentioned earlier, we hooked the unit up to our Schiit Modi+Magni DAC+amplifier stack via USB in order to get the cleanest, best audio output. We also tried connecting it directly using a 3.5mm audio jack and that worked really good, too.
That concludes our audio quality review.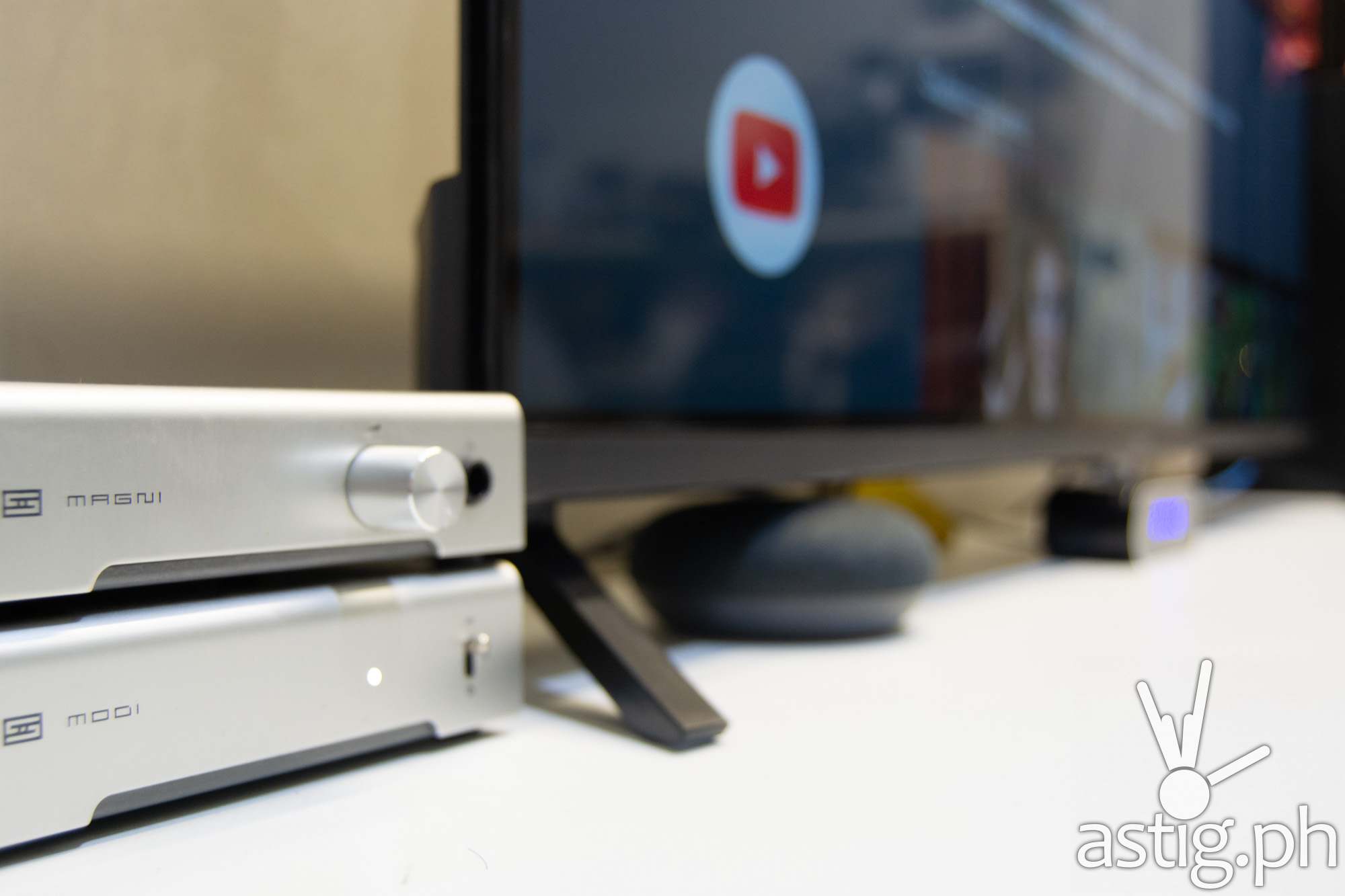 Oh what's that now? What about wireless audio, you say? realme TV has you covered with its built-in Bluetooth 5.0 support, which lets you connect your wireless headphones – like the *ehem* realme Buds Air Pro *ehem*.
The result? Low-latency, high fidelity wireless audio!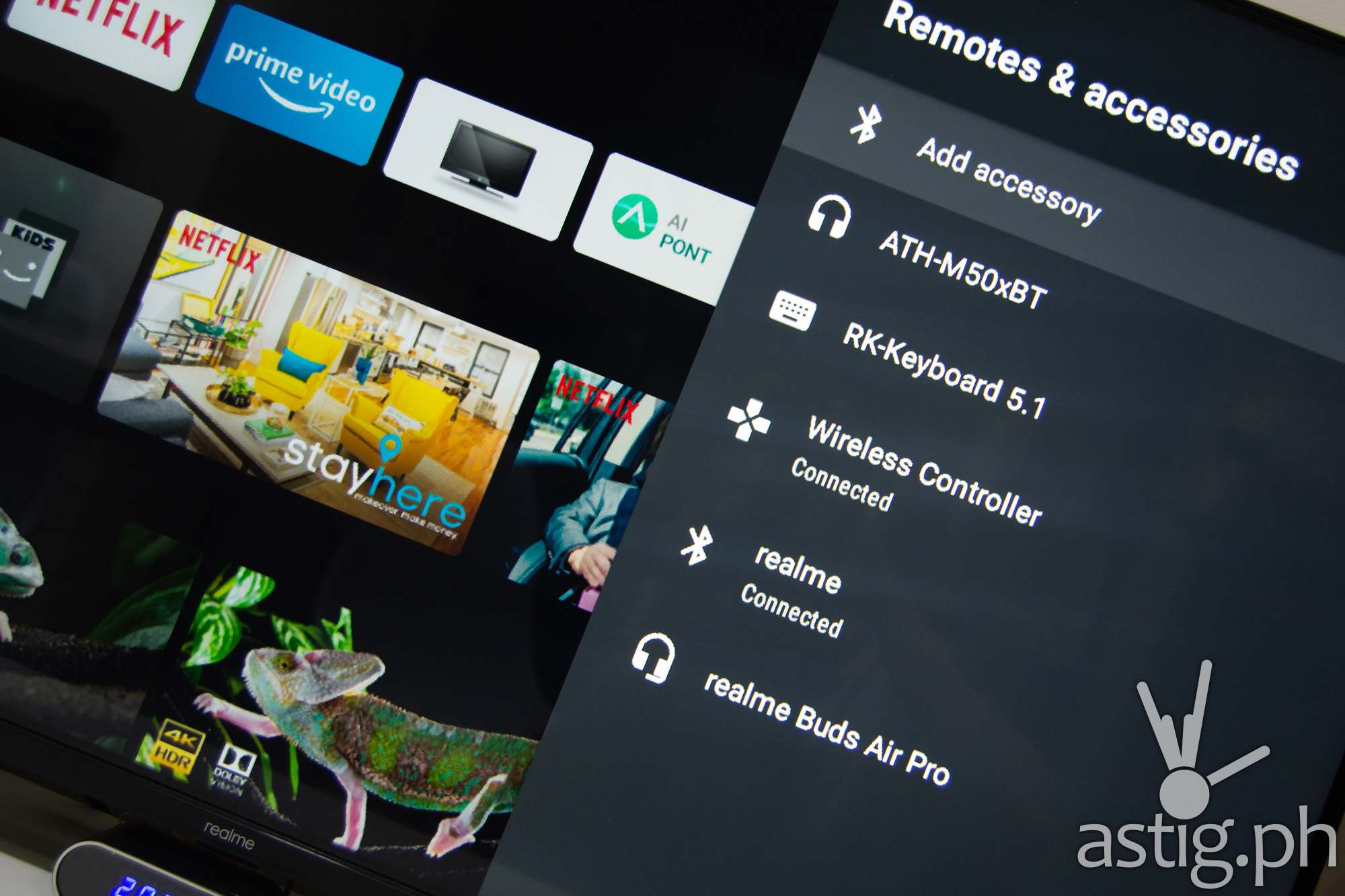 We wanted to see if we could stream audio wirelessly via Bluetooth to two or more devices, but it seems to be limited to just one device at a time. While you can connect multiple Bluetooth audio receivers, there doesn't appear to be a way to set your preferred output device, so keep in mind that will automatically switch the last audio device that you connected with.
Smart features
realme Smart TV runs Android TV on an unknown MediaTek Chipset. Well, actually we do know that it has a quad-core ARM Cortex A53 CPU clocked at 1-1.3GHz and a Mali-470 MP3 GPU, a combination that is not listed anywhere so it could be custom-built for the realme TV as far as we know.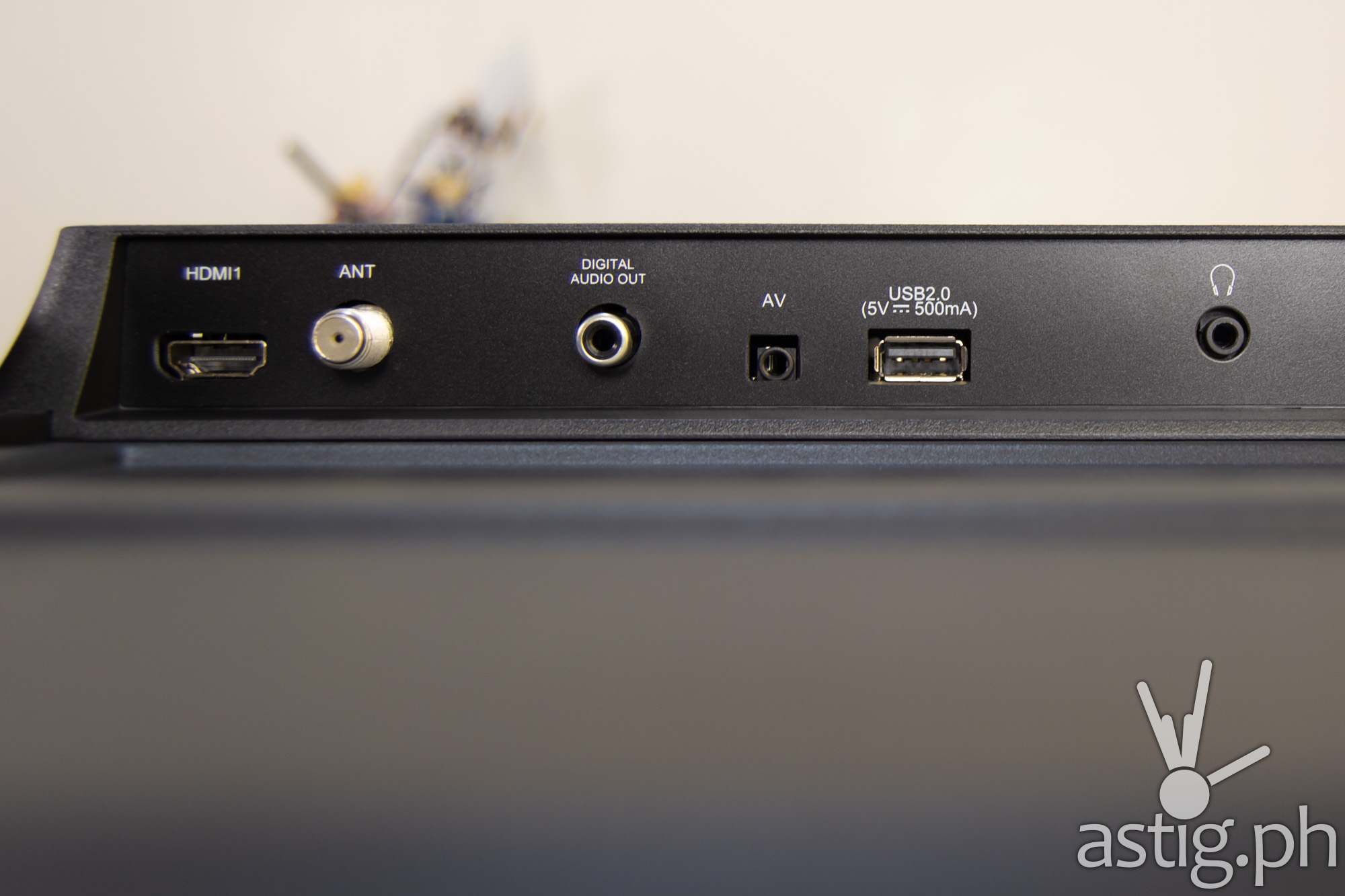 It comes with 1GB of memory and 4GB of internal storage which is PLENTY in the world of Smart TVs but feels a bit lacking for 2021. After all, this baby runs Android 9 (Pie) with the Android TV UI out of the box, which means two things: one, you get access to Google's extensive Play Store library and two, you can install and play games.
So yes, we did max out the storage capacity on the day we got the unit that we ended up trying and eventually un-installing huge games like Dead Trigger 2 and Asphalt 8 which played smoothly by the way, albeit at low graphics settings.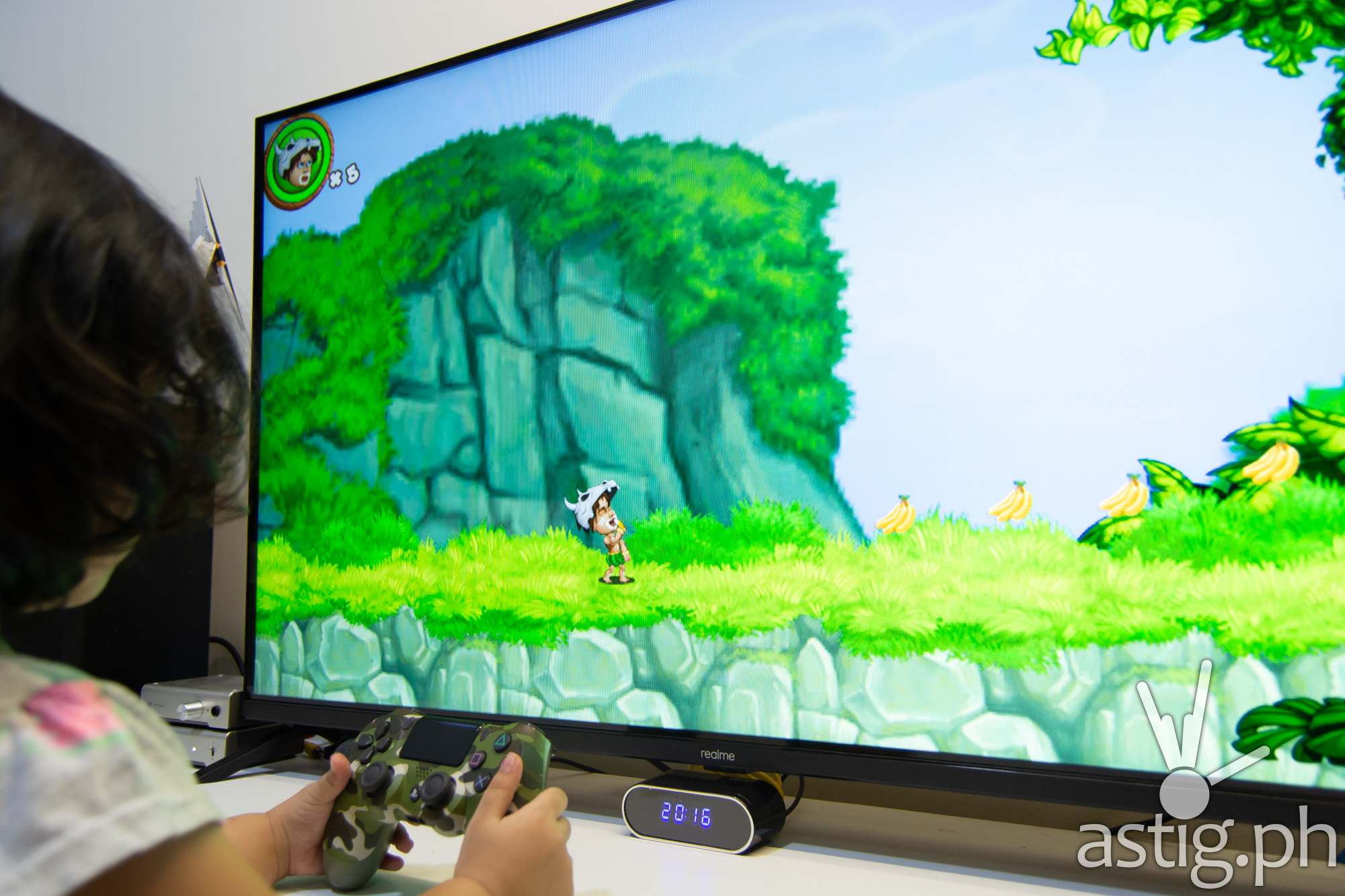 You're going to want to leave room for apps like Netflix and Prime to buffer / cache content because after all, their logos are on the box. You even get dedicated Netflix and Prime buttons on the remote.
You do have a Netflix and Amazon Prime subscription, right?
So the realme TV is quite snappy and stayed that way even after installing a gazillion apps. Even apps that don't have any business being in a TV like AIDA64 or … 3DMark.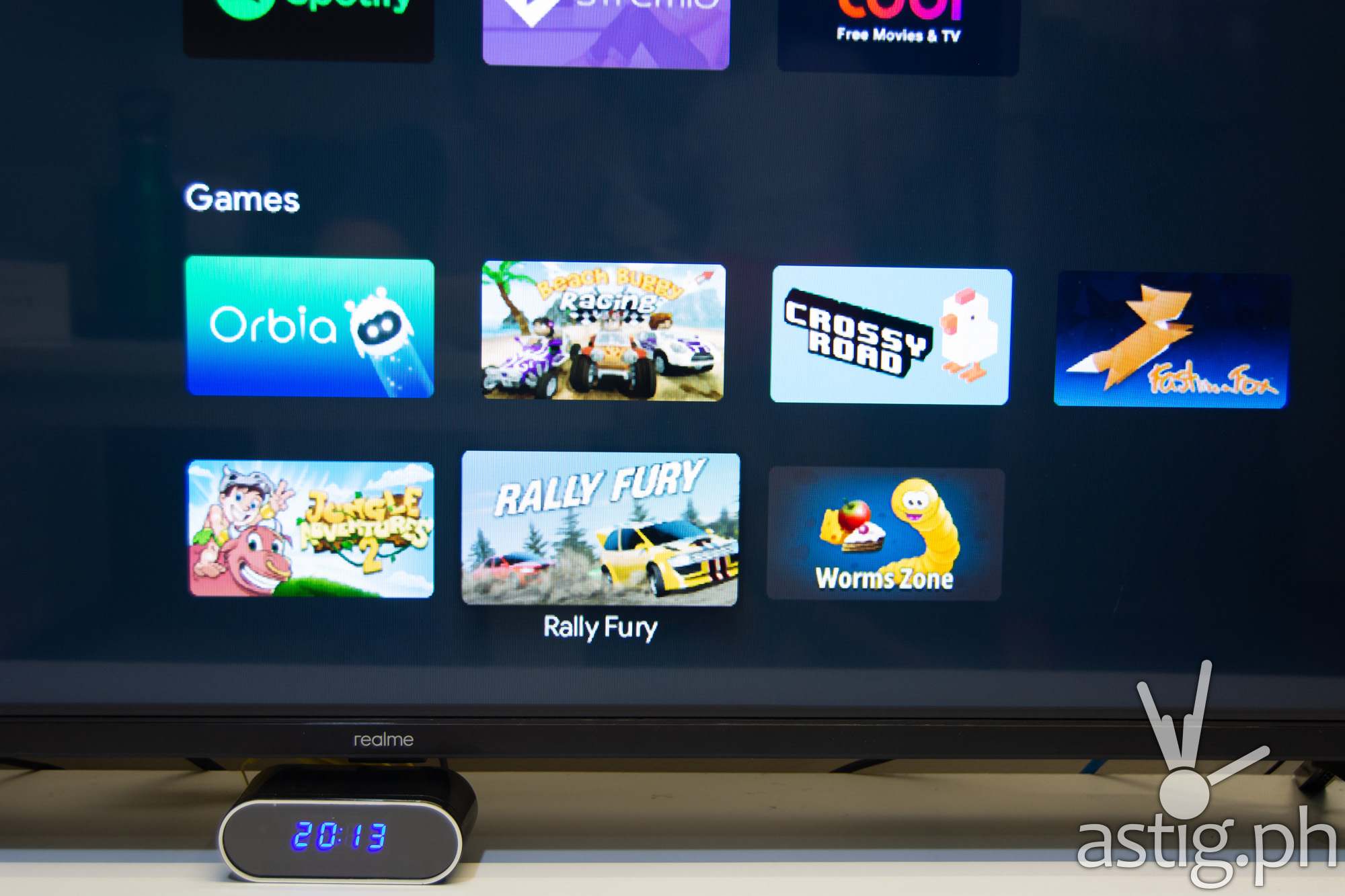 Typing via the virtual keyboard can become exhausting though, how we wish there were some kind of virtual assistant feature that you use to issue commands and dictate stuff so your fingers won't get numb!
Google Assistant to the rescue! With its built-in microphone, you can command the realme TV to do various stuff like play Despacito on Spotify, launch Tiger King on Netflix, or subscribe to TechKuya on YouTube!.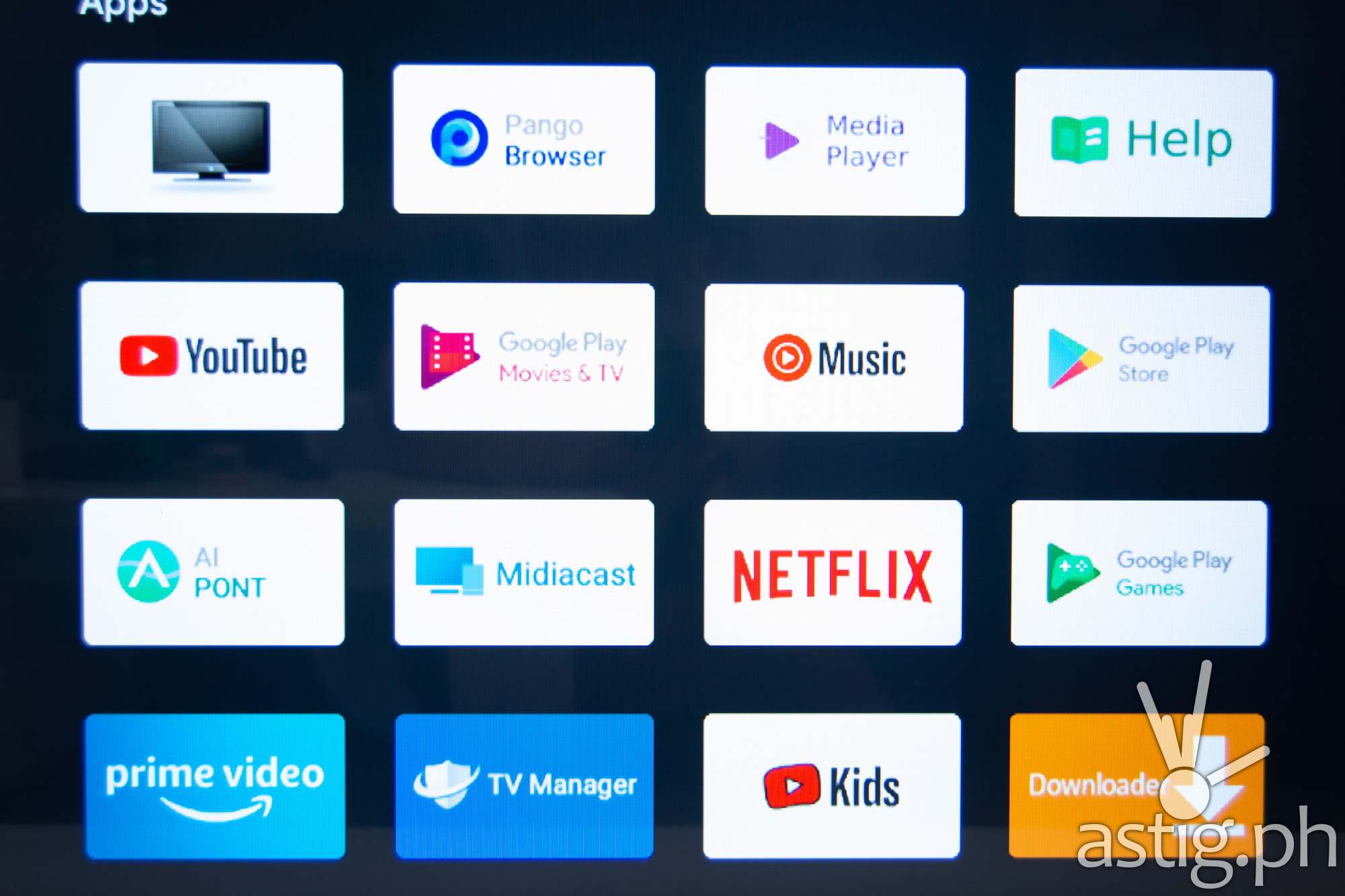 Whatever you do, make sure you connect it to your Google Home so you can take full advantage of its integrated ecosystem such as one-touch casting of shows from your smartphone. You can even cast your smartphone screen directly without installing third-party software. Hooray, Google Home! Hooray, Google Assistant! Hooray, realme TV!
Verdict
realme TV is a well-rounded Smart TV that excels primarily in two things, and these could very well be the reasons to get it: First, the Chroma Boost engine turns what is already a good display panel into something that's showroom-worthy. Second, it runs Android TV out of the box with a fairly capable chipset and Google Assistant integration built right into the remote.
Granted, you can get the latter with a USB TV Stick or Google Chromecast, but if you're planning to get a new television anyway, might as well get one with Android TV baked in.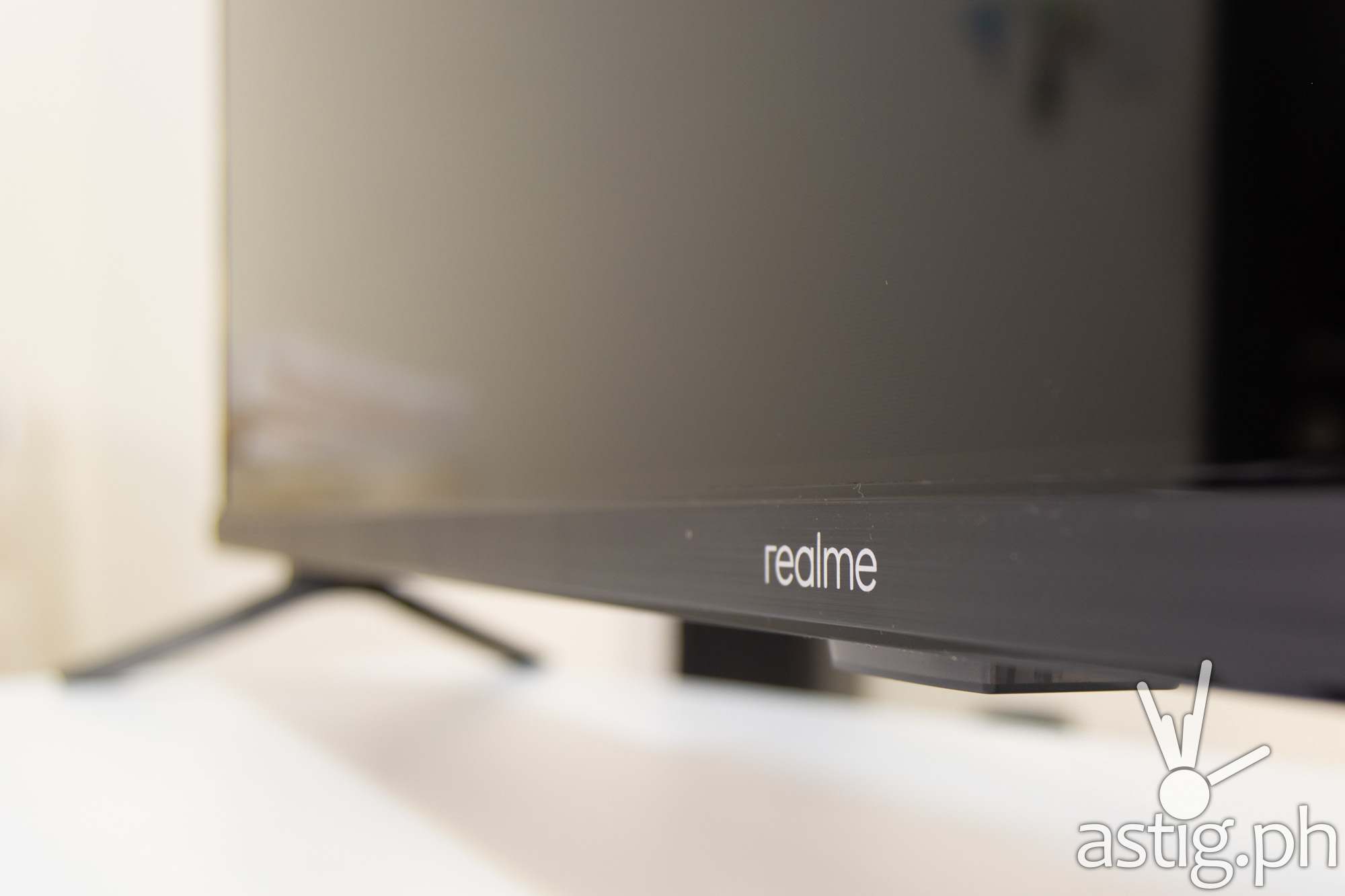 The realme Smart TV is competitively priced at P11,990 for the 32-inch HD variant and P18,990 for the 43-inch full HD variant. Prices are down to Php8.990 (32″) and Php15,990 (43″) at the Shopee 3.3 Mega Sale so if you're planning to grab one anytime soon, now's the time.
realme Smart TV specs
Display: 32/43 inch 1366×768/1920×1080 LED, Chroma Boost
Picture processor: 1.3GHz ARM Cortex A53 Quad- core CPU,
Mali-470 MP3 GPU
Operating system: Android 9 (Pie), Android TV with Google Assistant
Memory + storage: 1GB RAM + 4GB ROM
Built-in applications: Netflix, YouTube, Prime Video, etc.
Speakers: 4x24W loud speakers, Dolby audio
Connectivity: 2.4GH Wi-Fi, Bluetooth 5.0, infrared, DLNA
I/O: 3x HDMI (1/2/3), AV, tuner, 2x USB, LAN, SPDIF, 3.5mm audio jack
Price (Philippines): Php11,990 (32″); 18,990 (43″)