When ASUS first came out with the first ROG Phone back in 2018, it was truly one of a kind. Not only did it look and feel different from any other phone out there, it came with innovations and accessories that truly catered to the mobile gaming market.
Without even taking into the account its untouchable performance, it is the first time that we have something we could truly call a "gaming phone".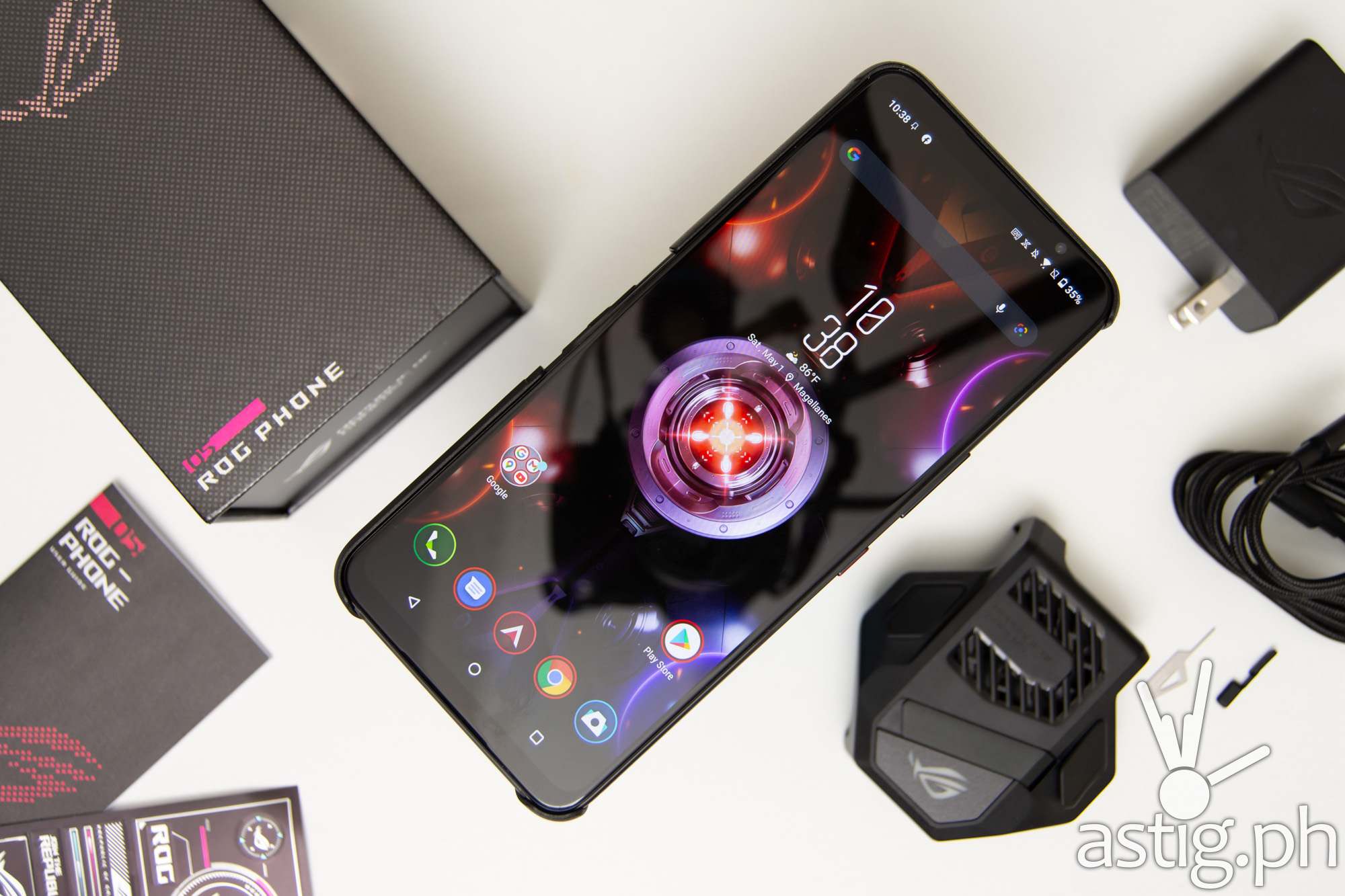 Fast forward three years later and we have the ROG Phone 5. Technically the fourth ROG Phone, Taiwanese manufacturer ASUS has decided to skip the ROG Phone 4, presumably because of the negative connotations of the number four in the Chinese language.
As avid mobile gamers, we have never been more excited for an ROG Phone than today, in 2021, mainly because there is now a considerably larger pool of smartphones specializing in mobile gaming. This includes, among others, the Black Shark 4, Razer Phone 2, Nubia Red Magic 5G, and the LEGION Duel 2.
So with all the mobile gaming options out there, what makes the ROG Phone 5 stand out from the pack?
Hit play to watch the unboxing video, or read on for our full review.
Undeniably unique aesthetic
Well, let's begin with the way it looks: Up until now, the ROG Phone Series has always had an industrial, rugged look that distinguished itself from anything else out there. There is no way that anyone who sees it could confuse it with anything other than an ROG Phone.
ASUS has long mastered the gamer aesthetic with its ROG (Republic of Gamers) line of computer products, so it should not even come as a surprise, however, what impresses us even more is how flawlessly executed these designs are.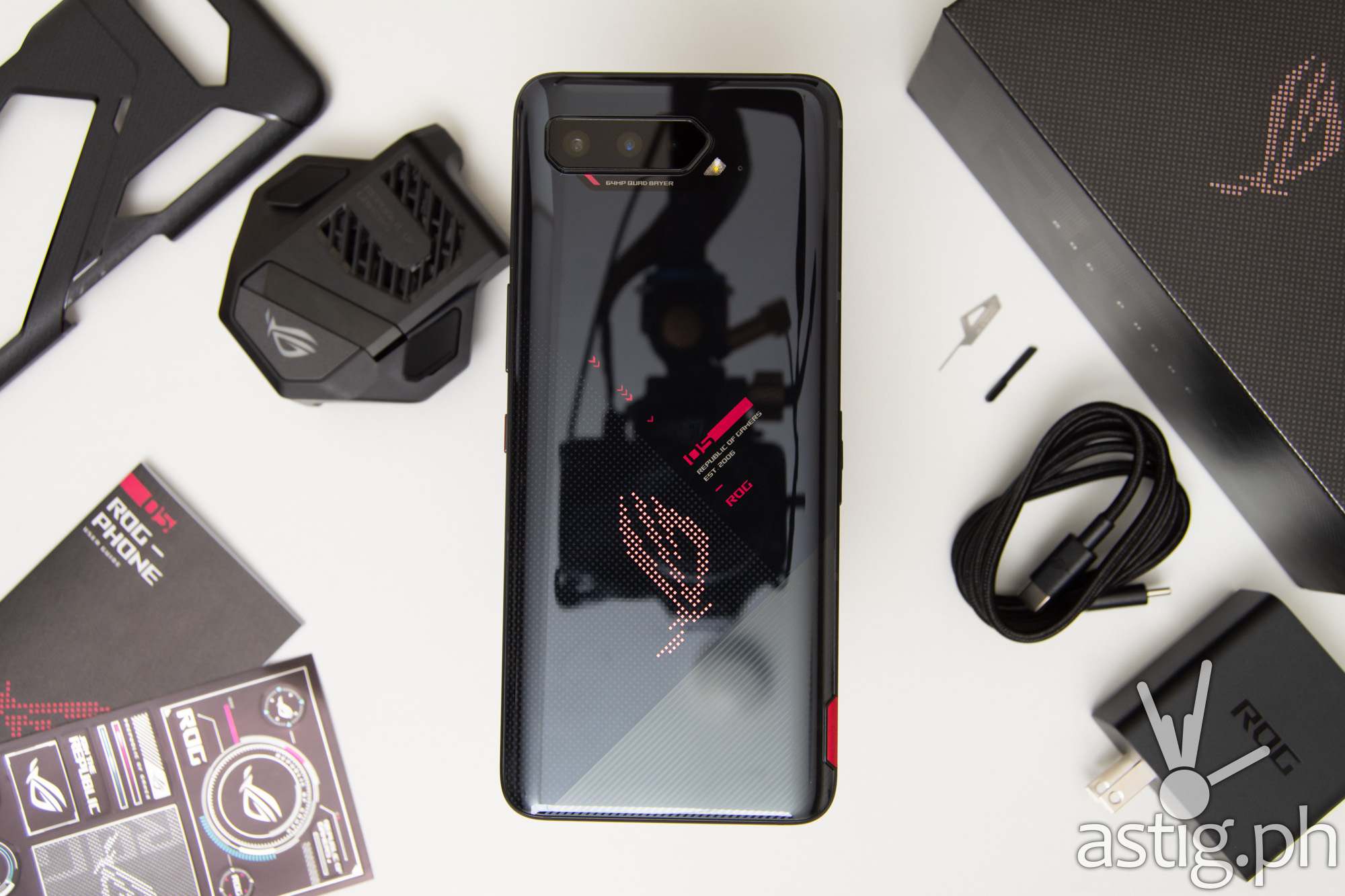 Knowing this, we were a little that the ROG Phone 5 was going to end up with a more "generic" smartphone look.
Since the first ROG Phone came out, the succeeding designs have become more and more toned down, slowly looking more like a generic phone with a glowing ROG logo tacked on its rear.
The ROG Phone 5 comes with fresh visuals, with the entire rear reworked and looking nothing like its predecessors. Depending on the variant, you either got an LED dot-matrix ROG logo (ROG Phone 5 Classic and Pro), or a mini LED display panel (ROG Phone 5 Ultimate Edition) that could show, well, whatever you want.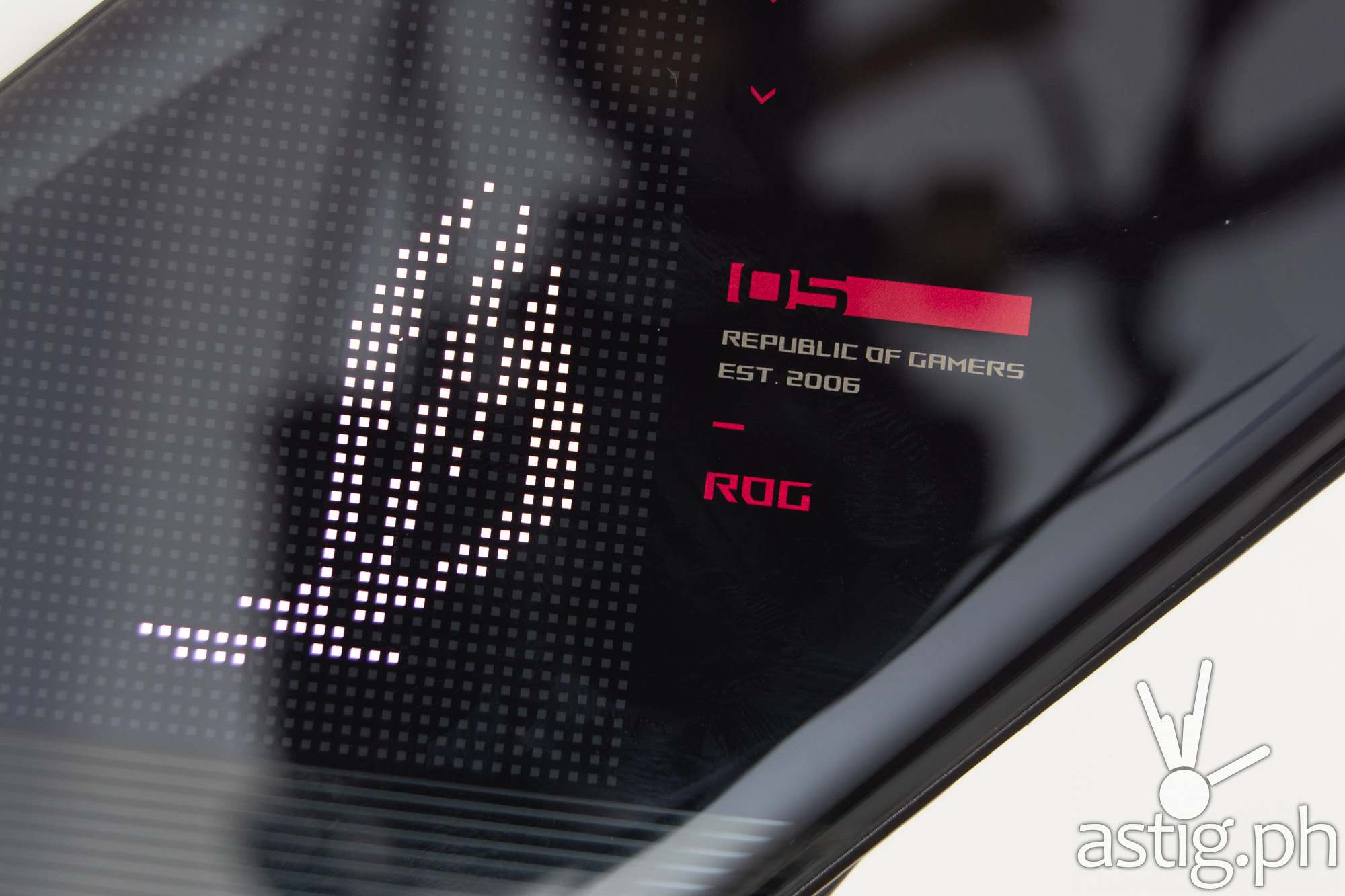 It's a huge departure from the first ROG Phone, whose polarizing design drew both criticism and awe. It makes us wonder what people think of the current design. It's certainly fresh, and whether you like it or not, we have to give credit to the product development team for taking risks and coming up with something fresh.
There's certainly nothing out there that looks like it, and we find ourselves wondering how much we'd be willing to pay in order to "stand out".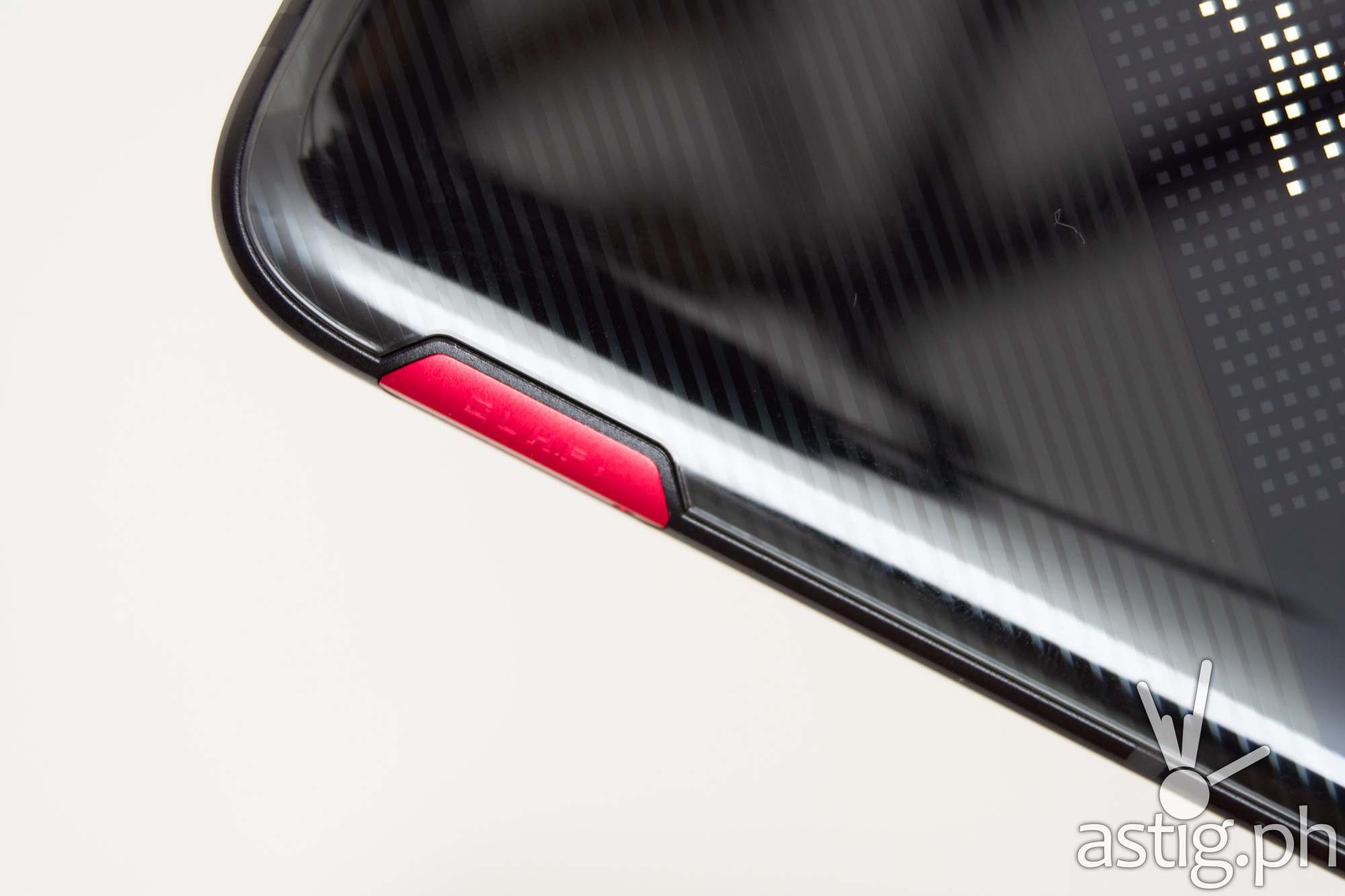 What we mean to say is that the rear LED panel certainly costs more and serves no function other than aesthetics. Given the choice, could it have been scrapped for something more utilitarian – like wireless charging, perhaps?
Oh yeah, did we mention that the 3.5mm audio jack is back? This is probably one of if not the only flagship that still has it right now although it still doesn't have IP68 water resistance.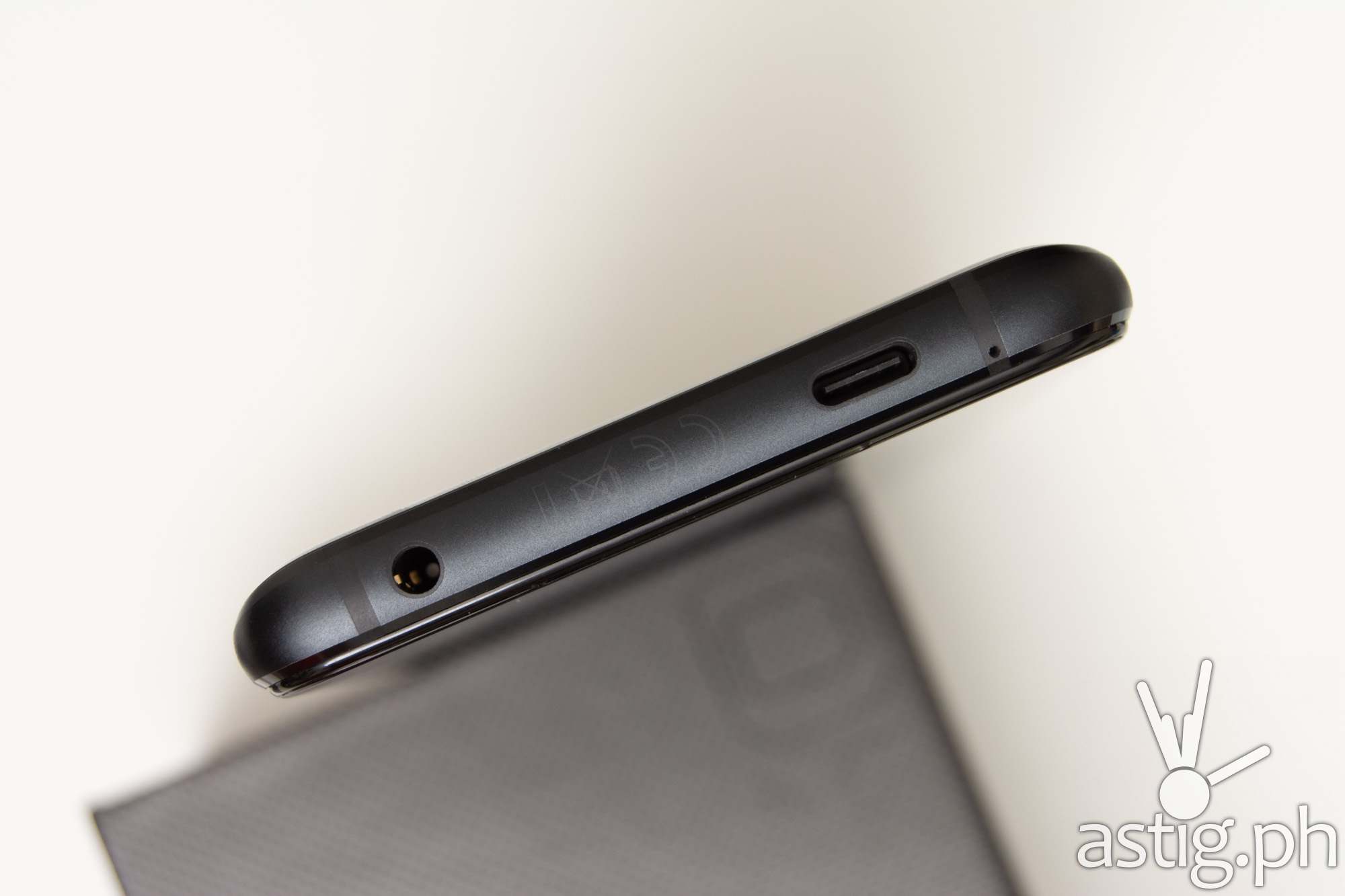 Now that we don't have to worry about water resistance, the ROG Phone 5 can offer a much better wired audio experience by including a 3.5mm audio jack and an onboard ESS DAC (Digital to Analog Converter). More on this later.
Next-level gaming features
Rear aesthetics are not the only thing that's changed on the ROG Phone 5. On the Ultimate Edition, that back area also contains two additional sensors called the "Rear Touch" buttons. They work along with the Air Triggers at the top edge (landscape) of the phone, acting as additional L2 and R2 buttons.
Like the ROG Phone 3, the AirTriggers can be divided into two distinct areas on each side.  Along with the Rear Touch buttons, this brings our total number of built-in "triggers" to six on the Ultimate.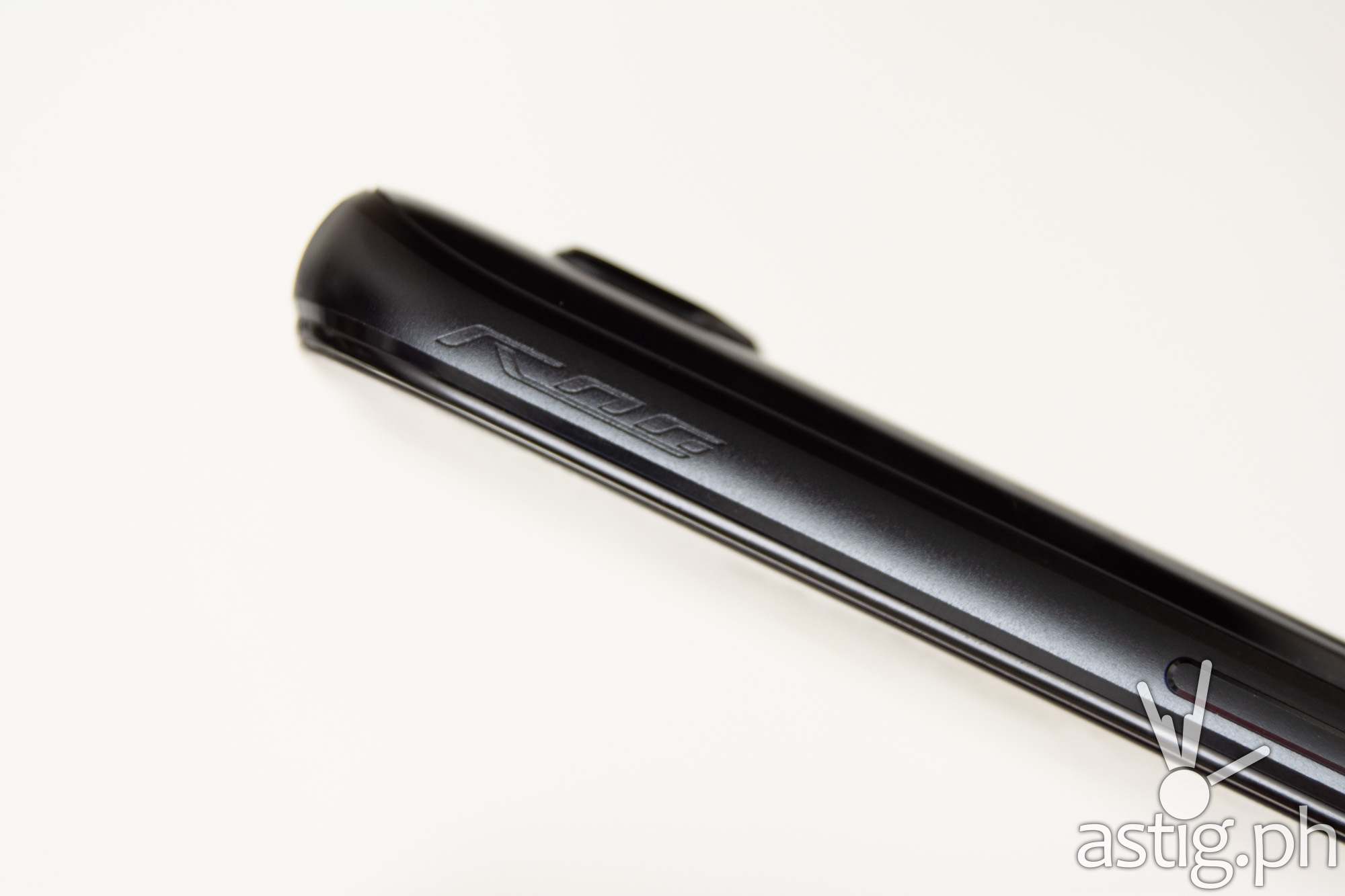 The ROG Phone 5 Classic and Pro Editions may not have these two additional "Rear Touch" buttons, but guess who else has additional buttons? The AeroActive Cooler 5!
What started off as a humble cooling fan has been overhauled and now serves another function: Actual, physical buttons on both sides of the cooler work as rear L2R2 triggers!
The mere fact that they are physical buttons already makes them so much better than the ultrasonic triggers. Having that physical resistance means lower possibility of accidental touches, in addition to the tactile feeling which only a physical button can provide.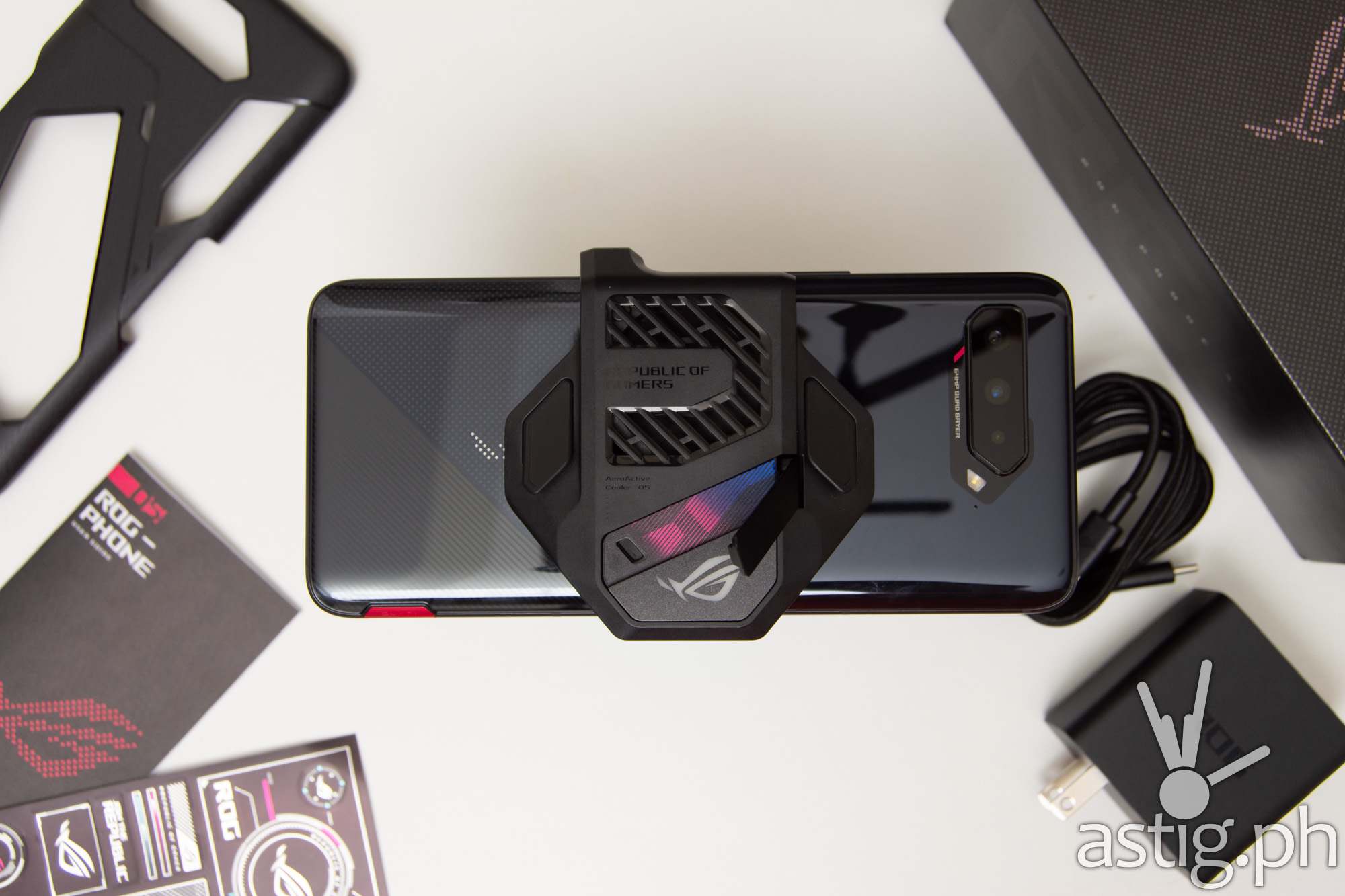 We're not discounting our love for the OG AirTriggers, which is not only built-in meaning you have it with you all the time, but because it uses ultrasonic sensors, you can assign actions like Swiping and Sliding, something that you can never do with a physical button.
Okay, so you might be wondering: do you really need all of these buttons?
We've been wondering about this ourselves. It seems that casual games won't really gain much from the additional buttons. After all, you don't need triggers to dominate Candy Crush or Angry Birds. The ones that seem to benefit the most out of external controllers would be the more competitive games, primarily: first person shooters (FPS), battle royale, racing games, RPGs and MMORPGs (massive multiplayer online role playing games), and even MOBAs (Multiplayer Online Battle Arena).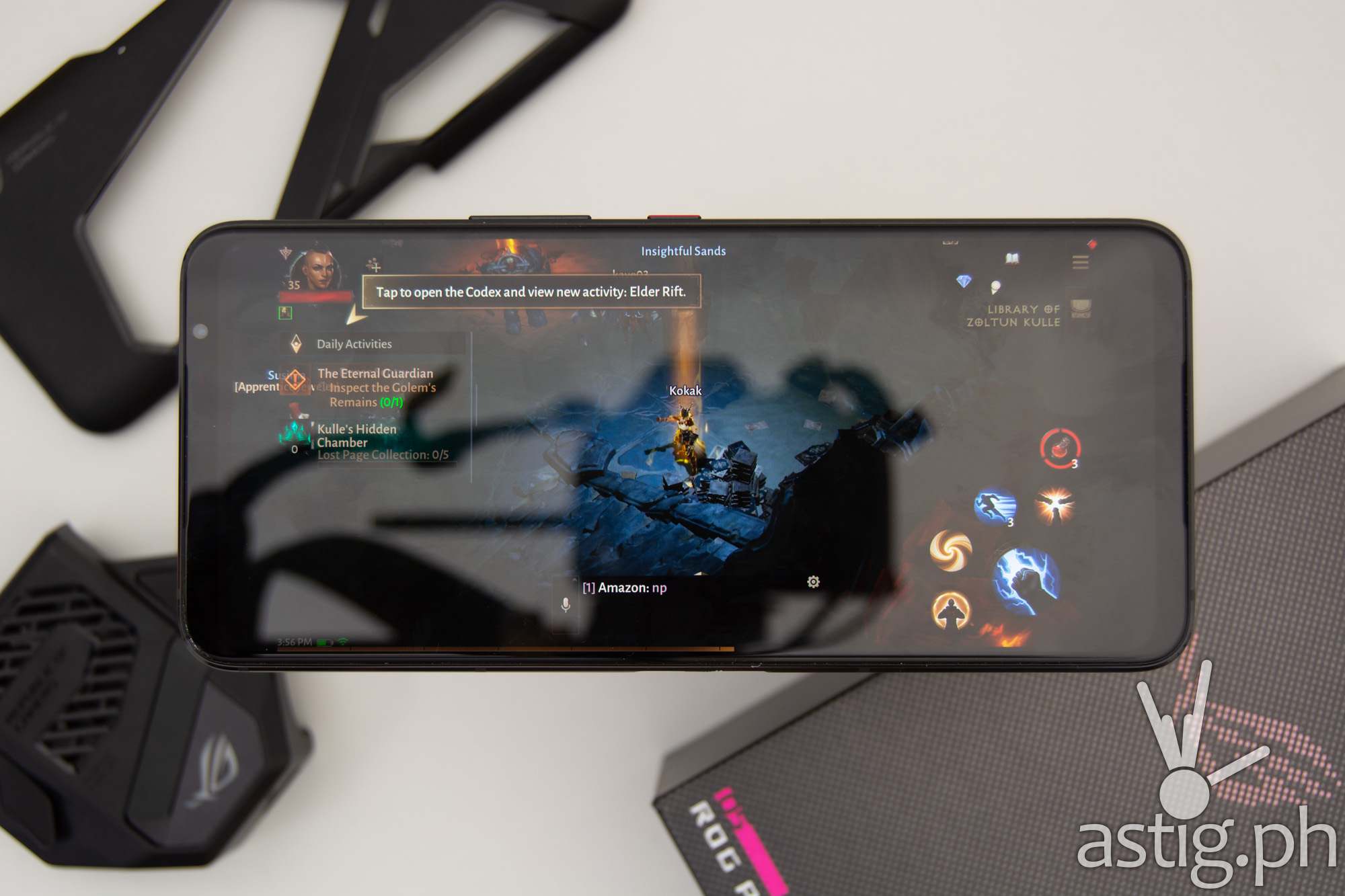 Diablo Immortal (Alpha) is an upcoming MMORPG that we played heavily on the ROG Phone 5, and we guarantee you that the experience on this phone took our gaming experience to an entirely different level that we found ourselves struggling to play it on our other devices.
The additional buttons at the top and on the back allowed us to trigger skills more quickly, which means better mobility and maneuverability and in a very fast-paced game like Diablo Immortal, can mean the difference between victory and defeat.
What's great about the Rear Touch buttons is that they don't get triggered as easily as the AirTriggers.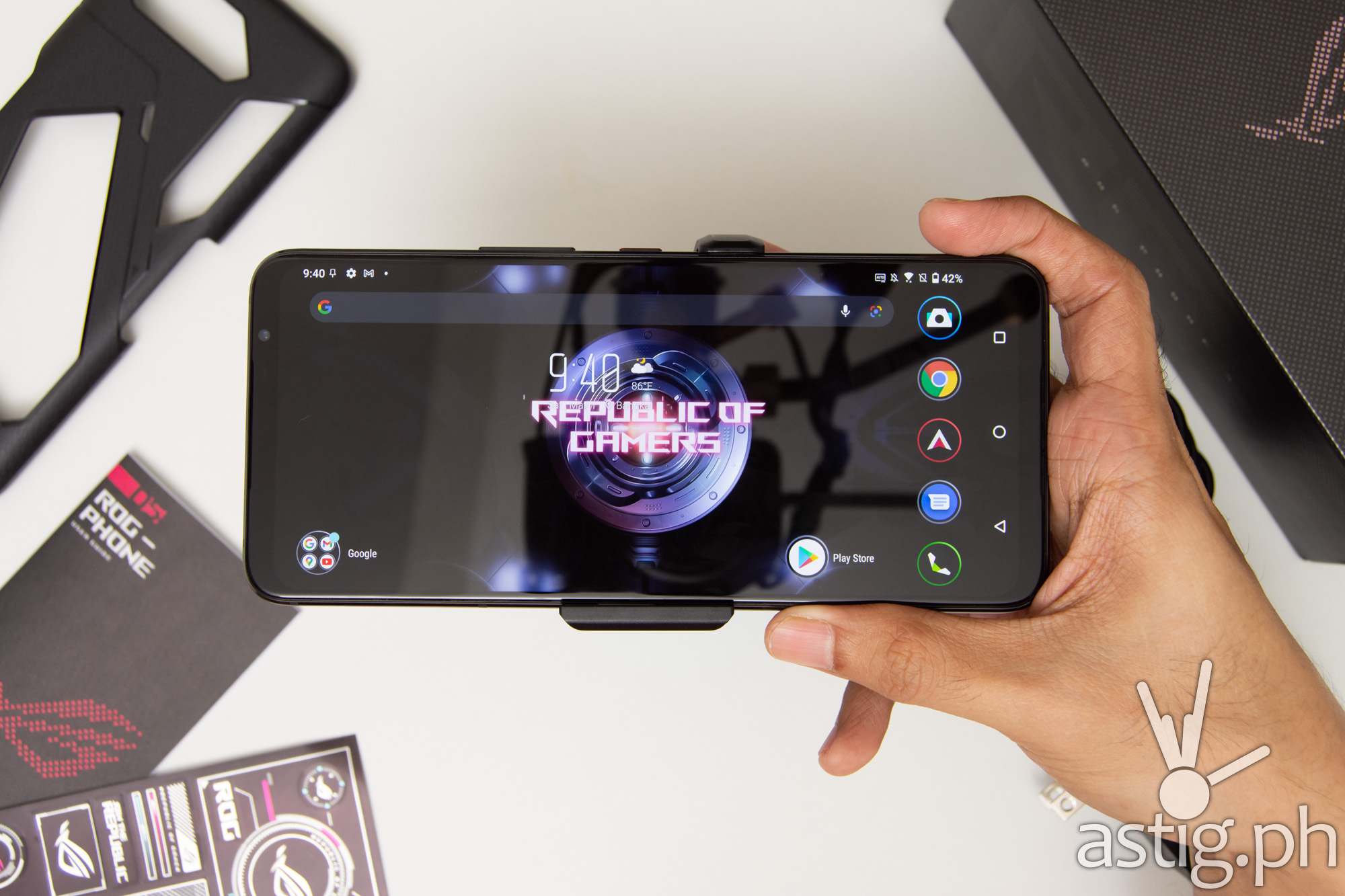 Yes, you can adjust the sensitivity of the AirTriggers, but we'd still trigger it from time to time. Eventually we unconsciously "learned" to avoid the top left and right areas, which leads to some very awkward hand positioning.
If that's still somehow not enough, you can even take this further by attaching other accessories onto that side (bottom) USB-C port such as the ROG Kunai Gamepad 3. It seems that ROG has dialed down on accessories this year. Previous generations of the ROG Phone came with their own TwinView Docks and Desktop Docks, but not on the ROG Phone 5.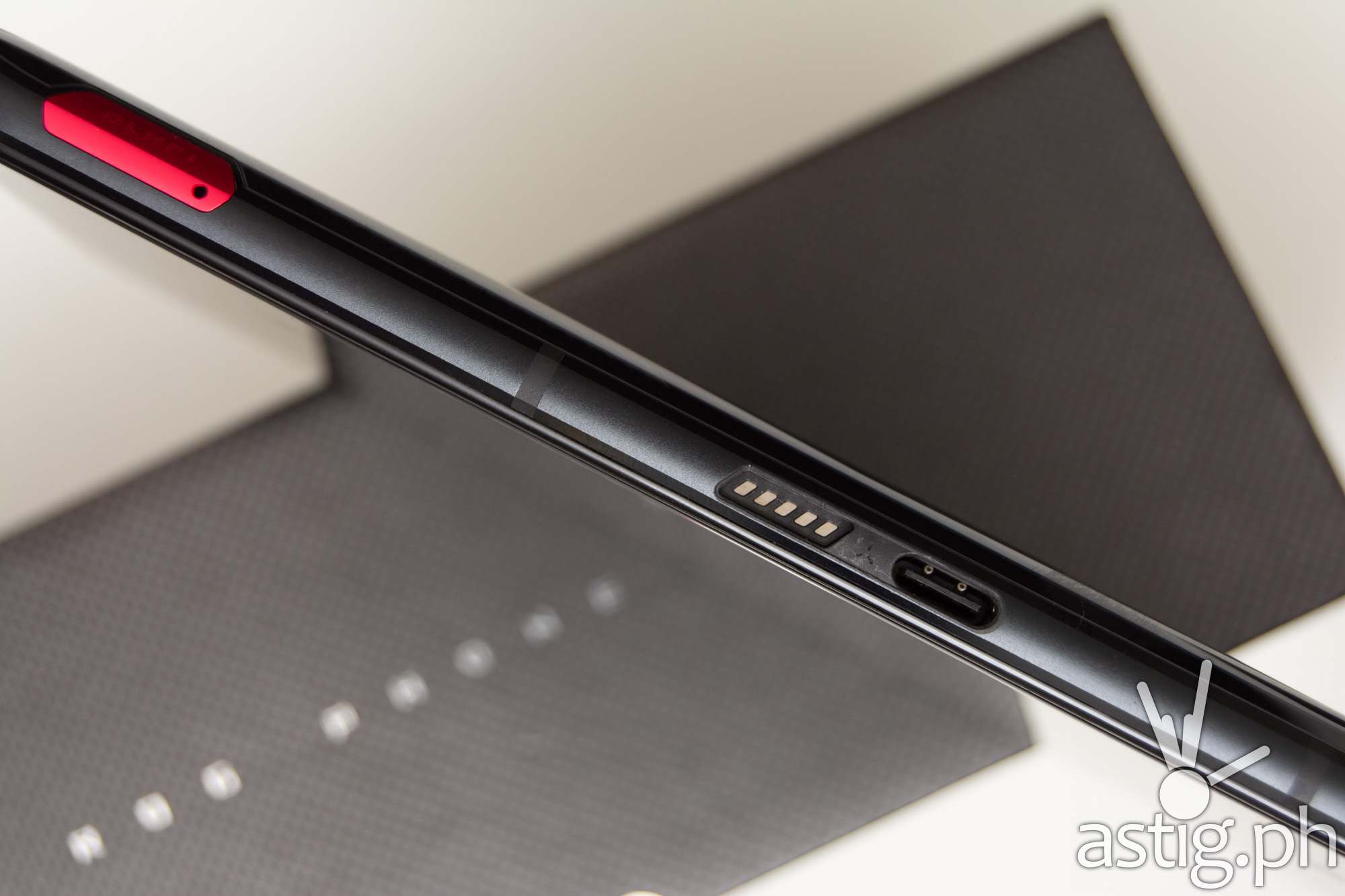 So we wonder that custom port is still necessary. Could the ROG Phone 5 have survived with just a second USB-C port?
Software
We can go on and on about the phone's hardware, but that's just one part of the equation: You need good software to maximize its potential.
It runs on Android 11, the latest and greatest, most stable mobile operating system from Google. It is customized with ROG UI, which is very similar to ZenUI but with ROG-specific elements such as custom themes, icons, and of course, Armoury Crate.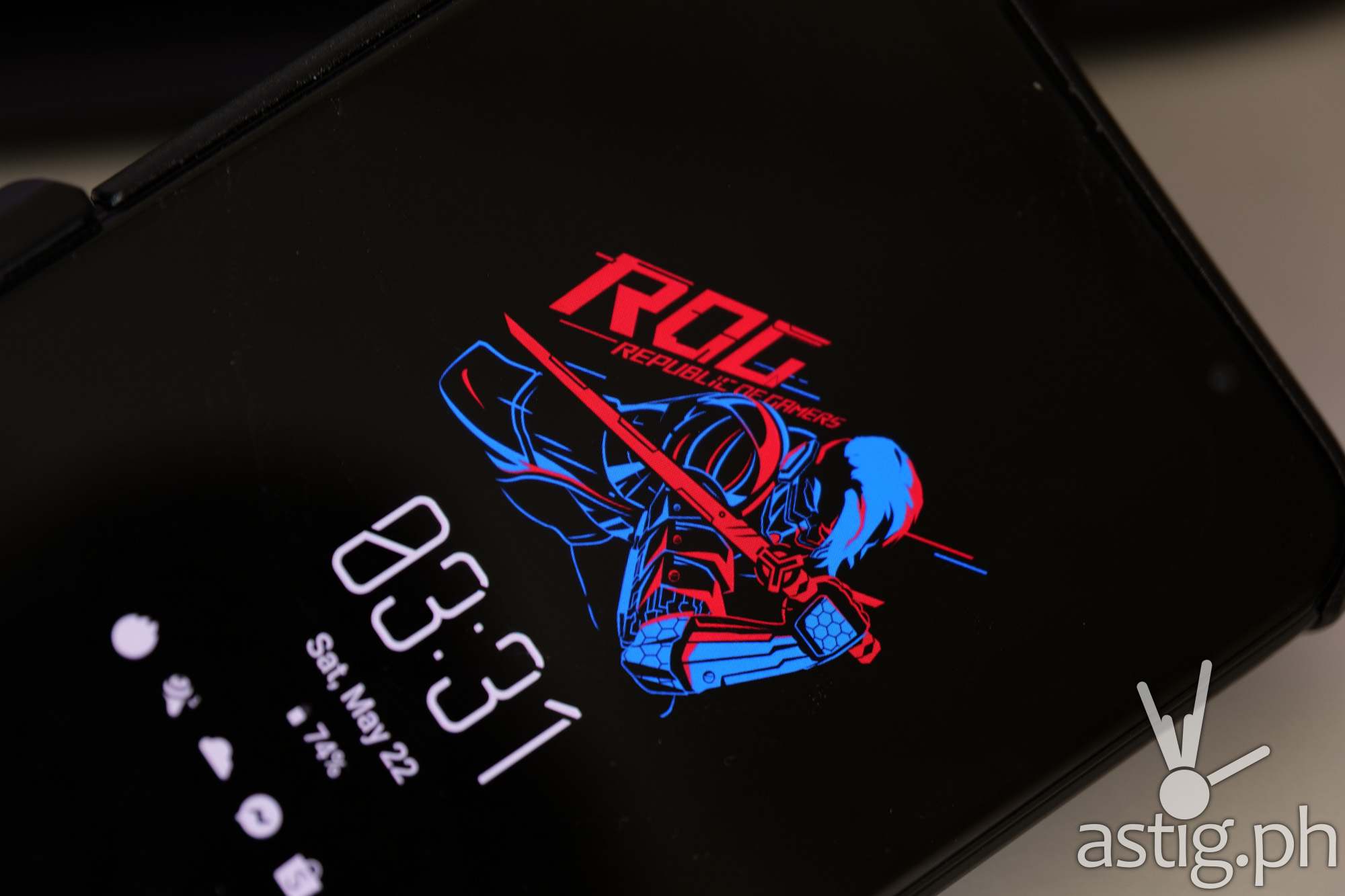 ROG Phone 5 features a new, dark-mode optimized default theme called "Star Ship", but there's a second theme featuring Akira, the anime character featured on the phone's packaging and when you first boot up the phone.
Not only does this appeal to anime fans (who doesn't love Akira?), it creates a unique user experience that pairs well with the futuristic, cyberpunk look that the ROG Phone 5 is going for.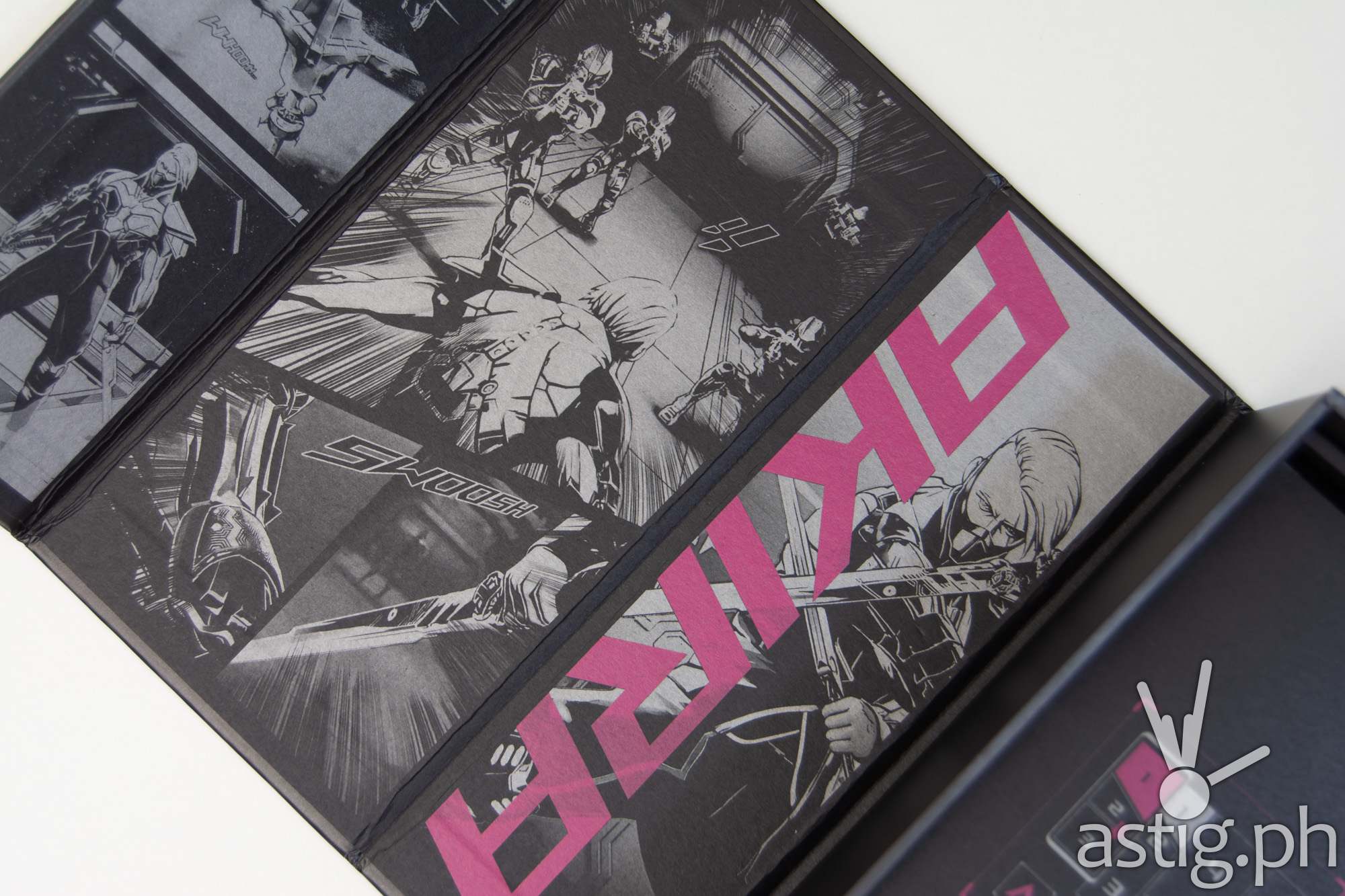 Details such as these tell us that the product team behind ROG Phone 5 went to great lengths to create a unified product from end to end. Its distinct hardware design is not just for show, but rather, it is just one component of the overall experience: it's clearly a gaming phone, but it's also hip and edgy and futuristic and youthful just like its target market, and that includes forty-somethings like yours truly.
As an added bonus, there are downloadable themes created for specific games. This includes titles like Black Desert Mobile, Honkai Impact, Darkborn, Modern Combat, Asphalt 9, and Dead Cells. Just check out the theme store and with luck, you just might find a theme for your favorite game.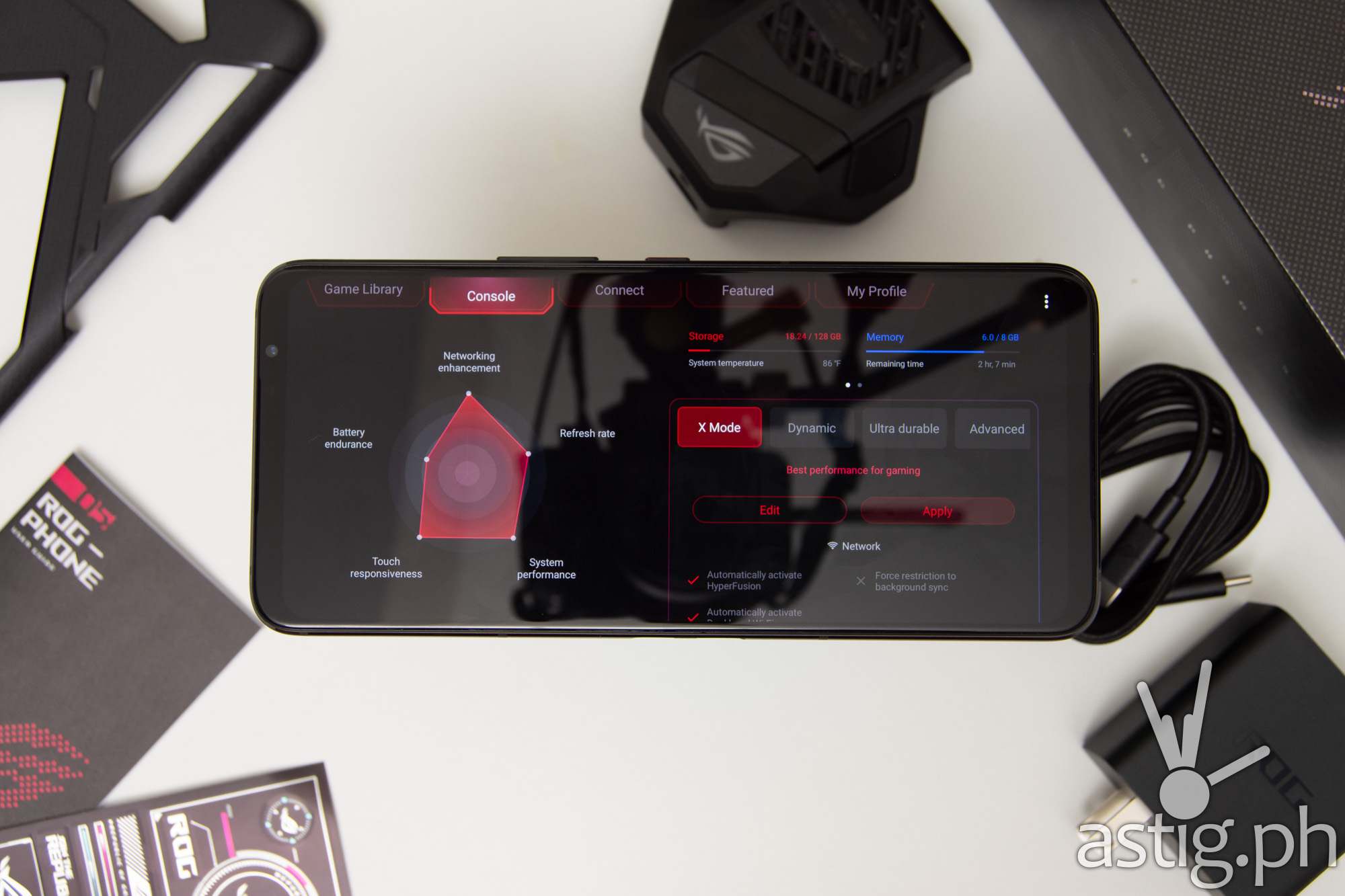 At the heart of the ROG Phone 5 is the ROG Armoury Crate, the "Command Center" that controls everything from System Lighting to fan speed to AirTriggers. Anyone who owned an ROG computer knows that the Armoury defines the ROG experience, and the developers did a very good job of recreating that on mobile.
The best thing about the mobile version though, is the Game Genie applet. It's that nifty toolbar that you can call up in-game by swiping from the edge of the screen. By doing so, you get access to several toggles and tools that let you block calls and alerts, adjust refresh rate, free up resources to speed up the system, adjust air triggers, record your gameplay, and so much more.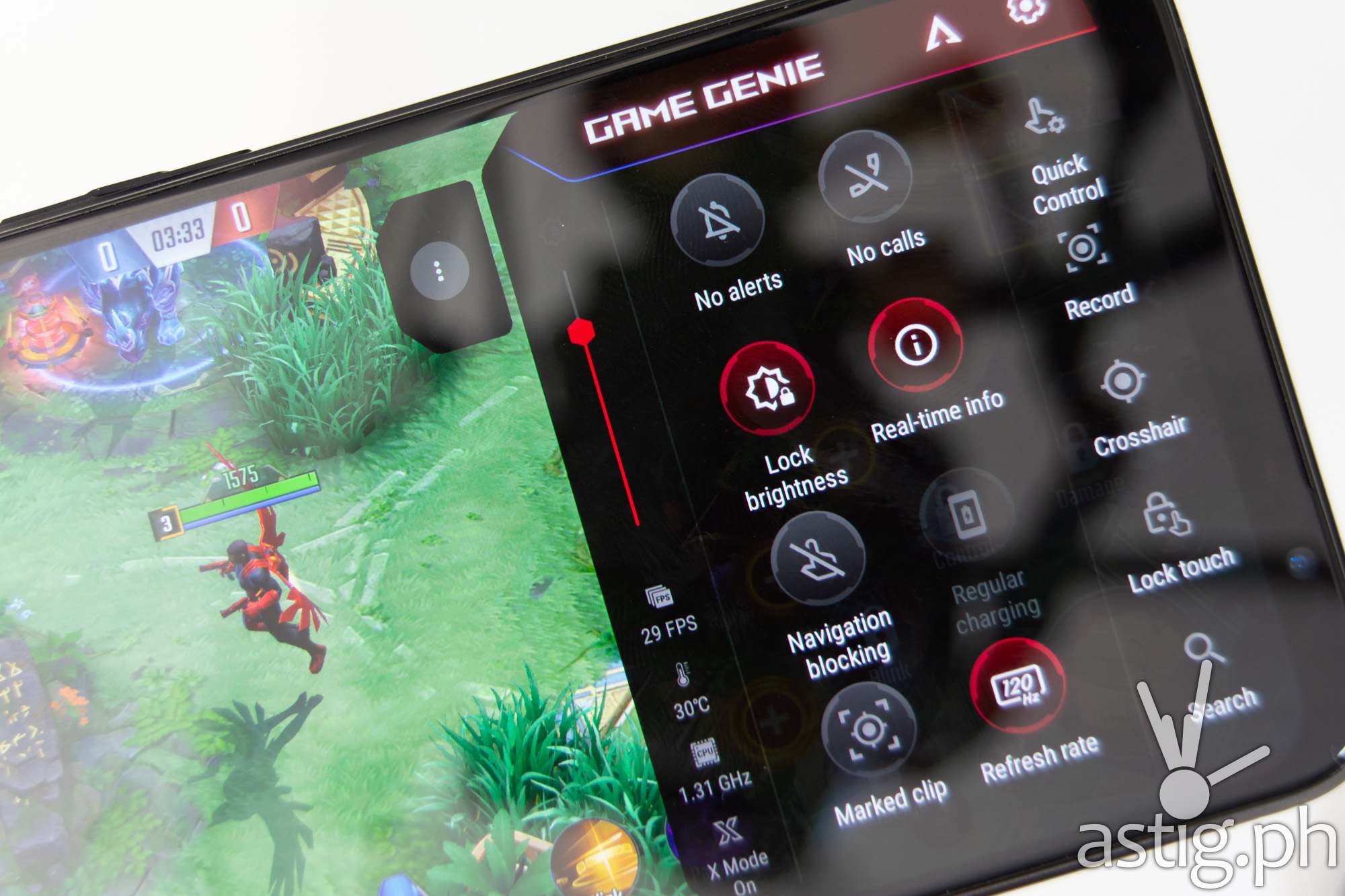 Such features aren't completely exclusive to the ROG Phone though: In the three years since its inception, other brands have caught up and developed their own "Game Center" in one way or another. However, until now, Game Genie is the only one that has a persistent on-screen display that lets you monitor system resources in real time such as CPU, memory, temperature, and most importantly, the in-game frame rate.
"Marked Clip" is one of the new features that we love on the ROG Phone 5. It works in a similar fashion as the "Instant Replay" feature on NVIDIA's GeForce experience, saving the last 5-30 seconds of gameplay on video. This way, you get to save those montage-worthy highlights without having to record everything.
Performance
Every time a new ROG Phone comes out, the mobile phone benchmark moves down. ASUS knows speed, and just having the fastest 5G chipset is not enough. Like its predecessors, the ROG Phone 5 offers the best and the fastest display available: a Samsung AMOLED panel with a native refresh rate of 144Hz and a whopping 300Hz touch sampling rate. It is HDR10+ certified with a retina-searing 1,200 nits of peak brightness.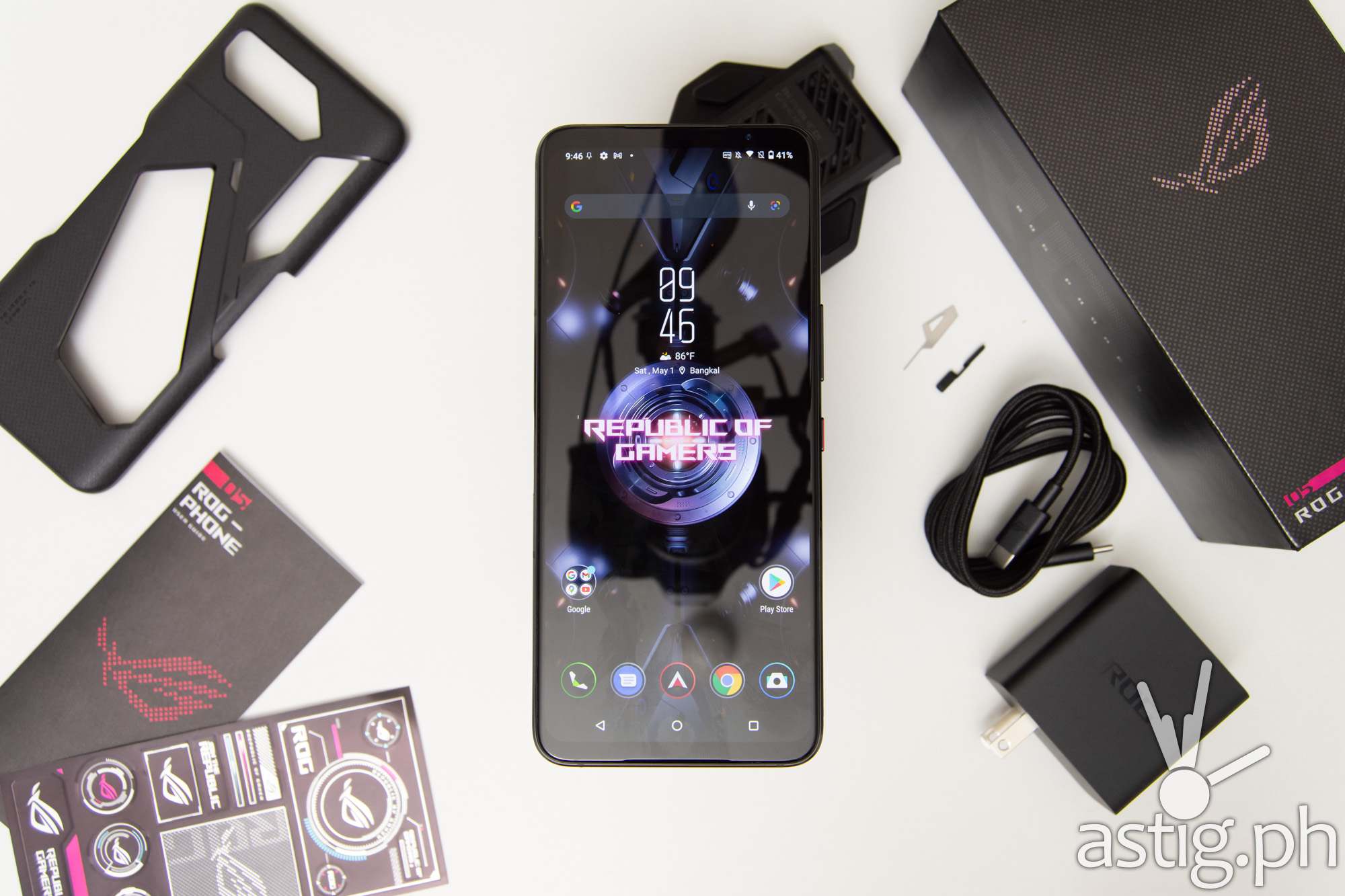 It also has the biggest and fastest storage and memory on a smartphone: up to 512GB of UFS 3.1 ROM and a mind-boggling maximum of 18GB LPDDR5 RAM on the ROG Phone 5 Ultimate.
Yep, you heard that right: eighteen gigabytes of LPDDR5 memory. That's bigger and faster than the memory on our productivity laptop.
How much memory do you have on your computer? Unless you're into graphic design or video editing, we're wiling to bet it's nowhere near 18GB.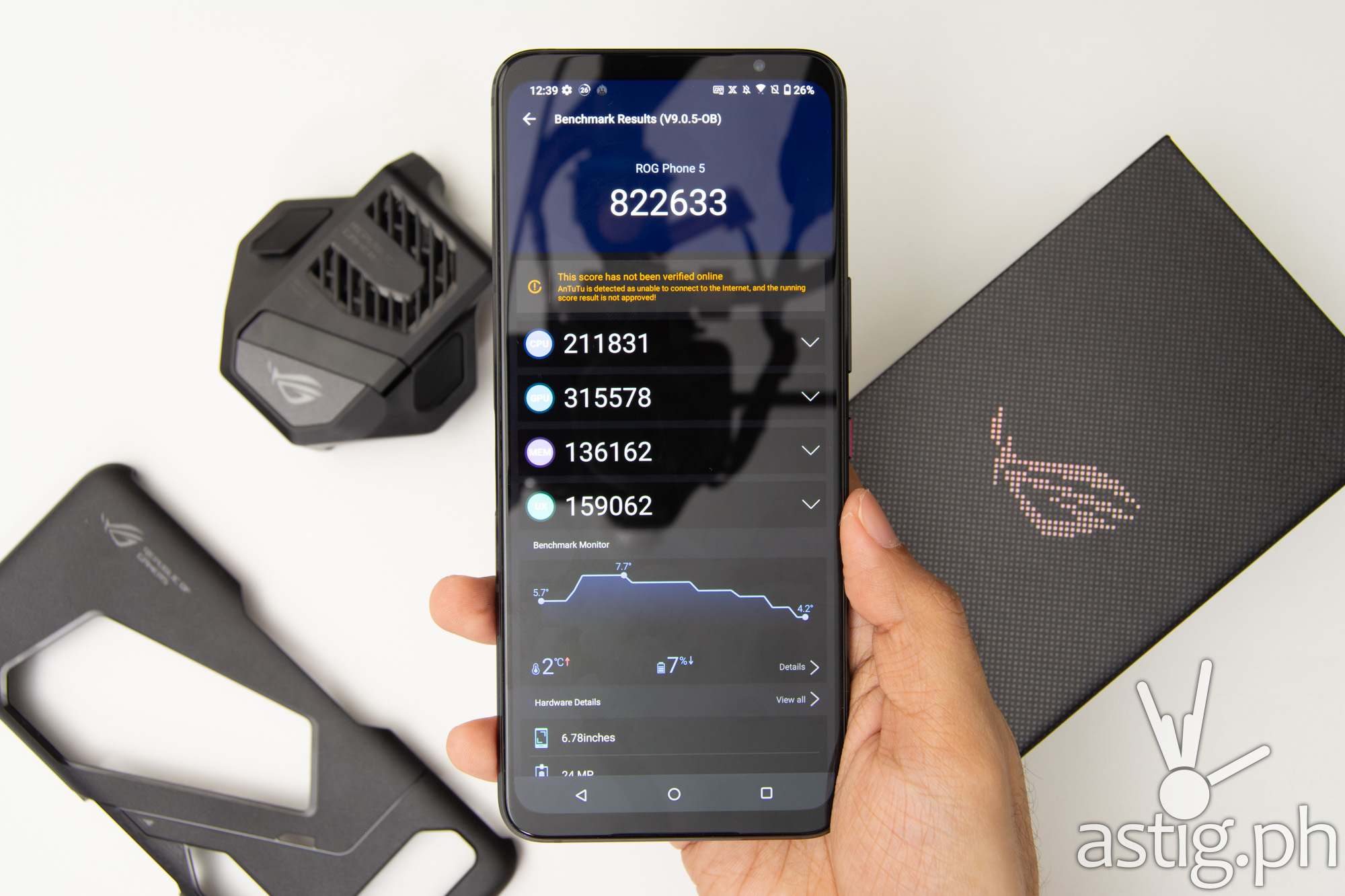 So it's no surprise that it holds the top spot in AnTuTu's performance rankings, coming in at 814k. We went above and beyond that number, going all the way to 862k in our personal tests by cooling the phone down first and running the benchmark with the AeroCooler fan turned on to keep our core system temperature down, preventing thermal throttling.
ROG Phone 5 might be in the lead for now, but the gap sure is getting smaller.
Made with Visme
This is where those little hardware optimizations and software fine-tuning systems kicks in. Aside from the AeroActive fan and ROG Armoury software, the ROG Phone 5 features an upgraded GameCool 5 system, which helps includes a dual battery design and a reshaped vapor chamber with graphene sheets to better distribute and manage the heat generated by the phone's internal components.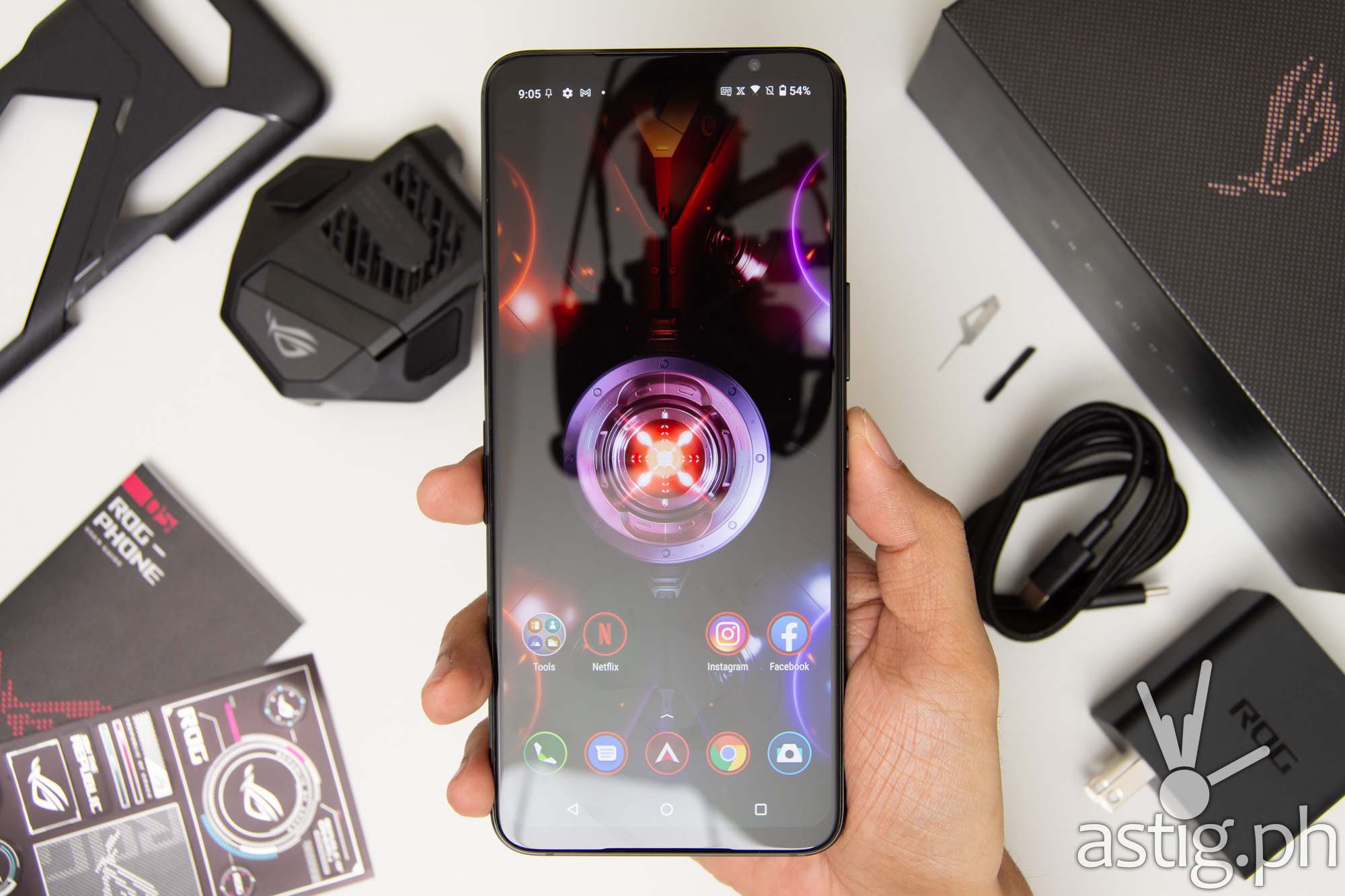 We cannot stress how important a good cooling system, especially if you like to play in 60FPS with your graphics settings maxed out.
Despite the phone's amazing internal cooling mechanism, the ROG Phone 5 does get warm over long gaming sessions. Turn on X+ mode, and things can get really toasty – up to 50 degrees Celsius in the  warm Philippine weather.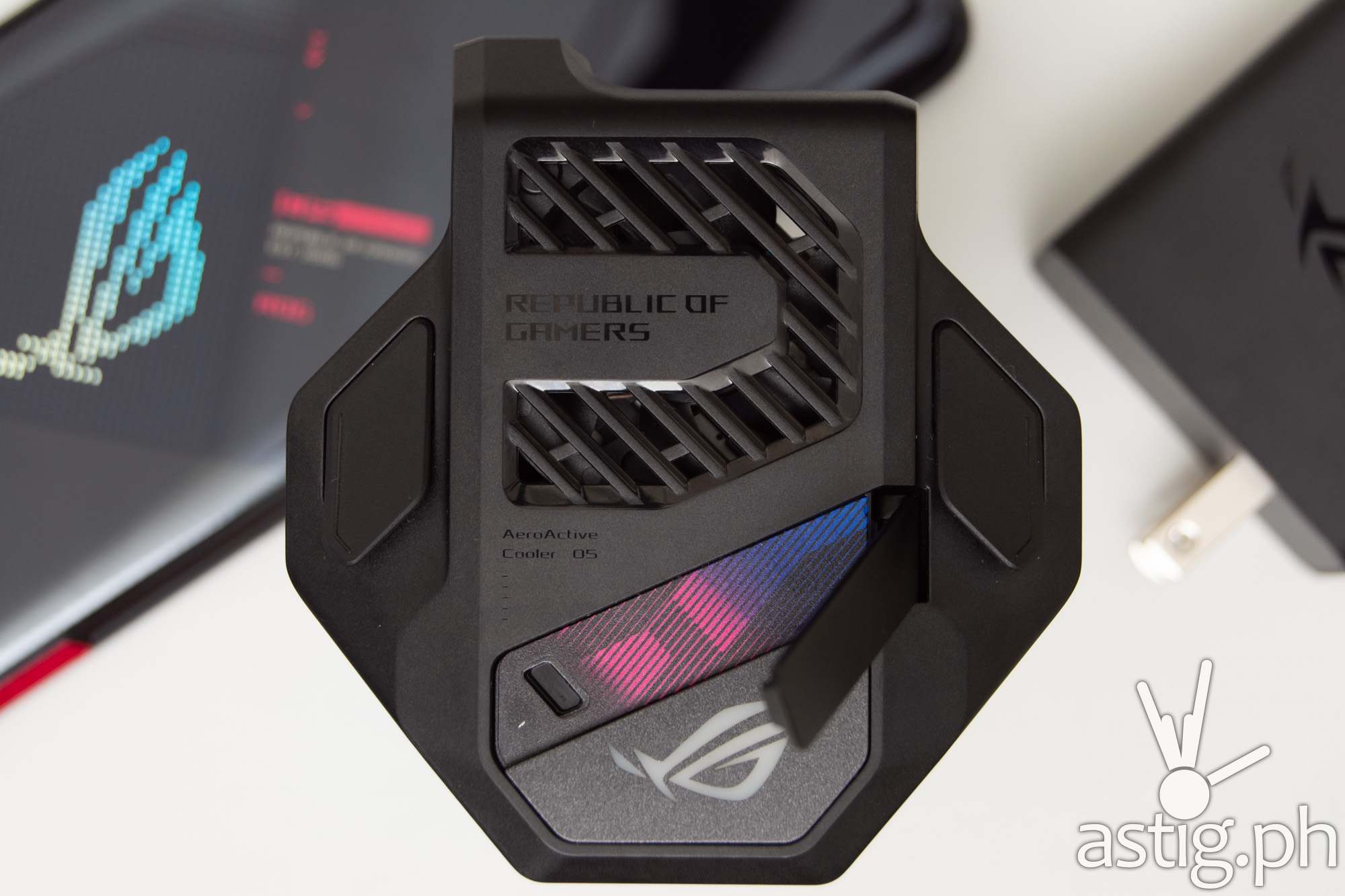 So if you really want the best graphics experience possible, you may actually need to use the AeroCooler fan. Thing is for some games, the only way to get consistent 60FPS is to run it in performance or X+ mode.
We're looking at you, Diablo Immortal and Genshin Impact.
By default, ROG Phone 5 operates in Dynamic Mode, which is optimized for daily use by striking a balance between performance and battery life. X Mode removes all performance restrictions and activates boosters such as HyperFusion and Dual band Wi-Fi so you get the best performance at the cost of battery life.
Diablo Immortal with ROG Phone 5 in Dynamic Mode:
Compare the video above with ROG Phone 5 X-Mode ON versus the video below with the ROG Phone 5 in Dynamic Mode.
Diablo Immortal with ROG Phone 5 in X-Mode:
Our FPS would drop to the 20s running Elder Rifts in Diablo Immortal when the phone was set to Dynamic Mode. This went down significantly to the 30s when we activated X Mode. Keep in mind that your battery will take a significant hit and the screen will get hot in X-Mode, so you may want to keep that cooling fan on. Your fingers will thank you for it.
Herein lies the power of the ROG Phone 5. There are many Snapdragon 888 phones in the market: the Galaxy S21, Mi 11, Redmi K40 Pro, OnePlus 9, Vivi X60 Pro Plus, iQOO 7, and realme GT, all run on the same chipset.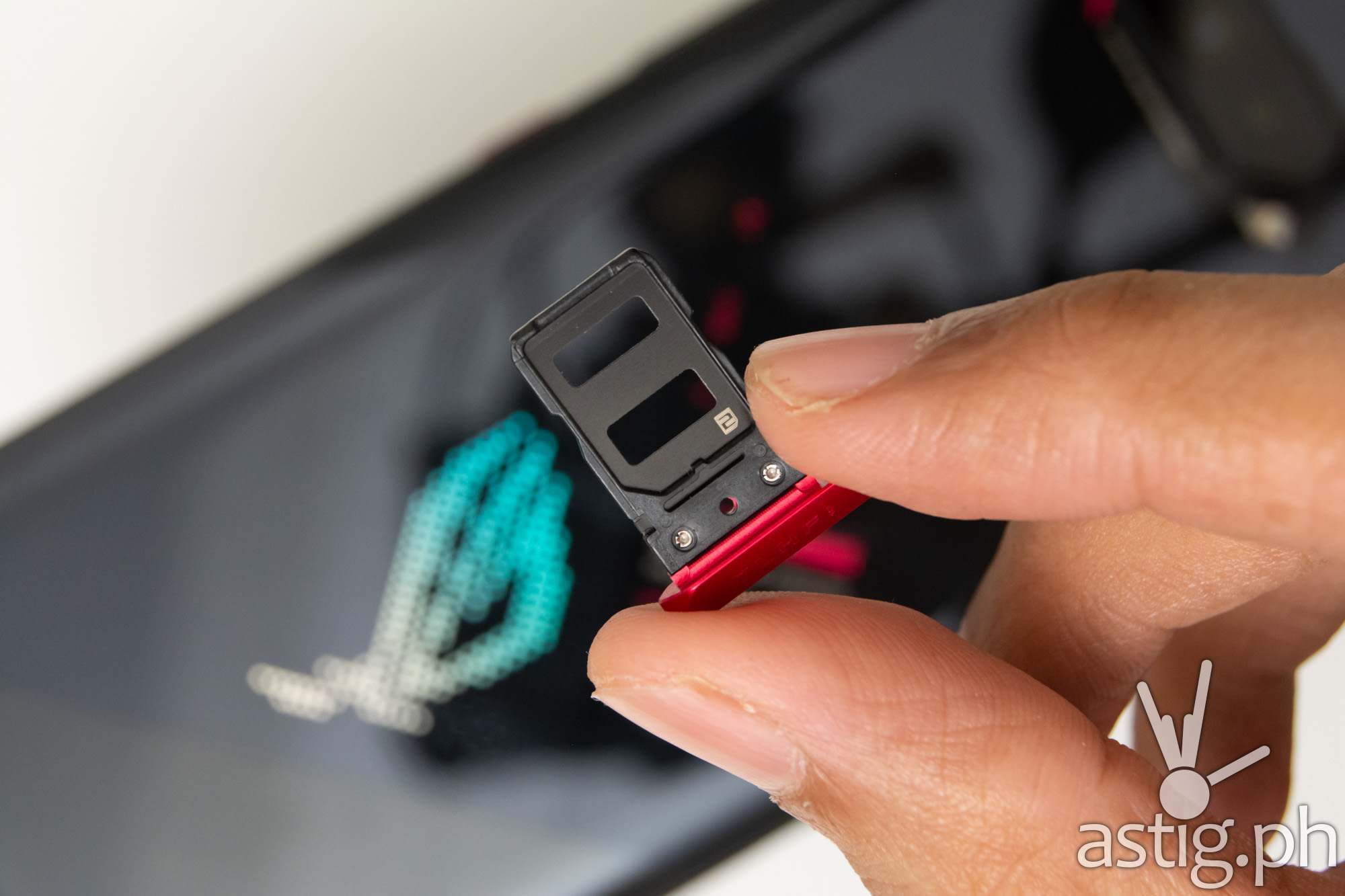 These are all amazing phones with generous amounts of memory and fast storage, but ROG Phone 5 pulls ahead of the pack with faster, better quality components.
We also appreciate the amount of work that ROG Phone 5 has put into ensuring fast and smooth connectivity. The phone supports 5G, Dual-Band Wi-Fi, and Wi-Fi 6 (802.11 ax). These are very new technologies – 5G is still being rolled out, and we don't even have a Wi-Fi 6 router, but it's nice to have a device that supports forward-looking technology for when you decide to upgrade.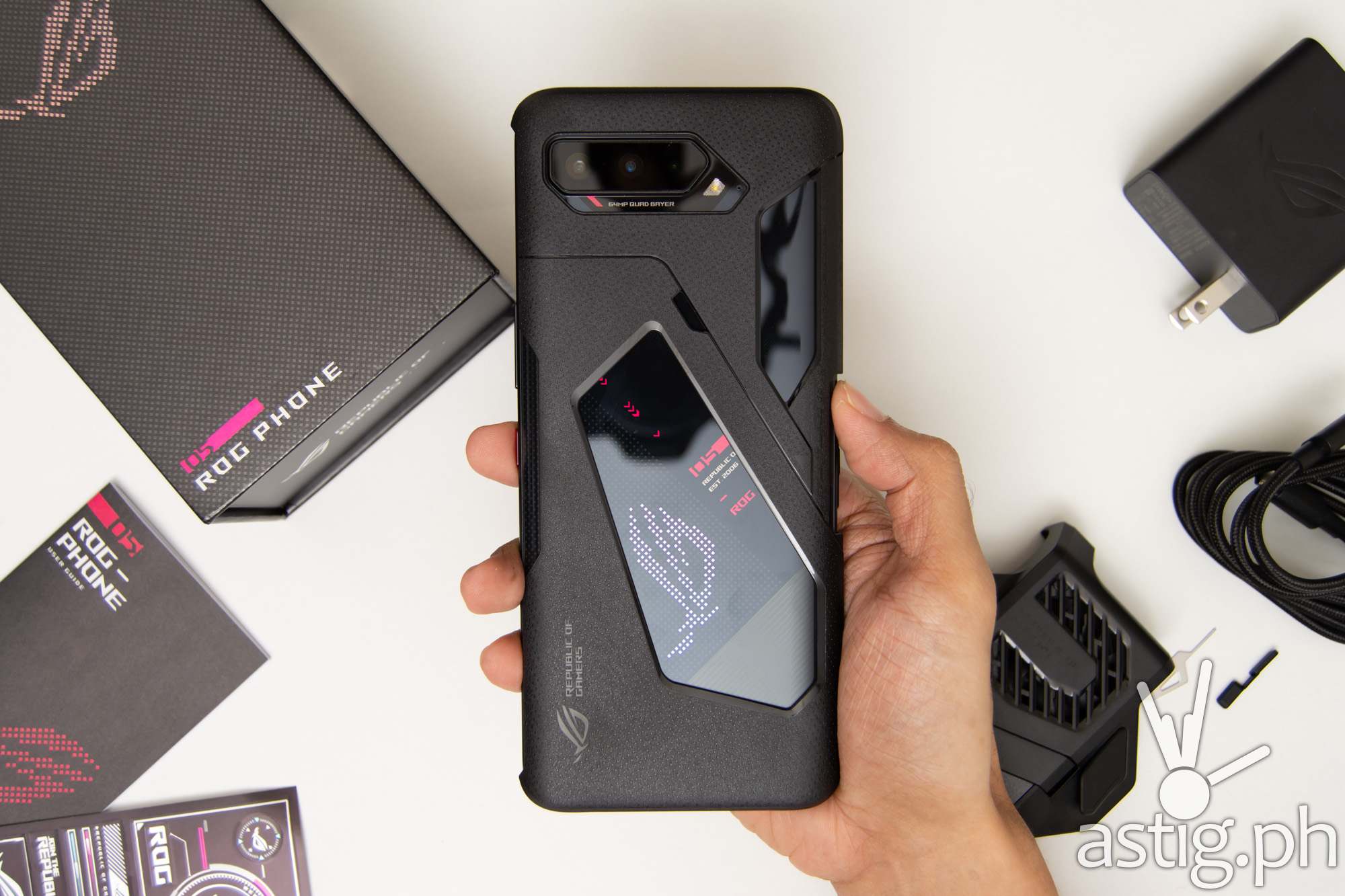 Beyond this, the phone comes with intelligent switching technology to automatically switch to Mobile Data when your Wi-Fi Internet goes down, as well as HyperFusion which combines mobile data and Wi-Fi to stabilize your Internet connectivity.
Audio excellence
Often overlooked by others, audio quality has always been one of the key strengths of the ROG Phone. ASUS raises the bar once again on the ROG Phone 5, which is the first smartphone to feature Dirac MIMO (multiple-input and multiple-output) mixed phase speaker co-optimization technology in its dual loud speakers.
I don't claim to understand what those words mean, but apparently Dirac's patented technology optimizes the 7-magnet stereo speaker design, to create a wider sound stage and increased dynamic range.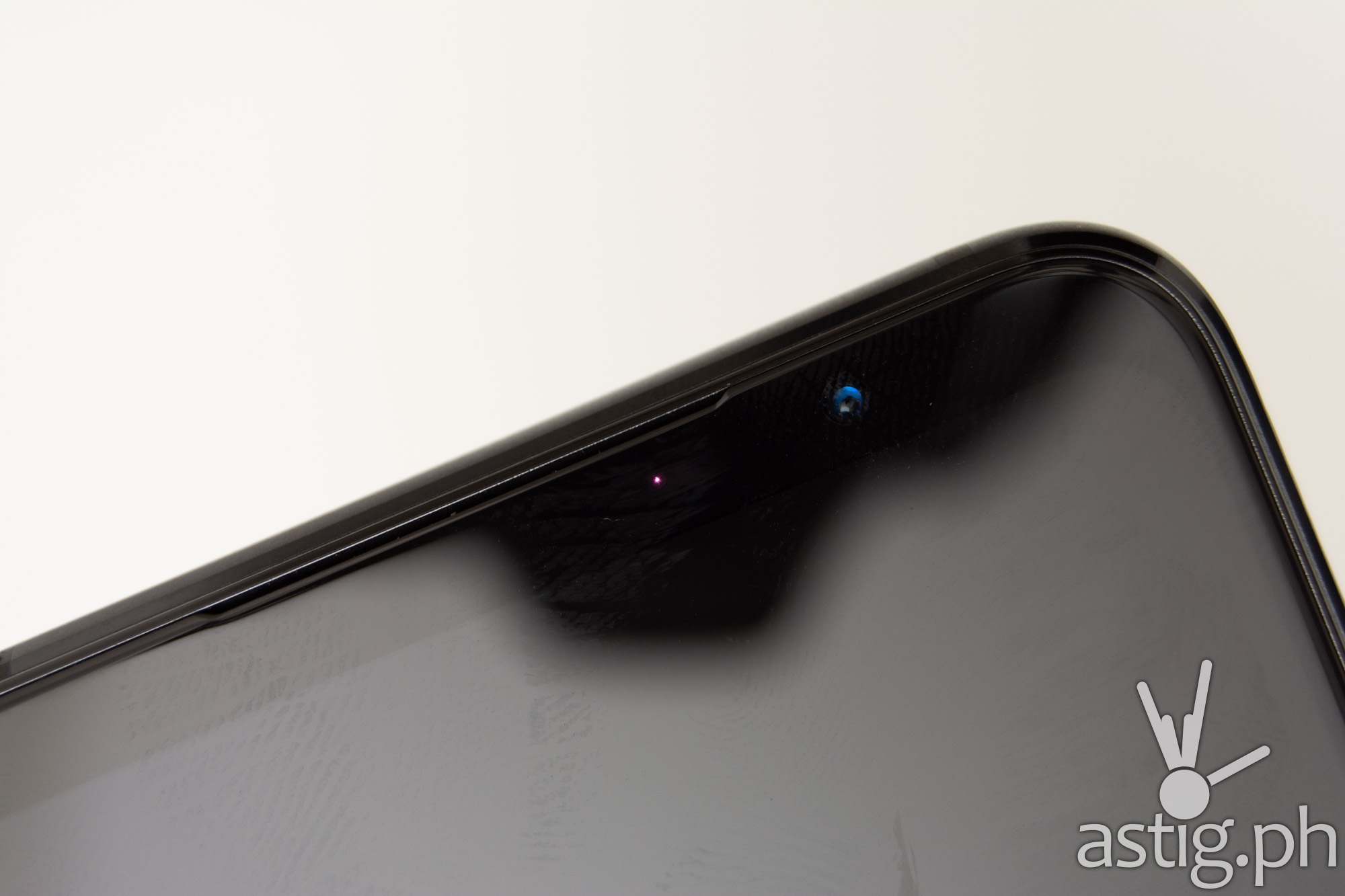 In real life it doesn't sound like anything we've ever heard before, including the ROG Phone 3. It's something that you have to experience for yourself, but we're pretty confident it would put a smile on anyone who listens to it.
Despite being absent in previous generations, the 3.5mm audio port makes a comeback in the ROG Phone 5. On-board audio specifications include support for Hi-Res Audio (up to 32-bit @ 384kHz) via an ESS 9280AC Pro DAC (digital to analog converter).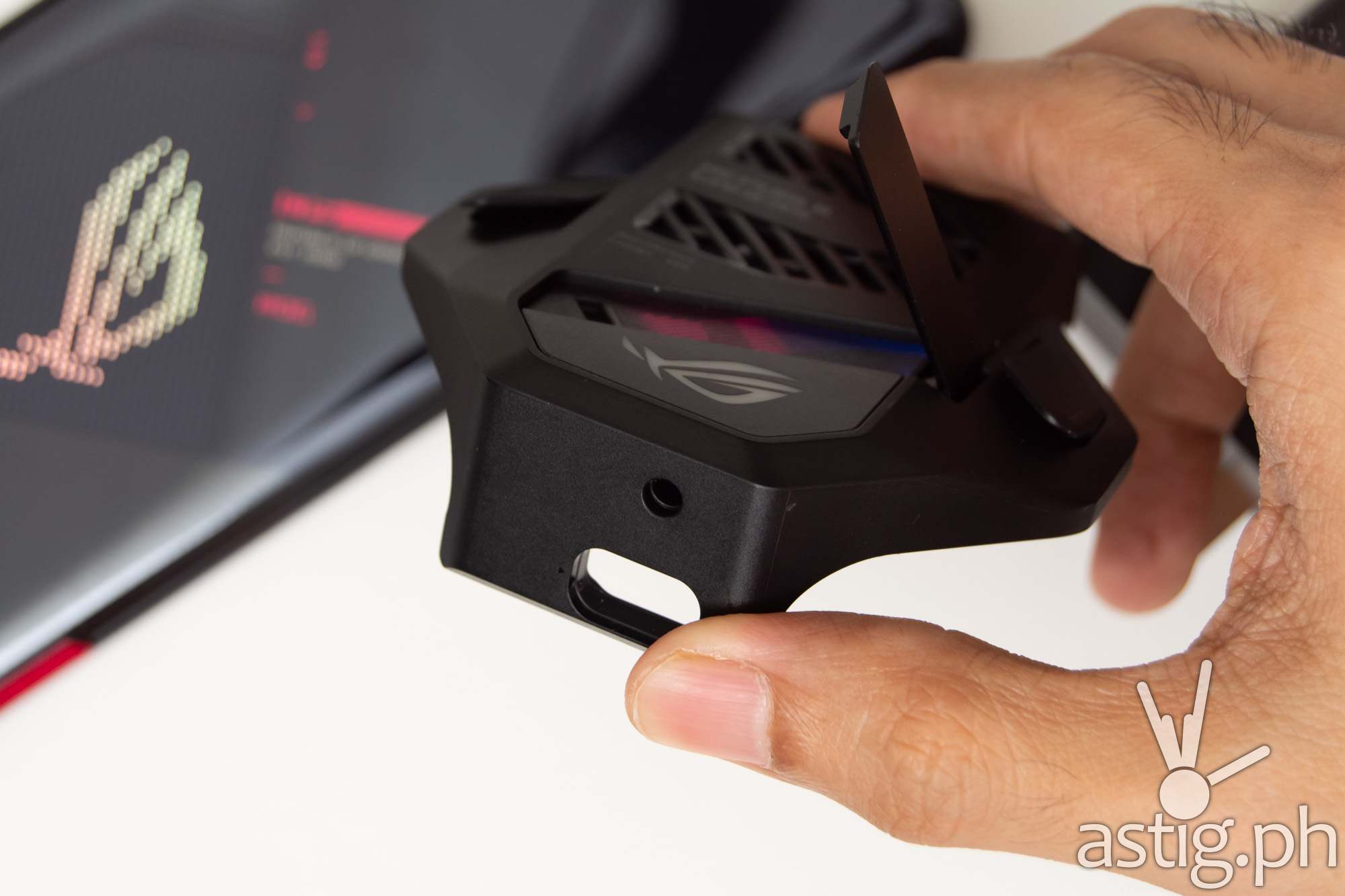 We're no audiophiles, but we did hear a noticeable difference running tests on our Sennheiser HD6XX compared to other phones. Apart from a much wider dynamic range, there is a very noticeable amount of presence, like the music was more in-your-face … or in-your-ears, as the case may be.
The ROG Phone 5 received a DXOMARK score of 78 points when it first came out, and it has stayed in the top 3 highest-rated smartphones when it comes to audio until now.
Shockingly good battery life
Keeping the ROG Phone 5 up and running is a 6,000mAh battery system, divided into two: one 3,000mAh module on each side. The package comes with a 65W USB Type-C HyperCharge adapter, one of the fastest charging speeds that you can get today.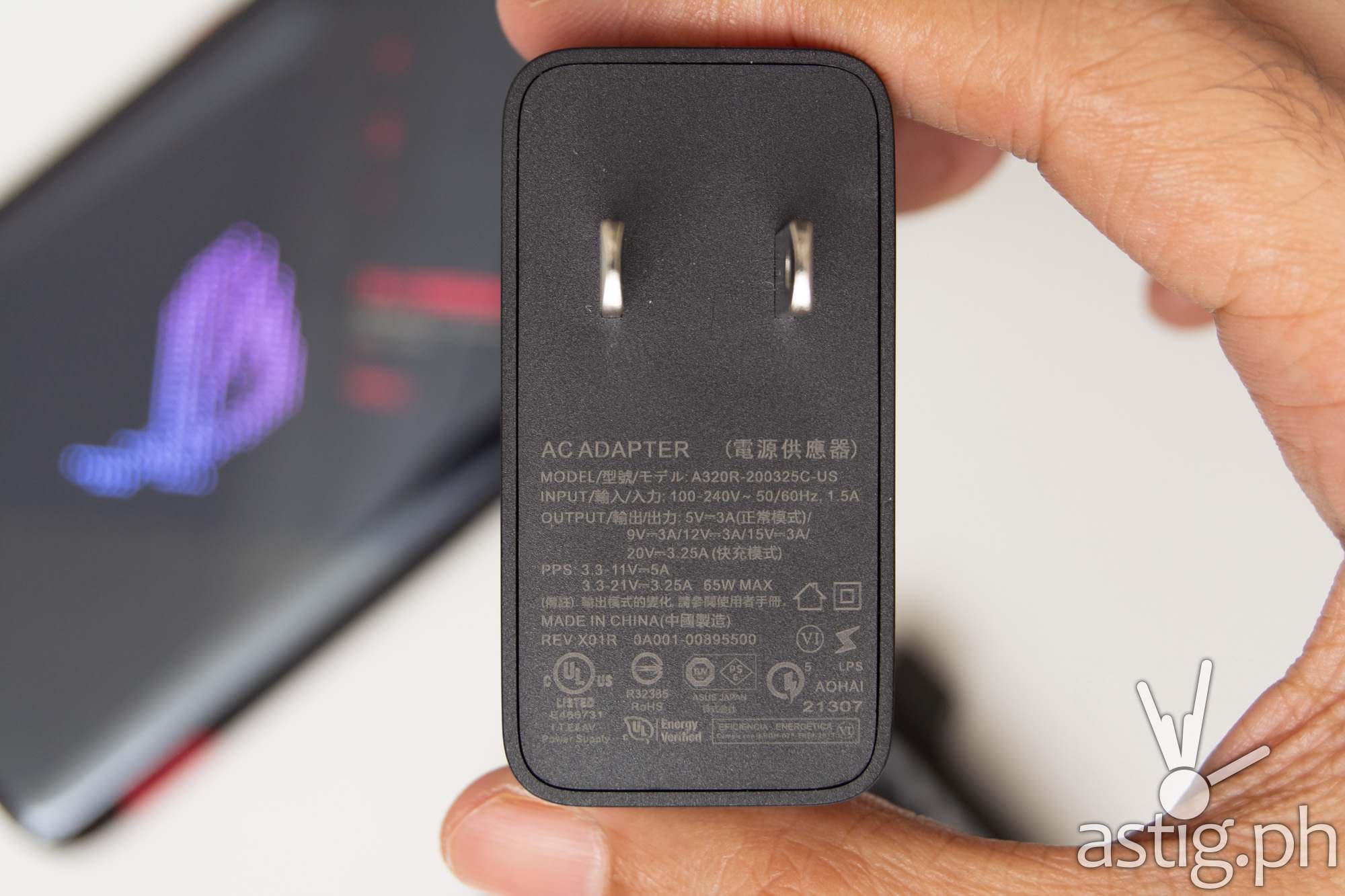 Quick Charge 5.0 and USB Power Delivery (PD) standards are supported – this way, you can maximize the charging capabilities of third-party adapters if if that's what you prefer.
By now we've established that the ROG Phone 5 is an extremely powerful device, and with great power comes … even greater power requirements, right?
Just take a look at all these specs:
6.78-inch Super AMOLED Panel at 144Hz and 1,200 nits, 300Hz touch sampling rate
Under-display optical fingerprint scanner
Snapdragon 888 5G Chipset
RGB light panel on the back
Ultrasonic Air Tigger 5 system with haptic feedback motor
Dual DTS:X stereo speakers with 2 dedicated amplifiers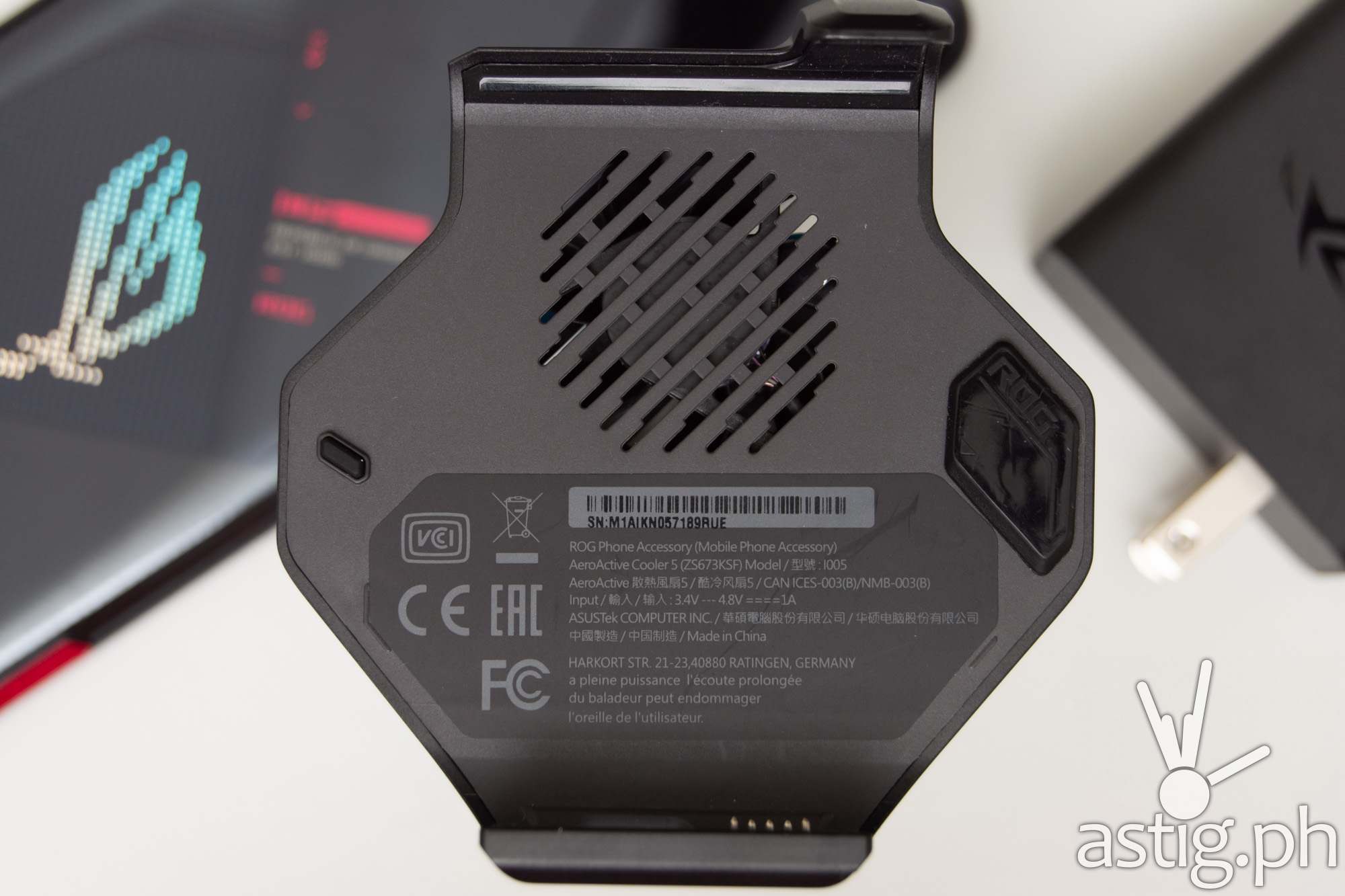 As you can see, these aren't your run-of-the-mill smartphone components, and these are just the ones that are built into the phone. Then you have accessories such as the AeroActive Cooler 5, a high-powered external fan that draws 3.4 to 4.8 Watts of power.
We should be worried, but we had such a good experience with the ROG Phone 3, that we had high expectations for the ROG Phone 5 and guess what – it passed. With flying colors.
Can you guess how long much screen time we got in our mixed use marathon test using PCMark Work 3.0?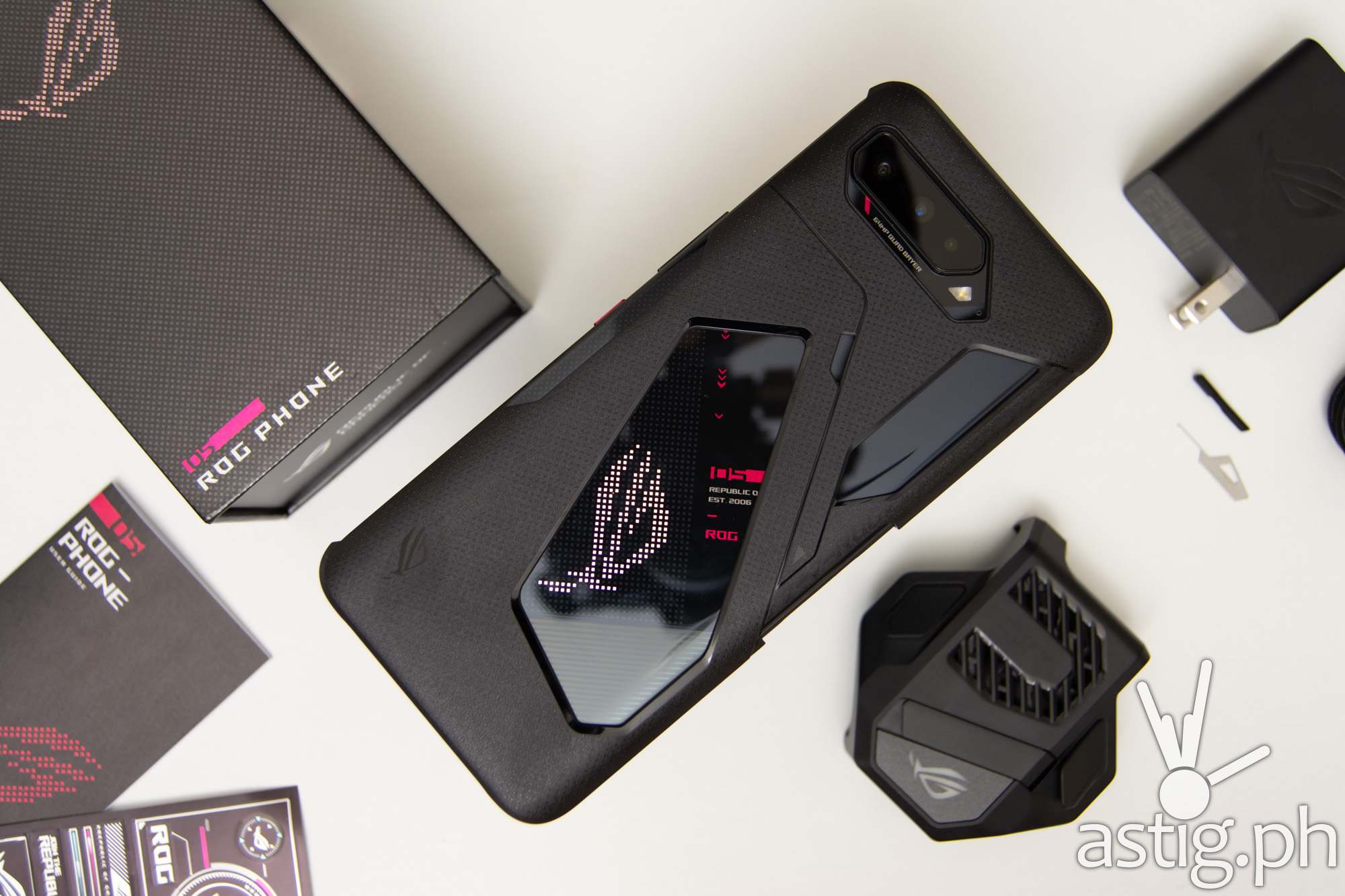 Our battery life was conducted using the following settings:
Performance setting on Dynamic Mode
Screen on Auto refresh rate
Brightness set to 60%
Running on Wi-Fi
RGB backlight off
Dual loud speakers on
Accessories off (i.e. AeroActive Cooler 5)
Continuous use with no breaks
Think of a number.
Ready?
If you guessed over 10 hours then you're close. We got a total of over 14 hours of screen time. 13 hours and 57 minutes to be precise, but we rounded it off to be dramatic.
Read it again: Fourteen hours. One four. Katorse.
How much screen time do you get from your phone?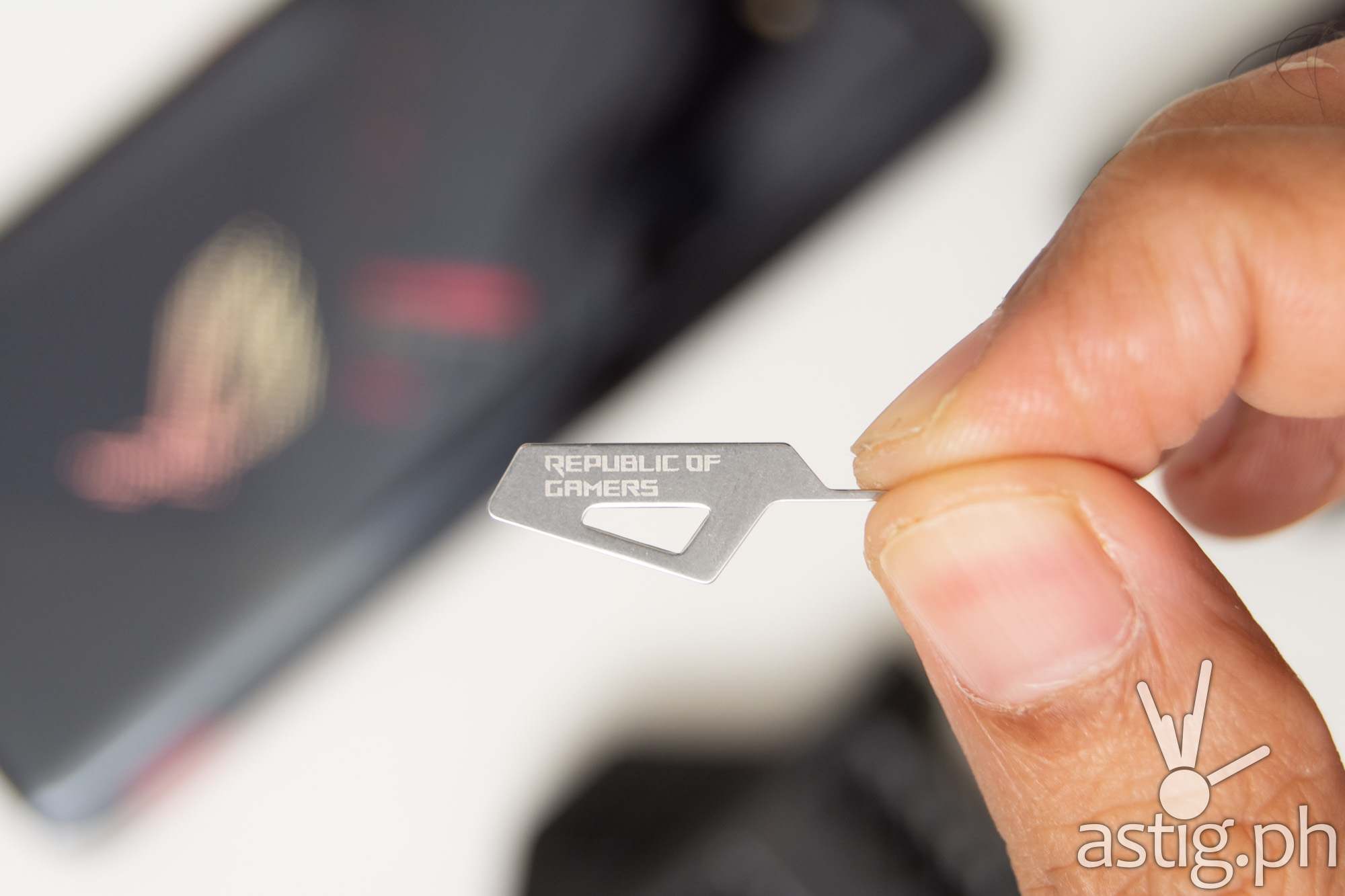 Next, we ran the same benchmark but with most settings maxed out to simulate how it would fare on mobile games:
Performance setting on X Mode
Screen set to 120Hz refresh rate (fixed by X Mode)
Brightness set to 60%
Running on Wi-Fi
RGB backlight on
Dual loud speakers on
Accessories off (i.e. AeroActive Cooler 5)
Continuous use with no breaks
This more than halved our initial results, bringing it down to 5 hours and 52 minutes. Let's round that off and say 6 hours.
Unbelievable. We've really come a long way since the first ROG Phone.
Cameras that are too good for a gaming phone
The ROG Phone traditionally uses the best camera sensors from Sony, and we are happy to find the 64MP Sony IMX686 f/1.7 as the main sensor on the ROG Phone 5.  There are two more sensors to augment its camera capabilities: a 13MP f/2.4 ultra-wide camera, and a 5MP f/2.0 macro.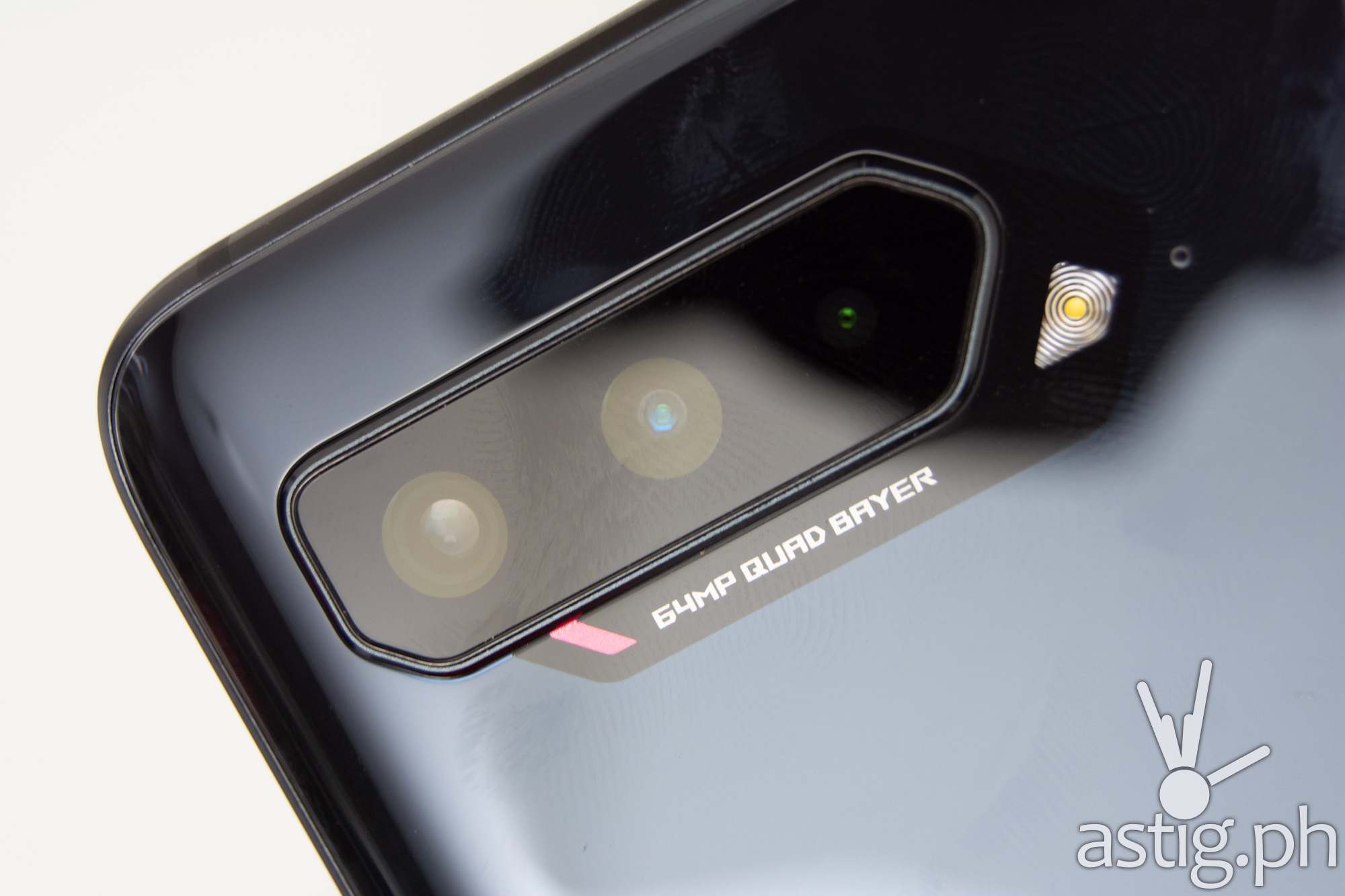 We were very happy with the camera performance of the ROG Phone 3, and on the ROG Phone 5, we saw some improvement when shooting in limited lighting conditions.
Resulting images were tack sharp with good lighting, and the low-light images were not too bad either, thanks to electronic image stabilization and the relatively wide aperture on the 64MP main sensor.
Night mode shots were also quite good. We were able to take beautiful, dramatic-looking cityscapes by staying really still, though our best ones came with the help of a tripod.
The ultrawide and ultra macro sensors left us wanting, though. Although both sensors did well with good enough light, both cameras struggled to bring out sharpness, color, and detail indoors.
Images generally appear washed out and dull, as you can see in our sample images.
For selfies and video calls, ROG Phone 5 is equipped with a 24MP f/2.5 front-facing camera. It produces fairly sharp images with a good amount of dynamic range.
It works for content creation and video calls, but the camera placement is less than ideal for streaming – something which, I believe, the engineers should take into consideration in the ROG Phone 6.
Our fingers would often cover a portion of the camera while streaming games, and it can get frustrating.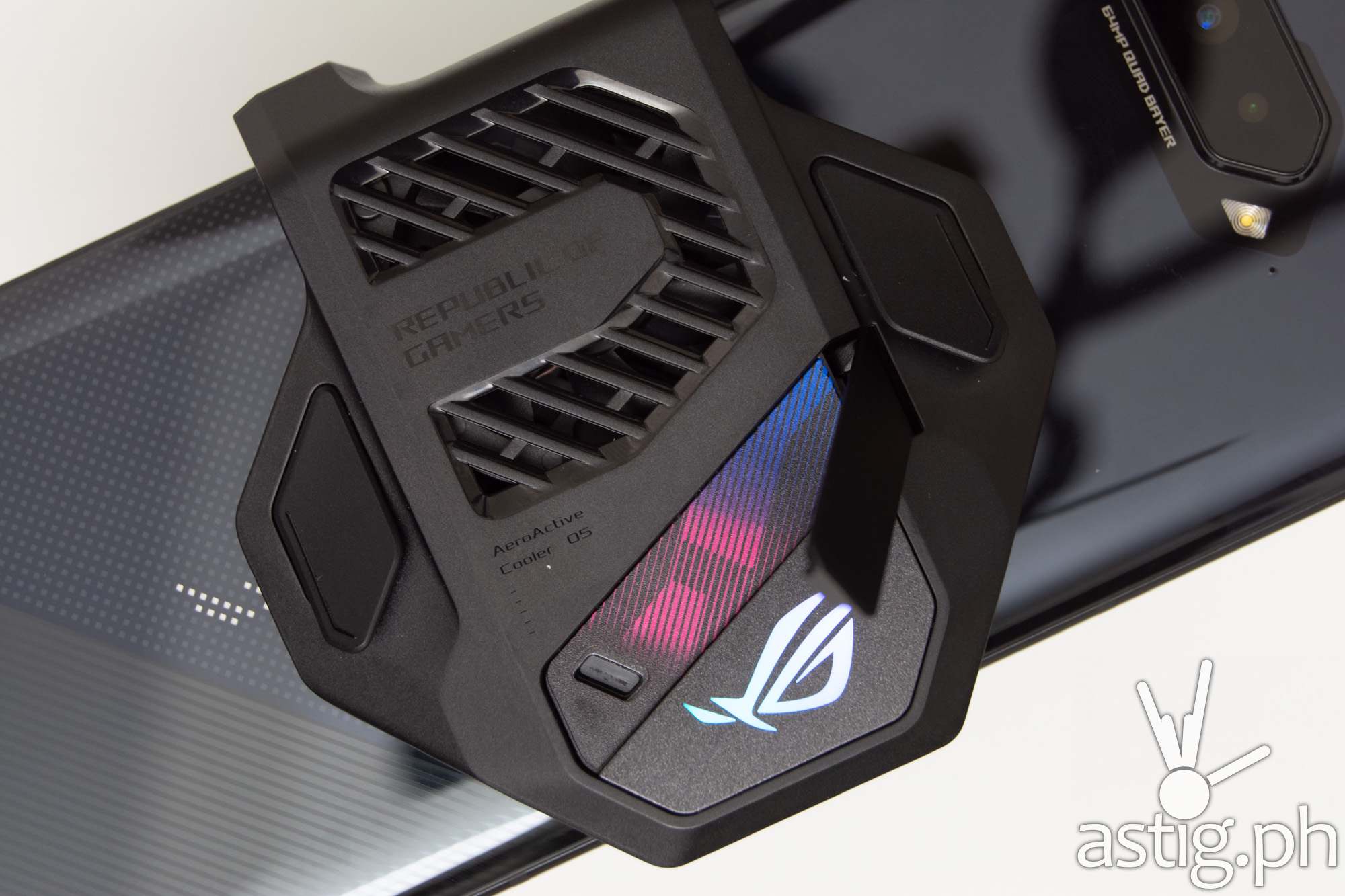 Quite frankly, we're not sure how to fix this problem since there really isn't enough space on the edge for a camera. Perhaps a mechanical solution, like that on the LEGION Phone Duel, may be the only way to go about it.
It's no surprise that Game Genie still doesn't have any built-in streaming features by now, despite its power, streaming with the built-in cameras are clearly not on the priority list.
ROG Phone 5 rear camera test (unedited):
Video capabilities have slightly improved: 8K videos appear less grainy, and you can now take 4K videos at 60FPS. It generates really huge files though, which can take a really long time to process and upload.
Also, 1080P videos produce more stable videos since the software stabilization has more data to work with, so we're pretty happy shooting in 1080P for now.
By the way, we read somewhere that the ROG Phone 5 should be capable of shooting HDR+ videos, but we couldn't figure out how to do it, so if anyone knows, please feel free to teach us in the comments section!
Hit play on the video above to watch our rear camera video sample, or below for the front-facing camera sample video.
ROG Phone 5 front-facing camera test (unedited):
Closing thoughts
As a mobile gaming phone, the ROG Phone 5 outclasses everyone not just in the benchmarks rankings, but with its software enhancements and hardware accessories.
On the former, there are flagships and other gaming phones running on the same chipset, however, ROG Phone goes beyond this by using the best and the fastest components for display (144Hz Super AMOLED, 300Hz touch sampling), memory (18GB LPDDR5), and storage (512GB UFS 3.1).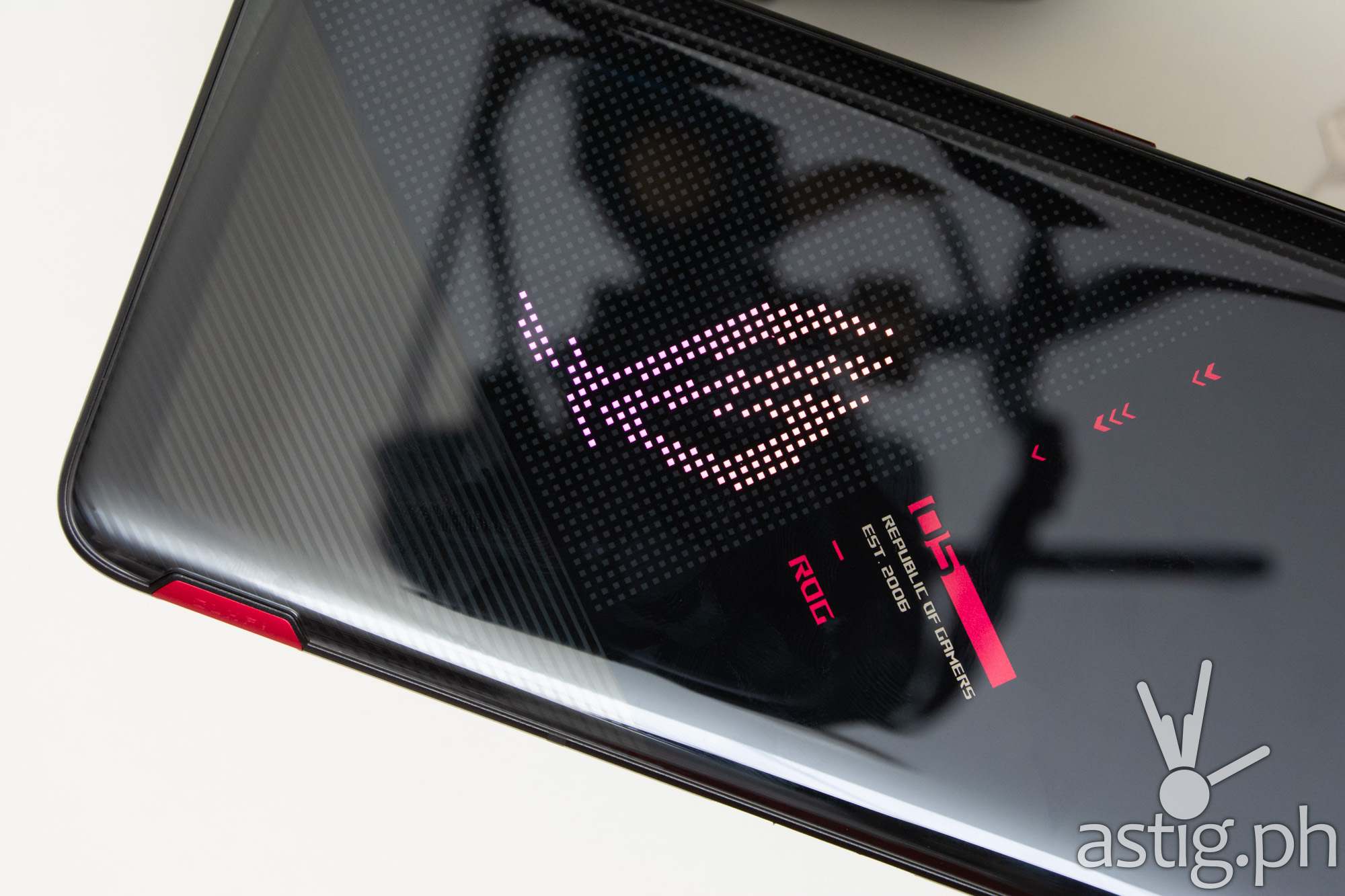 With the latter, the ROG Phone 5 offers the most robust gaming control center on Android. Compared to other Android game systems, ROG Armoury lets users customize not just resource allocation, but also lets you control and manage tweaks such as HyperFusion technology and background CPU limiters.
It also lets you control subsystems specific to the ROG Phone, such as the speed of the AeroActive Cooler 5 and LED backlight synchronization. Then there's Game Genie, which until now is the only in-panel with a built-in OSD to monitor system resource utilization and frame rate.
By putting the best components in the ROG Phone 5 and developing the software to fully integrate and maximize it from end-to-end, the product team has a complete product that surpasses any mobile gaming device out there.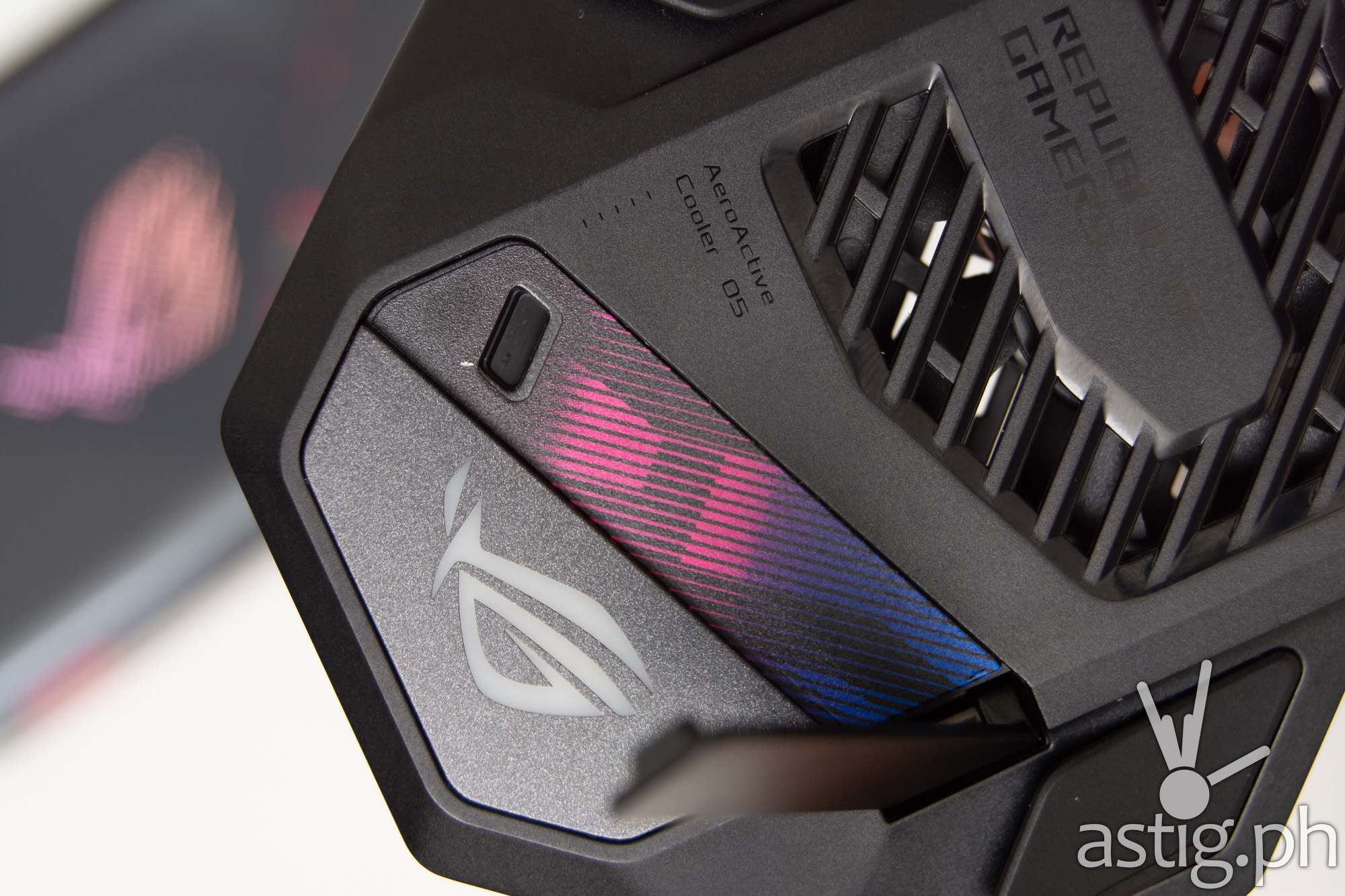 It's true that you can get good gaming performance from flagship phones, but even at its peak, the ROG Phone 5 still generates the least amount of heat and lasts longer than other flagship smartphones.
Apart from gaming, the ROG Phone 5 also offers one of the best audio experience possible. While it's not actively being marketed for its audio capabilities, we feel that it is a hidden gem for audiophiles and audio enthusiasts who want good quality smartphone audio, especially with LG's recent decision to close its mobile phone division for good.
Not only does it have the best dual loud speakers in a smartphone, but it has an onboard ESS DAC and well, when was the last time you held a flagship with a 3.5mm audio port?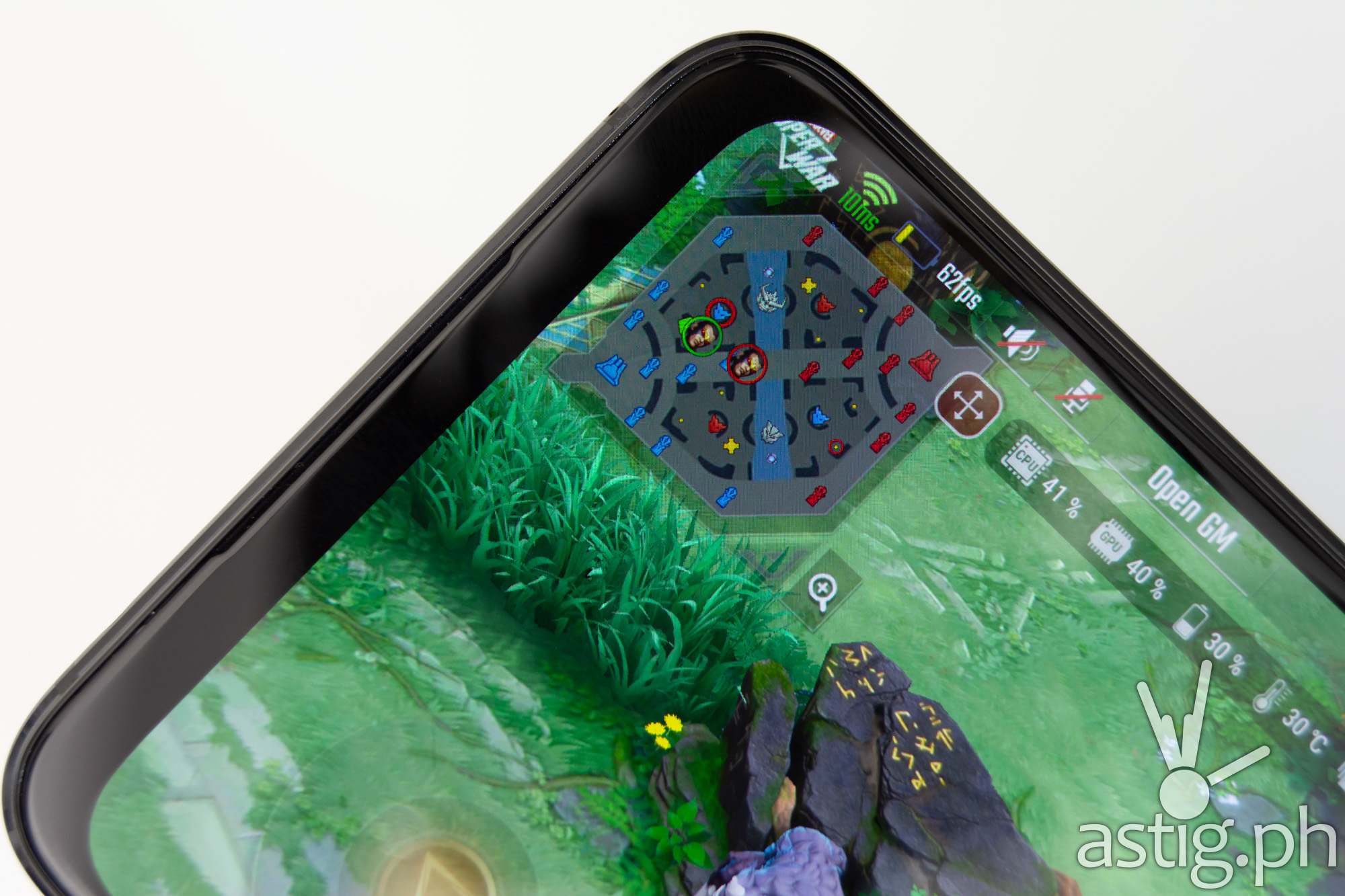 If there's anything that could potentially leave anyone wanting, these are features that have little impact on gaming, and more on general usability. These would be things such as IP68 rating for water resistance, wireless charging, hardware OIS in the camera for better handheld photos and lowlight performance.
Understandably, getting the best gaming phone comes at a cost. The ROG Phone 5 Series come three flavors: Classic, Pro, and Ultimate. Price-wise, there's a difference of about Php20,000 from the bottom to the top-end, which is enough to buy a mid-range smartphone.
Aside from differences in memory and storage, the ROG Phone 5 Ultimate has a different rear aesthetic with a monochrome LED display and two extra rear touch buttons. Priced at Php59,995 it is overkill at this point, considering you can get two extra rear buttons by simply attaching an AeroActive Cooler 5.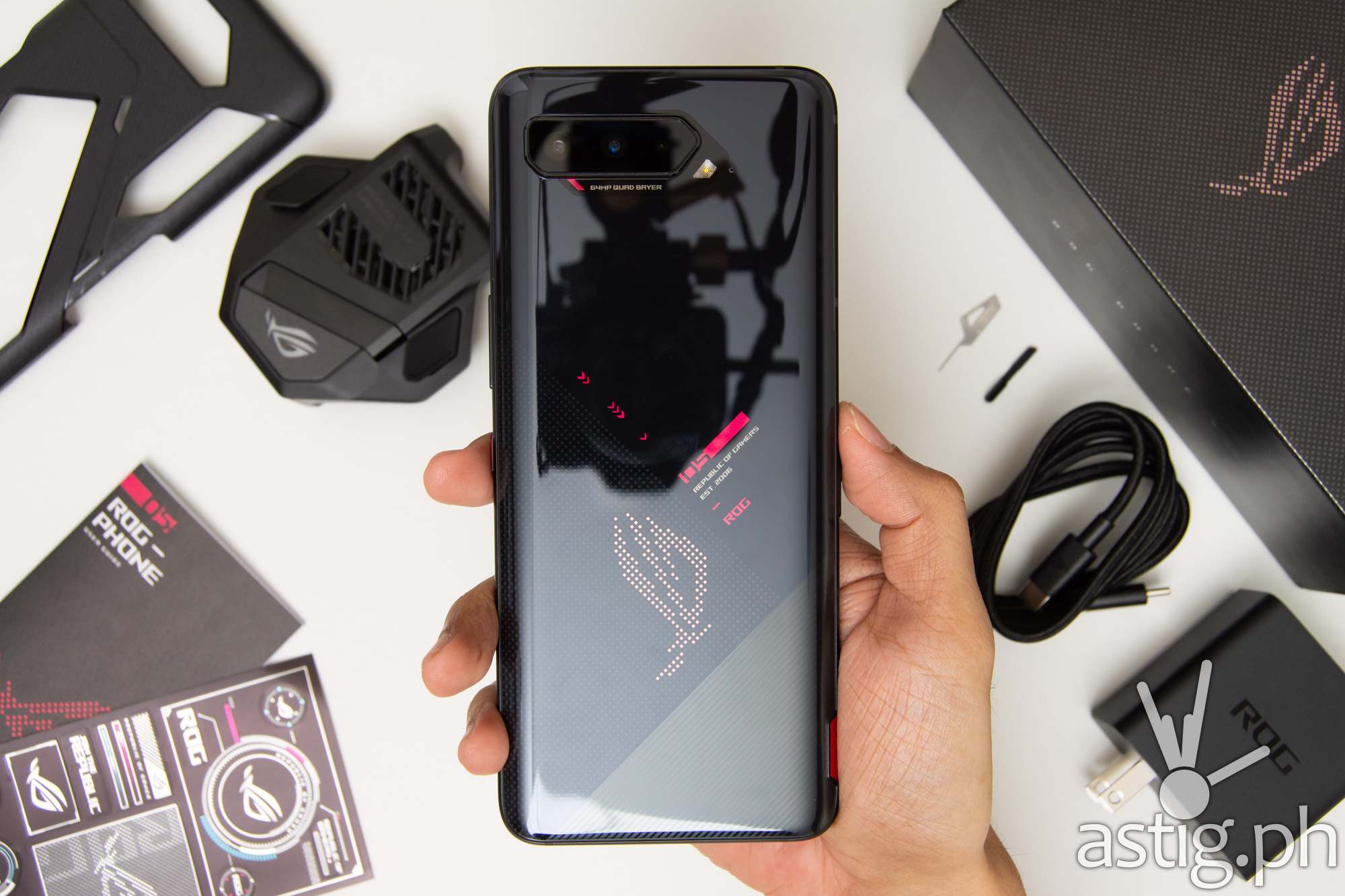 On the flip side, the entry-level ROG Phone 5 classic offers the same top-tier performance for only Php39,995. It's still pricey, but even at that price point it's unmatched in what it can do: not only is it the best performing mobile gaming phone that you can get, but the extra features give its users the competitive edge, which can mean the difference between life and death, or winning and losing.
ASUS ROG Phone 5 Series is now available in the Philippines, priced as follows:
ROG Phone 5 Classic: Php39,995 (8GB+128GB); (16GB+256GB)
ROG Phone 5 Pro: Php54,995 (16GB+512GB)
ROG Phone 5 Ultimate: Php59,995 (18GB+512GB)